AFC South:

Chad Pennington
January, 24, 2011
1/24/11
11:33
AM ET
Cincinnati quarterback
Carson Palmer
is ready for
a change of scenery
.
The Titans are in need of a quarterback.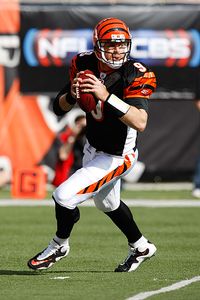 Scott Boehm/Getty ImagesCarson Palmer made the Pro Bowl in 2005 and 2006.
I'd tossed out Palmer's name after Tennessee announced it was finished with
Vince Young
, but once Marvin Lewis got a new contract from the Bengals and said Palmer was his guy, I backed down. Now I'll jump on the idea again even as Mike Brown of the Bengals says they won't move the quarterback.
Palmer is no sure thing. He's not been the same quarterback since the knee injury he suffered in the 2005 playoffs. An elbow problem that surfaced in 2008 has also been an issue.
If he's physically OK, I would put him at the head of my wish list for the Titans. Jeff Fisher and offensive coordinator Mike Heimerdinger have long coveted a traditional dropback passer who can scan the full field.
Heimerdinger's health is a question going forward; he's battling cancer. But if quarterbacks coach Dowell Loggains returns or Fisher puts a coach in place who would assume Heimerdinger's duties if needed, they'd be in line with a similar philosophy.
Those coaches would likely love to work with a healthy Palmer. His chances of rehabbing his career in Tennessee might be as good as anywhere.
If Tennessee's offensive line gets back to form, it's capable of providing time and protecting such a guy. If he's handing off to
Chris Johnson
and throwing to the likes of
Kenny Britt
,
Jared Cook
,
Nate Washington
and
Damian Williams
, I believe the Titans would have a chance to be an effective offense and their bigger issue would be defensive repair.
I'm leaving
Kevin Kolb
off this list because I think he'll simply be too expensive on the trade market, or maybe completely unavailable as the Eagles worry about
Michael Vick
making it through a full season.
Conventional wisdom says the Titans will both draft a quarterback and find a veteran.
Here's my veteran wish list:
Palmer. Maybe I am leaning too much on my memories of him back when he was very good, but if the Titans had a chance to get him back to that form, I'd want to see it.

Kyle Orton, Denver. He can really throw it. He's the sort of hard worker and stand-up guy the Titans covet.

Matt Flynn, Green Bay. The sample size is small, but the trade price might be more reasonable. There is always a Rob Johnson/Scott Mitchell issue, where you worry about getting a guy who flashed and it turned out to be just a flash.

Matt Hasselbeck, Seattle. He's too prone to getting beat up, but he'd have better protection with a fixed Titans' line and is another smart guy.

Chad Pennington, Miami (free agent). His health is a question and he does not have a big arm. But he's a guy who might give the Titans enough while a rookie is developed.
Two other names that could surface:
Marc Bulger
(Baltimore) and
Shaun Hill
(Detroit).
All the Titans need now is a new CBA that would allow for trade offers and free-agent movement.
January, 19, 2011
1/19/11
9:15
AM ET
Reading the coverage ...
Houston Texans
The Texans' run-game turnaround proves even the defense can be
fixed quickly
, says John McClain.
At least the Texans
aren't getting ripped
like the Falcons and the Ravens, says Richard Justice (sarcastically).
Indianapolis Colts
Gene Huey
was surprised
to be fired, says Phil Richards.
Peyton Manning versus Tom Brady is
closer than you think
, says Mike Chappell.
Checking in on the timing of
contract talks
for Manning with John Oehser.
Jacksonville Jaguars
At an East-West Shrine Game practice, Jack Del Rio
declined to comment
on the Jaguars' refusal to let the Rams talk to Dirk Koetter, says Tania Ganguli.
Tennessee Titans
Michael Griffin is a Pro Bowler
if the Steelers win
Sunday, says Jim Wyatt.
Chad Pennington could be
another quarterback
in the mix for Tennessee, says Wyatt.
September, 22, 2009
9/22/09
9:24
AM ET

Posted by ESPN.com's Paul Kuharsky
Some further details on
Peyton Manning
's Monday night courtesy of Jason Paradise and Hank Gargiulo from ESPN Stats and Information.
Perfect in the fourth
Peyton Manning struggled early in the game, but had a perfect passer rating in the fourth quarter to lead the Colts to a 27-23 win over the Dolphins.
Manning By Quarter
--
4th
1st-3rd

Cmp-Att

6-7

8-16

Yards

137

166

TD

1

1

Rtg

158.3

107.8
Late Miami pressure backfired
The Dolphins did not bring pressure from the secondary all game, but on the Colts' final drive they brought pressure from the secondary on three of the four plays. Manning went 3-4, for 80 yards and the game-winning TD.
Plenty of YAC
The Colts did a great job gaining yardage after the catch while limiting the Dolphins' yardage after the catch. The Colts had gained more than 10 yards after the catch four times while the Dolphins longest run after a catch was eight yards.
YAC Breakdown
--
Colts
Dolphins

Pass Yds

303

183

YAC

164

29

Pct of YAC

54%

16%

Rec with 0 YAC

3

13 *

* Included a loss of 1 after catch
Nearly perfect short
Manning was at his best throwing short, not downfield. After the first play of the game – the 80-yard touchdown to
Dallas Clark
-- he went just four-for-12 on passes thrown 15 yards or more, throwing a touchdown and posting a 111.9 passer rating. But he was nine-for-10 on passes of 14 yards or less with a touchdown and a 147.5 rating.
Other notes:
The Colts brought standard pressure on 29 of 33 pass plays (not counting 2 spikes). They recorded two sacks, an interception and gave up just 4.8 yards per play in standard pressure. Against one extra rusher, Miami quarterback Chad Pennington went 3-4 for 23 yards.
Miami ran the Wildcat 12 times for 107 yards (8.9 yards per carry).
September, 21, 2009
9/21/09
10:56
PM ET

Posted by ESPN.com's Paul Kuharsky

Miami's offensive line has blocked very well for the run and done well protecting Chad Pennington into the early fourth quarter.

I've been struck by how Jake Long, the Dolphins' giant left tackle, has neutralized Dwight Freeney on so many snaps. Freeney last week influenced the win over the Jaguars in a big way working against rookie Eugene Monroe.

But Monday night, Miami's big second-year blocker has engulfed Freeney is a lot of situations, and Freeney's lone sack of Pennington came on an ill-advised roll out that put Freeney in the one situation where he has a clear advantage against Long -- covering a lot of ground.

The Colts are trying to mount a touchdown drive than can pull them back even. Perhaps Freeney and the defensive line have saved their big plays for late.
July, 7, 2009
7/07/09
8:27
AM ET
Posted by ESPN.com's Paul Kuharsky
A Chris Johnson-Steve Slaton bond has been established, says Matt Sohn.
Houston Texans
Indianapolis Colts
Jacksonville Jaguars
Tennessee Titans
January, 21, 2009
1/21/09
12:05
AM ET
Posted by ESPN.com's Paul Kuharsky

Collins
Kerry Collins
is a Pro Bowler, according to
the roster
at the league's Web site for the game.
He's an injury replacement for Brett Favre, who backed out. But Collins wasn't the first alternate, he was second behind Philip Rivers, who also won't go. (See AFC West blogger Bill Williamson's story here.)
As the surprising starter for the 13-3 Titans, Collins had a remarkable year. But his numbers hardly shout Pro Bowl: a completion percentage of 58.3, 12 touchdowns, seven interceptions, eight sacks and an 80.2 passer rating.
Peyton Manning, Jay Cutler and Favre were the original three quarterbacks for the AFC. Easy cases can be made that Rivers, Miami's Chad Pennington and New England's Matt Cassel each deserved to go ahead of both Favre and Collins. (At the time the voting was conducted, Cutler was worthy.)
I'm not down on Collins at all. He bailed the Titans out of a potential disastrous year with a no-longer-ready Vince Young at the helm and showed himself a more than capable and effective leader.
Still, I think a Pro Bowler has to also have some shiny numbers and I don't think a signal-caller should get a pineapple next to his name in his team's media guide when the best things he did were not throw picks or take sacks.
Two years ago, Young was even further down the Pro Bowl pecking order. But so many quarterbacks were hurt or chose not to play that he made the game despite a season with 12 touchdown passes and 13 interceptions. The league now asks teams not to reveal where in line their alternates stand because it fears such embarrassments.
This is one of the inherent problems with the game. Dropouts create too much opportunity for guys not quite worth of the honor, which waters it down for everyone else.
Starting next year, Hawaii isn't even part of the equation. The game will be played at the Super Bowl site the week between the championship games and the Super Bowl.
That means we can scratch the 10 or 12 guys from the league's two best teams from the roster, and the ones who were beat up on the losing end on the conference finals too. As if it's not diluted enough already.
One more complaint: the fan balloting that counts for a third of the results starts far too early and ends too early too. Player and coach voting should be conducted later as well, after 15 games if not the entire regular season.
Al of which makes it obvious that it's time to scrap the game.
Hold a skills competition that will allow someone to brag of being the league's fastest man, the league's strongest player and the league's most accurate quarterback. Hold a big gala that mixes in movie stars and recording artists. And let the original list of Pro Bowlers be written in stone -- no late additions padding resumes allowed.
January, 5, 2009
1/05/09
2:45
PM ET
Posted by ESPN.com's Paul Kuharsky
A number of readers had a similar reaction following the Colts' loss in San Diego Saturday night.
Allow me to paraphrase:
"Peyton Manning should give the MVP back,"

"Some MVP."

"That's the MVP?"
PEYTON MANNING
Quarterback Indianapolis Colts



2008 Season Stats

Att
Cmp
Yds
TD
Int
Rat
555
371
4,002
27
12
95.0
I am compelled to reply.
First off, the Colts didn't lose because of Manning. Yes, the playoff record of one of the two best quarterbacks of his era should be better than 7-8. Yes, Manning's Colts have bowed out in their first game four times too often. But while Saturday wasn't Manning's best game and while his one big pass play came on a busted coverage, his work was sufficient for a win. He deserves a share of the blame, but he's not responsible for the insufficient run game, the Colts' struggles slowing Darren Sproles, the failed block by Gijon Robinson on a crucial sack that killed Indianapolis' chance to ice it or a number of other issues.
Secondly, the MVP Award is for the regular season. If you thought Manning didn't play MVP football against the Chargers, so be it. But that game doesn't erase the work he did from September through December that earned him the award in a landslide vote.
This is the reverse of something I see constantly. Player X, let's say he's a receiver, will have played poorly for a month and then he has a breakout game. He says, "That was for everyone who gave me all the grief. Take that. See?" And his supporters and emotional fans pick that up and run with it, calling in for hours on talk radio and firing e-mails to bloggers.
But while he may have had a wonderful game, guess what? He still had a lousy month before that. He didn't change history.
| | |
| --- | --- |
| | |
| | NFL.com Video |
| | Re-live the sights and sounds from the Colts' 2008 regular season. |
Neither did Manning in San Diego.
A performance that may not have met the high standards he's set for himself in the playoff opener was a disappointment. It didn't all of a sudden make someone else worthy of MVP.
And if you think Manning was disappointing, how about we take a close look at the guys who tied for second in the MVP vote? Chad Pennington threw four picks as Miami lost while Michael Turner averaged 2.3 yards a carry as the Falcons lost.
One e-mailer suggested the MVP voting be moved until after the postseason.
Bad idea.
The 16-game grind of the regular season deserves an MVP. There is already a second award for a guy who leads his team to the Lombardi Trophy. It's called the Super Bowl MVP.
December, 12, 2008
12/12/08
2:01
PM ET
Posted by ESPN.com's Paul Kuharsky
NASHVILLE, Tenn. -- Much has been made of Kerry Collins' role as a game manager for a run-based team.
When teams have stacked up and forced the Titans to throw more, he's done well, too. But his most notable stats for the season are lows, not highs -- he's thrown only six interceptions and been sacked seven times.
Look more closely at his body of work over the last five weeks, and I expect you will be surprised. He rates better than Jay Cutler, Philip Rivers, Kurt Warner, Chad Pennington and Eli Manning.
Top passer ratings in Weeks 10-14:
Player
Team
Att
Cmp
Pct
Yds
Y/A
TD
Int
Rate
Jeff Garcia
TB
109
69
63.3
860
7.89
5
0
103.0
Matt Ryan
ATL
139
94
67.6
1,279
9.20
5
2
102.8
Peyton Manning
IND
183
124
67.8
1,217
6.65
10
3
97.6
Shaun Hill
SF
155
97
62.6
1,179
7.61
9
4
94.5
Kerry Collins
TEN
144
89
61.8
1,044
7.25
8
3
93.6
Jay Cutler
DEN
189
118
62.4
1,510
7.99
8
4
92.7
Philip Rivers
SD
145
93
64.1
1,131
7.80
7
4
92.6
Kurt Warner
ARI
210
141
67.1
1,588
7.56
9
6
91.9
Chad Pennington
MIA
151
98
64.9
1,071
7.09
5
2
91.2
Eli Manning
NYG
148
90
60.8
1,012
6.84
8
3
90.8