AFC South:

Chandler Jones
October, 6, 2012
10/06/12
11:09
AM ET
Rick Shortt from Virginia Beach writes:
Again I say, let's quit jumping on the Texan bandwagon. It will not be long before they crash out at the bottom again. How long did it take them to get this far? GO COLTS.
Paul Kuharsky:
I'm not on a bandwagon. I write about what's going on.
What's going on is the Texans are one of two undefeated teams left in the whole league. Would you like me to pretend they aren't winning now because you think it'll tail off?
Who should I act like is good instead? A team that got beat in it's last game by the marvelous
Blaine Gabbert
-
Cecil Shorts
tandem?
---
Mike W from Jacksonville Beach writes:
In reference to your weekly what you think the Jags are thinking. This is what a 5 year Jag's season ticket holder is thinking: It could be argued the three most important positions for all 32 NFL teams are GM, Coach and QB. If you had their peers rank Gene Smith, Mike Mularkey, and Blaine Gabbert against others in the league, there is no way that anyone would rank them above a 27 or 28. Until any or all of these individuals are removed, you realistically cannot be successful. I've had (or heard) countless discussions with others, on sports radio, and from local media, but isn't that really their problem in a nutshell? Other comments are deflections and distractions from the root cause of why the Jags continue to lose.
Paul Kuharsky:
I certainly understand your frustrations. But the guys that you'd rank in the top five at those spots were once nobodies who ranked 28th, don't you think?
Maybe not at QB, but certainly with coaches and GMs.
Where did Gary Kubiak and Rick Smith of the Texans, for example, rank on your coaches and GMs lists three years ago? Where do they rank now? I'd suspect substantially higher. Their owner was patient with them and is now collecting dividends.
Also important: who are the guys you you want replacing Smith, who's at least had some time, and Mularkey, who's FOUR GAMES into his tenure with the Jaguars, and Gabbert, who's played in all of 18 games?
---
Marcus in Winter Park, FL writes:
I was the person who was annoyed with the lack of an upgrade at the CB spot during the Texans' off season, my username being eramthgin007. I just wanted to admit that I was wrong about
Kareem Jackson
's ability to improve. He impressed me long before he got that pick-6 against the Titans yesterday. I am now cautiously optimistic, for I am still not going to put all of my chips on KJ because Hasselbeck was the QB yesterday. I want him to do well against Rodgers and Flacco and Brady, then I will trust in his abilities more. But I admit to being wrong, and I look forward to seeing KJ improve even more. Oh, and I really enjoy your posts, especially your humor. Sarcasm is possibly the greatest thing to ever happen, ever. Not really but you get the point.
Paul Kuharsky:
Wow. Score one for reader accountability. Rare. Dogs and cats living together.
I much appreciate the feedback.
Jackson is definitely better, but he'd still be the guy I'd go after based on how strong they are elsewhere.
---
Saeed Fakhruddin from Brentwood, TN writes:
I am a season ticket and PSL holder of the Titans. Why does this team ignore glaring needs and go after players in the draft that don't address those needs. We ranked almost dead last in sacks last year and had almost no pass rush. We get
Kendall Wright
and pass on SEC defensive players in a year where there was a bumper crop of linebackers and defensive linemen. We once again have no pass rush and J.J. Watt's has more sacks than the entire Titans defense. Mike Reinfeldt and Ruston Webster are always looking to outsmart the league. They are idiots. Why are they always trying to save Bud Adams' money. We consistently pass on free agents that could fill holes and let go of good players who are leaders in the locker room while getting no draft picks in return. We were an elite team in the years we had a dominating pass rush with
Albert Haynesworth
. The Giants won the Super Bowl with a fearsome D-line. The blueprint is there but it appears the brilliant minds in the Titans front office had other ideas. They are stale and have almost no pressure to show results because the Nashville media is way too polite. Bud Adams has been out to lunch for a while. I won't even elaborate on the need to reinvigorate the O-line.
Leroy Harris
is a liability. David Castro would have been worth moving up in the draft. Thank you.
Paul Kuharsky:
No, thank you. You've given me great fodder.
They've missed on a lot of players, for sure.
But they didn't miss on leting Haynesworth walk -- did you see what he did after he got that giant contract? Would you somehow feel better if they'd wasted $40 million guaranteed on a guy who was going to mail it in from there just to prove to you a willingness to spend? And they got a third-round compensatory pick for losing him.
They didn't do enough at defensive end, but didn't do nothing.
Kamerion Wimbley
was an expensive free agency.
They passed on
J.J. Watt
because they had to have a quarterback. We won't know if they picked the right one for a while. But they were hardly alone in not jumping on Watt.
I don't know what they would have had to do to draft David Castro, but they wouldn't have had to move up for
David DeCastro
. They passed on him and he went four spots later. I would have liked to have seen them make that pick too. But of course if they took him, you'd be complaining about not having enough depth behind
Kenny Britt
at receiver or still ranting about defensive end. (The guy the Titans may really regret passing on is DE
Chandler Jones
.)
Drafting strictly for position of need has proven to be a bad strategy. You draft players, not positions. Last year were you bemoaning the selections of
Jurrell Casey
and
Colin McCarthy
and
Karl Klug
?
If you want to crush the Titans, crush them. They deserve it. I've been doing it. But how about you crush them accurately?
---
Rick in Ponte Vedra Beach, FL writes:
Two questions: 1. Do you think Jack Del Rio kept a tight leash on Dirk Koetter's offense in Jacksonville? With
David Garrard
and Blaine Gabbert, the Jaguars were (and still are) a 3-yards and a cloud of dust offense. Koetter goes to Atlanta and the Falcons light up the scoreboard. He has better offensive players in Atlanta, but still the Jags were so predictable. 2. Have you ever been to Roberts Western World on Broadway in Nashville? Do locals go there?
Paul Kuharsky:
1) Yes. Koetter didn't have a lot of talent to work with and I don't think Del Rio let Koetter do everything he would have liked.
2) Yes. Once at the end of a late night. Good spot. Mix of locals and tourists. But downtown is not where most of locals go. Try Midtown
---
LX from El Chuco, TX writes:
Now that the Texan's are 4-0, the media/public praise almost make me forget the 10 previous seasons of inconsistency and frustration. Honestly, I expected them to win by less than a TD vs. the Titans and lose by 10+ to
Peyton Manning
's Broncos. Still the early success bothers me. Against Manning, as usual, the Texans folded in the fourth quarter; Peyton would have won if he had the level of familiarity with his WRs/TE in DEN as he did in IND. The Manning hex has not been lifted because the Texans have yet to win at IND; besides, they usually struggle with rookie QBs and
Andrew Luck
will be well experienced by Week 17. Speaking of insurmountable hurdles, the Texans have never beet two of the three teams they will face before the bye: NYJ and BAL!!! I know you love the Texans when they win, but their success remains unproven. I hope they DO lose at least one game in the next three weeks so that they can focus on reaching the SB and not fall into the Pursuit-of-Perfection BS that killed the Patriots when they went 18-1.
Paul Kuharsky:
You write: "Still, the early success bothers me." So after the 10 years you complain about, they are finally good, they are crushing people, and you are bothered by success? What do they need to do to make you happy?
Teams win all the time with some sort of statistical or personnel deficiencies. Trust me here, right now the Texans don't have much of either. They gave up a big lead in the fourth quarter in Denver -- and still won. They beat Manning where and when they were scheduled to play him. Did you want them to petition to relocate the game to Indy?
Your team is playing great but your choice is to fret about their Week 17 matchup on the road against Andrew Luck?
I think you're right. They probably will lose that game. Because it probably will mean nothing to them in terms of playoff positioning. How in the world will you deal with such a catatrophe?!?
I wouldn't worry about a perfect record. They'll lose more than one game. But if you like them, you don't have to be compelled to root for it. Just let it happen.
---
Jake from Tennessee writes:
How did your lover boy Matt Hasselback do for you Sunday? I bet you were devastated that he sucked and CJ performed. You might be the worst blogger, due to your always biased opinions, in ESPN history!
Paul Kuharsky:
You are confused.
This will help you understand what you see as "
bias
."
Did you think
Chris Johnson
was good in the first three games? Should I have raved about him?
---
Craig Adams from Lubbock, Texas writes:
I've never done the fantasy thing before until this year. For some reason all your bad mouthing of MJD, who I've never really followed, stood out to me as the season approached. As of late I have looked for comments by you seeing if you had given him any kudos as of late but have not seen any? Do you have a pride issue?
Paul Kuharsky:
Maurice Jones-Drew's been everything we've come to expect of him. But I haven't had any real cause to write about him. I said during his holdout that they could go 5-11 just as easily with him or without him. And they look to be on track to do it with him, again.
Also, I don't believe I said he wouldn't play well when he played. I never questioned his talent. He's very talented. I said he didn't deserve a new contact. What he's done since he returned hasn't really swayed my thinking on the contract or changed my reaction to how he handled things.
---
Romeo Hughes from Starkville, MS writes:
When it comes to
Tennessee Titans
defense, is horrible coaching by Jerry Gray or are they just don't have the talent? They are missing way too many tackles, the safeties are lined up way too far deep, the line gets no pressure, and they don't use
Akeem Ayers
like they should. Thank you for your time and I enjoy reading your columns.
Paul Kuharsky:
It's a combination of both, plus a third ingredient: They've played four pretty good teams.
September, 12, 2012
9/12/12
8:24
AM ET
Is Titans left tackle
Michael Roos
maintaining his typical high level of play?
Rookie pass-rusher
Chandler Jones
had a big first game for the Patriots Sunday in New England's
34-13 victory
at LP Field. He was going against Roos, long-regarded as a top-tier left tackle who doesn't get enough credit.
But during the preseason, I heard from Mike Tanier, now of Sports on Earth, that Roos might be starting to slip. And his effort Sunday, while just one game, suggested there could be something there.
We've typically put the Titans offensive-line problems on the interior, particularly center
Eugene Amano
and guard
Leroy Harris
. Tennessee looked at a bunch of free-agent centers but stood pat, and Amano was hurt early in camp, lost for the season and replaced by
Fernando Velasco
. Harris flipped from left guard to right guard to accommodate the arrival of free agent
Steve Hutchinson
.
[+] Enlarge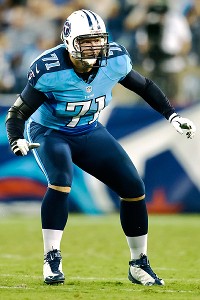 AP Photo/Paul AbellA less-than-perfect opener could be a sign that left tackle Michael Roos' skills are slipping.
Have Roos and right tackle
David Stewart
gotten a bit of a pass?
I'm not ready to say so yet, but the tackles were not discernibly better than the interior in a bad day on Sunday.
No matter how poorly
Chris Johnson
ran, the run blocking was not sufficient anywhere.
"As far as run blocking in general, we weren't good enough, and that's the whole group," coach Mike Munchak said. "We weren't consistently good enough. Anytime you run for 15 yards, you're not going to say anyone is blocking well in the run game. When we ran well, we blocked well, and we've got to do better next week."
Quarterback
Jake Locker
was sacked twice and hit three times and I didn't feel like he was under much steady pressure, though Jones was a handful. He beat Roos to strip Locker near the Titans goal line, and rookie linebacker
Dont'a Hightower
scooped it and scored from 6 yards out to put New England up 14-3.
"Jones is a good player, I think he's going to be real good," Roos said. "He's tall, very athletic, able to use his size. There is a reason they drafted him in the first round.
"He's a starting end in the NFL, so any guy is going to give you some trouble, There were some tougher blocks for me. The one he got my hands and got around me and stripped Jake. That was unfortunate, I thought I had him. It happened so quick. On my part, that's just me not getting my head down in the play and trying to stay with it."
Munchak said there is nothing to the idea that Roos' game could be starting to tail off.
"Yeah, the thing is, we threw the ball (43) times," Munchak said. "… I think he blocked well for most of the game. The life of an offensive lineman is you get beat one time, you had a bad day. He got beat once for a big play, which normally, he very rarely gets beat. So again, the kid made a nice play on him, a big play for them and it definitely factored in the game, especially at that point in the game, early in the game."
September, 9, 2012
9/09/12
9:35
PM ET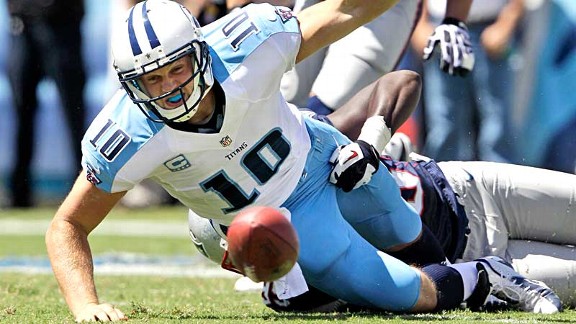 AP Photo/Wade PayneJake Locker and the Titans made too many mistakes to keep up with the defending AFC champs.
NASHVILLE, Tenn. -- One of the things that made critics wary of the five-year, $35 million contract
Michael Griffin
signed in the offseason was the safety's propensity for missed tackles.
We saw a picture perfect "Griff whiff" with 7:17 left on the clock in the second quarter at LP Field on Sunday, when New England Patriots running back
Stevan Ridley
took a carry wide right. He ran through what seemed to be a meager effort from Griffin, who had arrived relatively quickly, and Ridley ripped off 15 yards.
It was symbolic of a defensive struggle Tennessee simply couldn't afford in a first start for quarterback
Jake Locker
. As New England racked up 390 net yards and benefitted from big Locker gaffes, the Titans saw just how much distance lies between them and the defending AFC champs in a
34-13 loss
.
"This was our first real, live test," cornerback
Alterraun Verner
said. "And obviously we failed."
One of the things that moved the Titans to sign Griffin, whom they had designated their franchise player, to the long-term deal was a transformation in his attitude. Rather than moping about being kept from free agency, he showed new resolve, dedication and accountability.
Although the Titans are
doing him a disservice
playing him close to the line of scrimmage as the strong safety instead of as a roaming free safety, a player deemed worthy of that kind of deal simply has to do more than wave at people or get run over. (He offered no comment when asked about being asked to play in the box.)
He spoke very softly after the game, but showed more accountability regarding his tackling troubles and performance than he has on poor Sundays in the past.
"Ain't nobody got to tell me right now, I know I played a terrible game," he said.
"I know I was missing tackles. I'm on myself right now about missing tackles and what not. That was one of the things that I preached and preached and preached going into the season. Got to get better, try to get bigger. I gained like five, six pounds to try to be stronger in the run game. I guess I just need to work on my tackling. My focus right now is just to try to get better at tackling."
He's clearly got the physical qualities needed to bring ball carriers down and he often shows the football sense to be in the right place.
So why the struggles?
"It's trying to get there," he said. "Coach tells me all the time, a lot of times I get there and I try to shoot my gun rather than trying to make a sure tackle. It's just my nature. When you shoot your guns sometimes you're going to miss tackles like that. In the NFL, we don't tackle during the week. I'll see if I can talk to the coaches about trying to work on, trying to make open-field tackles and things like that."
He also looked to be responsible and at fault on a handful of big pass plays involving
Brandon Lloyd
and tight end
Aaron Hernandez
.
But Griffin was hardly the lone offender for the Titans when it came to a failure to make plays.
The pass rush got one big sack from
Kamerion Wimbley
, but otherwise hardly bothered Tom Brady as he completed 74 percent of his throws en route to a 117.1 passer rating.
And Ridley had a great day, seemingly surprising the Titans with the sort of decisive and determined running they don't see from their own back,
Chris Johnson
, anymore. Ridley had 21 carries for 125 yards and scored a touchdown while Johnson had 11 carries for 4 yards.
"They ran the ball better than they should have been able to," Titans coach Mike Munchak said.
Meanwhile, Locker made a couple of poor choices just the way you imagine he might against a Bill Belichick-coached defense.
From near midfield at the start of the second quarter, he threw a wobbly ball for
Nate Washington
with two defenders nearby. Corner
Kyle Arrington
tipped it and safety
Tavon Wilson
picked it off.
It stopped an offense that had moved the ball reasonably well to that point, but the mistake didn't lead to any points for the Patriots.
The next one was a crusher.
Rookie defensive end
Chandler Jones
slapped the ball out of Locker's hand near the Titans' goal line, and rookie linebacker Dont'a Hightower scooped it up and took it 6 yards for a touchdown that put the Patriots up 14-3.
The Titans were never closer than 11 points again.
"The first one was a bad decision," Locker said. "They were just in a soft coverage. I shouldn't have thrown it. The fumble, I have to take better care of the ball in the pocket."
Locker was knocked out of the game early in the fourth quarter
as he tackled
safety
Patrick Chung
and hurt his left, non-throwing shoulder.
He and his coach lamented missed opportunities.
"They didn't make many mistakes," Munchak said. "They didn't turn the ball over, they didn't do some of the things we did, have crucial penalties that hurt them like we did. That's what the separation is. It's us consistently getting better and making plays and not helping the other team. And that's kind of where the gap is right now."
September, 9, 2012
9/09/12
2:34
PM ET
NASHVILLE, Tenn. -- The Titans had two big issues coming into their opener against the Patriots.
Both have been magnified in the first half, which ended with New England ahead 21-3 and in complete control.


Tennessee can't cover all of the Patriots' weapons:
Ryan Mouton
, either the choice at the nickel spot for this game or a guy who's taken over as the third corner, has done well blanketing
Wes Welker
. But they've struggled with tight ends
Aaron Hernandez
and
Rob Gronkowski
.
Michael Griffin
and
Robert Johnson
have been turned around and
Jordan Babineaux
couldn't keep up with Gronkowski on a 2-yard TD catch.
Jake Locker looks like a first-time starter:
He's made some plays, but two bad ones have offset the good. He threw a deep duck for
Nate Washington
that was tipped by one defender and intercepted by another. He didn't feel pressure near the goal line and got stripped by rookie pass-rusher
Chandler Jones
, watching rookie linebacker
Dont'a Hightower
scoop and score with the fumble. Washington dropped two passes, but Locker also missed him badly running open midrange at one point.
On the bright side:
The best thing the Titans have show in these 30 minutes? Perhaps it's the pass protection. Plenty of times Locker has had more than enough time to throw. Jones seems to be getting the better of left tackle
Michael Roos
, but it's not been deadly beyond the fumble play, when Locker probably held it too long. And the interior, which was the big line question coming into the game, has held up well so far.
Stay tuned.
September, 5, 2012
9/05/12
12:03
PM ET
Some initial thoughts on the four games we'll be watching this weekend:

Miami at Houston
Miami left tackle
Jake Long
is coming of a knee injury and right tackle
Jonathan Martin
is a rookie. How well can the Dolphins protect rookie quarterback
Ryan Tannehill
against a smothering Texans' defensive front? Set the over-under on sacks at 4.5, minimally. Maybe everybody gets one, maybe
Connor Barwin
or
Brooks Reed
or
J.J. Watt
ends up with several.

Indianapolis at Chicago
I expect a big season from Bears quarterback
Jay Cutler
. But the Bears would be wise to start off with a heavy dose of
Matt Forte
and
Michael Bush
. The preseason didn't do much to prove the Colts will be capable of stopping the run. Opponents would be wise to set the tone with a running back before trying to find the holes in the secondary.

Jacksonville at Minnesota
How good is rookie left tackle
Matt Kalil
out of the gate for the Vikings? The Jaguars own rookie starter, right defensive end
Andre Branch
, draws the matchup. The second-round rusher will look to get past the first-round blocker to harass second-year quarterback
Christian Ponder
. We've not heard a great deal about Branch yet, but he's a key addition for the Jags. (We hit on
the importance
of
Eugene Monroe
yesterday.)

New England at Tennessee
The Titans love
Jake Locker
's ability to rebound from tough stuff, and he's likely to be in position to have to do so in the course of this game. The Patriots' defense had some severe deficiencies last season. Can rookie right end
Chandler Jones
help disrupt Locker, or will
Michael Roos
hold him at bay? And what kind of coverage wrinkles will Bill Belichick come up with?
April, 23, 2012
4/23/12
3:31
PM ET
The first six picks of
ESPN's Blogger Mock Draft
unfolded pretty much as expected.
That's when James Walker, our AFC East representative, put out the word: "I'm willing to make a trade back with Buffalo at No. 10."
Before anyone could respond, AFC South representative Paul Kuharsky announced he'd swung a deal with Dan Graziano of the NFC East. The Jaguars had traded the seventh overall choice and a sixth-rounder to Philadelphia for the 15th, 88th and 153rd selections.
The Eagles took defensive tackle
Fletcher Cox
at No. 7.
"By the way," I wrote in an email to the group, "Seattle would love to trade back from 12."
Then came the word from Walker, sent only to me, the NFC West rep: "Don't make your pick at No. 12 yet. I have an offer from New England coming. Working out the point chart. First, I have to figure out Buffalo's pick at No. 10."
A few seconds passed before the AFC West's Bill Williamson, unaware Walker had already made contact regarding the 12th pick, reached out to me in another email.
"If
Melvin Ingram
is on the board at 12," Williamson wrote, "I might have San Diego come up from 18."
This was intriguing. Seattle's actual leadership had swung a deal with San Diego for quarterback Charlie Whitehurst a couple of years ago, so trade talks for the 12th pick seemed realistic. But the Seahawks also have a working relationship with the Patriots, having traded Deion Branch to them not all that long ago.
"Sounds good," I replied to Bill. "James might also make an offer here."
The potential deal with Williamson and San Diego was fleeting. Walker executed a trade with himself, allowing the
New York Jets
to move into Buffalo's spot at No. 10. The Jets took Ingram, the player Williamson had wanted for San Diego.
The fun was only beginning.
Our eight divisional bloggers made four trades involving the seventh, 10th, 12th, 15th, 16th, 27th, 31st and 32nd overall choices, plus later considerations.
Five of our first-round selections in this mock failed to appear in our previous one.
Jerel Worthy
,
Kevin Zeitler
,
Chandler Jones
,
Shea McClellin
and
Coby Fleener
pushed out
Rueben Randle
,
Andre Branch
,
Peter Konz
,
Kendall Wright
and
Mike Adams
.
Courtney Upshaw
,
Dontari Poe
and
Stephen Hill
made double-digit drops from then to now.
Michael Brockers
,
Cordy Glenn
,
Stephon Gilmore
and Cox climbed at least eight spots since last time.
We drafted seven defensive ends/outside linebackers, six offensive linemen, five defensive backs, four defensive tackles, three receivers, three quarterbacks, two inside linebackers, one tight end and one running back.
Mostly, we had some fun with the process. Thanks for coming along.
***
ESPN.com's NFL bloggers went through one final mock draft leading up to Thursday's start of the NFL draft. Here is how
#ESPNbloggermock
played out.
March, 1, 2012
3/01/12
4:37
PM ET
Steve Muench of Scouts Inc. has
a piece

today that looks at five players who stood out at the NFL combine but are without true position fits in the NFL.
As he considers where they might play in the NFL and who might want them, the
Jacksonville Jaguars
popped up.
Muench thinks Syracuse tweener
Chandler Jones
could be a good fit for Jacksonville early in the second round.
Here is what Muench writes on Jones:
"Coverage drills at the combine exposed some tightness in his hips, and Jones (6-5, 266) didn't show great body control throughout the workout. He's capable of dropping into coverage on occasion and could still line up at outside linebacker in a 3-4 scheme, but he looks like a much better fit at defensive end. The good news is he had a strong workout for an end prospect.

"Jones laid down a quick 10-yard split (1.63) and showed good bend during drills, and there's also a lot to like about his arm length (35.4 inches) and upper-body strength. His 22 reps on the bench press are slightly below the four-year average for ends, but given his arm length it's a noteworthy number. Jones is on the fringe of the first round, where the New England Patriots (Nos. 27 and 31) could be looking for help along the line. The Jacksonville Jaguars are another possible fit early in the second round."
The Jaguars could address defensive end in free agency, but adding Jones in the second round would be fine, too. If they don't get a veteran end, they could feel more urgency regarding the position at No. 7 overall.
February, 8, 2012
2/08/12
3:31
PM ET
We know the
Indianapolis Colts
' best-case scenario:
Andrew Luck
reinforces all the great opinions of himself between now and the draft and holds up a Colts jersey on April 26.
I asked Steve Muench of Scouts Inc. to give me a best-case scenario for the other three teams of the AFC South given the three primary needs I listed for each.
Here's his thinking at this point:

7) Jacksonville Jaguars (rush DE, WR, CB)
Muench:
"I don't know if you checked out Todd McShay's latest mock or not but he has the Jaguars taking North Carolina defensive end
Quinton Coples
at seven. That's the ideal situation for them. Coples is a top-five talent coming off a strong performance at the Senior Bowl and projects as a Day-1 starter. If he's not there that means there's a good chance they can get LSU corner
Morris Claiborne
or Oklahoma State receiver
Justin Blackmon
. Claiborne is a slightly better value."

20) Tennessee Titans (rush DE, S, G)
Muench:
"McShay also has Tennessee taking Southern Cal defensive end
Nick Perry
, which fits in terms of value and need. I think the 'dream' pick however is Alabama's
Mark Barron
who could last until 20 and is by far the best safety prospect."

26) Houston Texans (WR, 3-4 NT, 3-4 OLB)
Muench:
"For Houston, getting Baylor's wide receiver
Kendall Wright
would be ideal but there's an excellent chance he's not there. Syracuse defensive end
Chandler Jones
is a name to keep an eye on because he projects as a late first-round pick and he has the potential to develop into an effective 3-4 outside linebacker."

AFC SOUTH SCOREBOARD
Friday, 8/22
Saturday, 8/23