AFC South:

Chargers-Titans 122509
December, 26, 2009
12/26/09
1:26
AM ET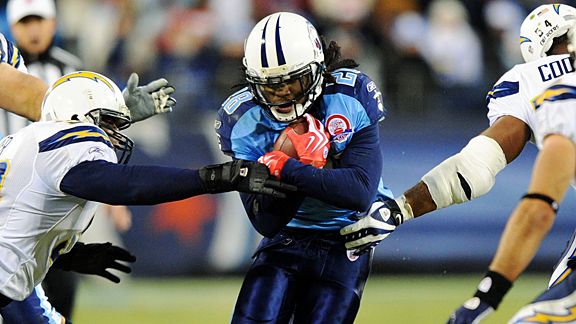 Don McPeak/US PresswireWhile Tennessee's playoff hopes were crushed in convincing fashion Friday night, the Titans are pushing hard to get running back Chris Johnson past the 2,000-yard rushing mark this season.
NASHVILLE, Tenn. -- For weeks, the individual and team goals neatly synchronized. For the
Tennessee Titans
to give themselves a shot at the playoffs, they needed to ride
Chris Johnson
. Riding Johnson maximized his chances at reaching 2,000 rushing yards.
After the
Titans suffered a 42-17 Christmas night rout
at the hands of the
San Diego Chargers
, the team dream is dead. The 2009 Titans will not be part of the AFC playoff field, and the best they can manage is an 8-8 record.
Talk as they might about the comeback from an 0-6 start, the Titans can take little solace in a .500 season. It won't soothe the fact they dropped so far after recording a 13-3 mark -- the NFL's best -- in 2008. This year's team lost to good teams like San Diego and beat bad teams like St. Louis. It deserves to be called average.
The Titans had done well to focus forward since their bye fell after the 0-6 nightmare start. Even after a Dec. 6 loss at Indianapolis, they managed to keep faint playoff hopes alive. Now pull back and look broadly at what they've done, and you have to see the 0-6 start as the story of the season.
"Yeah, it is, that is very fair," tight end
Alge Crumpler
said. "…We had a run that hadn't been done before (after 0-6). We had gotten out of that catch-up mode. We were scrapping, we were fighting, our backs were in a corner, we were getting out of the situation and I didn't see this coming. I just felt very good going into this ballgame. For it to happen like this is pissing me off."
"You've got to finish, and we didn't finish," fullback
Ahmard Hall
said.
It was Vince Young's worst game since he took over as the starter on Nov. 1. He threw two picks, lost a fumble and hit on just eight of his 21 passes for 89 yards. His 11.9 passer rating was 18.3 points worse than his previous low.
"Every time we did get in a rhythm, I turned the ball over," he said.
The game featured hallmarks of a lot of other Tennessee losses: Big plays yielded by the secondary, poor red zone defense, too many penalties.
One of them, sadly, came after
William Hayes
was flagged 15 yards for roughing
Philip Rivers
. Defensive coordinator
Chuck Cecil
was so livid over the call, he doubled the Chargers' reward by drawing a flag for unsportsmanlike conduct. Jeff Fisher pledged he'll "get to the bottom of it," as if dissecting it afterward will be effective. Why is this allowed to happen in the first place?
Well before the season started in a much calmer moment, Cecil told me about how in studying a college prospect on defense he'd seen then-East Carolina star Johnson play. He chimed in to team brass, certainly already intrigued, that the running back could help the Titans more than anyone on the other side of the ball.
Considering how often the Titans were behind this year, Johnson's bid for two grand is all the more remarkable -- though Chargers linebacker
Shawne Merriman
said not all of Johnson's 142 rushing yards were hard-earned.
"The game got out of hand and whatever the case is and they want to give him his yards, then that was all right with us," Merriman said.
When the Titans play in Seattle on Jan. 3, just 128 rushing yards can make Johnson the sixth player in history to reach the mark in a single season. He's averaged 124.8 a game so far.
"That was one of my goals that I set before this year started and a lot of people didn't even think I would get close or whatever," Johnson said. "To get that record would mean a lot to me."
A new all-time single-season rushing record is 234 yards away (the old Los Angeles Rams'
Eric Dickerson
, 2, 105 yards in 1984). Still, Johnson needs just 75 yards from scrimmage to shoot past
Marshall Faulk
(who gained 2,429 from scrimmage for the
St. Louis Rams
in 1999) for the record in that department.
While Johnson's name goes on the individual records, it's very much a team goal. Even Titans defenders talked about how much they want it.
Early in the season, Johnson said his offensive linemen were in line for cars if he got 2,000 rushing yards. He backed off that pretty quickly, probably after someone drew him into a discussion about the financial math, saying the storyline grew from the linemen's plea for such a reward.
Friday night he said he'd already gotten the linemen and Crumpler gifts, but couldn't reveal what they are.
Told that, Crumpler said: "I don't want [expletive] unless we get 2,000."
Earlier I talked with the veteran tight end about the improbability of Johnson even being in range.
"You tell me how you start out 0-6, you have to throw the football and you have 2,000 yards in your sights," Crumpler said. "That shouldn't be a part of the equation. I want to make sure when I walk off that field next Sunday that I gave it all I had to help him accomplish a goal that he set.
"I don't take any yard for granted. But it's attainable. And I know that coach over there [the Seahawks head coach Jim Mora Jr., who worked with Crumpler when they were
Atlanta Falcons
] real well and he is going to do every damn thing he can to keep him from getting it."
December, 25, 2009
12/25/09
10:28
PM ET
NASHVILLE, Tenn. -- The Titans were hot coming in, but not as hot as the Chargers, who clinched the No. 2 seed in the AFC playoffs and the bye and home playoff game that comes with a
42-17
win at LP Field.


So much for the idea San Diego would be sluggish and unmotivated on the road, in the cold on Christmas night.
Tennessee's playoff hopes are now dead, and the best the Titans can muster is 8-8. Sure a 7-1 run was nice, but it's that 0-6 start that's the story of their season.
A week from Monday or Tuesday, when this team gathers for the final time, Jeff Fisher will have to begin to answer for that.
He's a highly respected coach who's not going anywhere. But last year he officially became an underachieving playoff coach, and this year he was at his most inconsistent. He made more debatable decisions than at any point in his career as a head coach and was too easily surprised.
These Titans won't be better than 8-8, which means a ninth non-winning season in 15 full seasons.
Even in a league created to make everyone .500 over any significant stretch of time, it's a batting average that leaves a lot to be desired.
December, 25, 2009
12/25/09
9:56
PM ET
NASHVILLE, Tenn. -- They Chargers look great. The Titans look lost and, occasionally undisciplined, defensively and simply can't hold up.

There has been some good pressure but on Philip Rivers by the Titans' front four.

The trouble is, when you run into an unflappable quarterback who doesn't care who's in his face, who's able to make throws under fire, who can step up and around it, who zips it regardless of what's going on around him and who gets up after a sack, that pressure doesn't have the impact you need it to.

And it helps create a game like this, where the Chargers are simply doing what they want on offense. It's 35-10 at the end of the third quarter, on the verge of 42 -10 with San Diego facing second-and-goal from the 1.
December, 25, 2009
12/25/09
8:46
PM ET
NASHVILLE, Tenn. – I've said the last big question for
Vince Young
to answer is whether he can bounce back from major adversity in the second act of his career.
After a pick and a fumble in the first half of a game the Titans currently trail 21-3, I think we're about to get a look.
Even under pressure, San Diego's
Philip Rivers
is having his way and the Titans already slim playoff hopes are dwindling.
Asking Young to lead the Titans back may be a tall order, but will he regain/maintain his composure and give them a chance?
UPDATE: He answered pretty nicely on a TD drive just before the half to cut it to 21-10. Titans get the ball and the wind to open third quarter.
December, 25, 2009
12/25/09
8:12
PM ET
NASHVILLE, Tenn. -- Jeff Fisher has not even considered replacing
Nick Harper
when he's been healthy this season, despite the success
Roderick Hood
had working as his replacement.
Hood's three picks in three games was great work, but it didn't make him
Darrelle Revis
.
There is no denying the 35-year old Harper is slipping. He's an accountable veteran, solid in run support and effective in some coverages.
Put him alone on
Vincent Jackson
and you're begging for trouble.
The Titans allowed it in a couple spots on the drive that put San Diego up 7-3. Only an under-thrown pass from
Philip Rivers
-- and the pass could have been knocked down by the wind -- prevented a 54-yard touchdown connection.
Jackson merely slowed early in the route, then ran past Harper and had a five-yards lead on him. If the pass had enough legs, he would have waltzed into the end zone.
The Chargers would be wise to continue to attack him. The Titans would be wise to get
Cortland Finnegan
as the primary man in coverage on Jackson, San Diego's most dangerous receiver.
December, 25, 2009
12/25/09
7:51
PM ET
NASHVILLE, Tenn. -- Nice early moment at LP Field as the Titans pointed out Keith Bulluck, in a gray sweat suit, on the bench.

The team's top draft pick in 2000 tore an ACL last week and may have played his last game with the Titans. He acknowledged the crowd and enjoyed a video tribute.

Not nearly as impressive was the Chris Johnson tribute a big later, with the running backs name sung to the tune of Jingle Bells. Brutal.

Better, the Titans opening drive keyed by Johnson producing a 46-yard Rob Bironas field goal to make it 3-0.
December, 25, 2009
12/25/09
6:31
PM ET
NASHVILLE, Tenn. -- Christmas night callout for illegal procedure: Titans punter
Brett Kern
is wearing gray sweatpants either over, or instead of, his uniform pants while holding for Rob Bironas' pregame field goals.
Brett, buddy, everyone is cold out there. Am I wrong in saying he needs to tough it out? Nashville sportswriter David Boclair points out Kern's legs are his livelihood and maybe it's akin to a pitcher wearing a jacket when he runs the bases.
I am told Kern even wears them during the game and takes them off when it's time to punt or hold.
Do we think Ray Guy did that?
Anyway…
Only one lineup change from the pre-printed flip cards --
Nick Hardwick
is starting at center for the Chargers.
Inactives are in, I know you've been waiting anxiously all day, so without further delay:
Titans
Chargers
December, 24, 2009
12/24/09
3:55
PM ET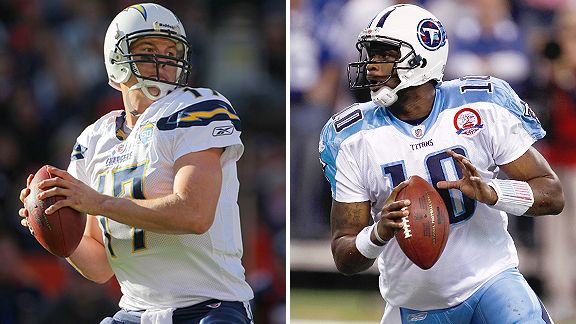 Getty ImagesThere's no love lost between Philip Rivers' San Diego Chargers and Vince Young's Tennessee Titans.
NASHVILLE, Tenn. -- Most teams have a historical trouble spot, and for the Titans' entire life in Tennessee it's been receiver.
They've struck out with high draft picks. They've failed to develop mid- and low- round guys they've selected in droves. They've missed on free agents. They've been unlucky with injuries.
In 2005 they liked
Vincent Jackson
, but watched him go late in the second round to San Diego, where he's developed into a consistent threat. Eight picks later they took
Courtney Roby
in their third round. He's now returning kicks in New Orleans while the Titans will have to defend Jackson Christmas night in a crucial game at LP Field.
ESPN Stats & Information says Jackson has been the targeted on more throws that have been in the air for at least 15 yards than any other receiver in the NFL. On those 52 chances, he had 27 catches for 715 yards, a 26.5 average and four scores.
The Titans try to spread it out and veteran
Justin Gage
has missed time with a back injury. Still, they don't have a pass-catcher close to Jackson in terms of long-pass situational production, let alone overall output (63 catches, 1,097 yards, 9 touchdowns). Rookie receiver
Kenny Britt
leads the Titans wideouts in both receptions (40) and receiving yards (674).
The hit rate's been low, but Tennessee has produced some receivers,
Derrick Mason
most notable among them. And Mike Heimerdinger thinks a trio of Mason,
Kevin Dyson
and
Drew Bennett
at their peak together might have been his best group in his two terms as the Titans coordinator.
His trio now is productive with upside and seems to have a bright future with quarterback
Vince Young
, who replaced
Kerry Collins
as starter eight games ago.
Britt appears to be worth every bit of the first-round pick they spent on him; the inconsistent Gage has made more plays since the quarterback switch but has only caught 45 percent of the passes thrown his way according to ESPN Stats & Information; and though drops are a significant issue as well for free-agent addition
Nate Washington
, he has produced a team-best six touchdown catches. (Gage and Britt are tied for second on the team with three touchdown receptions each.)
In the eight games with Young as the starter, the Titans have the second-most prolific offense in the NFL. Their 398 yards-per-game average trails only the Saints (413.9). Tennessee's 29.5 points-per-game average is tied with Philadelphia for second behind New Orleans (30.6).
When those receivers have made plays for Young, it's opened things up for the team's featured player,
Chris Johnson
. That's the goal No. 1 for the Titans, who are 7-7 and need to win out and get help to keep their AFC wild-card playoff hopes alive.
San Diego's starting corners
Antonio Cromartie
and
Quentin Jammer
have three picks apiece for the league's 13th-rated pass defense. They're both 6-feet tall, but the Titans' three primary wideouts are bigger. Britt and Gage are certainly capable of going up over them to get passes.
A nationally televised game is a good place for Britt, Gage and Washington to perform if they want a broad audience to believe the Titans are figuring things out at the position.
Four other things I'll be watching or wondering about Christmas night as Chargers-Titans unfolds:
Bad blood
:
Shawne Merriman
is still, um, annoyed about a play in a 2007 game where he felt
Kevin Mawae
and
David Stewart
teamed up
to try to hurt him
. Two physical fronts here hardly have a love affair from their two games that season, Chargers wins in the regular season and the first round of the playoffs.
Mawae doesn't mind when opponents are worrying about him, and he will use it to try to use psychology as an aid on at least a couple plays.
Controlling Gates:
Chargers tight end
Antonio Gates
causes a matchup problem for everyone. He can run over DBs and past linebackers. The Titans best coverage linebacker,
Keith Bulluck
, is out for the season. The Titans would be nuts to ask
Gerald McRath
or
Colin Allred
to handle him much. Nickel back Vincent Fuller's physical, tough and responsible, but he gives up 70 pounds and three inches to Gates. I expect he will spend a lot of time on Gates, doing what he can to hold him up. Help better arrive quickly for gang tackling.
Making it hard for Rivers:
Philip Rivers
is gaining traction as the quarterback who should be talked about right after
Peyton Manning
and
Drew Brees
. How might the Titans have their best chance to limit the league's third-rated passer who carries a league-high 8.76 average gain into the game?
Get him out of situations where he's excelled.
Rivers is gettable -- the Chargers have given up 24 sacks, which puts them in the bottom half of the league. The Titans need to rush well with their front four, because with the two kid backers on the field they can't afford to bring any help.
Other pieces of the recipe for potential success against a good quarterback are hardly unpredictable: Get Rivers in third and long, because he's got a 91.9 rating on third down. And don't allow him to work with a lead in the fourth quarter. His passer rating in the fourth period is 98.8.
Punting contest:
Brett Kern's been a wonderful find for Tennessee, and his punts have helped out a great deal with field position. His 37.8 yard net isn't among the league's best numbers, but he's been timely. His counterpart,
Mike Scifres
, is capable of controlling a game, as he did in the Chargers' win over the Colts in the playoffs last season. The Titans' return game has been an abomination this year, so don't expect it to handle Scifres' boomers very well. Remember, every fair catch amounts to a play that wasn't a turnover. Chargers punt returner
Darren Sproles
, meanwhile, can be a major threat.
AFC SOUTH SCOREBOARD
Thursday, 12/5
Sunday, 12/8