AFC South:

Charles Woodson
February, 18, 2013
2/18/13
8:56
AM ET
Dwight Freeney
may have a couple good pass-rushing years left in him.
Potential suitors need to study him and decide if they think he does, projecting what he can do and signing him based on that.
What potential suitors should not do is sign him because they believe he can mentor and help mold and shape younger pass-rushers.
Freeney
We're circling back to an annual theme at free-agent time here.
With 53-man rosters, an NFL team that is well put together can't afford a spot for a guy who's brought in for mentoring if it's not layered on top of production. It's simply a luxury a team can't afford.
Ideally, at every position, teams have a veteran leader who sets the tone and shows the way. But he has to do more than that.
While having a guy who's been there and done that can be important, we can also overrate the influence.
Young players generally want that guy to lean on, but they shouldn't have to look at his résumé to know why he's qualified to lead; they should only need to look at his play.
Teams have men who are employed to help a unit perfect its technique, understand its opponent, be ready and able to play effectively on Sundays.
They are called coaches.
A lot of readers of this blog have
tweeted me
asking about Freeney and the Titans.
A year ago I thought Tennessee should have considered dealing for him if he would have substantially scaled down his contract. The Colts held on to him. He was miscast as an outside linebacker with Indianapolis. Even so, his lack of production was a concern and he certainly isn't going to be a long-term solution for a new team.
Going forward, he's got the best chance of helping a 4-3 team that plays indoors on turf. That's a pretty limited list.
Atlanta is one team that makes a lot of sense to me. (NFL South blogger Pat Yasinskas sees it as
a possibility
as well.)
Freeney isn't the only guy in this category.
Charles Woodson
, released by Green Bay, and Baltimore's
Ed Reed
, who will be a free agent, could be great in a secondary room.
But only a specific kind of team can afford to add them when weighing the potential that an aging safety is slowing and getting hurt more often, missing games.
Teams can't be wowed by the Hall of Fame credentials of a Freeney, Woodson or Reed.
They can't afford to bring in leadership if it doesn't come with production.
These guys fit best on teams that aren't too far away, where they can amount to bonus players instead of guys a team is super-reliant on. Reed to Indianapolis could make sense in that way.
I'm not sure about any of them being a very good fit anywhere else in the division.
October, 26, 2012
10/26/12
1:30
PM ET
»
NFC Final Word
:
East
|
West
|
North
|
South
»
AFC
:
East
|
West
|
North
|
South
Five nuggets of knowledge about Week 8:
Road woes:
The Colts know that if they are going to be playoff contenders in the AFC, they've got to break through on the road. They seek their first win away from Lucas Oil Stadium Sunday at LP Field. It would be their first road win since Dec. 26, 2010. Since then, the Colts have 10 straight road losses. Per ESPN Stats and Information, since 2006 only two AFC teams have had longer road losing streaks -- the Browns and Dolphins each lost 11 in a row. A loss would give the Colts their longest road losing streak since the 1981-82 seasons, when they lost 12 straight.
Forward progress:
The Packers are moving the ball and scoring points, and quarterback
Aaron Rodgers
has completed 73 percent of his passes in his past two games, for 680 yards and nine touchdowns. He has thrown at least three TD passes in his past four games. Meanwhile, the Jaguars have recorded zero or negative yards on 38.9 percent of plays with
Blaine Gabbert
at quarterback and zero or negative yards on 53.9 percent of their plays with
Chad Henne
at quarterback. Gabbert will play with an injured left shoulder and is going against a secondary that will be without
Charles Woodson
, who is injured.
Relief pitcher:
Matt Hasselbeck
will start his third consecutive game in place of
Jake Locker
, who's rehabilitating an injured left, non-throwing shoulder. Hasselbeck enters this game with 199 career touchdown passes. His next one will make him the 32nd player in NFL history to reach the 200-touchdown mark. He would join
Drew Brees
,
Tom Brady
, and
Peyton Manning
as the only active QBs with 200 TD passes. The Giants'
Eli Manning
could join the club with a big game against Dallas -- he currently has 197 passing touchdowns. Hasselbeck has found a rhythm in the past two weeks, leading the Titans to consecutive wins.
Major work:
When the Texans return from their bye, the bad special teams will be subject to revamping. "I think there are just a lot of things that have to get better, me and Joe [Marciano] coaching it, and players doing it," coach Gary Kubiak said. "We may have to get a few starters involved in what we do as we get deeper into the season too. … You hope it doesn't come up too often, because you're trying to stay healthy throughout the whole thing but as we move forward and as you get deeper and deeper in the season, I think it's something you have to think about." Receiver
Kevin Walter
and linebacker
Brooks Reed
are two starters Kubiak mentioned.
Also:
The Jaguars have lost three consecutive games. Since the start of the 2011 season, Jacksonville is tied for the fourth-worst win percentage in the NFL (6-16, .237). The Packers, meanwhile, own the best record during the same stretch (19-4, .826). … After throwing seven touchdowns in his first four games,
Andrew Luck
has not thrown one in his past two games. ... If Tennessee kicker
Rob Bironas
connects on three extra points, he will tie the franchise record for most consecutive PATs made.
Al Del Greco
hit 229 from 1993 to 2000. … Among quarterback-receiver combinations that have attempted at least 30 connections, Gabbert and
Justin Blackmon
have the lowest connection rate at 40.6 percent.
August, 26, 2011
8/26/11
11:55
PM ET
With
Kerry Collins
on the roster and poised to take over as the primary backup to
Peyton Manning
,
Curtis Painter
fared much better working with the Colts' offense.
In a
24-21 loss
to Green Bay at Lucas Oil Stadium on Friday night, the Packers utilized one defensive element Manning typically helps Indianapolis avoid: the blitz.
Manning is masterful at making teams pay when they subtract from coverage to add to the rush. But Green Bay rolled out a steady stream of blitzes, many of which featured cornerback
Charles Woodson
, with no fear of such repercussions from Painter.
[+] Enlarge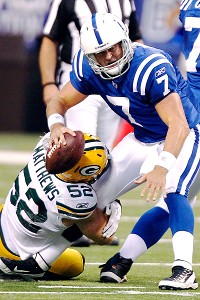 AP Photo/Michael ConroyWithout Peyton Manning, the Packers blitzed again and again on Curtis Painter.
Indy's offensive line is still being sorted out, and the group didn't do particularly well or get particularly good help in minimizing the pressure. Painter didn't get hit so much as he had to hurry, and he was hardly at his best in such circumstances.
Desmond Bishop
got flagged for roughing on one blitz, and Painter threw a ball away when Woodson looped between left tackle
Anthony Castonzo
and left guard
Joe Reitz
untouched. Another time, the quarterback made a nice throw to
Reggie Wayne
, who had a favorable matchup as Woodson came untouched.
No. 2 running back
Donald Brown
actually did reasonably well in blitz pickups, I thought, managing to keep himself between rushers and the quarterback on a couple of occasions. Still that rusher frequently contributed to a closing pocket.
The right side of the starting line, guard
Ryan Diem
and tackle
Jeffrey Linkenbach
, struggled with
Clay Matthews
, whose speed was more than they could handle.
Not every team is equipped to blitz the way the Packers are. But if it's Collins instead of Manning on Sept. 11 in Houston, odds are the Texans will blitz more often and with less fear. And the Colts and Collins will have to be prepared to handle it.
Some other thoughts on what was nearly a rare Colts preseason win:
April, 19, 2011
4/19/11
1:00
PM ET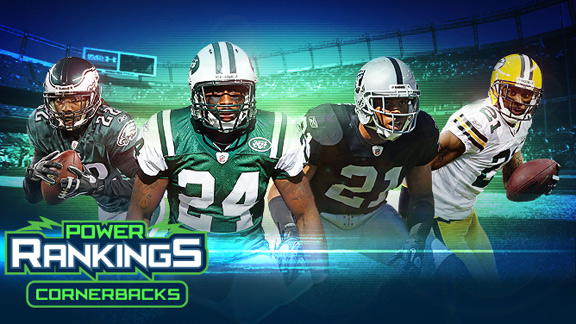 ESPN.com IllustrationDarrelle Revis won a tight race over Nnamdi Asomugha as the NFL's top cornerback.
ESPN.com's NFL writers rank the top 10 cornerbacks in the league today. Next week: Top 10 quarterbacks.
Positional Power Rankings have produced some wild variations in voting. But none has had so many players mentioned as cornerbacks.
Previously, multiple votes had yielded 17 names. Our polling for the top 10 cornerbacks in the NFL touched on 23, a record that might be hard to break.
In another close finish, the Jets'
Darrelle Revis
edged the Raiders'
Nnamdi Asomugha
. The two collected all the first- and second-place votes, but Revis outscored Asomugha 77-75 thanks to five first-place votes.
Overall, veterans ruled the day, with the top five outpointing the rest of the field by a good deal. Revis and Asomugha were followed by three players with a collective 33 seasons of NFL cornerbacking experience: Green Bay's
Charles Woodson
, Philadelphia's
Asante Samuel
and Denver's
Champ Bailey
.
Woodson finished with 58 points, Samuel with 54 and Bailey with 53.
Of the votes for that trio, only two fell outside of the top five. NFC North maestro Kevin Seifert had Woodson sixth, just behind his teammate
Tramon Williams
. And AFC East maven Tim Graham placed Bailey seventh, with New England's
Devin McCourty
(fifth) and Minnesota's
Antoine Winfield
above him.
I had presumed Bailey started to slip in his 12th season in 2010. Then he shut down a red-hot
Dwayne Bowe
and got my attention in a way I remembered when I put him third on my ballot.
Graham's thinking was quite different.
"We're in the offseason, so I've taken into account not only last season's performances, but also how the player projects into 2011 when compiling my positional Power Rankings ballots," he said. "Bailey is going to be 33 years old before the start of next season and is on the downside. He's still great, but for how long?
"Power Rankings shouldn't be career-achievement awards. Devin McCourty was second-team Associated Press All-Pro, a first-team Sporting News All-Pro, voted a Pro Bowl starter by the fans, coaches and players and tied for second in interceptions. He deserved to be ranked ahead of Bailey, who wasn't mentioned for All-Pro and made the Pro Bowl as an injury replacement."
Though Graham had him fifth, McCourty got bottom-of-the-list votes from most of us, who seemed to respect his inaugural campaign but did not want to overscore a player who has been through the league only once. NFC South cruise director Pat Yasinskas left McCourty off his ballot entirely.
"One great season does not make a great career," Yasinskas said. "Let's see him do it again. I'm not saying he's got to do it for 10 or 15 years. I've got a guy in my own back yard,
Ronde Barber
, and a lot of people say he's already put up Hall of Fame numbers. I didn't even put him on the list because I think he's not much more than a very nice player in the system. But you have to be consistently at the top for at least a few years before you get on a top 10 list."
Winfield finished sixth (29 points), Williams seventh (18), McCourty eighth (17), Washington's
DeAngelo Hall
ninth (10) and Tennessee's
Cortland Finnegan
10th (eight).
Williams was the lone player to make the top 10 while not being looked at as his team's No. 1 guy. As much as I liked him, that prevented him from getting one of my votes. Same for Oakland's
Stanford Routt
.
Although Williams and Routt played very well in 2010, their jobs can be made a lot easier by playing with Woodson and Asomugha rather than being asked to be their team's version of those players. The toughest receiver on the opposition isn't usually a factor for Williams or Routt.
John Clayton had Routt sixth and NFC West chart-master Mike Sando had him 10th, which left Routt in 11th place. Clayton set me straight on why Routt was, in fact, deserving.
"Nnamdi has years of not being thrown on," Clayton said. "He's had years in which only 14 or 15 passes were caught against him in a season.
"Routt had a phenomenal year in 2010, which led to his big contract," Clayton said. "The percentage of passes against him that were completed was among the lowest in the league. His job is tougher because he has more passes thrown on him because of Nnamdi."
December, 24, 2009
12/24/09
9:03
AM ET
Award season is almost upon us.
I thought I'd give you a run through of where I believe AFC South candidates should fit in the voting. Please note I don't have a ballot, and could be missing good candidates here from outside the division. I'm also two games early.
As always, I invite a conversation in the comments.
MVP:
Peyton Manning
should win it and I believe he will. I'm not big on the "without-him" criteria, where you say how bad the Colts would be without him. I'm not big on the "so dependent" criteria, where you say the team's run game is poor and they are so dependent on Manning it increases his value.
Here's what I am big on: I believe he's the best football player in the league right now. Seven fourth-quarter comebacks, a 14-0 record and early clinching of the big trifecta -- the division, a bye and homefield advantage. What else could you ask him to lead his team to?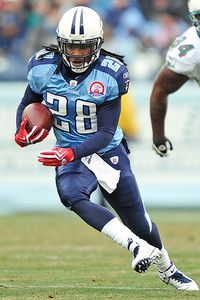 Don McPeak-US PRESSWIRETennessee running back Chris Johnson's stats are worthy of heavy consideration for offensive POY.
Offensive Player of the Year:
Chris Johnson
should win it. I understand that some voters will feel compelled to put
Drew Brees
here if they go with Peyton Manning for MVP or vice versa, but that would be a mistake and here is why:
Johnson is miles ahead of the next most-productive running back, while Manning and
Andre Johnson
, the NFL's leading receiver in yardage, have no such distance between them and their competitors.
Chris Johnson has run for 1,730 yards.
Steven Jackson
is second with 1,353. That 377 yard difference amounts to 22 percent more for CJ. Johnson is 17 percent ahead of
Ray Rice
on scrimmage yards.
Manning is one of six quarterbacks with a passer rating over 100. He leads a group of eight signal-callers who've already eclipsed 4,000 yards or are all but certain to.
Andre Johnson has 1,433 receiving yards. How many guys are within 22 percent of that total? Six.
Are running backs down? Sure. Is it more and more a passing league? Absolutely. Are people still handing the ball off? Yup.
Chris Johnson's rushing performance this season is the single best offensive performance of the season. He should win this award by as large a voting margin as any postseason award is won.
Defensive Player of the Year:
A case can be made for
Dwight Freeney
, who's got 11.5 sacks in a very consistent rushing season. But the Colts defense has been good at all three levels and his push doesn't stand out.
Charles Woodson
and
Darrelle Revis
are the buzz guys now and I think Woodson is a worthy winner. I'd lean to
Darren Sharper
.
Offensive Rookie of the Year:
Percy Harvin
looks to be in line to win it, and he's been an explosive addition to the Vikings. But just be sure you're not putting him here as a receiver alone, because it's his additional work as a kickoff return man (his 28.3-yard average is third in the NFL) that puts him over the top.
Austin Collie
's receiving numbers (53 catches for 567 yards and seven touchdowns) aren't too far off Harvin's (49, 691, six).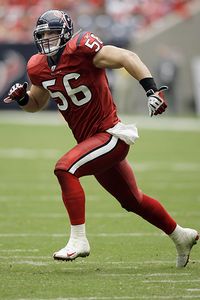 Brett Davis/US PresswireTexans rookie linebacker Brian Cushing has received praise from coaches around the league.
Defensive Rookie of the Year:
Brian Cushing
's been a huge addition to the Texans and I've listened to opposing coaches, on and off the record, rave about him all season. He's played like a veteran despite missing camp with a knee injury and sitting out a lot of practices during the season with a foot injury. He should win this because of how much impact he's had for the Houston defense. I've been asked about
Jerraud Powers
, who's been quite good for what the Colts ask of a corner, but he's not on par with Cushing. Buffalo's
Jairus Byrd
will get votes for an excellent season with an NFL-high nine interceptions and
Brian Orakpo
is a strong candidate.
Coach of the Year:
Jim Caldwell deserves serious consideration. Broad national thinking is he inherited a great situation and didn't screw it up. But he made two significant staff changes. The defense, under coordinator Larry Coyer, has been excellent, and the special teams' coverage, under Ray Rychleski has been better. The Colts didn't plan on life without
Bob Sanders
or
Anthony Gonzalez
, yet they've not missed a beat with those guys missing.
But voters traditionally lean heavily on turnarounds or surprises. I figure that means Sean Payton and maybe Marvin Lewis get the most attention here. If the Jaguars find a way into the playoffs, so should Jack Del Rio.
Comeback Player of the Year:
I've heard some
Vince Young
talk. I think this requires coming back from more than a self-inflicted benching, and more than a 10-game season. I don't think he's in the same class here as
Cedric Benson
, who had been dismissed as a bust. And I know a lot of folks will look to
Tom Brady
.
December, 4, 2008
12/04/08
5:34
PM ET
Posted by ESPN.com's Paul Kuharsky
Houston's Sage Rosenfels and Matt Schaub have combined to throw 18 interceptions, the most in the NFL.
Green Bay defenders have pulled in 17 interceptions, tied for the third-highest total in the league.
If Schaub, back in the huddle after four games recovering from a knee injury, can't protect the ball at Lambeau Field, the Texans will have trouble getting a third straight win.
"Damn right that scares me, we have to protect the ball," coach Gary Kubiak told Houston reporters Wednesday. "We threw a couple today in practice. We can't throw them. They're excellent, they have great ball skills. You got [Charles] Woodson, the guy outside, [Al] Harris outside. I mean, they're a man-coverage team. They lock you down. You have to beat man-coverage. You make a mistake with the ball and they make you pay. That's what good corners do and they've got them. Their safeties have done a hell of a job, too."
Safety Nick Collins is also a big threat. He's tied with Woodson for a team-leading five interceptions, and he has returned three of them for touchdowns.
"They are a big man-under team and he's involved whether he's in the middle of the field cheating towards routes or playing quarters and jumping on underneath routes and those types of things," Kubiak said. "But they're a very aggressive defensive football team and when they touch the ball they're very capable of taking it right back the distance. So, we're going to have to keep it out of their hands."
November, 17, 2008
11/17/08
7:45
PM ET
Posted by ESPN.com's Paul Kuharsky
JACKSONVILLE, Fla. -- Look at the stars of the Titans' 10th win of the season -- one-time Chicago castoff receiver Justin Gage and third-string cornerback Chris Carr, whom the Raiders had no interest in retaining last offseason -- and it's hard to say the difference in Tennessee's win over Jacksonville was talent.
It was more about execution and resolve.
| | |
| --- | --- |
| | |
| | Steve Mitchell/US Presswire |
| | Tennessee Titans wide receiver Justin Gage (12) celebrates his touchdown with wide receiver Brandon Jones (81) during the fourth quarter against the Jacksonville Jaguars. |
Here's a sampling of evidence:
Looking to build on a 14-3 halftime lead on the opening possession of the third quarter and facing a third-and-11 from their 28-yard line, David Garrard threw to tight end Marcedes Lewis on the left sideline. The charging Titan in coverage was more than five yards off as the ball arrived, and Lewis was going to have to make quite a move to even get close to a first down. But even with such space and time, Lewis did a poor job of realizing where he was and had a foot touching the boundary. Incomplete.
As contrast, in the middle of the fourth quarter, when the Titans had seized control of the game and were looking to put it away, Jevon Kearse and Albert Haynesworth closed on quarterback Garrard as he let a pass go for Dennis Northcutt up the right side. The ball came out fluttery, and Carr found his way in front of Northcutt, leaping to grab the errant pass and getting precisely one foot down, then the next as he fell out of bounds. Interception.
It's too easy to say those two plays encompass the difference in these teams, but they certainly were illustrative on a day when the Titans proved capable, yet again, of simply finding a way to win.
Baltimore and Indianapolis had slowed Tennessee's running game this year, forcing the Titans to throw to win. Both times the Titans did. A week ago, Chicago took it to extremes at Soldier Field, allowing the Titans only 20 yards on the ground and losing, like the Ravens and Colts before them, because quarterback Kerry Collins made enough plays.
But even at 9-0, one clear ingredient was missing, the same one that has been a hole in the Titans' repertoire through good times and bad in the 12 years since they moved to Tennessee from Houston. The deep ball.
And so, fittingly, as they did repair work on their worst half of the season, they did it with long throws.
Twice Gage hinted he was going toward the middle of the field, twice his defender (Drayton Florence and Brian Williams each had a turn) went too hard with the move, and twice he veered back and caught a ball close to the sideline that turned into a score. The first time safety Reggie Nelson arrived in time to prevent a TD and Gage simply muscled through him. The second time Nelson couldn't get there in time.
"Gage needed a breakout game like that and his confidence is sky-high right now," tight end Bo Scaife said. "I just hope him and Brandon [Jones] and the other wide receivers carry that confidence the rest of the season."
Coming into the game, Tennessee's three longest pass plays of the season were 44, 37 and 32 yards.
Gage caught a 47-yard pass on the Titans' first offensive play and then had the second-half touchdowns of 56 and 38.
"Two of them were zone, one of them was man, but none of them was without a centerfielder at least," Jags coach Jack Del Rio said.
Del Rio's team blew an 11-point lead, the biggest deficit the Titans have faced this season. It was only the second time Del Rio's Jags have lost after leading by double digits. The first time was his first game at the helm, Sept. 17, 2003 at Carolina.
Other things I noticed, saw, heard or asked about after this one:
Brandon Jones drew an unsportsmanlike conduct flag after his 13-yard touchdown catch in the third quarter. He didn't deserve it for excessive celebration. He may have deserved it for not fully thinking things through.
He knelt and put his hands behind his back, as if he's been arrested and was about to get handcuffed.

"I did it, I got in the end zone, you know they want to take you to jail after I scored on the Jaguars," he said, when I asked what it was all about.

He said he was surprised by the penalty. I was surprised by his theme.

Maybe I am over-thinking it. Jones was charged with a misdemeanor in June for having a gun in a carry-on bag while going through security at the Nashville airport. He said he'd last used the bag on a trip to the shooting range and simply forgotten to remove the gun. (In August, he paid a $500 fine, forfeited his .32 caliber gun and agreed to serve six months of probation. If he completes probation without further incident, the charge could be expunged from his record.)

Between that and the knowledge that the league isn't actually too big on arrests in general, is pretending you're being told to put your hands behind you back to be cuffed and taken to jail really a good way to celebrate a score?

Probably not. Still, it was as mild and unworthy of a flag as Uche Nwaneri's penalty in the first half for celebration after the first of two short TD runs by Maurice Jones-Drew. Nwaneri said he simply swiped Jones-Drew's leg and patted him on the head.

"I've just got to go to the sideline after we score," he said. "You never want to cost your team like that, luckily it didn't come back to bite us."
Last year, when nickelback Vincent Fuller was unavailable because of a late-season shoulder injury, Eric King stepped in and promptly suffered a season-ending broke
n arm.
Sunday, he was at left cornerback filling in for Nick Harper (ankle) and said he broke the same arm in the same spot again.

"I broke my forearm again, but it doesn't feel as painful as it did the last time so hopefully my recovery won't be as long," King said. Titans coach Jeff Fisher said recovery would be around six weeks.

King is hopeful it's not the end of his season and said he will be getting a couple opinions on it starting Monday.

The injury allowed for Carr to get his first real work of the season on defense. The return man played a bit on defense at the end of the Titans' blowout in Kansas City on Oct. 19.

Carr finished with the pick, a game-high three passes defensed, three tackles and a special-teams tackle.

"I feel like I am just as good a defensive player as I am a special-teams player," said Carr, who was signed away from Oakland as a restricted free agent. "In Oakland [at one point] I was behind Charles Woodson and Nnamdi Asomugha, those are probably the two best corners in the league and I come over here and they have two established starters [in Cortland Finnegan and Harper]. So I think, 'Hey, special teams are going to be my niche in the team.' ... But I knew if I got in a game it wasn't going to be a surprise. Me and Reynaldo Hill talk all the time. I'm like, 'If I get in a game, I'm going to make some plays.' "
Garrard was without his top receiver and his offensive line is hardly what the team imagined before the season.
Still, the Jaguars got the ball back several times in the second half with a chance to reestablish control of the game and the quarterback is the guy who needs to lead that.

He failed to do so with a terrible second-half line: 5-of-14 passing, three sacks, a pick and a 15.5 passer rating.

"They definitely turned their energy level up and I just don't think we matched it," he said. "They started doing a great job of not being in the defenses that we had scouted and so some of our plays were geared toward a particular coverage or a particular look and they weren't getting into it like we expected them to. So it made it tough on us ... We have to do a whole lot better than that, especially when the game is on the line."

Garrard wasn't going to match last season this season. People cite how well he generally protects the ball, but he has hardly lived up to the expectations that come with the $60 million contract extension he signed with $18 million guaranteed.

They need to surround him with better people, but it's more than fair to expect him to carry the team at a tough time rather than seeming like a key piece of the problem.
Titans defensive tackle Tony Brown had a miserable second quarter, at least in the eyes of the game officials. He drew a defensive holding call, a neutral zone infraction and a roughing the passer.
"I calmed myself down and got it going," said Brown, who disputed a couple of the calls but said he was at fault anyway. "I ain't going to say I was helping dig a hole, but I know I definitely wasn't helping the cause either."
Titans defensive end Kyle Vanden Bosch (groin) never really had a chance to play. He went through a full rehab workout before the game, but it wasn't a test to see if he could go.
"Hopefully I am a full-go next week," said KVB, who has seen only limited action in two of the team's last five games. "This is enough waiting around. I think I've had adequate rest. It's not perfect, it's something I've now got to go out and deal with. That's the plan, then be full-go next week."
Give Del Rio credit for this: He didn't spend his postgame press conference pretending that his team is going to find a path to the postseason.
"I told the team in terms of postseason mode, it's absolutely as dismal an outlook as you can have and not be out," he said. "We've got six games left. We'd have to win every one to have a chance to qualify. It's a very remote possibility. What we are going to do is focus one game at a time and try to have a little more fun playing football."
November, 3, 2008
11/03/08
11:30
AM ET
Posted by ESPN.com's Paul Kuharsky
Thanks to Jason Paradise of ESPN Stats & Analysis for this quality information out of the Titans 19-16 overtime win over Green Bay Sunday.
More good evidence about Haynesworth...
When Titans defensive tackle Albert Haynesworth was in the game, the Packers' rushing game was not as effective.
Albert Haynesworth: By the Numbers
Haynesworth in
Haynesworth out
Att
17
5
Yds
63
28
Yds/Att
3.7
5.6
Running well up the middle...
Chris Johnson and LenDale White were at their best going up the middle, as shown by the seven first downs on 16 attempts. The 81 yards to the left were helped by White's 54-yard run in the second quarter.
Running Up the Middle
Left
Middle
Right
Att
8
16
8
1st Downs
2
7
0
Yds
*81
65
19
Yds/Att
10.1
4.1
2.4
TD
0
1
0
* includes 54-yarder by White
Collins takes what he can get...
The Packers rarely blitzed and forced Titans quarterback Kerry Collins to throw underneath. Collins completed only 48.6 percent of his passes, the lowest for a Titans quarterback this season.
Collins' statistics based on number of Packers pass rushers:
Collins Under Pressure
4 Rushers
5+ Rushers
Cmp-Att
15-28
3-9
Yds
145
35
Yds/Att
5.2
3.9
Sacks
0
2
* The Packers sacked Collins twice, which is the same number of sacks the Titans had given up all year. But both sacks came on the same drive and were not on third down.
Avoiding Harris and Woodson...
The Titans didn't complete a pass when throwing at Al Harris, who played for the first time in five games (spleen). They had some success going after Charles Woodson but did the bulk of their damage in the passing game when they stayed away from those two corners.
Staying Away From the Stars
Harris
Woodson
Others
Cmp
0
4
14
Att
5
7
25
Cmp%
0%
57%
56%
Yds
0
36
144
Defended
1
0
5
October, 19, 2008
10/19/08
10:46
PM ET
Posted by ESPN.com's Paul Kuharsky
GREEN BAY, Wis. -- In five out of their six games the Indianapolis Colts have come away talking about the uncharacteristic play that put a result in jeopardy or cost them a game.
| | |
| --- | --- |
| | |
| | Jeff Hanisch/US Presswire |
| | Peyton Manning threw two interceptions on Sunday and both were returned for touchdowns. |
None was worse than Sunday's penalty-filled, out-of-sync performance at Lambeau Field, where the Colts dropped to 3-3 with a 34-14 stinker.
"Obviously you're concerned when you play like that," center Jeff Saturday said. "That was one of those things where you got beat in every area of the game and they brought it to us and we didn't answer. There wasn't any area in the football game that we won."
Chief among the unusual was 110 penalty yards, the most for a Colts team coached by Tony Dungy.
Yes, we're only six games in and Indianapolis still has plenty of time to correct things and turn back into the team we've gotten used to over the last six seasons, the one that has won more than three out of every four regular-season games.
But it's fair to ask: At what point does all the uncharacteristic stuff become newly characteristic?
Here are three of the answers I got on that:
"I guess we're not going to worry about that until it becomes more of a trend, whatever that is," defensive end Dwight Freeney said. "I don't know how many games that is until something is a trend. But I know we're going to put a stop to that. We always have and we're going to have to do that -- just don't kill ourselves."
"We're definitely not there yet, but we're definitely not helping ourselves," tight end Dallas Clark said. "We've got to take it on ourselves to focus in on the details and stop doing the little things that are costing us and get this thing going again. It'll start [Monday] when we look at film with everyone being a good critic of himself and seeing what he has to do to get better."
"I think we've got to concentrate on playing our type of football, focus on what we have to do, which is to get better, to eliminate all of the mistakes," team president Bill Polian said. "If we do that, we'll win our share. Obviously you can't win when you play the way we played today, and I'm not even talking about the interceptions, it's the other stuff that you can't win doing ... We didn't execute worth a darn, really."