August, 25, 2013
8/25/13
3:18
AM ET
Observations and thoughts out of the
Jaguars' 31-24
Week 3 preseason loss to the
Philadelphia Eagles
on Saturday night:
The Justin Blackmon-Cecil Shorts receiving duo produced five catches for 70 yards playing with their backup quarterback, Chad Henne. The two looked smooth and efficient, though each had a play that rated as a drop.
Jacksonville's blockers gave up seven sacks, four of them coming against Henne. That's simply too much pressure and it's creates too much risk of injury back there while Blaine Gabbert is already out with a thumb injury.
I liked the one-play, 63-yard touchdown drive after an interception. That sudden change in possession was thanks to rookie corner Dwayne Gratz's pick -- followed by sudden change on the scoreboard thanks to running back Jordan Todman's cut back touchdown run. But the Jaguars had just one first-half drive with more than one first down -- the opening 12-play touchdown drive.
Has Todman dented Justin Forsett's status or security? Forsett injured a toe early in camp and hasn't been seen in game action. Todman has done some good work and had an eight carry, 105-yard game with the 63-yard TD. Denard Robinson averaged 4.7 yards a carry on seven runs.
The Jaguars were 45 percent on third- and fourth-down conversions while holding Philly to 36 percent.
Linebacker Paul Posluszny and rookie strong safety Jonathan Cyprien both bit on bad play-action fake where it was not at all believable that Michael Vick was handing off to LeSean McCoy. But the early movement of Poz and Cyprien helped create the play and the space where Vick found Riley Cooper for a 9-yard scoring catch.
Chip Kelly's offense seeks to maximize plays run. But they ran 70 in this game to the Jaguars' 73. One big difference, however, was average gain per pass play, where the Eagles posted a 7.8 to the Jaguars 3.7.
Philadelphia gained 189 yards on kick and punt returns, meaning the Eagles had an average drive start of their own 38-yard line, 14 yards better than Jacksonville's average start.
Tight end Allen Reisner made a nice 8-yard touchdown catch and his game play certainly indicates he's going to make this team as a tight end behind Marcedes Lewis.
We had an Andre Branch sighting. The defensive end knifed inside and snuck by guard Evan Mathis who was preoccupied on combo block on the outside. Center Jason Kelce passed off defensive tackle Sen'Derrick Marks, but it was too late for Kelce not to whiff on Branch storming up the middle.
August, 24, 2013
8/24/13
3:14
PM ET
Three things I'll be watching closely tonight in preseason game No. 3 as the
Jacksonville Jaguars
host the
Philadelphia Eagles
.

The pace:
Last week at the Jets, the Jaguars dictated pace with a no- huddle offense that was quite effective. We'll see if they do more of that as
Chad Henne
takes over as the starter with
Blaine Gabbert
, the regular-season starter, out for the remainder of the preseason with a fractured thumb. It may be the Eagles who do more to dictate pace. Philadelphia coach Chip Kelly is all about his offense running as many plays as possible, and we'll see how a Jaguars defense lacking much of an identity at this stage can handle that speed.
The return of Cecil Shorts:
The dynamic receiver has been out with a calf strain. Before he was sidelined, he'd had a great camp that gave the team plenty of cause to expect he's going to have a giant year. It'll be good for the offense to have him back, even as Henne is running the huddle rather than Gabbert. How much will Shorts play and how much can he do operating opposite
Justin Blackmon
, who had a good showing last week? Right tackle
Luke Joeckel
has been dealing with a hip flexor and could return as well.
Improvement from Johnathan Cyprien:
He got turned around and fell down in coverage on a New York touchdown last week. In his second game, the Jaguars certainly hope to see a bit of progress, with their second-round pick looking a bit more comfortable and playing a bit smarter. He drew two penalty flags against the Jets. I think Cyprien has the potential to be an immediate impact player, but he'll have to settle down in order to get on track for that.
March, 12, 2013
3/12/13
8:39
PM ET
I think
James Casey
is going to make the
Houston Texans
look bad.
He was a square peg in a round hole as the Texans' fullback, and while he was fine in that role it limited the Texans use of his best attribute: His hands.
On and around the team it was unquestioned that he had the best hands on the team. Yet they took advantage of that by feeding him just 1.08 catches per game in 61 contests.
The
Philadelphia Eagles
pounced on Casey in the first day of free agency with what John McClain of the Houston Chronicle says is a three-year, $14.5 million deal.
I know I am going out on a real limb here, but I am guessing that innovative new coach Chip Kelly is going to get the ball in Casey's hands more than 1.08 times a game in 2013.
As he does, I'm envisioning us discussing what could have been if the Gary Kubiak and the Texans had used him more creatively and more assertively instead of relegating him to second-class citizen status in the pecking order of passing-game options.
January, 17, 2013
1/17/13
9:14
AM ET
Before Thursday, the newest members of the NFL head-coaching fraternity -- Doug Marrone in Buffalo, Andy Reid in Kansas City, Mike McCoy in San Diego, Rob Chudzinski in Cleveland, Chip Kelly in Philadelphia and Marc Trestman in Chicago -- all had one important thing in common.
They were offensive guys.
New Jaguars general manager David Caldwell has made his move, and it seems like a countermove.
[+] Enlarge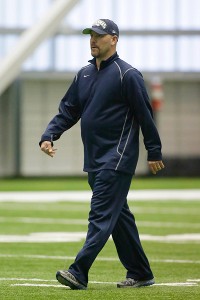 AP Photo/Ted S. WarrenGus Bradley's defense in Seattle finished first in the NFL in points allowed, fourth in yards and tied for fourth in takeaways.
Adam Schefter reports Caldwell has hired Seattle defensive coordinator Gus Bradley as the fourth head coach in Jaguars history (not counting Mel Tucker's interim work in 2011).
I've heard nothing but good things about Bradley, who might have gotten an offer in Philadelphia if Kelly had not re-emerged.
The push around the league with offensive guys comes for obvious reasons. Everyone either wants to rehabilitate a quarterback or find one. And getting a quick impact with a new guy is perceived as easier, fair or not, thanks to the seasons we just saw from
Andrew Luck
,
Robert Griffin III
and
Russell Wilson
.
But defenses have to be developed to stop those guys. And Caldwell basically had his pick of the best defensive people in the league. If he hits with Bradley, he'll look awfully smart for doing so.
In 2012, the Seahawks' defense under Bradley allowed opposing quarterbacks a passer rating of just 71.8. The unit ranked fourth overall, 10th against the run and sixth against the pass. Seattle was just 17th in third-down defense but was No. 1 in scoring defense, allowing an average of 15.3 points a game.
As far as developing a quarterback, the big question is about the staff Bradley can put together. Who's his offensive coordinator going to be?
January, 16, 2013
1/16/13
2:12
PM ET
Chip Kelly's the new coach of the Eagles.
What's that mean for the AFC South?
Two things.
1) It means Colts offensive coordinator Bruce Arians has one less possibility. He was a finalist in Chicago and lost out to Marc Trestman, and San Diego gave him serious consideration before hiring Mike McCoy.
The Eagles were reportedly interested, but an interview didn't happen.
Had Kelly not circled around and changed his mind, perhaps Arians would have re-emerged as a candidate there.
Jacksonville is looking at younger guys. Arizona is the only other remaining job, and is interested in Arians.
2) It means the Jaguars have one less competitor for the guys they are interested in. Seattle defensive coordinator Gus Bradley is on Jacksonville's list and was presumed to be near the front of the line in Philly before Kelly re-emerged.
Jaguars candidates also reportedly in play for the Cardinals include Cincinnati offensive coordinator Jay Gruden and Seattle offensive coordinator Darrell Bevell.