August, 21, 2014
Aug 21
11:51
AM ET
ENGLEWOOD, Colo. -- Teams have various strengths, and one of the major benefits of practicing against a different team is the chance to test those strengths and learn from them, consequence free.

For the Texans' defense, that's come this week through facing Broncos quarterback
Peyton Manning
and his wide array of weapons.
One of the biggest challenges for the Broncos' offensive line is dealing with the Texans' front.
"I like it for them because it's a different animal for us," Broncos offensive coordinator Adam Gase said. "
J.J. [Watt]
, [
Jadeveon] Clowney
. I mean, the rest of that crew is tough. ... It's a great test for our guys to see where we are at and where we can adjust and improve."
Watt has excelled this week against the Broncos' offensive line, even outside that now-famous one-on-one drill when tackle
Chris Clark
ripped off his helmet. Clowney has also had his moments against Broncos left tackle
Ryan Clady
. As much as the Broncos line is being tested, the talented rookie is learning a lot from those bouts.
"We struggled yesterday, and I think today with pads on, we were a little better," Gase said. "But still, when you see No. 99 flashing in there every once and a while and you see one of those hands go up you are just hoping he doesn't get a piece of it. We were better today than yesterday and hopefully, when we get to the game Saturday, we will play better."
October, 21, 2013
10/21/13
4:00
AM ET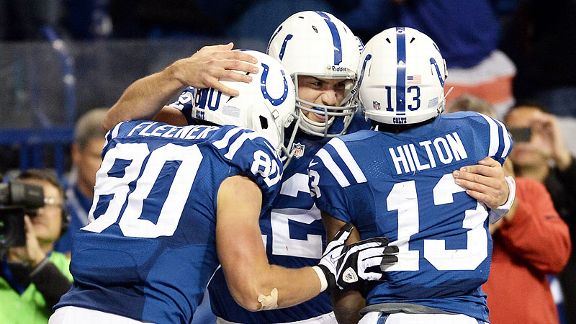 Ron Chenoy/USA TODAY SportsAndrew Luck and the Colts spoiled Peyton Manning's return to Indianapolis.
INDIANAPOLIS -- It was only fitting that the owner, you know the one whose comments were supposed to motivate
Peyton Manning
to put up astronomical numbers in his return trip to Indianapolis, walked out of the
Indianapolis Colts
' locker room holding a football shortly after his team beat the
Denver Broncos
39-33
on Sunday.
This wasn't just any football Jim Irsay had a firm grip of.
It was the game ball.
Irsay earned the right to take the ball home -- and stick his nose up at the critics -- after being the center of attention during what was supposed to be a special week for the Colts and Manning.
Irsay was heavily criticized about comments he says were taken out of context when talking about how he believes the team should be built -- a balanced offense, defense and special teams -- now that Manning calls Denver home.
You know what?
It was the balanced team that beat Manning's "Star Wars" numbers in front of a sold out Lucas Oil Stadium crowd.
That's why coach Chuck Pagano gave his owner an emotional postgame speech inside the locker room.
These Colts (5-2) aren't the flashiest team, but they find a way to get it done. Game balls could have been given out to the entire offense, defense and special teams.
"We all knew what we were up against and the players were just hanging tough," Pagano said. "This is the grittiest football team that I've ever been around my entire life."
The Colts spent the week leading up to the game not listening to people say they weren't good enough to hang with the high-scoring Broncos. Veteran receiver
Reggie Wayne
referred to last week as a circus because of the attention the game got.
"We were willing to work and prove everybody wrong," Colts defensive tackle
Ricky Jean Francois
said. "I knew everybody in the media world was banking on Peyton Manning coming in here and putting on a show. I tip my hat to him, he's a first-ballot Hall of Famer. But this team -- all three aspects of it -- was excellent. We fought for 60 minutes. We knew it wasn't a game that would be won in a half."
The list of Super Bowl contenders the Colts have beaten this season has now grown to three teams in just seven games. San Francisco and Seattle are the other two teams the Colts have knocked off.
Pagano has excelled at not getting caught up in the moment of who they're playing, even if this time it was the player responsible for leading the Colts to a Super Bowl at the end of the 2006 season.
"It's a long season and you can't afford to do that," Pagano said late last week. "You get yourself in trouble when that happens."
Like all good teams do, the players follow their coach's lead. Quarterback
Andrew Luck
did his part by throwing for 228 yards and three touchdowns. But the game changed when the defense stepped up.
[+] Enlarge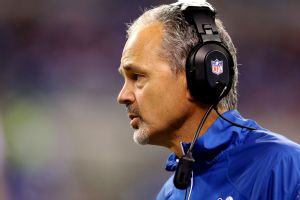 Andy Lyons/Getty Images"This is the grittiest football team that I've ever been around my entire life," Chuck Pagano said.
Until Sunday night,
Robert Mathis
hadn't been able to come close to Manning. He remembered being chewed out for coming too close to him in a practice a decade ago when the two were teammates.
Mathis blew by Broncos left tackle
Chris Clark
and sacked Manning, causing him to fumble. The Colts earned a safety after linebacker
Erik Walden
couldn't gather the ball before going out of bounds.
The Colts forced the Broncos into five straight punts after the safety. Manning threw for 386 yards, but the Colts sacked him four times, intercepted a pass and forced Denver into three turnovers total.
"We heard how we couldn't stop people before," Colts defensive back Darrius Butler said. "We heard the same thing going into San Francisco week and Seattle week. As long as guys in this locker believe in each other, we can accomplish anything. We stuck to our keys and did our thing. Guys had to win their matchups and that's what happened for the most part."
Colts punter
Pat McAfee
used his 6-foot-1, 233-pound frame to deliver a hard hit -- and possible fine -- on
Trindon Holliday
along Denver's sideline on a return. Fullback
Stanley Havili
stripped Holliday on a punt return, setting up a touchdown from Luck to
Darrius Heyward-Bey
on the next play.
It was just how Irsay envisioned. All three areas contributing to Denver's first loss of the season.
"We could care less what anybody says outside of Colts Nation," linebacker
Jerrell Freeman
said. "We don't listen to the outside noise. You can say what you want to say, pick who you want to pick. We always know we have a chance. It's all about us."
October, 11, 2013
10/11/13
12:00
PM ET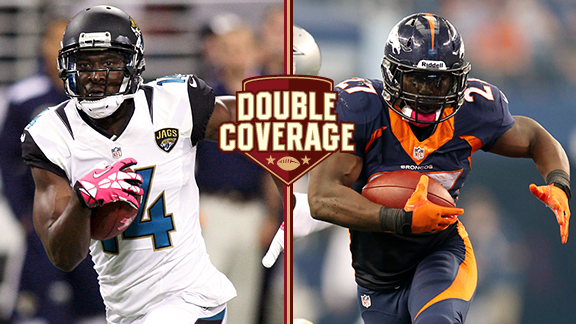 USA TODAY SportsJustin Blackmon and the 0-5 Jaguars face Knowshon Moreno and the 5-0 Broncos.
Already, it has been the subject of the biggest point spread in decades as well as an exchange of tweets from each team's official Twitter handle that included a "stay classy Denver" missive from the Jaguars. But the league's highest-scoring team and the league's lowest-scoring team will meet Sunday when the
Denver Broncos
and
Jacksonville Jaguars
get together at Sports Authority Field at Mile High.
The Broncos are 5-0 and the Jaguars come in at 0-5 in Gus Bradley's first season as head coach. ESPN.com Jaguars team reporter Michael DiRocco and Broncos team reporter Jeff Legwold break down this week's game.
Legwold:
Michael, it's been a tough go thus far in the first season of the new regime. How have Bradley and general manager Dave Caldwell handled it all? And have they grown weary of people saying they should sign
Tim Tebow
?
DiRocco:
Bradley has been amazingly positive with the media and with the players. It's probably the best approach to take because he's got a young team and everyone knew this was going to be a rough season, anyway. It's the only way to keep the players committed to the plan he and Caldwell have in place to turn the franchise around. If he were to all of a sudden go negative, he'd risk losing the team. That doesn't mean he is not acknowledging problems and poor play, but he is trying to be upbeat in doing so. Caldwell has not been as visible, but when he spoke last week, he talked about remaining committed to the long-term rebuilding plan and not trying to find a quick fix. As for the Tebow question, it's a dead issue among Bradley and Caldwell. They're not going to sign him and they're able to ignore the Tebow fervor, which has died down a bit over the past two weeks.
In terms of the Broncos, they are averaging 46 points a game and just scored 51 in a victory over the
Dallas Cowboys
. They look unstoppable. But what, in your opinion, is their Achilles' heel on offense, and is there a defense out there that can exploit that?
Legwold:
They lost All Pro left tackle
Ryan Clady
earlier this season, and his replacement,
Chris Clark
, had never started a game at left tackle in his career. Center
Manny Ramirez
never started an NFL game at the position until the regular-season opener after the Broncos moved him in as the starter in offseason workouts. Overall, the offensive line has played well so far -- Manning's been sacked just five times -- and there might be no player more adept at reading a defense's intentions in the rush and getting rid of the ball accordingly before trouble arrives than Manning. The trouble has come in the run game. The Broncos have had 53 carries this season for 2 or fewer yards because they haven't consistently won the line of scrimmage, even in mop-up situations late in games. So, for all the Broncos have done on offense this season -- and it has been remarkable -- it's still an unanswered question if they could win a slug-it-out affair on a bad-weather day or if Manning was just having a bad outing. But the other question is whether or not anybody could even get them into one of those games.
In terms of quarterback, what do you think the Jaguars' long-term plans are at the position, and if they get a top-three pick in next May's draft, would they pick one?
DiRocco:
This season's top priority was finding out if
Blaine Gabbert
could be the player around which Caldwell and Bradley build the franchise. Instead of relying on preconceived notions, they gave him a clean slate when they arrived. So far, though, Gabbert has missed two games with a hand injury and isn't likely to play Sunday because of a hamstring strain. He hasn't been very good when he has been on the field, either: 44.8 percent completion rate, seven interceptions (three returned for TDs). By the end of the season, management will likely come to the conclusion that Gabbert isn't the answer and they'll have to draft a quarterback.
Teddy Bridgewater
seems to be the best quarterback available, but a lot can change between now and May. He'd be whom I would take, and the Jaguars might very well agree, but I wouldn't be surprised if the Jaguars traded down to get more picks because this team needs so much help elsewhere.
Speaking of long-term quarterback plans, what are the Broncos thinking there? Manning is approaching 40 and has the neck issue, so he's got only one or two more good seasons in him, right?
Legwold:
When he signed with the Broncos in March of 2012, Manning wanted to construct a deal the Broncos could feel good about in terms of their ability to evaluate his physical status after his first season in Denver. At the time, Manning said he didn't want his deal to prevent the team from doing other things if it didn't work out. So, the two sides had it written into his contract that Manning would take a physical exam following his first season in Denver and if his surgically-repaired neck was cleared, it would then engage the next two years of the contract -- 2013 and 2014. Both of those seasons are now guaranteed, so those three years have always been the window people have operated in when discussing his time with the Broncos. However, that was before his assault on the record book this season. He looks stronger than ever. Manning does have two additional years on the deal -- 2015 and 2016 -- but those years are not guaranteed. Manning has always said he won't be a "hang-around" guy, and when he feels he can't compete at the level he wants to -- or no longer wants to go through the arduous preparation at the pace he currently keeps -- that would influence him as well. But on the field, many in the league are saying he's playing better than ever, and he says he still enjoys the day-to-day work it takes to reach that level.
Overall this season, can you tell folks about one or two Jaguars who offer some glimmers of hope for the future and who are performing well amid the team's struggles?
DiRocco:
Offensively, it's receivers
Justin Blackmon
and
Cecil Shorts
. Blackmon has played only one game (he was suspended for the first four), but his impact on the offense was immediate -- three catches for 90 yards and a touchdown in the first quarter against the
St. Louis Rams
. He's the team's best playmaker and had a fantastic rookie season in 2012 (64 catches, 865 yards, 5 TDs). Shorts (31 catches for 411 yards this season) is in his third season and is on pace for 100 catches. There are two rookies in the secondary who will be the backbone of the defense: safeties
Josh Evans
(sixth round) and
Johnathan Cyprien
(second). Cyprien has the size/toughness/coverage mix that's needed in the defensive scheme that Bradley brought over from Seattle. Evans was forced into the starting lineup by an injury to
Dwight Lowery
in the third game and hasn't missed a snap since. Both are learning on the go, but it's easy to see they're talented.
Jack Del Rio is facing his former team this week. Do you sense that this game means a lot to him because of the way his tenure ended, or is this just another game for him?
Legwold:
Del Rio will deflect, and has previously, most any discussion about how his time with the Jaguars ended. So, people shouldn't expect too many public fireworks from him in that regard, but, privately, I'm sure he'd like to see the Broncos dominate. His players like him and they respect him, so they will also want to give him a quality effort in this one. Especially since they just surrendered 506 passing yards and five touchdowns to Cowboys quarterback
Tony Romo
this past Sunday. They've got an awful lot to deal with, so I'm not sure Del Rio will publicly stroll down memory lane too much, but he's in a good spot with the Broncos as far as working day to day for a playoff contender. As far as being a head coach again, he's already been linked to the USC job -- he's publicly said "there's nothing to talk about there" -- and should the Broncos finish strong and play with a little more defensive edge when both
Von Miller
and
Champ Bailey
return, he could find himself in the NFL mix as well.
.
October, 8, 2013
10/08/13
8:00
PM ET
JACKSONVILLE, Fla. -- The Denver Broncos are on a roll so far that tops what the New England Patriots did in 2007.
They are scoring points at a record pace, lead the NFL in total offense and passing yards and are favored over the visiting Jaguars on Sunday by 28 points -- which ties the largest point spread in NFL history.


Kickoff is set for 4:05 p.m. ET (CBS).
Here's a look at the Broncos:
Record
: 5-0.
Last week
: beat Dallas 51-48.
Coach:
John Fox, third season (26-11); 12th season overall (99-82).
Offensive coordinator:
Adam Gase.
Defensive coordinator:
Jack Del Rio.
Series record:
Jaguars lead 5-3 (regular season).
THREE PLAYERS TO KNOW ON OFFENSE
QB Peyton Manning:
He has already thrown for 1,884 yards and 20 touchdowns, with only one interception. He's also completing 75.8 percent of his passes. Those are staggering numbers, even for Manning.
WR Demaryius Thomas:
He is Manning's favorite target and leads the team with 34 catches for 450 yards. He's one of the league's top young receivers and has already established himself as one of the game's better big-play receivers. What makes him so hard for defensive backs to handle is his size (6-foot-3, 229 pounds).
LT Chris Clark:
Why an offensive lineman on this list? Because he's replacing
Ryan Clady
, who is out for the season with a Lisfranc injury. Clady was a rock at left tackle. Clark has filled in capably. The offensive line has allowed Manning to be sacked only five times.
THREE PLAYERS TO KNOW ON DEFENSE
NT Terrance Knighton:
The former Jaguars defensive lineman has started every game and has seven tackles. He's anchoring a defensive front that leads the NFL in rush defense (69.6 yards per game).
LB Wesley Woodyard:
The Broncos' leading tackler (35) left last Sunday's game with a neck injury but said on Monday that he felt fine and would be ready to play against the Jaguars. He is coming off the best season of his career: 117 tackles, 5.5 sacks and three interceptions in 2012.
S Duke Ihenacho:
He leads the Broncos with 28 solo tackles (32 overall). He has started every game this season after playing in only two in 2012 as a rookie.
ETC.
The Broncos have scored 103 points in their last two games. … Denver has lost three in a row to the Jaguars. The last Denver victory came in 2005 in Jacksonville. … The Broncos have won 16 consecutive regular-season games dating back to a 31-21 loss at New England on Oct. 7, 2012. … Denver has scored more than 40 points four times this season, which is already a single-season franchise record. … Receiver
Wes Welker
is the first player since Washington's Charlie Brown in 1982 to catch at least one touchdown pass in each of his first five games with a team.
AFC SOUTH SCOREBOARD
Thursday, 12/18
Sunday, 12/21