December, 9, 2013
12/09/13
11:40
AM ET
DENVER -- An examination of four hot issues from the
Tennessee Titans
' 51-28
loss
to the
Denver Broncos
at Sports Authority Field at Mile High:
Pressure on Peyton:
Defensive tackle
Jurrell Casey
has been the Titans' best player this season, and a week ago in Indianapolis he was a monster the Colts simply couldn't handle. In Denver, the Broncos' interior line kept him quiet -- he was credited with one tackle. He told me interior pressure was the key to forcing quarterback
Peyton Manning
into a mistake. There was none. Manning threw the ball 59 times and he didn't turn it over. The Titans had the seventh-best pass defense in the league and had allowed eight touchdown passes heading into this game. Manning threw for 397 yards and four touchdowns. The Titans didn't sack him and hit him just once. That's hardly the recipe to rattle a big-time quarterback.
[+] Enlarge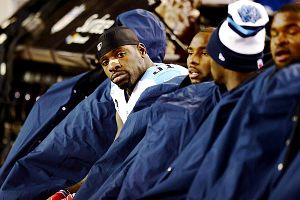 Ron Chenoy/USA TODAY SportsThe Broncos put up 551 yards against Bernard Pollard and the Tennessee defense.
Persecution complex:
The Titans' secondary was upset over
the way the game was officiated
, and clearly feel Manning gets the benefit of the doubt from the zebras. Maybe he does get some of it, but calls against the Titans didn't account for the Broncos' 51 points. Tennessee needs to be careful about blaming the officials too much, and themselves not enough. They were the victims of a bad call against
Bernard Pollard
early in the third quarter. But that didn't unhinge them or determine the game. Sure, Pollard's been an outspoken critic of rules and officiating. Is that really enough for the league's officiating department to pick the Titans as a target? I sure don't think so.
Shuffling backers:
The Titans used
Colin McCarthy
and even rookie
Zaviar Gooden
some at linebacker on Sunday, and not as the result of any injuries to their regular trio of
Moise Fokou
,
Akeem Ayers
or
Zach Brown
. Maybe they had some great rationale, but it seemed like the sort of lineup fiddling in Week 14 that suggests a team doesn't have enough in its core guys and needs to mess around to find something. McCarthy made four tackles and Gooden four while Ayers wasn't on the stat sheet. So maybe it was smart.
Too quiet:
The Titans' best offensive weapon is receiver
Kendall Wright
, who works a lot out of the slot. One of the Broncos' best pieces on defense is nickel corner
Chris Harris
. Harris did his part to hold Wright to his fewest catches (two) and fewest yards (17) since opening day. Since the Titans' win in Pittsburgh, Wright has had at least three catches and at least 54 yards in every game. With
Delanie Walker
out of the lineup with a concussion, the Titans were down one key weapon.
Justin Hunter
had four catches for 114 yards and a touchdown. No one else had more than two catches or 24 receiving yards.
October, 15, 2012
10/15/12
5:12
PM ET
The Jaguars have willingly used
Chris Prosinski
as a third safety in some packages this year. But in need of a second starter with
Dwight Lowery
due to miss a few weeks with an ankle injury, they signed veteran
Chris Harris
to give themselves an additional option.
"(Harris) has got a number of starts," coach Mike Mularkey told Jacksonville media. "He's a smart player to come right in here and can pick up what we're trying to get done with our communication. He's got to be able to make some calls back there to get us in the right places, and I like having that guy that has had to do that in games and has done it a number of times..."
"I'm going to give him a couple of days here and just to get his feet wet here today. We just signed him this morning but he's got a chance (to start)."
Harris was a sixth round pick of the Bears in 2005 and has also played for Carolina and Detroit. In all, he's played in 96 games with 88 starts. But he's not been with a team this season.
Receiver
Laurent Robinson
did not pass his concussion test this morning and will take it against Wednesday. He's not been ruled out, but if he doesn't play Sunday in Oakland,
Cecil Shorts
will start in his place.
Prosinski has not proved a sure tackler, which is part of the reason the Jaguars looked for help with Lowery's injury.
"It's a little bit of everything, angles, technique at times," Mularkey said of Prosinski's problems. "Early on, and even in the Minnesota game, he came up and made some big plays in space against some players that are dangerous in space. Kind of like the way he's been playing, very inconsistent with his tackling. He's aware of it and we're working with him on it, but that's something we've got to get better at."
If Harris can do a better job of being better at it, the Jaguars shouldn't hesitate to play him.
September, 23, 2011
9/23/11
11:18
AM ET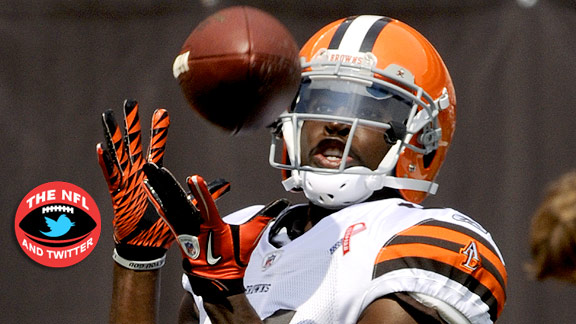 Tom Cammett/Getty ImagesMohamed Massaquoi tops this week's Twindex.
It was a good week for pictures from NFLers on Twitter.
We had tourist shots of Larry Fitzgerald
at the Lincoln Memorial
and
at The White House
, a picture of Antonio Garay driving a
Hello Kitty car
, a shot of a receipt showing off just
how much
Michael Huff's dad spent for groceries on his son's credit card and a freeze frame of Josh Scobee's
locker on TV
.
We at the NFL Twindex are in favor of all sharing. We seek insight into football lives, and do our best to weed through a lot of junk to find it.
If you see good humor, good explanations or yes, good pictures from an NFL player or coach or mascot or anyone on Twitter, please make sure we see it by calling our attention to it. Twindex headquarters can be found at
@ESPN_AFCSouth
and
@PaulKuharsky
.
To our new edition.
September, 16, 2011
9/16/11
11:06
AM ET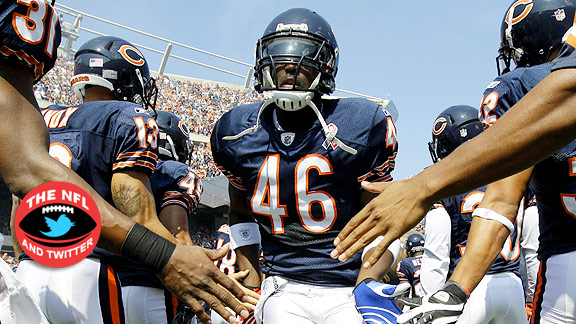 AP Photo/Nam Y. HuhBears safety Chris Harris had an interesting take on the penalties in the Broncos-Raiders game.
Free advertising. Who wouldn't jump at the chance?
When Randall Cobb gets his charitable foundation up and running, he's likely to be using a logo he acquired thanks to a simple tweet.
Perhaps a young graphic artist out there will be able to add a line to his or her résumé after designing a mark for an NFL up-and-comer.
Cobb had a big debut in Green Bay's season-opening win. Days later he decided to take advantage of the eyes on him. I'm guessing he'll land a good logo out of it.
The smart marketing ploy gets him the No. 2 spot in this week's NFL Twindex.
You can influence the poll by calling my attention to quality Tweers from NFLers. I'm
@ESPN_AFCSouth
and
@PaulKuharsky
.
August, 19, 2011
8/19/11
10:58
AM ET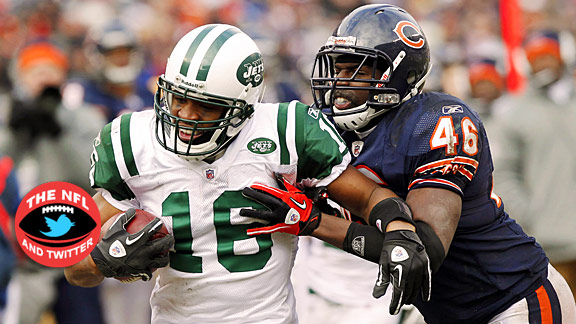 Mike DiNovo/US PresswireBears safety Chris Harris, right, rose to the top spot in the latest version of the NFL Twindex.
More football please.
When we started the NFL Twindex during the NFL lockout, many guys who earned top 10 spots did so on the strength of their comedy.
Now, it takes more. We need more. You, fare NFL player, have taken to Twitter to connect with your people. And to earn a top rating from this follower, you should have a reasonable share of football insight in the mix.
To stand your ground or gain some or to emerge as a member of the club, show us some of everything and be sure it includes some of what brought us to you in the first place.
I thought Arizona quarterback Kevin Kolb (
@KevinKolb_4
) had the best recent football tweet: "Our Z receiver,
@ARob12_Cards
, has been tearing it up in practice. Get to know him this year."
Unfortunately, Kolb's busy learning a new team and hasn't been tweeting much. Understandable, but he doesn't even earn an honorable mention here for lack of volume.
With no further ado, our new list…
See a tweet I need to be aware of for the Twindex? Make me aware. I am
@ESPN_AFCSouth
and
@Paul Kuharsky
.
July, 8, 2011
7/08/11
10:56
AM ET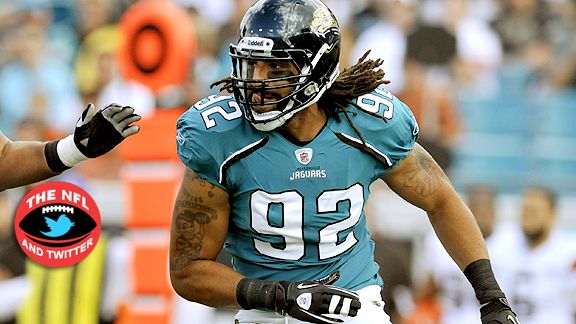 AP Photo/Stephen MortonAusten Lane has now been in the top-10 rankings of all four of the NFL Twindexes so far.
Show, don't tell. We're making it an NFL Twindex commandment.
"I usually hate when athletes tweet about how good their workout was," Matt Hasselbeck (
@Hasselbeck
) tweeted Thursday in a good start, "but we had a great one today!"
Bad finish.
Plenty of NFL fans starved for morsels and insight into football and beyond would love to know what made it good.
J.J. Watt (
@JJWatt
) did very well with show-don't-tell when he tweeted
this picture
. Yowza.
Alas, Hasselbeck and Watt are snapshot examples for us here at Twindex HQ, where we'd like to host Cleveland receiver Carlton Mitchell and Green Bay tight end Tom Crabtree. They hold the top two spots in our new poll, flip-flopping their standing from two weeks ago.
We could have a 10-event competition for the two including feats of strength and intellect and concluding with a tweet-off or a tweet-up or a tweet-meet.
They were neck and neck, and it came down to my gut feeling -- Mitchell was more consistently amusing.
Scroll through
my favorites
to see what was considered as we made the final cuts -- we are now trying to track 493 guys.
And hit me at
@ESPN_AFCSouth
and
@PaulKuharsky
with tweets I need to see and people I need to follow.
June, 24, 2011
6/24/11
10:31
AM ET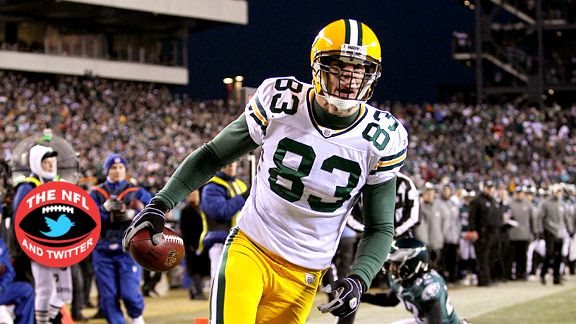 Michael Heiman/Getty ImagesCreative tweeting earns Packers tight end Tom Crabtree the top spot on the latest Twindex.
Want to rise and grind? Want to know how long a flight is delayed out of Atlanta? Want motivational quotes and bible passages?
Me neither.
That's not what I am looking for on Twitter. But I am curious what NFL players are saying and I have made a commitment to sort through it all to give you the highlights from NFL players since the last edition of the NFL Twindex.
Comedy is key during the lockout, but once things are settled we expect far more football talk to be involved here.
It's not all about laughs on Twitter, and Amy Nelson illustrated so well in
this piece
about Brandon Phillips of the Cincinnati Reds.
Check out
tweets I made favorites
. That's the list I then worked with to craft our new poll.
Seeing quality tweets you want to make sure are considered? Point me to them. I'm
@ESPN_AFCSouth
and
@Paul Kuharsky
.