August, 11, 2012
8/11/12
3:10
PM ET
Three things to pay special attention to in Titans at Seahawks tonight:


The quarterbacks, of course:
In my thinking,
Matt Hasselbeck
won't alter his standing much unless he's bad in his starting stint against his former team. It's
Jake Locker
who has more to gain in this circumstance -- he needs to show huddle command, accuracy and move the team well if he finds the offense in the red zone or a two-minute drill situation. Watch if he's able to deliver short stuff to maximize the chances of the pass-catcher to turn and go, and if he throws as well to the left as to the right.
Tommie Campbell:
He's kind of in place and unquestioned as the third cornerback so far, and it's good that the team feels confident in him. But we need to see the Titans in nickel, with
Alterraun Verner
shifted inside and Campbell taking his place playing with confidence, making good decisions and sticking with receivers or following his zone rules. Tied to that, do we see any of the guys behind him --
Terrence Wheatley
,
Coty Sensabaugh
,
Chris Hawkins
,
Ryan Mouton
-- play well enough to be considered to be putting pressure on him.
Who rushes well?
Coaches have downplayed the meaning of
Pannel Egboh
working ahead of
Derrick Morgan
with the starters. Morgan needs to play well in preseason chances and show he should be an unquestioned starter. Egboh's in good shape, but translating practice success into games is a significant jump.
Dave Ball
won't play, so rookie
Scott Solomon
and veterans
Leger Douzable
and
Keyunta Dawson
have chances to separate themselves for the fourth spot at defensive end.
March, 27, 2012
3/27/12
6:31
PM ET
Nickel defenses are played more than ever in the NFL.
But the AFC South may be moving the other direction in games against each other.
The Texans are comfortable lining up with three wide receivers or splitting tight end
Owen Daniels
out into spread formations. The Jaguars and Titans figured to remain running back-centric. If the Titans get a bounce-back from
Chris Johnson
, they will likely run more. Of course those two teams can spread things out with the intent to run, of course.
[+] Enlarge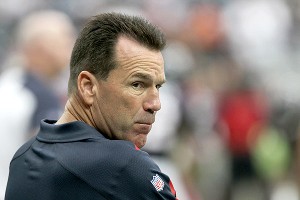 Thomas B. Shea/Getty ImagesTexans coach Gary Kubiak said Tuesday at the NFL owners meetings that teams should prepare for their division when deciding on a nickel defense.
But two games when AFC South teams loaded up with nickel packages are likely to change.
The departure of
Peyton Manning
from the Colts means one team that dictated constant nickel defenses is being altered. New coach Chuck Pagano has talked about running and stopping the run and GM
Ryan Grigson
said Monday he expects the Colts to be a fullback team.
A linebacker is typically going to stay on the field against a two-back set. The lack of a precision passing offense and weapons like
Dallas Clark
and
Pierre Garcon
will make it tougher for the Colts to dictate a team's defensive personnel, or to take advantage of it.
"The third linebacker or the nickel corner?" Texans coach Gary Kubiak said at the owners meetings, repeating a question about what's more important. "You look at your schedule and say, 'OK, what are we going to play this year? Are we going to be in nickel all year, or are we going to be trying to stop the run?' I think that's what things will come down to.
"One year you might be out there in nickel defense 60 or 70 percent of the time. The next year it could be 50. It all starts with your division. When Peyton was at Indy, if we didn't have three good corners we were in trouble every time we played them. So I think you've kind of got to build your roster to compete in your division, No. 1, and make that decision."
This means the Jaguars will have two more games where they can play more with their great linebacking trio of
Paul Posluszny
,
Daryl Smith
and
Clint Session
on the field together.
This means the Titans' new nickelback -- whether he's an outsider or
Ryan Mouton
,
Chris Hawkins
or
Tommie Campbell
-- isn't going to be as important against Indy as recent ones have been.
This means
DeMeco Ryans
' replacement in the Texans base defense,
Darryl Sharpton
, will get additional snaps.
Is that better or worse? As good as
Andrew Luck
will be coming out of Stanford, defenses are going to want to play the rebuilding Colts in 2012.
March, 6, 2012
3/06/12
9:54
AM ET
In earlier times, when Jeff Fisher was a primary power broker, the Titans were constantly accused of a failure to communicate.
[+] Enlarge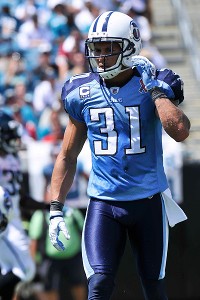 Fernando Medina/US PresswireCB Cortland Finnegan brings an attitude, not just cover skills, to the St. Louis defense.
Players on their way out often had hurt feelings when they didn't get a phone call returned, didn't get a straightforward explanation about where they stood.
I leaned toward defending the team. What can you say, really? You don't want to back yourself into a corner in case circumstances change.
But the Titans have changed.
A team now headed by general manager Ruston Webster and coach Mike Munchak chose to operate differently with cornerback
Cortland Finnegan
.
They told him their plan: They won't be offering him a contract. They are letting him go.
And so, as is human nature, Finnegan wants the next step; he wants more; he wants to know why.
Jim Wyatt of The Tennessean
spoke with him
:
"It is bittersweet," Finnegan said. "For six years I played in the Titans organization. I am grateful and humbled that the Titans took a chance on me and the way they matured me over the years.

"But they wanted to move on. … I don't know why, and I don't know what else a guy could do career-wise and in the community. But that's part of the business, and you have to move on. I'll have great memories of my time with the Titans. It just didn't work out."
Again, how would it benefit the Titans to spell it out for him?
Here's why: They don't think he's a $10 million-a-year corner. Although he's a very good and versatile defensive back, he's not going to single-handedly erase a top receiver every week. Even had the Titans decided to give him the franchise tag, he would have hated it and griped. He's a good guy at heart and did a lot for the team and the community, but his nasty streak, on and off the field, could show up at bad moments and be unhealthy. The last time he got money, he didn't react to a fatter wallet well.
If you're thinking the loss of Finnegan will hit the Titans the way the loss of
Albert Haynesworth
did, or even
Jason Babin
, I disagree with you.
Jason McCourty
is a high-quality corner who will be the lead guy.
Alterraun Verner
is a smart player who will man the other side. Finnegan manned the nickel post well, but if the Titans are down to that, they'll find an answer. It could be
Ryan Mouton
. It could be that
Tommie Campbell
or
Chris Hawkins
comes in to take Verner's outside slot and he kicks inside.
The Titans will add an outsider or two from the lower tier of veterans, and they'll draft at least one.
And there is your explanation.
February, 23, 2012
2/23/12
11:56
AM ET
INDIANAPOLIS -- Yes, last year was a particularly odd one because of the lockout.
But if any positional hole tested a team's patience, it was what the Titans dealt with at quarterback.
[+] Enlarge
Jim Brown/US PresswireThe Titans might soon be searching for a replacement for cornerback Cortland Finnegan.
They had nothing and had no choice but to wait. They got
Matt Hasselbeck
three days into free agency. They drafted
Jake Locker
. And they wound up fine at quarterback.
This time, operating with a more traditional timetable, they could start the 2012 NFL year with three holes in the secondary: Starting cornerback
Cortland Finnegan
and starting safeties
Michael Griffin
and
Jordan Babineaux
are all heading for free agency. (So is safety
Chris Hope
, who the team doesn't figure to even attempt to re-sign.)
The Titans could move quickly on Babineaux, but it won't be a surprise if they don't move at all on Finnegan and Griffin.
And newly promoted general manager Ruston Webster said that while it would hardly be an ideal situation, it won't create panic either.
"It would be unsettling, it would definitely be unsettling," he said at the combine. "Not because we don't trust our other guys. But because there is that transition and that unknown of what's going to happen. Those guys have been pretty good players, so yeah, that would be a little unsettling.
"I think that's the trick at this time of the year, is being patient, not panicking or anything like that. It's very difficult to think of having those holes, and what are we going to do? But you always have to remember that you have a draft which will also help …
"I'm a pretty patient guy by nature in those type of deals, but you want to give yourself the best chance to win every year. But you don't want to get caught, you can't look at it like rebuilding. You've got to try to win every year. So it can keep you up at night."
Webster and coach Mike Munchak said the Titans can be OK at cornerback if they move on without Finnegan, even without an addition.
Jason McCourty
would be joined by
Alterraun Verner
in the starting lineup. Then
Tommie Campbell
or
Chris Hawkins
could win the third spot, coming onto the field as an outside corner with Verner moving inside.
Or
Ryan Mouton
, who missed 2011 hurt, could come in and play in the slot.
October, 9, 2011
10/09/11
11:49
AM ET
PITTSBURGH -- The Titans just learned just how the Steelers' rejiggered lineup will look this afternoon.
Offensive line injuries mean
Doug Legursky
will flip from right guard to left and
Ramon Foster
will play right guard.
Injuries on defense mean
Ziggy Hood
will start at end for
Aaron Smith
,
Chris Hoke
will start at nose tackle for
Casey Hampton
,
Lawrence Timmons
will move from inside linebacker to outside linebacker on the right side and
Larry Foote
will step into Timmons' usual slot.
The Steelers kept their third quarterback,
Dennis Dixon
, active with
Ben Roethlisberger
dealing with a foot sprain. Running back
Rashard Mendenhall
has a hamstring injury but remains in the starting lineup. He's expected to be limited with
Isaac Redman
taking most of the load.
The entire lists of inactives:
Titans
Steelers
September, 18, 2011
9/18/11
11:50
AM ET
NASHVILLE. Tenn. -- Will
Chris Hope
's shoulder injury result in a permanent lineup change?
We don't know Mike Munchak's philosophy on starters losing jobs to injury, and the Titans decided to move forward and pay Hope a $6.5 million base salary this season.
But
Jordan Babineaux
will fill in for Hope today against the Ravens at LP Field. He's got a history as a playmaker, and if he can provide the Titans with a jolt, Munchak and defensive coordinator Jerry Gray could have a tough call once Hope is healthy.
The inactive lists:
Titans
Ravens
September, 6, 2011
9/06/11
11:19
AM ET
Reading the coverage …
Houston Texans
The AFC South is the Texans'
for the taking
, writes Jerome Solomon.
The Texans are now
preparing for
Kerry Collins, says John McClain.
Wade Phillips' reputation helped him get
the team's attention
, says Jeffrey Martin.
Five key questions
from McClain.
DeMeco Ryans is
ready to go
, says McClain.
McClain goes
game-by-game
and predicts the season.
Indianapolis Colts
Jim Tressel
will start
when the Colts get to their seventh game, says Phil Richards.
It will be strange to see
someone other than
Peyton Manning under center, says Mike Chappell.
Phillip. B. Wilson
checked the obits
and didn't see the Colts.
Anthony Gonzalez and Blair While
expect to be ready
for the opener.
A defense of
Donald Brown from Nick Pease.
Jacksonville Jaguars
Jaguars tackles Eugene Monroe and Eben Britton are
handling the criticism
, says Vito Stellino.
The Jaguars elected
six captains
, says Tania Ganguli.
Mike Lockley's $20,000 fine will be
taken out
of his practice squad salary, says Tania Ganguli. To fine a guy making this little that much is ridiculous.
Tennessee Titans
Chris Johnson is
now focused
on football, says Jim Wyatt.
Undrafted corner Chris Hawkins got
a late scare
on cut day, says John Glennon.
Glennon looks at how the Titans schedule
sets up
early.
September, 3, 2011
9/03/11
7:21
PM ET
Click
here
for a list of Titans' roster moves.

Surprise move:
Ahmard Hall
was suspended for the first four games of the season for a violation of the NFL's policy against performance enhancers. The Titans traded an undisclosed draft pick to the Packers for
Quinn Johnson
, a fifth-rounder out of LSU in 2009. Johnson will serve as lead blocker for
Chris Johnson
while Hall is out. So the Titans have a running back and a fullback learning the team's offense in a little over a week. Undrafted rookie corner
Chris Hawkins
made the team.
No-brainers:
Time had come for receiver
Justin Gage
, a nice guy with good size who could block and be in the right spot, but dropped too many balls and was not enough of a threat. The entire nine-man draft class stuck, and it's hard to say any one of them is around simply because of that status.
What's next:
Six defensive tackles is a luxury the team may not be able to afford for long, though one of them,
Malcolm Sheppard
, has been working at end. With only four true ends on the roster and
Derrick Morgan
out for the opener, the team either has faith in Sheppard or plans a move. The Titans' fourth and fifth corners --
Tommie Campbell
and Hawkins -- are rookies who were judged beter than
Frank Walker
.