September, 30, 2011
9/30/11
11:36
AM ET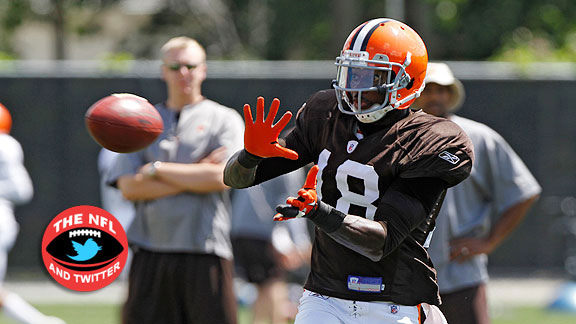 AP Photo/Mark DuncanCarlton Mitchell leads this week's Twindex.
Faith is a key piece of the lives of a lot of NFL players on Twitter.
Many tweet Bible verses or favorite passages, particularly in the morning when they get in a prayer and a daily reading.
It can be a piece of a well-rounded tweeter, though it's not something that typically scores for a guy in the NFL Twindex.
We seek well-rounded players who deliver good humor, good commentary and good football insight.
You can find what I consider the best player tweets of the week by looking at
my favorites
.
I try to scan through as many tweets as I can, but it's difficult to see them all and I can always use your help. Call my attention to anything of interest at
@ESPN_AFCSouth
or
@PaulKuharsky
.
This week's list:
September, 16, 2011
9/16/11
11:06
AM ET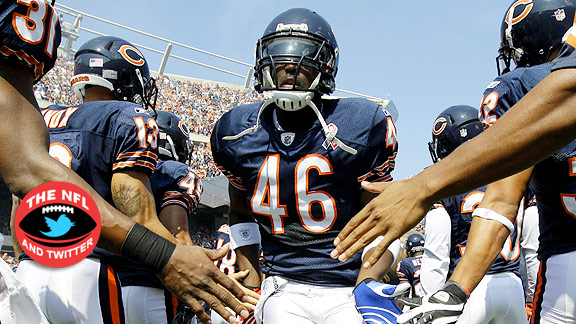 AP Photo/Nam Y. HuhBears safety Chris Harris had an interesting take on the penalties in the Broncos-Raiders game.
Free advertising. Who wouldn't jump at the chance?
When Randall Cobb gets his charitable foundation up and running, he's likely to be using a logo he acquired thanks to a simple tweet.
Perhaps a young graphic artist out there will be able to add a line to his or her résumé after designing a mark for an NFL up-and-comer.
Cobb had a big debut in Green Bay's season-opening win. Days later he decided to take advantage of the eyes on him. I'm guessing he'll land a good logo out of it.
The smart marketing ploy gets him the No. 2 spot in this week's NFL Twindex.
You can influence the poll by calling my attention to quality Tweers from NFLers. I'm
@ESPN_AFCSouth
and
@PaulKuharsky
.
September, 2, 2011
9/02/11
11:00
AM ET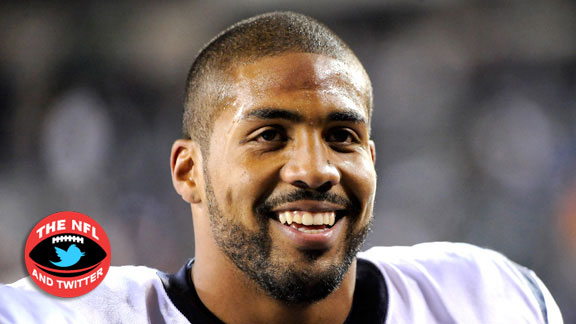 Howard Smith/US PresswireThe Texans' Arian Foster leads the way in this week's Twindex ranking.
OK, the Twindex has been retooled a bit as we set sail on the 2011 NFL season.
While I sift through hundreds of players' tweets, only five will make our weekly list, though there will be quirky honorable mention categories for stuff that grabs my attention.
As always, I ask for your assistance. If there is a tweet that needs to be considered, call it to my attention at
@ESPN_AFCSouth
or
@PaulKuharsky
.
You can see the "finalists" by looking at favorites at the ESPN account.
An announcement to our fine player pool: It's time to crank it up fellas. Camps are over, you're back home and getting to your in-season schedule. It demands a lot of time to rest. During said rest, why not cleverly tweet us insight into football and life and football life?
We'll be watching.
June, 24, 2011
6/24/11
10:31
AM ET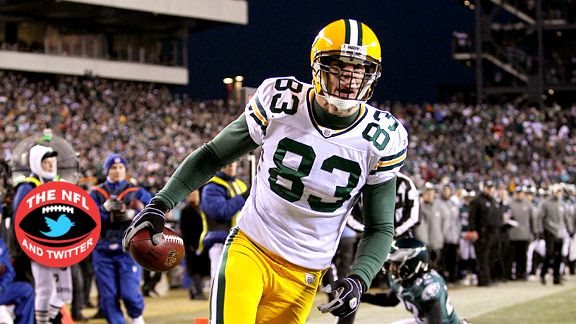 Michael Heiman/Getty ImagesCreative tweeting earns Packers tight end Tom Crabtree the top spot on the latest Twindex.
Want to rise and grind? Want to know how long a flight is delayed out of Atlanta? Want motivational quotes and bible passages?
Me neither.
That's not what I am looking for on Twitter. But I am curious what NFL players are saying and I have made a commitment to sort through it all to give you the highlights from NFL players since the last edition of the NFL Twindex.
Comedy is key during the lockout, but once things are settled we expect far more football talk to be involved here.
It's not all about laughs on Twitter, and Amy Nelson illustrated so well in
this piece
about Brandon Phillips of the Cincinnati Reds.
Check out
tweets I made favorites
. That's the list I then worked with to craft our new poll.
Seeing quality tweets you want to make sure are considered? Point me to them. I'm
@ESPN_AFCSouth
and
@Paul Kuharsky
.
June, 10, 2011
6/10/11
10:52
AM ET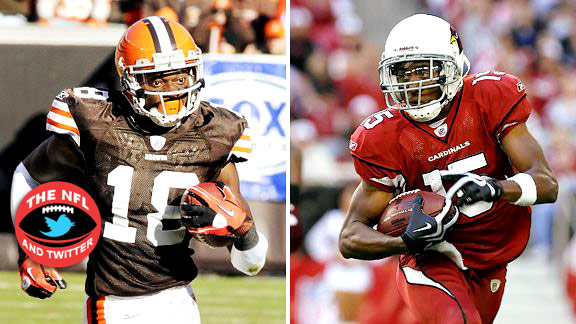 Getty ImagesCarlton Mitchell and Steve Breaston were the cream of the NFL tweeting crop in the latest Twindex.
My eyes glazed over as would-be analysts offered little worthy of attention on Twitter regarding the NBA Finals, starting with too many of these: "Who ya got tonight, Mavs or Heat?"
Yawn-inducing, akin to, "What up [insert city here]?"
Over the last two weeks, we heard who came close to missing a flight and who was delayed and what they thought of the airports they were delayed in.
But even in such a desolate landscape, wonderful things popped up.
Little-known
Carlton Mitchell
, a second-year Browns wide receiver, was consistently hilarious and emerged from nowhere to take the top spot -- not by a nose, but in a landslide.
Laughs are aplenty among the rest of the field in the second edition of the NFL Twindex, one man's subjective rankings of the best NFL tweeters out there over the last two weeks.
Big names who did well in the feature's debut disappeared, with only three players retaining a spot in the top 10.
Without further ado, the new list:
Have a tweet I need to see? A Tweeter who needs more consideration? Find me at
@ESPN_AFCSouth
and
@PaulKuharsky
.