November, 10, 2013
11/10/13
8:01
PM ET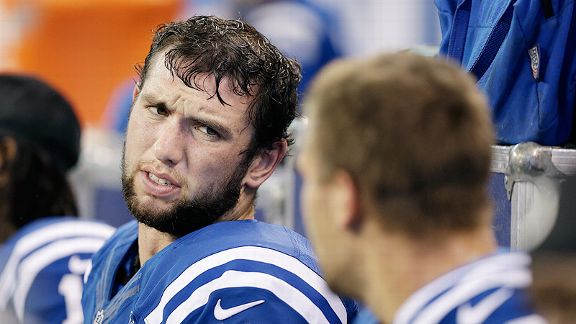 AP Photo/Darron CummingsThe Indianapolis Colts can't count on dramatic comeback victories from quarterback Andrew Luck every week.
INDIANAPOLIS -- You were just waiting for that moment to happen. A
Robert Mathis
strip sack to energize the
Indianapolis Colts
. Then
Andrew Luck
calmly leading them to a come-from-behind victory.
Why wouldn't it happen that way?
We've all seen Luck work his magic before. You spend Monday morning standing around the watercooler talking about how much of a joy it is to watch Luck rescue the Colts.
But something happened on Sunday afternoon in front of 66,004 fans at Lucas Oil Stadium. The Rams jumped on Indianapolis and made sure they weren't going to be Luck's 11th come-from-behind victim in just 25 games.
The Rams embarrassed the Colts, handing them
their worst home loss
in the Luck and coach Chuck Pagano era, 38-8.
"They beat us in every single phase," Pagano said. "We just didn't do anything. And I take full responsibility as the head football coach, did not have this team ready."
Is it time to panic?
No, the Colts are still in first place in the AFC South by two games. But Sunday was a dose of reality -- the kind that causes you to spend the night tossing and turning in bed -- that they cannot continue to think they can constantly come back from first-half deficits.
That plan was risky even when veteran receiver
Reggie Wayne
was in the lineup. The Colts won't survive playing that way without him even if they did manage to get away with falling behind and coming back against Houston on Nov. 3. The Colts can't do it with so many players out with injuries, a weak receiving group outside of T.Y. Hilton and an offensive line that can't protect Luck.
The Colts have trailed at the end of the first quarter in five of their nine games this season.
"Regardless of what happens, we know what we have," Colts defensive lineman
Cory Redding
said. "Like I said, our mental mentality, our toughness, our belief in one another has not wavered. They were the better team today. They outplayed us, period."
The Rams tried to help Indianapolis cure its slow starts when they were called for a taunting penalty on the opening kickoff and then a neutral-zone infraction. Not even a free 20 yards could help the Colts, though.
The Colts got to St. Louis' 42 before defensive end
Robert Quinn
beat
Anthony Castonzo
for the strip sack on Luck. Quinn's sidekick on the other side,
Chris Long
, picked up the loose ball and ran 45 yards for a touchdown.
A short touchdown run by running back Zac Stacy followed, then a 98-yard punt return for a touchdown by rookie
Tavon Austin
, and an 81-yard touchdown reception by him sent the Rams into the half with a 28-0 lead.
There was never a feeling that the Colts would make it a game in the second half. There shouldn't have been any hope, not with Luck trying to avoid Quinn and Long from sandwiching him and a running game -- if you want to call it that -- rushing for 5 yards in the first half.
The Colts finished with 18 yards rushing on 14 attempts, and Luck was sacked three times, was hit seven times and matched his season total in interceptions with three.
"We knew coming into this game after last week's game [at Houston] that we're not going to be able to consistently spot teams three-touchdown, four-touchdown leads and be able to come back," Pagano said. "And we can't count on executing well on both sides of the ball and special teams for 30 minutes of the game. You got to do it over 60 minutes."
Luck, as he's done throughout his short career with the Colts, didn't get discouraged. After the game he addressed the media, then walked around the locker room slapping hands and offering words of encouragement to his teammates before finally making his way to the shower.
That's what the Colts will need from Luck off the field to go with his competitiveness on it because they'll likely encounter another situation like Sunday at some point in their remaining seven regular-season games.
"It's a tough business," Pagano said. "It's not for the meek. It's for grown men. Everybody in that locker room, coaches and players, we got broad enough shoulders to handle it. You sit there and you dwell on it and dwell on it; we ain't got time to dwell on it."
October, 31, 2013
10/31/13
12:00
PM ET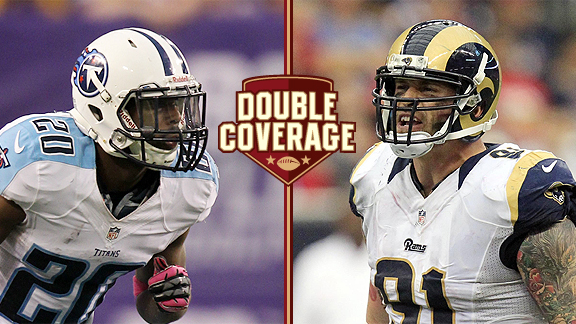 USA TODAY SportsTitans CB Alterraun Verner and Rams DE Chris Long are two of the league's best at their positions.
.
Any time the
St. Louis Rams
and
Tennessee Titans
meet, memories of Super Bowl XXXIV are sure to come to the fore. In one of the greatest Super Bowl finishes of all time, the Rams emerged with their lone championship during their time in St. Louis.
A lot has changed since, but neither team has managed to get back to the promised land and it seems like a long shot either will this season. This week, the Rams and Titans renew acquaintances at the Edward Jones Dome in St. Louis. ESPN.com Rams reporter Nick Wagoner and Titans reporter Paul Kuharsky discuss some things worth watching, including an interesting role reversal for one of the key figures in that Super Bowl.
Wagoner:
Well, it's pretty obvious what the big story is going to be this week. Jeff Fisher is facing his former team for the first time since taking over as the coach in St. Louis. As is to be expected, Fisher is downplaying that whole angle, but you were around him a lot in his years in Nashville. Do you expect Fisher to have a little something extra for his old team this week?
Kuharsky:
It would be so much better if it were in Nashville. Then we'd have the crowd reaction as a part of it, too. Still, it's intriguing. He will definitely have something (or some things) drawn up that he feels will uniquely exploit the schemes and styles of his former underlings Mike Munchak, Jerry Gray and Gregg Williams. If those things work, I'd expect Fisher will then talk about how one of his assistants who was once in Tennessee -- Chuck Cecil, Dave McGinnis or even Ray Sherman -- was instrumental in the design. Fisher didn't leave with hard feelings, and I believe he wishes the organization well. Still, any proud former employee in this sort of circumstance wants to outperform the former employer. He's talked about it meaning more for the guys on the roster who were once Titans.
Jared Cook
had a monster opening day but has been quiet since.
Cortland Finnegan
missed some time hurt. What's the status of those guys?
Wagoner:
Cook has really struggled dealing with teams giving him more attention and, more specifically, being physical with him at the line of scrimmage and downfield. He stopped on a route last week against Seattle, and it resulted in an interception. The Rams have gone back to more of a power running scheme that has also limited his snaps because he doesn't bring much to the table as a blocker. Finnegan won't say it, but I believe he was banged up at the beginning of the season; his first four games were downright brutal. He returned last week against Seattle, and for now he's working exclusively in the nickel as the team's third corner rather than just bumping inside in those situations. Given that he's only a little more than a year into a monster contract, it's hard to categorize him as anything but a disappointment for the price.
A lot will be made of the Fisher-Tennessee connection, but I'm more intrigued by the Gregg Williams situation. The way things went down with him and the Rams, and between Williams' son Blake and the Rams, had to have created some tension on all sides. What has Williams' impact been down there in Tennessee, and what exactly is his role?
Kuharsky:
By title, he's senior assistant/defense. In practice, he's not-quite defensive coordinator. Gray is still calling the plays, but Williams' influence is undeniable. This defense had no personality or attitude last season. Now it's the backbone of the team. It mixes it up and disguises its looks up front, it blitzes more often and it plays far more man-to-man.
Bernard Pollard
has been a great fit who has talked with swagger and backed it up. Some guys most people have never heard of -- defensive end
Ropati Pitoitua
and middle linebacker
Moise Fokou
-- have been very good additions. Williams certainly had a say in bringing those guys in. He has stayed in the background and seems comfortable there. I would imagine he and Gray are excited to put together a plan to make
Kellen Clemens
uncomfortable.
How do you think Clemens will respond in his second start since
Sam Bradford
went down?
Wagoner:
To paraphrase one of the great philosophers of our time, Mr. Dennis Green, Clemens proved last week against Seattle that he is what we thought he was. He's a tough, gritty, consummate professional who can occasionally extend plays with his legs and make something happen. He's also consistently inaccurate, a bit indecisive and has a knack for costly turnovers (though his two interceptions Monday night weren't completely his fault). Another week to work with the starters should help, but he was a bit sore after Monday night's game against Seattle. The Rams don't need him to throw for 300 yards and five touchdowns, but they do need him to convert in the red zone and not turn the ball over.
There are something like 16 players from the Fisher era remaining in Tennessee, one of whom is running back
Chris Johnson
. The Rams have been better defending the run the past two weeks, but they need to prove they can keep doing it. It appears Johnson has struggled after the team made efforts to help him in the offseason. What's going on with Johnson, and is he (and the Titans' offensive line) capable of taking advantage of the Rams' run defense?
Kuharsky:
The Titans are built on a philosophy of throwing it when they want to, not when they have to. That's a mistake because the revamped line and Johnson are not equipped to run it they way they think they can. Jets fans get a kick out of this, but to a large degree the Titans' hope things will get better comes from
Shonn Greene
. The bigger back was brought in as a compliment to CJ, but he got hurt in the opener and made it back only the week before the bye; he has hardly played. They need him to emerge and contribute. Based on current numbers, the Rams are the third-softest run defense the Titans will have seen this season. If they can't run Sunday, it will really speak to their issues.
Chris Long
and
Robert Quinn
looked really good against Seattle. Have they been giving everyone problems like that?
Wagoner:
Quinn certainly has. Through the first half of the season, he's really starting to realize his immense potential. I believe he's the Rams' best player right now, and have felt that way since the beginning of the season. He's an athletic freak who gives slower tackles problems. He feasts on inferior players, but he can get it done against good tackles as well. Long was banged up earlier in the season but has battled through it and is starting to find his stride. Given the situation on offense right now, the Rams need this duo to take over games on a regular basis and set the tone for a defense that, before last week, had largely disappointed this season.
.
April, 25, 2013
4/25/13
11:30
PM ET
Erik Walden
may be the Colts' starting strongside linebacker.
Werner
But the free-agent addition is far better against the run than as a pass-rusher, and Indianapolis rated as thin in the pass-rushing department after
Robert Mathis
.
Bjoern Werner
, who was selected 24th overall in the NFL draft out of Florida State, shouldn't be a surprise.
He's a high-motor player with great size at 6-foot-3, 266 pounds. I've seen comparisons to Washington's
Ryan Kerrigan
and St. Louis'
Chris Long
. Indianapolis coach Chuck Pagano said the college end will be a 3-4 outside linebacker.
He brings a quick first step, strong hands and a very good football IQ considering he has played for only five years.
Ideally, he'll be a passing-down presence right from the start, basically inheriting the role
Dwight Freeney
held, but didn't excel at, last season.
At the combine, general manager Ryan Grigson told us he sometimes roots for a player he likes to have a poor combine performance, because it will scare others away. It worked that way with fifth-round running back
Vick Ballard
last year.
It may have helped with Werner, too. He ran a 4.81 at the combine.
Via Phillip B. Wilson of the Indianapolis Star, Grigson said of Werner: "You put on the film, he's the first guy off the ball every down. He's got great get-off. His closing speed is excellent on film. He plays the game at a higher rate of speed."
The Colts chose Werner over cornerback
Xavier Rhodes
, who many of us thought looked the part for a Chuck Pagano corner. They could have had the draft's second wide receiver too.
October, 17, 2009
10/17/09
1:00
PM ET

Posted by Scouts Inc.'s Matt Williamson
What to expect from AFC South QBs this weekend:
Jacksonville's David Garrard
: Rams head coach Steve Spagnuolo is known for bringing pressure and frankly, St. Louis has nothing to lose. Garrard should expect a steady diet of blitzes. In turn,
Mike Sims-Walker
could draw single coverage, usually from Ron Bartell, who is one of the most underrated corners in the league.
Chris Long
is one player to watch. He has been far from spectacular since being selected No. 2 in the 2008 draft, but has a similar skill set to the Giants'
Justin Tuck
, Spagnuolo's wild-card player with his former team. Long could line up in a variety of spots on the defensive front.
Garrard was pummeled in Week 5 in Seattle. This isn't as tough of a matchup, but Jacksonville's rookie tackles could use some help. Draws and screen passes to Maurice Jones-Drew could be a good remedy. Garrard does certainly tend to play better at home and veteran wide receiver
Torry Holt
might have a little something extra for his former team, but Garrard's season has been a roller coaster thus far.
Tennessee's Kerry Collins
: Collins was taken out of Week 5's blowout loss to the Colts for
Vince Young
and that certainly could occur once again this week, although Jeff Fisher and the Tennessee decision-makers probably already know deep down that Young is not the long-term answer at quarterback. While Collins is in the game, the Patriots will probably stack the box on early downs in order to best defend the run. However, by doing so, the Patriots are vulnerable to the pass and this is a defense that has struggled against the pass over the last two weeks.
Thought of mostly as a 3-4 scheme, New England is also incorporating quite a bit of 4-3 this season. By doing so, they put two massive bodies in the middle of the field, allowing star-in-the-making middle linebacker
Jarod Mayo
a lot of room to run and hit. Collins' wide receivers should see plenty of one-on-one coverage on the perimeter, an area he could potentially exploit with his big arm. Also, New England is not an elite pass-rushing defense and the Titans' excellent pair of offensive tackles has a distinct advantage over the Patriots edge pass rushers. Collins might also find matchups to his liking against New England's heavier 3-4 linebackers against the dynamic
Chris Johnson
.
Johnson only touched the ball 11 times last week, which is criminal. But, most importantly, this all sounds favorable on paper, but this offense and this Titans' team as a whole simply are not executing to their capabilities. If
Tom Brady
and the Patriots passing game exploits Tennessee's awful pass defense and injury riddled secondary, Bill Belichick will have Collins right where he wants him.
Houston's Matt Schaub
: The Bengals have two former first-round selections in up-and-coming
Leon Hall
and Jonathan Joseph. Hall has been exceptional against No. 1 wideouts this year. Both are very capable making big plays, but they also tend to play a lot of off coverage. When Schaub sees off coverage against
Andre Johnson
on early downs, he would be smart to audible into a one-step drop and get the ball out very quickly to his stud receiver. From there, Johnson should consistently put this offense in favorable down-and-distance situations and of course, there is also a chance of Johnson breaking a big play with his after-the-catch skills.
The Bengals have also allowed a plethora of long completions. But, Schaub should not expect a lot of help from his running game this week.
Steve Slaton
is struggling and the Bengals are more physical at the line of scrimmage. They boast a very good run defense. That should also eliminate the play-action game.
Also working against Schaub is Cincinnati's power run game led by
Cedric Benson
. Houston's defense also is at a physical disadvantage this week and I fully expect the Bengals to control the time-of-possession battle, which of course, keeps Schaub and Johnson on the sidelines.
Lastly,
Antwan Odom
could present problems as an edge pass rusher as well. He is playing at a high level this year and Schaub has questionable pocket presence and his ability to elude the rush is very average. Only three defenses have more sacks than the Bengals this year.
July, 17, 2009
7/17/09
12:00
PM ET
Posted by ESPN.com's Paul Kuharsky
The AFC South's overall success in 2008 came in good part to its interconference matchups. They were a collective 11-5 against the NFC North with no team worse than 2-2.
What awaits the division when it faces the NFC West this season?
Last year doesn't give us too much information, but at this point in time it's hard to say anything but the matchups look favorable. In 2008 the NFC West was a collective 20 games under .500 while the AFC South was 12 games over.
Here are seven interesting storylines or factors that will come into play in AFC South against NFC West this season.
1. Slowing top receivers: Teams in the AFC South are built on the thinking that they have to be able to matchup with some pretty good receivers. Yes, Marvin Harrison is gone, but Indianapolis still has Reggie Wayne, and Anthony Gonzalez could evolve into a tough matchup. And the Colts, Titans and Jaguars know they have to try to slow the excellent Andre Johnson twice a season. Now the division also has to contend with Torry Holt. How does such defensive construction translate against a division featuring Larry Fitzgerald, Anquan Boldin, T.J. Houshmandzadeh, Isaac Bruce and rookie Michael Crabtree?
2. Super rushers in big-time matchups: Preparing for the AFC South means preparing for a big-time edge rusher off the right side. Houston's Mario Williams, Indy's Dwight Freeney and Tennessee's Kyle Vanden Bosch are relentless in their quarterback pursuit. Their matchups with Seattle's Walter Jones and San Francisco's Joe Staley should be something to see, and the ability or inability of Arizona's Mike Gandy and St. Louis' Alex Barron to slow them will be critical storylines in those games. And are AFC South left tackles assigned to stop those big rushers in two games a year -- Michael Roos, Tra Thomas/Eugene Monroe, Tony Ugoh and Duane Brown -- also equipped to handle Justin Smith, Chris Long and Bertrand Berry?
| | |
| --- | --- |
| | |
| | Aaron Josefczyk/Icon SMI |
| | The Colts' Peyton Manning could have big days against the NFC West's pass coverages. |
3. Unfamiliar defenses vs. Peyton Manning: No, rank against the pass isn't a tell-all stat. But St. Louis ranked 19th against the pass last year, and that was tops among NFC West teams. The Rams, 49ers (20th), Cardinals (22nd) and Seahawks (32nd) are going to have to show they're much better and can be resourceful if they have a chance to minimize the damage inflicted by Manning. Otherwise, he may well pick them apart.
4. Getting to know Jim Mora: Mora is the new coach of the Seahawks. None of the AFC South teams played against the Mora-coached Atlanta Falcons teams in the regular season while he coached that franchise from 2004-06. But Jeff Fisher's 1999 Titans lost to a San Francisco team that had Mora as its defensive coordinator. The Jaguars beat the Niners that same year on opening day, but don't have a player or coach left from that team, so aren't likely to find any help in it. Indy will have a little organizational recall of Mora's defense from a loss to the 49ers in 2001. The AFC South doesn't have a lot to go on, either, as it prepares to face three other coaches who have not been with their teams long. Fisher does know Mike Singletary -- they were teammates on the Bears.
5. How will two teams from the Eastern
time zone and two from the Central travel West: Including the playoffs, AFC South teams are 5-16 in games at Seattle, Arizona, San Francisco, San Diego and Oakland since realignment in 2002. That includes 0-7 for the Titans, whose playoff fate could come down their first trip to Qwest Field, a Jan. 3 regular-season finale.
6. Will the Cardinals draw in North Florida: Things are not looking good for the Jaguars in the ticket sales department, and a visit by St. Louis combines with home games against Kansas City, Buffalo and Miami outside the division to make for a less-than-stellar slate to market. But the defending NFC Champion Cardinals are in Jacksonville on Sept. 20. If the combination of the Jaguars' home opener and Kurt Warner, Fitzgerald and Boldin coming to town doesn't produce a buzz and a sellout, it won't bode well for what's ahead.
7. Battle of the rookie running backs: Colts president Bill Polian once passed on Ricky Williams in favor of Edgerrin James, and came out looking very smart. In April, with Knowshon Moreno long gone, Polian tabbed Donald Brown ahead of Beanie Wells. This season the Colts head to Arizona Week 3 and will use Brown against a team that took the back Polian passed on in the first round. The Cardinals preferred Brown to Wells as well. Here we get close looks at both the backs from late in the first round in a game pitting the teams many rate as the favorites in these two divisions.