August, 4, 2014
Aug 4
7:17
PM ET
FLOWERY BRANCH, Ga. -- A daily review of the hot topics coming out of
Tennessee Titans
training camp:
The Titans got no one injured Monday in a joint practice with the Falcons at their facility, always the best development to come out of a preseason practice. Defensive linemen Antonio Johnson and Mike Martin and tight end Dorin Dickerson came in with injuries and didn't practice.
The first fight turned out to be the only big fight. It came as the Titans and Falcons worked on punt returns and Coty Sensabaugh swiped a helmet off Robert McClain and a lot of players from both teams came onto the scene to get involved. It may have settled itself down, but Tommie Campbell came flying in to shove two Falcons, Bernard Pollard got involved and Ri'Shard Anderson came in with helmet in hand and swung it into Atlanta's Ricardo Allen "We got it over and out of the way and moved on," coach Ken Whisenhunt said. "We thought it might come, it came early and we settled down." Whisenhunt doesn't fine players for practice fights, but Anderson should be fined for a foolhardy and dangerous move.
Later, Falcons center Joe Hawley got tossed by officials for his role in a smaller scrap with Michael Griffin.
Whisenhunt was audibly upset when Falcons defensive end Osi Umenyiora hit Jake Locker's arm on a pass. "He grabbed his arm, he hit his hand," Whisenhunt said. "Osi apologized. He knows he can't do that."
Marqueston Huff looked like he's got the potential to be a quality gunner on punt returns. I saw him quickly burst between Kimario McFadden and Jordan Mabin to get en route in a hurry.
On a very early snap in one-on-ones matching Titans defensive backs against Falcons receivers, Jason McCourty was right with Roddy White on a quick throw from Matt Ryan, got an arm in and watched the ball pop loose. Another pass for White with McCourty on him was overthrown. McCourty was very solid in that period. The rest of the defensive backs were not as good. Griffin drew two flags for contact. (Khalid Wooten made a nice play and had a near pick of a Jeff Matthews pass for Tramaine Thompson. I think Wooten is steadily improving though he's not playing against the high-caliber guys.)
In one-on-ones, the Titans' offense connected on a big play early as Justin Hunter ran away from corner Robert McClain, collecting a throw from Charlie Whitehurst. Hunter caught another deep one from Zach Mettenberger.
Locker didn't throw deep much, as the Falcons seemed to be offering open stuff underneath far more often. Some plays worked great against it. Locker hit Kendall Wright out of the slot and Wright ran away from Josh Wilson for what would have been a touchdown. On another play, Dexter McCluster worked into open space in the short middle and had a ton of space from there. Whitehurst found room for some shots. One of them connected up the right side with Derek Hagan over corner Javier Arenas and safety Sean Baker.
In many practices Locker still seems to have one moment that could be deadly. He held the ball and shuffled left as the pocket began to collapse and threw for Delanie Walker. But Desmond Trufant got to it and dropped what should have been a pick. "For any quarterback, there is always at least one you wish you could have back," he said when I asked him about that specific play.
Both of the Titans' kickers attempted field goals against the Falcons field goal defense from 33, 36, 39, 42 and 46 yards. Travis Coons made them all, Maikon Bonani missed his attempt from 46 wide right.
Andy Levitre took three snaps in each team period before rookie Taylor Lewan replaced him. Levitre had his appendix removed on July 24. He still didn't participate in the high contact one-on-one pass-rush drills.
In one team period, the offense worked exclusively in "penny," its three-cornerback, one-safety package.
Falcons receiver Harry Douglas made a catch over Sensabaugh after the Falcons had the Titans jumping around before the snap. Derrick Morgan started with his hand down at left end, stood up and backed out, then returned to his initial position while multiple defenders shouted out multiple signals and waved each other around in what appeared to be confusion.
Akeem Ayers made a couple plays, including batting down a pass from Sean Renfree. In one-on-ones he made a great spin move against tackle Lamar Holmes that got him to the quarterback. But in a seven-on-seven period, T.J. Yates threw to running back Devonta Freeman and Ayers had no chance against him in space.
Avery Williamson impressively ran step for step with running back Josh Vaughan on a deep route and the pass glanced on the rookie linebacker's helmet.
Moise Fokou worked as high in the linebacker rotation as I can remember, pairing with Zaviar Gooden as the inside tandem with the second team at least some.
On a snap where DaQuan Jones and Al Woods were the two defensive linemen, neither put a hand on the ground. The Titans played that one with everyone starting off standing up.
On one snap of nickel where nose tackle Sammie Hill came off the field, the standing up, off-the-line outside linebacker Kamerion Wimbley actually lined up inside of right end Jurrell Casey.
There were a bunch of penalty flags on both sides. The most popular offense was illegal contact by defensive backs. The second biggest was offside. More to come on that
It's always amazing to see how many guys know each other when two rosters of 90 and their coaching staffs combine. Titans linebacker Zach Brown saw Yates and exclaimed, "T.J, what's up buddy?" Atlanta offensive coordinator Dirk Koetter chatted with Hagan. Falcons owner Arthur Blank got off his cart to hug Titans tight ends coach Mike Mularkey, who used to be Atlanta's offensive coordinator. A lot of it was pre-practice, a lot was during the kicking period when non-special teamers had time to chat. I watched Chris Spencer and Griffin talk with Devin Hester as Pollard shouted to the Titans, "Y'all be careful with making friends right now."
Find pictures at pkuharsky on Instagram.
The Titans are off Tuesday, then have an open practice at 9:20 a.m. CT Wednesday.
February, 21, 2014
Feb 21
8:52
AM ET
NASHVILLE, Tenn. -- We've awaited indications about the
Tennessee Titans
' interest level in some of their unrestricted free agents to-be.

Via Jim Wyatt we get the
first signals
about what Tennessee would like to do.
They are talking to
Alterraun Verner
, who may prove too expensive.
Per Wyatt:
The Titans also have talked with the agents for safety Bernard Pollard and defensive end Ropati Pitoitua, who are scheduled to become free agents.

Indications are the Titans have either talked with or plan to talk with the agents for running back Jackie Battle, wide receivers Damian Williams and Marc Mariani, return man Leon Washington and offensive lineman Chris Spencer as well.

"A lot of those guys have had a positive impact on our team, so we're going to try and keep as many of those guys as we can," (Ruston) Webster said.
Now we don't know if they are hell-bent on re-signing some of those guys or if their contact is more on a check-in level.
Ranking the guys from that group, Pollard is most important and Pitoitua is probably second. I'd put Washington third, and Williams fourth.
Defensive tackle
Antonio Johnson
is also a player they will consider bringing back.
Not on Wyatt's list of guys coming free who the Titans will talk to, at least at this point: Receiver
Kenny Britt
(no surprise at all), interior offensive lineman
Rob Turner
, receiver
Kevin Walter
and offensive tackle
Michael Otto
.
November, 11, 2013
11/11/13
8:00
AM ET
An examination of four hot issues from the
Tennessee Titans
'
29-27 loss
to the
Jacksonville Jaguars
at LP Field:
Who's a cancer?
Safety
Bernard Pollard
and now tight end
Delanie Walker
have talked after recent failures about players who may be holding the Titans back. Walker went so far as to say after this loss that it may be time to start calling guys out and that the Titans need to "
find the cancer
." So who's the cancer? Nobody is saying at this point, though the Twitterverse is drawing some conclusions. I'm not going to speculate who qualifies without anyone telling me a name. But I think the place to start looking is where big paychecks aren't meeting big production.
Spencer
Depth issues:
Teams aren't going to be deep everywhere, but they need to be deep at the right spot. I don't know what kind of player
Chris Spencer
really is. That's the first we've seen him at center in the regular season. But
Brian Schwenke
had been a difference-maker in two games since he became a starter. He was lost relatively early to an ankle injury, and his physical presence left when he did and Spencer took over. The Titans ended up running for 3.1 yards a carry and just 83 yards total against the NFL's worst run defense. That's not close to good enough for a team that expects to be one of the top rushing attacks in the league.
Quarterback:
The Tennessean reported that
Jake Locker
is not expected to play again, and a source told me he was
99 percent sure
the quarterback is done for the season after suffering a foot injury late in the first half.
Ryan Fitzpatrick
was an ineffective starter when he filled in for Locker against Kansas City and Seattle. Perhaps he will be better this time around. Locker grew in his third season and second as a starter, but not enough. He showed gradual improvement in his first four games. Then he missed two games while hurt, and he wasn't strong in the three games since he came back. Now he's going to carry a question about whether he's injury prone.
Self-inflicted:
Four giveaways, missed tackles and poorly timed penalties were all factors in the Titans' loss. They aspire to be a disciplined team that plays crisp football and puts stress on opponents. At 4-5, they more often hurt themselves in the ways bad teams do. Still, they are one of five teams with four wins in the AFC, just one game behind the Jets, who are in line for the final playoff berth at 5-4. As bad as things look, they aren't dead yet.
July, 26, 2013
7/26/13
9:52
AM ET
NASHVILLE, Tenn. --
Fernando Velasco
is the incumbent and
Brian Schwenke
was the center in the draft the
Tennessee Titans
thought was the best in the class.
But the pivot who's in place on opening day for a revamped offensive line won't necessarily be one of the two.
[+] Enlarge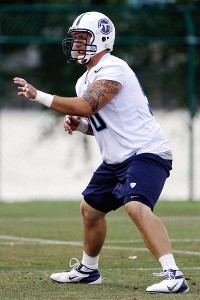 Mark Humphrey/AP PhotoThe Titans hope to rely on Rob Turner's veteran expertise to boost the offensive line.
Veteran
Rob Turner
is also going to get plenty of work and the Titans fully consider him in the mix. Thursday in the first practice of camp, with first-round draft pick
Chance Warmack
missing because he doesn't have a deal yet, Turner and Velasco both saw significant time at center and right guard.
"It really shows the maturity of a guy when you've got guys who come in competing for the same position and there is no malice towards anybody," Turner said. "We're all trying to help each other and help each other improve. We know at the end of the day, sometimes the decisions are made because of money, sometimes they are made because of age or injuries, potential or things like that. But the biggest thing I have to say is we have a good group of guys who really care about each other, that want to help each other improve."
Turner played five seasons for the Jets before joining the Rams in 2012.
Mike Munchak poured out a pretty significant compliment for Turner when I asked about the sixth-year man's potential.
"We like his attitude, his toughness, he reminds me of
Kevin Mawae
, he's a bigger version, he's a heavier guy," Munchak said. "When I compare him to Kevin, it's more his approach to the game, very smart, a takes-control kind of guy who knows all the tricks of the trade. He's an interesting guy, I'm happy he's here. He'll be great with Jake (Locker) in the huddle. He has a lot of intangibles that way."
The Titans have a lot of competitions to sort through. Munchak sounded as if center could be the first one settled. The Titans need to look at all the options and see how they mesh with the rest of the line and with Locker.
"I don't think anybody goes anywhere not expecting to play," Turner said after that practice, adding
Chris Spencer
to the list of guys fighting for the job. "I think we're going to play these cards out and see where they play at the end of the day."
A versatile interior guy, Turner said he thinks he's the best at where he gets to practice the most.
A team that had to call on too much depth a year ago should be far better off in that area after adding Warmack and
Andy Levitre
to start at the guard spots, as well as Schwenke, Turner, Spencer, and tackle
Barry Richardson
.
The best guy will play. It makes sense for the Titans to hope Schwenke is quickly the best guy. A fourth-round pick out of Cal, he's strong enough to anchor but very quick at getting to the second level. Getting him working next to Warmack as soon as possible would seem to be an ideal scenario.
Wherever Turner winds up, he has impressed the team since he signed.
The Titans' offensive line troubles grew when they didn't re-sign Mawae for the 2010 season. He had slowed, and not bringing him back wasn't a terrible move. It was Tennessee's failure to sufficiently replace him, relying predominantly on
Eugene Amano
who didn't grow into the player they expected, that set the line back.
Amano missed last year with an injury and was cut this offseason since he was finally healthy.
Tennessee can go three different directions at center now.
With Schwenke, Velasco or Turner in the middle of the line between Levitre, a major free-agent addition, and Warmack, the 10th overall pick, things stand to be significantly better.
May, 14, 2013
5/14/13
2:44
PM ET
Today, I set out to sketch out a list of the 10 most competitive position groups in the AFC South.
Putting them in order was more difficult than coming up with the list, but after some juggling, I feel pretty good about what's below. I'm sure you'll offer me input on what's out of order, shouldn't be included or should be.
The more overall uncertainty and the less sure we are of a starter or starters right now, the higher I ranked a spot.
10. Jaguars quarterbacks
--
Blaine Gabbert
would really have to blow this opportunity and
Chad Henne
would really have to have a good camp for Gabbert not to be the opening-day starter, I believe. Undrafted rookie
Matt Scott
could make the team as a third option, and if things go poorly for the veterans and the rookie shows well, he could get a chance at some point.
9. Titans interior offensive line
--
Michael Roos
is a lock at left tackle,
Andy Levitre
is a lock at left guard and
Chance Warmack
is a lock at right guard.
David Stewart
should be the starter at right tackle, though he's coming off a broken leg and has a bad ankle. Center could be a good battle between fourth-round draft pick
Brian Schwenke
and
Fernando Velasco
. There will be huge battles for the interior backup slot(s), where the Titans loaded up with
Rob Turner
and
Chris Spencer
. (If they signed
Eric Winston
to fight with Stewart, this position would move up some.)
8. Titans defensive tackles
--
Sammie Hill
and
Jurrell Casey
are locks, and
Mike Martin
should rank third. If they keep five, who are the other two out of
Karl Klug
,
Antonio Johnson
,
DaJohn Harris
and
Zach Clayton
?
Ropati Pitoitua
is an end, but comes from a 3-4 in Kansas City and will also get a look inside, so he could factor in here, too.
7. Texans right side of offensive line
-- I think they would have been fine sticking with
Derek Newton
, but he's not healthy. He had major knee surgery and offensive line coach John Benton said during the draft that Newton's status is up in the air. Enter
Brennan Williams
, a third-round pick out of UNC that the Texans feel could be fine as the starter. At right guard,
Brandon Brooks
could displace
Ben Jones
in a potentially nice battle of second-year players.
6. Titans wide receivers
--
Nate Washington
got himself in the doghouse with his work late last year, and he's pricey. But it would be hard for the team to part with him yet as the Titans are an injury away from potential depth issues. If second-round pick
Justin Hunter
takes off early, he could start ahead of Washington at Z opposite
Kenny Britt
at X.
Kendall Wright
is the primary slot guy. Also in the mix for snaps:
Damian Williams
,
Kevin Walter
and maybe even
Michael Preston
.
5. Colts offensive line
--
Anthony Castonzo
is the left tackle,
Gosder Cherilus
is the right tackle. The three spots in between them and the depth will see a lot of competition.
Donald Thomas
should win a guard spot and I'd think third-rounder
Hugh Thornton
could as well. They will battle with incumbent left guard
Joe Reitz
and incumbent right guard
Mike McGlynn
. Fourth-rounder Khalid Holmes could push
Samson Satele
out of the center spot.
4. Colts inside linebackers
-- If
Jerrell Freeman
is as good as he was last season, he's certain to start. A healthy
Pat Angerer
should make a strong bid to retake his old job, but the competition could be really good with
Kavell Conner
trying to stay in the lineup and newcomer
Kelvin Sheppard
in the mix as well.
3. Texans linebackers
-- Rookies
Sam Montgomery
and
Trevardo Williams
have a chance to win the strongside linebacking spot, which would mean
Brooks Reed
moves inside. Or Reed could stay on the strongside setting up
Darryl Sharpton
vs.
Tim Dobbins
to slug it out for the Mike spot inside next to
Brian Cushing
. This will be a good one to monitor for sure. The injury histories of Sharpton and Dobbins could be at play. Can they both stay on the field for their reps to compete?
2. Colts nose tackle
-- What a revamp the Colts have put together here. The guys who can play inside were limited last year. Now there are plenty: His knee healed,
Josh Chapman
is the favorite at nose tackle right now. Also available are
Aubrayo Franklin
, rookie
Montori Hughes
,
Brandon McKinney
(once healthy) and versatile veteran
Ricky Jean Francois
, who can play inside or out.
1. Jaguars cornerbacks
-- This gets the top slot because there is the most uncertainty. I don't have much faith in
Alan Ball
based on what he did with his chances in Houston last year.
Mike Harris
has one year of experience, playing some as the team's nickel.
Dwayne Gratz
should be a starter. There is room for seventh-rounders
Jeremy Harris
and
Demetrius McCray
to carve out roles. [UPDATE: Apologies for initially forgetting Marcus Trufant, the recent veteran addition. If he's competing for much more than nickelback, the team's got even bigger secondary issues than feared.]
April, 27, 2013
4/27/13
12:52
PM ET
The Titans had a bad interior offensive line last year, and had to call on more depth than any team has.

Now they've added veterans
Andy Levitre
,
Rob Turner
,
Chris Spencer
, first-round pick
Chance Warmack
and fourth-round pick
Brian Schwenke
, who went 107th overall.
I had downplayed the odds of the Titans drafting a center. Two things contributed to me being wrong -- Schwenke's availability and, clearly, the team's long-term view of
Fernando Velasco
.
Velasco got and signed a restricted tender worth just over $2 million, but would now appear to qualify as a one-year stopgap starting center at best. He signed it as the offseason program started, so it's guaranteed.
Still, it would be better for the Titans long-term if Velasco gets beat out by Schwenke right away and the Titans start a line of
Michael Roos
, Levitre, Schwenke, Warmack and
David Stewart
, left to right.
Todd McShay just raved about the pick on ESPN, saying Schwenke was the nastiest, toughest offensive linemen he's seen on tape all season.
Roos and Stewart need to have bounce-back seasons, and with upgraded support between them it should be easier to do.
A pretty big weakness is set to be a major strength, and depth should be solid as well.
Now
Jake Locker
,
Chris Johnson
and
Shonn Greene
need to take advantage of it.
April, 17, 2013
4/17/13
1:03
PM ET
The accuracy of unofficial depth charts varies team to team. Non of them mean a ton in April.
But the Titans have one out as part of their pre-draft news release.

Five of the free-agent additions are listed as starters: Tight end
Delanie Walker
, left guard
Andy Levitre
, right guard
Rob Turner
, defensive tackle
Sammie Lee Hill
and safety
Bernard Pollard
.
Where the other additions are listed:
The team's first round draft pick could displace someone for sure, and the second-rounder could, too -- though unofficial depth charts typically honor veteran players and wait for kids to pay dues before they get their rank confirmed on paper.
Find the whole depth chart
here
.
April, 5, 2013
4/05/13
12:00
PM ET
»
NFC Eight in the Box
:
East
|
West
|
North
|
South
»
AFC
:
East
|
West
|
North
|
South
A look at the top under-the-radar move made by each AFC South team thus far this offseason:

Houston Texans
: Is
Shane Lechler
under the radar? As punters go, he's a big deal. But he is a punter. Anyway, the Texans haven't done a lot in free agency, and Lechler has a tremendous leg. The Texans need to get a lot better on special teams. And while punter
Donnie Jones
was not one of their problems last year, Lechler should be an upgrade and can be symbolic of a changing tide on special teams.

Indianapolis Colts
: The Colts had a lot of options on the cornerback market, and prices wound up being pretty reasonable. But they targeted
Greg Toler
right from the start and landed him immediately for three years and $15 million. The former Arizona Cardinal hardly has the name recognition of
Nnamdi Asomugha
,
Sean Smith
or
Keenan Lewis
. But he will have an opportunity to be the Colts' No. 2 cornerback and provide a major upgrade to a unit that was a serious weakness a season ago.

Jacksonville Jaguars
:
Roy Miller
isn't a well-known player. But I think the former Tampa Bay Buccaneer will prove to be a solid run-stopper in the middle of the defensive line for the Jaguars. Jacksonville let
Terrance Knighton
leave as a free agent and cut
C.J. Mosley
. The Jaguars haven't been especially active in free agency aside from adding Miller and
Sen'Derrick Marks
at defensive tackle. I think Miller is a dirty-work guy who will help the Jaguars get better, and a team with a new coaching staff typically likes to start on defense with an emphasis on stopping the run.

Tennessee Titans
: The interior offensive line depth in 2012 was comprised of guys such as
Deuce Lutui
and
Kevin Matthews
, and the Titans wound up calling on them when front-line players were injured -- and suffering for it.
Andy Levitre
was the big-ticket addition and should be a problem-solver in the starting lineup. In quieter moves, Tennessee brought in
Rob Turner
and
Chris Spencer
. Maybe one ends up starting at right guard. Ideally, a draft pick gets that job, and Turner and Spencer provide a much better safety-net situation.
April, 2, 2013
4/02/13
1:07
PM ET
We need to reserve judgment on just how well the Titans did with their free-agent haul. Several of their key additions -- like tight end
Delanie Walker
and defensive tackle
Sammie Lee Hill
-- are expected to graduate into bigger roles with their new team.
The Titans project they can handle that and excel with it. We'll have to wait and see.
What I like most about what they've done is this: A team with a ton of needs as the 2013 NFL year began has far fewer now.
That creates a certain draft freedom. While there are still things they need, they need them far less desperately. If a guy they really want in the draft goes off the board a couple picks before they are up, it will be less tragic.
[+] Enlarge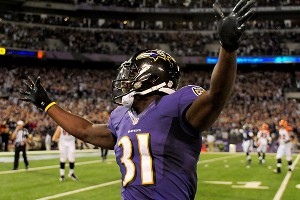 Evan Habeeb/USA TODAY SportsThe Titans signed safety Bernard Pollard, hoping the former Raven can add fire and veteran leadership.
A review of what they needed as free agency opened, and some thoughts on what they need now.
Safety
: Like it or not they are locked into
Michael Griffin
. So what they needed was a serious upgrade with regard to an in-the-box presence at the position who will allow Griffin to play as a center fielding free safety. Enter
George Wilson
and
Bernard Pollard
. They are veterans who are better than the options the Titans had in 2012, plus they bring leadership -- Wilson of a quieter variety, Pollard with a loud swagger. If they draft a kid to develop behind this group, that'd be fine, but it's not a pressing need.
Guard
:
Andy Levitre
was the best option on the market.
Rob Turner
and
Chris Spencer
are far better options than interior guys like
Kevin Matthews
or
Deuce Lutui
, who wound up playing last year. Ideally the Titans find a young stud to play right guard long term. But if the can't get, or decide to pass on, Chance Warmack, Jonathan Cooper or Larry Warford they could still be OK.
Defensive end:
Internally, it's not been rated the need it was externally. They did add super-sized
Ropati Pitoitua
, but he doesn't appear to be a guy who will spur the pass rush. I think they feel good about
Derrick Morgan
and
Kamerion Wimbley
, and will use
Akeem Ayers
more as a rusher. But I'd still rank an end that can boost the pass rush as a need.
Running back:
They needed a short-yardage guy to serve in a complementary role with
Chris Johnson
, and found a guy they liked in
Shonn Greene
.
Darius Reynaud
is back, though he's primarily a returner. A mid- or late-round back would make sense to increase their options if Johnson's money is an issue next year and/or to compete with
Jamie Harper
for a role.
Defensive tackle:
They showed no interest in bringing back
Sen'Derrick Marks
and found the size they wanted in Hill. With
Jurrell Casey
and
Mike Martin
, that's a nice three-pack.
Karl Klug
is a question mark. This is a spot where they can definitely continue to add, even if they have high hopes for Klug and
DaJohn Harris
.
Cornerback:
The one name that surfaced as a guy they courted was
Keenan Lewis
, the Steeler-turned-Saint. Depth at this position is shaky.
Coty Sensabaugh
did OK as a rookie nickel back. But ideally the Titans would get
Alterraun Verner
into the slot, even if he's starting outside in the base defense. They need a better candidate that
Tommie Campbell
to play outside as the second or third guy. This could now rate as one of the top needs.
Tight end
: Following the breakdown in talks with
Jared Cook
, the team decided against using the franchise tag on him. Walker is more equipped to shift around from the backfield to the line to the slot, and the Titans want to get back to using a guy like that. No remaining need with
Craig Stevens
, a solid blocker, and
Taylor Thompson
, a second-year project, in place.
Linebacker:
Depth is the issue here, especially in the middle where
Colin McCarthy
gets hurt.
Moise Fokou
might help, and ideally the main addition would be a veteran upgrade over outgoing free agent
Will Witherspoon
. If Ayers moves forward to rush some as a defensive end, they'll need a quality outside guy who can cover. A need, still, for sure.
Receiver
-- I wasn't thinking it was a spot they needed to address before the draft, but they looked at a lot of guys and signed
Kevin Walter
. He's a reliable route runner who can work underneath and do well against zones for quarterback
Jake Locker
. But Walter isn't explosive. I expect they'd like to add a draft pick who's a smart, quality route runner with a little more ability for yards after the catch.
April, 1, 2013
4/01/13
6:37
PM ET
The
Tennessee Titans
added their 11th and 12th free agent in their ongoing roster revamp, signing receiver
Kevin Walter
and interior offensive lineman
Chris Spencer
.
Walter is familiar to the Titans as he played the last seven years for the
Houston Texans
, often serving as the second wide receiver opposite
Andre Johnson
.
He had 65 catches and eight touchdowns for Houston in 2007, but his role had diminished with only 39 and 41 catches the last two seasons and five total touchdowns. He was a recent salary-cap casualty for a team that drafted a couple receivers last year and is expected to draft a more dynamic No. 2 receiver at the end of the month.
The Titans have struck out with several veteran receivers, including
Danny Amendola
,
Wes Welker
and
Brandon Gibson
. Indications are they'd like to trade the expensive
Nate Washington
, but I am not sure Walter will add enough to make Washington expendable.
Walter joins
Kendall Wright
,
Kenny Britt
, Washington,
Damian Williams
,
Lavelle Hawkins
and
Michael Preston
on the Titans receiving corps. The group has a new position coach in Shawn Jefferson.
Spencer is the third veteran, interior offensive lineman the Titans have added. He joins
Andy Levitre
, who will start at left guard, and Rob Turner.
While
Fernando Velasco
is expected to remain the starter at center, right guard will be wide open and Turner and Spencer could compete with a draft pick or slug it out between them.
Seattle picked Spencer in the first round in 2005 out of Ole Miss and he played the last two years in Chicago, where offensive line struggles were a big issue.
"Both Kevin and Chris are established veterans in this league who have a great deal of starting experience," said Titans general manager Ruston Webster said in a statement. "They have made significant contributions on good teams during their careers. We feel like they can come in and provide increased competition at their respective positions for us."
The addition of Spencer could mean the end of overpriced
Eugene Amano
, who was hurt in the preseason last year and missed the entire 2012 season.
March, 27, 2013
3/27/13
10:15
AM ET
By
ESPN.com staff
| ESPN.com
Houston Texans
The addition of new special teams coordinator Bob Ligashesky could be among the
most meaningful moves the Texans make this offseason
, writes Jerome Solomon of the Houston Chronicle.
Indianapolis Colts
General manager Ryan Grigson recently sat down with the club's season-ticket holders to
answer their questions regarding free agency
and the squad.
Jacksonville Jaguars
Several NFL sources have identified Jacksonville as
the most likely destination
for Seattle backup quarterback Matt Flynn, and the Jaguars are among the teams to talk to the Seahawks about a deal, writes Jason La Canfora of CBS Sports.
John Oehser of the team's website offers a peek at the
recent workouts of some top draft prospects
, and lists the players several analysts project the Jaguars to take with the No. 2 overall pick next month.
Tennessee Titans
Quarterback Matt Hasselbeck, released by the Titans and signed by the Colts,
worries about the impact his change of teams
will have on his family, writes Jim Wyatt of the Tennessean.
Former Titans quarterback Vince Young
continued his quest for an NFL job
by throwing at the Texas Longhorns' pro day, writes Jim Vertuno of the Associated Press.
The Titans
hosted three more free agents
on Tuesday, including veteran slot receivers Brandon Stokley and Kevin Walter, writes Terry McCormick of the Titan Insider. Tennessee also had offensive lineman Chris Spencer in for a visit.