December, 19, 2013
Dec 19
10:00
AM ET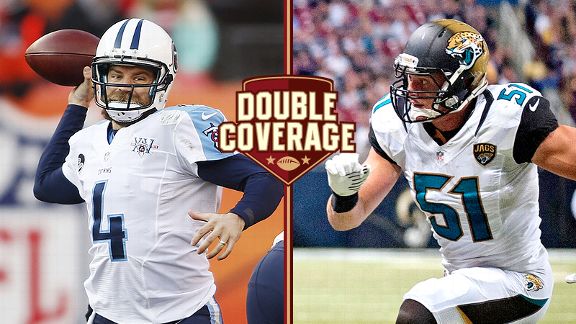 USA Today SportsPaul Posluszny and the Jags are aiming for a season sweep of Ryan Fitzpatrick and Tennessee.
JACKSONVILLE, Fla. -- Maybe
Delanie Walker
shouldn't feel so bad now.
The Titans tight end said he was embarrassed after the Jaguars won 29-27 in Nashville on Nov. 10 to pick up their first victory. Since then, the Jaguars are 3-2 with victories over Houston (twice) and Cleveland. The Titans are 1-4 with a victory over Oakland.
There seems to be much more stability in Jacksonville, too, because of the uncertain status surrounding Tennessee coach Mike Munchak.
Jaguars reporter Michael DiRocco and Titans reporter Paul Kuharsky break down Sunday's matchup at EverBank Field.
DiRocco
: Some Titans players were pretty vocal about being embarrassed due to becoming the first team to lose to the Jaguars. Is that something that still stings, and how have they rebounded from that loss?
Kuharsky
: It definitely left a mark. They are only 1-4 since then. It kind of set a bar for how bad they can be and re-established their propensity to lose to teams that are really struggling. The Jaguars are on an upswing since that game, and the Titans are on a downward spiral. If Tennessee losses to the Jaguars again, the Titans will be in line to finish in third place in an awful division, which is well short of their goals and expectations. The Titans are a better team than they were last year. But losing closer isn't a really big difference in the really big picture.
Let's turn that around. How has life changed for the Jaguars since that Nov. 10 breakthrough?
DiRocco
: I could go into a lot of stats that show how much better the Jaguars are playing, but that's not what's really important. The past six games have been more about the validation of the process, establishing the foundation of the franchise's rebuild, and confidence in the new regime. Coach Gus Bradley never wavered from the plan that he and general manager David Caldwell established. His message stayed the same throughout the eight-game losing streak to start the season: trust in the process, work hard, and focus on improving and not victories, and the victories will eventually come. Because that has happened, the players appear to have completely bought into what Bradley and Caldwell want to do, and there's a confidence in the locker room that the franchise is headed in the right direction.
We talked about
Jake Locker
the last time these teams met, but that was before he suffered a season-ending injury to his foot. How does that change the Titans' outlook on him and are they in the market for a quarterback in the offseason, too?
Kuharsky
: Locker is certain to be on the 2014 Titans. His fourth year isn't that costly and it's guaranteed. But they can't execute a spring option for his fifth year that would line him up for over $13 million. A lot of his fate depends on whether Munchak is back as the head coach. It's possible they go forward with Locker,
Ryan Fitzpatrick
and just-signed
Tyler Wilson
as their quarterbacks. It's also possible they'd draft a new guy, and depending on how high of a pick he could land in competition to start. I think it's less likely they chase a free agent like
Jay Cutler
if he comes free, but they have to assess all the possibilities. How can they completely commit to Locker based on his injury history?
One side effect of the Jaguars' surge is they aren't going to be in position to draft the first quarterback taken. What's your sense of what Bradley and Caldwell want in a quarterback and do you expect one to arrive in the first round?
DiRocco
: Offensive coordinator Jedd Fisch said something interesting last week. He said he wants his QB to scramble around, take off running to get yards and take some chances throwing the football. To me, that sounds like a pretty accurate description of Johnny Manziel. I'm not sure how that reconciles with the ideas of his bosses. Bradley comes from Seattle, which has the mobile
Russell Wilson
. Caldwell comes from Atlanta, which has the considerably less mobile
Matt Ryan
. My sense is that Bradley and Caldwell probably lean more toward the Wilson end of the spectrum. People think that eliminates Teddy Bridgewater, but that's not the case. He's not a runner but he can run if needed. If he's around, I'd expect them to take him. If not, then I would still expect them to go quarterback. It's their most glaring need.
You mentioned Munchak's job status. What's your take on whether he will be back next season -- and should he be?
Kuharsky
: He's shepherded improvement, but his team lacks an ability to finish. He's 0-4 in the worst division in football, 1-9 in the past two years. His teams have lost to the previously winless Jags in 2013 and the previously winless Colts in 2011. He's 4-18 against teams with winning records when the Titans played them and 2-19 against teams that finished the season with a winning record. To me, three years is a sufficient sample size to know what you've got and those numbers are the most telling thing on his resume. Keep him and they deal with all the limitations connected to a lame duck coach. I don't know what Tommy Smith, the head of the new ownership, will do. But the fan base overwhelmingly wants change, if that's worth anything. People still pay for tickets because they've got investments in personal seat licenses they do not want to throw away. But a lot of people are staying home on Sundays now.
Cecil Shorts
is done and
Maurice Jones-Drew
is uncertain. How can the Jaguars threaten on offense without their two best weapons?
DiRocco
: They were able to put up 20 points and post their second-highest yardage total of the season, including a season-high 159 rushing, in last Sunday's loss to Buffalo. Running back
Jordan Todman
stepped up big time and ran for 109 yards (Jones-Drew cracked 100 only once in the first 13 games) and tight end
Marcedes Lewis
was more involved in the passing game than in previous weeks (four catches for 54 yards and a touchdown). But I'm not sure that is sustainable. Teams will certainly concentrate on stopping Lewis and make quarterback
Chad Henne
move the ball with three receivers who have a combined 75 career catches. Todman doesn't scare anyone, either. The Jaguars will have to be creative on offense (they've run gadget plays the past three weeks) and capitalize on every opportunity they get.
May, 23, 2013
May 23
1:00
PM ET
ESPN.com's large-scale "Greatest Coaches in NFL History" project includes a rating of the top 20 coaches of all-time.
And No. 20 made his biggest mark with the
Indianapolis Colts
: Tony Dungy.
He did excellent work with the Colts, culminating in the team's Super Bowl XLI title won on Feb. 4, 2007.
I admire Dungy a great deal, and remember one conversation I had with him about his coaching style. As calm and measured as he was, I wondered if a periodic explosion could ever have a super-sized effect on his team.
He said no. He played for Chuck Noll as a member of the
Pittsburgh Steelers
, and he always appreciated that Noll wasn't a yeller. Dungy loved the calm explanations he got about mistakes he made and things he may have done wrong. And he strived to offer the same sort of coaching to his players -- every time.
I was also struck by a section about Dungy in a book I read in the last year: "The Power of Habit" by Charles Duhigg.
He detailed how Dungy thought he could prompt change with the perennial loser
Tampa Bay Buccaneers
when he became their head coach in 1996.
Before that, Dungy explained his intended approach four times to owners looking for a head coach. Four times owners passed.
Wrote Duhigg:
Part of the problem was Dungy's coaching philosophy. In his job interviews, he would patiently explain his belief that the key to winning was changing players habits. He wanted to get players to stop making so many decisions during a game, he said. He wanted them to react automatically, habitually. If he could instill the right habits, his team would win. Period.

"Champions don't do extraordinary things," Dungy would explain. "They do ordinary things, but they do them without thinking, too fast for the other team to react. They follow the habits they've learned."

How, the owners would ask, are you going to create those new habits?

Oh no, he wasn't going to create new habits, Dungy would answer. Players spent their lives building the habits that got them to the NFL. No athlete is going to abandon those patterns simply because some new coach says to.

So rather than creating new habits, Dungy was going to change players' old ones. And the secret to changing old habits was using what was already insider players' heads. Habits are a three-step loop -- the cure, the routine, and the reward -- but Dungy only wanted to attack the middle step, the routine. He knew from experience that it was easier to convince someone to adopt a new behavior if there was something familiar at the beginning and the end.
It took some time for Dungy to break through to the Bucs. He got one big indication things were starting to turn late in that first season.
In a 25-17 win over San Diego, Dungy saw some altered habits key an upset. Pass pressure for
Regan Upshaw
prompted Chargers quarterback
Stan Humphries
to force a pass to a rookie tight end,
Brian Roche
. Tampa Bay safety
John Lynch
had moved to his spot and was waiting for his cue. Lynch avoided the temptation to improvise, stayed patient and was ready to pounce on Humphries forced throw. The interception return positioned the Bucs for a touchdown that turned the game.
Dungy and Lynch walked off the field together after the game. Lynch told Dungy something was different.
"We're starting to believe," Dungy told him.
Coaches hoping to get a head job in the NFL would be wise to read Duhigg's book and study and emulate Dungy's philosophy of habit change.
January, 15, 2009
1/15/09
11:00
AM ET
Posted by ESPN.com's Paul Kuharsky
The Colts had Jim Caldwell in place ahead of time and expect a seamless transition into the post-Tony Dungy era.
It looks like a sound plan.
| | |
| --- | --- |
| | |
| | AP Photo/Michael Conroy |
| | Jim Caldwell has big shoes to fill in Indianapolis, but many in his position have been successful before. |
But popular wisdom says you don't want to be the guy to replace the guy. It's the replacement's replacement, the theory follows, who gains the distance necessary from a legendary name to be able to succeed.
For many, the thought of replacing a popular and successful coach brings back memories of some infamous NFL names.
Former Minnesota coach Les Steckel is still remembered for a 3-13 year in 1984 that wound up being a sabbatical season for Bud Grant. Ray Handley replaced Bill Parcells for the Giants in 1991 and went 14-18 in two seasons. Richie Petitbon replaced Joe Gibbs in 1993 and flamed out with a 4-12 season.
Are you familiar with Phil Bengtson or Paul Wiggin? Me neither.
Bengtson followed up Vince Lombardi in Green Bay and managed three third-place finishes. Wiggin was 11-24 in two-and-a-half seasons following Hank Stram in Kansas City.
But none of that is reason for Colts devotees to fear the dawn of the Caldwell era as he replaces a potential Hall of Famer who takes a .668 winning percentage with him into retirement.
Thanks to some help from Keith Hawkins of ESPN Stats & Information, we can take a detailed look at how the successors to the winningest coaches have fared.
While there were some strikeouts, the history is hardly a horror story. Two successors won multiple Super Bowls, two more were playoff regulars and another is leading his team into the AFC Championship Game on Sunday.
So here's a run through how things have panned out after big-time winning coaches stepped away or were removed. These are the top 10 coaches with the best winning percentages in the Super Bowl era (minimum 100 games coached since the 1966 season):
| | |
| --- | --- |
| | |
| | Andy Hayt/Getty Images |
| | Tom Flores did very well as John Madden's successor, winning two Super Bowls for the Silver-and-Black. |
1) John Madden, .759 (Raiders)
Tom Flores replaced Madden in 1979 and Flores went 91-56 in nine seasons, leading the Raiders to wins in Super Bowl XV and XVII.
2) George Allen, .712 (Rams and Redskins)
Jack Pardee replaced Allen in Washington, and Pardee was 24-24 in three seasons (1978-80). Joe Gibbs replaced Pardee and won 140 games from 1981-92 and three Super Bowls.
3) Tom Landry, .674 (Cowboys)
Jimmy Johnson replaced Landry in 1989 and Johnson won back to back Super Bowls in the 1992 and 1993 seasons. Johnson was 51-37 from 1989-93. [Corrected from earlier when I gave him credit for the one Barry Switzer won in 1994.]
4) Don Shula, .672 (Colts and Dolphins)
Like Landry, Shula was replaced by Johnson. In four seasons (1996-99), Johnson was 38-31 and 2-3 in the postseason. Since Shula, Miami has had six different head coaches.
5) Tony Dungy, .668 (Buccaneers and Colts)
Replaced by Caldwell this week.
6) George Seifert, .648 (49ers and Panthers)
Seifert did some replacing himself, following Bil Walsh. Steve Mariucci replaced Seifert in San Francisco in 1997, and Mariucci got the Niners to the NFC Championship in his first season. In six seasons, Mariucci made the playoffs four times. Since Mariucci left, the 49ers have had three different head coaches.
7) Bill Cowher, .623 (Steelers)
Mike Tomlin replaced Cowher in 2007. In his second season, Tomlin is preparing the Steelers to host Baltimore in the AFC Championship Game.
8-T) Joe Gibbs, .621 (Redskins)
Petitbon was a dud.
8-T) Bud Grant, .621 (Vikings)
Returned for another season after Steckel bombed, then saw Jerry Burns go 55-46 from 1986-91.
10) Bill Belichick .616 (Browns and Patriots)
When he finishes his term in New England, he'll leave a tough headset to fill.
And here's one from outside the top 10: a succession scenario the Colts would be thrilled to mimic.
Bill Walsh, .609 (49ers) -- Replaced by Seifert in 1989, Seifert went on to win two Super Bowls in his first six seasons. He won at least 10 games in all eight of his seasons and only missed the playoffs once. Like Caldwell, Seifert inherited a pretty good quarterback situation, getting two years of Joe Montana and six with Steve Young.
| | |
| --- | --- |
| | |
| | David Boss/US Presswire |
| | Blanton Collier replaced the legendary Paul Brown, and never had a losing season. |
As I couldn't stop asking, here are the succession stories of some other Hall of Fame coaches:
Paul Brown -- Blanton Collier was in Cleveland from 1963-70, and didn't have a losing season, going 76-34-2.
Weeb Eubank -- Charley Winner took over the Jets in 1974 and went 9-14 and didn't last two seasons. He was let go after nine games in 1975.
George Halas -- Following the 1967 season in Chicago when Halas left the Bears' post for the final time, he was replaced by Jim Dooley, who was 16 games under .500 (20-36) from 1968-71.
Marv Levy -- Was replaced by Wade Phillips in 1998, and Phillips went 29-19 in three seasons, losing two playoff games.
Chuck Noll -- Bill Cowher took over in 1992 and went 149-90-1 in 15 seasons, reaching two Super Bowls and winning one.
December, 31, 2008
12/31/08
6:10
PM ET
Posted by ESPN.com's Paul Kuharsky
Tony Dungy is a patient man who's been dealt with patiently.
So it is difficult for him to watch so much turnover in the ranks of his coaching brethren.
He was asked Wednesday about the news of four coaches fired since the regular season ended, and it brought him to a nice story about Mean Joe Greene.
"It's all about Super Bowls now," he said. "If you feel like you have a Super Bowl team and you don't go to the Super Bowl, then making changes seems like the way to go. Continuity says a lot and does a lot. Joe Greene told me a story when I first got with the Steelers. Joe had been there, came in 1969, they weren't winning, it was Coach [Chuck] Noll's first year, and they're making progress, winning a game or two more, but still not there. He's watching the Miamis and the Oaklands at that time. He went into Coach Noll's office and said he was finished and packed his car up, packed his stuff out of his locker and left. Lionel Taylor was an assistant coach and Lionel went and got him and talked him into coming back. Two weeks later they put Franco [Harris] in the lineup -- Franco was a rookie -- and the rest is history. Joe told me, 'I almost quit that close to something special.' Patience is hard. It's hard, and people can't always see that they are close, that they are making progress when you don't have the wins. The easiest thing to do is be impatient and change for change's sake, but it's not always the best."
Dungy went on to talk about how grateful he is for the continuity he's enjoyed in his career as a coach.
"I know coaches in this business that have moved a lot and been different places," he said. "We have moved, most of the time, by choice, and we've been able to stay places six or seven years. That's pretty unusual. I'm thankful for that all the time. I wish [the business] was different, but we kind of know that's the profession we have when you sign up for it. I got fired after three playoff years [in Tampa Bay], so it's not necessarily not having success. If you don't do what everybody thinks you should do, you have to make a change. Owners like Dan Rooney, guys who stay the course and understand that change for change's sake isn't always the way to go, are a dying breed. I'm thankful that I've worked for Dan and [Tampa Bay's] Malcolm Glazer and Jim Irsay. It has been a blessing."