February, 27, 2014
Feb 27
12:00
PM ET
Here is the fourth of a 10-part series breaking down the Jacksonville Jaguars' free-agency needs, position by position:
Tight ends

Lewis
Who's on the roster:
Brandon Barden
,
Clay Harbor
,
Marcedes Lewis
,
Danny Noble
and
Allen Reisner
.
Analysis
: Lewis was pretty much MIA the first half of the season because of a calf injury and trying to find his spot in the offense, but he came on late in the season and caught 16 passes for 242 yards and four touchdowns in the last five games. If he's used the same way in 2014, he should have a 50-catch season. He is by far the team's best blocker, and Harbor and Reisner are flex tight ends who combined for 29 catches in 2013. Noble is a young, raw player with good size (6-foot-5, 248 pounds) and seems to be OK as a blocker, but he needs refinement. He flashed his potential with his 62-yard catch-and-run for a touchdown against Arizona. Barden signed a futures contract with the team in late December.
NFL free agents of interest:
Ed Dickson
,
Garrett Graham
,
Dustin Keller
and
Andrew Quarless
.
Need meter: 3.
Lewis is among the league's best blocking tight ends and is a weapon in the passing game. He's not as much of a threat up the seam as some of the league's elite tight ends, but as long as he stays healthy the Jaguars are in pretty good shape. Harbor is an unrestricted free agent and he could be the Jaguars' best option. The tight end market is pretty thin after the top two or three, and the Jaguars are unlikely to invest a lot of money in this spot since Lewis already has such a high cap number ($8.25 million). Expect the Jaguars to draft a tight end.
February, 17, 2014
Feb 17
4:00
PM ET
With the NFL combine starting Wednesday, here's a look at the Jacksonville Jaguars' positions of need on offense and which prospects the team might be looking to take a closer look at in Indianapolis. Positions of need are listed in order of importance. A look at the defense comes Tuesday.
JACKSONVILLE, Fla. -- The Jaguars have a lot of holes to fill on the roster and the next part in the process comes this week when general manager David Caldwell and head coach Gus Bradley evaluate, watch and interview prospects at the NFL combine.
Here's a breakdown of what the Jaguars need, in order, on offense and some potential targets:
Quarterback:
There's no question this is the Jaguars' top need, although pass-rusher is only slightly behind. Caldwell wants to re-sign
Chad Henne
before free agency begins next month, but Henne is a bridge player or someone who can mentor a young quarterback and begin the season as the starter if the rookie isn't ready. The Jaguars haven't completely given up on
Blaine Gabbert
, either, but he's entering the final year of his contract and it would be surprising if he were re-signed after 2014.
Potential targets:
Teddy Bridgewater
,
Blake Bortles
,
Johnny Manziel
,
Jimmy Garoppolo
,
Derek Carr
,
Aaron Murray
.
Interior offensive line:
The Jaguars have to find a center to replace the retired
Brad Meester
and a left guard to upgrade from
Will Rackley
. The Jaguars will address this area in free agency as well but the team also wants to add some young talent. The Jaguars appear set at both tackles (
Luke Joeckel
and
Austin Pasztor
) and right guard
Uche Nwaneri
has two more years remaining on his contract. He's scheduled to make $4.775 million in each year, though, and could be a cap casualty after 2014.
Mike Brewster
and
Jacques McClendon
can play guard and center but neither appears, now anyway, to be the long-term answer. It wouldn't be surprising if the team took an interior offensive lineman in the third round, especially if the Jaguars took a quarterback earlier.
Potential targets:
G
Gabe Jackson
, G
David Yankey
, G
Brandon Thomas
, C
Marcus Martin
, C
Weston Richburg
, C
Russell Bodine
.
[+] Enlarge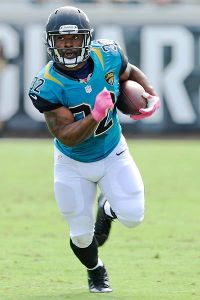 Stephen Morton/AP PhotoThe Jaguars need to find a feature back in the event they do not re-sign Maurice Jones-Drew.
Running back:
The Jaguars are more than likely going to lose
Maurice Jones
-Drew
in free agency, which leaves them with
Jordan Todman
,
Denard Robinson
,
Delone Carter
, and
Justin Forsett
on the roster. Forsett is likely going to be cut, but even if he's retained none of those players is a feature back. The Jaguars don't need to invest a high pick at this spot because good backs can be found in the later middle rounds.
Potential targets:
Lorenzo Taliaferro
,
Jerick McKinnon
,
Tre Mason
,
Lache Seastrunk
,
Dri Archer
,
Andre Williams
.
Receiver:
The Jaguars aren't planning on getting anything from
Justin Blackmon
in 2014 because they don't yet know his status, which is the correct way to approach his situation.
Cecil Shorts
is entering a contract year but has yet to stay healthy for a full season.
Ace Sanders
,
Mike Brown
,
Kerry Taylor
,
Lamar Thomas
, and
Stephen Burton
are complementary players. The Jaguars need to find a bigger, physical receiver. If they do that in free agency, this area drops to the bottom of the offensive needs list.
Potential targets:
Josh Huff
,
Odell Beckham Jr.
,
Davante Adams
.
Tight end:
Marcedes Lewis
came on strong at the end of the season and he should be a 50-catch player in Jedd Fisch's offense if he stays healthy. After Lewis, though, there isn't much.
Clay Harbor
is a flex tight end but he's a free agent and the Jaguars will have to decide if they want to re-sign him.
Danny Noble
is raw and needs more work. The Jaguars want a bigger tight end who can line up next to Lewis in two-tight-end formations.
Potential targets:
Marcel Jensen
,
C.J. Fiedorowicz
,
Crockett Gilmore
,
Jake Murphy
.
January, 2, 2014
Jan 2
2:00
PM ET
Arrow indicates direction team is trending.

Final Power Ranking:
29
Preseason Power Ranking:
29
Biggest surprise:
When the Jaguars signed defensive tackle
Sen'Derrick Marks
to a one-year, $1.5 million contract last April, they thought he'd be a good fit in coach Gus Bradley's system. Turns out he was a perfect fit. Marks plays the three-technique, which means he lines up on the guard's outside shoulder, and that position is supposed to provide interior pass rush. Marks finished with four sacks, nine quarterback pressures and eight pass breakups -- all numbers that equaled or surpassed the totals from his first four seasons. He seemed to make at least one impactful play every game and he accounted for two forced fumbles and three fumble recoveries. His play earned him a four-year contract extension as one of the building blocks of the defense.
Biggest disappointment:
The Jaguars' inability to consistently run the ball, especially early in the season, was vexing. The Jaguars switched from a predominantly man-blocking scheme to a zone-blocking scheme, and the offensive line had trouble with the transition. Four of the five starters at the beginning of the season also started in 2011, when
Maurice Jones-Drew
led the NFL in rushing. The Jaguars mixed in more man-blocking schemes as the season progressed and things got better, but the problem wasn't "fixed." In addition, Jones-Drew clearly was not the same player he was two years ago. He missed all but six games last season with a Lisfranc injury and also battled ankle, knee and hamstring issues this season.
Biggest need:
The Jaguars have a pretty long list of needs, but two stand out above all others: quarterback and pass-rusher. Quarterback is the top need because former first-round pick
Blaine Gabbert
isn't the answer and neither is
Chad Henne
, who will be a free agent but wants to return to Jacksonville in 2014. The Jaguars haven't had a bona fide threat at quarterback since coach Jack Del Rio put
Mark Brunell
on the bench for
Byron Leftwich
in 2003. New general manager David Caldwell and Bradley need a player around which to build the franchise, and the Jaguars will have the opportunity to possibly find one when they pick third overall in May's draft.
Team MVP:
The first impulse is to go with middle linebacker
Paul Posluszny
, whose 161 tackles ranked second in the NFL. He was clearly the team's best defensive player and arguably the best overall player. However, what Henne did to stabilize the offense earns him MVP honors. Gabbert had played terribly in the first part of the season (seven INTs, one TD) and Henne stepped in and played the most consistent football of his career. He didn't always light it up and he made some poor decisions and mistakes, but he kept the Jaguars in games in the second half of the season and made enough plays to go 4-4 after the bye. He threw nine touchdown passes -- including the game winner against Cleveland with 40 seconds to play -- and five interceptions over the final five games.
November, 20, 2013
11/20/13
12:30
PM ET
JACKSONVILLE, Fla. --
Clay Harbor
wasn't the intended target, nor was he even touched on the play, but he played a critical role in the Jaguars' successful fourth-down touchdown against Arizona last Sunday.
The 6-foot-3, 255-pound Harbor was one of three tight ends the Jaguars used on the fourth-and-1 play from their own 38-yard line early in the first quarter. His pre-snap motion -- in which he went right, left, and back right again -- confused the linebackers and safeties and was the reason Noble was able to get wide open.
"The most important thing was the motion," quarterback
Chad Henne
said. "Yo-yoing the motion and getting him to sprint out right kind of threw the defense off guard. They thought we were going to go right and we went left with it."
[+] Enlarge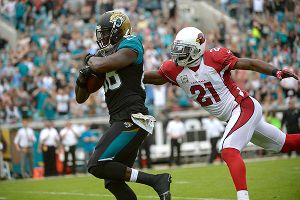 AP Photo/Phelan M. EbenhackDanny Noble took his first career reception 62 yards for a score against the Cardinals.
A look at the film shows exactly what happened:
The Jaguars went with three tight ends, fullback
Will Ta'ufo'ou
, running back
Maurice Jones-Drew
and no receivers.
Danny Noble
, whom the team signed to the practice squad Oct. 9, and
Marcedes Lewis
lined up tight on the left and right side of the formation, respectively. Harbor lined up one step behind the line of scrimmage off Noble's left hip.
When Harbor went in motion to his right, cornerback
Patrick Peterson
and safety
Tyrann Mathieu
slid across the formation with him. Harbor then went back to his left for two steps before turning around and going back right. You can see the reversal caused confusion between linebackers
Karlos Dansby
and
Daryl Washington
, with Washington pointing and waving his left hand.
At the snap, Noble releases and brushes by linebacker
John Abraham
and heads up the hashmarks before curling toward the numbers. Henne play-fakes the ball to Jones-Drew, who goes low to block Abraham while Ta'ufo'ou heads into the flat.
Henne looks at Ta'ufo'ou, which causes Mathieu and Washington to make a beeline for the flat. Peterson, who was simply backpedaling after the snap, never sees Noble until he catches the ball. At that point it becomes a footrace.
Peterson eventually catches Noble at the 12-yard line but he grabs high and slides off Noble's hip at the 5-yard line.
Coach Gus Bradley said Henne deserves credit for not taking the quick throw to Ta'ufo'ou, who was open and would have made the first down and instead going to Noble. That's a decision he may not have made earlier this season.
"I think earlier in the season Chad may have thrown it to Will in the flat and we would have all been sitting here saying, 'Oh, if he would have just throw it to Noble we had a chance for an explosive play,' and he did it," Bradley said. "He was looking at the fullback but he hung in there and threw it to Nobes and we got a big play off of it."
November, 17, 2013
11/17/13
7:25
PM ET
JACKSONVILLE, Fla. -- The
Jacksonville Jaguars
' offense hasn't had any trouble starting fast the last two weeks.
It's the rest of the game that has been the problem.
It happened in a 29-27 victory over Tennessee on Nov. 10 but the Jaguars were able to hang on and get their first victory over the season. They couldn't overcome it against the
Arizona Cardinals
on Sunday at EverBank Field, however, and lost
27-14
.
[+] Enlarge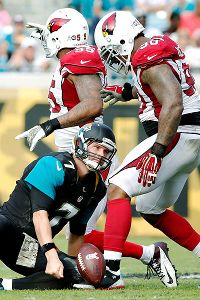 Sam Greenwood/Getty ImagesChad Henne
The Jaguars scored two touchdowns -- their first at EverBank this season -- and racked up 111 yards in the first quarter. But penalties, an injury to an already-depleted receiving corps, and the lack of a running game crushed the early momentum. The result was the ninth loss of the season and sixth consecutive loss at EverBank Field.
"After those scores we struggled," head coach Gus Bradley said. "We had quite a few three-and-outs. I know we had some second-and-longs, some penalties that showed up in the second half, a couple interceptions. We've got to overcome that. We've really got to continue to challenge our guys to step up and make plays."
The Jaguars (1-9) managed just two first downs in the second quarter and two more in the third. They managed just 163 yards in the final three quarters and 58 came after the Cardinals took a 24-14 lead. Why such a poor performance?
Penalties hurt. A false start on third-and-8 by receiver
Ace Sanders
in the second quarter. Early in the fourth, center
Brad Meester
and guard
Uche Nwaneri
had false starts on the same drive. A holding penalty on tackle
Cameron Bradfield
wiped out a 21-yard reception by
Maurice Jones-Drew
.
The running game was non-existent, too. That's not surprising considering the Cardinals entered the day with the NFL's third-ranked rush defense, but Jones-Drew and the offensive line really struggled. The Jaguars ran for just 32 yards on 16 carries and Jones-Drew ran 14 times for 23 yards, which is the second-lowest total of his career in games in which he's had double-digit carries.
The Jaguars were already short at receiver with the suspension of
Justin Blackmon
and
Stephen Burton
missing the game with a concussion, but
Mike Brown
left the game in the second half with a shoulder injury. That meant the Jaguars had to use
Kerry Taylor
, whom the team claimed off waivers from Arizona on Nov. 4, in a bigger role.
Sanders, Brown, Taylor and tight ends
Marcedes Lewis
and
Clay Harbor
were pretty much quarterback
Chad Henne
's only options because No. 1 receiver
Cecil Shorts
was being shadowed by Arizona cornerback
Patrick Peterson
. Until the final four minutes of the game, Henne targeted Shorts just once. In those final four minutes, Henne threw to Shorts four times.
Shorts was clearly frustrated.
"There was opportunities throughout the game I should have been involved in," Shorts said. "But, you know, it is what it is. I can't control what the … We can do better as an offense."
Henne wasn't particularly effective, either. Though he completed 27 of 42 passes for 255 yards and one touchdown, he threw two interceptions and didn't challenge the Arizona secondary. As noted, he didn't look for Shorts until the game was well in hand and there were instances where he was open against Peterson.
He settled for shorter passes too often, too, especially on several third downs. It seemed as if he was overly concerned with Peterson and safety
Tyrann Mathieu
.
"It was tough," Henne said. "Patrick Peterson's a great corner and we knew we were going to have some problems with him. But Cecil, I thought, in some of his one-on-one routes did some really good things with it. They were playing a high safety. Their guys up front are good pass rushers, so we wanted to get the ball out quick, get it out on time, and I think we definitely accomplished some of that."
It was a typical Henne game. Several good throws, several bad, and a mixture of safe stuff. But he couldn't lead the offense to any points despite starting possessions at his own 40, the Arizona 42, midfield, and his own 42. Punt, punt, punt, interception.
"Field position was outstanding," Bradley said. "We had a couple times we started on the 50 and there in. Those we have to come away with some points. We have to. Even if it's a field goal, to get it down there inside the 35. We took a sack on one. We were on the 36 yard line, the 38-yard line, trying to get it to the 35, we take a sack. Throw it away and give it a chance. We'll continue to grow on those decisions."
It's not all on Henne, Shorts said.
"I felt like we had a lot of momentum at the beginning of the game," said Shorts, who caught just two passes for 22 yards. "We had penalties. When we're in their territory we need to at least get three points. We're on their side of the 50, we can't have a penalty, first-and-15, and we get a positive play, then another penalty, first-and-20. We can't have stuff like that. We need to at least get three every time we're in their territory. We've just got to do better. We need to execute."
November, 10, 2013
11/10/13
5:24
PM ET
NASHVILLE, Tenn. -- Observed in the locker room after the
Jacksonville Jaguars
' 29-27
victory
over the
Tennessee Titans
.
Laughter:
That hasn't been heard in the Jaguars locker room all season, which isn't a surprise considering the team had lost its first eight games by double digits. But there was plenty of it on Sunday. There was some good-natured ribbing, too. Cornerback
Will Blackmon
was talking about the defense forcing four turnovers and said it was good to see "some people holding onto interceptions." The player who did was cornerback
Dwayne Gratz
, who was sitting in the locker to Blackmon's right. The player who dropped an interception was cornerback
Alan Ball
, who was sitting in the locker to Blackmon's left.
Hayes
Stepping up:
The numbers weren't eye-popping, but
Mike Brown
,
Clay Harbor
and
Stephen Burton
did a solid job helping to replace the production lost from the suspension of
Justin Blackmon
. The three combined to catch four passes for 64 yards.
Injury report:
Burton and linebacker
Paul Posluszny
each suffered a head injury, though Posluszny seemed fine in the locker room after the game. Burton was hurt when he got hit after making a 15-yard catch in the fourth quarter. He had missed the previous five games with a concussion.
Big game for Hayes:
Linebacker
Geno Hayes
had his most productive game of the season, leading the team with 11 tackles, knocking down one pass and forcing a fumble. The pass breakup was a leaping, one-hander that he also nearly intercepted.
Sluggish O:
The Jaguars gained 93 yards in the first quarter but had just 121 yards in the final three. The 218 total yards was the third-fewest of the season, behind the 178 against Kansas City in the season opener and the 205 against Indianapolis.
November, 6, 2013
11/06/13
9:00
AM ET
JACKSONVILLE, Fla. -- It has been an ugly first half of the season for the
Jacksonville Jaguars
.
They've lost every game by double digits -- the average margin is 22 points -- and are riding a 13-game losing streak that dates back to a Nov. 25, 2012, when they beat Tennessee. They rank last in the NFL in total offense and rush defense, 31st in rush offense, and 27th in total defense.
They haven't scored a touchdown at EverBank Field since the first quarter of the 2012 regular-season home finale.
Ugly, indeed.
There have been slivers of good work in parts of the team in the first eight games, but the overall body of work deserves an F.
In breaking that grade down, it's clear this midseason report card isn't going to be pretty. In fact, it's the kind of report card that gets you grounded for weeks:
September, 5, 2013
9/05/13
4:46
PM ET
The Jaguars are now dealing with another player who may not be available for Sunday's season opener.
Tight end
Marcedes Lewis
missed practice on Thursday, one day after reinjuring his left calf -- an injury he suffered in pregame warmups against the
New York Jets
on Aug. 17. That means coach Gus Bradley isn't sure if he's going to have his starting quarterback and tight end against Kansas City.

Lewis
"We'll continue to evaluate [Lewis], see where he's at," Bradley said. "I know that he was riding the bike and going through some of the rehab things for his calf with [head athletic trainer] Mike [Ryan]."
Bradley said the plan is to be cautious with Lewis, who is coming off a 52-catch season, to keep the injury from becoming a long-term issue. Lewis will be re-evaluated on Friday.
"We don't want to put him in there and have this continue to be another three weeks," Bradley said.
Lewis has been limited in practice since he suffered the original injury. If he can't play, the Jaguars will have to rely on
Allen Reisner
, who signed with Minnesota as an undrafted free agent out of Iowa and spent 2011 and most of the 2012 season on the Vikings' practice squad, and two tight ends they claimed off waivers on Saturday.
Clay Harbor
spent the past three seasons with Philadelphia and caught 47 passes for 421 yards and four touchdowns.
D.J. Williams
played in 26 games over the past two seasons with Green Bay and has nine receptions for 70 yards.
Bradley said he's still unsure if Gabbert will be able to play against the Chiefs, but he is pleased with the progress Gabbert has made from the fractured right thumb he suffered against the Jets. Bradley said Gabbert was limited in practice on Thursday but took more reps than he did on Wednesday.
"If it was a situation where we felt like Blaine couldn't make the throws we want him to make then the decision would be made right now," Bradley said. "But right now we're seeing him make some of the throws. We're seeing him do a lot of things we're asking him to do. Now, we'll go through it one more time tomorrow and finalize it."
Chad Henne
and
Ricky Stanzi
got extra reps just in case, Bradley said.
September, 1, 2013
9/01/13
5:00
PM ET
JACKSONVILLE, Fla. -- Jaguars general manager Dave Caldwell had promised that the team would be aggressive when it came to working the waiver wire and trying to improve the bottom part of the roster.

He wasn't kidding.
The Jaguars were awarded seven players off waivers on Sunday, adding receiver Stephen Burton (Minnesota), defensive back Winston Guy (Seattle), tight end Clay Harbor (Philadelphia), guard Jacques McClendon (Atlanta), linebacker Chris McCoy (Philadelphia), linebacker J.T. Thomas (Chicago) and tight end D.J. Williams (Green Bay).
They aren't done yet, either. Caldwell said the team will look at the players other teams released on Sunday and there could be some additional signings on Monday.
"We'll evaluate that pool and from that pool we'll see if we can upgrade somewhere," Caldwell said. "We will always look for an edge and an advantage of where we can try to get better."
Speed and the ability to play on special teams are the two traits for which Caldwell is looking in available players. Six of the seven players signed have special-teams value.
"It's something we've looked at the whole time," Caldwell said. "We're always going to look to get better in every phase, not just special teams. It's offense, defense, [and] it's personnel. Whatever we're doing we're going to work to get better. We felt like when we came here in the offseason we wanted to upgrade our team speed. We feel like we didn't completely do that in the offseason but we feel like we did that today."
To make room for the seven additions, the Jaguars cut defensive back
Antwon Blake
, tight end
Brett Brackett
, center
Dan Gerberry
, defensive tackle
Kyle Love
, fullback
Lonnie Pryor
, receiver
Jordan Shipley
and linebacker
Andy Studebaker
.
The Jaguars also signed the following players to the practice squad: cornerback Marcus Burley, defensive end
Ryan Davis
, receiver Jeremy Ebert, guard Drew Nowak, receiver Tobais Palmer, quarterback Matt Scott, and safety Steven Terrell. The Jaguars have one remaining spot to fill on the practice squad.
Here's a quick look at the seven new players:
Burton:
The former 2011 seventh-round draft pick played in 15 games for Minnesota last season and caught seven passes for 73 yards and one touchdown.
Guy:
He was a sixth-round pick by Seattle last year and played in three games, including the NFC divisional playoff game against Atlanta.
Harbor:
He spent the past three seasons in Philadelphia after the Eagles took him in the fourth round in 2010. He has played in 39 games (18 starts) and has 47 catches for 421 yards and four touchdowns. Also has lined up at receiver.
McClendon:
The former 2010 fourth-round pick by Indianapolis has played in only four games.
McCoy:
Miami selected him in the fourth round in 2010 and he spent that season on the practice squad with three teams (Miami, Houston and Seattle). He spent the past two seasons with Calgary in the Canadian Football League.
Thomas:
Chicago selected him in the sixth round in 2011. After spending his rookie season on injured reserve he played in every game last season for the Bears.
Williams:
He spent the past two seasons with Green Bay after the Packers selected him in the fifth round in 2011. He has nine career catches for 70 yards. He also can line up at fullback.