August, 28, 2011
8/28/11
9:04
PM ET
A quick look around the AFC South Sunday evening…
The Colts
released eight players. Gone are guard
Josh Beekman
, tackle
Casey Bender
, receiver
Joe Horn
(no, not the old one), running back
Devin Moore
, defensive back
Chip Vaughn
and quarterback
Mike Hartline
. Linebacker
Cody Glenn
and defensive back
Mike Newton
were waived injured. If they are unclaimed, their rights revert back to Indianapolis.
The Jaguars
got a pep talk from
Maurice Jones-Drew
, who didn't play, after they fell behind 17-0 in Buffalo Saturday night. "I thought we were
pressing
a little bit too much," he told Tania Ganguli. "There were certain things I was seeing that were very uncharacteristic of our offense. I kind of pointed those things out and said we don't practice like this, we don't work like this so why play like it? The guys, they settled down, they played well. Sometimes you just gotta point out certain things and guys understand it."
The Texans
seem optimistic about
Arian Foster
and his left hamstring. "Everything was positive today," Gary Kubiak said. "It looks like we're dealing kind of with the same thing we were dealing with at the start of camp. Hopefully get him back on the rehab train and get him ready for opening day. He'll be day-to-day. I'll keep you guys up to date, but we feel like we're fortunate."
The Titans
plan to get
Kenny Britt
working with the first team Monday in practice. "The only reason he hasn't been at times is just because when we got into getting ready for the game mode or the carded-periods, there was no reason for him to take away reps from someone who was actually going to play in the game,"
Mike Munchak
said. "I think it will be a little bit different the next couple of days where he will get a chance to run with the first group and get some reps and continue that on hopefully for the rest of the season."
July, 29, 2011
7/29/11
12:02
PM ET
The Colts just sent out a pre-camp injury report.
They says
Peyton Manning
's injury "continues to progress, but there is no timetable for his return to unrestricted activity."
The one item of note I see here is that while most of the key players get updates that say they have "been cleared for full participation," Austin Collie's note on concussion recover is worded differently: He's "been cleared to return for football activities."
Their updates:
David Caldwell
, DB
Injury: Shoulder (Was placed on injured reserve before the start of the regular season)
Update: Has been cleared for full participation
Dallas Clark
, TE
Injury: Wrist (Was placed on injured reserve on October 25, 2010)
Update: Has been cleared for full participation and will wear a splint during practices
Austin Collie
, WR
Injury: Concussion (Was placed on injured reserve on December 22, 2010)
Update: All concussion symptoms have cleared and has been cleared to return for football activities
Kavell Conner
, LB
Injury: Foot
Update: Has been cleared for limited participation
Brody Eldridge
, TE
Injury: Knee
Update: Practice status is to be determined
Cody Glenn
, LB
Injury: Neck (Was placed on injured reserve on November 30, 2010)
Update: Has been cleared for limited participation
Anthony Gonzalez
, WR
Injury: Knee (Was placed on injured reserve on November 6, 2010)
Update: Has been cleared for full participation
Kelvin Hayden
, DB
Injury: Neck (Was placed on injured reserve on January 8, 2011)
Update: Has been cleared for full participation
Brandon King
, DB
Injury: Hamstring (Was placed on injured reserve on October 19, 2010)
Update: Has been cleared for full participation
Peyton Manning, QB
Injury: Neck (Had surgery in the offseason)
Update: Injury continues to progress, but there is no timetable for his return to unrestricted activity
Devin Moore
, RB
Injury: Shoulder (Was placed on injured reserve on October 5, 2010)
Update: Has been cleared for full participation
Jerraud Powers
, DB
Injury: Foot (Was placed on injured reserve on December 7, 2010)
Update: Has been cleared for full participation
Jamey Richard
, OG
Injury: Hip
Update: Has been cleared for full participation
Kevin Thomas
, DB
Injury: Knee (Was placed on injured reserve on August 28, 2010)
Update: Has been cleared for full participation
Chip Vaughn
, DB
Injury: Ankle and Shoulder (Was placed on injured reserve on November 23, 2010)
Update: Has been cleared for full participation
June, 22, 2011
6/22/11
1:04
PM ET
Reading the coverage…
Houston Texans
Unsolicited damage control
for Rick Smith, from Lance Zierlein.
Indianapolis Colts
Cody Glenn was part of
the Gumball 3000
in Europe, writes Phil Richards.
Why
it's easy
to be a Colts fan, from Brett Mock.
Jacksonville Jaguars
Mel Tucker wants
a faster defense,
says John Oehser.
Ingredients
for Jaguars' success from Jason Love.
Tennessee Titans
Kenny Britt is sticking with
his explanation
of the Facebook fiasco, says Jim Wyatt.
Facebook
faux pas
or Britt being himself? David Climer considers.
Titans coaches finally got
a chance to teach
in a clinic for high school coaches, says Chip Cirillo.
Late on this one: Cortland Finnegan's offseason work helps
show his value
as he enters a contract year, says David Boclair.
November, 30, 2010
11/30/10
7:24
PM ET
The Colts just sent out their weekly Tuesday injury update. Here it is in its entirety:
"Defensive back Bob Sanders (biceps) will be out this week against Dallas. Wide receiver Austin Collie is improving and his practice role will be determined as the week progresses. Collie suffered a concussion at Philadelphia on November 7. After being cleared medically to participate at New England on November 21, he encountered symptoms from his previous injury, though there was no recurrence. Running back Joseph Addai progressed to practice last week for conditioning purposes. Addai will do so again, but a timetable for a full return to action is uncertain. The club has waived wide receiver Brandon James and signed wide receiver Taj Smith. Linebacker Cody Glenn will be placed on injured reserve after suffering a neck injury last week against San Diego."
The lack of a mention of
Gary Brackett
and
Clint Session
suggest the linebackers could have a chance to return, which Bill Polian indicated in his weekly radio show. Same for
Mike Hart
, who practiced some last week.
November, 5, 2010
11/05/10
7:54
AM ET
Philip Wheeler
's demotion may have only lasted one week.
With
Clint Session
's agent, Harold Lewis, confirming his client finished the Monday night win over the Texans
after dislocating his elbow
and breaking his arm, it's hard to imagine we'll see the feisty linebacker in the lineup against the Eagles in Philadelphia on Sunday.

Wheeler

Session
I asked a couple of medical people about the outlook for Session, and while they couldn't make a real prediction due to the lack of details, they said most injuries like the one Lewis described would require surgery and several months to recover. But they cautioned that the agent could have overstated the injury. Mike Chappell said
an MRI
was scheduled.
The Colts have announced surgeries and been quick to declare when players with big injuries would sit out games this season. They've said nothing so far about Session except listing him on the injury report with an elbow issue and saying he did not practice Wednesday or Thursday.
Against Houston, rookie
Pat Angerer
replaced a healthy Wheeler on the strong side while
Gary Brackett
was in the middle after missing a game. Session manned his usual weakside spot.
Brackett is a certainty to remain in the middle, and Angerer got good reviews. The candidates for the other outside spot, presuming Session is out, are Wheeler,
Cody Glenn
,
Tyjuan Hagler
and rookie
Kavell Conner
, who just resumed practicing after a long layoff following foot surgery.
September, 30, 2010
9/30/10
2:50
PM ET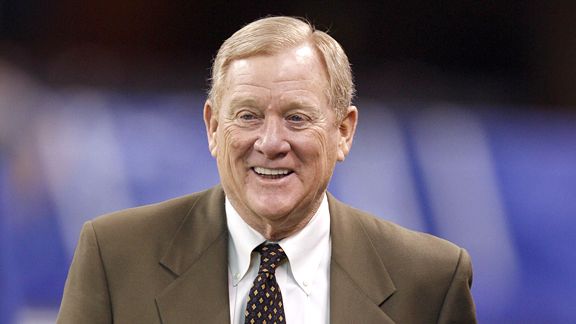 Brian Spurlock/US PresswireColts President Bill Polian is pleased with how his team has responded to its rash of injuries.
Like all good personnel men, Bill Polian does well projecting and predicting. But ultimately, he wants to see and judge not with forecasting but off of production.
And so he often says during the offseason and preseason, "Check with me three weeks in."
I do my best to take him up on that, and spent some time on the phone with the
Indianapolis Colts
team president this week for that check-in.
Here, then, are the highlights of a wide-ranging discussion about the state of the 2-1 Colts.
Paul Kuharsky:
You always say check in three weeks, so here I am. What's your general feel about this team? Are you in as good a shape as you expected or do you have more concerns than you anticipated?
Bill Polian:
I don't really know, because all of the injuries have derailed us a little bit. So I am not really sure what we have at this point until we get everybody back healthy, or at least as many as we can. It's been a struggle thus far.
PK
: It seems like that injury string just goes and goes. Is it a cyclical thing, is it a bad-luck thing?
BP:
I think it's just a luck thing. You would hope it changes.
PK:
Peyton Manning's
numbers are obviously fantastic. Is there anything subtle he's done to get better?
BP:
No, I don't think so. I think he's done a great job working the new receivers in and getting comfortable with them and letting them get comfortable with him. I think by and large it's been business as usual.
PK:
When
Austin Collie
has a game like he did in Denver, are you ever surprised when a guy maxes out the way he did, or it s a business-as-usual, we-expect-it kind of thing?
BP:
When you put up gaudy numbers, that's an every-once-in-a-while thing. But we expect a good performance from him. He's a guy we've learned to be able to count on.
PK:
How's [rookie tight end]
Brody Eldridge
been and what kind of effect has he had on your offense?
BP:
He's been great. And he really had an effect in the running game and will get better day by day in the passing game, he's got ability in that area and he will continue to develop it … Brody's been really in there in a lot of run situations. But we trusted [undrafted rookie left tackle
Jeff Linkenbach
] to do the job and he did. For Brody, pass protection comes a little more slowly, he was more developed as a run blocker for obvious reasons [at Oklahoma], but he does both pretty well. Linkenbach was on his own a good portion of the time and he did a good job.
PK:
When you get a nice game out of someone like Linkenbach, does that say to you we can continue to find guys on the offensive line who can be successful for us without a big pick or a big move? Or is that a position you'll be constantly evaluating and where you'll maybe be looking to get that big-time guy?
BP:
Well, I don't know that Link isn't the big-time guy. I think we'll find that out over time. And obviously we're hoping to get Charlie [Johnson] back. You're always looking for the best players you can get, the question is are they available when you choose and what else is available? We'd like to have big-time players at every position. Unfortunately when you're drafting as low as we have, you don't get a shot as some of the marquee guys but Link proves, just like
Jamey Richard
and
Jeff Saturday
and
Ryan Diem
, that you can find guys down low that are very productive players.
PK:
I know you've been dinged up there, but do you feel like the offensive line is giving you better play or will give you better play than you got last year when you said it was a concern?
BP:
I don't think there is any question that it will be better. And I think you could argue that they've played about as well as they could have given all the injuries and the unsettlement there. But I don't think that there is any question that it will be better over time.
PK:
What will make it so?
BP:
We've got Jamey playing left guard and that's a new position for him.
Mike Pollak's
done a nice job at right guard. Jamey had to play center in the preseason because Jeff Saturday was hurt the whole preseason. Link stepped in for Charlie, we're hopeful that Charlie will be back here shortly, so that gives us some pretty good depth there and a lot of good young players there. So I think they'll get better over time.
PK:
Has
Philip Wheeler
been as good as you'd hoped coming into the season? How's your depth at linebacker given the injuries to
Clint Session
and
Kavell Conner
?
BP:
Philip's played well. The depth has turned out to be fine, unfortunately.
Cody Glenn
played well stepping in without much practice when Kavell Conner went down. Kavell played really well. So we're happy with the depth we have.
Pat Angerer
played really well when Gary [Brackett] was out during the preseason. The depth is great, thank God. But hopefully we'll get Clint back very soon and Kavell will be back in eight weeks. Hopefully we can span the gaps until then.
PK:
Is Pat Angerer strictly an inside guy?
BP:
We'll see down the road, right now he's inside, let him get comfortable there. And he is doing very well there. If we had an absolute emergency I guess he could go outside, but right now we'd rather have him inside.
PK:
How do you evaluate your secondary depth?
BP:
The depth isn't what we'd like to have there at safety, but hopefully we'll continue to be OK. That's probably the area where we have the least depth and that's simply because of injury. You could never have imagined that both
Jamie Silva
and Bob [Sanders] would go down for extended periods in the same year, that's just bad luck but it happens to every team. You can't change it. At corner, I've always believed you can never have enough, but the five guys we have are pretty good. And I think they'll be OK.
PK:
You guys did so well so much of the time last year at stopping the big plays, did you come out of Denver with concerns about that?
BP:
It's early yet and we're still getting used to playing with one another and playing against people who do a little bit different things than we've seen before. Points and turnovers are what count for defense and the other stuff we can get corrected.
PK:
How's
Fili Moala
been?
BP:
He's been starting, he's made a lot of progress. But every player does, the biggest jump a player takes is between his first and second year. Fili is no exception. And defensive line takes a longer time to develop than almost any other player, and Fili is no exception there. That said, he's taken a big step and he's developed and he's playing fine. We're very, very happy with the way he's playing.
PK:
Can you compare and contrast him to
Antonio Johnson
?
BP:
Different styles. Fili is longer and he's got more range than Mookie [Johnson]. He's not quite as wide or stout and has to play with a little more quickness than Mookie does. But they both get the job done, but they are different styles of players with different body types.
PK:
Some punts this year haven't yielded you much in field position. Has your thinking on that changed at all? Might playing four downs in some spots to gain a scoring chance be more valuable?
BP:
First of all, I don't look at it from a statistical standpoint. To me, it's always a game-by-game decision. Who's the return man, what is the other team doing, what is the status of your defense, what's the status of your offense? It's a situation-by-situation decision. We've been unlucky in certain situations where if the ball had bounced properly for us or correctly for us we would have had kills on the 1-yard line. That said, we haven't been as clean as we should have on the technique there and that will improve as we go on into the season. As far as decision making, that's up to coach on a situation-by-situation basis and I don't believe in any of the statistical formulas that I've seen.
PK:
We've talked about [Jaguars GM] Gene Smith and how you like the way he's building in Jacksonville. Are you surprised by their struggles the last couple weeks, and while I know you're hoping they don't bounce out of it this week, do you think they are still on track?
BP:
Obviously we're hoping that, but they are perfectly capable of doing it. I do like the way they are building, I think they are going about it in the right way. It takes time. It doesn't happen overnight and I think they will be heard from before too long and I hope it's not this weekend.
PK:
When a quarterback struggles like
David Garrard
has the last two weeks, how much is confidence the biggest thing in play?
BP:
The whole thing is a continuum; it's not one individual player or even one individual platoon. Sometimes it can just be a bad break here, a penalty there and you get in those kinds of streaks and things can tend to mushroom on you. One thing I know about [Jaguars head coach] Jack Del Rio is he has a way of getting his team focused, he's a tough guy, his team reflects that. They'll play through it. There is a long, long way to go and I think they're a much improved football team and they will show that before too long. I just hope it doesn't come this weekend.
PK:
Obligatory contract question. Have you had any significant talks with Tom Condon about
Peyton Manning
?
BP:
Yeah, we continue to talk and there is nothing else to report other than that.
February, 10, 2010
2/10/10
9:59
AM ET
After re-watching most of Super Bowl XLIV, I was left wondering whether the goats and gaffes beyond
Peyton Manning
's late interception got off a bit easy. So let's revisit a couple:
[+] Enlarge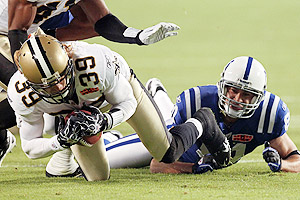 Ronald Martinez/Getty ImagesHank Baskett, right, was unable to come up with the onside kick that started the second half.
Hank Baskett mangled the onside kick.
He was wide to the side that
Thomas Morstead
sent the surprise second half kickoff to and took a giant step and a half back before realizing what was going on.
Cody Glenn
, who was beside him, and
Ramon Humber
, who was central, also reacted poorly. But Baskett's the hands guy of that trio. He recovered and got a clean look at the kick before any Saints player arrived, sprawling forward and letting the ball bounce off his face mask. A horrific effort.
Another special-teams error came from Chad Simpson.
The guy is not an explosive returner. If he's not positive he's getting to the 20 or beyond, he better take a touchback. So what is he doing at the end of the third quarter bringing out a kickoff from 4 yards deep when the best he could manage was the 11-yard line?
Reggie Wayne's effort on two big passes seemed questionable.
He and Manning can praise
Tracy Porter
endlessly, but Wayne seemed to give up on the route. He allowed Porter to gain position on a pattern analysts say he's got to be sure continues and crosses the corner who's in coverage. The move he made before he made his break didn't look like much and the cut wasn't very sharp. TV only showed it for a quick second, but Manning went to Wayne before walking off the field, head down, and said something to Wayne who kind of shook his head no and shrugged.
The Colts would have had to retrieve an onside kick and scored another touchdown, but Wayne also botched a TD catch near the end of the game. I asked him what happened there and he said he wasn't in the end zone and was trying to ensure he had proper depth as he made the catch to make sure it was a score.
Maybe he was slow playing it, but Wayne seemed almost disinterested in his crossing route from wide to the left to between the hashes, and as the ball went through his hands, I didn't think he was worrying about his depth, I thought he was worrying about
Scott Shanle
preparing to pop him.
Two other things of interest at this point in the game: On the first timeout, Manning signaled for it, then tried to change his mind. I was surprised by his indecision. And the third-down run call at 1:10 is just silly. The Colts couldn't afford the 21 seconds they lost when
Joseph Addai
was stuffed.
September, 16, 2009
9/16/09
3:16
PM ET

Posted by ESPN.com's Paul Kuharsky
The Colts made a couple of roster moves Wednesday. At least one more is coming -- perhaps in time for Thursday, which marks the start of their practice week in preparation for Monday night's game at Miami.
The team waived kicker
Shane Andrus
, who worked as a kickoff specialist in the season-opening win against Jacksonville, and linebacker Cody Glenn, who was inactive against the Jaguars.
Adam Vinatieri
said Monday he envisioned ultimately taking back the kickoff duties, though he didn't offer a hint that it would be soon.
One of the two open roster spots will be taken by
Ed Johnson
. The veteran defensive tackle was suspended by the league for Week 1 and the team's roster exemption for him is up.
The second spot is yet to be filled.
Team president Bill Polian has indicated the team may look for a veteran wide receiver to help while
Anthony Gonzalez
(knee) is out. The team is only three deep at receiver without Gonzalez (
Reggie Wayne
,
Austin Collie
and
Pierre Garcon
).
If the Colts don't find a veteran they like, they could opt to promote Taj Smith or John Matthews from the practice squad.
UPDATE:
Adam Schefter reported Tuesday evening that the Colts worked out three free agent veterans -- D.J. Hackett, David Patten, and Chad Jackson.
September, 13, 2009
9/13/09
11:51
AM ET

Posted by ESPN.com's Paul Kuharsky
INDIANAPOLIS -- Here are the inactives for Jaguars at Colts:
Indianapolis
Jacksonville
September, 8, 2009
9/08/09
11:05
AM ET

Posted by ESPN.com's Paul Kuharsky

Houston Texans
Indianapolis Colts
Jacksonville Jaguars
Tennessee Titans

April, 17, 2009
4/17/09
2:40
PM ET
Posted by ESPN.com's Paul Kuharsky
As the draft approaches, I'm trying to mine some information from my colleagues over at ESPN.com's College Blog Network. We hit Chris Low on the SEC Thursday, and now we turn to Big 12 ace Tim Griffin.
I asked Griffin for three players unlikely to be drafted in the first three rounds that he expects will become high-quality players in the NFL.
Here are his selections and thoughts:
Texas A&M QB Stephen McGee: Hurt most of his senior season, but has tested well for several teams. Ran a 4.66 40 in Indy to rank as second-fastest QB at the combine. But his most intriguing quality may be his competitiveness -- he led his team to back-to-back victories over Texas earlier in his career. (NFLDraftScout.com rates McGee as a fourth- or fifth-rounder.)
Oklahoma WR Juaquin Iglesias: Barely recruited coming out of high school, choosing a scholarship offer from OU over UTEP. But he blossomed once he got to school and developed into one of the leading receivers in school history. He's tested well and shown a nice upside. And he likely will be able to make a roster as a special-teams player with a lot of kick return skills that will keep him around until a shot at receiver materializes. (NFLDraftScout.com rates Iglesias a second- or third-rounder.)
Nebraska LB Cody Glenn: Converted I-back who played linebacker only his final season at Nebraska and missed his final three games after a suspension. Still showed a knack for physical play (6-feet, 235 pounds) and will likely be undervalued going into the draft. Still might be a player who can contribute on special teams until his opportunity to play at linebacker rolls around. (NFLDraftScout.com doesn't have Glenn rated as draft-worthy.)
Our thanks to Tim for helping us out.