AFC South:

Colin Cloherty
August, 5, 2012
8/05/12
10:11
AM ET
JACKSONVILLE, Fla. -- If you care to think the Jaguars are a mess and going to be in the running for the No. 1 pick in the 2013 draft, they're fine with that.

As they worked through the early days of Mike Mularkey's first training camp, they repeated the new coach's mantras (like, "we just want to get a little bit better every day"), fell in line with his policies (like potential $10,000 fines for answering media inquiries about injuries) and gave team-first answers to questions about the absence of their two biggest names --
Maurice Jones-Drew
(holding out for a new contract) and
Justin Blackmon
(unable to strike a rookie deal).
Sure, they don't have much choice but to buy in, but there is an undertone that suggests they have a secret to spring on the league in a couple of weeks.
Every team at this stage of camp thinks it can be good. In Jacksonville, a significant improvement from 5-11 is certainly possible, no matter what the popular storylines are. Honest.
Theirs is a defense loaded with quality, front-line talent. Beyond middle linebacker
Paul Posluszny
, most of it remains largely unknown. But if you don't know linebacker
Daryl Smith
or cornerback
Derek Cox
or defensive tackle
Terrance Knighton
, that's not the Jaguars' concern.
"If anyone feels we are not in a proper place or we have problems, that's OK," Posluszny said. "We feel like inside these walls we're doing everything that we can to be a very successful team.
"Mularkey's done a great job for us. He's a former player who's been through it. To me, that all means a ton, because he knows exactly what we are going through and what it takes to be successful."
While the offense is being revamped, and Mularkey and his assistants are trying to reformat quarterback
Blaine Gabbert
after a horrific rookie season, the defensive system and bulk of the staff have been in place for a while now.
Gabbert has nice moments, but his overall inconsistency at practice halts any proclamations that he made a significant offseason jump.
No matter how much players and coaches talk about his gains in leadership, no matter how much faith the organization has in him, no matter how patient they are, it comes down to making throws under pressure.
The early snapshot says the defense can be really good, but that a limited offense could be the obstacle to the surprise the Jaguars would so like to produce. There is a lot of time to work on what's been installed, to find what works and to run it better than it's been run so far.
THREE HOT ISSUES
[+] Enlarge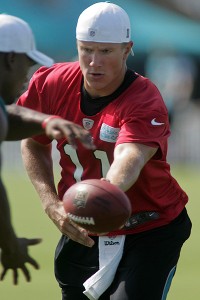 Phil Sears/US PresswireBlaine Gabbert finished his first season with 12 TD passes, 11 interceptions and a 50.8 completion percentage.
1. Is Gabbert good enough?
He folded under pressure too often last season, but the rush wasn't all he was facing. The team drafted him 10th overall intending for him to sit and learn for a season, but that plan didn't pan out and Gabbert was hurried into the starting role for 14 games during which he had poor pass protection and very limited receivers.
There were big distractions off the field, too: Jack Del Rio got fired and the team was sold.
Mularkey was hired in large part because he's developed quarterbacks, and he, coordinator Bob Bratkowski and quarterbacks coach Greg Olson have to get steadier play from Gabbert and get his arrow pointing up. His good moments look very nice, but there are still too many bad ones that leave you shaking your head. A kneel-down would seem less disheartening in many of those instances.
It's a slow process, installing a new offense and rebuilding a quarterback's confidence. Exactly how slow is the question we need answered.
Mentions of mechanical or technical adjustments by his coaches have been well-received, and he acts on them quickly. That's great, but when the rush turns live and the pocket starts collapsing, will he have open people he can stand in and find? We simply can't know yet.
2. The missing pieces.
Jones-Drew is demanding a new contract. The Jaguars have said they won't give him one with two years left on the old one. Boom -- a stalemate. I can't see the team altering its stance unless he holds out into the season and it struggles horribly without him. He's got an ego that will make it hard for him to return without any contract alteration, so this could drag on.
Blackmon is a rangy target who can go get the ball, and missing early camp is helping no one. He got a DUI after being drafted fifth overall, and the team wants insurance against any further troubles. Blackmon's unwilling to give the Jaguars what they are looking for, though.
So we're seeing second-year man
Cecil Shorts
work in the Z spot where Blackmon will eventually be, with veteran addition
Laurent Robinson
at the X.
Rashad Jennings
is the lead back without Jones-Drew in camp, and is a bigger guy who also ranks as a power runner. I liked what I saw and heard from him.
3. Will there be enough of a pass rush?
The Jaguars had 31 sacks last season, and to reach their potential on defense they need more in 2012. More consistent pressure and more sacks will come with improved coordination from the defensive linemen.
Their line coach, Joe Cullen, said they just missed on a bunch of chances last season, and another season together and the work they are doing now will result in better communication. The Jags face
Tom Brady
,
Aaron Rodgers
,
Matthew Stafford
,
Jay Cutler
and
Andy Dalton
in addition to two games against
Matt Schaub
and two against hotshot rookie
Andrew Luck
this season, and they won't win many of those without consistent pressure.
The relentless
Jeremy Mincey
promises the production will increase.
Andre Branch
was drafted in the second round to help, and looks like a quality player. Depth off the edge remains a concern.
Austen Lane
suffered yet another injury while I watched practices, during which
John Chick
walked the width of a practice field dragging heavy weight as he rehabilitated his knee.
REASON FOR OPTIMISM
[+] Enlarge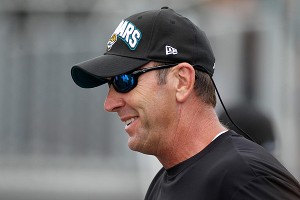 AP Photo/John RaouxNew head coach Mike Mularkey and his staff have made a positive impression on the players.
Mularkey and his staff. There is planning and logic to everything going on here, and the new staff has genuine concern for players on and off the field. Players are being told what the plan is and the right way to execute it. They felt that was lacking with the previous regime, and welcome it.
Position coaches like Olson, receivers coach Jerry Sullivan and one of the key holdovers, linebackers coach Mark Duffner, are true teachers, and they have guys under them who want to learn. That leadership and teaching faltered in many areas at the end of Del Rio's tenure. It's present in full force now. If guys follow and doing so produces results, it'll snowball.
REASON FOR PESSIMISM
A lot more is in place for Gabbert, and everyone has a stake in his performance: the GM who traded up to draft him needs him to succeed; the new coach who was hired to polish him needs him to succeed; the high-priced free-agent receiver and first-round draft pick receiver need him to succeed; the talented defense needs him to succeed.
Gabbert's saying the right things and working hard, and you can see improvement on some drop backs. But there are still enough dud plays sprinkled into practices to make you wonder if he can succeed. The team wants him to avoid turning the ball over -- staying away from the worst-case scenarios -- and it's a smart goal, but will it make Gabbert too cautious?
Can you ask him to be careful and function as a game-manager type when the best attribute he has is a big arm that can get the ball into tight windows? It might turn out to be complicated.
Also, there is not great roster depth. I have particular concerns about the offensive line, defensive end and safety if someone goes down.
OBSERVATION DECK
The team appears to be high on undrafted rookie linebacker Julian Stanford out of Wagner. With Clint Session's future in doubt because of post-concussion issues, Russell Allen is likely to start opposite Daryl Smith outside. Stanford could make the team as a special-teamer who can provide depth. Brandon Marshall, a fifth-round pick, also has what looks to be an NFL-ready linebacker frame.

Mike Thomas needs Blackmon signed, in camp and taking the bulk of the snaps at one of the two outside receiver spots. I'm convinced that to get his head right, Thomas needs to be given the slot role and allowed to focus on it exclusively. His snaps were cut down during my visit, with Shorts working at the front of the line in Blackmon's Z spot. The slot is what Thomas is best suited for, and his performance has slipped when he's been expected to do more. He had a lot of drops early in camp, and Mularkey agrees with the potential for less to be more with Thomas.

Josh Scobee has the leg to get a lot of touchbacks and Bryan Anger has the leg to force a lot of fair catches. The Jaguars obviously still have to work on covering kicks and punts, but how often will they actually be covering kicks and punts? If the offense can produce some first downs, we should see more scoring, and more scoring will mean more kickoffs from Scobee and less work for Anger.

The depth at tight end is interesting after No. 1 Marcedes Lewis. Colin Cloherty got a lot of work as the No. 2 early on, and Zach Miller is another move guy who's very intriguing, though Miller is rarely healthy. Zach Potter is giant, but hasn't earned a lot of time, and undrafted rookie Matt Veldman is also extra large.

Posluszny is the centerpiece of this defense. He covers a ton of ground and makes big hits. He's a model for doing things the right way, which is a major point of emphasis for Mularkey and his staff. Posluszny was a solid signing last season, and continues to deliver just what the team hoped for. That helps offset the fact Session, who also came to Jacksonville for a big contract in 2011, might not be on the field any time soon, or ever again.

The cornerbacks look good. Cox is really solid, and Aaron Ross and Rashean Mathis will be effective as the Nos. 2 and 3. The depth grew with last season's injury onslaught, and William Middleton and Kevin Rutland can play, too.

Branch, the rookie pass-rusher, came into the league facing questions from many teams about his ability to stand up against the run. The Jaguars have no such concern at this point. He's got to be an effective part of a four-man group at end with Mincey, Lane and Chick. Branch certainly looks the part, but so did former Jaguars bust Derrick Harvey, so we can't put much on the early eyeball test.

Along with Stanford, running back Jalen Parmele caught my eye. He's spent time with Miami and Baltimore.
December, 24, 2011
12/24/11
2:40
PM ET
NASHVILLE, Tenn. — And now a few thoughts about tight ends.
They've figured prominently in the first half of the Jaguars-Titans game. Tennessee
leads 17-10
.


Jared Cook
, who's not lived up to expectations this season, has found seam after seam and has six catches for 136 yards and a touchdown for
Matt Hasselbeck
and the Titans.
Marcedes Lewis
, who's not lived up to expectations this season, pulled up on a ball he could have caught for the Jaguars out of fear of a hit from
Michael Griffin
. Griffin's hardly been doling out giant pops this season.
Blaine Gabbert
's gotten one catch out of Lewis, same as
Zach Potter
and half as many as
Colin Cloherty
.
The Titans should continue to attack using Cook, who's gotten himself in one-on-one situations with middle linebacker
Paul Posluszny
, who's not equipped to survive such a matchup.
It was unreasonable to expect Lewis to pull in 10 touchdowns this season the way he did last season. But certainly he should have more than zero, and he should be a featured piece of an offense severely lacking at receiver.
December, 12, 2011
12/12/11
8:46
AM ET
Reading the coverage…
Houston Texans

After clinching their first playoff spot,
the Texans celebrated
and talked of feeling like a team of destiny, says John McClain of the Houston Chronicle. Andre Johnson got a game ball without even playing in a nice gesture by Gary Kubiak.
"When T.J. Yates and Kevin Walter finally connected for the game-winning score with two seconds remaining to silence the small crowd at Paul Brown Stadium, this never-say-die team from a so-often-dead organization had delivered
a victory for the ages
," writes Jerome Solomon of the Chronicle.
Johnathan Joseph's return to Cincinnati was
largely uneventful
and he allowed A.J. Green to make some plays, says Jeffrey Martin of the Chronicle.
The final drive
brought out the best
in Yates and the Texans, says Martin.
Defensive adjustments
by Wade Phillips and his staff played a big part in things, says McClain.
Dale Robertson of the Chronicle ranks it
the second-biggest NFL win
in Houston history.
Owner Bob McNair thinks Kubiak should be a prime
coach of the year candidate
, writes McClain.
Yates' parent has
bad seats
, says Shutdown Corner.
Indianapolis Colts

The Colts
got nowhere
against the Ravens vaunted defense, says Phil Richards of the Indianapolis Star.
Two sacks mean Dwight Freeney is just
the 26th player
in NFL history to top 100 in his career, say Mike Chappell and Richards of the Star.
Phillip B. Wilson of the Star saw the
same old, same old
.
The terrible Colts are
one of the worst teams in NFL history
so they didn't tell the Ravens much about themselves, says Mike Preston of the Baltimore Sun.
If the Colts have talent beyond Peyton Manning,
why are they so terrible
? Nate Dunlevy of 18to88 examines the question. I particularly like point three about the coaches being arrogant and uncreative.
It's
getting awkward
in Indy, says Jason Gay of the Wall Street Journal.
Jacksonville Jaguars

The Jaguars
absolutely rolled
Tampa Bay, says Tania Ganguli of the Times-Union.
On a monster day, Maurice Jones-Drew broke his mentors Fred Taylor's
franchise record
for touchdowns, says Vito Stellino of the T-U.
This was no monumental breakthrough, but the Jaguars will take the
glimpse of sunshine
, says Gene Frenette of the T-U.
Blaine Gabbert delivered
a better effort
, says Ganguli.
An unlikely pair
-- tight end Colin Cloherty and defensive end Nate Collins -- found the end zone for the Jaguars, says Vito Stellino.
Tennessee Titans

The Titans hope this loss isn't one that ultimately kills
their playoff chances
, says Jim Wyatt of The Tennessean.
The Titans now have
no margin for error
in their playoff bid, says David Climer of The Tennessean.
Injuries to key players
piled up
, says John Glennon of The Tennessean.
A
third-down discrepancy
meant the Saints were able to control the ball, says Glennon.
Jake Locker showed the Titans
a big glimpse of the future
, says Wyatt.
Don't grade the Saints on aesthetics, this is the sort of
gritty win
they needed, says Don Banks of SI.com.
February, 7, 2010
2/07/10
5:17
PM ET
Inactives are out and the Colts include no surprises:
So much for Cloherty's long shot MVP hopes we examined
here
.
February, 4, 2010
2/04/10
10:58
AM ET
FORT LAUDERDALE, Fla. -- A dude from Disney was working the room at the Colts hotel this morning during their media hour.
It takes a lot to get that "I'm going to Disneyworld" deal in place with the potential Super Bowl MVP.
Tight end
Colin Cloherty
, who is likely to be inactive on game day, got the talk and signed up. If he's our MVP, he's meeting Mickey Mouse.
He won't be practicing the line.
"I think it's going to have to be a spur of the moment thing," he said, laughing. "I don't think it's worth rehearsing for. I don't have a good enough of a shot."
Clint Session
's got a more realistic shot, but I asked him what it would take, given the expected competition wearing No. 18 over on offense.
"You pretty much know what the deal is," he cracked. "They're only getting offensive players, man. For me it would probably take like three or four interceptions, two of them to the crib, 15 tackles, eight sacks. Then maybe."
What are Session's odds for a
Peyton Manning
MVP in the game if the Colts win?
"Maybe 99.6," he said.
January, 24, 2010
1/24/10
1:59
PM ET
INDIANAPOLIS --
Jerraud Powers
is out with a foot injury suffered in last week's win over Baltimore and the Colts will turn to another rookie,
Jacob Lacey
, in his place.
Lacey's played extensively, and the Colts have plenty of confidence in him.
The issue, if one arises, would be with
Tim Jennings
as part of the nickel package. But the Jets may not have enough firepower in the passing game to take advantage.
The rest of the Colts inactives:
January, 16, 2010
1/16/10
7:00
PM ET
January, 2, 2010
1/02/10
2:05
PM ET
The Colts sent out this note Saturday:
K-Matt Stover will handle the placekicking duties for the Indianapolis Colts. K-AdamVinatieri (right knee) will continue with rehabilitation and will remain on the active roster. Vinatieri will not travel to Buffalo and has been downgraded from Questionable to Out on the injury report. RB-Chad Simpson (concussion) and DT-Antonio Johnson (shoulder) will not travel to Buffalo and have been downgraded from Questionable to Out on the injury report.
The club has put TE-Tom Santi on injured reserved with a back injury and signed rookie TE-Colin Cloherty (#46, 6-2, 245, 22 years old, Brown University) off the practice squad.
September, 7, 2009
9/07/09
9:30
AM ET

Posted by ESPN.com's Paul Kuharsky
Houston
Indianapolis (one spot to fill)

Jacksonville
(Early version was courtesy of
Michael C. Wright
)
Tennessee
August, 31, 2009
8/31/09
6:26
PM ET
Posted by ESPN.com's Paul Kuharsky
The Colts got a head start on their first round of cuts and made four moves Monday.
They waived three injured players -- defensive back
Michael Coe
, defensive end
Rudolph Hardie
and defensive end
Curtis Johnson
. They also waived tight end
Colin Cloherty
.
By my count, that gets them to 76. Remember,
Bob Sanders
and
Adam Vinatieri
, who on the PUP list, count.
That means the team has one move left to make Tuesday, when rosters have to be down to 75.