July, 18, 2014
Jul 18
11:00
AM ET
Examining the
Indianapolis Colts
' roster:
QUARTERBACKS (2)
This is the safest position on the roster for the Colts. They plan to always keep a veteran backup if Luck ever goes down with an injury.
RUNNING BACKS (4)
The Colts will have a solid running combination if -- and we're saying
if
until proven wrong -- Richardson can bounce back from a poor first season in Indianapolis and Bradshaw and Ballard can stay injury-free. Havili, a fullback, gets the edge over
Mario Harvey
, who switched from linebacker to fullback during offseason workouts.
RECEIVERS (5)
The final receiver spot will come down to Rogers and
Griff Whalen
. If the Colts want to play it safe, Whalen is the guy because he's familiar with Luck and offensive coordinator Pep Hamilton, but Rogers has the size and speed the team likes. There's also the possibility of the Colts keeping six receivers.
TIGHT ENDS (4)
Allen, who missed all but one game in 2013, and Fleener have the potential to be one of the top tight end duos in the league. Doyle and Saunders are both familiar with the system after backing up Fleener in Allen's absence last season.
OFFENSIVE LINEMEN (9)
There are plenty of questions surrounding the offensive line outside of tackles Castonzo and Cherilus. The one thing general manager Ryan Grigson wanted with this group is depth. The Colts have plenty of it.
DEFENSIVE LINEMEN (6)
Like the offensive line, the Colts want depth on the defensive line so they can constantly rotate in players, so come the fourth quarter they still have fresh legs to get after the opponent. Jones was the key offseason acquisition for the Colts. Chapman showed flashes last season; now he needs to do it every snap that he's on the field.
LINEBACKERS (10)
All eyes will be on outside linebacker as the Colts look to find a replacement for Mathis, who is suspended for the first four games of the season. Werner gets the first crack at starting in Mathis' spot. McNary is a player for whom Grigson has high expectations. It'll be up to defensive coordinator Greg Manusky on how he uses McNary.
DEFENSIVE BACKS (10)
It's anybody's guess how the secondary will perform. It's anybody's guess who will start alongside Landry at safety. It looked like it would be Howell for most of the offseason, but the Colts signed the veteran Adams in June. Can Toler finally remain healthy? Can Davis live up to his contract? So many questions with no answers at the moment.
SPECIALIST
This only changes if an injury occurs.
June, 17, 2014
Jun 17
2:35
PM ET
INDIANAPOLIS -- New
Indianapolis Colts
safety
Mike Adams
was part of the
Denver Broncos
team that reached the Super Bowl last season.
But there Adams sat, waiting for a team to sign him during the offseason. He waited. Waited some more. He waited so long that anxiety started to set in. Adams, 33, had never been out of work this long during his 10-year NFL career.
Adams' phone finally rang last week when the Colts put safety
Corey Lynch
on injured reserve.
[+] Enlarge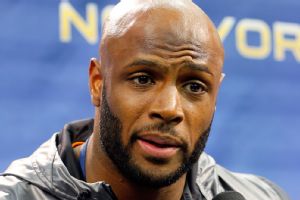 Adam Hunger/USA TODAY SportsVeteran safety Mike Adams has started 73 games in his 10-year career.
"The pieces are in place and we have a chance to hoist (the trophy) at the end," Adams said. "That's my goal. I came here to win. That's Chuck Pagano's philosophy and that's what they want to do here. That's what it all boils down."
Adams has gone from being unemployed to having a chance to be one of the Colts' starting safeties when they take on his former team, the Broncos, in the season opener on Sept. 7.
"Bottom line is I want to compete for a job," Adams said. "I want to earn these guys' respect. I'm going in (Year 11). Its' a different locker room, new system I have to learn. I want to earn that. I don't want it given to me. I told coach and I told the (general manager Ryan Grigson), 'I appreciate you telling me I don't have the job. I appreciate that.' I was the underdog my whole career. I love competing and proving people wrong."
Safety has been a legit concern for the Colts since long-time fixture
Antoine Bethea
signed with San Francisco on the first day of the free agent signing period in March.
The Colts didn't address the position during free agency or the draft. They constantly talked about having confidence in
Delano Howell
, who has been working with the first team during the offseason workouts.
But Howell lacks experience on a defense that was too inconsistent last season. The same goes for
Sergio Brown
,
David Sims
and
Colt Anderson
.
Enter Adams.
He has started 73 games in his 10-year career. The question about Adams is how much does he have left in his tank at the age of 33. He admits his age might have caused teams to shy away a little bit.
"I feel like I'm 26," he quickly says. "You're going to see the way I move. Once guys see my film. I was talking to the GM and he said, 'I had to watch your film' and he said, 'You're 33?' and I was like, 'yeah I am 33,' but when you watch the film it doesn't look like I'm 33."
Adams is versatile. He can also play cornerback, nickelback or be the dime.
Now he has to see if he's versatile enough to get the number he wants. Adams, who currently has No. 42, has worn No. 20 throughout his career, but cornerback
Darius Butler
has that number.
"I'll have to sweet-talk him," Adams said. "Have to take him out to dinner; wine and dine him."
June, 3, 2014
Jun 3
10:00
AM ET
INDIANAPOLIS -- It was only natural for the question to come up.
Safety is an area of concern for the
Indianapolis Colts
since
Antoine Bethea
calls San Francisco home now. The player who is currently available has a history with the head coach.
Ed Reed
and Chuck Pagano spent time together at the University of Miami and with the
Baltimore Ravens
. Pagano respects Reed. Pagano was the Hurricanes' secondary coach from 1995-2000, the Ravens' secondary coach from 2008-10, then their defensive coordinator the following season.
The question about them possibly being reunited was asked by fans when the
Houston Texans
released Reed last season.
It was asked again by fans after Reed told reporters he plans to play next season during a charity softball game in Baltimore over the weekend.
@MikeWellsNFL should the @Colts sign Ed Reed to a small, one year contract just so we have a bit more depth at safety?

— Josh Bruner (@J_TheRealDeal_B) June 2, 2014
And just like last November, don't expect the Colts to have any interest in Reed. He's a nine-time Pro Bowler and Super Bowl winner, but his best years are clearly behind him. He didn't struggle and eventually get benched and released from the Texans for no reason.
The Colts would have signed a safety during free agency or selected one during last month's draft if they were really concerned about the position.
The starting safety spot is right there for
Delano Howell
. It'll stay that way until he somebody else beats him out for it.
"Delano Howell has played some really good snaps for us," Colts general manager Ryan Grigson said last month. "We feel good about Delano and we're hoping some of these other guys rise to the occasion. We signed
Colt Anderson
. We've got some guys that have had some starts in this league.
Corey Lynch
has played 12 starts in this league. Someone is going to emerge."
May, 14, 2014
May 14
2:00
PM ET
INDIANAPOLIS --
Delano Howell
's starting résumé consists of three games during his two seasons with the
Indianapolis Colts
.
Now Howell appears to be in line to be the Colts' starting safety next season, replacing long-time starter
Antoine Bethea
, who signed with San Francisco in March.
Howell
That became even more evident when the Colts decided against selecting a safety in the draft. Howell will have some competition for the spot, but the job is his to lose.
Sergio Brown
,
Corey Lynch
and
Colt Anderson
are in the mix for the job, too.
A key for Howell will be whether he's able to be interchangeable with Landry and also have good cover skills -- the main two things coach Chuck Pagano and general manager Ryan Grigson are looking for.
"All I think back to is Delano Howell," Pagano said. "We went out and beat a pretty good football team (San Francisco), I think he started at safety that game and had, I don't know, six, seven, eight tackles or something, was pretty productive in that ball game. He returned a blocked field goal for a touchdown against Seattle. He's not the only one. We've got guys in-house that will be great competition there."
Howell started three games in place of the injured
LaRon Landry
last season. The Colts won two of those three games. Howell totaled 21 tackles in his three starts.
Howell is the quiet teammate in the locker room, the one you have to seek out because he's not a jokester or one who's always talking. He's the same soft-spoken teammate quarterback
Andrew Luck
had while at Stanford.
"Very much the sort of strong, silent type, the Clint Eastwood type," Luck said. "Say a little, do a lot. He's been that way for a long time, which makes it really fun to play with him."
The Colts think the signing of linebacker
D'Qwell Jackson
and defensive lineman
Arthur Jones
will help ease some of the burden on the secondary. Bethea ended his time with the Colts by having four straight seasons with at least 100 tackles.
"I feel good about the guys that are here and I think at the end of the day, we bolstered our front seven," Pagano said. "The better the front seven is, the more pressure you can put on the passer, it certainly helps the back end."
May, 11, 2014
May 11
8:00
AM ET
INDIANAPOLIS -- The assumption heading into the draft was that the
Indianapolis Colts
would use one of their five picks on a safety.
Seventeen safeties were picked during the three-day draft. None of them were selected by the Colts.
"There's a small handful of guys in this draft that we felt like we could go get, it just didn't happen," Colts general manager Ryan Grigson said. "But it was not a deep safety class and if there was a safety we liked, we would have took one."
So as of now, in-house players
Delano Howell
,
Sergio Brown
,
Corey Lynch
and
Colt Anderson
, who have combined to start 22 games, are the stop candidates to man the starting safety spot opposite of
LaRon Landry
next season. Longtime Colts safety
Antoine Bethea
signed with the
San Francisco 49ers
in March.
"You don't just because of need go reach and try to grab and fill a need when the value's not there," coach Chuck Pagano said. "I feel good about the guys that are here and I think at the end of the day, we bolstered our front seven with acquiring D'Qwell Jackson and Art Jones and the two defensive players we picked up. The better that front seven is, the more pressure you can put on the passer, it certainly helps the back end. We'll be fine."

AFC SOUTH SCOREBOARD
Friday, 8/22
Saturday, 8/23