AFC South:

Colts-Dolphins 092109
September, 22, 2009
9/22/09
9:24
AM ET

Posted by ESPN.com's Paul Kuharsky
Some further details on
Peyton Manning
's Monday night courtesy of Jason Paradise and Hank Gargiulo from ESPN Stats and Information.
Perfect in the fourth
Peyton Manning struggled early in the game, but had a perfect passer rating in the fourth quarter to lead the Colts to a 27-23 win over the Dolphins.
Manning By Quarter
--
4th
1st-3rd

Cmp-Att

6-7

8-16

Yards

137

166

TD

1

1

Rtg

158.3

107.8
Late Miami pressure backfired
The Dolphins did not bring pressure from the secondary all game, but on the Colts' final drive they brought pressure from the secondary on three of the four plays. Manning went 3-4, for 80 yards and the game-winning TD.
Plenty of YAC
The Colts did a great job gaining yardage after the catch while limiting the Dolphins' yardage after the catch. The Colts had gained more than 10 yards after the catch four times while the Dolphins longest run after a catch was eight yards.
YAC Breakdown
--
Colts
Dolphins

Pass Yds

303

183

YAC

164

29

Pct of YAC

54%

16%

Rec with 0 YAC

3

13 *

* Included a loss of 1 after catch
Nearly perfect short
Manning was at his best throwing short, not downfield. After the first play of the game – the 80-yard touchdown to
Dallas Clark
-- he went just four-for-12 on passes thrown 15 yards or more, throwing a touchdown and posting a 111.9 passer rating. But he was nine-for-10 on passes of 14 yards or less with a touchdown and a 147.5 rating.
Other notes:
The Colts brought standard pressure on 29 of 33 pass plays (not counting 2 spikes). They recorded two sacks, an interception and gave up just 4.8 yards per play in standard pressure. Against one extra rusher, Miami quarterback Chad Pennington went 3-4 for 23 yards.
Miami ran the Wildcat 12 times for 107 yards (8.9 yards per carry).
September, 22, 2009
9/22/09
1:21
AM ET
| | |
| --- | --- |
| | |
| | Doug Benc/Getty Images |
| | The Colts' defense was unable to slow down Ronnie Brown and Miami's rushing offense. |

Posted by ESPN.com's Paul Kuharsky
The Colts' offense had the ball for only 14:53 Monday night in Miami. Surgically precise when they needed to be, the Colts took an unconventional blueprint to the extreme and
beat the Dolphins, 27-23
.
Here are five things I took from the game:
Peyton Manning's MVP case starts earlier:
More than one NFL analyst tracks MVP candidates starting in the first week of the season. Move Manning on up.
Is there another player in the league as willing and able to deal with and excel in such bizarre circumstances? In that small window, he connected on 14 of 23 passes for 303 yards, two touchdowns and a 133.9 passer rating.
With
Reggie Wayne
doubled throughout, he turned to
Dallas Clark
and, for the winning points,
Pierre Garcon
.
It was Manning's 119th win, which pulled him even with Johnny Unitas for fifth all-time and past Unitas, who won a game in San Diego, to become the Colts' all-time leader in quarterback wins. His reflections on the milestones seemed pitch-perfect.
Oxygen needs to be handy at the defensive bench:
Not everyone is built to do what the Dolphins did in terms of rushing yards (239, a good share out of the Wildcat), third downs (15 of 21) and time of possession (45:07).
But Miami's success certainly did nothing to lead the plan out of vogue. Certainly Tennessee, San Francisco, Houston, New England, Baltimore and the Jets have the type of personnel to try a similar approach, or have some experience having done it.
Even if none of those teams run 84 plays on offense, a well-executed plan can produce a tired Colts defense. And a tired Colts defense is a lot less threatening than a fresh Colts defense.
Stopping the run remains as issue:
The 114 yards the Colts yielded in a two-point win over the Jaguars in Week 1 was regarded as a pretty good effort.
But the two week numbers are not very good. Last year's team gave up an average of 4.2 yards a carry. This year's number so far is 5.2.
(One aside: Teams running the Wildcat should not leave their quarterback on the field. The extra blocker sure seemed to key a lot of Miami's success out of the formation.)
Anyone who thought Indy's run defense was going to be fixed by adding bigger defensive tackles and installing new defensive coordinator Larry Coyer is disappointed through two weeks, but not with the end results.
Donald Brown scored some points:
The rookie running back appeared to make a very nice adjustment on his 24-yard reception in the second quarter.
And he was the running back on the field for the Colts' final two series. He had three carries and the 15-yard touchdown run on the first possession of the final period. And on the final drive, he helped pick up linebacker Reggie Torbor as he came after Manning on the quick pass to Garcon that turned into the winning score.
The broadcasters said they had no indication anything was wrong with
Joseph Addai
. Let's interpret Brown being on the field for crunch time as a good development for him, not an indictment of Addai. Maybe it was matchup-specific.
It's a bad scenario for a short week:
Manning and his guys will be fresh Sunday night on another national telecast, but is there anything the defense could look less forward to in five days than a flight to Arizona?
The franchise has experience at
back-to-back prime-time road games
, but only 10 of these players were around for it. They'll have to regale the kids with stories of how they won them both when they faced a similar scenario in 2003.
September, 21, 2009
9/21/09
11:43
PM ET

Posted by ESPN.com's Paul Kuharsky


The shape of the game said Dolphins.
Peyton Manning, of course, said something different.
The Colts' dead-tired defense gave up big rushing yards and way too many third-down conversions. They earned minimal possession time -- just 14:53 -- for the reigning MVP.
But what he got was enough, and Miami paid for failing to find enough touchdowns.
Colts 27, Dolphins 23.
The Titans and Texans were rooting hard for the Dolphins and hoping they could wind up in decent shape in the division. The Colts instead got to 2-0 thanks to Manning's quick throw to Pierre Garcon in the face of a big blitz.
The young, speedy receiver has gotten a lot of attention as part of a duo taking on a bigger role for the post-Marvin Harrison Colts. He is even more important with Anthony Gonzalez out as the result of a knee injury suffered in the opener.
Picking up blocks from the other young receiver, Austin Collie, as well as Jeff Saturday and Mike Pollak, on the perfect play for the perfect moment, Garcon scored his first NFL touchdown from 48 yards.
And when the Colts defense survived one last Miami drive -- a too-slow 2-minute drill for a team lacking explosion -- Indy improved to 2-0 and moved a game up on Houston and two up on Tennessee and Jacksonville.
September, 21, 2009
9/21/09
10:56
PM ET

Posted by ESPN.com's Paul Kuharsky

Miami's offensive line has blocked very well for the run and done well protecting Chad Pennington into the early fourth quarter.

I've been struck by how Jake Long, the Dolphins' giant left tackle, has neutralized Dwight Freeney on so many snaps. Freeney last week influenced the win over the Jaguars in a big way working against rookie Eugene Monroe.

But Monday night, Miami's big second-year blocker has engulfed Freeney is a lot of situations, and Freeney's lone sack of Pennington came on an ill-advised roll out that put Freeney in the one situation where he has a clear advantage against Long -- covering a lot of ground.

The Colts are trying to mount a touchdown drive than can pull them back even. Perhaps Freeney and the defensive line have saved their big plays for late.
September, 21, 2009
9/21/09
10:13
PM ET

Posted by ESPN.com's Paul Kuharsky
Knotted at 13-13 at the half in Miami with the Dolphins, the Colts are dealing with a familiar issue.
The Dolphins are playing a very effective brand of keep-away, and without possession, it's awfully hard for
Peyton Manning
and the Indy offense to do their thing. Miami's had the ball for 20:26 and 32 plays, the Colts for 9:34 and 21.
Manning hit
Dallas Clark
for an 80-yard touchdown on the first play from scrimmage, so that contributed to the lack of time with the ball. It's that sort of "drive" that shows why time of possession can be overrated when analyzing a Colts' box score.
But in their other offensive plays, the Colts have hardly had similar success.
To change things up after intermission and give itself the best chance to get to 2-0, Indy needs better third-down defense and better run defense -- the Dolphins already have 132 rushing yards.
The Colts have not fared particularly well against runs out of the Wildcat and while much has been made of being a bigger defense in the middle of the defensive line, with a workload like this, it's also a more tired defense.
Even so, the Colts are even with Miami. If they're unable to change the structure of the game, they can still well win it. But they can create easier avenues to do so.
September, 21, 2009
9/21/09
5:10
PM ET

Posted by ESPN.com's Paul Kuharsky
Our first try at this seemed to go reasonably well, so I am soliciting again: Point me to a play in Texans-Titans, Cardinals-Jaguars and Monday night in Colts-Dolphins that isn't talked about much but had a big influence on how things ultimately unfolded, served to set a tone or illustrated an issue. Be specific.
I will comb through your suggestions and consider some I saw, then look to break one from each game down thoroughly Tuesday in a few "Further Review" entries you'll find here on the blog.
I appreciate the input, which can go in comments here or in a note to
the mailbag
.
September, 21, 2009
9/21/09
12:06
PM ET

Posted by ESPN.com's Paul Kuharsky
The Colts are about to embark on a journey NFL teams have only taken 11 times since 2000, and the percentages suggest when they are done the results won't be favorable.
They play Monday night in Miami, then Sunday night in Arizona. The schedule of back-to-back road prime-time games is an uncommon one, but not so much for the Colts.
Forgive the Colts if they feel like they get more than their fair share of such things. They drew similar assignments in 2002 and 2003. Only one other team, the Chiefs, has done it twice. Perhaps the Colts are due for a split, considering they won both in 2003 and lost both in 2002.
Here's a look at how the scenario has unfolded the previous 11 times in this decade, with thanks to Keith Hawkins of ESPN Stats and Information.
Teams playing consecutive games on the road in prime time since 2000
Team
1st game
2nd game

Chicago Bears

12/06/07: Lost 24-16 at Washington

12/17/07: Lost 20-13 at Vikings

Denver Broncos

12/13/07: Lost 31-13 at Texans

12/24/07: Lost 23-3 at Chargers

Washington Redskins

12/16/07: Won 22-10 at Giants

12/23/07: Won 32-21 at Vikings

Kansas City Chiefs

12/17/06: Lost 20-9 at Chargers

12/23/06: Won 20-9 at Raiders

Kansas City Chiefs

09/18/05: Won 23-17 at Raiders

09/26/05: Lost 30-10 at Broncos

New York Giants

09/19/05: Won 27-10 at Saints

09/25/05: Lost 45-23 at Chargers

Indianapolis Colts

09/28/03: Won 55-21 at Saints

10/06/03: Won 38-35 at Bucs

Indianapolis Colts

10/21/02: Lost 28-10 at Steelers

10/27/02: Lost 26-21 at Redskins

Miami Dolphins

11/04/02: Lost 24-10 at Packers

11/10/02: Lost 13-10 at Jets

Dallas Cowboys

09/10/00: Lost 32-31 at Cardinals

09/18/00: Won 27-21 at Redskins

Green Bay Packers

11/27/00: Lost 31-14 at Panthers

12/03/00: Won 28-6 at Bears
September, 21, 2009
9/21/09
6:05
AM ET


Colts quarterback Peyton Manning discusses playing in his 12th season.
September, 18, 2009
9/18/09
11:27
AM ET

Posted by ESPN.com's Paul Kuharsky
In their opener,
Peyton Manning
got to throw against rookie cornerback
Derek Cox
, who spent most of the game line up against
Reggie Wayne
.
The Colts quarterback will have another chance Monday night in Miami to test first-year defensive backs.
Sean Smith
, a second-rounder, and
Vontae Davis
, a first rounder, are splitting time on the right opposite veteran
Will Allen
and are likely to get a lot of time with Wayne.
"Kind of like the first game against Jacksonville, there is not a lot of film to study on these guys," Manning said. "You have two rookie corners that rotate on one side, both first-and second-round draft choices, and you can see why. They are very talented, very athletic guys. They have Will Allen, the veteran, on the other side, so I know those guys are learning from him.
"It's nice when you have young corners, and a 10-year veteran on the other side that they can learn from. There is still sort of some unknown when you play a game in Week 2 that has new players on defense. You have to prepare for what you think you might get, and be prepared to adjust. They are a talented, athletic defense that has a lot of speed."
At 6-3, Smith is the sort of tall corner that intrigued a lot of teams.
He and Davis are surely spending a lot of time learning what they can from what Cox did, and the Dolphins will surely look to give them help in a tough matchup.
I'd expect it's one that will wind up being favorable for the Colts.
September, 17, 2009
9/17/09
9:46
AM ET

Posted by ESPN.com's Paul Kuharsky
After trying out three veteran receivers on Tuesday, the Colts turned to a fourth option to help while injured wideout
Anthony Gonzalez
is down.
ESPN's
Adam Schefter reports
the team will sign
Hank Baskett
, recently released by Philadelphia as they make room to sort out their situation at quarterback while
Donovan McNabb
deals with a broken rib.
It will be interesting to see how quickly the team is able to work Baskett in.
Reggie Wayne
is the top guy with rookie
Austin Collie
and
Pierre Garcon
in line to divide up work as the No. 3. They could still have more prominent roles, depending on how Baskett fits in and how quickly.
The Colts start their usual practice week Thursday since they play Monday night at Miami. I'd expect once Baskett arrives he will spend extra time before and/or after practices working with
Peyton Manning
.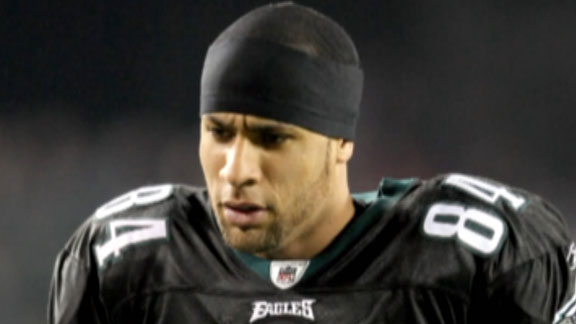 September, 16, 2009
9/16/09
3:16
PM ET

Posted by ESPN.com's Paul Kuharsky
The Colts made a couple of roster moves Wednesday. At least one more is coming -- perhaps in time for Thursday, which marks the start of their practice week in preparation for Monday night's game at Miami.
The team waived kicker
Shane Andrus
, who worked as a kickoff specialist in the season-opening win against Jacksonville, and linebacker Cody Glenn, who was inactive against the Jaguars.
Adam Vinatieri
said Monday he envisioned ultimately taking back the kickoff duties, though he didn't offer a hint that it would be soon.
One of the two open roster spots will be taken by
Ed Johnson
. The veteran defensive tackle was suspended by the league for Week 1 and the team's roster exemption for him is up.
The second spot is yet to be filled.
Team president Bill Polian has indicated the team may look for a veteran wide receiver to help while
Anthony Gonzalez
(knee) is out. The team is only three deep at receiver without Gonzalez (
Reggie Wayne
,
Austin Collie
and
Pierre Garcon
).
If the Colts don't find a veteran they like, they could opt to promote Taj Smith or John Matthews from the practice squad.
UPDATE:
Adam Schefter reported Tuesday evening that the Colts worked out three free agent veterans -- D.J. Hackett, David Patten, and Chad Jackson.