AFC South:

Colts hire Chuck Pagano
January, 25, 2012
1/25/12
6:33
PM ET
Samari Rolle
's endorsement of Chuck Pagano was unequivocal.
The former Titans and Ravens cornerback was with the Ravens in 2008-09, when Pagano coached Baltimore's defensive backs.
[+] Enlarge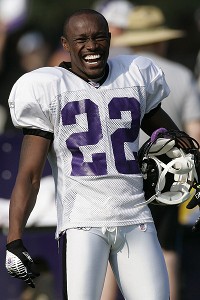 AP Photo/Chris GardnerLongtime cornerback Samari Rolle says his former position coach, Chuck Pagano, is "down to earth."
Pagano just emailed Rolle last week, and Rolle was thrilled to learn from his wife on Wednesday that Pagano is the new head coach in Indianapolis.
"He's detail-oriented, but at the same time, he's not always talking to you like a coach; he's talking to you like a man, like you two are on the same level," said Rolle, who played 10 games for Baltimore in 2008 and was on injured reserve in 2009. "He trusts you. He trusts what you think about the defensive call, about your technique. He lets you be who you are.
"When we were on the practice field, he was one of those guys
Ray Rice
would mess with, guys from all positions would mess with. He would joke with them and that type of thing where, most of the time, you don't even speak to half the position coaches on the team unless you have to.
"I think he'll do a great job. I'm happy for him. I emailed him to congratulate him. I think the only tough part is the fact that he's going to the Colts, and there is a lot of uncertainty there."
Some more highlights of my chat with Rolle about Pagano:
On personnel:
Expect Pagano to play to the strengths of the people he inherits and to try to gain favorable matchups. The Ravens simplified things more than people think in ways that simply got their best people in the best positions.
Rolle rates Pagano as a "great adapter." He expects Pagano ultimately will want the Colts to field a bigger defense but will know getting it will be a gradual process.
On offensive approach:
"Oh, Chuck likes to run. He likes to run, and he believes in keeping the defense fresh. I think if anything, his philosophy is going to be like coach [Jeff] Fisher's was in Tennessee," Rolle said.
On the reasons players like him:
He listens to hip-hop. He loves joking around with the fellas. Pagano coached at Miami when Rolle was at Florida State, and when they were both with the Ravens, they went back and forth about the rivalry all the time.
"He's got a great football memory," Rolle said. "He remembers scores, years. He's fun-loving. He's very, very down to earth."
On potential assistants:
Hue Jackson, recently fired after one season as coach in Oakland, coached Baltimore quarterbacks in 2008-09.
"I could see [Pagano] reaching out to Hue Jackson to be his coordinator," Rolle said. "Hue was there with Chuck, and they had some great battles during one-on-ones, some talking wars. I think Hue would be a good person; he might have gotten a raw deal in Oakland. Hue knows football, and he knows offensive football."
On possibly working with Andrew Luck:
Rolle likes the idea of Pagano being married to Luck, if the Colts move away from
Peyton Manning
, the way John Harbaugh is married to
Joe Flacco
, Rex Ryan to
Mark Sanchez
, Jim Schwartz to
Matthew Stafford
and Ron Rivera to
Cam Newton
.
"That's one of the big pluses, I think, when you come in there with a quarterback at the same time, the degree of his success, that will probably determine the success you have," Rolle said.
On what kind of media personality Pagano will have:
"I don't think he's a guy who doesn't like talking," Rolle said. "The one thing he'll probably get tired of is having to address all the questions about Peyton. But you ought to give him some time to get adjusted to it.
"He's got a great personality. He's not going to make a mockery of your question or be sarcastic. He's down to earth. I think he gets you guys."
January, 25, 2012
1/25/12
5:16
PM ET
The first reaction many Colts fans will have to
the news
that Chuck Pagano is the team's new coach will undoubtedly be: "Who?"
But not knowing a guy doesn't make him a bad choice.
[+] Enlarge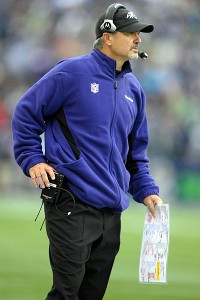 Kirby Lee/Image of Sport/US PresswireThe Indianapolis Colts have hired Ravens defensive coordinator Chuck Pagano as head coach.
Owner Jim Irsay tabbed a young personnel executive, Ryan Grigson, as his new general manager. Now the two have selected Pagano, who just finished his first season as Baltimore's defensive coordinator, as their coach.
He's been with the Ravens since 2008, with stints in Cleveland and Oakland before that.
Pagano and Grigson now set about contributing to a decision on
Peyton Manning
, who seems likely to be released before a $28 million bonus is due March 8, and deciding how to use the No. 1 pick in the April draft, which is likely to be used on Stanford quarterback
Andrew Luck
.
The two biggest questions I have for Pagano are about his schemes and his staff.
He's not inheriting a defense with
Ed Reed
,
Terrell Suggs
,
Haloti Ngata
and
Ray Lewis
, but that doesn't mean he can't set about shaping a unit that plays a far different style than the undersized-but-speedy Cover 2 the Colts have rolled out for years.
Will he want to transform the team into a 3-4 like the one he's leaving, or will he look at the best players he will have -- such as
Dwight Freeney
,
Antoine Bethea
and
Pat Angerer
-- and decide not to make a dramatic change? And on offense, will he want to go forward with the sort of smaller linemen, receiver-like tight ends and three-wide sets popularized in the Manning era, or will he want to have a more balanced and more powerful offense?
As for his assistants, he's surely made friends in his three NFL stops. He'll have a chance to retain some Colts who have not been let go yet, such as offensive coordinator Clyde Christensen, assistant offensive line coach Ron Prince, quarterback coach Jim Bob Cooter, tight ends coach Ricky Thomas, running backs coach David Walker, and assistant strength and conditioning coach Richard Howell. Grigson parted with Jim Caldwell and most of the staff, and I'd expect Pagano to finish that job.
He will need to do a lot of hiring, and the quality of the people he is able to attract will be a big factor in how successful the Colts can be.
An offensive coordinator who will have a big say in the scheme, and a giant hand in developing Luck, is going to be a huge piece in the new regime.
We'll start trying to connect some dots from him to people he might try to bring in. One guy he knows is former Raiders coach Hue Jackson, who has yet to land a job and could be viewed as a creative offensive mind who can develop a young quarterback.
AFC SOUTH SCOREBOARD
Thursday, 12/18
Sunday, 12/21