AFC South:

Colts-Ravens 112209
November, 23, 2009
11/23/09
11:18
AM ET
Two great notes from the NFL out of the Colts' win at Baltimore Sunday:
Peyton Manning passed for 299 yards in the Colts' 17-15 victory at Baltimore. He has 3,171 passing yards this year and has now thrown for at least 3,000 yards in 12 consecutive seasons, the most in NFL history.
Dallas Clark and Reggie Wayne combined for eight catches. Wayne (76) and Clark (65) have combined for 141 receptions, the most by a pair of teammates in the first 10 games of a season in NFL history. UPDATE: Later on Sunday, the New England Patriots wide receiver combo of Wes Welker (79) and Randy Moss (63) combined for 20 catches in a 31-14 win over the New York Jets, giving the pair 142 combined receptions through 10 games to surpass the hours-old record set earlier in the day by Wayne-Clark.
Now, as we've come to expect, quality situational review from ESPN Stats & Information on Manning.
Manning was held to just an 85.3 overall passer rating Sunday at Baltimore, but he did great when the Ravens rushed aggressively, as they like to do.
Entering Sunday, the Ravens had brought an overload pressure or blitz (six or more pass rushers, at least one from the secondary) on 12.1 percent of opposing pass attempts.
Baltimore brought an overload on 16.1 percent of Peyton Manning's pass attempts, with disastrous results.
Most quarterbacks get worse in the red zone, where pressure rises and space shrinks. But Manning kept up a season-long trend of playing with extra precision once the Colts moved inside their opponents' 20-yard line. Manning had 10 TDs and 1 interception in the red zone coming into Sunday.
The Ravens were able to keep the score close despite a poor offensive showing partly because of Manning's ineffectiveness when using play action. Entering Week 11, Manning had the fifth-highest passer rating on play action passes with a minimum of 20 attempts.
That's really remarkable when you consider that the Colts don't generally run the ball very well, which means players in the secondary should be less prone to bite on play-action against the league's best quarterback.
One more note of interest:
Dallas Clark lined up detached from the line of scrimmage on 31 of Indianapolis' 56 offensive plays. Clark's only reception of the day was a one-handed grab in the end zone. But even if Manning wasn't hitting Clark, he operated much more effectively when Clark was out wide.
Manning completed 14 of 18 passes for 220 yards, a TD and a 136.1 passer rating with Clark wide.
With Clark tight, Manning was eight of 13 for 79 yards, two interceptions and a 39.1 passer rating.
November, 23, 2009
11/23/09
8:02
AM ET


James Walker and Paul Kuharsky spent a few minutes before leaving M&T Bank Stadium Sunday to review the Colts' 17-15 win over the Ravens and what it means.
November, 22, 2009
11/22/09
7:26
PM ET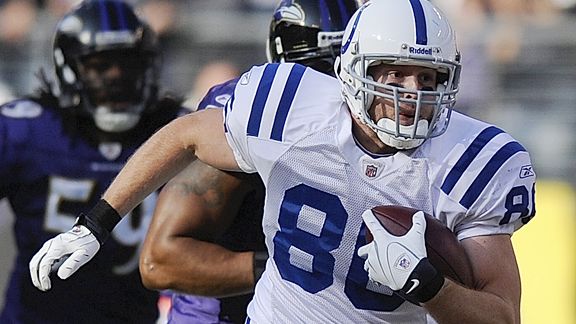 AP Photo/Nick WassWhile he admits he made some mistakes, Colts tight end Tom Santi made the most of his time on the field in Sunday's win over the Ravens.
BALTIMORE -- The Colts pride themselves on plugging people into holes with no drop-off. They expect that when mistakes are made, they will find a way to overcome them.
Sunday at M&T Bank Stadium, as they improved to 10-0 with a
17-15 win
over the Ravens, second-year tight end
Tom Santi
came to symbolize both themes.
The Colts were without
Gijon Robinson
, a starter who does a lot of blocking in the shadow of
Dallas Clark
, helping keep
Peyton Manning
clean and create room for
Joseph Addai
and
Donald Brown
. While he was in Indianapolis recovering from a concussion, Santi got the call.
Santi proved himself a capable blocker and a largely reliable target for Manning, chipping in with six catches for 80 yards.
He also had three costly plays -- a lost fumble near the goal line, an apparent alligator-arms moment in another scoring chance and a false start penalty.
"Everybody makes mistakes. You've got to watch, how do they handle it afterwards?" Addai said. "He was able to handle it afterwards. He hasn't been playing a lot. This game he did a lot of good things. Yeah, he fumbled. But you've got to kind of let that go. I know he'll learn from it, but move on. He did a great job for us today and I know he'll improve from there."
"That doesn't surprise me,"
Reggie Wayne
said of the positive contribution. "He does it every day in practice. So now he just turned it over to the game. I think he did a pretty good job, minus the fumble. But that happens. I'm just glad it didn't cost us."
The Colts don't so much plan to feature a guy as they allow Manning to take what's available.
Robinson isn't generally a large piece of the passing offense. Santi had a sense in the middle of the week that he'd be in line for a good share of the work that usually goes to Robinson.
Clark made a spectacular one-handed catch in the back of the end zone for a 3-yard touchdown to cap the game's opening drive. Other than that, Baltimore did things defensively that prompted Manning to look elsewhere, and he turned to Santi for four of his 12 first-half completions.
"We saw some things, and obviously the quarterback is pretty good back there and he does a great job putting us in great position," Santi said.
Down 9-7 in the second quarter, Manning placed a pass to Santi over the middle and in the middle of a crowd for a 22-yard gain. Santi got nailed, suffering a neck injury that briefly forced him from the game. It was a key play on a touchdown drive that put Indianapolis ahead 14-9.
On a day when he made his first catch of the season, he might have also scored his first touchdown of the year.

Instead, he ended the Colts' first possession after the half when he was clobbered at the 1-yard line, hit low by Ed Reed and then high by Ray Lewis, who jarred the ball free for Dwan Edwards to recover.

Just about anyone might have coughed it up when scrunched by two eventual Hall of Famers.

Santi didn't know who the defenders were.

"That's a bad play on my part," he said. "I definitely left points out there. As far as I am concerned, that's unacceptable."

The Colts' defense didn't allow it to translate into points. While Baltimore moved 84 yards on the ensuing possession, Billy Cundiff missed a 30-yard field goal wide right.

Later, with Dawan Landry closing fast, Santi seemed tentative on a ball he could have pursued more aggressively on a second-and-goal from the 7. Just before the 2-minute warning, he was whistled for a false start.

He said both errors were a matter of lost focus. On the pass, he needs to come out of the break faster and be ready for it quicker.

"I definitely left some plays out there," he said. "As you can see we've got a good team with a lot of great veteran leadership and that's what we've talked about the whole year. Play the next play, next man up and when it's your time, go out there and perform."

He will enjoy the win, review the film, then shred it, mentally, as he knows his coaches will.

Then, if still needed, he will plug back in to the next-man-up, play-the-next-play philosophies that are a big part of why the Colts are the AFC's lone undefeated club.

He'll simply look to be the kind of player Wayne says all of the Colts are supposed to be.

"We're like machines," Wayne said. "They program us to keep pushing, don't fall. Keep chugging away, chugging away. There is no time to point fingers or put your head down. Just keep going, keep going and find a way to get it done."

November, 22, 2009

11/22/09

5:17

PM ET

BALTIMORE -- A lot of times, too much is made about a player returning to his old town to face his old team. In many, many instances in the NFL, these guys are mercenaries.

Stover
Certainly there are exceptions.
Matt Stover
's return to Baltimore as a member of the Colts was one of them.
In a 17-15 game, he hit the winning field goal against the franchise he played 17 seasons for, 12 of them in Baltimore.
"It was surreal, but I think everybody can understand that I tried my best to not internalize the fact that I am actually at Baltimore's stadium," he said. "So for that three hours, I compartmentalized my team, I did everything I could to erase it. Now of course there were time I was thinking, 'Look at those guys over there, I am usually over there…'"
"Mind you I didn't want them to win today, but I do want them to win… And I don't want Baltimore to forget this: I'm part of the community and always will be."
Had the Colts not signed him to fill-in for the injured
Adam Vinatieri
Oct. 14, Stover easily could have been with the Ravens again as they gave up on
Steven Hauschka
. With Stover off the market, they went with
Billy Cundiff
, who hit five field goals but missed a 30-yarder wide right.
After the Colts moved to 10-0 and players spilled out of the locker rooms in the tunnels below M&T Bank Stadium, Stover bumped into John Harbaugh, the coach who was part of the decision not to bring him back this season as the team went younger and looked for a bigger leg.
"Sorry about that kick he missed," Stover told Harbaugh about Cundiff. "He kicked the ball great."
November, 22, 2009
11/22/09
4:06
PM ET
BALTIMORE -- And so concludes a full month of less-than-stellar play from the
Indianapolis Colts
.


I think it's a bad thing for the rest of the NFL that the Colts have managed a 4-0 record over those four weeks.
In many ways, they were outplayed Sunday at M&T Bank Stadium. Just like after narrow wins over San Francisco, Houston and New England, there are issues that will show up in meeting rooms back at team headquarters, but not in the standings.
There, after a 17-15 win over the Ravens, things remain perfect at 10-0.
Peyton Manning
threw two bad interceptions that kept the Ravens very much alive. But the Colts' defense repeatedly held up and forced field goal attempts. Three points at a time is rarely going to get it done against Indianapolis.
And as the Ravens appeared to be marching to points that would give them a late lead,
Gary Brackett
jumped in front of a short
Joe Flacco
pass over the middle aimed for
Ray Rice
.
The interception was Baltimore's first give-away of the day and pretty much sewed up the result for the resilient, find-a-way Colts.
A butchered challenge by John Harbaugh -- he called a timeout, then lost a challenge, burning two clock stoppages on the same play -- and a silly attempt by
Ed Reed
to lateral a punt return at the very end accelerated the ending.
Next up, a rematch with the division rival Texans in Houston. The Colts will surely be watching what unfolds in Houston on Monday night when the Titans visit.
November, 22, 2009
11/22/09
3:30
PM ET
BALTIMORE -- In training camp in 2008, I remember doing a post about whether the Colts could ever be known as a defensive team.
The answer was, because of their offensive firepower and star power, no.
This afternoon, it feels like a defensive football team.
They just made a big goal-line stand that forced the Ravens to try a field goal for the sixth time today. There has been little open deep for the strong-armed
Joe Flacco
, who's checked down often even when he's had great protection.
Despite the Colts' lack of sacks or turnovers, they've played good defense.
Certainly good enough defense for an Indianapolis win.
Now it's time for the offense to do its thing.
November, 22, 2009
11/22/09
2:30
PM ET
BALTIMORE -- Some halftime thoughts I imagine I'll be expanding on later.
November, 22, 2009
11/22/09
11:49
AM ET
BALTIMORE -- The Colts put backup tackle
Dan Federkeil
on IR with a concussion, adding safety
De'von Hall
to their roster.
The entire list of inactives: