AFC South:

Cordarrelle Patterson
April, 19, 2013
4/19/13
12:00
PM ET
»
NFC Eight in the Box
:
East
|
West
|
North
|
South
»
AFC
:
East
|
West
|
North
|
South
What's the ideal first-round scenario for each team?

Houston Texans
The first 26 picks of the draft probably won't hit a lot on wide receivers, giving the Texans their choice of a large group. West Virginia's
Tavon Austin
likely will be gone, and
Cordarrelle Patterson
of Tennessee will probably be intriguing to some team. Ideally, if all of the other receiver prospects are on the board, there will be one the Texans believe is an ideal complement to
Andre Johnson
, whether it's Cal's athletic
Keenan Allen
, Tennessee's burner
Justin Hunter
, Clemson's sure-handed
DeAndre Hopkins
, USC's daring
Robert Woods
or Louisiana Tech's
Quinton Patton
.

Indianapolis Colts
Beyond Alabama's
Dee Milliner
, it's a quiet first round for cornerbacks and the Colts get Florida State cornerback
Xavier Rhodes
. He's got the size, skills and mentality that should make him a great candidate for coach Chuck Pagano to deploy in man coverage against big receivers like Andre Johnson and
Justin Blackmon
. A cornerback crop of
Vontae Davis
, Rhodes,
Greg Toler
and
Darius Butler
should be significantly better than last year's, and improved coverage will help the pass rush, where the Colts also need to add an outside backer.

Jacksonville Jaguars
The Chiefs take a left tackle at No. 1 and leave the Jaguars to take a pass-rusher like Oregon's
Dion Jordan
or BYU's
Ziggy Ansah
. Although Jacksonville has gaping holes at right tackle and cornerback, the prospects at those positions do not seem as valuable as the draft's top pass-rushers. And the Jaguars have had pass-rush deficiencies for years. Coach Gus Bradley has a defensive background, and a premier player who can put heat on quarterbacks is an absolute priority.

Tennessee Titans
The top nine teams in the draft lay off guards, or if one is drafted before the Titans are on the clock, it's UNC's
Jonathan Cooper
. That leaves Alabama's powerful
Chance Warmack
there at No. 10 for the Titans, who draft him to play right guard beside right tackle
David Stewart
. Tennessee pledged a revamp of the offensive line to maximize the opportunities for quarterback
Jake Locker
and running back
Chris Johnson
. After the addition of free agent
Andy Levitre
as the left guard, Warmack would finish the project.
April, 17, 2013
4/17/13
2:51
PM ET
Mel Kiper Jr. goes three rounds deep in a mock draft today, just eight days removed from the start of the real thing.
You can peruse the
team-by-team results

or follow his draft
in order
.

Jacksonville Jaguars

Rd. 1 (2) OT
Luke Joeckel
, Texas A&M
Rd. 2 (33) QB
Matt Barkley
, USC
Rd. 3 (64) CB
Johnthan Banks
, Mississippi St.
Kiper's analysis:
I know this isn't the biggest need on the board, but given where Jacksonville is from a personnel standpoint, if the best player in the draft is available at the No. 2 pick -- and my current left tackle is potentially gone after this year -- I'm taking the guy. This is a franchise that has taken the guy it wants and eschewed great value too many times in recent years, but that's not the case here. Take Joeckel, get better at tackle, do a better job of protecting the QB and whether I stick with
Blaine Gabbert
or let the next guy take over, I've at least given him a reasonable chance to succeed. That next guy might be the second-round pick.
My thoughts:
Kiper has Detroit moving up to No. 1 for cornerback
Dee Milliner
, which leaves Joeckel available for the Jaguars. The Jaguars need a sure thing, and this is a tackle rated as a sure thing, so I don't think you factor
Eugene Monroe
into it too much.
Tennessee Titans

Rd. 1 (10) G
Jonathan Cooper
, North Carolina
Rd. 2 (40) WR
Justin Hunter
, Tennessee
Rd. 3 (70) DE
Alex Okafor
, Texas
Rd. 3 (97) DE
John Simon
, Ohio St.
Kiper's analysis:
The way the board breaks, Cooper becomes the best value at a need spot. With (
Ezekiel) Ansah
going to Buffalo at No. 8, I look to improve my other guard position. With Cooper and free-agent acquisition
Andy Levitre
, I could have one of the better guard tandems in the league.
Shonn Greene
is on the roster because there's going to be more of an emphasis on power running, and Cooper helps accomplish that.
My thoughts:
I don't believe they'd prefer Cooper to
Chance Warmack
if both are on the board as they are here. Cooper may rate as more athletic, but the Titans got their athletic, pulling guard in Levitre. If they go guard I think they'd like a power tandem in pairing Warmack with right tackle
David Stewart
. Hunter seems like good value and can help them get past
Kenny Britt
after his contract runs out. I don't expect two of the four top picks to be spent on one position as Kiper does here in the third-round at defensive end.
Indianapolis Colts

Rd. 1 (24) CB
Desmond Trufant
, Washington
Rd. 3 (86) OLB
Trevardo Williams
, Connecticut
Kiper's analysis:
Vontae Davis
is a decent starter at CB when he's playing up to his full capability, but
Greg Toler
is a fringy starter. If the board breaks this way, I'd be getting below average value at outside linebacker and guard right here, and
Cordarrelle Patterson
and
Tavon Austin
are off the board. (Also, wide receiver is a need, but not a desperate one.) Where I end up is with Trufant, a cornerback with a diverse skill set. He can work in man or zone and offers defenses some flexibility.
My thoughts:
Versatility is good, but ultimately if they have sufficient man corners, the ability of their DBs to play zone shouldn't matter a great deal in Chuck Pagano's system. Davis, Toler and
Darius Butler
are not enough as the top three so if they can land a top corner at No. 24 that will be great. Kiper sees Williams as a guy who can help the pass rush quickly and they need that badly, too.
Houston Texans

Rd. 1 (27) OT
Menelik Watson
, Florida St.
Rd. 2 (57) WR
Quinton Patton
, Louisiana Tech
Rd. 3 (89) LB
Steve Beauharnais
, Rutgers
Rd. 3 (95) FB
Lonnie Pryor
, Florida St.
Kiper's analysis:
The Texans need a right tackle, and Watson's grade fits this draft range for me. He's a great athlete, and could certainly challenge to start early. I know some NFL personnel folks who think he could move inside, but in either instance I'm looking for help up front. This offensive system starts there, and you need a nimble guy for the scheme.
My thoughts:
I wouldn't object to these first three picks, though I do not expect the Texans to go offensive line in the first round. As for Pryor, Kiper says part of the rationale for putting him in Houston is that
Greg Jones
"isn't a true fullback." I respectively disagree with that so long as Jones is healthy.
April, 15, 2013
4/15/13
11:50
AM ET
There is no tidy stacking, no obvious, orderly listing, no neat way to sort the receivers at the top of the upcoming NFL draft.
[+] Enlarge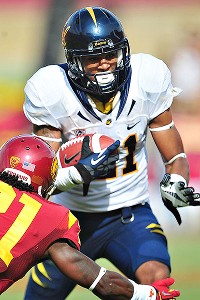 Gary A. Vasquez/USA TODAY SportsCould standout WR Keenan Allen end up with an AFC South team?
Tavon Austin
of West Virginia is a
DeSean Jackson
/
Percy Harvin
type who figures to be gone by No. 20.
Cordarrelle Patterson
of Tennessee has the potential to be a freak talent-wise, but will scare some teams with his inconsistencies. He, too, figures to be off the board by the time the
Indianapolis Colts
are on the clock at No. 24.
In a recent conversation with ESPN draft analyst Todd McShay, I asked him about who would fit for the Colts there and the Texans at 27 as the two teams look for receiver help.
Here is his rundown of the next tier of guys, all of whom he said a team would ideally get in the second round.
Keenan Allen, Cal:
"He's not 100 percent, he ran a 4.7 the other day. It's not a perfect situation. But he's a late-first, early-second round prospect and he should play like that. On tape we estimate him at 4.53, 4.55, that range. I thin he's going to be a really, really good No. 2 in the league.
"…He was catching the ball better than ever this past year. He knows how to use his body. He's very athletic. He's got size and he's thickly built. While he's not near a burner, he's quick and he's got enough speed to challenge you and to take advantage of mistakes. To me he would be the highest-rated wide receiver when Tavon and Patterson are off the ball."
Justin Hunter, Tennessee:
"If you're looking for someone who can run vertical routes and stretch the field. If New England is looking for that guy, a poor man's
Randy Moss
, that's what Justin Hunter is: 6-4, 196, can burn, can climb the ladder. He's a silky smooth route runner and quite honestly when they needed to pick up a first down, when they needed a play at Tennessee, that's where they went, it wasn't to the other guy Patterson.
"And he's the one who showed up consistently. I think he's a better football player than Cordarelle Patterson. But with the ball in his hands, Patterson is just freakish. But he really disappears. He'll show up with one or two big plays that just kind of blow your mind and leave you wanting more."
After Allen and Hunter, McShay groups USC's
Robert Woods
, Clemson's
DeAndre Hopkins
, Louisiana Tech's
Quinton Patton
. They are all in the rage of 6-0, 6-1, 200-212, low 4.5s.
"I think Hopkins has the best hands of the three," McShay said. "I think Woods is the quickest, best athlete and certainly he's been productive for a long time. He'll go over the middle, he'll do a lot of different little things for you and I think he's going to be a really good No. 2 receiver in the NFL as well. Quinton Patton, he doesn't like going over the middle, but he's very athletic. He has great hands and ball skills 90 percent of the time, but he'll have some focus drops. He's kind of a wildcard to me. But if he plays to his potential he may be the third- or fourth-best receiver of this group in the NFL."
After Austin, McShay would prefer all of these guys in the second round. But he said he sees Patterson going before the 20th pick, and one or two of the others going in the late first-round range.
I asked McShay about the comparisons of Woods to
Reggie Wayne
. He said he only sees it a little bit, that Woods doesn't run like Wayne. Woods' ability to snatch the ball on the run, the way he can make some things happen and his ability to be savvy in coverage may be the root of the comparison. But there have been some questions about the consistency of Woods' work ethic, and Wayne is a big-time worker.
Woods needs to land with a team where a peer in his position group will ride him regarding his work ethic and mistakes. If he's among a more passive group it won't bode well for him, McShay said.
So there is some deeper thinking on receivers who could be in play for Indianapolis and Houston in the 20s. It is one man's opinion, of course, and we're not taking into account all of the other potential context that could steer Ryan Grigson or Rick Smith somewhere else entirely.
Both Indianapolis and Houston need to add a receiver somewhere in this draft, though based on what they have in house, the Texans are more needy than the Colts.
February, 20, 2013
2/20/13
12:00
PM ET
»
NFC combine preview
:
East
|
West
|
North
|
South
»
AFC
:
East
|
West
|
North
|
South
NFL Nation previews the 2013 scouting combine by identifying the most important thing for each team to learn about its greatest area of need.
Houston Texans:
Andre Johnson
still dictates matchups, but the Texans lack sufficient options in the receiving group after him. Last year they tried to fill out the position with a third-rounder (
DeVier Posey
) and fourth-rounder (
Keshawn Martin
). Both have promise, but aren't especially dynamic. And Posey is recovering from an Achilles injury suffered in the playoff loss at New England. So the combine question is, can a receiver who can stretch the field and qualify as a No. 1 guy in a few years be there for them at No. 27?
Cordarrelle Patterson
from Tennessee and
Keenan Allen
from Cal could be gone. Does
DeAndre Hopkins
of Clemson have enough speed? Does
Tavon Austin
of West Virginia have enough size?
Indianapolis Colts:
How do the cornerbacks run? The Colts have a lot of needs, but none ranks bigger than cornerback, where they need a second starter and perhaps a nickel, as well as depth. Alabama's
Dee Milliner
seems largely regarded to be the top guy at the spot heading into the combine. Odds are he'll be gone by the 24th pick. So how do the next guys run, and how capable are they of playing man-to-man coverage? I think sorting through that for Florida State's
Xavier Rhodes
, Washington's
Desmond Trufant
and Mississippi State's
Johnthan Banks
could be the biggest thing Indianapolis needs to do at this combine.
Jacksonville Jaguars:
Who are the two best pass-rushing defensive ends in this draft class for a Gus Bradley/Bob Babich defense? That's the biggest question for the team holding the No. 2 pick in the April draft. Because if the Chiefs take a pass-rusher first overall, then the Jaguars can do no worse than get their second-favorite guy. Certainly they can go in virtually any direction given the state of their roster. But coming off a season that saw the Jags produce fewer sacks (20) than
J.J. Watt
had by himself for Houston (20.5), they need to answer a long-standing problem. A new defense simply has to get to the quarterback more than the old defense did. Is
Bjoern Werner
from Florida State or
Damontre Moore
of Texas A&M a potential answer?
Tennessee Titans:
A pass-rusher and a strong safety are big needs. But they won't help
Jake Locker
the way an interior offensive lineman (or two) can. So the Titans need to see if they rate Alabama's
Chance Warmack
and North Carolina's
Jonathan Cooper
as highly as many analysts do, and if they find one or both worth the No. 10 pick if they are available. If they don't think they are, is there a second- or third-round prospect they believe can be an immediate and long-term starter? If Tennessee doesn't find a guard scenario it loves, perhaps it will be more likely to shop for a free agent for the interior.