April, 27, 2011
4/27/11
2:21
PM ET
You've heard my
draft thoughts
and seen my
mock draft pick
for the Colts.
It's time for me to hear yours.
I think the Colts could be tempted by a skill position guy. I just don't see any who appear to qualify for consideration here. One of the offensive tackles listed in this poll will likely be gone, and I suspect it will be
Anthony Castonzo
. But he is not clearly rated above the other two and he could still be on the board, so he's here.
So here are four guys who could be available for the Colts at No. 22 and an opt-out scenario that's started to gain a little steam in whispers. I wish I had more than five slots, because Bill Polian is unpredictable on draft day. But we have to work within the limitations.
I encourage you to vote for what you think the Colts will do as opposed to what you think they should do, but it's your call.
April, 25, 2011
4/25/11
3:23
PM ET
Do eight voices combining for a mock draft fare any better than those by one guy?
Who knows?
I think my blog network brethren would say the same thing I do: Most of my thinking in our combined mock draft came from an educated connecting of the dots that combines what I know about my teams' draft philosophies, what I know of teams' needs, who's available in this context, what I've been told, what my gut says and what I've been calling for.
So Kevin Seifert over at the NFC North isn't saying
Andy Dalton
is the 12th-best player in the draft. He's reiterating what he's been writing about how quarterbacks have to have
a higher value
and how Minnesota has to have one.
Three of my four picks for the AFC South line up with what I'd call the conventional thinking at this point. Maybe I outsmart myself with the Colts, but I'll explain myself in a second.
Here's a bit more than I was able to offer in my comments in the mock, which you'll find
here
.

Titans at No. 8 – Nick Fairley, DT, Auburn
I think the defensive rebuild has to go inside-out. I think the character concerns on Fairley are overblown or are something that line coach Tracy Rocker, who worked with him at Auburn, and defensive coordinator Jerry Gray can handle. I think that the Titans can find ways to turn him into a consistently productive player. But maybe this match is too easy. The alternatives would be a defensive end, though
Da'Quan Bowers
has dropped for them because of his knee, or quarterback if they choose to be bold.

Texans at No. 11 – Aldon Smith, DE-OLB, Missouri
Somehow, I sense that Smith has become unpopular with a good share of Texans fans. His name certainly lacks the juice of
Von Miller
or
Robert Quinn
. But plenty of teams would like to get their hands on Smith, who's an intriguing option as an outside linebacker in Houston's new 3-4 defensive front. He's got intriguing size at 6-foot-4, 263 pounds. The best defensive player in this scenario may be Wisconsin's
J.J. Watt
, but rushing the passer is not what he does best and that's what the Texans need most.

Jaguars at No. 16 – Ryan Kerrigan, DE, Purdue
Too easy a fit? Perhaps. But when GM Gene Smith said last week that there are a lot of guys who, like Kerrigan, fit into the formula he likes, there is no doubting that Kerrigan does. Still, who among us saw Smith taking
Tyson Alualu
at No. 10 last season? We could see another surprise. Smith loaded up on defensive linemen last year. If he takes Kerrigan or another end now, it should be the last defensive linemen for a while, and he should move on to secondary and receiver help.
Cameron Jordan
,
Adrian Clayborn
and
Cameron Heyward
are all heavier. But with a rugged interior, the Jaguars need speed more than size.

Colts at No. 22 – Corey Liuget, DT, Illinois
Everyone and everything says offensive line. And I could have taken
Nate Solder
,
Gabe Carimi
or
Derek Sherrod
here. I just think the odds of Bill Polian doing what we all expect are low. While there will be one and should be more than one offensive linemen for Indianapolis in this draft, Polian won't let the need steer him. Two years ago we all had the Colts liking
Peria Jerry
, but he went to Atlanta three spots before Indy took
Donald Brown
. I hear Liuget is a better fit that Jerry would have been. More interior push helps
Dwight Freeney
and
Robert Mathis
and Liuget would help the run defense.
April, 25, 2011
4/25/11
12:00
PM ET
We know you've been mocked and mocked. We all give you divisional takes on Todd McShay and Mel Kiper. We often link to other mocks. Maybe you're to your breaking point. Maybe you need one more.

We spent three days last week emailing back and forth and compiling a mock put together by eight divisional bloggers. John Clayton stood in for the NFC East.

Perhaps we add some different insight to the speculation. Perhaps we echoed prevailing wisdom. (I can raise my hand on that, as you will see.)

At any rate, we know we're mostly wrong, and we're eager to write names in draft slots in ink instead of pencil when things kick off Thursday evening. Here's hoping this helps tide you over.


April, 25, 2011
4/25/11
8:58
AM ET
It's the Colts' turn in our pre-draft look at some key numbers that could and should influence what they do in the draft.

According to ESPN Stats and Information, Colts' opponents didn't bother to disguise their intentions to the Indianapolis defense. When opposing offenses put multiple running backs into the backfield, the Colts ranked in the bottom five in the NFL in several major statistical categories.
They allowed 4.6 yards a carry (28th), they gave up six touchdowns (tied for 27th), and they allowed 3.7 yards on first down (30th).
As for pass defense, the Colts were solid defending passes 15 yards or more downfield when they were thrown outside the numbers, with opponents averaging 7.6 yards per pass attempt (fourth in NFL). But Indianapolis struggled defending similar passes over the middle.
Opposing quarterbacks completed 67.3 percent of their passes in that area (32nd in the NFL), they averaged 15.5 yards per attempts (29th) and the Colts gave up 34 first downs (32nd). Quarterbacks posted a 110.3 rating (32nd) when throwing deep over the middle.
What do these two areas of trouble mean?
Well, the first could be helped by a bigger, penetrating defensive tackle, which is one of the reasons I think Illinois' Corey Liuget is an intriguing idea in the first round.
The second has a lot to do with safety play. And while
Antoine Bethea
did well as the glue of a banged up secondary, the Colts were without
Bob Sanders
and then
Melvin Bullitt
due to injuries. A healthy Bullitt might be a free agent, and Colts Vice Chairman Bill Polian has said the team will approach the draft as if Bullitt and other potential Indianapolis free agents will be gone.
It's a weak draft for safeties, but perhaps Polian sees someone who can fit the Colts' scheme and won't be valued in the same way by the rest of the league.
April, 21, 2011
4/21/11
12:00
PM ET
»
NFC Draft Watch
:
East
|
West
|
North
|
South
»
AFC
:
East
|
West
|
North
|
South
Each Thursday leading up to the NFL draft (April 28-30), the ESPN.com NFL blog network will take a division-by-division look at key aspects of the draft. Today's topic: Dream scenario/Plan B.

Houston Texans
Dream scenario:
A run on quarterbacks means the team has more to choose from on defense, and while Texas A&M linebacker
Von Miller
is too much to hope for, North Carolina's
Robert Quinn
is there for them to snatch up at No. 11. Quinn would be inserted as a starting outside linebacker in the new 3-4 scheme run by defensive coordinator Wade Phillips.
Plan B:
A trade down with someone looking to come up for a quarterback would be nice, as the Texans could use extra picks to replenish the defense. In such a scenario, a spot in the middle or high 20s could be used on an outside linebacker like Georgia's
Justin Houston
, UCLA's
Akeem Ayers
or Arizona's
Brooks Reed
. But if they remain at No. 11, Missouri's
Aldon Smith
is a guy who could help them.

Indianapolis Colts
Dream scenario:
They may not value an offensive tackle with the 22nd pick, but it seems like it's time that they should. Ideally, they'd have their choice between Wisconsin's
Gabe Carimi
, Boston College's
Anthony Castonzo
and Colorado's
Nate Solder
. Carimi, who got great experience at Wisconsin, gets the nod from a team that is in the middle of Big Ten country.
Plan B:
Who's the value guy who's slipped? That's the man the Colts are most likely to pounce on, but I can't predict who it'll be. A quality defensive tackle can do a lot for the defense, and if Illinois'
Corey Liuget
is still available, he could be a guy the Colts like. He's drawn comparisons to Anthony McFarland, and while McFarland didn't work out well, the qualities he had that were appealing are still appealing.

Jacksonville Jaguars
Dream scenario:
Even for a dream, the idea of a safety worthy of the 16th overall pick is far-fetched. So we'll move past that. If they love a quarterback, they could have some appealing options. Otherwise, I see GM Gene Smith sticking with his foundation-building plan, and that would mean a defensive end. If they want bigger, it's Wisconsin's
J.J. Watt
. If they want faster, it's Purdue's
Ryan Kerrigan
. Aldon Smith would also be an option. Picking among all three would be a great spot.
Plan B:
We'll stick with the foundation plan and turn to the interior offensive line. Florida's
Mike Pouncey
could be a rock at guard or center (if he can learn to snap) for a long time and looks to be the sort of fixture the Jaguars would love to stock the roster with.

Tennessee Titans
Dream scenario:
Missouri quarterback
Blaine Gabbert
slips to No. 8 while a team or two jump up to grab non-quarterbacks in the top seven. The Titans would have their quarterback of the future, with offensive coordinator Chris Palmer set to tutor Gabbert as soon as the lockout ends, while the pressure to get a veteran who can hold down the fort eases a bit since the Titans get one of the top rookies.
Plan B:
With the top two quarterbacks gone, the Titans address defense and hope Auburn tackle
Nick Fairley
can be an impact guy whose interior play can have a positive bearing on the other 10 defenders on the field with him.
March, 31, 2011
3/31/11
1:30
PM ET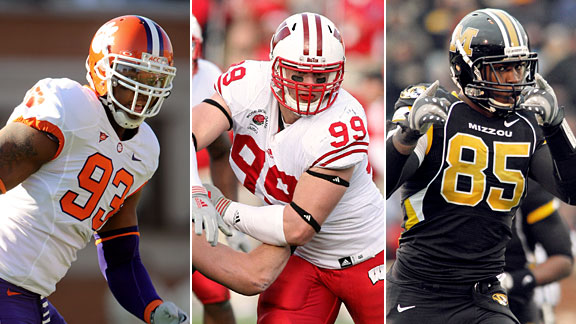 Icon, Icon, US PresswireDa'Quan Bowers, J.J. Watt and Aldon Smith are likely first-rounders who are under the microscope.
It's the right year to need a defensive lineman in the first round, and in the AFC South, it wouldn't be a huge surprise if all four teams spent their first pick in the draft on a tackle or an end.
Speaking briefly Tuesday night before a charity event, Titans general manager Mike Reinfeldt offered nothing substantive on his quarterback-needy team's feelings about the quarterback prospects.
But the guy running the team's draft is also in need of a couple of defensive linemen, and joined the chorus raving about the talent available.
"I think it's going to be very tempting because I think there will be 14 or 15 defensive linemen that go in the first round," he said. "So that'll make an interesting choice for a lot of people in the first round."
NFL Draft Scout rates seven ends and two tackles as clear first-rounders and another two ends and four tackles as possible first-rounders. Some of those ends could wind up as pass-rushing outside linebackers in a 3-4.
At the NFL scouting combine, many of the hot defensive linemen expressed pride in the strength of their position in this draft.
"I look at it like, if you go back in the history of watching football, before the game was started, it started up front," said
Marcell Dareus
, the Alabama tackle who's expected to be the first defensive lineman off the board. "Some people were scared and backed up off the ball. But the real bulls stayed up front and played the game."
The compelling group that could have guys coming to try to hit
Peyton Manning
and
Matt Schaub
and slow
Arian Foster
,
Maurice Jones-Drew
and
Chris Johnson
includes a guy who plays the guitar and the drums (Clemson end
Da'Quan Bowers
), another who had a brain tumor removed five years ago (North Carolina end
Robert Quinn
) and a third who started out not in football, but in rugby (Oregon State tackle
Stephen Paea
).
I asked one college scout from the AFC and Matt Williamson of Scouts Inc. to pair each AFC South team with a defensive lineman likely to be available at each team's slot. Here's what they said.
Tennessee (No. 8)
Scout:
Bowers
"Add him to a young
Derrick Morgan
and Titans would have bookend defensive ends with pass-rush ability for many years. Look at the Titans' current DEs:
Jacob Ford
(potential free agent) is a nickel pass-rusher;
Dave Ball
(free agent and injuries) is a rotational player only;
Jason Babin
(free agent) is a one-year wonder and honestly just a pass-rusher;
William Hayes
is a base/run-down end. So the need is there for sure. Players that can play the run and rush the passer usually never hit free agency, they aren't allowed to because they are so hard to find. If there wasn't a issue with the knee, Bowers wouldn't be there at eight."
Williamson:
Auburn tackle
Nick Fairley
or Quinn
"Value and upside. Both players are dripping with upside, but have some questions. The Titans' new line coach, Tracy Rocker, comes from Auburn and already has a relationship with Fairley. He is just too good of a prospect to pass up at that point of the draft. And Tennessee's line has enough guys already that they could sort of ease either player into his respective role."
Texans (No. 11)
Scout:
Wisconsin end
J.J. Watt
"A great choice for a 5-technique player. High motor, excellent size with potential to add to frame, great kid with a huge upside. I am ignoring obvious pass-rushers because they are outside linebackers in a 3-4 defense and you wanted a lineman. The [Texans] are in need of a pass-rusher more than a 5-technique end --
Mario Williams
,
Shaun Cody
and
Antonio Smith
all fit that position.
Amobi Okoye
is a quick nose tackle, but not a true nose. They will need to upgrade that spot as well, but there is not a value nose tackle for them with the 11th pick."
Williamson:
Watt or Cal end
Cameron Jordan
"For Houston, I think they would love to get a 5-technique like JJ Watt or Cameron Jordan. Nose tackle is the bigger need, but taking [Baylor's]
Phil Taylor
there is too early."
Jacksonville (No. 16)
Scout:
Missouri end
Aldon Smith
"An excellent pass-rusher. Young, inexperienced but has a huge upside. Should grow into his frame and maintain athletic ability. They lack true pass-rushers.
Larry Hart
is a situational rusher at best.
Austen Lane
is a run-down player… at best.
Derrick Harvey
hasn't worked out. And they are already solid in the middle. [Miami end]
Allen Bailey
, [Iowa end]
Adrian Clayborn
and Cameron Jordan are too close to what they have already. The only other option would be [Purdue end]
Ryan Kerrigan
, but he and
Aaron Kampman
are similar in skills and limitations. Aldon has true edge pass-rush ability."
Williamson:
Aldon Smith
"I like Smith a lot for Jacksonville. They are set at tackle, so they only would look for an end up front in my opinion. He is loaded with upside. And with all this defensive line talent in this draft, he could be a real value pick where they select."
Indianapolis (No. 22)
Scout:
Illinois tackle
Corey Liuget
"He would be a great choice for them. A very athletic defensive tackle with size, effort and upside. He can play the run as well, but helps with pressure on inside. He is a very good combo DT playing run/pass equally well. They are set at defensive end.
Jerry Hughes
will come around and they will have three solid players at the spot. Liuget adds to depleted interior group."
Williamson:
Taylor or Liuget
"Indy might pounce on Taylor to clog up the middle or if Corey Liuget is still there, he would be ideal. I would say it is unlikely, but Bill Polian doesn't care about what others think and he likes 'his type of players' ... so
Drake Nevis
from LSU could be someone he really likes."