June, 21, 2014
Jun 21
11:30
AM ET
Here's Part I of the Colts Mailbag. Part II will run Sunday
@MikeWellsNFL who's playing safety? Will Mike Adams start?....

- tomthebomb0609 (@tommystallion37) June 20, 2014
Mike Wells
:
Delano Howell
appeared to be the frontrunner -- and he still may be -- the entire offseason until the Colts signed Adams to take
Corey Lynch
's spot on the roster. The Colts could have easily gone out and signed a young player, but they didn't. They signed a proven veteran, one who was on the roster of a team -- Denver -- that played in the Super Bowl last season. Howell lacks starting experience. The Colts aren't handing the starting spot to Mike Adams, but don't be surprised if he ends up starting alongside
LaRon Landry
at safety.
@MikeWellsNFL biggest impact from a rookie this year?

- Nate Walton (@realnatewalton) June 20, 2014
Wells
: Second-round pick
Jack Mewhort
. The offensive lineman is capable of playing all five positions on the line. A positive for Mewhort is that he moved ahead of
Lance Louis
and was working with the first unit by the end of offseason workouts. The competition for that starting spot will intensify in training camp once
Donald Thomas
starts practicing. It'll be Louis and Thomas as the two primary players pushing Mewhort for that starting spot.
@MikeWellsNFL his cap space do Colts have left #ColtsMailbag

- Dustin Kelso (@DKelso78) June 20, 2014
Wells
: The Colts have about $13.7 million in salary cap space left. Colts GM
Ryan Grigson
said a number of times earlier in the offseason that they didn't plan to use all their salary-cap space because they'll have to pay players like
Andrew Luck
and
T.Y. Hilton
at some point down road.
@MikeWellsNFL What is the likelihood that we see Daniel Adongo playing on defense this season?

- Steve Mosley (@SMosley21) June 20, 2014
Wells
: That's strictly up to
Daniel Adongo
. Practice well and play well in the preseason and he'll have a chance to get on the field in a game. The opportunity will definitely be there early in the season when linebacker
Robert Mathis
is serving his four-game suspension. Playing time at Mathis' position is far from set. It's up to Adongo to prove he deserves to get snaps.
@MikeWellsNFL Is Bradshaw taking any steps to increase his odds of staying healthy? #ColtsMailBag

- John Krause (@krause_john) June 19, 2014
Wells
: It's way, way too early to tell if
Ahmad Bradshaw
can stay healthy. Teams don't wear pads during offseason workouts, and even then, Bradshaw joined the quarterbacks and fellow running back
Trent Richardson
by wearing a red non-contact jersey. Bradshaw's health was the only thing that stopped him from being the Colts' starting running back last season. Bradshaw and Richardson were the only two running backs of three expected to push for the starting spot to take part in offseason workouts.
Vick Ballard
, the third, is still working his way back from a torn ACL.
June, 17, 2014
Jun 17
2:35
PM ET
INDIANAPOLIS -- New
Indianapolis Colts
safety
Mike Adams
was part of the
Denver Broncos
team that reached the Super Bowl last season.
But there Adams sat, waiting for a team to sign him during the offseason. He waited. Waited some more. He waited so long that anxiety started to set in. Adams, 33, had never been out of work this long during his 10-year NFL career.
Adams' phone finally rang last week when the Colts put safety
Corey Lynch
on injured reserve.
[+] Enlarge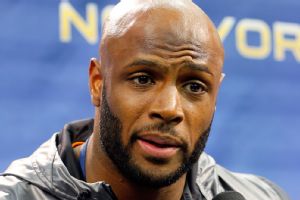 Adam Hunger/USA TODAY SportsVeteran safety Mike Adams has started 73 games in his 10-year career.
"The pieces are in place and we have a chance to hoist (the trophy) at the end," Adams said. "That's my goal. I came here to win. That's Chuck Pagano's philosophy and that's what they want to do here. That's what it all boils down."
Adams has gone from being unemployed to having a chance to be one of the Colts' starting safeties when they take on his former team, the Broncos, in the season opener on Sept. 7.
"Bottom line is I want to compete for a job," Adams said. "I want to earn these guys' respect. I'm going in (Year 11). Its' a different locker room, new system I have to learn. I want to earn that. I don't want it given to me. I told coach and I told the (general manager Ryan Grigson), 'I appreciate you telling me I don't have the job. I appreciate that.' I was the underdog my whole career. I love competing and proving people wrong."
Safety has been a legit concern for the Colts since long-time fixture
Antoine Bethea
signed with San Francisco on the first day of the free agent signing period in March.
The Colts didn't address the position during free agency or the draft. They constantly talked about having confidence in
Delano Howell
, who has been working with the first team during the offseason workouts.
But Howell lacks experience on a defense that was too inconsistent last season. The same goes for
Sergio Brown
,
David Sims
and
Colt Anderson
.
Enter Adams.
He has started 73 games in his 10-year career. The question about Adams is how much does he have left in his tank at the age of 33. He admits his age might have caused teams to shy away a little bit.
"I feel like I'm 26," he quickly says. "You're going to see the way I move. Once guys see my film. I was talking to the GM and he said, 'I had to watch your film' and he said, 'You're 33?' and I was like, 'yeah I am 33,' but when you watch the film it doesn't look like I'm 33."
Adams is versatile. He can also play cornerback, nickelback or be the dime.
Now he has to see if he's versatile enough to get the number he wants. Adams, who currently has No. 42, has worn No. 20 throughout his career, but cornerback
Darius Butler
has that number.
"I'll have to sweet-talk him," Adams said. "Have to take him out to dinner; wine and dine him."
June, 3, 2014
Jun 3
10:00
AM ET
INDIANAPOLIS -- It was only natural for the question to come up.
Safety is an area of concern for the
Indianapolis Colts
since
Antoine Bethea
calls San Francisco home now. The player who is currently available has a history with the head coach.
Ed Reed
and Chuck Pagano spent time together at the University of Miami and with the
Baltimore Ravens
. Pagano respects Reed. Pagano was the Hurricanes' secondary coach from 1995-2000, the Ravens' secondary coach from 2008-10, then their defensive coordinator the following season.
The question about them possibly being reunited was asked by fans when the
Houston Texans
released Reed last season.
It was asked again by fans after Reed told reporters he plans to play next season during a charity softball game in Baltimore over the weekend.
@MikeWellsNFL should the @Colts sign Ed Reed to a small, one year contract just so we have a bit more depth at safety?

— Josh Bruner (@J_TheRealDeal_B) June 2, 2014
And just like last November, don't expect the Colts to have any interest in Reed. He's a nine-time Pro Bowler and Super Bowl winner, but his best years are clearly behind him. He didn't struggle and eventually get benched and released from the Texans for no reason.
The Colts would have signed a safety during free agency or selected one during last month's draft if they were really concerned about the position.
The starting safety spot is right there for
Delano Howell
. It'll stay that way until he somebody else beats him out for it.
"Delano Howell has played some really good snaps for us," Colts general manager Ryan Grigson said last month. "We feel good about Delano and we're hoping some of these other guys rise to the occasion. We signed
Colt Anderson
. We've got some guys that have had some starts in this league.
Corey Lynch
has played 12 starts in this league. Someone is going to emerge."
May, 14, 2014
May 14
2:00
PM ET
INDIANAPOLIS --
Delano Howell
's starting résumé consists of three games during his two seasons with the
Indianapolis Colts
.
Now Howell appears to be in line to be the Colts' starting safety next season, replacing long-time starter
Antoine Bethea
, who signed with San Francisco in March.
Howell
That became even more evident when the Colts decided against selecting a safety in the draft. Howell will have some competition for the spot, but the job is his to lose.
Sergio Brown
,
Corey Lynch
and
Colt Anderson
are in the mix for the job, too.
A key for Howell will be whether he's able to be interchangeable with Landry and also have good cover skills -- the main two things coach Chuck Pagano and general manager Ryan Grigson are looking for.
"All I think back to is Delano Howell," Pagano said. "We went out and beat a pretty good football team (San Francisco), I think he started at safety that game and had, I don't know, six, seven, eight tackles or something, was pretty productive in that ball game. He returned a blocked field goal for a touchdown against Seattle. He's not the only one. We've got guys in-house that will be great competition there."
Howell started three games in place of the injured
LaRon Landry
last season. The Colts won two of those three games. Howell totaled 21 tackles in his three starts.
Howell is the quiet teammate in the locker room, the one you have to seek out because he's not a jokester or one who's always talking. He's the same soft-spoken teammate quarterback
Andrew Luck
had while at Stanford.
"Very much the sort of strong, silent type, the Clint Eastwood type," Luck said. "Say a little, do a lot. He's been that way for a long time, which makes it really fun to play with him."
The Colts think the signing of linebacker
D'Qwell Jackson
and defensive lineman
Arthur Jones
will help ease some of the burden on the secondary. Bethea ended his time with the Colts by having four straight seasons with at least 100 tackles.
"I feel good about the guys that are here and I think at the end of the day, we bolstered our front seven," Pagano said. "The better the front seven is, the more pressure you can put on the passer, it certainly helps the back end."
May, 11, 2014
May 11
8:00
AM ET
INDIANAPOLIS -- The assumption heading into the draft was that the
Indianapolis Colts
would use one of their five picks on a safety.
Seventeen safeties were picked during the three-day draft. None of them were selected by the Colts.
"There's a small handful of guys in this draft that we felt like we could go get, it just didn't happen," Colts general manager Ryan Grigson said. "But it was not a deep safety class and if there was a safety we liked, we would have took one."
So as of now, in-house players
Delano Howell
,
Sergio Brown
,
Corey Lynch
and
Colt Anderson
, who have combined to start 22 games, are the stop candidates to man the starting safety spot opposite of
LaRon Landry
next season. Longtime Colts safety
Antoine Bethea
signed with the
San Francisco 49ers
in March.
"You don't just because of need go reach and try to grab and fill a need when the value's not there," coach Chuck Pagano said. "I feel good about the guys that are here and I think at the end of the day, we bolstered our front seven with acquiring D'Qwell Jackson and Art Jones and the two defensive players we picked up. The better that front seven is, the more pressure you can put on the passer, it certainly helps the back end. We'll be fine."
April, 3, 2014
Apr 3
7:15
PM ET
INDIANAPOLIS -- Safety
Kurt Coleman
will visit the
Indianapolis Colts
on Friday.
Coleman
That usually means one thing: The Colts have serious interest in him.
Colts general manager Ryan Grigson isn't one to bring players in for visits without them leaving with a deal. Just ask receiver
Hakeem Nicks
.
Coleman, a former seventh-round pick, started 29 games from 2010-12 with the
Philadelphia Eagles
before not starting a game for them last season. Coleman's best season was in 2012 when he had 93 tackles and two interceptions.
Grigson was with the Eagles in a number of different capacities from 2004-11, and is well aware of Coleman's capabilities.
Mike Chappell of the Indianapolis Star pointed out that Coleman was involved in a helmet-to-helmet hit that knocked Colts receiver
Austin Collie
out of the Nov. 7, 2010, game in Philadelphia.
Grigson and coach Chuck Pagano recently pointed out that
Delano Howell
,
Sergio Brown
and
Corey Lynch
are options to start alongside
LaRon Landry
at safety. Longtime Colts safety
Antoine Bethea
signed with San Francisco last month. Pagano also indicated that they'll look to select a safety in the May 8-10 draft.
December, 16, 2013
12/16/13
8:15
AM ET
INDIANAPOLIS -- An examination of four topics from the
Indianapolis Colts
' victory over the
Houston Texans
:
Still in it
: The Colts did their part by beating the Texans and then they got some help from some other teams to keep them in the running for one of the top three seeds in the AFC playoff race. Miami beat New England, the No. 2 seed, and Cincinnati, the No. 3 seed, lost to Pittsburgh on Sunday night. The Colts and Bengals have identical 9-5 records, but Cincinnati has the tiebreaker because of its victory over Indianapolis on Dec. 8. The Colts trail 10-4 New England by a game. And in the really long shot department, Indianapolis trails top seed Denver by two games. The Colts have to win their final two games -- at Kansas City and against Jacksonville -- and get some help from other teams in order to move up from the No. 4 seed. The Patriots close the season against Baltimore (7-6) and Buffalo (5-9). The Bengals play Minnesota (4-9-1) and Baltimore (7-6), while the Broncos wrap up against Houston (2-12) and the Raiders (4-10).
Luck
Bethea
Faking it
: The Colts had a 22-point lead early in the fourth quarter when they attempted their first fake punt of the season on fourth-and-8. The timing wasn't bad because most assumed the Colts would punt it and make the Texans use some clock by going the length of the field to score. Well, the Texans weren't thinking that. Safety
Corey Lynch
, punter
Pat McAfee
's protector, took the snap and attempted to run to his left. Lynch gained only 3 yards on the play.
Streak intact still
: The Colts kept two significant streaks alive on Sunday. Coach Chuck Pagano and quarterback
Andrew Luck
still have yet to lose back-to-back games. The Colts are now 10-0 in games following a loss since the start of the 2012 season. They also kept the Texans winless in Indianapolis. Houston is 0-12 in games played against the Colts in Indianapolis.
Getting defensive
: The Colts held the Texans to 239 yards, the fewest they've given up since allowing 205 yards against Jacksonville on Sept. 29, and the three points tied a season low. "We played good," safety
Antoine Bethea
said. "Being able to stop the run, not giving up too many big plays, getting off on third down and creating turnovers, you'll always have a good turnout." The Colts will need a similar type of defensive performance because the
Kansas City Chiefs
, Indianapolis' next opponent, are averaging 44 points a game in their last four games. They scored 56 points and running back
Jamaal Charles
caught eight passes for 195 yards to go with five touchdowns against the
Oakland Raiders
on Sunday.
August, 31, 2013
8/31/13
6:30
PM ET

Most significant move:
Marc Mariani
came back from a vicious broken leg suffered in the preseason in 2012. A shoulder injury suffered in the preseason opener cost him the rest of camp and the preseason, and the Titans put him in injured-reserve Saturday, ending his season. He might have been ready as soon as Week 3, but the Titans clearly didn't like the uncertainty. They could have waived him injured, exposing him to a claim. In that scenario,
St. Louis Rams
coach Jeff Fisher, who was instrumental in the Titans drafting the receiver/returner out of Montana in 2010, might have wanted him. But the Rams or anyone else would have had to have added him without getting to examine the injury, and Mariani's not under contract beyond this year so a new team could have been at risk for picking up a year's salary and getting nothing out of him. If he wasn't claimed, he would have reverted to Tennessee's IR. By putting Mariani directly on IR, he is assured of his $575,000 base salary this season but won't play anywhere. The move means
Darius Reynaud
is the returner. He showed himself to be only the team's fifth-best running back during camp, but sticks to handle punts and kickoffs.
Wildcard:
If
Rusty Smith
clears waivers, the Titans will want the fourth-year quarterback back on their practice squad. He's not been on the active roster for nine games in any of his first three seasons, so he retains his practice squad eligibility. If Smith is claimed, the Titans will need to find a young quarterback for the spot, who they can work to develop as insurance and who will be able to offer an option as the No. 2 if
Jake Locker
or
Ryan Fitzpatrick
suffers an injury that results in any missed time. One team that won't claim Smith -- his hometown
Jacksonville Jaguars
.
What's next:
I could see the Titans shopping for a veteran safety as they sift through cuts. Seventh-round pick
Daimion Stafford
is on the roster now, but the Titans are heavy with strong safeties and light at free safety. They'd probably like better balance and Stafford could ultimately land on the practice squad. With 10 defensive linemen plus strongside linebacker
Akeem Ayers
in line to play a good share of end, the last pure end --
Keyunta Dawson
-- is hardly a lock at this point. Only one injured Titan, rookie linebacker
Zaviar Gooden
, is likely to miss the season opener at Pittsburgh.
Tennessee Titans cuts:
S
Al Afalava
, T
Daniel Baldridge
, TE
Brandon Barden
(injured), DT
Stefan Charles
, DT
Zach Clayton
, TE
Jack Doyle
, LB
Gary Guyton
, DT
DaJohn Harris
, S
Corey Lynch
, FB
Collin Mooney
, DE
Nigel Nicholas
, RB
Jalen Parmele
, WR
Rashad Ross
, LB
Tim Shaw
, QB
Rusty Smith
, LB-DE
Scott Solomon
, G
Kasey Studdard
, WR
Dontel Watkins
, LB
Jonathan Willard
, CB
Khalid Wooten
, C-G
Fernando Velasco
Placed on Injured-reserve:
WR/returner Marc Mariani.
August, 30, 2013
8/30/13
3:14
PM ET
NASHVILLE, Tenn. -- Rather than tell you this is what's going to happen, I'll tell you this is what would happen if I had influence in the
Tennessee Titans
meeting room when final cuts will be decided.

Some cuts are already trickling out from Jim Wyatt of The Tennessean, so check
his Twitter feed
.
Quarterbacks:
Jake Locker
,
Ryan Fitzpatrick
There just is no room for
Rusty Smith
and there
isn't a need
for a third quarterback unless things go incredibly wrong. The difference between a random third guy and Smith isn't giant.
Running backs:
Chris Johnson
,
Shonn Greene
,
Jackie Battle
,
Quinn Johnson
(FB)
Battle has to contribute on special teams, but he was better than
Jalen Parmele
through the preseason. Wyatt says Parmele is already gone. Johnson's been hurt and could lose out to
Collin Mooney
.
Wide receivers:
Kenny Britt
,
Nate Washington
,
Kendall Wright
,
Damian Williams
,
Justin Hunter
,
Michael Preston
,
Marc Mariani
(return specialist)
Preston is one of the best 53 players on the team. Even though he won't be active on Sundays if everyone's healthy, you keep extra quality depth at one spot if it's better than weaker depth at another spot. Once he's healthy, Mariani isn't as explosive as a punt returner as
Darius Reynaud
, but will more regularly get 10 yards.
Tight ends:
Delanie Walker
,
Craig Stevens
,
Taylor Thompson
No need for a fourth on the 53. Sign
Jack Doyle
to the practice squad
Offensive linemen:
Tackles
Michael Roos
,
David Stewart
,
Mike Otto
,
Byron Stingily
. Interior:
Andy Levitre
,
Chance Warmack
,
Rob Turner
,
Brian Schwenke
,
Fernando Velasco
Velasco is guaranteed $2.02 million under his tender contract out of restricted free agency. I'm not sure he should stick over
Scott Solomon
at linebacker or
Stefan Charles
at defensive tackle. But the big push for revamping the line and the desire for depth after last year's slew of injuries makes me feel like they will stay loaded.
Defensive ends:
Derrick Morgan
,
Ropati Pitoitua
,
Kamerion Wimbley
,
Lavar Edwards
,
Keyunta Dawson
.
Dawson is a good guy to have. I can see him staying and the Titans going five ends as opposed to six tackles. But linebacker
Akeem Ayers
is a nickel end so he factors in here as well.
Defensive tackles:
Jurrell Casey
,
Sammie Hill
,
Mike Martin
,
Antonio Johnson
,
Karl Klug
(swing)
I've got Stefan Charles over
DaJohn Harris
but neither making it. If one of them sticks, it's the last defensive line spot probably over Dawson. I see Charles on the practice squad.
Linebackers:
Akeem Ayers,
Moise Fokou
,
Zach Brown
,
Zaviar Gooden
,
Colin McCarthy
,
Patrick Bailey
Scott Solomon is one of my last two cuts. I want to keep seven 'backers. The seventh guy would be a trade-off for Velasco, I think. Solomon is versatile, seems to be catching on to the position change and can still play end if needed. He's not practice squad eligible. I just can't fit him here. I might keep him over Bailey but I don't think they rank him that way.
Safeties:
Michael Griffin
,
Bernard Pollard
,
George Wilson
,
Daimion Stafford
The fourth spot isn't strong and Stafford could probably go to the practice squad. But if they choose a veteran --
Al Afalava
or
Corey Lynch
-- as the fourth I could see them trying to upgrade it with an outsider.
Cornerbacks:
Jason McCourty
,
Alterraun Verner
,
Tommie Campbell
,
Coty Sensabaugh
,
Blidi Wreh-Wilson
I'd expect
Khalid Wooten
on the practice squad.
Kicker:
Rob Bironas
Punter:
Brett Kern
Long-snapper:
Beau Brinkley
September, 3, 2010
9/03/10
12:18
AM ET


Some bullet point thoughts on the Texans' 24-17 loss to the Buccaneers Thursday night:
Houston sat 29 players.
Neil Rackers hit a 21-yard field goal while Kris Brown was short on a 56-yarder in the final chances in the kicking competition. Expect the guy who doesn't stick to find work with relative speed.
Jeremiah Johnson turned three carries into 20 yards while Chris Henry needed 15 carries for 51 yards as the Texans got a look at their third and fourth backs. I like Johnson as the third.
After Dan Orlovsky threw two interceptions to Corey Lynch -- one for a 91-yard touchdown -- John David Booty threw two touchdown passes. Gary Kubiak expressed continued confidence in Orlovsky after the game, but what is he supposed to say?
The Texans went for it on fourth down five times and converted four.
Even without Matt Schaub, Andre Johnson, Jacoby Jones, Arian Foster and Steve Slaton Houston managed 417 total yards. The Texans ran 76 plays compared to 49 for Tampa Bay, though time of possession was only 32:55 to 27:05.
Dorin Dickerson's one-handed 27-yard reception from Booty was the best catch I remember seeing from an AFC South player in the preseason.
Rookie linebacker Darryl Sharpton got the start and was credited with six tackles and a sack. Xavier Adibi started on the strong side. The Brian Cushing replacement strategy looks like it will be Adibi in his spot or Sharpton at weakside with Zac Diles moved to strong.
AFC SOUTH SCOREBOARD
Thursday, 12/18
Sunday, 12/21