April, 13, 2011
4/13/11
2:40
PM ET
The National Football Post's Joe Fortenbaugh has a nice piece reviewing AFC South
draft trends
.
Here's a nugget on each team with a thought from me:
Fortenbaugh:
"Since 2001, the Colts have drafted only three offensive tackles. To put that in perspective, take note that over the last 10 years the team has spent the same amount of selections on kickers and punters (3)."
[+] Enlarge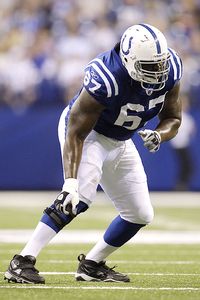 AP Photo/Darron CummingsThe Colts spent a 2007 second-round pick on Tony Ugoh but cut him last season.
Kuharsky:
It's significant and it's time to make a substantial investment. But when a team has a left tackle who plays for nine years and goes to three Pro Bowls (
Tarik Glenn
) and gets steady play from its right tackle for eight years (though
Ryan Diem
slipped last season) there isn't cause for huge expenditures at the spot. They failed in a second-round attempt (
Tony Ugoh
in 2007) to replace Glenn.
Fortenbaugh:
"Since 2001, the Jaguars have drafted nine defensive ends, but only two (
Derrick Harvey
,
Quentin Groves
) have been selected within the top 100 picks."
Kuharsky:
Jaguars GM Gene Smith worked to offset that by bringing in free agent
Aaron Kampman
last offseason. And now it appears quite possible Smith will spend the 16th overall pick on a defensive end to complete the makeover of the line that included their top four picks from 2010.
Fortenbaugh:
"Since Gary Kubiak took over as head coach in 2006, the Texans have drafted exactly 19 offensive players and 19 defensive players."
Kuharsky:
It's nice to populate the roster in a balanced fashion. But if Houston does as it should and looks to fill a load of defensive holes in this draft, these numbers will tip to the defensive side.
Fortenbaugh:
"Since 2005, the Titans have selected an average of 2.0 wide receivers per draft. Tennessee has landed at least one wideout in each of the past six drafts and has selected as many as three wide receivers two times in the last six years."
Kuharsky:
The all-star receiver roster of those past six drafts:
Courtney Roby
,
Brandon Jones
,
Roydell Williams
,
Jonathan Orr
,
Paul Williams
,
Chris Davis
, Joel Filani,
Lavelle Hawkins
,
Kenny Britt
,
Dominique Edison
, Damien Williams and
Marc Mariani
. The lone Pro Bowl appearance was Mariani last year -- as a return man.
December, 24, 2009
12/24/09
3:55
PM ET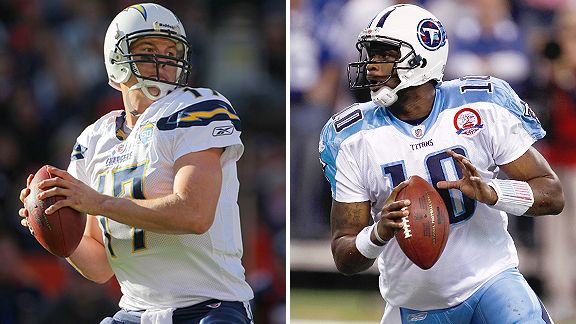 Getty ImagesThere's no love lost between Philip Rivers' San Diego Chargers and Vince Young's Tennessee Titans.
NASHVILLE, Tenn. -- Most teams have a historical trouble spot, and for the Titans' entire life in Tennessee it's been receiver.
They've struck out with high draft picks. They've failed to develop mid- and low- round guys they've selected in droves. They've missed on free agents. They've been unlucky with injuries.
In 2005 they liked
Vincent Jackson
, but watched him go late in the second round to San Diego, where he's developed into a consistent threat. Eight picks later they took
Courtney Roby
in their third round. He's now returning kicks in New Orleans while the Titans will have to defend Jackson Christmas night in a crucial game at LP Field.
ESPN Stats & Information says Jackson has been the targeted on more throws that have been in the air for at least 15 yards than any other receiver in the NFL. On those 52 chances, he had 27 catches for 715 yards, a 26.5 average and four scores.
The Titans try to spread it out and veteran
Justin Gage
has missed time with a back injury. Still, they don't have a pass-catcher close to Jackson in terms of long-pass situational production, let alone overall output (63 catches, 1,097 yards, 9 touchdowns). Rookie receiver
Kenny Britt
leads the Titans wideouts in both receptions (40) and receiving yards (674).
The hit rate's been low, but Tennessee has produced some receivers,
Derrick Mason
most notable among them. And Mike Heimerdinger thinks a trio of Mason,
Kevin Dyson
and
Drew Bennett
at their peak together might have been his best group in his two terms as the Titans coordinator.
His trio now is productive with upside and seems to have a bright future with quarterback
Vince Young
, who replaced
Kerry Collins
as starter eight games ago.
Britt appears to be worth every bit of the first-round pick they spent on him; the inconsistent Gage has made more plays since the quarterback switch but has only caught 45 percent of the passes thrown his way according to ESPN Stats & Information; and though drops are a significant issue as well for free-agent addition
Nate Washington
, he has produced a team-best six touchdown catches. (Gage and Britt are tied for second on the team with three touchdown receptions each.)
In the eight games with Young as the starter, the Titans have the second-most prolific offense in the NFL. Their 398 yards-per-game average trails only the Saints (413.9). Tennessee's 29.5 points-per-game average is tied with Philadelphia for second behind New Orleans (30.6).
When those receivers have made plays for Young, it's opened things up for the team's featured player,
Chris Johnson
. That's the goal No. 1 for the Titans, who are 7-7 and need to win out and get help to keep their AFC wild-card playoff hopes alive.
San Diego's starting corners
Antonio Cromartie
and
Quentin Jammer
have three picks apiece for the league's 13th-rated pass defense. They're both 6-feet tall, but the Titans' three primary wideouts are bigger. Britt and Gage are certainly capable of going up over them to get passes.
A nationally televised game is a good place for Britt, Gage and Washington to perform if they want a broad audience to believe the Titans are figuring things out at the position.
Four other things I'll be watching or wondering about Christmas night as Chargers-Titans unfolds:
Bad blood
:
Shawne Merriman
is still, um, annoyed about a play in a 2007 game where he felt
Kevin Mawae
and
David Stewart
teamed up
to try to hurt him
. Two physical fronts here hardly have a love affair from their two games that season, Chargers wins in the regular season and the first round of the playoffs.
Mawae doesn't mind when opponents are worrying about him, and he will use it to try to use psychology as an aid on at least a couple plays.
Controlling Gates:
Chargers tight end
Antonio Gates
causes a matchup problem for everyone. He can run over DBs and past linebackers. The Titans best coverage linebacker,
Keith Bulluck
, is out for the season. The Titans would be nuts to ask
Gerald McRath
or
Colin Allred
to handle him much. Nickel back Vincent Fuller's physical, tough and responsible, but he gives up 70 pounds and three inches to Gates. I expect he will spend a lot of time on Gates, doing what he can to hold him up. Help better arrive quickly for gang tackling.
Making it hard for Rivers:
Philip Rivers
is gaining traction as the quarterback who should be talked about right after
Peyton Manning
and
Drew Brees
. How might the Titans have their best chance to limit the league's third-rated passer who carries a league-high 8.76 average gain into the game?
Get him out of situations where he's excelled.
Rivers is gettable -- the Chargers have given up 24 sacks, which puts them in the bottom half of the league. The Titans need to rush well with their front four, because with the two kid backers on the field they can't afford to bring any help.
Other pieces of the recipe for potential success against a good quarterback are hardly unpredictable: Get Rivers in third and long, because he's got a 91.9 rating on third down. And don't allow him to work with a lead in the fourth quarter. His passer rating in the fourth period is 98.8.
Punting contest:
Brett Kern's been a wonderful find for Tennessee, and his punts have helped out a great deal with field position. His 37.8 yard net isn't among the league's best numbers, but he's been timely. His counterpart,
Mike Scifres
, is capable of controlling a game, as he did in the Chargers' win over the Colts in the playoffs last season. The Titans' return game has been an abomination this year, so don't expect it to handle Scifres' boomers very well. Remember, every fair catch amounts to a play that wasn't a turnover. Chargers punt returner
Darren Sproles
, meanwhile, can be a major threat.
December, 23, 2009
12/23/09
3:03
PM ET
»
NFC Draft Rewind
:
East
|
West
|
North
|
South
»
AFC
:
East
|
West
|
North
|
South
»
Draft class lists
:
Indianapolis
|
Jacksonville
|
Houston
|
Tennessee
Houston Texans

Cushing
Best get:
Not everyone was sold on
Brian Cushing
coming out of USC, often because of his injury history at USC. He missed most of camp hurt and has missed a lot of practices, but none of it has gotten in the way of his being an impact player every Sunday. The Texans need more defenders and more players in his mold. He's a legitimate defensive player of the year candidate.
Worst unaddressed spot:
The Texans had plenty of reason to expect they had a feature back in
Steve Slaton
, but completely misread their situation after that. Interior line injuries and a second-year slump for Slaton have made a second back even more important, and
Chris Brown
,
Ryan Moats
and
Arian Foster
all have proved incapable of handling the pressures of the work. A second running back ranks as one of the team's highest priorities in free agency or the 2010 draft.
Still uninvolved:
Tight end
James Casey
came in as a versatile fifth-rounder who was going to be a unique weapon for head coach Gary Kubiak and offensive coordinator Kyle Shanahan to tinker with. He's got six catches for 64 yards in 11 games. He needs to have more of an impact, given that the Texans lost top-flight tight end
Owen Daniels
to a season-ending knee injury.
Indianapolis Colts

Brown
Still to be determined:
First-rounder
Donald Brown
has shown he will be a good NFL player. But he's missed five games with injuries, including the last three. He's more capable than
Joseph Addai
of breaking off a big run. The question: Does Brown understand that looking for the big gain isn't worth risking a play resulting in second-and-12. If Brown is healthy, he could see a lot of touches in the last two games. The Colts are 14-0 with just 59 carries, 263 yards and two TDs from their top pick. (They haven't gotten much out of second-round defensive tackle
Fili Moala
, either.)
A perfect fit:
Fourth-round receiver
Austin Collie
, not Minnesota's
Percy Harvin
, leads all rookie receivers in catches. Collie's nabbed 53 passes for 567 yards and seven touchdowns. He's a perfect fit for the Colts' system, and adopted the necessary work ethic to win over and work with
Peyton Manning
. Whether
Anthony Gonzalez
re-emerges for the post season push or not, Collie's crucial to it.
Best special teams addition:
The Colts had eight touchbacks in 2008. With rookie punter
Pat McAfee
taking over kickoffs from
Adam Vinatieri
, they have 18 with two games remaining. Better kickoffs are a big factor in coverage improvements under new special teams coach Ray Rychleski. McAfee's also got a net punting average of 38.0 yards, less than a yard off former Colts' veteran
Hunter Smith's
number from last season.
Jacksonville Jaguars

Monroe
Long-term solutions:
Eugene Monroe
and
Eben Britton
were the top two picks and have played the bulk of the season at left and right tackle, respectively. They have not been consistent, but the team loves their skill sets and upside. And early work means they'll get to the levels the team projected when spending such high picks on them sooner rather than later.
Eighth-rounders:
First-year general manager Gene Smith needed additions beyond his draft class and found a couple: Cornerback
William Middleton
out of Furman and linebacker
Russell Allen
from San Diego State are undrafted free agents who made the team and have been contributors. In the nationally televised Week 15 Thursday night loss to the Colts, Allen led the team with 12 tackles. Smith is down a second and seventh rounder in 2010 because of trades, and he hopes to hit on some undrafteds again, and annually.
Three is key:
Smith did great work in the third round, landing two small school players who've established themselves as productive starters with upside. Cornerback
Derek Cox
from William & Mary has not been intimidated by anything or anyone. Defensive tackle
Terrance Knighton
from Temple has been a stout and reliable run stopper.
Tennessee Titans

Britt
Biggest breakthrough:
Since 1998, the Titans have spent draft picks in the top three rounds on
Kevin Dyson
,
Tyrone Calico
,
Courtney Roby
,
Brandon Jones
and
Paul Williams
. Dyson was involved in two of the franchise's biggest plays in 1999 and did OK otherwise, but none of them solved the team's long-standing woes at receiver. First-rounder
Kenny Britt
is a great combination of size, power and speed who goes and gets the ball. Britt seems like he can be a consistently productive weapon.
Disappearing act:
The Titans gave away a second-rounder to draft tight end
Jared Cook
in the third, and in camp he seemed like a great addition. Then he suffered an ankle injury, faded and never really re-emerged. Long-term he's still very compelling. But the Titans sure could have used a jolt from him during their 0-6 start.
An heir:
Gerald McRath
seems comfortable and been effective as an outside linebacker when needed. He will start the rest of the way and, after bulking up in the offseason, stands to inherit the spot of either
David Thornton
(breaking down) or
Keith Bulluck
(free agent who tore an ACL in Week 15) next year. If both veterans are gone (a likely scenario), the second replacement needs to be a free agent or a draft pick.
April, 25, 2009
4/25/09
8:25
PM ET
Posted by ESPN.com's Paul Kuharsky
NASHVILLE -- Kenny Britt's not going to face Matthew Stafford style scrutiny, don't get me wrong.
But this is a city where the last first-round receiver selected was when the team was still called the Tennessee Oilers -- Kevin Dyson in 1998. And this is a place where fans have asked for constant progress reports, hoping for something, anything, regarding prospects like Paul Williams and Courtney Roby and Tyrone Calico.
The expectations of Titans' fans for Britt may exceed the expectation of the Titans themselves, and based on what the Titans brass just told us, that's saying something.
Jeff Fisher, Mike Heimerdinger and Richard Shelton just talked about Britt, emphasizing his tough and physical qualities and praising his ability to beat bump and run coverage -- something they said is often the toughest thing for a receiver coming into the league to learn to handle.
"We're going to try to get him on the field as quick as we can and catch passes for us and make big plays for us," Fisher said. "We feel like he's what we've been missing in our passing game."
At 6-3, 215 pounds, Britt is a physical specimen who should boost the Titans prospects for passing touchdowns in the red zone.
Heimerdinger, in the second year of his second stint in the post, has now been given a first-round weapon in consecutive years -- running back Chris Johnson was a revelation last season and the Titans have similar hopes for Britt.
"It's different than the first time around," Heimerdinger said with a laugh of 2000-04, when the Titans took two offensive skill position players in nine picks in the first and second rounds.
March, 10, 2009
3/10/09
2:30
PM ET
Posted by ESPN.com's Paul Kuharsky
Last week I posed this question: What one philosophical tendency, trend, tenet or practice would you like to see the Colts change, and why?
As opposed to some previous questions you've encountered here, I wasn't looking to reach any sort of consensus, just to stir some debate. Based on your responses, I think we got that.
So here's the best of what you had to say with some of my thoughts interspersed. I think this was the best feedback I've ever gotten from Colts devotees, so thanks for all the quality responses.
J.D. in Greece: Talking about the Colts' Magic Wand. The thing I love about the Colts is they treat their team like a business and they make good business decisions. I like that they don't invest in free agency and that they spend their money wisely. I look at teams like the Redskins who have such a large salary cap they can just throw money around and never accomplish anything and am glad that the Colts are smarter than that. The one thing I wish they'd change would be a bit more transparency with fans and media. I know a lot of players like Marvin Harrison have always been closed for more personal reasons, and I do read the Colts.com interviews with Dungy and Polian every week, but it's easy for fans to get frustrated when we don't really understand the mindset of the organization and sometimes I think the people in the organization refrain from sharing their ideas simply because they don't think the fans will understand. This can be agonizing at times like last year when the Colts lose in the playoffs in the first round and lose to the same team they've lost to several times in the past several years and the only thing we here is "We need to keep doing what we do." For once, I'd like to hear "We screwed up and we'll need to change something." No one likes to admit when they're wrong, but it really hurts the fans (or at least me) when we only get one SuperBowl in 10 years despite "doing everything right." Humility is one thing, and I respect that the Colts have a larger amount of it than other teams, but denial is another and sometimes being overly humble just looks like extreme denial.
Paul Kuharsky: Very nicely said. The only solace, I suspect, is that you know what answers are coming. It's probably not going to change, but perhaps Jim Caldwell will be compelled to say a bit more? Yeah, I doubt it too -- it's Polian who controls the message.
---
IndianaDave53: I'd like to see some explosiveness on our team, in both the offense and the special teams. Too often it seems like the Colts thrive on these brilliantly planned, methodical drives, but every once in a while I'd like to see a deep threat linger with a speedster wideout (Wayne is many things but he is not a true home run threat. The two long TD passes I can remember with him were fluky, the one this year in the SD where Peyton caught the defense napping, and the same thing in SB 41). We have a dominant and great offense, but the problem is it takes a bit to get going. We don't have an RB who can break the long run, just a few who can get us the 4 yards most of the time. Nor do we have the wideout who can get 30 yards deep before the pocket collapses on Peyton. We don't need the deep pass as much as we need fewer LB's and DB's clogging the windows of the passing lanes.
We don't need much, as the 12-4 record can attest, but I think we need one more speed player to the offense, if only to make the lineup less predictable and more versatile a few plays a game, at least. And if it's really a magic wand, make him a steady kick returner, something the colts haven't had since... before Peyton, maybe?
Paul Kuharsky: Explosive plays weren't great last season. The Colts had only five runs of 20 or more yards, tied with Arizona for fewest in the NFL. But the Cardinals offset that with their big play passing -- 27 plays of 30 or more yards, while the Colts had only 15.
Still, I think Reggie Wayne, Anthony Gonzalez and Dallas Clark qualify as explosive players at their respective positions and I expect Marvin Harrison's replacement who arrives in the draft to be one too.
As for the return game, they seemed to really want to use Courtney Roby on kickoffs last season, but then injuries made it so they couldn't afford to dedicate a roster spot exclusively to a kick returns. It would be great if they could find a guy to handle both kicks and punts and decide to value it in a way where it was indispensible. Finding the guy is the thing.
---
res0piab: I'd like to see the Colts draft a DT in the first round, and try something different with the offense for once, like a 2 WR, 2 RB, 2 TE set instead of the 3 WR set they use constantly. Defenses know what the Colts are going to do. When they execute perfectly, they can do it anyway, but they need to come up with something different to use as well. It was painfully obvious that the singleback set did not work for the running game last year, so try a power running formation. If you gain 5 yards on 1st down instead of 2, that gives you a lot more flexibility.
Kyle in Santa Barbara: Re: Colts Tenets The Colts need more creativity in play calling. The basic tenet of football is that a defense can't effectively stop an offense from getting 3.34 yards on a run play without blatently risking giving up 6 points. The Colts have become so used to converting 3rd and 15s with their elite passing attack that they don't properly keep defenses off balance. Bill Polian has publicly stated that the statistics he builds his team around are turnover differential and pass yards per attempt, and this is extremely effective until you come accross a critical 3rd and 3 in the playoffs and the opposing defense guesses pass. The Colts never run the ball 10 straight times and they never pass 10 straight times; if they were willing to do that they might keep defenses from trying to guess.
Paul Kuharsky: The run game was definitely broken and needs fixing. But I'm fine if on offense they feel good enough to say, 'This is what we do, try to stop it.'
---
blue_flip_flops: I would like Bill Polian to change his strategy when it comes down to drafting players in rounds 1 and 2 of the draft THIS YEAR. Instead of drafting the best available player overall, how about drafting the best availabe player only on defensive. The Colts will have a top 10 ranked offense going into next season with Manning being healthy, so adding key 1st and 2nd round defensive players in the draft would be very welcoming.
chianga: I'd love to see increased stability in the LB corps. Over the years, we've seen great linebackers like Mike Peterson, Cato June, David Thornton, and now Freddy Keiaho (who may or may not be "great," but certainly capable) leave Indy and sign lucrative deals elsewhere. If we could re-sign a few of our LB mainstays (like we did with Brackett), I feel like we'd be stouter agains
t the run and the short/mid-range passing game.
Jason in Philadelphia: Why is everyone so quick to complain about the Colts' defense while praising the offense. By no means is Indy's defense stifling, but it does exactly what it is designed to do: bend, don't break. Indy has ranked very well in defensive pts/game the past two years(7th in 2008, 1st in 2007), a huge jump from 23rd in the superbowl season. I agree a big run stuffing DT would be nice, but we don't need somebody like Albert or the Williams', just somebody a little bigger.
Michael in Shreveport, LA: If I were going to change one thing about the Colts, it would be to add more size in the defensive line. The speed and quickness can compensate for the size on DE, LB, CB, and Safety, but having people eat up the clock by pounding the ball up the middle and not being able to stop it effectively leaves Manning and the offense off the field and keeps the plays away from their playmakers on Defense (unless they bring Sanders into the box).
Gerb463: To be fair, BP has tried to address the d-line size issue yet has run into some bad luck..Simon, Sweet Pea Burns was just a bust, Pitcock suddenly retiring, Ed Johnson being dumb again. I'd like some more size but the linebackers thing is an issue that bothers me as well. Peterson, Washington, Thorton, June...all have been pro bowlers who the Colts let walk away (Yes, I realize June is a 10 as a pass defender and a 0 on run support but he did start for the team that won it all). I just think there has to be a better solution than letting guys walk...
Paul Kuharsky: It will be interesting to see if Caldwell and Larry Coyer get good play from linebackers and if they will want to or can shift Polian's mindset on this at all.
In conversations I've had with Polian about beefing up at DT, he's emphasized it can't just be size, it's got to be a good player with size. One or two of those have to be high on his checklist.
---
Trendoid: I like the speed on the corners of the defensive line but some size in the middle would be nice. I wouldn't go for a 100 million dollar free agent though in order to get that.
Matt in Boulder: Paul this is more comment/observation than question about the Colts philosophy. but I equate the Colts to a college team. Its filled with seniors and freshman and no middle class. Those are the ones you need for good depth. And with the Colts you either become a senior or let go when its time to become a junior. I wouldnt mind seeing colts let the high price guys go and bring in 2 or 3 others for same price. Thanks.
Matt: On changing a Colts' tenet: Why? Is seven straight seasons in the playoffs bad? Six straight 12-win seasons? Compared to fans of other NFL franchises, I'm freakin' spoiled! And you're asking ME what I would change? Get rid of the mascot.
Paul Kuharsky: You are spoiled. But I do think you and your fellow Colts followers can fairly ask if out of all of that, you shouldn't have more than one Super Bowl appearance.
---
Matt in Boston: I am very satisfied with the Colts performance over the last decade or so, so it is hard to find something that you think you could change to truly improve the team. I would like for the Colts to teach the Pacers how to build a franchise.
Nate in Indy: It's hard to say what one tenet of the Colts I would change - they've been who they've been for so long under Dungy that it's hard to imagine them as being anything else. But if I had to change one thing, it would be to adopt a more west-coast style offense. The O-line can't forever rely on Peyton's ability to deftly move around the pocket to avoid sacks. More three-step drops and quick passes might see Anthony Gonzalez become one of the best possession receivers in the game. If they set their minds to it, I think they could revolutionize that system with the pieces they have now, save one more sure-handed receiver picked up in the draft.
Kyle in Athens,GA: I would like to see the Colts not rest their starters the last week(s) of the season just because their playoff seed is set. They did it every year under Tony Dungy except for one, they year they had to play every game to get the 3 seed; they won the Super Bowl that year. The year they started 13-0, they rested guys for 2-3 weeks and threw off the timing and rhythm of the offense. Same thing happened this year. I want to see Meeks play them every week this year.
Paul Kuharsky: That's a very good one Kyle, and will always be up for debate when they have a cushion. Perhaps the Titans are now good enough that the division is going to come down to the last few games and early clinching won't be an issue? Maybe that would actually help. Even last year as a wild card their last game didn't mean anything.
---
Kris in Terre Haute, IN: I would honestly like to see them look for more balance in their defensive line up. An all speed defense breaks down when the personnel isn't just perfect. With a more balanced approach like adding bigger pocket-crushing DTs or a run-stuffing MLB, the defense will be more versitile when injuries occur. Look at what happens to the defensive production when Mathis or Freeney go down. Look at the games where Bobbo was missing from the secondary. With a little more balance the Colts could adapt to injury more easily. At least that is my view on the subject. What do you think?
Paul Kuharsky: Well they actually did fine last year when Bob Sanders was out, but I get your broader point. I think we've got a consensus here that some size in the middle could really help the defense, and my sense is they is they will be bigger at defensive tackle next year.
March, 3, 2009
3/03/09
12:24
PM ET
Posted by ESPN.com's Paul Kuharsky
While researching and pondering some players for the Best Match blog entry Monday afternoon, I was struck by something on the day that Nate Washington wound up signing with the Titans.
Take Six
Washington is the sixth try the Titans will make at finding production out of a receiver who came out of college in 2005. The first five:
Receiver
School
How obtained
Current locale
Comment
Courtney Roby
Indiana
3rd-rd. pick
N.O.
Six games with Colts and Saints in '08, no catches
Brandon Jones
Oklahoma
3rd-rd. pick
S.F.
Despite inconsistencies, just got 5-year, $16.4 million deal in S.F.
Roydell Williams
Tulane
4th-rd. pick
not in NFL
Cut by Titans before 2008 season
O.J. Small
Florida
Rookie free agent
not in NFL
Two games, one-catch as injury fill-in in 2005
Mike Williams
USC
Free agent in '07

not in NFL

Played two of six games, no catches
Jason Anderson out of Wake Forest, another rookie free agent, spent some time on the practice squad in 2005. Coming out of their salary-cap purge that included cutting Derrick Mason, the Titans also signed five others as undrafted free agents: Chris Bush, Vincent Cartwright, Ellis Edbrow, Earvin Johnson and Alonzo Nix.
To their credit, the Titans passed on Williams and Troy Williamson when they were so so highly touted in that draft. To their discredit, the player they took instead at No. 6, Adam "Pacman" Jones, might have been a better football player but was an even bigger headache.
The three receivers still of note from that draft -- Braylon Edwards, Roddy White and Vincent Jackson -- were selected third, 27th and 61st. The Titans' strategy was to take three and hope at least one would break through, but they didn't start spending until they took Roby 68th.
But here's what I am getting at, and I am curious what you think:
Does the fact the Titans would go a sixth time into that group to sign a player who came into the league out of mighty D-II Tiffin as an unrestricted free agent serve as a testament to just how hard it is to find the right guy in a class?
Or is it an indictment of their ability to sift through a group and find the talent?
February, 18, 2009
2/18/09
12:00
PM ET
Posted by ESPN.com's Paul Kuharsky
They are easy matches for mock drafters.
Give the Colts the best defensive tackle you can find at 27. Insert the top remaining wide receiver next to the Titans' line at 30.
But presuming those picks is a mistake on both counts, unless you are banking on those teams breaking from their staunch recent histories.
Indianapolis looks to draft the best player available early on, and after a couple top interior linemen go early, team president Bill Polian said defensive tackle value doesn't usually re-emerge until the later rounds.
And the Titans, who once passed on Randy Moss, haven't touched a receiver in the first round since they took Kevin Dyson ahead of Moss in 1998, giving off a vibe since that it's just too unpredictable a position to value so highly.
| | |
| --- | --- |
| | |
| | Matthew Sharpe/Getty Images |
| | The Colts would be bucking a trend by picking Ole Miss DT Peria Jerry in the first round. |
Indianapolis suffered on the interior defensive line last season, not because it had planned poorly, but because of two surprises: Quinn Pitcock, a fourth rounder out of Ohio State in 2007, decided to quit football before training camp last year. Ed Johnson, who'd been an impact player as an undrafted free agent in 2007, was on a zero tolerance policy, got in some trouble after one game in 2008 and was let go.
The Colts will add multiple interior linemen between now and training camp, but they will likely come with a pick or two later in the draft, and inevitably, with a potential diamond in the rough they don't even need to spend a pick on. Besides Pitcock, Polian hasn't drafted a defensive tackle since 2002, when Larry Triplett was a second rounder and David Pugh a sixth rounder. In 11 years, Polian's drafted five players at the position, only Triplett higher than the fourth round.
"I've always approached the draft as take the best player no matter what the position is," Polian said. "Don't worry about filling a need, you can do that later in the draft. Take the best player in the first two rounds, whoever he is."
So it's fair to say through much of his tenure he hasn't seen a lot of defensive tackles of value available with his highest picks?
"Yeah, that's probably correct," he said. "They go in the first 15 usually, then you see them resurface in the latter rounds -- five, six, seven."
September, 11, 2008
9/11/08
4:58
PM ET
Posted by ESPN.com's Paul Kuharsky
The Colts have signed defensive tackle LaJuan Ramsey and claimed running back Justin Forsett off waivers from Seattle.
Indianapolis needed an interior lineman after officially waiving Ed Johnson after he was arrested and charged with speeding and marijuana possession. Tony Dungy called Ramsey a nose tackle. Ramsey was a sixth-round pick out of USC in 2006 by Philadelphia. He played in 15 games in two seasons and was most recently with San Francisco.
"He's here today and ready to practice," Dungy said. "We'll probably start the game with Keyunta (Dawson) and Eric Foster and then we have Raheem Brock and Josh Thomas that can play inside. We will adjust and be fine."
Asked about moving ends inside, Dungy said:
"Nobody looks forward to it, but that's what you have to do in these kinds of situations. You have to be able to make things happen. We've had a lot tougher situations than this. We went to San Diego last year with not many players. We've had quite a few of these situations and usually the guys step up, whether it's [RB] James Mungro in Philadelphia [in 2002] or anyone else. You go forward and you expect to win. We have high expectations and whoever is in there we think will play well."
To make room for Forsett, the Colts waived receiver and return man Courtney Roby.
Forsett is the team's fourth running back.
Dungy also said center Jeff Saturday, who's been out with a knee injury, practiced and while not 100 percent, took all his turns. Tight end Dallas Clark (knee) did not practice.
September, 1, 2008
9/01/08
11:36
AM ET
Posted by ESPN.com's Paul Kuharsky
Labor Day? What's that?
Players and writers are laboring, and so we'll tour the work sites and Web sites.
Houston Texans
Indianapolis Colts
Jacksonville Jaguars
Tennessee Titans
August, 27, 2008
8/27/08
12:59
PM ET
Posted by ESPN.com's Paul Kuharsky
Pierre Garcon looked shaky fielding the ball as a punt returner for the Colts Sunday night at Lucas Oil Stadium.
That became worse news when T.J. Rushing's knee injury from that game turned out to be a season-ender. Rushing handled the bulk of the return work last year, fielding 19 punts and 31 kickoffs. His punt return average of 13.1 yards would have been fourth in the league had he had one more and qualified for the list.
Against Buffalo, Garcon fielded four punts and took them just 22 yards and took two kickoffs back 46 yards. He had a fumble that he recovered and juggled at least one more.
Courtney Roby and Devin Aromashodu also got some work. Roby had a nice 66-yard kickoff return, but got up gimpy after he was tackled from behind.
Tony Dungy indicated he's got concerns over consistency.
"We wanted to look at our young guys and it was kind of feast or famine," he said. "We did some good things, we didn't handle the ball as cleanly as we would like. That's kind of how we've been this whole preseason. Those guys have some talent. We'll have to continue to work them. They are all pretty good string runners and each one of them has had some good returns, but we've got to make sure we're handling the ball better."
Garcon tried his best to shrug off a shaky night.
"It happens, you get it lost in the lights," he said. "You've got to bounce back and try to get better. Every day you're playing for a job, that's how the NFL is. They said 'You've got to catch it, you've got to catch it.' You can't drop it. There is no excuse for dropping it, you've just got to catch it."