January, 29, 2014
Jan 29
12:00
PM ET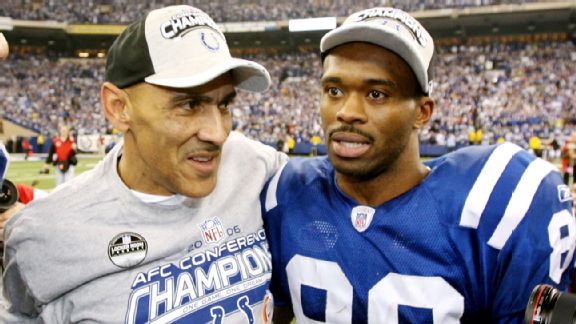 Matthew Emmons/USA TODAY SportsCoach Tony Dungy and wide receiver Marvin Harrison combined for some very memorable Indianapolis Colts teams.
INDIANAPOLIS – The joke about
Marvin Harrison
during his 13-year career with the
Indianapolis Colts
is that he would be in plain sight but he was still hidden because he was so quiet. You didn't know he was around unless he was embarrassing defenses while catching passes from quarterback
Peyton Manning
.
Harrison didn't worry about the extra thing. His focus was getting better on a daily basis and helping the Colts win games.
"He was very quiet away from the field," former Colts general manager Bill Polian said. "Marvin wasn't one of those guys that thrived to be the center of attention. When it was time to play -- practice time or games -- it didn't matter, he was business 100 percent of time. He is one of the all-time best."
Harrison, and former Colts coach Tony Dungy, could be thrust to the forefront Saturday if things go as planned for them.
The Colts receiver and coach are two of the 15 Hall-of-Fame finalist. A finalist must receive 80 percent of the votes.
The statistics scream first-ballot Hall of Famer for Harrison. He's third in NFL history in receptions, fifth in touchdown receptions and seventh in receiving years to go with eight straight 1,000-yard seasons.
"Marvin Harrison had a tremendous impact on my career," Manning said. "My very first football game in the preseason, on the third play of the game, I threw my first pass. I threw him about a 4-yard pass, and he ran 48 yards for a touchdown. I said, 'Boy, this NFL is pretty easy. All you do is throw it to Marvin Harrison and he runs for touchdowns.' That's pretty much what he did throughout the time we played together. He is just an outstanding football player. A great teammate, and he truly helped me out a lot."
Harrison was a perfectionist of his craft. His footwork had to be precise, he tried to catch anything thrown in his direction. He wanted the team's best defensive backs defending him in practice, not a practice squad player who could be released at any moment.
"That was Marvin for you," Polian said. "His unique ability at his size to get open and continue to play for as long as he played is witness to his phenominal athletic ability, great hands and work habit. He's extremely, extremely gifted athlete. Far more than people realize because he's made it look so easy. He was a clutch performer."
Harrison's career, which included going to the playoffs 10 times and winning a Super Bowl, ended in February 2009 when the Colts terminated the final three years of his contract because he didn't want to take a pay cut.
"It was time," Harrison said told the Indianapolis Star in a recent interview. "I had the perfect owner (Jim Irsay), the perfect team, one team my whole career, Dungy leaving, I played my one year in the new stadium (Lucas Oil).''
Dungy wasn't far behind Harrison in leaving the Colts. He stepped down as coach almost two months later.
Dungy, who coached in Tampa Bay and Indianapolis, is in the top seven in wins amongst coaches with at least 100 victories. The Colts won at least 10 games in all seven seasons under Dungy. They won five division titles during that same time span, and Dungy is the first African-American head coach to win a Super Bowl.
"Everybody who makes the finals deserves to be in, but Tony is in a class by himself," Polian said. "His record speaks for itself. He has replaced Wellington Mara as the public conscience of the NFL. "
Manning added, "Coach Dungy's influence on me and our entire team was very strong…I'm indebted to him for his help for me in my career, and of course, our teams there in Indianapolis. I was very honored to play for him for a number of years."
September, 12, 2013
9/12/13
10:05
AM ET
The
Indianapolis Colts
could, actually I take that back, should be represented at the Football Hall of Fame next summer.
Former coach Tony Dungy and receiver Marvin Harrison are part of the 16- first-year-eligible modern-era candidates. The election will take place Feb. 1, 2014.
Dungy and the Colts won the Super Bowl in 2006.

Harrison
Harrison fell off the map after he and the Colts parted ways in 2008. The only blemish on Harrison's resume is his alleged involvement in a Philadelphia shooting in 2008. The gun that was used belonged to him, but he was never charged.
That was off-the-field stuff. The numbers Harrison put up on the field are Hall of Fame-worthy.
Here is more proof that Harrison should be giving a Hall of Fame speech next summer (and his speech would be interesting, because he wasn't exactly a media darling, according to those who covered him).
His 1,102 receptions are third behind Jerry Rice and Atlanta tight end Tony Gonzalez, who is still catching balls today.
His 14,580 yards are sixth behind Tim Brown, Isaac Bruce, Randy Moss, Terrell Owens and Rice.
Harrison's 128 touchdowns are fifth behind Cris Carter, Owens, Moss and Rice.
So in other words, Harrison can go ahead and get sized for his tailored Hall of Fame jacket.
February, 13, 2013
2/13/13
10:09
AM ET
Reading the coverage ...
A
key question
for every team in the league from Pete Prisco of CBSSports.com.
Houston Texans

Battle Red Blog runs through an
entire mock draft
for the Texans.
To which I say:
I don't believe there is a chance Tyrann Mathieu is available in the fifth round, and I've seen Jordan Rodgers up close at Vanderbilt. I don't believe he's an NFL-caliber quarterback.
The promoters of a Kareem Jackson charity basketball game absolutely
butchered a poster
advertising the event, says Patrick D. Starr of State of the Texans.
Indianapolis Colts

The Indianapolis Star begins a look at the Colts who are
heading to free agency
. Up first, Dwight Freeney, by Mike Chappell.
Marvin Harrison's Hall of Fame candidacy
got a boost
from Cris Carter's election, says Nate Dunlevy of Bleacher Report.
Passer rating differential will have to
get better
for the Colts to maintain an upward trajectory, says Dunlevy.
Should the Colts
be players
for Percy Harvin, asks Greg Cowan of Colts Authority.
To which I say:
I don't see them dealing away draft picks, but he is a dynamic guy who could add a lot if he's happy, and even the best drafter is unlikely to find such a talent in the third or fourth round.
Jacksonville Jaguars

New defensive line coach Todd Wash sees Jason Babin as a "
Leo
," a hybrid end/linebacker in the Jaguars' defense, writes John Oehser of the team website.
The Jaguars
didn't get much
bang for their buck in 2012, says Vito Stellino of the Florida Times-Union.
Who fits where
on defense? Alfie Crow looks at the defensive line.
Tennessee Titans

Cornerback Desmond Trufant is a prospect who
could be intriguing
to the Titans, says John Glennon of The Tennessean.
Considering the Titans'
offensive tackles
with Tom Gower of Total Titans.
Matt Hasselbeck is promoting
CheckLight
, a device that can offer an initial indication that a player may have suffered a hit to the head that requires examination before returning to play, says Craig Peters of the team's website.
March, 9, 2011
3/09/11
10:49
AM ET
Reading the coverage…
Innocent bystanders
take a hit
if there is no NFL season, says Jamie Aaron.
Bucky Brooks thinks Ryan Mallett's pro day puts him
back in the first round
.
Houston Texans
Kareem Jackson's agent said his client realizes he used
bad judgment
tweeting from a cockfight in the Dominican Republic, writes John McClain.
Richard Justice is
unimpressed
with Jackson's actions.
Don't expect
the Texans to show interest in Mike Sims-Walker, says McClain.
Indianapolis Colts
Dwight Freeney
expects football
this season.
The
continuing case
that Marvin Harrison was better than Cris Carter, from Nate Dunlevy.
Jacksonville Jaguars
Jarett Dillard
perseveres
, says John Oehser.
Oehser's more patient about
developing players
in the secondary than I am.
Tennessee Titans
See
our previous post
for Jim Wyatt on Cam Newton's pro day.
Eddie George is on the College Football Hall of Fame
ballot
, says Joe Biddle.
March, 8, 2011
3/08/11
10:17
AM ET
Reading the coverage…
A closer look at
mediator George Cohen
, from Sam Farmer.
Houston Texans
Earl Campbell
holds out hope
for Vince Young, says Allison Wollam.
Indianapolis Colts
Part II
of Marvin Harrison vs. Cris Carter, from Nate Dunlevy.
Jacksonville Jaguars
It's a lot easier to side
with the players
, says Gene Frenette.
Tennessee Titans
Pro days today for Cam Newton and Ryan Mallett will have
the Titans' attention
, says Jim Wyatt.
Young still
holds out the possibility
he could be a member of the Titans, says David Dolati. (Hat tip to Wyatt.)
The Titans
don't have plans
for lockout workouts, says Terry McCormick.
March, 7, 2011
3/07/11
1:13
PM ET
Reading the coverage…
Houston Texans
John McClain's first
mock draft
gives the Texans Robert Quinn, the North Carolina defensive end/outside linebacker.
Tackling concussions can be
jarring
, says Richard Justice.
Top 10 draft
prospects by position
from Lance Zierlein.
Indianapolis Colts
Owner greed
deserves to lose
, says Bob Kravitz.
The Indy Star polled about
which player
should replace the Bob Sanders on a banner on Lucas Oil Stadium, said Scott Thien.
Part one of
a comparison
of Marvin Harrison and Cris Carter, from Nate Dunlevy.
Jacksonville Jaguars
Mike Sims-Walker
never made
a big impact, says Gene Frenette.
Continuing a discussion of the
most important positions
on offense, with John Oehser.
Five free agents the Jaguars should be
prepared to chase
, from Alfie Crow.
Tennessee Titans
The Titans will
split their focus
Tuesday on pro days for Cam Newton and Ryan Mallett, says Jim Wyatt.
Former Titans Keith Bulluck and Kyle Vanden Bosch had a recent
Nashville reunion
, says Jim Wyatt.
Houston Nutt is sure Tracy Rocker will be a good NFL
defensive line coach
, says Terry McCormick.
Starting field position
wasn't as much a cause of the Titans' downfall as we may have suspected last season, says Tom Gower.
February, 12, 2011
2/12/11
12:16
PM ET
I asked for mail, you responded. (Especially if you are a Colts' follower.) I offer my thanks …
These two entries came within three minutes of each other
Nate from Indy writes:
Explain something to me, sir. Teams first ask for permission to talk to members of other teams' coaching staffs in order to interview them for coaching positions. This makes sense - if you're under contract with one team, you shouldn't be allowed to shop yourself around to other teams. The question is: Why would a team allow any staff to talk to another team? The individual signed a contract. Much like players, shouldn't they be expected to fulfill it?
Jon Clay from Abingdon, Va., writes:
What kind of a tool of a boss would not let their assistant coach try to better their position during the offseason? I understand locking people up once camps start, but why not let Bill Callahan interview for a BETTER job? As a Titans fan I don't think he is the answer, but aren't the Jets taking a chance at having a disgruntled employee next season?
Paul Kuharsky:
Jon kind of answers Nate's question. The rationale for letting a guy talk is giving him a chance at upward mobility. I think most head coaches don't want to hold their guys back. At the same time, if a departure would leave a gaping hole, the first obligation is for a head coach to field the best team working under the best staff. So it really is a case-by-case basis. Many more requests are denied than permitted, and we don't know the scope of it -- I'm sure a vast majority of denied requests are kept in-house by the teams involved.
---
Shreyans Bafna from Solon, Ohio writes:
Why are the Colts so worried about getting an offensive linemen or wide receiver? How about defensive tackle? The Colts lose mostly when they can't get the ball back. The Jets ran all over them in the playoff game. How about picking up
Richard Seymour
,
Haloti Ngata
, or
Tamba Hali
in free agency? If we can't get them how about
Albert Haynesworth
? He may be troubled but he's bigger and better than anyone we have right now.
Paul Kuharsky:
It's certainly a position where they need to get better as well, and I'd rank it third.
The guys you mention are likely to be tagged or re-signed and I don't think the Colts will get a free agent of that magnitude. While better defense up the middle will help
Peyton Manning
, I believe they'll think what's most helpful to him are things that more directly impact him, like his pass protection and weapons.
Haynesworth has the sort of issues the Colts are not usually willing to take on. He's also under contract.
---
Richard from Madison, Ala., writes:
If there were no restrictions, no other positions to fill and no cap, how many O-linemen would you go after for Indy through the draft and through free agency?
Paul Kuharsky:
Under your scenario, I don't think it would be difficult to get better at every one of the five positions. But I'd kick
Charlie Johnson
to a guard spot and get someone who could definitely replace
Jeff Saturday
in a year. So let's say three starters and an up-and-comer.
---
Scott Van Dyke from Lafayette, Ind., writes:
I know that under the current CBA that the draft will be the last thing that NFL teams will be doing in terms of adding players. Is there a system in place where teams can negotiate with undrafted free agents after the draft is over with a new CBA in place? I know the Colts add a handful of roster spots that way better than most teams. How would the lack of a CBA affect undrafted free agents?
Paul Kuharsky:
There is not such a system in place. The last pick of the draft is the last guy added. There will be no undrafted rookie free agent-market if there is no new CBA. That hurts the Colts as much as anyone, but I think it will only mean that those players get their phone calls the day a new deal kicks off instead of the last day of the draft.
---
Doug Walker from Atlanta writes:
As a Jaguars fan I am clearly biased but it feels like the Titans and Texans are on a downward trend at least for a season or two and Peyton Manning, although still an elite quarterback, started to show signs of fatigue. With all of this, do you think the Jaguars will be chosen as the favorites for next season in the AFC South? The main reason why I think that is because our team has very few veterans and many of our starters are young and still developing. The arrow is pointing up. What is your opinion?
Paul Kuharsky:
I think you want Manning to show signs of fatigue. He didn't look fatigued to me. He had a bad three-game stretch, and he also did some miraculous work considering the injury losses at premium positions. If the Colts win the division last year, there is no way they aren't favorites going forward.
The Jaguars
should
be better than the Texans and Titans, but year-to-year there is no guarantee, and they are a very poor team when it comes to finishing off a season. The arrow is pointing up on a lot of guys, but they still have insufficient weapons, no safeties and a quarterback whose arrow is pointing sideways.
---
Chris George in Nashville writes:
What direction do you see the Titans going at QB? Also, is there a scenario where we would unload
Chris Johnson
to another team (for a draft pick) before he hits the running back wall and "loses his value?"
Paul Kuharsky:
Chris Johnson is a very skilled player, but running backs do not have huge trade value. The league's rushing leader last season,
Arian Foster
, was a guy who was not drafted. Football is usually not baseball, where you unload a guy for picks.
He's one of Tennessee's three best players, and he's a few years away from wear and tear being an issue. I don't see how the Titans get better by moving him, and I don't think he'd bring back all you think he would.
Here is my take on
quarterback options
.
---
Mad Mike from Houston writes:
I know this has nothing to do with the division, but how can
Cris Carter
not be in the HOF as of yet? Clearly, one of the best WRs of all time, easily top 10, makes no sense. What are your thoughts?
Paul Kuharsky:
Who do you take out that got in during his eligibility to get him in? He'll get in. Be a little patient.
---
Joe from Kaiserslautern Germany writes:
I've seen some teams that are releasing defensive backs to start the offseason, like
Eric King
from Detroit and Eric Coleman from Atlanta. Also
Ronde Barber
could hit the market. (He's getting up there though). I don't know much about them but at this point it seems like even an average secondary would be an improvement. I'm not knocking the theoretical starters Indy has but let's face it,
Antoine Bethea
and
Melvin Bullitt
are the only ones that can stay on the field. Do you know anything about these Erics?
Paul Kuharsky:
Bullitt has been durable, but was hurt in 2010.
As guys like that hit the market, if you are cornerback needy and can grab them cheap, I'd pounce. Fill up the roster any way you can now not knowing what's going to happen to free agency and the trade market later. That said, there are corner-needy teams that would be more aggressive in such a scenario than the Colts. If King isn't good enough for Detroit, where the secondary isn't sterling, I doubt he's a big help to Indianapolis.
While they need depth, if they are healthy they can be strong at that spot with
Kelvin Hayden
and
Jerraud Powers
as the starters and
Justin Tryon
and
Jacob Lacey
as situational guys. They should also have
Kevin Thomas
back healthy.
---
Austin from Philadelphia writes:
My friend Matt and I were discussing
Mike Munchak
's (rumored) coaching moves thus far. What is your opinion on Munchak trying to recruit former Oiler players to coach? Do you think he is trying to build chemistry within the coaching staff and players or just looking up contacts in his phone book?
Paul Kuharsky:
I've gotten a couple another notes on this. Let's not cast this as some major trend.
Bruce Matthews
, as a Hall of Fame lineman and Munchak's close friend, was a no-brainer who was available. If
Jerry Gray
or Frank Bush is hired, they are connected too. But Gray's connection is from coaching with Matthews far more than from playing with him.
Would three new hires being former Oilers really be some sort of trend that was devised to create staff chemistry? In a word, no. It's somewhat coincidental that guys who are available happen to have those ties and that Munchak is connected to them. And if the new defensive coordinator isn't Gray, secondary coach
Marcus Robertson
could be fired, so that would be subtracting a former Oiler from the staff.
---
Robert Sawyer from Killeen, Texas, writes:
Jason Babin
finally lived up to his status of being a first-round pick last year. With him being a free agent, and the Texans switching to a 3-4, what do you think are the chances of him coming back to Houston? I think it would be a great idea and that he could compliment
Mario Williams
if not challenge for the number one spot. Your thoughts?
Paul Kuharsky:
I would put the Texans as about the last team to chase Babin. He was great as a 4-3, go-get-the-quarterback guy. Why take him, again, and try to force a fit into a 3-4? And if he was in Houston, he wouldn't have the slightest chance of displacing Mario Williams as the No. 1 end or pass rusher. When healthy, Williams is a premiere guy. In a 3-4, Babin is a tweener, probably more of a outside linebacker. And Houston failed miserably at trying to make him that once already.
---
Ryan Wilhite from Indianapolis writes:
Why do all my questions end up in the trash bin of writers instead of being answered?
Paul Kuharsky:
Don't be so hard on yourself. I don't trash messages I don't have a chance to answer. I usually just let them sit.
---
A courageous, nameless reader writes:
Hey Paul. Just stopping by to tell you man you are a [bleeping] biased [bleep]. How do you even have a job as a blogger when you are the most biased [bleep], probably throughout all of ESPN? I'm sorry, but your writing is terrible, and half of the time my 5 year old daughter finds misspellings and grammatical mistakes throughout your garbage blog. Get some sources who actually know things about the NFL, and stop getting your information from other biased sports sites. You suck. Yours Truly, Someone who really thinks you suck at what you do.
Paul Kuharsky:
Is your daughter available as a proofreader? I love how you own your comments with no name and a fake email address so I can't even write back to say thanks so much for your constructive criticism. All that hammering and still, you're reading and taking the time to write. I am really impressed. Here is a post I did recently to try to help you understand
what I do
and the concept of bias.
Like everyone represented here and everyone reading, I say thanks for doing so and for taking the time to write.
The mailbag's open 24/7/365
right here
. I'm also happy to interact via
Twitter
and
Facebook
. Want to tip me off on something, you can even e-mail me directly at
pkuharsky@gmail.com
.
November, 4, 2010
11/04/10
12:31
PM ET
ESPN NFL analyst
Cris Carter explains

his relationship with Randy Moss and how Moss responds to certain situations. Plus, Carter talks about how he's been disappointed with his former teammate.
September, 20, 2010
9/20/10
12:12
AM ET
By
ESPN.com staff
| ESPN.com
December, 13, 2009
12/13/09
9:43
PM ET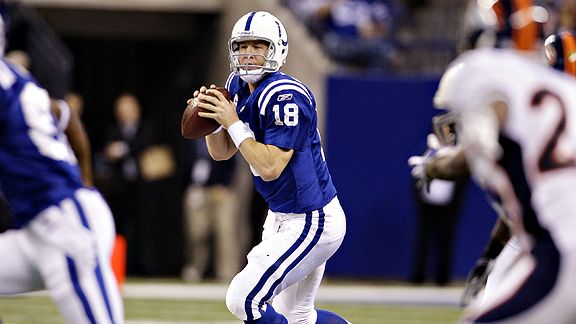 AP Photo/Darron CummingsWill Peyton Manning's chances at a fourth MVP title suffer if the Colts rest him?
INDIANAPOLIS -- His biggest accomplishment is leading his team to a place where he doesn't need to make a major contribution over the next three weeks.
For that distinction,
Drew Brees
,
Brett Favre
,
Chris Johnson
and
Philip Rivers
surely would trade situations with
Peyton Manning
.
But after the
Indianapolis Colts
' 28-16
victory
over the
Denver Broncos
at Lucas Oil Stadium Sunday, we might have seen the last full game of the regular season from Manning.
And if the regular-season final image of Manning depicts him with a dangling earpiece and under a poncho in Buffalo in Week 17 -- helping substitute quarterback
Curtis Painter
cope with the Bills -- how will that affect MVP voters?
Will they reflect upon Manning's accomplishments leading the Colts to a 13-0 start? Will that three-week-old memory have any impact while they're watching, say, Brees cap an undefeated regular season, or Favre carry the Vikings into the playoffs, or Johnson crack 2,000 rushing yards?
When that Associated Press panel submits its MVP votes Jan. 4, could Manning fall victim to omnipresent what-have-you-done-for-me-lately thinking?
"I would say you can't count it against him if he's not out there,"
Dwight Freeney
said. "It's about the team first, nothing else matters. …If it came down to that, it would be a shame."
"The effect that he's had on a team, I don't know how you could match that," said Colts kicker
Matt Stover
, who's played with
Phil Simms
,
Jeff Hostetler
,
Bernie Kosar
,
Vinny Testaverde
and a slew of other quarterbacks in 20 NFL seasons. "What he does in practice, what he's replicated on the field, warrants an MVP to me.
"I have never seen anything like it in my 20 years and that's playing with a lotta, lotta, lotta quarterbacks. To me it's 'What has he done to give his team the best opportunity to win, to get his team to the playoffs?'"
With his play, Manning's helped put the Colts in position to ease up. They are expected to stay true to a long-standing philosophy of resting key starters once playoff position has been secured, a stance honed by former head coach Tony Dungy and expected to be adopted by his successor Jim Caldwell.
No other quarterback has put his team in such a spot so early, so to penalize him for it in any way wouldn't seem fair to me.
Colts executive Bill Polian made his traditional sour face when I asked him if MVP is important. He cares little for things voted on by media members and things he and his team cannot control, at least conversationally. Still, asked to make the case for his quarterback, it came easily.
"If you ask me is it comparable to the seasons that he's won, the answer is yes it is," he said. "Certainly beyond, because of the circumstances, because of the offensive line transition, the offensive line difficulties and the receiver transitions."
Manning has excelled even as the team's projected starters at left tackle and right guard (
Tony Ugoh
and
Mike Pollak
, respectively) were outplayed and replaced by understudies (
Charlie Johnson
and
Kyle DeVan
, respectively). And with Hall of Fame receiver
Marvin Harrison
gone and No. 2 target
Anthony Gonzalez
hurt, Manning's thrown to rookie
Austin Collie
and second-year man
Pierre Garcon
unhesitatingly, helping both become major contributors.
I skipped Manning's news conference after the Broncos game because I knew an MVP question would be fruitless and I'd fare better on this subject in the locker room.
But make no mistake, a fourth MVP would mean a great deal to Manning just as late yards in a blowout win at Tennessee on Oct. 11 meant something to him. Those yards got him over 300 yards for the fifth straight game at the start of the season. The milestone kept him on track to match or surpass the shared record of six, held by
Kurt Warner
and
Steve Young
. (He came up well shy of 300 a week later at St. Louis.)
That doesn't mean Manning is at all selfish or has any priorities out of whack.
I just believe he's acutely aware of the numbers and the history. He takes a great deal of personal pride in getting the first and making the other when he has the chance. None of that makes a second Super Bowl win any less important to him or the team he leads.
A year ago, en route to his third MVP, Manning and the Colts played at Jacksonville in a late-season Thursday night game. The Dec. 18 contest marked the Colts' 15th game. In a 31-24 victory, Manning was a pitcher with no-hitter control -- zipping balls through small windows, lofting them just over defenders' fingertips, throwing them with just the perfect touch.
That 29-for-34 passing for 364 yards and three touchdowns, broadcast nationally on NFL Network, clinched the award for him, I thought.
A week later in a meaningless game against Tennessee he threw early and often, and topped 4,000 yards. He helped get Harrison past Cris Carter into second place for career receptions, and then Manning left the game.
Certainly the Colts have many banged-up guys who need to heal. Some others can get the work they need to stay sharp during practice weeks. But the team's first playoff game isn't until Jan. 16 or 17, more than a month away. A month is too long to expect the engine to idle.

Nobody asked me but… I humbly propose the Colts set Manning loose on the Jaguars again in four days. Kelvin Hayden said even if the team takes its foot off the gas, it doesn't want to drop a game to a loathsome division rival.

Manning will do what he's asked to do. Still, he said he hasn't liked playing a bit and then taking a seat when he's been required to do it in the past. So don't ask him to do it three consecutive weeks while risking the honor that would come with being the league's first four-time MVP.

Let Manning be Manning in North Florida Thursday, with his stable of healthy weapons helping him stake his claim.

If Brees or Favre or Johnson or someone passes him from there as he plays only a couple series against the New York Jets (Week 16) and at Buffalo, so be it. At least the voters will have less time to forget what they should be sure to remember.