May, 15, 2013
5/15/13
2:04
PM ET
To review:
J.J. Watt
's defensive player of the year season in 2012 included 107 tackles, 20.5 sacks, 39 tackles for loss, 42 quarterback hits, 16 batted passes, four forced fumbles and two fumble recoveries.

"It was the best I've ever seen, the best I've ever been around,"
Houston Texans
defensive coordinator Wade Phillips recently reiterated.
Watt is the biggest sports star Houston has seen in some time and I don't think he'll let up for a second in preparing for his third year, even as he allows himself to enjoy his celebrity.
Still, one has to wonder: Can he match that enormous season or is a statistical drop-off almost inevitable?
The Titans drafted right guard
Chance Warmack
in part because they think he will be able to slow Watt down. The Colts also emphasized their interior offensive line in the draft. Those moves will hardly make Watt scared. They simply serve to help illustrate how big of a concern he is.
[+] Enlarge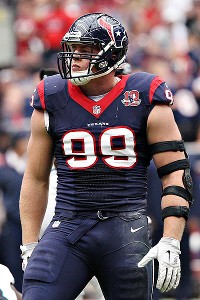 Troy Taormina/USA TODAY SportsJ.J. Watt had 20.5 sacks and 16 batted passes in 2012.
"We started seeing it toward the last of the year, they started hollering in the field, 'Don't let him get to the quarterback,' that sort of thing," Phillips said. "Teams were even drafting for him, it sounded like.
"He's going to draw a lot of attention, but as long as you have other guys who can rush, it's hard. We put him in some situations where he's one-on-one and we also move him around quite a bit. We think those things will help.
"There will be more attention on him, there will be more trying to see where he is and trying to help. But I think they tried to do that last year quite a bit. He's a great player. He's going to do well no matter what."
But can he match those stats?
"I don't know if you can have a better year than last year. He had a tremendous year," Phillips said. "I've never been around a defensive linemen that made that many plays. And I had
Reggie White
, I had
Bruce Smith
, I had Elvin Bethea who's in the Hall of Fame, Curly Culp who's fixing to go in the Hall of Fame. Nobody's had a year like that kid had last year.
"You just don't make that many plays. It was a phenomenal year. I don't know if he can have a better year than that. He's working towards it, I know that. He's first in every drill we do, he wins every wind sprint that they run out there, he's a leader. The sky's the limit for that guy."
February, 4, 2013
2/04/13
9:03
AM ET
We haven't read the coverage since Friday, so while some of this is pre-Super Bowl, I've still judged it worth a look…
How the Ravens and 49ers
built their rosters
, from Tom Gower of Football Outsiders.
Houston Texans
Five former players, coaches and personnel directors who cover the NFL for television and radio networks were asked last week for their opinion on Gary Kubiak and the job he's doing with the Texans. John McClain of the Houston Chronicle found
complimentary reviews
of the Texans' coach.
Indianapolis Colts
Early on, Bruce Arians
planted the seed
in the Colts' minds that they could extend the season. They did, and the former Indianapolis interim coach and offensive coordinator won coach of the year, says Phil Richards of the Indianapolis Star.
The field competing with Indianapolis for
the 2018 Super Bowl
is growing tough, says Anthony Schoettle of the Indianapolis Business Journal.
How the Indy offense will be different with Pep Hamilton crafting the offense, from Brad Wells of Stampede Blue. (
Video
.)
Jacksonville Jaguars
The 49ers provide
an ideal blueprint
for the Jaguars, says Gene Frenette of the Florida Times-Union.
Receiver Laurent Robinson's
concussion issues linger
, putting his future in doubt, say Andrea Kremer and Christine Detz for NFL.com.
Tennessee Titans
The Titans need to
copy the game plan
the Ravens have used to construct their team, says David Climer of The Tennessean.
Curley Culp
was grateful
to be selected for the Pro Football Hall of Fame, writes McClain.
February, 2, 2013
2/02/13
6:49
PM ET
Pro Football Hall of Fame senior inductee Curley Culp started off with Kansas City, but he made a huge impact with the Houston Oilers, too.

Culp
The six-time Pro Bowler was named the NFL's defensive player of the year by the Newspaper Enterprise Association in 1975 after helping lead Houston to its first winning season in eight years.
He will be inducted into the Hall in Canton, Ohio, on Aug. 3, along with six others -- offensive lineman
Larry Allen
, wide receiver
Cris Carter
, tackle
Jonathan Ogden
, coach Bill Parcells, linebacker Dave Robinson and defensive tackle
Warren Sapp
. Robinson was the other senior nominee.
Rick Gosselin of the Dallas Morning News presented Culp at the selection meeting, and John McClain of the Houston Chronicle also led the discussion of Culp's candidacy.
McClain
spoke to Culp
leading up to selection day.
"I'm anticipating a great outcome," said Culp, who resides in Austin. "I'm blessed to be in this position. I was part of a Super Bowl winner with the Chiefs, and those Luv Ya Blue teams were special.
"I'm not sure what I'll be doing, probably pulling weeds and raking the yard."
Said McClain this week in New Orleans: "Curley was the epitome of a 3-4 nose tackle. Strong, quick, nasty -- an NCAA wrestling champion who could get leverage and keep it."
"The Oilers traded [defensive tackle] John Matuszak to the Chiefs in 1974 for Culp and the No. 1 pick they used on outside linebacker Robert Brazile. It was a tremendous trade. Along with Hall of Fame defensive end Elvin Bethea, they were the cornerstones of the Luv Ya Blue defense."
Culp is the ninth member of the Oilers/Tennessee Titans to be elected to the Pro Football Hall of Fame.
The capsule on Culp from the Hall:
Defensive Tackle … 6-foot-2, 265 pounds … Arizona State … 1968-1974 Kansas City Chiefs, 1974-1980 Houston Oilers, 1980-81 Detroit Lions … 14 seasons, 179 games … Selected in second round (31st player overall) in 1968 draft by Denver Broncos … Denver attempted to switch him to offense before trading him to Chiefs during training camp … Fit in perfectly with Chiefs' dominating defense … Member of team's Super Bowl IV championship team in second season … Started at left defensive tackle in Super Bowl win over Vikings and registered three tackles and one assisted tackle … Dealt to Houston Oilers in blockbuster trade during 1974 season … Key veteran leader with 11.5 sacks to help Oilers to 10-4 record in his first full season with club … Winning record in '75 was Oilers first winning season in eight years and just second in 13 seasons … Named NFL's defensive player of the year by Newspaper Enterprise Association, 1975 … Culp led defense that helped Oilers earn back-to-back appearances in AFC Championship Game, 1978-79 … Named All-Pro, 1975 … All-Pro second team 1971, 1977-1979 … First- or second-team All-AFC five times … Elected to six Pro Bowls … Born March 10, 1946 in Yuma, Ariz.
August, 23, 2012
8/23/12
9:17
AM ET
Reading the coverage ...
Houston Texans

Defensive tackle is
thin, thin, thin
after a season-ending injury to Sunny Harris, says Tania Ganguli of the Houston Chronicle. Defensive ends Jared Crick and Tim Jamison will likely see action inside this week.
The Texans are
being patient
with DeVier Posey who came into the league with different circumstances than most players, says Ganguli.
Andre Johnson is
being sued
for child support, says Dale Robertson and John McClain of the Houston Chronicle.
Ex-Oiler Curley Culp is a
senior nominee
for the Pro Football Hall of Fame, says McClain.
Indianapolis Colts

Through two preseason games, special teams have been
an asset
, not a liability, and that's highly unusual for the Colts, says Phil Richards of the Indianapolis Star.
At No. 1 in the waiver order, the Colts will have
first dibs
on over 1,000 players who are about to come free, says Mike Chappell.
The preseason Andrew Luck vs. Robert Griffin III T-shirt
is selling
, says Phillip B. Wilson. (Sadly, this is happening despite
my plea
for people to not buy it.)
The hype is inevitable but it's
not going to distract
Luck or RG3, says Conrad Brunner of 1070 The Fan.
Jacksonville Jaguars

Who's winning
the PR battle in the fight between Shad Khan and Maurice Jones-Drew?
Gene Frenette of the T-U wonders
which side
will extend the olive branch. I firmly believe it's not going to come from the team.
Khan continues to
enhance
the player experience for the Jaguars, says Vito Stellino.
The Jaguars will look to score on their
opening drive
for the third time in three games tonight in Baltimore, says Stellino.
Three plays
illustrate why Blaine Gabbert has gotten better, says Nate Dunlevy of Bleacher Report.
Tennessee Titans

The Titans hope that winning the starting quarterback job helps Jake Locker
settle down
, says Jim Wyatt of The Tennessean.
Previewing the
Titans versus the Cardinals
with John Glennon of The Tennessean.
The Titans
released
defensive tackle Shaun Smith, says Wyatt.
Taylor Thompson is learning contact is a
two-way street
, says Glennon.