September, 15, 2013
9/15/13
10:29
PM ET
OAKLAND, Calif. -- It's hard to win when your offense struggles and the defense gives up more than 200 yards rushing.
Committing 10 penalties makes it nearly impossible.
That's what the Jaguars did on Sunday in a
19-9
loss to the
Oakland Raiders
. Ten penalties for 70 yards, including two in the third quarter that extended Raiders drives that ended with field goals.
[+] Enlarge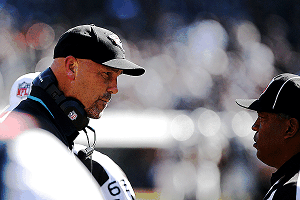 Kelley L Cox/USA TODAY SportsJaguars coach Gus Bradley saw his team commit 10 penalties in Sunday's loss to the Raiders.
"To be a successful football team we cannot make the mistakes that we made today," linebacker
Paul Posluszny
said. "We are giving the opponent opportunities, and in this league everybody is so good you can't do stuff like that. Mentally, we have to clean that up. Moving forward we have to get rid of that part of our game. We can't have that."
The Jaguars committed several that robbed the offense of any chance to gain momentum, but it was penalties by tight end
D.J. Williams
and defensive end
Jason Babin
that really hurt.
Williams lined up offside when the Raiders were punting on fourth-and-4 in the third quarter. That kept a drive alive that ended with
Sebastian Janikowski
's 30-yard field goal to give Oakland a 13-3 lead.
Later in the quarter, Babin was penalized 5 yards for illegal use of hands on a third-down play on which
Terrelle Pryor
threw incomplete. Four plays later, Janikowski hit a 29-yard field goal for a 16-6 lead.
"We had too many mental errors, too many penalties," receiver
Cecil Shorts
said. "To win in this league, you can't have that. The less-penalized team wins games. We're doing a good job of taking care of the ball, but we're killing ourselves with mental errors, mistakes and penalties."
Being a heavily-penalized team does not necessarily keep you from winning games. It's not being able to overcome penalties, especially on offense, that does. The Jaguars are having so much trouble moving the ball consistently that a 5-yard false start on first down pretty much means punter
Bryan Anger
needs to grab his helmet.
Jacksonville committed only five penalties in the opener, so it'll be a few weeks before it's determined if Sunday's performance is the anomaly or the average.
"To give us the best opportunity to come out on the victory end we've got to clean those things up and we have to hold everybody accountable, players, coaches, because it's about execution and mindset," coach Gus Bradley said. "We'll challenge our guys in that area and we'll get those things taken care of."
September, 15, 2013
9/15/13
7:30
PM ET
OAKLAND, Calif. --
A few thoughts on the Jaguars' 19-9 loss to the Oakland Raiders
:

What it means:
This was perhaps the Jaguars' best shot at a victory before the bye week, especially if
Maurice Jones-Drew
's ankle injury lingers for more than a week or two. The offense still couldn't generate any consistency and again really struggled on first down: Nine times through the first three quarters, the Jaguars gained 3 yards or less on first down. But maybe that shouldn't be a surprise, considering the Jaguars didn't have four starters (quarterback
Blaine Gabbert
, tight end
Marcedes Lewis
and receivers
Justin Blackmon
and
Mike Brown
) because of injuries or suspension. They also lost Jones-Drew in the second quarter. When an offense is that short-handed, the defense pretty much has to play a perfect game, and the Jaguars aren't talented enough to do that. It's unfair to ask them to as well. The result is another game with less than 200 total yards.
Stock watch:
It's unclear just how serious Jones-Drew's ankle injury is, which means the Jaguars would have to rely on
Justin Forsett
and first-year player
Jordan Todman
to carry the running game. Forsett, at least, is a seven-year veteran who has rushed for more than 1,600 yards and caught 100 passes. Todman entered Sunday's game with just four career carries. This might mean more work for
Denard Robinson
.
Touchdown skid ends:
Chad Henne
tossed a touchdown pass to
Clay Harbor
with three minutes remaining to give the Jaguars their first offensive touchdown since the second quarter of the 2012 season finale against Tennessee.
Penalty problems:
The Jaguars committed 10 penalties for 70 yards, including two that allowed Oakland to retain possession.
D.J. Williams
was offside on a punt on fourth-and-4, and
Jason Babin
was penalized for illegal use of the hands during a play on which
Terrelle Pryor
threw incomplete on third-and-9 from the Jacksonville 24-yard line.
What's next:
The Jaguars play at Seattle next Sunday at 4:25 p.m ET.
September, 5, 2013
9/05/13
4:46
PM ET
The Jaguars are now dealing with another player who may not be available for Sunday's season opener.
Tight end
Marcedes Lewis
missed practice on Thursday, one day after reinjuring his left calf -- an injury he suffered in pregame warmups against the
New York Jets
on Aug. 17. That means coach Gus Bradley isn't sure if he's going to have his starting quarterback and tight end against Kansas City.

Lewis
"We'll continue to evaluate [Lewis], see where he's at," Bradley said. "I know that he was riding the bike and going through some of the rehab things for his calf with [head athletic trainer] Mike [Ryan]."
Bradley said the plan is to be cautious with Lewis, who is coming off a 52-catch season, to keep the injury from becoming a long-term issue. Lewis will be re-evaluated on Friday.
"We don't want to put him in there and have this continue to be another three weeks," Bradley said.
Lewis has been limited in practice since he suffered the original injury. If he can't play, the Jaguars will have to rely on
Allen Reisner
, who signed with Minnesota as an undrafted free agent out of Iowa and spent 2011 and most of the 2012 season on the Vikings' practice squad, and two tight ends they claimed off waivers on Saturday.
Clay Harbor
spent the past three seasons with Philadelphia and caught 47 passes for 421 yards and four touchdowns.
D.J. Williams
played in 26 games over the past two seasons with Green Bay and has nine receptions for 70 yards.
Bradley said he's still unsure if Gabbert will be able to play against the Chiefs, but he is pleased with the progress Gabbert has made from the fractured right thumb he suffered against the Jets. Bradley said Gabbert was limited in practice on Thursday but took more reps than he did on Wednesday.
"If it was a situation where we felt like Blaine couldn't make the throws we want him to make then the decision would be made right now," Bradley said. "But right now we're seeing him make some of the throws. We're seeing him do a lot of things we're asking him to do. Now, we'll go through it one more time tomorrow and finalize it."
Chad Henne
and
Ricky Stanzi
got extra reps just in case, Bradley said.
September, 1, 2013
9/01/13
5:00
PM ET
JACKSONVILLE, Fla. -- Jaguars general manager Dave Caldwell had promised that the team would be aggressive when it came to working the waiver wire and trying to improve the bottom part of the roster.

He wasn't kidding.
The Jaguars were awarded seven players off waivers on Sunday, adding receiver Stephen Burton (Minnesota), defensive back Winston Guy (Seattle), tight end Clay Harbor (Philadelphia), guard Jacques McClendon (Atlanta), linebacker Chris McCoy (Philadelphia), linebacker J.T. Thomas (Chicago) and tight end D.J. Williams (Green Bay).
They aren't done yet, either. Caldwell said the team will look at the players other teams released on Sunday and there could be some additional signings on Monday.
"We'll evaluate that pool and from that pool we'll see if we can upgrade somewhere," Caldwell said. "We will always look for an edge and an advantage of where we can try to get better."
Speed and the ability to play on special teams are the two traits for which Caldwell is looking in available players. Six of the seven players signed have special-teams value.
"It's something we've looked at the whole time," Caldwell said. "We're always going to look to get better in every phase, not just special teams. It's offense, defense, [and] it's personnel. Whatever we're doing we're going to work to get better. We felt like when we came here in the offseason we wanted to upgrade our team speed. We feel like we didn't completely do that in the offseason but we feel like we did that today."
To make room for the seven additions, the Jaguars cut defensive back
Antwon Blake
, tight end
Brett Brackett
, center
Dan Gerberry
, defensive tackle
Kyle Love
, fullback
Lonnie Pryor
, receiver
Jordan Shipley
and linebacker
Andy Studebaker
.
The Jaguars also signed the following players to the practice squad: cornerback Marcus Burley, defensive end
Ryan Davis
, receiver Jeremy Ebert, guard Drew Nowak, receiver Tobais Palmer, quarterback Matt Scott, and safety Steven Terrell. The Jaguars have one remaining spot to fill on the practice squad.
Here's a quick look at the seven new players:
Burton:
The former 2011 seventh-round draft pick played in 15 games for Minnesota last season and caught seven passes for 73 yards and one touchdown.
Guy:
He was a sixth-round pick by Seattle last year and played in three games, including the NFC divisional playoff game against Atlanta.
Harbor:
He spent the past three seasons in Philadelphia after the Eagles took him in the fourth round in 2010. He has played in 39 games (18 starts) and has 47 catches for 421 yards and four touchdowns. Also has lined up at receiver.
McClendon:
The former 2010 fourth-round pick by Indianapolis has played in only four games.
McCoy:
Miami selected him in the fourth round in 2010 and he spent that season on the practice squad with three teams (Miami, Houston and Seattle). He spent the past two seasons with Calgary in the Canadian Football League.
Thomas:
Chicago selected him in the sixth round in 2011. After spending his rookie season on injured reserve he played in every game last season for the Bears.
Williams:
He spent the past two seasons with Green Bay after the Packers selected him in the fifth round in 2011. He has nine career catches for 70 yards. He also can line up at fullback.
September, 23, 2011
9/23/11
1:30
PM ET
»
NFC Final Word
:
East
|
West
|
North
|
South
»
AFC
:
East
|
West
|
North
|
South
Five nuggets of knowledge about Week 3:
Watch the Jaguars' defense:
It did not play badly in New York, it's just that the Jets were given so many chances by the Jacksonville offense.
Cam Newton
is due for a comedown, and a defense that loaded up on veterans this offseason needs to see a payoff Sunday in Carolina. Put the spotlight on
Paul Posluszny
,
Clint Session
,
Matt Roth
, probable new starting safety
Dwight Lowery
and
Drew Coleman
. They were brought in to make this a good defense now, and if they can't fare well against a rookie quarterback and a rebuilding team, it will be a major disappointment. The defense should play well enough to give
Blaine Gabbert
a chance to win his first start if he plays efficiently.
[+] Enlarge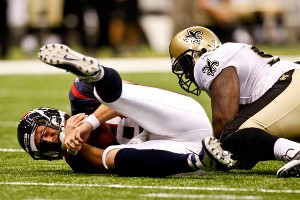 Derick E. Hingle/US PresswireThe Saints will look to bring pressure on Matt Schaub to slow down the Texans' air attack.
Blitz alert:
The Texans are probably sick of hearing about how challenging the blitz packages of Saints defensive coordinator Gregg Williams will be. But they'll also be reviewing the possibilities and reminding themselves of their schemes for handling blitzes.
Matt Schaub
is better when teams sit back and play coverages rather than coming after him. Still, although New Orleans wants to blitz and has the people to do it, the Saints are only 18th against the pass through two games. Although they collected eight sacks against the Packers and Bears, they've allowed an opponent passer rating of 95.6. There will be room for Schaub to succeed.
Quick and short:
I expect the Colts will try to combat the Steelers' high pressure 3-4 front with quick, short passes, hoping for yards after the catch.
Kerry Collins
can certainly connect with
Joseph Addai
in such circumstances. He has done OK with
Reggie Wayne
and
Dallas Clark
. The guy who needs to be a bigger part of things is
Austin Collie
, who was targeted 10 times a week ago but had only three receptions for 24 yards. To move it better, particularly in the red zone, where it was a struggle against the Browns, I think Collins-to-Collie has to become a bigger part of things.
Denver's health:
The Broncos were awfully banged up last week against Cincinnati when they managed to win without several key guys -- defensive end
Elvis Dumervil
, linebacker
D.J. Williams
, cornerback
Champ Bailey
, receiver
Brandon Lloyd
and running back
Knowshon Moreno
. At least some of those guys will return, and the Titans will face a better team than the one they have been watching on tape.
Kyle Orton
led Denver to a win at LP Field last season, so this is a trip the Broncos know they can make successful. Underrated Titans left tackle
Michael Roos
will be ready for Dumervil if the defensive end is back.
Making Newton uncomfortable:
Newton has been very comfortable in his first two NFL games, even as Carolina has dropped both. For the Jaguars, making Newton do things he has not been doing well is a major goal. What might that entail? According to ESPN Stats & Info, Newton has been the best quarterback in the NFL throwing outside the numbers, where he has a passer rating of 109.5 and a Total QBR of 91.6. Take away receivers on the perimeter and make him look inside the numbers and you'll find a much more average player: passer rating of 63, QBR of 39.2. The pressure is on
Rashean Mathis
and
Derek Cox
, particularly against
Steve Smith
, who is responsible for a good share of Newton's numbers to the outside.
December, 15, 2009
12/15/09
7:27
PM ET
The suggestion, from Dave in Baltimore, MD:
About 9:30 left in the Colts/Broncos game, Colts on their own 20 facing 3rd and 10. Manning hits
Austin Collie
on a curl for a 23-yard completion, moving the chains, keeping the drive alive, and eventually putting seven points on the board to salt the game away. [Nilay Baxi in Ocean, NJ and unionjackwh joined Dave's suggestion.]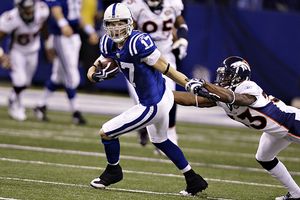 AP Photo/Michael ConroyAustin Collie's 23-yard reception in the fourth quarter against Denver was a key play in the Colts win.
The situation:
Denver's just cut Indianapolis' lead to 21-16 and with 8:57 left in the fourth quarter the Colts face a third-and-10 from their own 20-yard line. Peyton Manning's been cold -- completing just one of his first 11 second-half throws with two picks.
Manning lines up in the shotgun, flanked by
Dallas Clark
on his left and
Joseph Addai
on his right.
Pierre Garcon
is lined up right, Austin Collie is in the slot left and
Reggie Wayne
is wide left.
The Broncos are in nickel, with
Champ Bailey
on Wayne, Andre Goodman on Garcon and
Alphonso Smith
on Collie.
What I saw unfold after the snap:
Manning takes the shotgun snap, drops back two steps and bounces three times, with plenty of time to assess and release.
Lined up as left end,
Elvis Dumervil
hesitates and waits to see if he needs to cover anyone out of the backfield, drawing no real attention. Once right tackle
Ryan Diem
sees Dumervil is staying, he shifts inside to help
Kyle DeVan
and they cancel out right defensive tackle
Vonnie Holliday
.
D.J. Williams
blitzes from right linebacker and is handled by center
Jeff Saturday
.
Lined up as left linebacker,
Wesley Woodyard
crosses the path Williams took and tries to get to Manning by squeezing between Saturday and left guard
Ryan Lilja
. Addai picks him up and Clark is nearby in case he's needed, which he isn't because the ball is out by the time Ayers recovers from Addai's initial stop.
Right end
Robert Ayers
comes out of his stance, waits for Clark or Addai to emerge from the backfield. When neither comes he waits and then tries to chase the play. Left tackle
Charlie Johnson
realizes he doesn't need to get Ayers, so he looks to help Lilja who's already doing just fine against right defensive tackle
Darrell Reid
.
Collie is looking inside as the snaps comes, gestures inside with his shoulders and hands, then beats Smith off the line to the outside. As he gets downfield, he leans inside selling a curl and buying himself the space he wants before breaking off his route at about the 34 and turning back outside to face Manning's pass while standing on the "3" of the "30" on the Lucas Oil Stadium turf. Smith slips off him and is face down as Collie cuts outside where Wayne is blocking Bailey. Safety
Brian Dawkins
arrives to make the tackle after a 23-yard gain.
Result:
The Colts eat 7:19 on the drive, ending it with Clark's third touchdown catch that puts them ahead 28-16 with only 2:25 remaining for Denver.
Ultimate outcome:
Denver moves just eight yards in four plays, giving the ball back with 1:51 remaining in the game. Manning kneels three times to run out the clock and seal up the Colts' 13th win.