July, 8, 2011
7/08/11
10:56
AM ET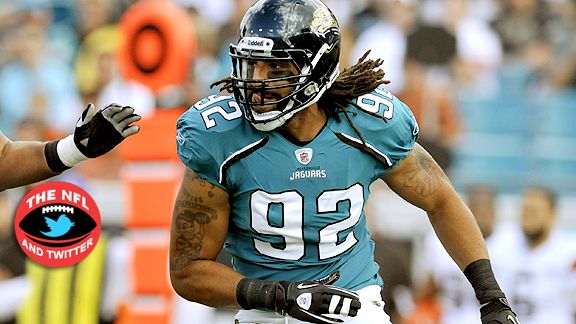 AP Photo/Stephen MortonAusten Lane has now been in the top-10 rankings of all four of the NFL Twindexes so far.
Show, don't tell. We're making it an NFL Twindex commandment.
"I usually hate when athletes tweet about how good their workout was," Matt Hasselbeck (
@Hasselbeck
) tweeted Thursday in a good start, "but we had a great one today!"
Bad finish.
Plenty of NFL fans starved for morsels and insight into football and beyond would love to know what made it good.
J.J. Watt (
@JJWatt
) did very well with show-don't-tell when he tweeted
this picture
. Yowza.
Alas, Hasselbeck and Watt are snapshot examples for us here at Twindex HQ, where we'd like to host Cleveland receiver Carlton Mitchell and Green Bay tight end Tom Crabtree. They hold the top two spots in our new poll, flip-flopping their standing from two weeks ago.
We could have a 10-event competition for the two including feats of strength and intellect and concluding with a tweet-off or a tweet-up or a tweet-meet.
They were neck and neck, and it came down to my gut feeling -- Mitchell was more consistently amusing.
Scroll through
my favorites
to see what was considered as we made the final cuts -- we are now trying to track 493 guys.
And hit me at
@ESPN_AFCSouth
and
@PaulKuharsky
with tweets I need to see and people I need to follow.
August, 19, 2009
8/19/09
1:14
PM ET
Posted by ESPN.com's Paul Kuharsky
NASHVILLE, Tenn. -- Kevin Mawae expects to be fully recovered from the elbow injury that cut his season short last year and the two subsequent surgeries in time for the Titans' opener at Pittsburgh on Sept. 10.
But while he's on the PUP list, the center position is well taken care of by third-year man Leroy Harris. And if Mawae isn't ready for the Steelers or against Houston or at the Jets, the Titans will have complete confidence in Harris, who started the regular-season finale and the playoff game against Baltimore last year.
| | |
| --- | --- |
| | |
| | AP Photo/David Richard |
| | The Titans are comfortable with Leroy Harris (64) starting at center if Kevin Mawae isn't back from his elbow injury. |
While Mawae does effective work mostly because of his experience and crafty play, Harris is a much different player -- one that some Mawae critics hold out hope can still crack the lineup.
Harris is listed at 6-foot-3, 302 pounds; Mawae at 6-4, 289. Look at them and it's not hard to think the numbers are more different than that. Harris is very thick and strong.
"Leroy can move the pile, that's not Kevin's game. Obviously Kevin's game is quickness, getting skinny, getting to the second level, his expertise," offensive line coach Mike Munchak said. "Harris is more physical, can push the pile, matches up well, has great leverage on people because of his height. He's going to be an awfully good player."
It's interesting that Munchak points to Harris's height as something that makes him different than Mawae, when Mawae is listed as an inch taller. Harris' strength surely helps him be taller when he needs to be.
Mawae is in a contract year and wants to stay with the team beyond this season. But Harris is regarded as his successor, or at least as part of an interior line scenario where left guard Eugene Amano would move to center and Harris to guard.
Munchak compares Harris to Jets interior lineman Damien Woody, formerly of New England and Detroit, and ranks him as "5-A" on the line, an easy fill-in for any of the three interior spots.
"He's a lot stronger than I am," Mawae said. "He's got great feet, great hands and things like that. Strength-wise I'm not going to fool myself and say I am as strong as he is. I'm just not. The thing I have on him is the experience, the wisdom and the intuition that comes from playing for so long."
Mawae is unlikely to be unseated. Established starters don't lose jobs because of an injury. His presence and leadership are a big piece of the successful line. Harris said he's learned a lot about getting people off of him by watching Mawae, lessons he hopes he'll eventually be using as a starter.
"I lock up a lot more guys because I am stronger, but you're not going to be able outmuscle everybody," Harris said. "So the one thing is knocking guys' hands off. That's something I really got a chance to learn last year. Sometimes he beats your hands inside, but just having your hands quick enough where you can knock them off and still replace before you lose the guy is important. That's one thing he does really well, is swatting hands down."
So the Titans rank as four-deep on the interior.
Now Munchak needs to find a third tackle out of Mike Otto, Troy Kropog and Cory Lekkerkerker, or the Titans could be in the market for a veteran backup. Otto started Saturday against Tampa Bay at right tackle for the injured David Stewart and got a good review.
November, 19, 2008
11/19/08
1:25
PM ET
Posted by ESPN.com's Paul Kuharsky
The Titans did it gradually. The Jets had a big swoop.
But the two teams that square off Sunday in Nashville share a quality that has helped set them apart from a lot of teams in the NFL: They have hit on veteran free agents who have been productive and helped shape their team's culture.
The Jets are getting good production out of guard Alan Faneca as well as linebacker Calvin Pace. Right tackle Damien Woody has been OK. (Trades for Brett Favre and Kris Jenkins have obviously been big too, but we're sticking to free agents here.) The Titans are better on the offensive line with Jake Scott at right guard, and made solid additions in the last few years with cornerback Nick Harper and linebacker David Thornton.
Other hits so far from the 2008 free agent class include running back Michael Turner in Atlanta, defensive end Travis LaBoy in Arizona, defensive end Justin Smith in San Francisco, linebacker Kawika Mitchell in Buffalo and center Jeff Faine in Tampa Bay.
But plenty of other teams have swung and missed with significant deals for players they hoped would be cures -- Jacksonville with receiver Jerry Porter and cornerback Drayton Florence, Cleveland with Donte' Stallworth, Miami with defensive tackle Randy Starks and receiver Ernest Wilford and Oakland with receiver Javon Walker.
When a team brings in a guy with a big contract and high hopes and he fails to pan out early on, it hurts a team in multiple ways. A club misses the production, obviously, but can also be deflated by having failed in an attempt to get an immediate upgrade. It's a whiffed tackle or dropped pass that can haunt a team.
Both the Titans and the Jets have put a premium on personalities as they've brought guys in.
"When you bring in free agents it's also a function of how well they fit into the group that's already there," Jets coach Eric Mangini said. "How quickly they can stop being free agents and start being Jets? One of the things that has always been important to us is core characteristics with the people that we bring in and that's smart, tough, hard-working guys, guys that are competitive and selfless, and guys that football is important to."
"That's the draft, that's free agency and those are characteristics that we target before we even talk about their ability to play football."
That could have just as easily been Jeff Fisher talking about what the Titans have managed to do as they've shopped for veteran help.
Do it well as these two teams have and you might end up in one of the best games of Week 12, pitting a 10-0 team against a 7-3 division leader.