June, 13, 2012
6/13/12
8:23
AM ET
Reading the coverage ...
Houston Texans

The Texans are taking
more of a look
at receiver Mike Sims-Walker as well as fullback Moran Norris, says Sam Khan of the Houston Chronicle. If Sims-Walker couldn't help receiver-needy St. Louis or Jacksonville last season, I'm skeptical he can help Houston now.
Who's better: Patrick Willis or Brian Cushing? Bucky Brooks of NFL.com
considers
.
What if Kris Brown hadn't gotten
the yips
in 2009, asks Nate Dunlevy of Bleacher Report.
The three big
position battles
through the eyes of Lance Zierlein of the Chronicle blog.
Stephanie Stradley of the Chronicle blog considers
the fullback position
for the Texans.
Indianapolis Colts

Don't be worried
about Andrew Luck missing practices because of his college commitment, says Bob Kravitz of the Indianapolis Star. He's right, in this big picture, missed OTAs as a rookie won't mean a thing.
"An unofficial tally of Luck's afternoon performance in 11-on-11 and seven-on-seven drills had him completing 25-of-42 passes with two near-interceptions," writes Mike Chappell of the Star. "He showed
good velocity
and often dropped the football into tight spots to Wayne and Collie but occasionally misfired. Once, Luck seemed to miscalculate Wayne coming out of his break, throwing behind him."
Fans can see Luck for themselves today during a practice
at Lucas Oil Stadium
.
Roughly 30 percent of the Colts' cap is taken up by
dead money
for players who are no longer on the team, says Chappell. Add on a $19 million hit for Dwight Freeney and the team's operating at a serious disadvantage. The bright side? Next year they'll practically be able to go on a spending spree.
Jacksonville Jaguars

Maurice Jones-Drew's making a contract statement by
skipping
the Jaguars' mandatory minicamp, says Tania Ganguli. He's the eighth-highest paid running back in the league. That's hardly criminal, and he's going to have to come to terms with it.
Debating
Jones-Drew's camp absence and contract bid with Steve Wyche and Gregg Rosenthal of NFL.com.
Rashad Jennings is
the lead back
with MJD absent, says Ganguli. Jennings
isn't getting caught up
in the MJD controversy, says Gene Frenette of the T-U.
Rashean Mathis has
an understanding
of Jones-Drew's position, says Ganguli.
Jacksonville already went
out of its way
to reward Jones-Drew, says Chris Burke of SI.com.
The Jaguars are
making a mistake
by not re-doing MJD's deal, says T-U blogger Hays Carlyon. Says me: A guy doesn't automatically get a financial reward for good play. There's the small matter of a contract he signed.
Tennessee Titans

Derrick Morgan has
ditched his knee brace
, says Jim Wyatt of The Tennessean.
Dave Ball is concussions-conscious and playing
more of a mental game
as he gets older, writes David Climer of The Tennessean.
As the Titans prepare to go younger, they
released
veteran tight end Daniel Graham, says Wyatt. I can't see how he was going to be worth the $2 million he was slated to make.
"Blending the organization's
short-term and long-term interests
could present a tricky balance" as they sort out their starting quarterback, says John Manasso of Fox Tennessee.
April, 28, 2012
4/28/12
3:40
PM ET
NASHVILLE -- The NFL draft is often an exercise in weighing production against potential.
In the scales of that debate over
Taylor Thompson
, the Titans went heavily with potential.
The Titans traded up 10 spots with Miami and spent pick No. 145 in the fifth round on Thompson from SMU. In an offense that didn't use tight ends, he played defensive end.
Now the Titans will look to develop a guy who hasn't regularly played the position since high school. The Titans fell in love with Thompsonat a no-name all-star game and a pro day.
They insisted his athleticism, enthusiasm and intelligence will quickly offset the lack of college experience at the position. At 6-foot-6 and 260 he ran a 4.58 40 on the watch of Titans scout Jon Salge.
"As far as a receiving tight end, I think he's uncanny," offensive coordinator Chris Palmer said. "… I don't think it's four years behind. There are no bad habits."
Are there good habits from not playing?
Palmer said Thompson had 10 visits.
"It's not like we're the only one who saw the acorn," he said.
In a conference call, Thompson spoke very confidently about his ability to play tight end in the NFL.
Mike Munchak said the Titans thought Thompson would be gone in the third round. The lack of blocking experience would be virtually the same even with a guy who has played tight end in college, Munchak said, because spread offenses are all the rage and few players do in college what will be asked of them in the NFL.
"He's not going to fail," Munchak said.
Thompson will rate as the Titans second receiving tight end behind Jared Cook. They also have a quality blocker in Craig Stevens. Veteran Daniel Graham, added last year, is due a $2 million base salary this year and will now likely not get to it.
Tennessee has made five picks. Two areas regarded as needs have not been addressed: interior offensive line and defensive end.
Munchak said the Titans are not in dire need on the offensive line, downplayed visits by veteran centers early in the free agency period and hit a theme he used after getting the job: "We have guys we can win with."
He also said the team planned on getting at least one defensive lineman and third-round tackle
Mike Martin
took care of that.
December, 15, 2011
12/15/11
10:39
AM ET
An overdue check in on the AFC South's primary penalty offenders, courtesy of Jeremy Mills of ESPN Stats and Info.
Some notes:
Houston cornerback Kareem Jackson leads the division with 99 penalty yards on five penalties (four accepted), highlighted by pass interference penalties of 41 and 30 yards.
Smith has four offsides, two personal fouls, two roughing the passer and one neutral zone infraction.
Lacey has six separate penalty types -- three pass interference, an offside, a face mask, a fair catch interference, a holding and a running into the kicker. That's impressive diversity!
Mike Brisiel is the only player on the list with no declined penalties -- five false starts, two holding and one face mask.
October, 30, 2011
10/30/11
11:58
AM ET
NASHVILLE, Tenn. -- After crossing off inactives and drawing lines to move guys around and up the depth chart, my flip card for the Colts' offense looks silly.
Ryan Diem
,
Anthony Castonzo
and
Joe Reitz
all didn't travel.
So the line will look like this:
LT Jeff Linkenbach, LG
Seth Olsen
, C
Jeff Saturday
, RG
Mike Tepper
, RT
Quinn Ojinnaka
.
Three of those players -- Olsen, Tepper and Ojinnaka – were not on the Colts' opening day roster.
The group will start out blocking for running back
Delone Carter
, who is starting ahead of the injured
Joseph Addai
, who is dressed.
On defense, cornerback
Jacob Lacey
is a scratch and will be replaced by
Kevin Thomas
.
The Titans suffer one big lineup loss. Their primary blocking tight end,
Craig Stevens
, is out with a rib injury and
Daniel Graham
will start in his place.
The full lists…
Indianapolis:
CB Jacob Lacey
G Ryan Diem
T Anthony Castonzo
G Joe Reitz
DT Drake Nevis
Tennessee:
October, 7, 2011
10/07/11
1:30
PM ET
»
NFC Final Word
:
East
|
West
|
North
|
South
»
AFC
:
East
|
West
|
North
|
South
Five nuggets of knowledge about Week 5:
[+] Enlarge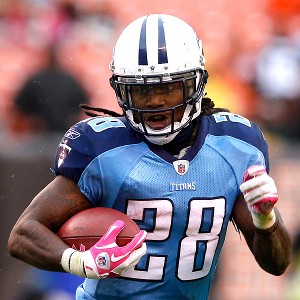 Matt Sullivan/Getty ImagesChris Johnson was effective last week with the Titans protecting a big lead. Can he keep it up against the Falcons?
Counter action:
A week ago, we examined how the Titans had moved away from some run plays that had benefited
Chris Johnson
in the past, plays that unconventionally featured
a counter element
. In the win at Cleveland, those plays re-emerged. K.C. Joyner said the Titans employed that counter action on Johnson's 25-yard run and again on an 8-yard gain in the win over the Browns. It was a good adjustment and needs to be part of what the Titans do going forward. Look for it against the Steelers.
Darren McFadden to the left:
ESPN Stats & Information says that Raiders running back Darren McFadden has had great success running to the left this season. He's averaging a remarkable 8.2 yards per carry going that direction. It's bad news for the Texans, because they've been susceptible to runs in that direction, allowing 6.35 yards a carry, the fourth-highest average in the NFL. I'm sure defensive coordinator Wade Phillips and the Texans are aware of this and will be concentrating on making sure it's not an issue Sunday at Reliant Stadium.
Quiet first quarter:
The Colts and the Chiefs are two of five teams in the league that have not scored a first-quarter touchdown this season. Kansas City is the only team that hasn't scored a rushing touchdown. Defensive ends
Dwight Freeney
and
Robert Mathis
may be the Colts' two most productive players through four weeks. Kansas City quarterback
Matt Cassel
's protection and ability to get rid of the ball have been pretty good; he's been sacked only five times so far. The ability of the Colts' pass-rushing duo to hit and harass Cassel may be the biggest factor in the game.
No let-up:
When we first looked at the Jaguars' schedule, this game against Cincinnati looked to be one they should win. But heading into a game pitting rookie quarterbacks head to head,
Andy Dalton
versus
Blaine Gabbert
, the Bengals have the league's top defense. That's not good news for a Jacksonville offense that's last in points per game and second to last in yards per game. On the bright side, the Jaguars have won seven times in a row against the Bengals in Jacksonville. Gabbert threw flat-footed too often this past Sunday in the loss to New Orleans and needs to be better mechanically to increase his offense's chances to move the ball and score some points.
Badly timed injury:
Former Titans tight end Frank Wycheck (who I work with on Nashville radio) rates
Craig Stevens
as one of the best blocking tight ends in the league. Stevens would figure to be key in a game against the physical Steelers, even without the injured
James Harrison
. But the tight end has been out this week with a rib injury suffered in Cleveland, and odds are he's unable to play. Without him at Heinz Field,
Daniel Graham
and
Jared Cook
will have to do more blocking. I expect the Steelers to try to really test them and for Tennessee to really miss Stevens.
October, 4, 2011
10/04/11
1:00
PM ET
»
NFC Stock Watch
:
East
|
West
|
North
|
South
»
AFC
:
East
|
West
|
North
|
South
FALLING
1. The secondary, Indianapolis Colts
: Safety
David Caldwell
dropped an end-zone interception that really could have influenced the game early on. The three cornerbacks who were on the field a lot struggled to locate pass-catchers and get them to the ground. Are
Terrence Johnson
,
Jacob Lacey
and
Chris Rucker
good enough to hold up against superior passing teams like New Orleans, Atlanta, Houston and New England coming up later on the schedule? It's a rhetorical question, and the answer right now is no.
2. Danieal Manning, Houston Texans special-teamer
: We're not knocking Manning the safety here. We're knocking the guy who blocked a Pittsburgh field goal attempt on the last play before halftime. He circled around and was one of a convoy of Texans following
Johnathan Joseph
as he scooped up the kick to run it back for a score, and Manning inexplicably shoved kicker
Daniel Sepulveda
in the back. There was no way the kicker was going to threaten the play, and Houston was very fortunate to survive the lost touchdown. So props to Manning on the block, but he's got to be smarter from there.
3. Linebackers, Jacksonville Jaguars
: The team poured money into the position in the offseason, and
Paul Posluszny
and
Clint Session
are good players. But Posluszny dropped a pick and
Daryl Smith
let
Drew Brees
guide him out of bounds on an interception return. The backers were repeatedly victimized by running back
Darren Sproles
, who averaged 10.9 yards a touch, and tight end
Jimmy Graham
, who caught 10 balls for 132 yards. The Jaguars need more from these guys against players like that.
[+] Enlarge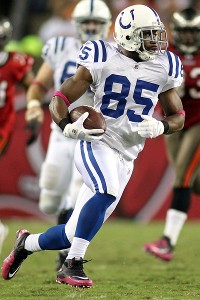 Marc Serota/Getty ImagesBoth of Pierre Garcon's receptions Monday night went for touchdowns.
RISING
1. Pierre Garcon, Indianapolis receiver
: He can be maddening with his drops -- he had one early against the Bucs. But the reason he's around is that he can change games with one play. He had two of them for the Colts Monday night, grabbing
Curtis Painter
passes and doing excellent work after the catch. They were the sort of explosive offensive plays Indianapolis has to have if it's going to be competitive.
2. Tight ends, Tennessee Titans
: Among the people the team has talked of needing to help fill the void without
Kenny Britt
,
Jared Cook
was a top name. If teams choose to cover him and attempt to tackle him the way the Browns did, look for him to put up monster numbers.
Craig Stevens
is regarded as more of a blocker, but he did well to catch a touchdown. If Cook, Stevens and
Daniel Graham
can continue to be counted as good targets for the accurate
Matt Hasselbeck
, there is a lot of cause for hope. Those guys complementing receivers
Nate Washington
,
Damian Williams
and
Lavelle Hawkins
are looking like a strong group.
3. Antonio Smith, Houston Texans defensive end
: He'll represent the entire defensive front here, which has been very good and which just overwhelmed the
Pittsburgh Steelers
' offensive line in Sunday's win.
Ben Roethlisberger
can be exceptionally tough to drag down, but Smith and the Texans ganged up on him for five sacks and really hit him with great regularity. The secondary is vastly improved, but life is a lot better back when a quarterback like Roethlisberger has little time to work.
September, 26, 2011
9/26/11
9:08
AM ET
Reading the coverage…
Houston Texans

Blame
the red zone offense
for a tough loss at New Orleans, says John McClain.
It was
a horror story
just like so many Texans games before, says Jerome Solomon.
Schaub showed he's
not in Drew Brees' class yet
, says Jeffrey Martin.
James Casey had
a breakout performance
, says Martin.
Mario Williams
injured his knee
but did play some after, says Solomon.
The Texans are still
learning how to win
, but this is a game we'd always chalked up as a loss, says Richard Justice.
Brian Cushing
wasn't happy
with what the defense did, say McClain and Martin.
Brees and Sean Payton showed that few teams can
keep up with the Saints
, says Steve Wyche.
Indianapolis Colts

The Colts' defense
wore down
on the game's final drive in a loss to Pittsburgh, says Phil Richards.
Indianapolis
comes up short
in a quarterback-driven league, says Bob Kravitz.
Valiant doesn't cut it
in the NFL, where wins and losses are the bottom line and the Colts are 0-3. But Colts defenders displayed resilience not seen in the previous two losses, says Phillip B. Wilson.
Curtis Painter had
good moments and bad
, says Mike Chappell. I know people are excited about the good touchdown drive. Please temper all positive thoughts with equal time for the terrible fumble.
All the Colts need is
a quarterback
, says Nate Dunlevy.
Jacksonville Jaguars

The Jaguars frustrating, drenched loss included some
clock mismanagement
at the end, says Tania Ganguli.
Jack Del Rio said the clock issue at the end is
his fault
, says Vito Stellino. That's not something the third-longest tenured coach in the league should have to say.
Maurice Jones-Drew is back on
a Pro-Bowl pace
, says Stellino.
The Jaguars must
right the ship
quickly, says Gene Frenette.
It was the
same old story
for Team Tease, says Frenette.
Matt Turk's
been struggling
so far, says Ganguli.
Stellino and Ganguli's postgame
video
.
Frenette's
report card
.
Blaine Gabbert
didn't appear overwhelmed
, says John Oehser of the team web site.
Trying to
sit on
a small lead backfired, says Alfie Crow.
Tennessee Titans

The Titans found
alternative playmakers
en route to a win against Denver, says Jim Wyatt.
Tennessee
flexed its entire roster
, says David Climer, and guys like Craig Stevens, Daniel Graham and Brett Kern were the big playmakers.
With Kenny Britt's season in jeopardy, the rest of the receivers know more will
fall on them
, says John Glennon.
The rushing offense gets
an F
in Wyatt's report card.
A
goal-line stand
energized the defense, says Glennon.
Mike Munchak glossed over a Derrick Morgan vs. Shaun Smith
altercation
.
The Titans cannot run from
the reality
of what they've become on offense, says David Boclair.
September, 25, 2011
9/25/11
6:17
PM ET
Thoughts on the Titans' 17-14 win over the Broncos at LP Field:


What it means:
The Titans share the lead in the AFC South with Houston at 2-1, though Tennessee's divisional loss gives the Texans an edge.
Matt Hasselbeck
had his second 300-yard passing game in a row and has shown he's in control of an offense that can find ways to win even when its primary pieces are not working the way they might hope for.
What I liked:
Hasselbeck found 11 different pass receivers as he completed 27 of 36 throws for 311 yards and two touchdowns. Tight end
Daniel Graham
's hardly been a prominent guy to this point, but his 4-yard touchdown catch late in the fourth quarter provided the winning margin against his former team.
What I didn't like:
A wrenching of Kenny Britt's right knee which could be a season-ending injury. The team's most dynamic pass catcher fumbled his catch after twisting awkwardly. If he's gone for an extended period of time, the offense will be without a guy who's been as explosive a receiver as just about anyone in the league so far.
What I can't figure out:
Another zero game for
Chris Johnson
on the ground, with a 1.6-yards per carry average.
Javon Ringer
, the primary alternative, took six carries for negative-6 yards. The Titans are struggling to move it on the ground. But at least they've won consecutive games while enduring the struggle. Johnson did contribute as a pass-catcher.
Defensive forces:
Will Witherspoon
had the Titans' lone sack and picked off a ball batted by
Jason Jones
to seal up the game.
Jason McCourty
also had an interception. And the defense made a strong goal-line stand.
What's next:
The Titans hit the road and head for Cleveland to see if they can stop the Browns on the ground and to try again to get Johnson going.
September, 25, 2011
9/25/11
9:14
AM ET
Reading the coverage ...
Houston Texans
Right now, the Texans are feeding the
hot and healthy
running back, says Jeffrey Martin.
John McClain gives the Saints
the edge
.
Indianapolis Colts
As the Colts
hit prime time
, Peyton Manning will be next to quarterback coach Rob Turner in the coaching booth at Lucas Oil Stadium, says Mike Chappell.
The Colts deserve
a full house
, says Bob Kravtiz.
Manning is dealing with a lot of
unknowns
, he told Chappell. Manning also detailed the timing of his surgeries.
Five things
to watch for in Steelers-Colts from Nate Dunlevy.
Jacksonville Jaguars
The Panthers had considered Blaine Gabbert with
their No. 1 pick
, too, says Tania Ganguli.
Aaron Kampman
is down
, but Gene Frenette says not to count him out.
Carolina is a game the Jaguars
should win
, says Vito Stellino.
Breaking down
the game
with Ganguli.
The Jaguars will be concentrating on playing
like normal
, says John Oehser.
Tennessee Titans
Teammate Daniel Graham was involved in the play last season that tore Derrick Morgan's
ACL
, says Jim Wyatt.
Receivers had
more catches
for the Titans last week than in any game since 2004, says John Glennon.
When Chris Johnson gets going, we'll really see what Chris Palmer
is like
as an offensive coordinator, says David Climer.
August, 14, 2011
8/14/11
10:57
AM ET
Kyle Marcil from Jacksonville writes:
I just saw the Jaguars added another defensive player in DE/OLB
Matt Roth
, who was arguably the best defensive player for the Browns. Two questions: Why are the Jags not considered in the top five for off-season moves/acquisitions, especially since the Patriots are considered to have made one of the best moves by adding a past his prime
Chad Ochocinco
and a lazy
Albert Haynesworth
who doesn't want to play now that he's paid? And with Roth filling the last hole in our defense, assuming he plays DE, do you think that we have the best defense (at least on paper) in the AFC South?
Paul Kuharsky:
Free agency scoring is likely over. The Jaguars did quite well. The reason they didn't get more hype, I believe, is because the pass defense was so bad and the only big early addition who is perceived as directly impacting that is
Dawan Landry
. I doubt many folks who saw what the Patriots hung on the Jaguars Thursday night are going to be touting Jacksonville's defense, regardless of who played or did not play. I still have major concerns about the secondary. I'm not willing to declare who the best defense on paper is. but they are definitely in the conversation. And the competition is not great.
---
Todd from Pennsylvania writes:
With the Colts apparently content to stand pat on the nose tackle position even though
Antonio Johnson
is the only true nose tackle with any experience on the roster, does he suddenly become the Colts second most important player to keep healthy? (behind
Peyton Manning
of course).
PK:
Seriously? Replace a mediocre nose tackle with a bad nose tackle and it's not a big deal. Replacing
Reggie Wayne
,
Dwight Freeney
,
Robert Mathis
,
Antoine Bethea
,
Austin Collie
, or even
Dallas Clark
would be far, far more difficult. You can also find nose tackles on the street -- see Johnson as an example. They signed him from Titans' practice squad when they got him.
Of starters, Johnson is probably the
most
replaceable.
---
Ryan from Arlington, Texas, writes:
Aren't people over reacting a bit to the loss of
Vonta Leach
? Houston had Leach from 2006-2010. In those years, the Texans' running game was good in 2010, but was putrid in 2009 and mediocre the rest. Also,
Arian Foster
averaged 5.5 yards/carry without Vonta in the game, and 4.7 with him. I'm not disputing that Vonta is a very good fullback, but I think his impact is being overplayed.
PK:
I'm with you. A fullback is only so influential. I understand people love him. Great guy, great story. But at some point you have to separate the emotional part and be rational and fiscally responsible. The Texans were, even if a percentage of their fans were not. It's a situational role.
Lawrence Vickers
and
James Casey
can more than handle it.
---
Riverman from Florence, Ala., writes:
How can the Titans justify drawing a line in the sand for (
Chris Johnson
) to come to camp before they "will talk" about a new deal? Didn't they go on record last by saying that if CJ would come to camp for the $500k increase, then they would work out a new contract? So they have had almost an entire year knowing that this situation was coming. This type of business is why the Titans have a reputation of "not paying their players" as
Marshall Faulk
said last year.
PK:
All true. But you have to acknowledge that a four and a half month lockout took away a significant chunk of time. Maybe they would have worked this all out around organized team activities. But the calendar didn't include that this year. Asking him to come and not practice while they negotiate doesn't seem unreasonable to me. He could always leave after a few days if it wasn't going to his liking.
The financial reputation is simply incorrect. Who did they fail to pay? Did you want them to spend what Washington did on Haynesworth and have that catastrophe on their hands?
Matt Hasselbeck
is getting paid.
Michael Roos
,
David Stewart
, Finnegan and
Eugene Amano
all got early, proactive extensions.
Will Witherspoon
got paid.
Barrett Ruud
and
Daniel Graham
chose to take the Titans' deals so they had to be reasonable, no?
It's hard to find a guy who reached free agency who they let walk fare better with his new team than he did in Nashville. If you want star chasing, this isn't your team. That doesn't make them cheap.
---
Matthew from Montréal writes:
Paul, Your comment that life is easier for the media when all is running smoothly in relation to whatshisname walking out on the Titans: I don't think so. If nothing's happening, then no one wants to read/watch what the media says. The media's job is to sell, to make things interesting. To declare that the media has no agenda is disingenuous, of course it does. And making a mountain out of a molehill is something the media does very well. The media thrives on drama, whether it's Grandma Favre's dithering about a comeback or whatshisname walking out on the Titans. So don't tell us that whatshisname thinks people are idiots when you yourself take up a disingenuous argument that insults your readers' intelligence. Just saying.
Paul Kuharsky:
I understand your broad point and it's a fair one. But I don't wake up in the morning hoping for controversy. I really don't. And I don't think my bosses do either. People are obsessed with the NFL and gobble up every nugget. I'm always rooting for a good nugget and a compelling story above all else. Plenty of them happen to be controversial. But plenty of them are not.
I promise, on a Saturday with a chance for some family time, people who cover the Titans aren't excited when
Cortland Finnegan
does something foolish.
August, 9, 2011
8/09/11
11:45
AM ET
NASHVILLE, Tenn. -- The Titans severed ties with their coach and quarterback and set about for a fresh start.

They'll suffer from time lost with the lockout, but in Mike Munchak, a largely new staff and a new combo of quarterbacks in
Matt Hasselbeck
and
Jake Locker
, the franchise hasn't just turned a page.
It's opened a new book.
The early chapters could well be choppy and rough.
Defensive coordinator Jerry Gray is looking for a bigger defense that will stop the run first, and offensive coordinator Chris Palmer is bringing a scholarly approach to a group used to being screamed at. The Titans have new signal-callers on offense and defense (middle linebacker
Barrett Ruud
was signed as a free agent from Tampa Bay), so there is a lot of new stuff to cover.
But external expectations are low. If the Titans can get their best player,
Chris Johnson
, on the field and make strides on defense, it's not impossible to improve on last season's disastrous 6-10 record.
Munchak preaches the virtues of being a true professional -- know what to do and do it. The question is, does he have enough talented guys who can win football games following that mantra?
THREE HOT ISSUES
1. Will Johnson be around?
It's hard to imagine his sitting out the season. The flamboyant running back loves the NFL stage and is one of the league's most dynamic players. He's certainly scheduled to be underpaid at $1.065 million, though. The Titans won't negotiate if he's not at camp, but he won't come to camp without a new deal. There are no signs of any real movement.
Johnson is not fired up about a compromise that would have him join the team but not practice until a deal is reached. Someone will bend. But in the meantime, we're likely to see a much less threatening offense.
"It's tough to tell how long it takes to become an issue," left tackle
Michael Roos
said. "Once he's here he's here, and we start working with him. We'll be a different team without him. He's definitely one of the top two if not the best running back in the league. A special player, very dynamic. It makes for a different kind of offense when he's not in there.
"The plays wouldn't change. Just without having his speed in there, people would play us differently. I wouldn't say it would necessarily be a worse offense. It would just be someone else running it,
Javon Ringer
or the rookie (
Jamie Harper
). It wouldn't have CJ's dynamic and people having to worry about his speed."
[+] Enlarge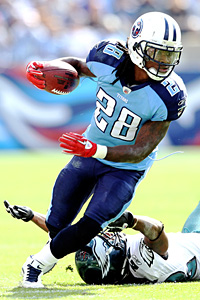 Andy Lyons/Getty ImagesThe Titans will be a different team if they are without Chris Johnson, who rushed for 1,364 yards and 11 touchdowns last season.
If defenses aren't worrying about that speed, things will be far more difficult for Hasselbeck and the team's other best weapons, receiver
Kenny Britt
and tight end
Jared Cook
.
2. How will Munchak's style translate?
He's a Hall of Fame player, and he's been a top position coach for years. Odds are Munchak can coach a football team.
"He's his own man," linebacker
Gerald McRath
said. "Everybody is going to have to sit back and watch, but it's definitely going to be different. He has that personality. He wants to establish something that's his, something that he's worked hard for. I feel like it's a great opportunity. It's a privilege just to be involved in that, to be able to put into some of that."
The question really is about his CEO role. How does he deal with the late-night calls about DUIs or the overeating defensive lineman? How does he react to the city calling for the starting quarterback's head or the player enduring stuff at home that's hurting his play?
Munchak has talked about accountability and discipline and consequences, things that all had slipped at the end for Jeff Fisher. Can he enforce all that effectively?
One other thing: Fisher was great with rules and clock management. In Munchak's first turn in the primary headset, it will be interesting to see how he fares in those departments.
3. Can the Titans stay healthy up front?
Part of the Titans' push to be bigger up front on defense is about being better against the run. Part of it is about being more rugged deep into the season. Some of Tennessee's speed rushers in recent years wore down late, and the Titans suffered for it.
Tracy Rocker has big shoes to fill as defensive line coach, where Jim Washburn had a great run of success. Can Gray and Rocker show the discipline to pace the linemen the way they are talking about doing now?
"I think we have to be real smart this year because our [defensive linemen], for some reason, get hurt quite a bit," Munchak said. "We have to limit their plays not only in games but in practice so you don't lose guys. ... We have to find a way to keep them healthy. You can't control all that, but we have to be smart."
BIGGEST SURPRISE
It's early, of course. But the team is talking up Cook again, and this time, he seems prepared to live up to it. The tight end is running plenty of routes that take him deeper than most tight ends, and the quarterbacks are thrilled to have such a big target stretching the field. He seems to be responding better to Palmer's mellow approach than he did to Mike Heimerdinger's high intensity.
BIGGEST DISAPPOINTMENT
Britt's offseason was filled with off-the-field issues. The Titans gave him a clean slate coming in, but hamstring problems have kept him out of camp so far. He said that he thought yoga was going to help him solve such problems but that
his instructor apparently took the money and ran with it
. The Titans are already without their most dynamic player in Johnson. With Britt sidelined, they are also missing No. 2.
OBSERVATION DECK
McRath is probably the odd man out in the linebacker shuffle unless he makes a charge to overtake Will Witherspoon on the weak side. McRath knows he didn't make enough plays last year, but he's saying the right things and carrying himself the right way. Maybe he'll be a special-teams stud if he isn't playing defense.

[+] Enlarge

Don McPeak/US PRESSWIRENew coach Mike Munchak, a Hall of Fame offensive lineman, will have high expectations for his interior line.

The pressure is on the Titans' interior offensive line. Munchak and O-line coach Bruce Matthews, both Hall of Fame linemen, expect Leroy Harris, Eugene Amano and Jake Scott to play better in their second season all together. If they don't, we'll call it part missed assessment and part blown confidence. Keeping Hasselbeck upright and healthy is a huge deal.

I'm not sure how the Titans will distribute their tight ends without tipping their intentions. Cook is the receiver and Craig Stevens is the blocker. Veteran addition Daniel Graham can do both but is more of a blocker.

Jordan Babineaux was lured to the Titans from Seattle largely because of his relationship with Gray when both were with the Seahawks. They shouldn't do anything that entails Michael Griffin playing anything but center field. And Babineaux is more a free than a strong safety, but the Titans will blur the distinction. Can he challenge for Chris Hope's job? If he does, will Hope take a pay cut to stay?

The Titans actually have reasonable depth at cornerback. Cortland Finnegan needs to produce big in a contract year, and Alterraun Verner and Jason McCourty are up-and-comers. Ryan Mouton was lost for the year with an Achilles injury, but veteran addition Frank Walker made a nice early impression.

This team always has an undrafted receiver who creates buzz early. This time it looks to be Michael Preston out of Heidelberg. He has nice size and athleticism.

There's not enough evidence to know whether seventh-round CB Tommie Campbell can play yet. But he certainly had physical attributes that make receivers take notice. Receiver Yamon Figurs recently went against him and came away muttering that Campbell was the biggest corner he's seen. Figurs said Campbell, who is 6-foot-3, was "like a giraffe."

Jake Locker has shown steady improvement and has been far better early on that I expected he would be.

If the Titans are going to be a lot better on defense, second-year end Derrick Morgan and second-round pick Akeem Ayers, a strongside linebacker, will have a lot to do with it. Morgan is a very good player, and Ayers brings the Titans size they've not had at linebacker since the franchise relocated.

Leadership was a giant issue last season. There was hardly any when things got tough. The Titans' additions could solve that. Hasselbeck, Graham, Ruud and Ayers are going to be big in that department.

Even if Justin Gage has a huge preseason, the Titans should consider moving on if everyone else is healthy. He's simply not been a steady enough playmaker, and if his presence is going to keep the team from exploring the upside of someone like Damian Williams, it's not the right move.

Where does recently added, versatile veteran offensive lineman Pat McQuistan fit in? The Titans have a lot of young linemen they like, but his case for edging somebody out will include his experience at every position but center. That could increase their flexibility on the bench.
August, 8, 2011
8/08/11
7:43
AM ET
The Titans'
initial depth chart
is out, and although it's unofficial, temporary and fluid, it does offer some interesting notes and discussion points.
Of note:
August, 3, 2011
8/03/11
4:20
PM ET
With my magical user name and password, I cracked into
this Insider file
.
So I am able to share some of the AFC South elements of Scouts Inc.'s Matt Williamson's assessments and grades of free agency.
Houston Texans

Williamson:
"I'm usually very reluctant when teams decide to switch their defensive personnel. But in this case -- seeing how Houston has handled it in the draft and free agency -- I am quite excited about the improvement that is coming on this side of the ball as the Texans make the transition from a 4-3 to a 3-4. Plus, Houston couldn't have gotten much worse than how it played on defense in 2010.
"The team has filled needs extremely well while making this schematic transformation. Adding [Johnathan] Joseph and [Danieal] Manning to a historically poor secondary is exceptional work, and both cover men have enough versatility in their game to allow Wade Phillips to run a wide array of coverages. Joseph is the bigger name player, but Manning had a very good season in Chicago last year. [Mike] Brisiel is a vastly underrated player, and keeping him allows this excellent offensive line to create further continuity. The only big loss is [Vonta] Leach, who will deal a blow to the Texans' rushing attack. There are other lead blocking fullbacks in this league, but none like Leach."
Grade:
B+
Kuharsky:
I like what they've done as well, though I am taking a major wait-and-see attitude about the 3-4. Manning is the best safety the team will have had since I started covering the team in 2008 and Joseph will be the best corner.
Lawrence Vickers
is a drop-off from Leach, but likely a serviceable one.
Indianapolis Colts

Analysis:
"Considering the effect the lockout could have on rebuilding teams, and considering that Indianapolis also is getting back a lot of contributors from injury, keeping the status quo should serve [Peyton] Manning & Co. quite well. [Joseph] Addai is worth more to the Colts than to any other team, but I suspect he might not be starting by the end of the year. One area of the team that will be different, however, is along the offensive line. Bringing [Charlie] Johnson back as a versatile tackle/guard would have been a great situation, but Indianapolis did use two very high picks to rebuild its ailing offensive front.
"On the other line, [Jamaal] Anderson is a curious fit. He certainly isn't in the mold of their speed-rushing defensive ends. Indy most likely will use him as a penetrating defensive tackle. Early in his career, [Tommie] Harris was the prototypical three-technique for a scheme such as the Colts'. Injuries have vastly altered his career path, but he still does flash at times. They will need to nurse him along, but he could act as a great mentor to
Drake Nevis
and help out in limited snaps. The pass-rushing foursome of Anderson/Harris, Nevis,
Dwight Freeney
and
Robert Mathis
on throwing downs might be extremely potent.
Grade:
C+
Kuharsky:
Three stabs into the outside veteran free-agent market -- in Anderson, linebacker
Ernie Sims
and Harris -- is a nice change. The risk/reward seems just right. They're exploring a different avenue for roster improvement and deserve applause. But no points for re-signing Manning, as he was not a free agent with an exclusive-rights franchise tag.
Jacksonville Jaguars

Williamson:
"There could be an argument that the Jaguars overspent on [Paul] Posluszny, but this market is difficult to get a true handle on. And I do think Jacksonville has spent wisely in terms of which players it has brought in. Along with
Daryl Smith
, the Jaguars now have three very solid starting linebackers, and what was a weakness now looks to be a strength. They did spend a ton of money on second-level defenders, though. [Dawan] Landry is an excellent addition as an in-the-box safety type who also can cover tight ends (like
Owen Daniels
and
Dallas Clark
).
"Although Posluszny is an every-down linebacker, Jacksonville hasn't improved itself dramatically on defense against the pass in free agency. With Houston, and especially Indianapolis, in the division, that is a serious concern."
Grade:
C+
Kuharsky:
I think that's low. I like what they've done. I think a safety combination that won't include
Don Carey
will be better.
Drew Coleman
is a flexible veteran corner who should upgrade the nickel. And I think the front seven is much stronger, which should mean quarterbacks have less time.
Tennessee Titans

Williamson:
"I very much understand that the Titans could not open the season with just
Jake Locker
behind center, and throwing their first-round pick to the wolves probably isn't a recipe for success. But I also don't see the infatuation with [Matt] Hasselbeck. He hasn't played well in two years; he is a major durability risk; and the Titans' interior offensive line is vastly overrated -- not a great situation for an aging signal-caller. Plus, Hasselbeck's skill set isn't similar at all to Locker's.
"[Barrett] Ruud is another overrated player, but I am not implying that he will be a liability as the starting 'Mike' linebacker. His tackle numbers just make him out to be a better player than he truly is. Ruud should provide valuable leadership to Tennessee's young linebacker corps. I also think [Jacob] Ford's best days could still be ahead of him. Still, the Titans might be worse on defense now than they were a year ago. [Daniel] Graham will be a big help as a blocker, but [Leroy] Harris and [Ahmard] Hall were disappointing blockers in 2010."
Grade:
C-
Kuharsky:
I think a change of scenery will help Hasselbeck, and while I have concerns over the interior line, if two Hall of Famers (Mike Munchak and Bruce Matthews) overseeing the group are confident it will play more like 2009 than 2010, I tend to give some benefit of the doubt. The defense remains a big concern.