September, 7, 2010
9/07/10
12:03
PM ET
Reading the coverage ...
Houston Texans
Gary Kubiak's
got to develop
a credible No. 2 quarterback says Jerome Solomon.
Kubiak
might resurrect
Matt Leinart's career.
Leinart
talked to
Mark Berman.
Danny Clark
signed
with the Saints.
Indianapolis Colts
Anthony Gonzalez doesn't sound real excited about how
preseason promises
played out for him, writes Mike Chappell.
Brandon King is
now a safety
, says Chappell.
Melvin Bullitt's attitude
reveals his value
, writes Bob Kravitz.
John Oehser
breaks down
the 53-man roster.
Jacksonville Jaguars
"For a team that started out 0-2 the last two seasons and is aiming for a fast start to build the confidence of the players and its fickle fan base, it might be
the most important
opening game in the history of the franchise," writes Vito Stellino.
The Jaguars
will not be blacked out
Sunday in Jacksonville, says Tania Ganguli.
Sean Considine is
a starter at safety
and Justin Smiley is a first-team guard, says Ganguli.
Concern for players' well being
has become excessive
, says Vic Ketchman.
Tennessee Titans
Mike Reinfeldt
won't address
Chris Mortensen's
report
that the Titans are talking to the Redskins about Albert Haynesworth, writes Wyatt
The Titans know
the Redskins are desperate
, says Wyatt.
Chris Johnson insists 2,500 rushing yards
can happen
, says Jim Wyatt.
Kenny Britt's putting the preseason
behind him
, says Wyatt.
Johnson recalls
racing in the streets
with David Boclair.
September, 5, 2010
9/05/10
5:12
PM ET
Roster and practice-squad news so far Sunday:
Houston Texans
Were awarded linebakcer David Nixon from the Oakland Raiders and cornerback Jamar Wall from the Dallas Cowboys of waivers. Released linebacker Danny Clark.
Indianapolis Colts
Signed quarterback
Tom Brandstater
, defensive end
John Chick
, receiver
Brandon James
, defensive back
Mike Newton
and receiver
Blair White
to the practice squad.
Jacksonville Jaguars
Were awarded defensive tackle
Landon Cohen
off waivers from the
Detroit Lions
. Released offensive lineman
Paul McQuistan
.
Signed offensive tackle
Daniel Baldridge
, tight end
Mike Caussin
, receiver
John Matthews
, and defensive tackle Kommonyan Quaye to the practice squad.
Tennessee Titans
Were awarded linebacker
Tim Shaw
from the
Chicago Bears
and linebacker
Patrick Bailey
from the
Pittsburgh Steelers
off waivers. Released linebackers
Stanford Keglar
and running back
LeGarrette Blount
.
Signed defensive lineman
Hall Davis
, receiver
Dominique Edison
, cornerback Pete Ittersagen, center
Kevin Matthews
, safety
Myron Rolle
and linebacker
Patrick Trahan
to the practice squad.
September, 2, 2010
9/02/10
4:30
PM ET
Three things I'll be looking for in Buccaneers at Texans:
A right guard:
Antoine Caldwell
and
Mike Brisiel
are still fighting for the last unresolved starting offensive spot on the team. I have no gut feel in handicapping it and can make a case both ways for who they'd like to win it. But coach Gary Kubiak and his staff will have the last bit of film on which to decide once the night is over.


Kickers:
The Texans would get killed for it, but on third-and-longs in long field goal range they should send
Chris Henry
up the middle and get into field goal situations. Then they should urge the crowd to pretend the attempt is to win the Super Bowl with two seconds left. Maybe that would produce something to differentiate
Kris Brown
and
Neil Rackers
.
Cushing replacement candidates:
Darryl Sharpton
's hype has dropped off significantly in short order and
Kevin Bentley
is getting talked up as the third starter during
Brian Cushing
's four-game suspension. Who knows if or what they can see from
Xavier Adibi
(groin) or
Danny Clark
(knee) in this game. Someone get in, play well, raise your hand and tell the coaches you want it.
August, 22, 2010
8/22/10
8:52
AM ET
Some bullet-point thoughts on the Texans'
38-20 loss
at New Orleans Saturday night.
Impressive:
Disappointing:
The Texans showed a serious lack of defensive intensity and said the effort looked like what they produced in their very poor three-game start in 2009. Bad tackling was an issue.
Reggie Bush gashed them for a 9-yard touchdown run up the middle as if he was a power back. On seven carries he averaged seven yards.
Arian Foster lost a fumble. We say it over and over because it's such an issue – the Texans have to get creative and find ways to get their backs to hold on to the ball.
The Texans allowed the Saints two 11-play drives and a late 18-play drive. They resulted in 17 points.
Saints reserve quarterback Daniel looked like Drew Brees as he threw for 182 yards and three touchdowns.
Trindon Holliday hurt his campaign to win the return job with a fumbled punt.
Houston converted just 1-of-13 third downs and held the ball for only 20 minutes.
August, 21, 2010
8/21/10
10:00
AM ET
ESPN.com NFL Power Ranking
(pre-camp): 14
For three years, they've been picked as a breakout team. In those three years, the
Houston Texans
went 25-23 with zero playoff appearances.
So why are the 2010 Texans going to be different? Why do they deserve that sort of faith yet again? What's changed when the personnel alterations have been pretty minor?
"What's different? Experience, togetherness,"
Amobi Okoye
said. "I feel like by the time we will kick off, we will have the full definition of team. If there was a meter of T-E-A-M, we are right at the halfway of M… By the time the season starts, we're going to completely spell TEAM."
Said
Bernard Pollard
, the feisty safety who didn't arrive until a few games into last season: "We have so much more team chemistry. We know and understand what we are good at. We know and understand that we can't step out of the box and have to play our game. We're turning that corner."
To finally get to the postseason, the Texans have to play more complete games. They have to play better in the red zone. Perhaps above all else, they have to play better in the AFC South, where they were just 1-5 last season.
Catching the Colts is a tall task. The Texans aspire to do it, but they also know there is a route to the playoffs without a division crown. They just have to drive it more smoothly.
THREE HOT ISSUES
Can the pass rush pick it up?
[+] Enlarge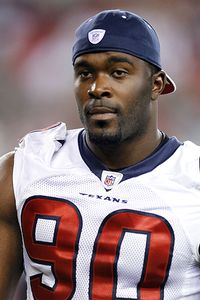 AP Photo/Rick ScuteriThe Texans need some pass-rushing help for star end Mario Williams.
Mario Williams
had nine sacks to go with a bum shoulder he's still reluctant to talk about. He needs more support in chasing the quarterback, and the Texans need to hurry and hit quarterbacks more often to help those three young cornerbacks --
Kareem Jackson
,
Glover Quin
and
Brice McCain
-- cover.
Connor Barwin
should be opposite Williams on clear rush downs, and he might be the most improved player on defense. Inside, there are now alternatives to Okoye, who might just not be a good pass pressure guy. Rookie
Earl Mitchell
could wind up part of the nickel package along with
Antonio Smith
, who will shift inside to make room for Barwin.
Will the run game do its part?
Everyone is encouraged about the run game, but what's changed? Second-round pick
Ben Tate
is lost with an injury. Guard
Wade Smith
was the only significant addition to the line, where interior issues were a big part of the problems. Offensive coordinator Rick Dennison is from the same school as predecessor Kyle Shanahan, and line coach John Benton learned under the departed Alex Gibbs.
"We have to get better running the football,"
Andre Johnson
said. "That helps win games, especially in the fourth quarter when you're up and you want to kill the time, you have to go on those four-minute drives where you have to get those big fourth downs. We have to get better in that part of our offense."
They are largely counting on young guys getting better, which begs the question: What if they don't?
Are the supplementary pieces good enough?
[+] Enlarge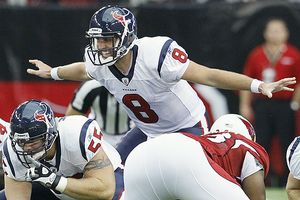 AP Photo/Rick ScuteriHouston's stars, including Matt Schaub, match up with the best players on any NFL roster.
The Texans' stars match up with virtually anyone's. But beyond Johnson, Williams,
Brian Cushing
,
DeMeco Ryans
,
Matt Schaub
and
Owen Daniels
, have head coach Gary Kubiak and general manager Rick Smith done enough to unearth the right sort of players on the next tier?
Pollard and
Eric Winston
certainly fit the bill. Antonio Smith,
Kevin Walter
and
Zac Diles
might. That next level of player might be where this team is a little short, and it's those kinds of guys who might well be the key to transforming a good team into a very good team.
And so we're watching the likes of Quin, Barwin,
Joel Dreessen
,
James Casey
,
Jacoby Jones
and the offensive line beyond Winston, because they might wind up telling the story.
BIGGEST SURPRISE
Linebacker Darryl Sharpton:
The Texans figured one of three veteran linebackers would be in the lineup during Cushing's four-game suspension. But a combination of injuries and ineffectiveness has put
Xavier Adibi
,
Danny Clark
and
Kevin Bentley
on the backburner because rookie
Darryl Sharpton
's been such a consistent playmaker. He might be short, but he packs a good punch.
BIGGEST DISAPPOINTMENT
Injury to Ben Tate:
As the Texans search for the right combination of running backs to help balance their offense, second-round pick Tate figured to be a key piece. But he was lost for the season with a serious ankle/leg injury in the preseason opener. That puts the load on
Arian Foster
,
Steve Slaton
and either
Jeremiah Johnson
,
Chris Henry
or a back not yet on the team.
OBSERVATION DECK
The Texans are regarded by some as a finesse team, but the defense is emphasizing physicality. Cushing, Pollard, Smith, Jackson, Quin and Mitchell have all joined the team in the past two years and are physical players.

Expect Foster to get first crack at the carries closest to the goal line as the Texans really concentrate on running better at close range. Johnson definitely could be heard from in the running game, too -- he might be the best fit for the one-cut and go zone scheme Houston uses.

[+] Enlarge

AP Photo/Rick ScuteriKicker Neil Rackers has a chance to beat out incumbent Kris Brown.

If Kris Brown and Neil Rackers continue to be virtually even in the kicker competition, it makes sense for the team to go with Rackers. Sometimes guys just need a change of scenery. If Brown stays and fails on a crucial long field goal on opening day against the Colts, the thinking will be, "Why didn't they make a change?" If Rackers does the same thing, I'll think, "At least they tried someone different."

Houston's defensive tackles are quick, up-the-field types. But they'd sure love if their one big space-eater, Frank Okam, forced his way into action.

The Texans want to get the ball in the hands of Jones since he averaged 16.2 yards a catch on his 27 receptions. But I am not so sure that means he's going to nudge ahead of Walter for the No. 2 receiver job. Walter is smart and super reliable, and reliability is awfully important. Jones might displace Walter or get a share of snaps in two-wide formations, but look for Jones most in a heavy dose of three-wide formations.

Troy Nolan might be a credible alternative to Eugene Wilson at free safety if Wilson gets hurt again. I've been critical of the team for not adding to the spot, but Nolan missed his rookie season with an injury and appears to be a high-caliber special-teamer.

Daniels' speed is a big part of what helped set him apart. When he returns soon from another ACL reconstruction, will he still have it in the same way? That's the big question with him.

The offensive line is set with Duane Brown at left tackle, Chris Myers at center and Winston at right tackle. Guard jobs remain up for grabs. It seems to me that Wade Smith, a free-agent acquisition tailored to the system, and Antoine Caldwell, a third-rounder from 2009, would make the most sense.

It sounds less likely that Trindon Holliday has to be a serviceable receiver to make the team than it did during OTAs. If he convinces the team he can be a consistently special return guy, he'll stick. He looked good to me when the Texans worked with the Saints.
August, 17, 2010
8/17/10
12:55
PM ET
When
Brian Cushing
's suspension came to light,
Houston Texans
coach Gary Kubiak said pretty strongly that
Zac Diles
has settled in so nicely on the weak side that flipping him to the strong side while Cushing misses four games wasn't an alternative.
Things have changed according to what the coach said to Houston media Tuesday about rookie fourth-rounder
Darryl Sharpton
out of Miami.
From a transcript provided by the team:
On if he's considering Darryl Sharpton as a starter: "Well there's consideration for him being one of our top three. He's in the mix right now. Would we flip him to Sam? Probably we would move Zac before we move him. He's in consideration right now and we're going to play our three best however we go to play him."

On if Sharpton is in the running to become a starter this season: "There's no doubt. He's made statements since he's been out here in camp. Obviously, the other night he did it again."
So while Cushing's out, instead of seeing
Xavier Adibi
,
Kevin Bentley
or
Danny Clark
in his place, we could see Diles flipped and Sharpton starting -- provided Sharpton keeps playing like he's been playing.
Maybe from there we could even see him push Diles?
I'll have an eye on Sharpton Wednesday and Thursday when I watch the Texans practice against the Saints in Louisiana.
June, 8, 2010
6/08/10
1:59
PM ET
HOUSTON -- Some quick early impressions after watching the Texans in an organized team activities session that got pushed into their practice bubble by some serious rain.
As a group the running backs look good –- which they are supposed to. Steve Slaton is in a red shirt to discourage any contact as he gets back from a neck injury. He's lighter. Further down the depth chart, Chris Henry has bulked up. Ben Tate is still catching up after missing early time. Arian Foster is still at the head of the line and could put me in a spot where I have to give him a bit more credit, though I am weary of banking on much from him off a few good games at the end of 2009. Ryan Moats is the old man of the group and he's just 27. One OTA practice should tell me little, but I can't help but feel a little better about their depth.
This was just the second day of the kicker competition, and after a draw in round one, Kris Brown was a bit better than Neil Rackers. Brown hit five of five from 38 yards, Rackers four or five with a couple narrowly inside the right upright. I love a kicker competition -- because I don't need a lot of help to see who's doing better. This should be a good one, but it's hard to replicate the sort of pressure the Texans need to be sure they can handle in a way Brown didn't last year. Gary Kubiak is certain the guy who's not kicking for him will be kicking for another team.
Brian Cushing is working as the starter. Kubiak said he won't mess with the lineup through the remainder of the offseason since Cushing is going to be around for 12 games. In camp the coach will start to juggle, and he forecasts a three-way battle to sub for Cushing between Xavier Adibi, Kevin Bentley and Danny Clark for a four-game starting stint on the strongside.
I don't know what becomes of young long snapper Ryan Weeks or undrafted tackle Steve Maneri. But I feel sure that they will be telling their children and grandchildren about moments like today, when each had one-on-one coaching from Hall of Fame lineman Bruce Matthews. Matthews, a quality snapper, helped Weeks early and stayed late to work with Maneri on pass-protection drops.
Matt Schaub looked crisp and confident, and I saw way more of that from backup Dan Orlovsky than I did this time last year. The visual matched up with what I'd read about Orlovsky, who was third behind Schaub and since-departed Rex Grossman the previous year, appears more equipped to play if needed.
Kubiak said he wanted to bring some chaos to practice, and since the team was inside, he used crowd noise for the first time this offseason. It was loud and ran pre-snap to a second after a receiver caught a pass or a running back was to the second or third level. It left me with a headache. I'm tough and will shake it off as soon as a Diet Coke finds me.
May, 25, 2010
5/25/10
8:07
AM ET
Houston Texans
Danny Clark is just trying to
fit in
, writes Jordan Godwin.
Andre Johnson talks about
his new agent
, from Godwin.
The Texans
continue to groom
Dan Orlovsky, writes Jeffrey Martin.
Ben Tate is
way behind
, says Alan Burge.
Stephanie Stradley
talks corners
with K.C. Joyner.
Indianapolis Colts
Anthony Gonzalez is
back in the mix
for the Colts, says John Oehser.
Breaking down the Colts'
third-down defense
in 2009 with Stampede Blue.
Jacksonville Jaguars
The Jaguars
are trading
for guard Justin Smiley, says Gene Frenette.
Reggie Hayward was
back to practice
, says Vito Stellino.
The latest "
Ask Vic
."
Tennessee Titans
Bo Scaife
rejoined the Titans
Monday and will practice Tuesday, reports Jim Wyatt.
J.I. Halsell picks up
where we left off
last week and
puts together a two-year extension
for Chris Johnson. It's worth $19 million in new money for an average per year of $9.5 million. The deal guarantees $11 million with a guarantee per year of $5.5 million.
May, 13, 2010
5/13/10
1:01
PM ET
»
NFC Stock Watch
:
East
|
West
|
North
|
South
»
AFC
:
East
|
West
|
North
|
South
Falling
Brian Cushing, LB, Texans:

A four-game suspension made for an awful week for the Houston linebacker.
For the first four games of 2010 -- vs. Indianapolis, at Washington, vs. Dallas and at Oakland -- he won't be with the team. His absence will put a big damper on the hopes for a hot start against the team that owns the AFC South and the team that has such a large following in Texas and well beyond.
Here are the likely candidates to fill in for Cushing while he is out:
Xavier Adibi
,
Kevin Bentley
and newly signed
Danny Clark
.
In a season when the Texans face what rates as the toughest schedule in the league based on last year's records, they've got a giant challenge. And how will Cushing be when he gets back for a game against the Giants Oct. 10?
Rising
Titans helping Nashville recover:

In the wake of the serious flooding in Nashville, the Titans proved themselves central characters in the drama. Waters in LP Field helped draw some national attention to an under-covered natural disaster.
At a Saturday blood drive hosted by Elise Reinfeldt, daughter of the Titans' GM, Secretary of the Department of Homeland Security Janet Napolitano stopped by with Tennessee governor Phil Bredesen and Nashville mayor Karl Dean.
Players, coaches and employees have been among the countless volunteers helping out those in need. And Wednesday, the team had an organized get-together working on
four houses
on a West Nashville street.