AFC South:

Danny Woodhead
March, 11, 2014
3/11/14
4:33
PM ET
NASHVILLE, Tenn. -- In
Dexter McCluster
, Tennessee
gets a player who will be cast
in a role for which many of us thought
Darren Sproles
would be a great fit.
I imagine he will be like
Danny Woodhead
was for Ken Whisenhunt last season in San Diego, when Whiz was offensive coordinator and Woodhead caught 76 passes for 605 yards and was very much an extension of the running game as a pass-catcher.
McCluster
McCluster is a listed as receiver, not a running back. Like Woodhead, McCluster is 5-foot-8. At 170, he's 30 pounds lighter than Woodhead.
In 2013 for the Chiefs, McCluster caught 53 passes for 511 yards and two touchdowns. He also had eight carries for 5 yards.
I spoke in a video earlier today about
positional versatility
for new pieces of the defensive front. McCluster brings the Titans that on offense.
From Bill Polian's
scouting report

:
Versatility may be McCluster's best asset, as he can play RB, WR and return kicks. Speed and explosiveness should be his trademarks, but he doesn't make as many explosive plays as you might expect. As good as he can be in space he tends to dance too much. McCluster is well-built and if he can improve his receiving skills he could really help an offense. He has a head coach in Andy Reid who seems to like his skill set.
I think Titans fans should be excited about McCluster as part of a Whisenhunt offense. I think it also chops away at the room and idea for
Chris Johnson
to be back and to be used more in the passing game.
Jake Locker
, or whoever is quarterbacking the Titans, will now be throwing to
Kendall Wright
,
Justin Hunter
, McCluster and
Nate Washington
. That's a pretty diverse group of four top targets.
Tennessee is also re-signing returner
Leon Washington
, per Jim Wyatt of The Tennessean. Between McCluster and Washington, the Titans should have little worry with the return game, which plagued the Titans last season before the late addition of Washington.
September, 6, 2013
9/06/13
12:01
PM ET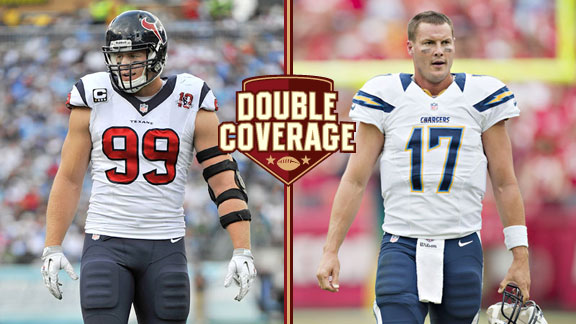 Getty ImagesJ.J. Watt and the Texans could make it hard on Philip Rivers if San Diego's offensive line does not hold up.
In the second half of the opening Monday night doubleheader, Houston is traveling to San Diego to put an end to NFL Week 1. The Chargers are in rebuild mode, while the Texans are looking to take the next step this season and become true Super Bowl contenders. While the Chargers' fan base should be revved up for this prime-time contest, getting
J.J. Watt
blocked could be a very futile effort for San Diego's offensive line. ESPN.com's Matt Williamson and Houston Texans reporter Tania Ganguli bring you their Double Coverage preview.
Tania Ganguli
: How has the atmosphere in the organization changed with GM Tom Telesco and coach Mike McCoy taking over?
Matt Williamson
: A change in San Diego was certainly needed. The environment had become stale and the once wide-open window under former coach Norv Turner and a roster stocked with great players has closed. A rebuild is needed, and a new general manager and head coach are what is needed to potentially get this team back where it once was -- or maybe beyond. Has the right side of the Texans' once-great offensive line been fixed?
Ganguli
: It's certainly on its way. The Texans are rightfully very high on right guard
Brandon Brooks
, and right tackle
Derek Newton
is healthy. They didn't mind rotation in those spots last year, but stability will definitely help.
Can McCoy turn
Philip Rivers
(back?) into an elite quarterback?
Williamson
: I feel as though we have seen the best of Rivers' impressive career, unfortunately. That being said, the scheme change, which stresses getting the ball out of Rivers' hands quicker, could be an advantageous move to boost Rivers. He does have a quick release and makes quick reads, making him a good fit for what McCoy is looking to accomplish.
What is the status of
Arian Foster
, and might
Ben Tate
have an expanded role for the season and to open the year?
Ganguli
: Tate will have an expanded role, especially early in the year. The Texans won't ride Arian Foster too much given he missed all of the preseason, training camp and most of organized team activities (OTAs). He was working, but they're intent on being smart with his return to make sure they have him at full strength late in the season.
What are the biggest problems with the Chargers' offensive line?
Williamson
: Once again, the scheme switch to a short passing game should help the protection of this line -- a line that is better-equipped to run block than protect. Still, the true problem with this line is they simply lack good players up front. They added a few free agents, but no one that is even a league-average starter, and they used their first-round pick on
D.J. Fluker
to play right tackle. However, I have my doubts that Fluker is quick or light enough on his feet for edge protection. Instead, I think Fluker could be a Pro Bowler at guard.
What impact does first-round pick
DeAndre Hopkins
have on the Texans' offense?
Ganguli
: It's difficult for rookie receivers to put up big numbers, but Hopkins will have a major impact on the Texans' offense. He'll take pressure off
Andre Johnson
, on whom the Texans were overdependent last season in their passing game. He is very skilled on contested catches and will help Houston's red zone efficiency.
What impact does
Dwight Freeney
have in San Diego?
Williamson
: Can he still be productive at 33? Of course it would be ideal to have
Melvin Ingram
in the fold as well as Freeney, who could be the perfect mentor, but Freeney has looked quite spry through the preseason and should have plenty left in the tank. The concern for me is that San Diego will be forced to play the 33-year-old too many snaps, which could lead to less effective play late in games and especially late in the season.
How big a boost to this team -- tacitly and emotionally -- is it to get
Brian Cushing
back on the field?
Ganguli
: Cushing makes a difference in both ways. He creates mismatches in the pass rush that free up the outside linebackers. His presence in the middle makes things easier on the Texans' defensive backs, too. Emotionally, Cushing provides an edge for the Texans' defense. His maniacal intensity is contagious and the Texans feed off it.
How will
Danny Woodhead
and
Ryan Mathews
impact each other?
Williamson
: While Mathews is a decent pass-catcher, Woodhead is an exceptional all-around contributor in the passing game. Their roles should be very distinctive, with Mathews -- who has looked excellent this preseason -- as the early-down workhorse (if he can hold up) and Woodhead being the specialty movement player that is equal parts running back and slot receiver.
Watt is a rare interior pass-rusher, but does Houston have enough pressure coming from their 3-4 outside linebackers?
Ganguli
: That remains to be seen. It's definitely been a focus for the Texans' outside linebacker group.
Whitney Mercilus
, now in his second year, has taken over as a starter opposite
Brooks Reed
after the departure of
Connor Barwin
. Mercilus set a franchise record for rookies with six sacks last season, but he missed most of training camp and the preseason. Reed is healthier than he was at the end of last season when he returned from a groin injury. He had an offseason surgery to repair it fully.
January, 10, 2013
1/10/13
11:15
AM ET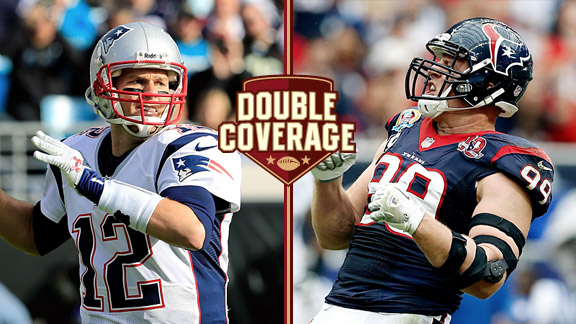 Getty ImagesThe Texans sacked Tom Brady, left, just once in their first meeting with the Patriots. Can J.J. Watt and the front seven do a better job in the rematch?
The Patriots seemingly snickered after they blew out Houston on "Monday Night Football" back on Dec. 10.
The Texans arrived in New England wearing letterman jackets that they thought showed team unity, but instead came off as high schoolish, particularly after they were easily dispatched in what
Andre Johnson
called the biggest game in franchise history.
For the Patriots it was the next game on the schedule.
Before the Texans got on the bus, middle linebacker
Bradie James
said the Patriots had delivered
a lesson
in championship football. The Texans headed back to Houston, humbled and officially in a slump. They lost two of their next three, fumbling away the AFC's No. 1 seed and a first-round bye.
A win over Cincinnati in the wild-card round earned the Texans a trip back to Gillette Stadium.
Can the Texans put up a better fight as major underdogs Sunday? James Walker of the AFC East blog joins me to discuss the game.
Paul Kuharsky:
Tom Brady
shredded the Texans in that regular-season game, James. He threw four touchdown passes in no time, recognizing Houston couldn't keep up with his targets, particularly
Aaron Hernandez
. Now, Brady has
Rob Gronkowski
back.
Do you see any way the Texans can get Brady off his game at home in the playoffs?
James Walker:
The key to stopping Brady is not a secret: You must beat him up. Brady doesn't like getting hit in the face, especially at age 35. The problem is that is much easier said than done. New England is extremely good at self-scouting and schemes very well to keep Brady upright. Houston got only one sack against Brady in the first meeting, so it was no surprise that he threw four touchdowns. I expect New England to once again keep some running backs and tight ends in protection to keep Houston's pass rush off Brady. The Texans will need to throw caution to the wind and blitz more defenders than New England has blockers, and that's where the chess match begins. Brady is tremendous at reading the blitz and rarely gets fooled with coverages. That's why he's so difficult to beat. Speaking of quarterbacks, what do you expect from Houston counterpart
Matt Schaub
in his first divisional-round playoff game?
[+] Enlarge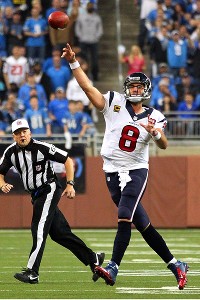 Mike Carter/US PresswireMatt Schaub's ability to connect on big plays downfield could be key for the Texans.
PK:
Schaub finally had his first playoff experience last week and he's now 1-0 in the postseason. But facing Cincinnati at home and New England on the road are two different things. He did fine against the Bengals, but I felt like coach Gary Kubiak was especially careful not to require many throws that were even moderately risky -- especially after Schaub threw that bad pick-six. Schaub has a bit of an unfair reputation for not being good in big games, mostly because he hasn't been in many big games. To spring an upset here, he'll have to supplement the run game with some big plays and, obviously, avoid killer mistakes. To have a chance, the Texans need to really ride
Arian Foster
. He has gone over 100 yards in all three of his playoff games. He had 19 touches in that regular-season blowout. To maximize their chances, I'd say he's got to have close to 30 this time.
JW:
Paul, I agree: Foster is the biggest key for the Texans in this game. He enters with some momentum after rushing for 140 yards and a touchdown last week against the Bengals. Getting Foster 30 or more productive carries would not only wear on New England's defense, it would keep the Patriots' high-scoring, up-tempo offense off the field. New England has thrived this year by getting off more plays and offensive possessions than its opponents. Houston's best chance is to slow down the game and make it ugly. Teams that beat the Patriots this year, such as San Francisco and Baltimore, ran the football well and limited New England's possessions.
PK:
What's the status of the Patriots' run game?
Stevan Ridley
ran fine in the regular-season game, gaining 72 yards on 19 carries. He earned a little doghouse time late in the season because of some fumbling issues. Has he regained the trust of Bill Belichick and the staff? And how much does it matter? It's not as though New England needs to run or is afraid to play a game without handing it off a lot and we know that they will keep throwing it even in a blowout situation. So does it even matter if they can run it?
JW:
Trust is big in New England, and Ridley has yet to earn it in the playoffs. Last year Ridley fumbled in the divisional round and didn't play for the remainder of the postseason. The Patriots do not have the luxury to bench him again this year, which makes Ridley a key player to watch. New England's offense usually passes to set up the run, but the ground game is more important than most people think. The Patriots rarely blow leads because they can run successfully when they need to. That time usually comes in the second half once they're ahead.
[+] Enlarge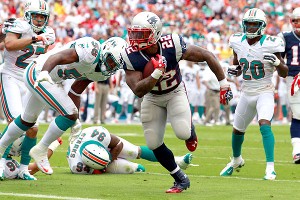 AP Photo/John BazemoreStevan Ridley may not figure heavily in the game plan, but he needs to make the most of his opportunities and limit mistakes.
I don't expect Ridley to be a huge part of the game plan. His carries probably will be in the teens. But he needs to make the most of each carry and take care of the football. If Ridley doesn't step up, look for the Patriots to go to a more dependable and sure-handed option such as
Danny Woodhead
. The Texans' defense allowed 42 points and 419 yards in the first meeting. What adjustments will Houston's defense need to make to be more successful in the rematch?
PK:
The coverage has to be way tighter.
Johnathan Joseph
played in the first meeting but had not been practicing and had missed time with groin and hamstring injuries.
Brandon Harris
was starting for the first time as the nickel after
Brice McCain
's foot injury. The Texans set out to slow
Wes Welker
and they did, then got killed by everyone else. They know they aren't going to get more than a sack or two on Brady because of how he gets rid of the ball and how skilled he is at changing protections. I expect they'll mix it up on Hernandez and Gronkowski but they won't be afraid to treat them as receivers.
The secondary had a bad night in Foxborough and a bad final quarter of the season. Joseph and
Kareem Jackson
and safeties
Glover Quin
and
Danieal Manning
are all better cover guys than they showed that night, when they were even getting beaten by Donte' Stallworth, who had been back in the league for barely five minutes. They simply have to be better if the Texans are going to be in this game.
JW:
I was with you in Houston last weekend, and I noticed the secondary played much better than the last time I saw the Texans in Foxborough. Joseph looked more like himself and did a good job, for the most part, on Bengals Pro Bowl receiver
A.J. Green
. On the other hand, I think an intriguing matchup will be Patriots corner
Aqib Talib
against Houston's Johnson, who had another monster season. Big games and matchups like this are why the Patriots acquired Talib in a midseason trade. He instantly became New England's best cover corner. The Patriots usually play a lot of zone, but they've been able to mix zone and man coverages a lot better in the second half of the season with Talib in the lineup. Houston will have a few opportunities to take shots down the field with Johnson against Talib one-on-one, and I think whoever wins those battles will have an impact on this game.
PK:
It'll be hard for the Texans to pull a surprise if there aren't a couple of big Schaub-to-Johnson connections.
Houston will arrive in New England with an "us-against-the-world" mentality, because the Texans are heavy underdogs. The Patriots aren't invincible. But if they start fast, they may look that way to the Texans yet again.
December, 11, 2012
12/11/12
2:27
AM ET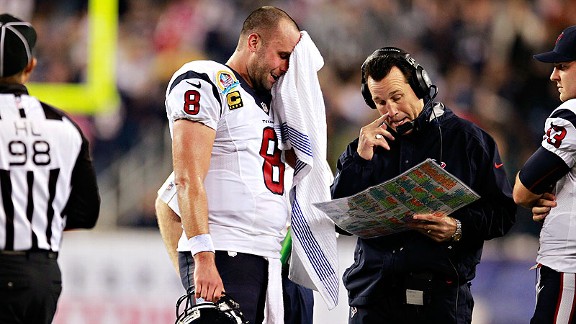 AP Photo/Steven SenneGary Kubiak and Matt Schaub couldn't solve the New England defense while the game was close.
FOXBOROUGH, Mass. -- Their critics punched holes in 11-1, citing a soft schedule, trouble against top quarterbacks and a quarterback of their own who still has not really been in high-stakes games.
The amplitude of all of that will skyrocket now, after the
Houston Texas
turned in an unqualified
42-14
dud at Gillette Stadium against the
New England Patriots
. It was so bad the Texans basically waved a white flag early in the fourth quarter, huddling on offense rather than hustling to maximize their time, and running the ball on four consecutive plays.
The Texans still have a one-game lead on the Patriots in the AFC standings, and bigger edges on the other division leaders, Denver and Baltimore, whom they've beaten.
This clunker hardly undoes a great season that has three games, plus playoffs, remaining. But it does tell us three things about the near future for the Texans:
They don't have sole control over the division anymore. Win next week and they own the AFC South. But the Colts can now say they control their own fate, too. If Indianapolis wins its final three, including two against the Texans, they'll wrest the division crown away

The Texans really need home-field advantage if they are going to get to the Super Bowl. Sure, anything can happen. But a return trip here would make for a very difficult path to New Orleans.

The Texans' two losses have come against Aaron Rodgers and Tom Brady. They gave up a lot to Peyton Manning in a victory, too. This team's odds of beating two Hall of Fame quarterbacks in the playoffs, even if both games are at Reliant Stadium, are low. The Texans would benefit greatly from an upset dished out by someone else in the wild-card round or by New England and Denver playing each other in a divisional-round game.
A sober locker room was filled with guys who weren't going to say their season has fallen apart.
But several veterans said this was akin to a school field trip.
"I think they showed us what it takes to be a champion," inside linebacker
Bradie James
said.
Defensive lineman
Antonio Smith
agreed.
"I sensed it from the coin toss. It was business, straight up, to them," he said.
"You can see just how serious they were. They've been here before. I'm a movie buff, you know. It reminded me of that movie, 'Troy,' when Achilles told Hector, 'Now you know what you're dealing with.' That's what it was like. No love. 'We're coming in here to show y'all who the big dogs are.'"
Earlier in the week, the Texans got letterman jackets, and they wore them to town in a harmless show of unity. Early Tuesday morning, hometown reporters in the press box jokingly debated who could write that New England took the Texans to school. I'd imagine some of the Patriots were making the same crack in private. For those seeking fresher material there was this: The team's equipment men struggled to get some stuff back to their truck because the cart they drove down a stadium tunnel had a flat tire.
The Texans pointed to early mistakes as a key to their downfall, though I'm not sure there was a formula for them to win against this team in this setting on this night.
They had the Patriots stopped on their first third down, and a needless defensive holding penalty against
Brandon Harris
on
Wes Welker
kept a drive alive.
[+] Enlarge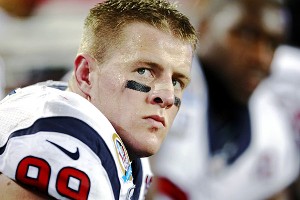 AP Photo/Steven SenneJ.J. Watt wore a grim look during the third quarter, but said hopeful things about the Texans' prospects.
They had them stopped again on a third-and-10 early in the second quarter, and safety
Danieal Manning
was called for pass interference on Welker as he impeded his path, bumping him without looking back.
New England took advantage of both mistakes and moved right along to touchdowns.
After the first one, the Texans were in great position to respond. They moved 59 yards to the Patriots' 21-yard line. But safety
Devin McCourty
broke beautifully on
Matt Schaub
's second-down pass for
Kevin Walter
in the middle of the end zone and took it away.
Houston didn't put points on the board until 6 minutes, 12 seconds remained in the third quarter, and the Patriots already had 28 and complete control.
Down four touchdowns at the start of the fourth quarter, coach Gary Kubiak surrendered. His offense didn't hurry, huddling at its regular pace. Schaub handed the ball off to third-string running back
Ben Tate
until it was time to punt.
Players stopped short of calling it a white flag, but receiver
Andre Johnson
and left tackle
Duane Brown
didn't love it. They shouldn't have. It sends a team a bad message to give up at that point. At least go down slinging it.
"I have no control over that," Johnson said.
"I just line up and do my job," Brown said.
Schaub pointed to the short week ahead and a crucial game against Indianapolis as a reason for letting up.
Brady, like Rodgers in a win and Manning in a loss before him, was the third MVP quarterback to shred the Texans this season. He hit 21 of 35 passes for 296 yards, four touchdowns and a 125.4 passer rating before stepping aside for
Ryan Mallett
.
"Obviously, I didn't do enough game-plan-wise against the guy," defensive coordinator Wade Phillips said. "It doesn't feel like you have more wins than New England right now."
The Patriots did well to keep the best players wearing the visitors' uniforms in check. Johnson caught eight passes, but for only 11.9 yards a clip.
Arian Foster
managed only 85 total yards.
J.J. Watt
had four tackles and three quarterback hits but no sacks and no passes batted down.
His biggest play didn't even benefit his team. Early in the fourth quarter, he tracked down
Danny Woodhead
and punched the ball loose after a 16-yard catch. But the ball shot forward into the end zone, where
Brandon Lloyd
corralled it for his second touchdown.
Watt looked furious as he made his way briskly to the bus, but he still managed to hit a hopeful chord.
"We still have everything we want in front of us," he said.
September, 6, 2012
9/06/12
11:56
AM ET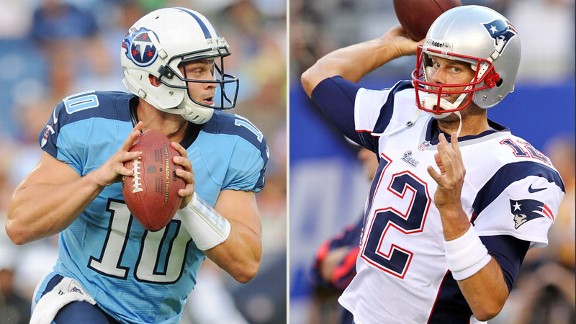 US PresswireIn his first start, Jake Locker, left, faces Tom Brady and the defending AFC champion Patriots.
They've got a lot of young talent, headlined by a young and unproven quarterback.
And on opening day at LP Field, the
Tennessee Titans
have the ultimate measuring stick: The
New England Patriots
are the defending AFC champions and the franchise that's been the model for consistently contending in the conference.
Titans general manager Ruston Webster and coach Mike Munchak are in their first and second years, respectively, in their posts. They seek to establish a pathway to finding and fielding talent and a team culture the way Bill Belichick has in New England.
A Titans upset Sunday would do a lot for the early stages of the process. It won't come easily, as the Patriots will bring an eight-game opening-day winning streak to Music City.
In advance of the game, I invited Mike Reiss of ESPNBoston.com to banter about it.
Paul Kuharsky:
The popular thinking during the Titans' quarterback battle was that veteran
Matt Hasselbeck
would be better able to handle a team like New England than
Jake Locker
would. But it's Locker who will be under center Sunday, making his first start against the defending AFC champs.
New England might not be a defensive football team, Mike, but I feel pretty confident that the Patriots will have a laundry list of things intended to overwhelm a young quarterback making his first NFL start.
Mike Reiss:
Part of me wonders if Belichick would have preferred seeing Hasselbeck in there, just because there is more NFL background on him to study. Belichick often talks about how the opening game of a season is so unpredictable, and this adds another layer to the preparation. The main thing Belichick has been stressing with Locker is how athletic he is, so keeping him in the pocket with good rush-lane integrity figures to be a focus for the revamped Patriots defensive front. Belichick figures to make limiting running back
Chris Johnson
a No. 1 priority, with the idea of putting the game in Locker's hands to see how he responds. It seems that's the place to start with the Titans' offense -- Johnson and Locker.
PK:
The interior run blocking and Johnson's effort were huge questions in Munchak's first season as head coach. Johnson has admitted his holdout affected his game more than he expected it would. Tennessee looked at a bunch of free-agent centers, including
Dan Koppen
, before sticking with the status quo. Then center
Eugene Amano
suffered a season-ending torn triceps early in camp. So
Fernando Velasco
is the guy now. While new left guard
Steve Hutchinson
will do all he can to help, I figure the Patriots will be hoping to get Velasco and the Titans' lesser guard,
Leroy Harris
, in bad spots against
Vince Wilfork
. As for Johnson, no less an authority than Eddie George said the speedster got into a bad habit last season when he stopped moving his feet upon initial contact. We'll be watching for that Sunday at LP Field. Does he make a quick lateral move and give himself a chance to keep going when the first guy gets to him? Or does he stall? If it's the second option, he'll be doomed.
How about running back the other way?
BenJarvus Green-Ellis
is gone now, so what's the Patriots' pecking order at the position? The Titans seem pretty solid up the middle if they are at full strength with
Sen'Derrick Marks
and
Jurrell Casey
. Isn't New England's group of backs mostly littler than you?
MR:
I see what you did there, Paul. Very clever. But as
Wes Welker
,
Danny Woodhead
,
Kevin Faulk
and others have shown us over the years, sometimes the smallest dog in the fight has the biggest bite. The Patriots have really turned over their running back position from just two years ago. What was once the oldest position on the roster is now defined by youth -- second-year backs
Stevan Ridley
(third round, LSU) and
Shane Vereen
(second round, Cal) top the depth chart, with the 5-foot-8, 200-pound Woodhead (fifth year) the change-of-pace back who plays a lot because of how much the offense is in the shotgun. Rookie
Brandon Bolden
, who took the same path as Green-Ellis to make the roster as an undrafted free agent out of Mississippi, is the fourth option. Ridley and Bolden are both 5-11 and 220 pounds. They run with power. Vereen (5-9, 205) brings more of a speed element, although it is unlikely we will see him after he hobbled off in the team's third preseason game and hasn't practiced since. There is more big-play potential with this group that they had last year with Green-Ellis leading all running backs by playing 34 percent of the snaps. Don't sleep on this group, although it's safe to say the Patriots are an attack that will lean more heavily toward the pass. So protection for
Tom Brady
figures to be key, and they had a shaky preseason in that area.
PK:
In my view, for the Titans to have a chance to pull an upset here, they'll need to really harass Brady. I think making New England use
Rob Gronkowski
and
Aaron Hernandez
as help in pass protection will wind up their best chance to defend those tight ends. Rookie linebacker
Zach Brown
was drafted because he can keep up with guys like that, but in his first game – while I expect him to have some sort of nickel role -- I think it'd be awfully hard to be a successful part of slowing them. Tennessee's pass rush looks to be operating inside out -- Casey may be their best defensive lineman -- so it will be interesting to see how effectively Brady can slide or step up, and if a second guy will arrive to get to him.
One matchup I think can be better than most think is
Alterraun Verner
against Welker. Certainly there are some plays where you cannot stop what Brady and Welker are doing. But Verner had a real knack for disrupting the quick stuff that gets fed to slot receivers. I look for him to make a couple plays.
MR:
Watching the Patriots this preseason, it's fair to say pass protection is a concern. Brady took some big hits, fumbling against the Saints and Buccaneers. This has been a successful formula for teams that can pull it off -- disrupt the passing game by getting to Brady early. The problem is that not all teams can do that. Here are a few things to keep in mind: 2011 first-round draft choice
Nate Solder
is now the team's permanent left tackle, stepping in for the retired Matt Light. There have been some growing pains, so if we're talking matchups to watch, how about Solder against
Kamerion Wimbley
? Also, there is some uncertainty as to who will start at center, as the team's longtime option there, Koppen, was released at the final cutdown. Add in that left guard
Logan Mankins
(coming back from a torn ACL) played just 11 snaps this preseason and right tackle
Sebastian Vollmer
(returning from a back injury) played just nine snaps in the preseason, and this is a unit that bears watching on Sunday. The Titans have a chance to control the line of scrimmage.
PK:
That's good work in terms of talking me out of feeling like we're going to watch a blowout unfold. (Yes, 2009 is ancient history, but it's hard to forget 59-0 at Gillette Stadium.) I remained convinced the Patriots will find their points. Heck, they scored 30 or more 12 times last season, topping 40 twice. Add
Brandon Lloyd
to the mix on offense, and I expect Brady to help them post a crooked number. To pull an upset, I think Locker will have to manage the same.
That's as close as I'll come to picking it -- I hate putting myself in position to root for a result to make myself look smart. You know what a challenge that is for me even without making a pick.
MR:
I think this is a game the Patriots should win. The Titans are a team that if you sleep on them, they will beat you, but that usually isn't a problem for the Patriots, because Belichick doesn't allow for complacency. The Titans probably hoped for higher temperatures than the predicted mid-70s. Still, look for Belichick to rotate a lot of his personnel as a way of keeping them fresh. The one position that won't be in play is quarterback, and I think it's fair to say that's the big difference in this game -- Brady. Big advantage there for the Patriots.
PK:
Impossible to argue that point, so this looks like our ending.