AFC South:

Da'Quan Bowers
April, 25, 2011
4/25/11
3:23
PM ET
Do eight voices combining for a mock draft fare any better than those by one guy?
Who knows?
I think my blog network brethren would say the same thing I do: Most of my thinking in our combined mock draft came from an educated connecting of the dots that combines what I know about my teams' draft philosophies, what I know of teams' needs, who's available in this context, what I've been told, what my gut says and what I've been calling for.
So Kevin Seifert over at the NFC North isn't saying
Andy Dalton
is the 12th-best player in the draft. He's reiterating what he's been writing about how quarterbacks have to have
a higher value
and how Minnesota has to have one.
Three of my four picks for the AFC South line up with what I'd call the conventional thinking at this point. Maybe I outsmart myself with the Colts, but I'll explain myself in a second.
Here's a bit more than I was able to offer in my comments in the mock, which you'll find
here
.

Titans at No. 8 – Nick Fairley, DT, Auburn
I think the defensive rebuild has to go inside-out. I think the character concerns on Fairley are overblown or are something that line coach Tracy Rocker, who worked with him at Auburn, and defensive coordinator Jerry Gray can handle. I think that the Titans can find ways to turn him into a consistently productive player. But maybe this match is too easy. The alternatives would be a defensive end, though
Da'Quan Bowers
has dropped for them because of his knee, or quarterback if they choose to be bold.

Texans at No. 11 – Aldon Smith, DE-OLB, Missouri
Somehow, I sense that Smith has become unpopular with a good share of Texans fans. His name certainly lacks the juice of
Von Miller
or
Robert Quinn
. But plenty of teams would like to get their hands on Smith, who's an intriguing option as an outside linebacker in Houston's new 3-4 defensive front. He's got intriguing size at 6-foot-4, 263 pounds. The best defensive player in this scenario may be Wisconsin's
J.J. Watt
, but rushing the passer is not what he does best and that's what the Texans need most.

Jaguars at No. 16 – Ryan Kerrigan, DE, Purdue
Too easy a fit? Perhaps. But when GM Gene Smith said last week that there are a lot of guys who, like Kerrigan, fit into the formula he likes, there is no doubting that Kerrigan does. Still, who among us saw Smith taking
Tyson Alualu
at No. 10 last season? We could see another surprise. Smith loaded up on defensive linemen last year. If he takes Kerrigan or another end now, it should be the last defensive linemen for a while, and he should move on to secondary and receiver help.
Cameron Jordan
,
Adrian Clayborn
and
Cameron Heyward
are all heavier. But with a rugged interior, the Jaguars need speed more than size.

Colts at No. 22 – Corey Liuget, DT, Illinois
Everyone and everything says offensive line. And I could have taken
Nate Solder
,
Gabe Carimi
or
Derek Sherrod
here. I just think the odds of Bill Polian doing what we all expect are low. While there will be one and should be more than one offensive linemen for Indianapolis in this draft, Polian won't let the need steer him. Two years ago we all had the Colts liking
Peria Jerry
, but he went to Atlanta three spots before Indy took
Donald Brown
. I hear Liuget is a better fit that Jerry would have been. More interior push helps
Dwight Freeney
and
Robert Mathis
and Liuget would help the run defense.
April, 25, 2011
4/25/11
12:00
PM ET
We know you've been mocked and mocked. We all give you divisional takes on Todd McShay and Mel Kiper. We often link to other mocks. Maybe you're to your breaking point. Maybe you need one more.

We spent three days last week emailing back and forth and compiling a mock put together by eight divisional bloggers. John Clayton stood in for the NFC East.

Perhaps we add some different insight to the speculation. Perhaps we echoed prevailing wisdom. (I can raise my hand on that, as you will see.)

At any rate, we know we're mostly wrong, and we're eager to write names in draft slots in ink instead of pencil when things kick off Thursday evening. Here's hoping this helps tide you over.


April, 20, 2011
4/20/11
5:03
PM ET
While Todd McShay makes an official pick in
his newest mock

, he also provides a three-for-one, with two alternate scenarios for each team.
Here's what he's got the AFC South doing.

Tennessee Titans, No. 8
Nick Fairley, DT, Auburn
Scenario 1:
Fairley makes the most sense at this point and he has tremendous upside. He's worth the pick from a talent standpoint, but there are legitimate questions about his football character and if the Titans pass, that will be the reason.
Scenario 2:
[Prince] Amukamara is worth the pick and would fill one of the Titans' top five needs.
Scenario 3:
If [Julio] Jones were to fall this far, Tennessee would consider taking him given Kenny Britt's recent off-field issues, or if he were available it might provide an opportunity to trade back with a team like the
St. Louis Rams
and perhaps address need at quarterback with someone like Washington's
Jake Locker
.
My thoughts:
I'm on board with Fairley if things unfold as expected with the top seven players. If
Blaine Gabbert
or
Patrick Peterson
somehow slip, I think they'd pounce. Among players likely available, I think Locker is second-most likely to Fairley, with Jones next.

Houston Texans, No. 11
Robert Quinn, DE/OLB, North Carolina
Scenario 1:
Taking Quinn is the best-case scenario outside of [Von] Miller somehow falling this far. Quinn would be a nice complement to fellow OLB Connor Barwin, one of the best ILB tandems in the league in DeMeco Ryans and Brian Cushing, and difference-maker Mario Williams up front.
Scenario 2:
If Quinn is gone, then a 5-technique like [J.J.] Watt or California's
Cameron Jordan
would be the pick.
Scenario 3:
The Texans could be forced to weigh value against philosophy here if the players above are gone. Amukamara would be the value pick, but I tend to think they would lean toward Missouri DE
Aldon Smith
because new defensive coordinator Wade Phillips is determined to upgrade the front seven.
My thoughts:
Quinn would feel like a home run. If he's gone, I feel like one of those more rugged ends who could play in a 3-4 would be the value, though Smith would fill the more the outright need. Amukamara would surprise me.

Jacksonville Jaguars, No. 16
Ryan Kerrigan, DE, Purdue
Scenario 1:
General manager Gene Smith likes safe, high-motor, strong-character picks who can contribute right away, and Kerrigan fits that mold perfectly.
Scenario 2:
If the Jaguars were to take a chance with this pick, it could be on Clemson DE
Da'Quan Bowers
and his knee issues.
Scenario 3:
Their three other top needs are reaches here, so reaching for Locker or moving back for another quarterback might be a possibility.
My thoughts:
Kerrigan is an easy match to make, but he's not the only high-motor, hard-worked Smith is going to have a crack at here. They already have a DE with knee questions in Aaron Kampman, and I suspect they'd fear Bowers. Watt or Smith are possibilities.

Indianapolis, No. 22
Nate Solder, OT, Colorado
Scenario 1:
Solder is a no-brainer. The Colts gave up the fewest sacks in the league last year, but that was mostly due to QB Peyton Manning getting the ball out quickly. But Solder has the athleticism to help in protection when he's ready to step into the lineup. More importantly, he's already a monster at 6-foot-8 and 319 pounds and would help upgrade a running game that finished 29th in the league (92.7 yards per game) last season.
Scenario 2:
Liuget is the higher-ranked prospect and is a strong possibility as the kind of quick, penetrating defensive lineman the Colts like.
Scenario 3:
If the top four offensive tackles are off the board, Indianapolis could reach for Mississippi State OT
Derek Sherrod
.
My thoughts:
As soon as a player or a position is deemed a no brainer for the Colts, I get scared. One of the top four offensive tackles sure looks like a match. I don't see them looking to Sherrod as he seems a bit like Tony Ugoh. I could certainly see Liuget. Is there a receiver value here?
April, 4, 2011
4/04/11
4:12
PM ET
Playing a bit of catch up on some issues connected to the AFC South:
Bowers' stock:
Even before what was reported to be an unimpressive pro day Friday, the stock of Clemson defensive end
Da'Quan Bowers
was
falling
, according to Adam Schefter:
"For starters, teams have medical questions about him and his knees. It's a real concern. Another front-office exec told me that his biggest questions about Bowers were not his medicals but his video. He watched the tape and didn't see what some others have. He said that of Bowers' 15 sacks last season, six came when he wasn't blocked and three others came from a certain kind of scheme -- so his 15 sacks last season are effectively down to six. The film also showed his effort was not consistent and his production was spotty.

"After listening to some people talk about Bowers, it will not surprise me if he falls out of the top 10 or even out of the top 20."
I wrote last week about Bowers as
an attractive option
for the Titans at No. 8 overall. Would his his medical issues prompt them to pass?
Alternate plans:
Mel Kiper says Temple defensive tackle
Muhammad Wilkerson
could be
a contingency plan
for the Titans at No. 8 if things don't pan out in ideal fashion for Tennessee.
Missouri linebacker
Aldon Smith
and UCLA linebacker
Akeem Ayers
are secondary names Kiper likes for Houston. The Jaguars could be the team that takes the third quarterback or reaches a little on a receiver. And the Colts could consider a defensive tackle like
Stephen Paea
of Oregon State or
Jurrell Casey
of USC.
Trading Kolb:
I don't think the Titans would pay what
Kevin Kolb
would cost in a trade. But no one ranks as more quarterback needy than Tennessee, so the Titans have to be kept in mind in any conversation about the quarterback who could be dealt by the Eagles.
John Clayton thinks
Philly should move Kolb
and take advantage of the value the Eagles have created with him, while Michael Tanier thinks the team should hold on to Kolb.
Ponder vs. Locker:
KC Joyner says Christian Ponder's got a lot of things on his résumé that should
put him ahead
of
Jake Locker
in the draft.
Why is Locker still ranked ahead of Ponder by so many?
"[T]he most likely reason is that many scouts are still using the mind's eye system. Their initial mental image of Locker was as a dominant prospect and, as is so often the case, first impressions are the strongest.

"It should also be the first one to go when the metrics indicate otherwise."
March, 31, 2011
3/31/11
1:30
PM ET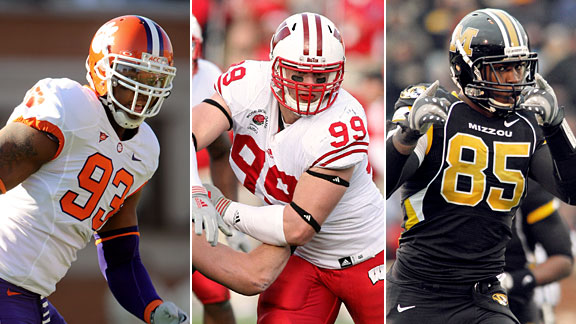 Icon, Icon, US PresswireDa'Quan Bowers, J.J. Watt and Aldon Smith are likely first-rounders who are under the microscope.
It's the right year to need a defensive lineman in the first round, and in the AFC South, it wouldn't be a huge surprise if all four teams spent their first pick in the draft on a tackle or an end.
Speaking briefly Tuesday night before a charity event, Titans general manager Mike Reinfeldt offered nothing substantive on his quarterback-needy team's feelings about the quarterback prospects.
But the guy running the team's draft is also in need of a couple of defensive linemen, and joined the chorus raving about the talent available.
"I think it's going to be very tempting because I think there will be 14 or 15 defensive linemen that go in the first round," he said. "So that'll make an interesting choice for a lot of people in the first round."
NFL Draft Scout rates seven ends and two tackles as clear first-rounders and another two ends and four tackles as possible first-rounders. Some of those ends could wind up as pass-rushing outside linebackers in a 3-4.
At the NFL scouting combine, many of the hot defensive linemen expressed pride in the strength of their position in this draft.
"I look at it like, if you go back in the history of watching football, before the game was started, it started up front," said
Marcell Dareus
, the Alabama tackle who's expected to be the first defensive lineman off the board. "Some people were scared and backed up off the ball. But the real bulls stayed up front and played the game."
The compelling group that could have guys coming to try to hit
Peyton Manning
and
Matt Schaub
and slow
Arian Foster
,
Maurice Jones-Drew
and
Chris Johnson
includes a guy who plays the guitar and the drums (Clemson end
Da'Quan Bowers
), another who had a brain tumor removed five years ago (North Carolina end
Robert Quinn
) and a third who started out not in football, but in rugby (Oregon State tackle
Stephen Paea
).
I asked one college scout from the AFC and Matt Williamson of Scouts Inc. to pair each AFC South team with a defensive lineman likely to be available at each team's slot. Here's what they said.
Tennessee (No. 8)
Scout:
Bowers
"Add him to a young
Derrick Morgan
and Titans would have bookend defensive ends with pass-rush ability for many years. Look at the Titans' current DEs:
Jacob Ford
(potential free agent) is a nickel pass-rusher;
Dave Ball
(free agent and injuries) is a rotational player only;
Jason Babin
(free agent) is a one-year wonder and honestly just a pass-rusher;
William Hayes
is a base/run-down end. So the need is there for sure. Players that can play the run and rush the passer usually never hit free agency, they aren't allowed to because they are so hard to find. If there wasn't a issue with the knee, Bowers wouldn't be there at eight."
Williamson:
Auburn tackle
Nick Fairley
or Quinn
"Value and upside. Both players are dripping with upside, but have some questions. The Titans' new line coach, Tracy Rocker, comes from Auburn and already has a relationship with Fairley. He is just too good of a prospect to pass up at that point of the draft. And Tennessee's line has enough guys already that they could sort of ease either player into his respective role."
Texans (No. 11)
Scout:
Wisconsin end
J.J. Watt
"A great choice for a 5-technique player. High motor, excellent size with potential to add to frame, great kid with a huge upside. I am ignoring obvious pass-rushers because they are outside linebackers in a 3-4 defense and you wanted a lineman. The [Texans] are in need of a pass-rusher more than a 5-technique end --
Mario Williams
,
Shaun Cody
and
Antonio Smith
all fit that position.
Amobi Okoye
is a quick nose tackle, but not a true nose. They will need to upgrade that spot as well, but there is not a value nose tackle for them with the 11th pick."
Williamson:
Watt or Cal end
Cameron Jordan
"For Houston, I think they would love to get a 5-technique like JJ Watt or Cameron Jordan. Nose tackle is the bigger need, but taking [Baylor's]
Phil Taylor
there is too early."
Jacksonville (No. 16)
Scout:
Missouri end
Aldon Smith
"An excellent pass-rusher. Young, inexperienced but has a huge upside. Should grow into his frame and maintain athletic ability. They lack true pass-rushers.
Larry Hart
is a situational rusher at best.
Austen Lane
is a run-down player… at best.
Derrick Harvey
hasn't worked out. And they are already solid in the middle. [Miami end]
Allen Bailey
, [Iowa end]
Adrian Clayborn
and Cameron Jordan are too close to what they have already. The only other option would be [Purdue end]
Ryan Kerrigan
, but he and
Aaron Kampman
are similar in skills and limitations. Aldon has true edge pass-rush ability."
Williamson:
Aldon Smith
"I like Smith a lot for Jacksonville. They are set at tackle, so they only would look for an end up front in my opinion. He is loaded with upside. And with all this defensive line talent in this draft, he could be a real value pick where they select."
Indianapolis (No. 22)
Scout:
Illinois tackle
Corey Liuget
"He would be a great choice for them. A very athletic defensive tackle with size, effort and upside. He can play the run as well, but helps with pressure on inside. He is a very good combo DT playing run/pass equally well. They are set at defensive end.
Jerry Hughes
will come around and they will have three solid players at the spot. Liuget adds to depleted interior group."
Williamson:
Taylor or Liuget
"Indy might pounce on Taylor to clog up the middle or if Corey Liuget is still there, he would be ideal. I would say it is unlikely, but Bill Polian doesn't care about what others think and he likes 'his type of players' ... so
Drake Nevis
from LSU could be someone he really likes."
March, 9, 2011
3/09/11
2:51
PM ET
Mel Kiper's
newest mock draft
is out, so those of you on hunger strike awaiting it now have something to read while you pig out.
Here's a look thorough our AFC South lens:
No. 8 -- Tennessee Titans
Da'Quan Bowers, DE, Clemson
Kiper: "A tremendous natural pass-rusher, Bowers falls a little because of needs elsewhere before this pick and because of some very small but lingering questions about his knee. He was unable to work out in Indy as a precaution with his recovery. Tennessee targeted their pass rush in the first round last year, but Bowers simply represents too much value at this position, and with the pass rush still in need of an upgrade, he provides immediate help as well."
My thoughts: With Derrick Morgan and Bowers as their top two rush ends, the Titans would be set with front-line pass-rushers. If they can consistently hurry quarterbacks, perhaps issues at defensive tackle, linebacker and safety shrink. But it takes time for most rush guys to find their mojo and Morgan was hurt early in his rookie season. It'll be akin to putting two rookies out there.
No. 11 -- Houston Texans
J.J. Watt, DE, Wisconsin
Kiper: "Wade Phillips will love Watt, a big, aggressive, smart, scheme-versatile defensive end who can offer an immediate help for a defense in need of bodies for the front seven. At 290 pounds, with a really good burst and a relentless nature, you can do a lot with Watt along the defensive line. Houston has to find some pass-rush help to complement the great Mario Williams, and this is a good place to look."
My thoughts: I like it. The Texans absolutely need to stock their front with the best players they can find, and Watt looks to be the sort of tone-setter the team doesn't always have. Still, they have Antonio Smith to go opposite Williams on a three-man front and the far bigger holes are at outside linebacker and safety. But there is no safety worthy of this spot, and who's the linebacker who's a better pick?
No. 16 -- Jacksonville Jaguars
Aldon Smith, OLB, Missouri
Kiper: "Smith offers a raw talent package with a lot of upside. He's a player that could easily have been a top ten pick in 2012 had he stuck around Missouri for another year of development. The Jags went for veterans to spackle over the holes at defensive end last year, but it's time to develop some edge talent to go with what is a really promising defensive interior."
My thoughts: Smith may be a wonderful player, but I feel like he's been landing with the Jaguars in a lot of mocks sort of by default. In this scenario, they could pick between Smith and other DE/OLBs:
Ryan Kerrigan
from Purdue,
Cameron Jordan
from Cal,
Justin Houston
from Georgia,
Akeem Ayers
of UCLA and
Adrian Clayborn
from Iowa.
No. 22 -- Indianapolis Colts
Anthony Castonzo, OT, Boston College
Kiper: "One more that stays the same from previous mocks, I just really like the fit. The Colts have shown their age on the offensive line, and even while Peyton Manning is a maestro working out of the shotgun, they need to be able to do more both in the run game and in pass protection. Castonzo is a smart, versatile tackle who has been consistently rated as a first-round tackle option. He's added bulk, and with good awareness footwork, he fits well in Indy at a position the Colts need to fill."
My thoughts: Castonzo does seem like a natural fit, which is why the match seems too easy. Only one tackle, USC's
Tyron Smith
, if off the board at this point. So the Colts could be choosing between Castonzo, Wisconsin's
Gabe Carimi
and Colorado's
Nate Solder
. Could they look away from offensive tackle to defensive tackle and
Muhammad Wilkerson
out of Temple? Or if they see
Torrey Smith
or
Leonard Hankerson
as an eventual No. 1, could they look for the heir to Reggie Wayne?