AFC South:

Darrius Butler
December, 12, 2013
Dec 12
7:15
PM ET
INDIANAPOLIS -- If the way
Greg Toler
walked around the locker room Thursday afternoon was any indication, you probably shouldn't expect to see the
Indianapolis Colts
cornerback in the lineup against the
Houston Texans
on Sunday afternoon.
Toler
Toler didn't walk like a player who is ready to return to the lineup after missing the past six games with a groin injury. He gingerly walked around the locker room during the portion that's open to the media. Where Toler stands health wise was put more into perspective when the injury report was released late Thursday afternoon.
He went from being limited in practice Wednesday to not practicing at all Thursday. Not practicing Thursday makes me think Toler won't play against the Texans because he said at the start of the week that he needed to get through full week of practice and also be 100 percent healthy before returning to the lineup.
That obviously didn't happen.
It has gotten to the point that the Colts should think about shutting Toler down for the rest of the season. This groin injury is about to head into the eighth week when you count the bye week.
Coach Chuck Pagano said a couple of weeks ago that they didn't plan on shutting Toler down. It'll be interesting to see if he still feels the same way when he addresses the media Friday.
The Colts will only have two regular-season games remaining after facing the Texans. They play at Kansas City on Dec. 22. I wouldn't be surprised if Toler misses that game, too. He talked last week about how freezing temperatures impact his groin because it's difficult to keep it warm while on the sidelines.
The Colts could use Toler's help in the secondary. They have given up an average of 31 points and 401 yards per game in the past seven games. Pagano has already changed the lineup by putting Darrius Butler in for
Cassius Vaughn
, who had been starting for Toler.
But at some point you have to throw in the towel and just call it quits for the season with Toler.
December, 1, 2013
Dec 1
4:17
PM ET
INDIANAPOLIS -- A few thoughts on the
Indianapolis Colts
'
22-14 victory
over the
Tennessee Titans
.

What it means:
It was far from a thing of beauty -- it was even ugly at times -- but the Colts control their own fate in the AFC South. The victory gives them a three-game lead over the Titans with four games left in the season. The ageless wonder
Adam Vinatieri
kicked five field goals and the Colts found their ground game on their final offensive series to seal the game. Running back
Donald Brown
had six carries for 46 yards on the drive that gave them an eight-point lead. He capped it off with a touchdown run. Brown, who replaced
Trent Richardson
in the starting lineup, had eight carries for 8 yards prior to the final drive.
No protection:
The Colts shook up their offensive line some by moving right guard
Mike McGlynn
to the bench and replacing him with
Jeff Linkenbach
. That didn't stop the Titans from being able to get after
Andrew Luck
. The Titans sacked Luck five times, including four times in the second quarter alone.
Getting defensive:
The Colts also changed things up some in the secondary.
Cassius Vaughn
had been starting for the injured
Greg Toler
at cornerback, but he was replaced by
Darius Butler
. The demotion woke Vaughn up, as he intercepted Titans quarterback
Ryan Fitzpatrick
twice. Linebacker
Robert Mathis
added to his league lead in sacks -- 15.5 -- when he got a strip-sack of Fitzpatrick in the second half. Linebacker
Jerrell Freeman
iced the game when he picked off Fitzpatrick's pass in Colts territory with 24 seconds left.
Still no offense in the first half:
The good news for the Colts is that they went into the half with a 12-7 lead. The bad news is that they still can't score any touchdowns in the first half. The Colts have had 31 possessions and 153 plays in the first half of their past five games. They haven't scored a touchdown in any of those halves.
What's next:
The Colts can clinch the AFC South if they can go on the road and beat the
Cincinnati Bengals
on Dec. 8.
October, 20, 2013
Oct 20
10:30
AM ET
INDIANAPOLIS – Here are five storylines to watch for Sunday night's game between the Indianapolis Colts and
Denver Broncos
.
[+] Enlarge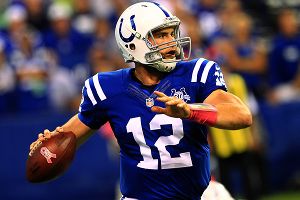 Pat Lovell/USA TODAY SportsMight Andrew Luck have to throw more for the Colts to be successful on offense?
1.
The clock-management game:
Stick with the style that got you four wins or put the ball in your franchise quarterback's hands and have him test the NFL's worst pass defense team in the league? That's the quandary Colt offensive coordinator Pep Hamilton finds himself in against the Broncos. Hamilton's sticking with the run-first mentality. That's the right approach to take because the Colts are sixth in the league in rushing and a ball-controlled offense keeps Broncos quarterback
Peyton Manning
on the sideline with his helmet on, arms crossed and antsy to get his offense back on the field. But the Colts have to be effective in order to make it work, and they have to do it against a Denver team that's only giving up 69.8 yards a game. The Colts ran for a season-low 74 yards and only had the ball for 21 minutes against San Diego last week. The Broncos are giving up a league-worst 338 yards in the air. The Colts have to score touchdowns. Field goals won't cut it against Manning. Don't be surprised if
Andrew Luck
is forced to go back to being Andrew Luck of last season when he had to throw 45 times a game in order for the Colts to win.
2.
Avoid the emotions:
This game is all about Manning. Nobody else.
Reggie Wayne
referred to it as a circus. The Colts have downplayed Manning's return by referring to it as just another game on the schedule. I wouldn't have believed them if this were my first week covering them. But I actually believe them. They do a good job keeping their emotions in check when it comes to injuries, facing quarterbacks like Seattle's
Russell Wilson
and San Francisco's
Colin Kaepernick
, and they've done a good job of avoiding the hype with Manning so far. But doing it on the football field is the only thing that matters. The Colts obviously respect Manning, but it seems like they're tired of talking about his return.
3.
Don't get frustrated:
Manning will make plays. He's proven that over and over throughout his career. The Broncos have the best offense in the league, averaging 476 yards of total offense and 360.7 yards through the air to go with 44 points a game. The Colts got frustrated on defense because they couldn't get off the field on third down against the Chargers. Do that Sunday night and the Broncos will easily surpass their scoring average. Cornerbacks
Greg Toler
,
Vontae Davis
and
Darius Butler
are risk takers. They're not going to shy away from gambling, but they better make the play because Manning will exploit them if they make a mistake. Linebacker
Robert Mathis
has an advantage because Denver's left tackle
Ryan Clady
(knee) is out for the season and right tackle
Orlando Franklin
is doubtful with a knee and ankle injury. "They're going to make plays," Colts defensive coordinator Greg Manusky said about Denver. "But when the opportunity arises for us to make plays, we got to make sure we make them. It's kind of like playing golf. It's what you do with your mishits, not so much what you do with your hits. It's that philosophy going into the game."
4.
Leave the drops behind:
The Colts hurt themselves with a case of the drops against the Chargers. They officially had four drops even though an argument could be made that they had more --
Darrius Heyward-Bey
getting both hands on the ball on what should have been a 60-yard catch -- in the first half. Heyward-Bey,
T.Y. Hilton
,
Coby Fleener
,
Trent Richardson
and, yes, even Wayne, can't have a repeat performance this week. "I think it was more so of an isolated incident," Hamilton said. "It just happened that way. We'll make those plays. Drops are not an issue for our offense."
5.
Richardson factor:
Richardson deserves his own storyline because he's yet to be a significant factor for the Colts since they acquired him Sept. 18. He hasn't rushed for more than 60 yards in a game with them. The Colts want to control the clock. It starts with Richardson. It's time for him to step up. He's only averaging 3.1 yards a carry as a Colt. "As far as my comfort level, I'm ready to play," Richardson said. "I don't know what you call a breakout game, I guess over 100 yards or whatever, but if it happens it happens. As long as we win, I think it's a breakout game for me."
September, 29, 2013
Sep 29
7:45
PM ET
JACKSONVILLE, Fla. – Don't pay attention to the total yards the
Indianapolis Colts
gave up the
Jacksonville Jaguars
in their
37-3 victory
on Sunday.
Giving up only 205 yards was impressive, but the number that you should pay attention to is the 67 yards the Colts gave up through three quarters when they were making sure they weren't going to get caught in the trap against Jacksonville.
The 138 yards the Colts gave up in the fourth quarter were garbage yards because the outcome had already been determined and the winless Jaguars were playing for their dignity at that point.
[+] Enlarge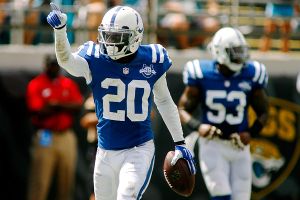 Phil Sears/USA TODAY SportsDarius Butler returned an interception for a TD as part of a dominant day for the Colts' defense.
The Colts carried over what they did against San Francisco last weekend and brought that same dominating defense with them to Jacksonville.
"You can sense when blood is in the water," Colts cornerback
Vontae Davis
said. "The first quarter they came out throwing their best shot at us, but we knew once we tasted blood we could jump on them quick. It got to the point where it seemed like they were ready for us to pack up our stuff and head back to Indy."
It would be easy to wonder if the Colts' defense is for real because they played the Jaguars, who are just treading water these days. But that thought should quickly get erased because Indianapolis did the same thing to the 49ers.
The Colts have only given up 459 yards, 28 first downs and 10 points in the past two games. It's time to look at the Colts as more than an offensive team.
Coach Chuck Pagano's defensive mindset and coordinator Greg Manusky's schemes have sunk in. It just took a little while for it to happen.
"We are going to stick to the process, keep coming back in here and preparing, staying the course and staying ready," Pagano said. "We know who we are. … Again, to go on the road, after last week's road trip, division game, and all those things."
Having a stout defense eases the pressure on quarterback
Andrew Luck
and the rest of offense to put up a lot of points in order for them to win. The defense has shown that it's good enough to win games on days the offense struggles.
"It's awesome. It really is," Luck said. "They do such a great job in practice all week, and to have them come out [like they did], it makes the offense's job easier. Yeah, we'd love to score every play, but when you have a defense that's playing like that, you realize it can be good team football."
Indianapolis' defense spent the week leading up to the game talking about containing running back
Maurice Jones-Drew
, who went into Sunday averaging 106.8 yards in 13 games against the Colts.
Jones-Drew was never a factor Sunday. The Colts bottled him up and held him to 23 yards on 13 carries.
That meant the Jaguars were forced to try to beat the Colts through the air with an unimpressive
Blaine Gabbert
at quarterback. And that played into the hands of Davis and fellow cornerback
Greg Toler
.
Davis set the tone defensively for the Colts by intercepting a Gabbert pass after dancing to get both feet in along the sideline on Jacksonville's first offensive possession.
That just turned out to be the start of things for the opportunistic Colts defense. Davis tipped a Gabbert pass intended for
Cecil Shorts
and nickelback
Darius Butler
picked it off and returned it 41 yards for a touchdown.
The Colts intercepted Gabbert three times, sacked him four times and held the Jaguars to 2-of-11 on third down.
"We work real hard in practice, we push each other, the offense pushes us in practice, we hone in on our techniques and on Sunday it's almost easier than it should be," Butler said. "We're just playing physical and we want to keep that mentality."