AFC South:

Dashon Goldson
March, 5, 2013
3/05/13
3:20
PM ET
Safety
Michael Griffin
's played his best for the Titans when surrounded by quality talent.
New veteran strong safety
George Wilson
should help maximize Griffin's chances to improve his play in 2013. Griffin should also benefit from expected upgrades in the pass rush.
I'm very curious as to how new senior defensive assistant Gregg Williams will assess Griffin and what Williams can do to spark better play out of him.
Today is the one-year anniversary of the Titans' decision to franchise Griffin. That tag was worth $6.2 million.
I understood the rationale for keeping Griffin under the one-year deal. It was the team's June decision to give him a five-year contract worth $35 million, including $15 million guaranteed, that was the baffler.
What if the Titans had not jumped to make that move?
They'd have an additional $6.3 million in cap space available now. And they'd be in position to chase a top free agent like
Dashon Goldson
from San Francisco,
William Moore
from Atlanta or
Kenny Phillips
of the
New York Giants
.
The Titans rolled the dice on a long-term deal with Griffin. They liked that he committed to being around after he was tagged instead of choosing to stay away. They didn't see a lot of great alternatives on the horizon for the position.
Now there is a solid free-agent class and it's a draft strength. So it's awfully easy to say they should have let Griffin play a prove-it season in 2012 because they'd now be in position to make a decision instead of being in position to potentially regret one already made.
March, 4, 2013
3/04/13
8:56
PM ET
The
Houston Texans
need to bust it to get a deal done with
Glover Quin
before March 12th at 4 p.m. ET.

But as a pending free agent gets close to seeing just what the other 31 teams in the league think of him, it's hard not to wait to see.
I expected the Texans would secure Quin, the safety, with a franchise tag of $6.916 million largely because general manager Rick Smith spoke at the combine of keeping options like that available for as long as possible. Had they used the tag, they would have bought themselves exclusive time beyond the start of free agency to get a long-term deal done.
They don't have that now.
Quin is a versatile and important piece of the Texans defense. He's not a bank-breaker, however. Safeties
Dashon Goldson
,
William Moore
and
Kenny Phillips
may all prove to be more costly in free agency. But a team in need of safety help that doesn't want to spend quite as much could do very well to land Quin.
The Texans and defensive coordinator Wade Phillips like to use three safeties and Quin can be linebackerish in that package. Maybe they upgrade at inside linebacker and don't need to go to three safeties as much.
Their base defense will still require two, and they don't have anyone on the roster who could step into a void left by Quin.
If they can't secure Quin to play alongside
Danieal Manning
, I can't see them having the money to get better at the spot. More likely he'd be replaced by a rookie, and secondary continuity and versatility would take a hit.
February, 14, 2013
2/14/13
1:04
PM ET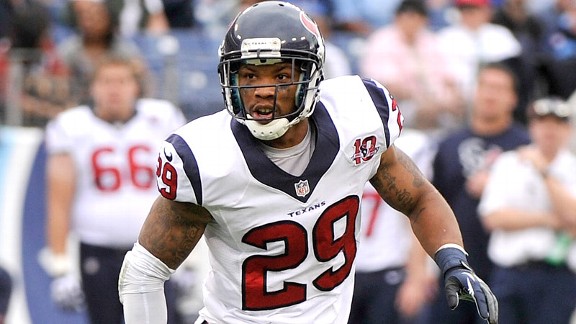 Frederick Breedon/Getty ImagesA low franchise tag number relative to other positions will make it easier for the Texans to keep safety Glover Quin, if they choose to use the tag on the pending free agent.
The free-agent market for safeties could actually be pretty good.
Among those with expiring contracts are Buffalo's
Jairus Byrd
, the Giants'
Kenny Phillips
, Atlanta's
William Moore
, San Francisco's
Dashon Goldson
and Houston's
Glover Quin
.
It's a tantalizing list, but it's sure to shrink.
That pesky franchise tag is dangling out there, threatening to keep quality players at a position of need for Tennessee and Indianapolis from becoming free agents.
At many positions the tag can be prohibitively high. But the new CBA drove the numbers down. Instead of the tag equaling the average of the five highest-paid players at the position, like it was under the old CBA, the new formula is more complex. It uses the average of the five highest-paid players at the position over the past five years and figures in the salary cap, too.
Long story short: Safeties will have a modest tag number of
about $6.798 million
. Only tight ends and kickers/punters are slated to be lower.
Should teams keep a quality guy for another year for less than $7 million or try to replace him? For most teams, tagging a safety isn't a tough call at all. I'd guess Byrd, Goldson and Quin will all get tagged if they don't get long-term deals. If that's the case, an intriguing safety pool dries up a good deal. Players such as Moore and Phillips, if they are not tagged, could wind up in advantageous negotiating positions.
That's one reason
George Wilson
, recently released by the Bills, might be wise to wait. He has a head start -- free agency begins March 12 -- and is slated to visit Detroit on Thursday, a day after he was in Tennessee. But if supply shrinks before free agency starts, demand for him could go up.
For many years, safeties and guards have been relatively cheap players. Many roster architects put a higher priority on other positions, believing it was easier to find serviceable safeties or guards.
Some franchises believe they can draft corners who come up a bit short at the position and shift them inside. Quin came into the league as a corner out of New Mexico. Jacksonville free safety
Dwight Lowery
, acquired from the Jets in a 2010 trade, played cornerback for his first two years in New York.
Now, it seems safeties are being viewed as more important, but the price tags haven't necessarily caught up to any new thinking.
"I don't think people really understand the importance of safety," Goldson told me at the Super Bowl in a chat about the low franchise tag. "Safety is definitely like quarterback on defense. Everybody looks at [middle linebackers] as more of the captains, but safeties are pretty much the ones who are running the show.
"They are smart football players, they understand defenses and get guys lined up, make adjustments on the fly and they have to know everything. They have to know as much as quarterbacks do on offense."
In Houston, the secondary was not nearly as good in 2012 as it was in 2011. Still, the Texans like their top five guys -- corners
Johnathan Joseph
,
Kareem Jackson
and
Brice McCain
and safeties
Danieal Manning
and Quin.
Quin rates as their most significant pending free agent.
He's a versatile guy, a converted corner who probably still hasn't peaked. I expect the team will do what it has to in order to retain him, though the Texans don't have a lot of cap freedom.
"I don't know what's going to happen," Quin said. "What I would hope happens is a good deal, a long-term deal to stay in Houston, obviously."
The adjustment of the formula for determining the tags in the new CBA is another example of how poorly the players fared in the deal. Most reports of the change in the tag equation suggested the owners had slipped one past the NFLPA.
The positional groupings for tags also make little sense.
Defensive ends and defensive tackles each have their own number. But on the other side of the ball there is simply an "offensive linemen" umbrella that covers tackles, guards and centers despite the differences in the positions and their prices. It's too broad, which is great for interior guys but terrible for tackles who are worth more.
As for the judgment of the worth of a good safety …
In 2011 the Chargers determined
Eric Weddle
was worth $19 million guaranteed and as much as $40 million over five years. He's continued to be excellent for them after getting the deal. In 2012, after initially tagging
Michael Griffin
, the Titans decided he was worth $35 million over five years with $15 million guaranteed. He remains a symbol of
their defensive struggles
and needs to be surrounded by better people.
To have a chance to make the Griffin deal look OK, the Titans need to pair him with a better player. If they can't land Moore, Phillips or Wilson, that guy will have to arrive via the draft.
He must show up somehow.
If the Texans want to maximize their chances to play good defense, they need to hold on to Quin. If the Colts want to improve, they should upgrade from
Tom Zbikowski
.
The AFC South could be part of getting that franchise tag to grow.
Goldson says the number will rise, that safeties won't be near the bottom of the list forever.
"I think we'll get to that point eventually," he said. "I think the market will go up. I would hope I help drive it up."
January, 16, 2013
1/16/13
9:38
AM ET
Reading the coverage ...
Comings and goings among NFL head coaches.
A handy chart
.
Houston Texans

While Gary Kubiak knows Matt Schaub can play better and more consistently, the Texans
have to acquire more talent
and improve around Schaub.
J.J. Watt continues to
earn accolades
, says John McClain.
Offensive linemen Brandon Brooks and Ben Jones
reflect on their rookie seasons
with Jose De Jesus Ortiz of the Houston Chronicle.
Indianapolis Colts

Bruce Arians
lost out
to Marc Trestman for the head coaching job with the Chicago Bears. He could still land another available position, and Ryan Grigson has
a doomsday plan
if the Colts lose Arians.
Examining some
possible free-agent connections
with Colts coaches. Olly Dawes of Colts Authority draws lines that could connect the team to Paul Kruger, Dashon Goldson, Manny Lawson and others.
Analyzing Peyton Manning's
playoff numbers
, most of which were compiled with the Colts, with Phillip B. Wilson.
Jacksonville Jaguars

The Jaguars coaching search now
extends to Seattle
, where they have an interest in defensive coordinator Gus Bradley and offensive coordinator Darrell Bevell, says Ryan O'Halloran of the Florida Times-Union.
David Caldwell must
sort out
how much a candidate like Greg Roman, an old friend, is a product of the situation he's currently in with the San Francisco 49ers, says Adam Stites of Big Cat Country.
Tennessee Titans

Don't expect
the Titans to cut Kenny Britt, says David Climer of The Tennessean. "For now, Britt remains one of those players who looks the part and shows flashes of extraordinary ability but can't sustain it. Certainly, injuries have held him back. But there is a perception that he has never fully committed himself to the game. It's as if he is waiting for his physical gifts to kick in and make him an all-pro."
Britt is
too loyal
, his father told Jim Wyatt of The Tennessean.
Tom Moore is
looking for a job
, but said it won't be with the Titans, says Wyatt.
March, 5, 2012
3/05/12
6:51
PM ET
How the 21 franchise tags from around the NFL affect the teams of the AFC South.
Houston Texans

Salary cap limitations likely mean the Texans are not active in free agency. The market may have shifted on a guy like
Reggie Wayne
, who could have been attractive with
Dwayne Bowe
,
DeSean Jackson
and
Wes Welker
out of the unrestricted free agent picture.
More significantly, the price defensive end/outside linebacker
Mario Williams
will be able to attract if he gets to free agency is likely up. The Colts tagged
Robert Mathis
, the Lions tagged
Cliff Avril
and the Cardinals tagged
Calais Campbell
, and they were the next-best pass-rushers for needy teams to target.
Indianapolis Colts

Those three receivers -- Bowe, Jackson and Welker -- disappearing from the market mean that two Colts unrestricted free agents to-be probably fare a bit better.
Pierre Garcon
has speed and youth to sell and Wayne has veteran wiles and reliability.
The Colts could make another charge at signing Garcon before March 13th, but he may be determined to see what free agency can bring him.
I don't think they will have much money to spend on free agents, but the offensive line and defensive tackles pools -- their biggest positions of need beyond receiver -- are unchanged.
Jacksonville Jaguars

No one needs a big-time, team-leading wide receiver more than the Jaguars do. I don't believe they would have been players for Jackson or Welker. But Bowe could have been a guy they were interested in.
Whether or not they will be players for Williams, plan B should have been Mathis. The hit to the potential defensive end market hurts as a big-time pass-rusher is the big defensive need. Cornerback could still be OK with Tennessee's
Cortland Finnegan
, Kansas City's
Brandon Carr
and San Francisco's
Carlos Rogers
on track to reach free agency.
Tennessee Titans

That San Francisco tagged
Dashon Goldson
and Oakland franchised
Tyvon Branch
severely thinned the safety market, which helped prompt Tennessee to tag
Michael Griffin
. I would have loved to have seen their approach is the two guys from the West Coast were heading for unrestricted free agency.
Jim Wyatt of The Tennessean reported that Mathis would have been a target and general manager Ruston Webster had said a special, pass-rushing defensive end was one position for which the team might have been willing to overpay. He didn't say overpay by a gigantic degree, however. With a bid for Williams unlikely, who's the next best rusher now?
March, 3, 2012
3/03/12
10:12
AM ET
Trace in Jacksonville, Fla., writes:
I keep seeing all these things about making
Mario Williams
the "highest paid defensive end in NFL history." Why is this? I mean, he's definitely good, but he's coming off an injury, and he's not even the best DE in the league, much less "in NFL history."
Paul Kuharsky:
Not just the highest-paid defensive end in league history, but the highest-paid defender in league history.
It isn't about being the best defender in league history. It will be the product of several things: He'd be the most impactful defensive free agent coming available. Such commodities can rarely be had for just money. Prices go up each year and the best guy in each, more expensive year, has a chance to get near the top. Williams' physical skill set and body are ridiculous. Pass-rushers may be at an all-time high in value -- it's such a quarterback league that flustering the quarterback is the next most important thing to having a quality QB.
It's also not about what he's done, it's about what he will be expected to do.
And the next time a top pass-rusher comes available, Williams will become the highest-paid in history. A lot of it is dumb luck on the timing and coming free.
Kevin in Richmond writes:
Will the Titans still be eligible for a compensatory draft pick if
Randy Moss
is signed by another team or does his retirement negate that?
Paul Kuharsky:
While the compensatory draft pick formula is complicated and secret, it's intended for a team to be compensated if the free agent losses it suffered outweigh the free agent gains it made.
What loss did the Titans suffer with Randy Moss? They let a guy they didn't play reach free agency, and he wasn't signed elsewhere. I can't imagine he factors into the compensatory draft pick formula on their behalf.
Ryan in Omaha writes:
I read up on that article about
Josh Scobee
possible on the franchise candidacy for Jax and I can't see that as making any sense at all! Can you explain the logic of throwing 2 million dollars to an upper echelon kicker for a year when we could tag
Jeremy Mincey
or more likely
Dwight Lowery
for a year and get a lot more bang for that buck, am I right?
Paul Kuharsky:
Two million isn't a lot in relative terms. I don't see how you can complain about spending $2 million on Scobee and say you'd rather spend $10.6 million on Mincey. Mincey is not worth close to that. Lowery is good and needs to be re-signed. But $6.2 million seems pretty high for him too.
Tony in Austin, Texas, writes:
I agree with your assessment that Titans Safety Griffin has been inconsistent and underperforming. But to upgrade, they need someone better to replace him. Do you see any F.A. candidates? Their draft position doesn't lend itself to picking up either of the top 2 safeties without reaching. I think they need to Tag Griffin, no?
Paul Kuharsky:
Well two upgrade candidates have disappeared. SF's
Dashon Goldson
and Oakland's Tyvon Branch have been tagged. Washington's
LaRon Landry
and Jacksonville's
Lowery
may still hit the market.
Even if you don't get one of them: Do you pay Griffin $6 million out of some sort of fear? You don't think they can find a safety who can play as poorly for say, $3 million?
Kyle in Kihei, Hawaii, writes:
Are there NFL rules prohibiting teams from loaning players to other teams? If Peyton is healthy, why not keep him for a couple more years and loan Luck to the Redskins for cash considerations. I can't get Schefter or @JimIrsay to pay attention to me (although the Rams and Eagles scouts said this was a creative idea) so forward this to the Colts brass so they can at least get it rejected by the competition committee themselves.
Paul Kuharsky:
What would the Redskins gain by borrowing Luck? They could develop him to hand him back to the Colts only to have a gaping hole at the spot, again?
What would the Colts gain by lending Luck (beside borrowed time for Manning)? A team isn't going to hand a guy of such value over to a rival to train in different methods, to get hurt in a different stadium, etc.
Can you imagine the Colts playing the Redskins and setting their own pass-rushers free on their loaned-away franchise quarterback?
It works for some international soccer clubs, not for the NFL.
Mr. Marsh in Dallas writes:
Wow, I originally thought this was a comparison article. The column started out discussing RG3 and Luck and their interview performances. But somehow it ended up being an propaganda piece for Luck. One more example of why more diversity is needed within the media.
Paul Kuharsky:
I presume you are talking about
this piece
, though you did not specify.
I don't really get how diversity is at question when I am writing from my point of view and what I believe will be the Colts' point of view. Luck is better. I believe so. Every scout and coach I have talked to believes so. The Colts are going to draft him, which more than suggests they believe so.
I don't know why I would pretend otherwise. Writing well of the best guy is now propaganda, huh?
Joe in Louisiana writes:
I seen one story about a month ago about Titans fans trying to advertise for Peyton to come back to Tennessee.... is this talk a dead trend or is there still a chance he could come and be a Titan in the state where he had so much success?
Paul Kuharsky:
I don't really understand the state part of it. Surely he could have success in Washington or Florida as easily as in Tennessee, no? I don't see geography playing any role in linking the previous and future success.
Some fans have pushed for it. The Titans have made it clear it's not going to happen.
February, 29, 2012
2/29/12
1:24
PM ET
The money isn't mine. I'm not certain about what you can afford and what the market will pay when free agency opens on March 13. I'm not positive about your plans and schemes.
But I've got a good sense of your team. We've looked at
the free-agent list
.
And here's what I'd try to do with your major issues:

1) Let cornerback
Cortland Finnegan
go. He's a good player, not a great one. The Titans will miss his feistiness more than his production, and you don't pay huge dollars for feistiness. He's not in the ranks of corners worth in the neighborhood of $10 million annually. Let
Alterraun Verner
join
Jason McCourty
in the starting lineup. Let
Ryan Mouton
,
Chris Hawkins
,
Tommie Campbell
and a draft pick and/or a mid-range veteran vie for the nickel role. (Mouton would play inside, in other scenarios Verner would move inside.)
2) Let safety
Michael Griffin
go. He can be a good player, but is far too inconsistent. He's at his best when those around him are playing well. But at the price he'll have now, he should be a guy who sets the tone, not a guy who needs it set for him. Look closely at free agents safeties like
Tyvon Branch
from Oakland,
Dashon Goldson
from San Francisco and
Dwight Lowery
from Jacksonville.
3) Pursue Colts defensive end
Robert Mathis
if he gets to free agency. He's got a super motor and, while he just turned 31, I'd bet he can play three more good years. Structure a deal so you can get out after two if you have to and look to him to set the tone for your other primary rushers,
Derrick Morgan
and a draft pick.
4) Sign Philadelphia guard
Evan Mathis
to replace
Jake Scott
. Mathis is older than Baltimore's
Ben Grubbs
, but will also be less expensive. In seven seasons with Carolina, Miami, Cincinnati and Philadelphia he's played in 73 games with 37 starts. Matt Williamson of Scouts Inc. says he's a great fit for Tennessee.
5) Re-sign safety
Jordan Babineaux
. This appears to be just about done. A rule regarding Babineaux's previous contract prevents the team from completing a new deal before the start of the new league year. But they could have a deal ready to go on March 13.
6) Offer
Jason Jones
a contract based on moving him back to defensive tackle, admitting he's better and more productive inside than out. (They've said they still see him as an end, and they aren't in sync with me on this one at all.)
July, 12, 2011
7/12/11
1:00
PM ET
A boon for the Colts will be the return of all their injured players from 2010. But they also might go out and make a splash in free agency this year, which is unlike them.
But first and foremost, Indianapolis absolutely must get
Peyton Manning
locked up to a long-term deal, even though his franchise tag most likely will hold up with the new collective bargaining agreement. But the Colts do not currently have a lot of room under the cap, so some tough decisions will have to be made.
[+] Enlarge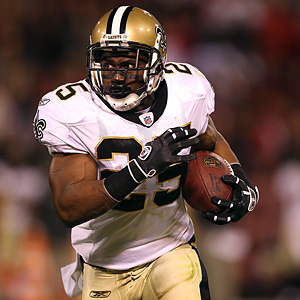 Jed Jacobsohn/Getty ImagesReggie Bush would add a new dimension to the Colts' offense.
With
Melvin Bullitt
and
Joseph Addai
as free agents-to-be, I see safety and running back as Indianapolis' biggest needs. But the Colts also need to address defensive tackle, where
Daniel Muir
and
Antonio Johnson
are both free agents and neither player is very effective.
Addai: Addai is probably more valuable to the Colts than to any other franchise in the league. Addai has Manning's trust, he fits and understands this complex offensive system and he excels in pass protection. But durability is an issue with Addai, and at this point of his career, he probably has no more upside.
Reggie Bush
: To me, this would actually be a better option than Addai. Having a backfield of Bush,
Delone Carter
and
Donald Brown
would give Indianapolis three extremely different types of running backs. And few teams would be as adept at using these varying skills as the Colts. Bush could be pure electricity in this offense. And Manning would masterfully utilize Bush's ability to confound defensive personnel. Bush isn't technically a free agent, but he most likely will become available on the open market.
Brandon Mebane
: Adding an impact defensive tackle like Mebane would be much more of a free-agent splash than we are accustomed to with Indianapolis. But Mebane is a fine all-around player. And adding him would make defensive tackle a strength of this team rather than the liability that it so often is. Mebane might be out of the Colts' price range, but he is exactly what they need at the position right now.
Clint Session
: The Colts rarely invest in keeping their own linebackers, but Session is a perfect fit for their scheme. He is fast, explosive and plays the game with vigor and passion. Keeping him as their weakside linebacker would be a smart move.
Bullitt: As you can tell, I am in favor of Indianapolis keeping its own for the most part. Bullitt is very effective in his role. If Bullitt goes elsewhere, some other safeties the Colts should consider who wouldn't break the bank are
Donte Whitner
,
Brodney Pool
and
Dashon Goldson
. Whitner is most likely the highest-priced player of this group.
Scouts Inc. watches games, breaks down film and studies football from all angles for ESPN.com. Follow Matt Williamson on Twitter @WilliamsonNFL.
August, 11, 2009
8/11/09
7:19
PM ET
Posted by ESPN.com's Paul Kuharsky
TERRE HAUTE, Ind. -- Some quick thoughts after an afternoon with the Colts...
Tone-setter: Players and coaches have to like the even-keeled message from owner Jim Irsay, who spoke to reporters during practice. Here's a link to the news story I wrote off of what he said.
Expectations remain high for a guy who'd like his franchise to stretch out its extended period of success and to earn mention with a team like the 49ers. To get in the same sentence, he knows the Peyton Manning-era Colts will have to win more than one Super Bowl.
Bizarre weather day: It poured as the 3:30 p.m. practice was getting underway, and pea-sized hail later accompanied thunder. By the time things ended, the sun was shining and it was pretty warm.
"We got lightning, rain, hail, thunder and sunshine," center Jeff Saturday said. "God played jokes on us today."
Throws and catches: Peyton Manning threw a couple picks, but some of his throws in red zone periods were, as you might expect, ridiculously precise. Reggie Wayne caught one of them working against Dante Hughes in David Tyree fashion, securing the ball left handed against the side of his helmet before he stepped out the side of the end zone.
I'll get deeper on Pierre Garcon while I am here, but for starters let's say he looks to be gliding and is running and carrying himself with discernable confidence.
The other side of Ugoh: With Charlie Johnson installed at left tackle and Tony Ugoh's demotion to backup swing tackle, I wanted to revisit what the Colts gave up to go get Ugoh in the 2007 draft. Indy traded its 2008 No. 1 pick and a 2007 fourth rounder to San Francisco for the 42nd pick, with which it selected Ugoh.
Tarik Glenn later surprised the team by retiring, pushing Ugoh up the depth chart and into the starting lineup a year earlier than they would have liked.
San Francisco took safety Dashon Goldson out of Washington with the 126th pick in 2007 and North Carolina defensive tackle Kentwan Balmer with the 29th overall pick in 2008. Goldson
has played in 19 games with two starts and has 36 tackles, according to NFL.com. Balmer played in 16 games as a rookie, starting none and recording just seven tackles. San Francisco doesn't have a 2009 depth chart up on its web site yet.