AFC South:

David DeCastro
September, 14, 2013
9/14/13
11:18
AM ET
September, 5, 2013
9/05/13
1:00
PM ET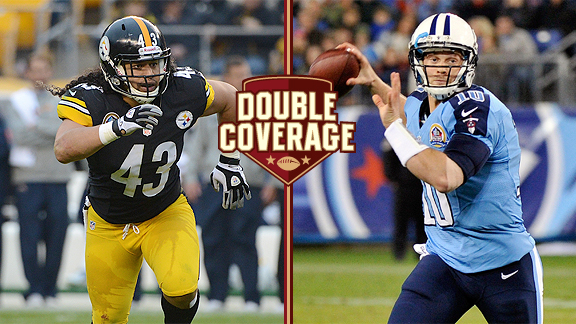 Getty ImagesJake Locker will have to face a fresh Troy Polamalu and one of the league's top defenses.
Pittsburgh is a tough place to play. The
Pittsburgh Steelers
don't often stay down long. The
Tennessee Titans
will bring a lot of unknowns to Heinz Field.
It's an intriguing opening day matchup for two teams looking to bounce back from seasons that didn't meet standards and fell short of expectations.
ESPN.com Steelers' blogger Scott Brown joins me for his first edition of Double Coverage, and I know he'll understand if we skip the pleasantries and dive right in.
The Titans' rebuild is centered around their offensive line. They'll be way more physical with a new interior of
Andy Levitre
,
Rob Turner
and
Chance Warmack
.
Scott, I know the offensive line has been an issue in Pittsburgh, too. What's the status of things there, and how much better can we expect the Steelers to be up front?
Scott Brown:
Paul, that is one of the biggest questions facing the Steelers. The offensive line is one of the youngest and most inexperienced the Steelers have assembled in decades. But the group is athletic and has plenty of what coach Mike Tomlin likes to call "pedigree."
Two of the starters are first-round draft picks. Two others are second-round selections. The Steelers have clearly made a big investment in the offensive line, and they need a major return on that investment for this team to return to the playoffs.
I think the interior of the line with Pro Bowl center
Maurkice Pouncey
and guards
David DeCastro
and
Ramon Foster
has a chance to be really good. I'm not as sold on tackles
Marcus Gilbert
and
Mike Adams
, who will protect
Ben Roethlisberger
's blind side.
The Titans, I'm sure, will test that line with plenty of blitzes, as the first-team offensive line struggled with pass-blocking in the preseason.
Speaking of blitzes, Titans quarterback
Jake Locker
will see his share with the ageless wonder Dick LeBeau still calling defenses in Pittsburgh.
How is Locker progressing, and is he the long-term answer at quarterback in Tennessee?
Paul Kuharsky:
The verdict on whether Locker is the guy for the long haul won't come until after we see this season.
He steadily improved in camp and the preseason and has reason to feel good about the state of things. I don't think he's going to have many games in his career in which he throws for 300 yards, but the Titans aren't built to ask that of him. They'll get him on the move to make simple throws and decisions, especially early, when he often needs to settle down and find a rhythm.
That line will give him time and be far better at creating space for
Chris Johnson
and newcomer
Shonn Greene
. If the Titans run effectively -- and the preseason suggested that's one thing they are definitely good at -- they can build play-action off that and Locker will be in a perfect setting to succeed.
The two big questions are about his accuracy and how he will react to new, unforeseen circumstances. You know, the kind of stuff Lebeau has designed for this game especially for him.
Does LeBeau have the pieces to do the sort of things to confuse a young quarterback?
Brown:
He has one of the most valuable pieces of all in
Troy Polamalu
. The dynamic strong safety allows LeBeau to do so much because he plays all over the field and opposing quarterbacks don't know where he is going to be from snap to snap.
Polamalu missed nine games last season because of a recurring calf injury, but he looked like his old self in training camp and the preseason. In that sense, the timing isn't good for the Titans to play the Steelers because Polamalu is at full strength. Outside linebacker
LaMarr Woodley
also seems poised to bounce back from an injury-plagued season in which he registered just four sacks.
With those two and other players such as inside linebacker
Lawrence Timmons
and rookie outside linebacker
Jarvis Jones
, LeBeau won't hold back -- particularly against a relatively inexperienced quarterback who is still finding his way in the NFL.
Paul, the Steelers have never lost at Heinz Field in September under Tomlin. My question for you is what will it take for the Titans to pull off the upset on Sunday?
Kuharsky:
I think it's possible. They'd have to show poise, withstand the bad moments, minimize mistakes. You know the drill.
This is a team that has been run on by lesser running backs in the recent past, so it can't take
Isaac Redman
lightly, and we'll find out fast if
Sammie Hill
and
Ropati Pitoitua
are going to help answer the run-defense deficiencies.
The Titans must get Roethlisberger to the ground when they have the chance. After an offseason talking of press coverage, they haven't changed at all at cornerback, and I imagine Roethlisberger will find things to attack. He knows Titans strong safety
Bernard Pollard
from his time in Baltimore. I won't be surprised if the Steelers plot to get Pollard in coverage situations they feel they can exploit.
The other big question here, the elephant in the room: Your first game for ESPN.com? You ready?
Brown:
To help myself to some Tomlinisms: This is where the rubber meets the road, but this is not my first rodeo. I believe I have sharpened my pen (does that still apply in the dot.com world?) for battle, but I will have to pay attention to detail. Ultimately, it comes down to making plays (or deadline in this case) inside stadiums with the lights on (yes, I know it is a 1 p.m. start, but gray days in Pittsburgh are as noteworthy as grass on a golf course). Such is life in the National Football League (and ESPN.com), and I embrace the challenge.
October, 6, 2012
10/06/12
11:09
AM ET
Rick Shortt from Virginia Beach writes:
Again I say, let's quit jumping on the Texan bandwagon. It will not be long before they crash out at the bottom again. How long did it take them to get this far? GO COLTS.
Paul Kuharsky:
I'm not on a bandwagon. I write about what's going on.
What's going on is the Texans are one of two undefeated teams left in the whole league. Would you like me to pretend they aren't winning now because you think it'll tail off?
Who should I act like is good instead? A team that got beat in it's last game by the marvelous
Blaine Gabbert
-
Cecil Shorts
tandem?
---
Mike W from Jacksonville Beach writes:
In reference to your weekly what you think the Jags are thinking. This is what a 5 year Jag's season ticket holder is thinking: It could be argued the three most important positions for all 32 NFL teams are GM, Coach and QB. If you had their peers rank Gene Smith, Mike Mularkey, and Blaine Gabbert against others in the league, there is no way that anyone would rank them above a 27 or 28. Until any or all of these individuals are removed, you realistically cannot be successful. I've had (or heard) countless discussions with others, on sports radio, and from local media, but isn't that really their problem in a nutshell? Other comments are deflections and distractions from the root cause of why the Jags continue to lose.
Paul Kuharsky:
I certainly understand your frustrations. But the guys that you'd rank in the top five at those spots were once nobodies who ranked 28th, don't you think?
Maybe not at QB, but certainly with coaches and GMs.
Where did Gary Kubiak and Rick Smith of the Texans, for example, rank on your coaches and GMs lists three years ago? Where do they rank now? I'd suspect substantially higher. Their owner was patient with them and is now collecting dividends.
Also important: who are the guys you you want replacing Smith, who's at least had some time, and Mularkey, who's FOUR GAMES into his tenure with the Jaguars, and Gabbert, who's played in all of 18 games?
---
Marcus in Winter Park, FL writes:
I was the person who was annoyed with the lack of an upgrade at the CB spot during the Texans' off season, my username being eramthgin007. I just wanted to admit that I was wrong about
Kareem Jackson
's ability to improve. He impressed me long before he got that pick-6 against the Titans yesterday. I am now cautiously optimistic, for I am still not going to put all of my chips on KJ because Hasselbeck was the QB yesterday. I want him to do well against Rodgers and Flacco and Brady, then I will trust in his abilities more. But I admit to being wrong, and I look forward to seeing KJ improve even more. Oh, and I really enjoy your posts, especially your humor. Sarcasm is possibly the greatest thing to ever happen, ever. Not really but you get the point.
Paul Kuharsky:
Wow. Score one for reader accountability. Rare. Dogs and cats living together.
I much appreciate the feedback.
Jackson is definitely better, but he'd still be the guy I'd go after based on how strong they are elsewhere.
---
Saeed Fakhruddin from Brentwood, TN writes:
I am a season ticket and PSL holder of the Titans. Why does this team ignore glaring needs and go after players in the draft that don't address those needs. We ranked almost dead last in sacks last year and had almost no pass rush. We get
Kendall Wright
and pass on SEC defensive players in a year where there was a bumper crop of linebackers and defensive linemen. We once again have no pass rush and J.J. Watt's has more sacks than the entire Titans defense. Mike Reinfeldt and Ruston Webster are always looking to outsmart the league. They are idiots. Why are they always trying to save Bud Adams' money. We consistently pass on free agents that could fill holes and let go of good players who are leaders in the locker room while getting no draft picks in return. We were an elite team in the years we had a dominating pass rush with
Albert Haynesworth
. The Giants won the Super Bowl with a fearsome D-line. The blueprint is there but it appears the brilliant minds in the Titans front office had other ideas. They are stale and have almost no pressure to show results because the Nashville media is way too polite. Bud Adams has been out to lunch for a while. I won't even elaborate on the need to reinvigorate the O-line.
Leroy Harris
is a liability. David Castro would have been worth moving up in the draft. Thank you.
Paul Kuharsky:
No, thank you. You've given me great fodder.
They've missed on a lot of players, for sure.
But they didn't miss on leting Haynesworth walk -- did you see what he did after he got that giant contract? Would you somehow feel better if they'd wasted $40 million guaranteed on a guy who was going to mail it in from there just to prove to you a willingness to spend? And they got a third-round compensatory pick for losing him.
They didn't do enough at defensive end, but didn't do nothing.
Kamerion Wimbley
was an expensive free agency.
They passed on
J.J. Watt
because they had to have a quarterback. We won't know if they picked the right one for a while. But they were hardly alone in not jumping on Watt.
I don't know what they would have had to do to draft David Castro, but they wouldn't have had to move up for
David DeCastro
. They passed on him and he went four spots later. I would have liked to have seen them make that pick too. But of course if they took him, you'd be complaining about not having enough depth behind
Kenny Britt
at receiver or still ranting about defensive end. (The guy the Titans may really regret passing on is DE
Chandler Jones
.)
Drafting strictly for position of need has proven to be a bad strategy. You draft players, not positions. Last year were you bemoaning the selections of
Jurrell Casey
and
Colin McCarthy
and
Karl Klug
?
If you want to crush the Titans, crush them. They deserve it. I've been doing it. But how about you crush them accurately?
---
Rick in Ponte Vedra Beach, FL writes:
Two questions: 1. Do you think Jack Del Rio kept a tight leash on Dirk Koetter's offense in Jacksonville? With
David Garrard
and Blaine Gabbert, the Jaguars were (and still are) a 3-yards and a cloud of dust offense. Koetter goes to Atlanta and the Falcons light up the scoreboard. He has better offensive players in Atlanta, but still the Jags were so predictable. 2. Have you ever been to Roberts Western World on Broadway in Nashville? Do locals go there?
Paul Kuharsky:
1) Yes. Koetter didn't have a lot of talent to work with and I don't think Del Rio let Koetter do everything he would have liked.
2) Yes. Once at the end of a late night. Good spot. Mix of locals and tourists. But downtown is not where most of locals go. Try Midtown
---
LX from El Chuco, TX writes:
Now that the Texan's are 4-0, the media/public praise almost make me forget the 10 previous seasons of inconsistency and frustration. Honestly, I expected them to win by less than a TD vs. the Titans and lose by 10+ to
Peyton Manning
's Broncos. Still the early success bothers me. Against Manning, as usual, the Texans folded in the fourth quarter; Peyton would have won if he had the level of familiarity with his WRs/TE in DEN as he did in IND. The Manning hex has not been lifted because the Texans have yet to win at IND; besides, they usually struggle with rookie QBs and
Andrew Luck
will be well experienced by Week 17. Speaking of insurmountable hurdles, the Texans have never beet two of the three teams they will face before the bye: NYJ and BAL!!! I know you love the Texans when they win, but their success remains unproven. I hope they DO lose at least one game in the next three weeks so that they can focus on reaching the SB and not fall into the Pursuit-of-Perfection BS that killed the Patriots when they went 18-1.
Paul Kuharsky:
You write: "Still, the early success bothers me." So after the 10 years you complain about, they are finally good, they are crushing people, and you are bothered by success? What do they need to do to make you happy?
Teams win all the time with some sort of statistical or personnel deficiencies. Trust me here, right now the Texans don't have much of either. They gave up a big lead in the fourth quarter in Denver -- and still won. They beat Manning where and when they were scheduled to play him. Did you want them to petition to relocate the game to Indy?
Your team is playing great but your choice is to fret about their Week 17 matchup on the road against Andrew Luck?
I think you're right. They probably will lose that game. Because it probably will mean nothing to them in terms of playoff positioning. How in the world will you deal with such a catatrophe?!?
I wouldn't worry about a perfect record. They'll lose more than one game. But if you like them, you don't have to be compelled to root for it. Just let it happen.
---
Jake from Tennessee writes:
How did your lover boy Matt Hasselback do for you Sunday? I bet you were devastated that he sucked and CJ performed. You might be the worst blogger, due to your always biased opinions, in ESPN history!
Paul Kuharsky:
You are confused.
This will help you understand what you see as "
bias
."
Did you think
Chris Johnson
was good in the first three games? Should I have raved about him?
---
Craig Adams from Lubbock, Texas writes:
I've never done the fantasy thing before until this year. For some reason all your bad mouthing of MJD, who I've never really followed, stood out to me as the season approached. As of late I have looked for comments by you seeing if you had given him any kudos as of late but have not seen any? Do you have a pride issue?
Paul Kuharsky:
Maurice Jones-Drew's been everything we've come to expect of him. But I haven't had any real cause to write about him. I said during his holdout that they could go 5-11 just as easily with him or without him. And they look to be on track to do it with him, again.
Also, I don't believe I said he wouldn't play well when he played. I never questioned his talent. He's very talented. I said he didn't deserve a new contact. What he's done since he returned hasn't really swayed my thinking on the contract or changed my reaction to how he handled things.
---
Romeo Hughes from Starkville, MS writes:
When it comes to
Tennessee Titans
defense, is horrible coaching by Jerry Gray or are they just don't have the talent? They are missing way too many tackles, the safeties are lined up way too far deep, the line gets no pressure, and they don't use
Akeem Ayers
like they should. Thank you for your time and I enjoy reading your columns.
Paul Kuharsky:
It's a combination of both, plus a third ingredient: They've played four pretty good teams.
April, 26, 2012
4/26/12
2:45
PM ET
Thoughts on the Titans' draft from two people involved in evaluating personnel for NFL teams:
Guy No. 1:

"If guys like
David DeCastro
, a third offensive tackle and
Ryan Tannehill
go before 20, that will help push someone the Titans like a lot to 20."
"They could like
Michael Floyd
, they could like
Kendall Wright
. But I don't think a receiver is going to outweigh a defensive player."
"
Dre Kirkpatrick
could be there for them. He's a playmaker. He's been coached hard. He can help them."
"There may be a lot of options for them at defensive end and defensive tackle, and I wouldn't dismiss linebacker, either."
Guy No. 2:
"Last year their big thing was 'stop the run, stop the run, we don't like these little defensive linemen.' Every time I hear something now it's, 'We've got to rush the passer, put heat on the passer.'
"They'd take Kirkpatrick if he's there. I don't think he will be there. Then I don't think there is a corner that's attractive at 20."
"It's too soon for a guard or center, but if DeCastro fell, I could see them taking him."
"I'm talking myself into
Dontari Poe
for them. Jerry Gray has had
Pat Williams
and
Sam Adams
. Poe will give some push and chase some sacks to
Kamerion Wimbley
and
Derrick Morgan
. Last year they liked
Nick Fairley
. Poe has a similar profile to
Albert Haynesworth
but better football character. He hustles, he tries hard. He's only played five seasons of football."
April, 23, 2012
4/23/12
3:31
PM ET
The first six picks of
ESPN's Blogger Mock Draft
unfolded pretty much as expected.
That's when James Walker, our AFC East representative, put out the word: "I'm willing to make a trade back with Buffalo at No. 10."
Before anyone could respond, AFC South representative Paul Kuharsky announced he'd swung a deal with Dan Graziano of the NFC East. The Jaguars had traded the seventh overall choice and a sixth-rounder to Philadelphia for the 15th, 88th and 153rd selections.
The Eagles took defensive tackle
Fletcher Cox
at No. 7.
"By the way," I wrote in an email to the group, "Seattle would love to trade back from 12."
Then came the word from Walker, sent only to me, the NFC West rep: "Don't make your pick at No. 12 yet. I have an offer from New England coming. Working out the point chart. First, I have to figure out Buffalo's pick at No. 10."
A few seconds passed before the AFC West's Bill Williamson, unaware Walker had already made contact regarding the 12th pick, reached out to me in another email.
"If
Melvin Ingram
is on the board at 12," Williamson wrote, "I might have San Diego come up from 18."
This was intriguing. Seattle's actual leadership had swung a deal with San Diego for quarterback Charlie Whitehurst a couple of years ago, so trade talks for the 12th pick seemed realistic. But the Seahawks also have a working relationship with the Patriots, having traded Deion Branch to them not all that long ago.
"Sounds good," I replied to Bill. "James might also make an offer here."
The potential deal with Williamson and San Diego was fleeting. Walker executed a trade with himself, allowing the
New York Jets
to move into Buffalo's spot at No. 10. The Jets took Ingram, the player Williamson had wanted for San Diego.
The fun was only beginning.
Our eight divisional bloggers made four trades involving the seventh, 10th, 12th, 15th, 16th, 27th, 31st and 32nd overall choices, plus later considerations.
Five of our first-round selections in this mock failed to appear in our previous one.
Jerel Worthy
,
Kevin Zeitler
,
Chandler Jones
,
Shea McClellin
and
Coby Fleener
pushed out
Rueben Randle
,
Andre Branch
,
Peter Konz
,
Kendall Wright
and
Mike Adams
.
Courtney Upshaw
,
Dontari Poe
and
Stephen Hill
made double-digit drops from then to now.
Michael Brockers
,
Cordy Glenn
,
Stephon Gilmore
and Cox climbed at least eight spots since last time.
We drafted seven defensive ends/outside linebackers, six offensive linemen, five defensive backs, four defensive tackles, three receivers, three quarterbacks, two inside linebackers, one tight end and one running back.
Mostly, we had some fun with the process. Thanks for coming along.
***
ESPN.com's NFL bloggers went through one final mock draft leading up to Thursday's start of the NFL draft. Here is how
#ESPNbloggermock
played out.
April, 17, 2012
4/17/12
1:56
PM ET
A look at what Peter King of Sports Illustrated has the AFC South doing in his
mock draft
with a corresponding thought from yours truly.

1) Colts
WILL PICK:
Andrew Luck
, QB, Stanford
SHOULD PICK:
Andrew Luck, QB, Stanford
PK:
"Tough duty ahead for Luck, who'll be fortunate in 2012 to win as many games as the Colts' last No. 1 overall,
Peyton Manning
, did as a rookie in 1998 (three). Indy has been stripped bare of stars (except for graybeards
Reggie Wayne
, 33, and
Dwight Freeney
, 32) and needs to be sure it doesn't overhype Luck's arrival. It'll be a long road back to the playoffs."
The other PK:
Again, hard to have much to say about pairing the Colts with Luck. He's the right guy and he will be the guy. An aside on King's other comment -- he forgets
Robert Mathis
, also not young, but definitely a star-caliber pass-rusher.

7) Jaguars
WILL PICK:
Stephon Gilmore
, CB, South Carolina
SHOULD PICK:
David DeCastro
, G, Stanford
PK:
"Like Tampa, Jacksonville has a major hole at cornerback, and I hear the Jags like Gilmore a ton, which would have to be the case for them to reach for him here. Still, I'd solve a position of need for the next 10 years with the second-best offensive lineman in the draft — and a guy with the mean streak Jacksonville's O-line needs — then take the corner in round 2."
The other PK:
I look at
Derek Cox
,
Rashean Mathis
,
Aaron Ross
and
Drew Coleman
as the Jaguars' top four corners and hardly see a "major hole." The major holes are at receiver and defensive end. There may not be a solution sitting at No. 7, so anything seems possible. I wouldn't mind DeCastro. But a DeCastro-CB one-two punch King suggests would leave the two major holes unaddressed until round three.

20) Titans
WILL PICK:
Whitney Mercilus
, DE, Illinois
SHOULD PICK:
Shea McClellin
, OLB, Boise State
PK:
"This is a good season: 16 sacks, nine forced fumbles. That was Mercilus's breakout 2011 campaign at Illinois, and that's why he'll be a first-round pick this year. But he's not as versatile as McClellin, whose stock is rising because he has the speed (a 4.6 40 at 260 pounds) to be an edge rusher and is a sure-enough tackler to play inside if needed."
The other PK:
This is the first I've seen McClellin mentioned in this spot. If he projects as a 4-3 end and can get to the passer, I wouldn't have any serious objection if the sense is the rest of the league sees him as worthy of this range. But another media outlet, Pro Football Weekly, ranks him 120th and a third- or fourth-rounder.

26) Texans
WILL PICK:
Rueben Randle
, WR, LSU
SHOULD PICK:
Stephen Hill
, WR, Georgia Tech
PK:
"Kendall Wright makes sense if he lasts this long, but Randle is a good fallback. Houston thinks that at 6-4 and 210 pounds he'll be another matchup problem along the lines of
Andre Johnson
. What team has the corners to cover two wideouts 6-3 or taller? Then again, if that's the logic, I'd take Hill, who's bigger (6-5) and a speed threat."
The other PK:
I've long thought Randle will be the choice, but could see them going with him, Wright or Hill if they have all the options. I think a Johnson-Randle pairing would create problems for secondaries, as King suggests, and that Randle could be a quality successor for Johnson down the road.
April, 12, 2012
4/12/12
12:23
PM ET
Todd McShay's got a new
scenario-based mock draft

out.
I think he's mostly on target for two AFC South teams. I think he's a bit off target on a third, and misses the mark by a great degree on the fourth.
1) Indianapolis Colts
Andrew Luck
, QB, Stanford
Scenario 1:
(Andrew) Luck is a once-in-a-generation prospect, and adding him is the best option for a team that is starting over in the post-
Peyton Manning
era.
Scenario 2:
The Colts could pull one of the all-time draft surprises and take Baylor QB Robert Griffin III instead, but that doesn't seem likely after Griffin declined to work out for the team.
Kuharsky's thoughts:
Don't understand why Jim Irsay is being coy? Why not? What's to be gained by saying it's Luck? The contract part is simple with the new CBA.
7) Jacksonville Jaguars
Melvin Ingram
, DE/OLB, South Carolina
Scenario 1:
If (Justin) Blackmon should fall this far the Jaguars have to pull the trigger. They've gone far too long without a true No. 1 target in the passing game, and it's hard to fully evaluate second-year QB
Blaine Gabbert
without proper weapons around him.
Scenario 2:
Jacksonville would certainly like to take advantage of a team looking to get ahead of the
Miami Dolphins
to draft (Ryan) Tannehill. Moving back and adding picks would help a team that has plenty of needs.
Scenario 3:
If stuck here, the Jags go with the best available defensive end. General manager Gene Smith likes safer, more proven prospects, so Ingram fits better than North Carolina's
Quinton Coples
. Ingram is versatile, explosive and shows a knack for making big plays, while Coples has impressive tools but faces questions about his motor and work ethic.
Scenario 4:
If he falls in ahead of Ingram on their board, the Jaguars could take (Riley) Reiff and shore up their offensive line.
Kuharsky's thoughts:
I am in line with scenarios one, two and three and if I am a Jaguars backer I'd be happy with any of the three. Shoring up the offensive line? I don't love the depth, but if
Eben Britton
is healthy, they should have enough.
20) Tennessee Titans
Dre Kirkpatrick
, CB, Alabama
Scenario 1:
Cornerback is the team's top need and the Titans would take (Stephen) Gilmore if he were available.
Scenario 2:
Kirkpatrick is a good fit in Tennessee's zone-heavy scheme with his size, toughness and instincts.
Scenario 3:
Alabama ILB
Dont'a Hightower
is a possibility. The Titans have a need at the position, and while they like 2011 draft pick
Colin McCarthy
there is no other inside linebacker worth taking here.
Scenario 4:
Take the highest-rated available tackle offensive tackle on their board, whether that's (Jonathan) Martin or (Mike) Adams.
Kuharsky's thoughts:
I completely disagree that corner is the team's top need. Losing
Cortland Finnegan
doesn't automatically create a need as they have people to step up. They'd take one if they think he's the best player because other areas have dried up. They Titans don't like Colin McCarthy, they love him, just like they love their tackles,
Michael Roos
and
David Stewart
. I see a defensive lineman or maybe a value if
Mark Barron
or
David DeCastro
somehow lasts.
26) Houston Texans
Stephen Hill
, WR, Georgia Tech
Scenario 1:
The Texans would like nothing more than to see (Kendall) Wright fall to them and add a dynamic playmaker opposite
Andre Johnson
.
Scenario 2:
Hightower would also be an attractive option if he were available as a replacement for the departed
DeMeco Ryans
.
Scenario 3:
Hill offers a big, fast option who is raw but could form a dangerous tandem with Johnson.
Scenario 4:
Take the best available offensive tackle, in this case Adams, to fill the void left by the release of
Eric Winston
.
Kuharsky's thoughts:
I don't know how they stack Wright, Hill and Reuben Randle but another weapon is certainly a need. The inside spot vacated by Ryans is a part time spot that doesn't require a first-round pick. I'd take a receiver first, but if there is a run, tight end
Coby Fleener
would be attractive. Offensive tackle wouldn't be objectionable.
April, 2, 2012
4/02/12
11:14
AM ET
The NFL's transformation into a pass-happy league has sent teams scrambling for ways to keep up defensively.
Perhaps that explains why defensive linemen and 3-4 outside linebacker types dominated ESPN.com's first NFL Blog Network mock draft for 2012.
AFC West blogger Bill Williamson snapped up three of them for the division he covers. Six other defensive linemen and 3-4 outside linebackers found homes elsewhere in the first round.
Offensive linemen (seven), defensive backs (five) and wide receivers (five) accounted for most of the remaining first-round selections.
In keeping with the pass-oriented theme, Alabama's
Trent Richardson
was the lone running back selected, landing in Cleveland with the fourth overall choice.
And, of course, we kicked off the mock with a couple of quarterbacks.
March, 8, 2012
3/08/12
3:57
PM ET
Lost in a day that was busy thanks to Peyton Manning were new mock drafts from
Todd McShay

and
Mel Kiper

.
Here's the third of four team-by-team reviews.
20) Tennessee Titans
McShay
: David DeCastro, guard, Stanford
"The Titans have three defensive ends set to become free agents, so that position could be an option here. In this scenario, though, DeCastro offers a big upgrade on the interior of the offensive line. He was the most dominant interior lineman in the nation in 2011, crushed the combine, is ready to start from Day 1 and has a chance to quickly become one of the premier guards in the league."
Kiper: DeCastro
"The Titans also need pass-rush help, but if things break this way, DeCastro represents tremendous value, and that offensive line could use the help after a year where the running game totally fell apart. DeCastro is the kind of player you can draft who won't get big headlines, but will pay immediate dividends because they can plug him in Week 1. Obviously, if a pass-rusher they like falls to No. 20, they could go that direction."
Kuharsky:
Maybe coach Mike Munchak and offensive line coach Bruce Matthews, Hall of Fame interior offensive linemen who were drafted high, change course. Maybe DeCastro is too good to pass up if he lasts to 20. But the Titans typically coach up later picks instead of spending them high on guards.