June, 12, 2012
6/12/12
5:40
PM ET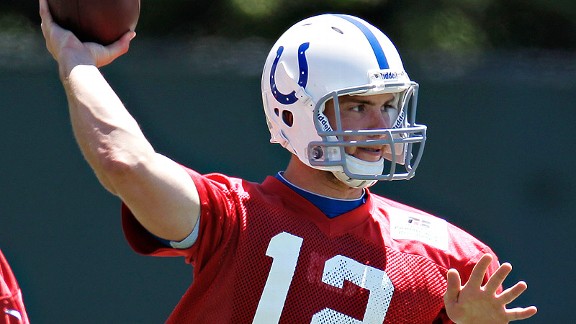 AP Photo/Darron CummingsRookie QB Andrew Luck took to the field Monday for his first official team practice as a Colt.
INDIANAPOLIS --
Andrew Luck
's first full-speed minicamp practice featured nice completions and smart decisions. And also some passes batted at the line and a couple dropped interceptions.
But in large context, it wasn't so much a day about tracking the precision of the No. 1 overall pick in April's draft, it was about the quarterback finally getting on the field and into the huddle.
Delayed by a rule that keeps players away from team work until their college class finishes its semester, Luck has finally arrived and a new era is finally under way.
As the voice in the middle of the offensive huddle, he showed nice command, teammates said.
That's not as hard as it may sound, Luck countered.
"It's always assumed when the quarterback is stepping in the huddle, you're going to listen, so that part's easy," Luck said. "A big part of playing quarterback too is just faking like you know what you're talking about even if you don't know it. But I think it is somewhat of a slow process, because who knows what happens when a game starts? I could totally flub it and lose the respect of everybody. You try to build that confidence and trust as practices go on."
Luck missed the Colts' organized team activities. Now he and his teammates must be conscious of not trying to hurriedly make up for lost time.
"It's an interesting spot, you don't want to press or over-press or burn out on anything," Luck said. "Then again, you do want to play catch-up, you have to play catch-up a little bit to make sure you get those reps before training camp starts, before the preseason hits you. So it'll be an interesting process getting to that point with all the receivers."
Luck's Stanford teammate and the Colts' second-round draft pick, tight end
Coby Fleener
, unintentionally touched on an old John Wooden bromide: Run fast, but don't hurry.
"We don't want to rush, but there is definitely a sense of urgency," he said. "We want to spend as much time learning here as we can."
Coach Chuck Pagano said he saw no mental errors in a late-morning walkthrough and praised Luck's smarts and focus.
The team was back on the field in helmets working at a faster pace in the afternoon. On Wednesday, the Colts will show off Luck and the new-look roster to the city, with a public afternoon practice at Lucas Oil Stadium.
After next week, supervised on-field work will end for rookies. Luck won't have offensive coordinator Bruce Arians or quarterbacks coach Clyde Christensen to lean on and will again be left to his own devices, though he'll have access to the team's facility.
Since absorbing a lot at rookie minicamp and taking a playbook back to Stanford with him, Luck split days in half with football work in the mornings and school in the afternoon, despite waking up with a "serious lack of motivation to go to class."
That football work means he's hardly starting at zero, and he said he feels like he's in the sort of shape he needs to be in to handle a heavy load of reps.
Cam Newton
and
Andy Dalton
had pretty solid rookie seasons in 2011 and they missed OTAs, though their missed work was due to the labor dispute that resulted in the lockout. Pagano said that certainly adds to the team's confidence about what Luck will be able to do in his first year.
Many scouts said before the draft that Luck would come into the league as the most pro-ready quarterback since John Elway.
The Colts' new quarterback is even more polished as a conversationalist. He turns to face every questioner and responds while looking people directly in the eye. When cameras are involved, that's going to play very well for him as he graduates into the face of the franchise.
"I think I have to earn the face of the franchise stuff," he said. "I try to come in here and learn as much as I can, do my best job so I can help all the guys that are here get back to the playoffs, get back to being a championship team. I don't know if that will ever sink in. I just try to go about my job and not get too caught up in anything else."
As much work as the Colts have already done, until Tuesday it's been a team waiting on its quarterback to arrive. Luck's absence and an injury prompted the team to add a couple guys, so now there is a crowd of five guys in red jerseys, with backup
Drew Stanton
and seventh-round draft pick
Chandler Harnish
ahead of a couple undrafted rookies,
David Legree
and
Trevor Vittatoe
.
"The quarterback is the key everywhere," right tackle
Winston Justice
said. "Luck has presence. I think every quarterback at this level is going to have some type of presence because he's been playing quarterback for so long, he's going to take some sort of command of the huddle.
"But he has that aroma of being the first-round pick."
It smelled like a fresh, breezy, early summer Indiana day to me.
But something's definitely starting to cook for the Colts.
May, 18, 2012
5/18/12
10:00
AM ET
By
ESPN.com staff
| ESPN.com
Houston Texans
The Texans became at least the fifth team to beg off of being the subject of HBO's "Hard Knocks" series,
John McClain reported
. The Texans join the Jets, Redskins, 49ers and Falcons as teams that have declined to be on the show.
Indianapolis Colts
The Colts
signed Justin Anderson
, the Georgia guard whom they selected in the draft's seventh round, and David Legree, an undrafted quarterback from Hampton University. Indianapolis
also waived
tight end Brody Eldridge.
Jacksonville Jaguars
The Jags' offense is primed for a big jump this season, at least from the vantage point of linebacker Clint Session. "I have never seen an offense since I've been here as precise and as accurate as they are now,"
Session told Tania Ganguli
of the Florida Times-Union. "They're looking like the greatest show on turf compared to what it was last year."
The
Jaguars remain a candidate to appear
on HBO's "Hard Knocks" for the first time. Jacksonville participated in a similar program that aired on NFL Network in 2004, and have said they would be willing to be the subject of the HBO show.
Mike Mularkey says he
has learned to stop worrying
about what he can't control in his second stint as a head coach, writes Ganguli.
Tennessee Titans
Citing the mad-scientist-like abilities of offensive coordinator Chris Palmer, receiver Nate Washington predicted that the Titans will be more pass-oriented than in the recent past. "Coach Palmer has been in the lab all offseason," Washington
told the Tennessean
. "He's been licking his chops to get back to us, so you can tell on his face that he has some different things up his sleeve. I think this is going to be a pretty explosive offense."
Defensive coordinator Jerry Gray
finally gets a full offseason to install his own schemes
, writes Teresa M. Walker of the Associated Press.
The Titans want second-year linebacker Akeem Ayers
to improve as a pass-rusher
, writes John Glennon of the Tennessean.