April, 19, 2011
4/19/11
1:00
PM ET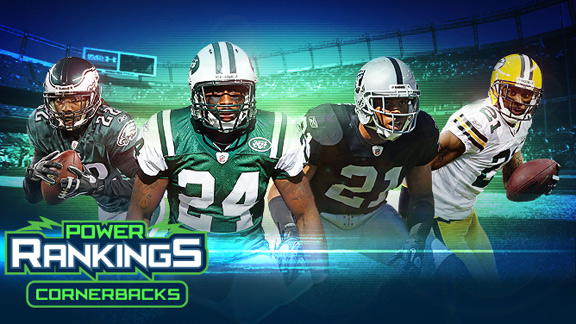 ESPN.com IllustrationDarrelle Revis won a tight race over Nnamdi Asomugha as the NFL's top cornerback.
ESPN.com's NFL writers rank the top 10 cornerbacks in the league today. Next week: Top 10 quarterbacks.
Positional Power Rankings have produced some wild variations in voting. But none has had so many players mentioned as cornerbacks.
Previously, multiple votes had yielded 17 names. Our polling for the top 10 cornerbacks in the NFL touched on 23, a record that might be hard to break.
In another close finish, the Jets'
Darrelle Revis
edged the Raiders'
Nnamdi Asomugha
. The two collected all the first- and second-place votes, but Revis outscored Asomugha 77-75 thanks to five first-place votes.
Overall, veterans ruled the day, with the top five outpointing the rest of the field by a good deal. Revis and Asomugha were followed by three players with a collective 33 seasons of NFL cornerbacking experience: Green Bay's
Charles Woodson
, Philadelphia's
Asante Samuel
and Denver's
Champ Bailey
.
Woodson finished with 58 points, Samuel with 54 and Bailey with 53.
Of the votes for that trio, only two fell outside of the top five. NFC North maestro Kevin Seifert had Woodson sixth, just behind his teammate
Tramon Williams
. And AFC East maven Tim Graham placed Bailey seventh, with New England's
Devin McCourty
(fifth) and Minnesota's
Antoine Winfield
above him.
I had presumed Bailey started to slip in his 12th season in 2010. Then he shut down a red-hot
Dwayne Bowe
and got my attention in a way I remembered when I put him third on my ballot.
Graham's thinking was quite different.
"We're in the offseason, so I've taken into account not only last season's performances, but also how the player projects into 2011 when compiling my positional Power Rankings ballots," he said. "Bailey is going to be 33 years old before the start of next season and is on the downside. He's still great, but for how long?
"Power Rankings shouldn't be career-achievement awards. Devin McCourty was second-team Associated Press All-Pro, a first-team Sporting News All-Pro, voted a Pro Bowl starter by the fans, coaches and players and tied for second in interceptions. He deserved to be ranked ahead of Bailey, who wasn't mentioned for All-Pro and made the Pro Bowl as an injury replacement."
Though Graham had him fifth, McCourty got bottom-of-the-list votes from most of us, who seemed to respect his inaugural campaign but did not want to overscore a player who has been through the league only once. NFC South cruise director Pat Yasinskas left McCourty off his ballot entirely.
"One great season does not make a great career," Yasinskas said. "Let's see him do it again. I'm not saying he's got to do it for 10 or 15 years. I've got a guy in my own back yard,
Ronde Barber
, and a lot of people say he's already put up Hall of Fame numbers. I didn't even put him on the list because I think he's not much more than a very nice player in the system. But you have to be consistently at the top for at least a few years before you get on a top 10 list."
Winfield finished sixth (29 points), Williams seventh (18), McCourty eighth (17), Washington's
DeAngelo Hall
ninth (10) and Tennessee's
Cortland Finnegan
10th (eight).
Williams was the lone player to make the top 10 while not being looked at as his team's No. 1 guy. As much as I liked him, that prevented him from getting one of my votes. Same for Oakland's
Stanford Routt
.
Although Williams and Routt played very well in 2010, their jobs can be made a lot easier by playing with Woodson and Asomugha rather than being asked to be their team's version of those players. The toughest receiver on the opposition isn't usually a factor for Williams or Routt.
John Clayton had Routt sixth and NFC West chart-master Mike Sando had him 10th, which left Routt in 11th place. Clayton set me straight on why Routt was, in fact, deserving.
"Nnamdi has years of not being thrown on," Clayton said. "He's had years in which only 14 or 15 passes were caught against him in a season.
"Routt had a phenomenal year in 2010, which led to his big contract," Clayton said. "The percentage of passes against him that were completed was among the lowest in the league. His job is tougher because he has more passes thrown on him because of Nnamdi."
February, 15, 2011
2/15/11
4:28
PM ET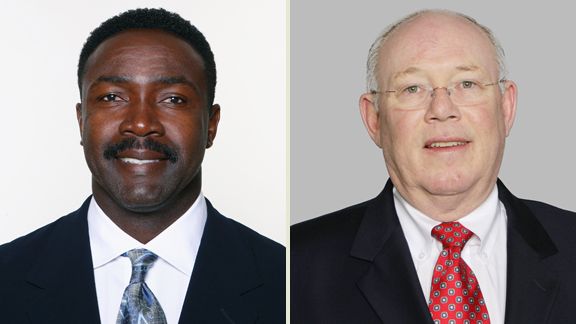 Getty ImagesNew coordinators Jerry Gray, left, (defense) and Chris Palmer bring experience to the Titans' staff.
NASHVILLE, Tenn. -- Maybe it was overplayed. But at the end of Chuck Cecil's two-year tenure as Titans defensive coordinator, some of his colleagues and some of his players were hardly quietly talking about their utter lack of opportunity for input.
Those people will surely find what Cecil's successor, Jerry Gray, said Tuesday afternoon refreshing.
Mike Munchak's defensive coordinator, who served as an assistant with the franchise from 1997-2000, said getting his players to feel they have ownership of the defense will be a big priority for him.
"You have to get the guys to understand that they are a part of the defense, it's not just your defense and they are playing a part in it," he said. "They take ownership. And when they take ownership, the defense works very well. They take pride in it, they take it home, they want to tell their wives and kids about it. And that's what we're hoping to get back here."
Gray said he will learn what guys can and cannot do, and use them accordingly. He cited
DeAngelo Hall
, the cornerback he coached in Washington, who hated to play up on receivers at the line of scrimmage. Gray, therefore, allowed him to play off.
Since he was hired Saturday, Gray has not watched all of the Titans' 2010 season, but said in what he has seen there were a lot of near misses on plays. If he can change that and help turn a good share of those into made plays, the defense can get better quickly.
He also doesn't want players thinking too broadly. If disciplined, smart players can consider the two most important things and leave the other eight aside, he said they stand a better chance to succeed.
Gray hopes to meet with as many players on the defense as he can before a probable lockout on March 4.
The defense is still without a line coach, and the fates of the carryover defensive staff will be determined soon.
Munchak also had a chance at the news conference to sell new offensive coordinator Chris Palmer. The Titans announced earlier in the day that Palmer, a well-traveled 61-year old coach who's worked with a variety of quarterbacks -- ranging from
Tim Couch
and
David Carr
to
Tony Romo
and
Eli Manning
-- would fill the void created when Munchak fired Mike Heimerdinger.
At first glance, he doesn't appear the sort of fresh outsider Munchak spoke of bringing in as he formed a staff.
But Munchak said a veteran coach was just what he needed, as he's got some assistants on offense without a great deal of experience. The Titans won't know who their quarterback will be, and Palmer will be able to adjust quickly, which could be called for if there is an extended labor impasse.
The Titans new coach said he had "a couple" or "a few" offensive coordinator candidates to Nashville, and did a lot more work weeding people out on the phone.
He wouldn't talk about how many guys he asked for permission to talk to from around the league. Two were reported: The Titans were denied permission to speak with Bill Callahan of the Jets and Mike Tice of the Bears.
Another element that makes Palmer an attractive deputy for Munchak is that the systems he's been in have required quarterbacks to call the protections. If a quarterback is doing that, his position coach and coordinator have to know the intricacies of the pass-blocking scheme.
Munchak, a Hall of Fame offensive lineman, doesn't like the idea of a play-caller whose purview doesn't include protection issues. Some leave them strictly to the line coach.
"[Palmer] can call a game knowing where the problems are up front," Munchak said.
September, 21, 2010
9/21/10
10:08
AM ET
Reading the coverage …
Houston Texans
Gary Kubiak doesn't want his team
resting on its laurels
, says John McClain.
DeAngelo Hall
wasn't afraid
of Andre Johnson, says John McClain. Hall says Johnson caught a lot of balls against zone coverages -- as if that makes a big day OK for a defense.
Even if they'd lost, we'd be saying we see
something different
in these Texans, says Richard Justice.
The Texans are
redefining their identity
, says Michael Lombardi.
A
game review
with Lance Zierlein.
Indianapolis Colts
The Colts showed they can
run smart
, says Mike Chappell.
An early shanked punt got Pat McAfee
fired up
, says Phil Richards.
A
report card
from Bob Kravitz.
Kravitz talks Colts in this
video
.
The story of Brandon Jacobs'
helmet
, from Chappell.
There's been a
major mood shift
, says John Oehser.
Jacksonville Jaguars
Luke McCown's got a torn ACL and the Jaguars are
searching
for a new backup, says Tania Ganguli. Mark Long
said
it's Todd Bouman.
Justin Durant's status is
uncertain
, says Tania Ganguli.
Gene Frenette and Vito Stellino
review the loss
at San Diego in this video.
In the Jaguars' club seats, fans can
order concessions
by iPhone, says Kevin Turner.
Tennessee Titans
Jeff Fisher expects
a better
Vince Young, says Jim Wyatt.
Fisher saw
two blown calls
in the second half of the loss to the Steelers, say Wyatt and Glennon.
Free agency has provided some
quick fixes
, says David Boclair.
Jacob Ford has
a sprained knee
, says Terry McCormick.
April, 23, 2009
4/23/09
8:45
AM ET
Posted by ESPN.com's Paul Kuharsky
Concluding our periodic look at the history of the relevant first-round draft slots, we examine No. 8 before Jacksonville drafts there for the second year in a row.
Here are the previous entries on Tennessee at No. 30, Indianapolis at No. 27 and Houston at No. 15.
The No. 8 Pick Since 1999
Year
Pos.
School
Player
Team
Comment
2008
DE
Florida
Derrick Harvey
Jacksonville
Contract dispute killed
chance at a big start
2007
DE
Arkansas
Jamaal Anderson
Atlanta
Has missed only one game;
just two sacks
2006
S
Ohio State
Donte Whitner
Buffalo
Has started 42 of 48 games
2005
CB
Miami
Antrel Rolle
Arizona
Has moved to safety
as some projected
2004
CB
Virginia Tech
DeAngelo Hall
Atlanta
Is he worth big contract
from Skins?
2003
OT
Utah
Jordan Gross
Carolina
Pro Bowler is a key cog
for Panthers
2002
DB
Oklahoma
Roy Williams
Dallas
Weak in coverage, now a
free agent
2001
WR
Michigan
David Terrell
Chicago
Five-year career,
128 catches
2000
WR
Michigan State
Plaxico Burress
Pittsburgh
Troubled but very productive
1999
WR
Ohio State
David Boston
Arizona
Nine years, four teams,
315 catches, 25 TDs