AFC South:

DeAngelo Williams
November, 10, 2011
11/10/11
9:29
AM ET
Reading the coverage ...
Houston Texans
"While much has been made of the team's almost-worst-to-first defensive renaissance, the offense's about-face capacity to take
quick control
has been equally helpful," says Dale Robertson of the Houston Chronicle. Better starts have been a big ingredient to the Texans' success.
Andre Johnson is on schedule but was
held out
of practice on Wednesday, says John McClain of the Houston Chronicle. Gary Kubiak just says the same things over and over on this. I'd sit Johnson this week, get him the bye, too, and go forward from there.
Indianapolis Colts
The Colts will recognize Tom Moore on Sunday in a
pregame ceremony
at Lucas Oil Stadium, says Mike Chappell of the Indianapolis Star. Now a consultant for the Jets, Moore said he's still got an emotional stake in the Colts.
Poor starts
are killing the Colts. I can hear you saying, "What isn't killing the Colts?" Point taken, but Phil Richards wrote about poor starts and I am sharing.
Jacksonville Jaguars
Sunday's Jaguars-Colts matchup will pit
No. 32 on offense against No. 31
, points out Vito Stellino of the Times-Union. Important note: Only one team has a good defense.
Offensive lineman Eben Britton will miss his
fourth consecutive game
Sunday, says Tania Ganguli of the T-U.
Tennessee Titans
Chris Johnson and DeAngelo Williams
got their contracts
, now they are looking to prove their worth, says Jim Wyatt of The Tennessean.
August, 17, 2011
8/17/11
2:36
PM ET
Brent Dougherty of "3 Hour Lunch" in Nashville was hanging out in the
Tennessee Titans
' press room a while ago. We got to talking about
Chris Johnson
.
I'm not a math guy. I'm not a contract expert. But in playing around with some numbers, I came up with something I think could be considered reasonable for the Titans to make an initial offer. And Dougherty allowed me to join the show to offer it up.
Here it is, fixed up a little:
Five years for $55 million. He is guaranteed $31 million in the first three years, including a $25 million signing bonus.
It seems a great deal for Johnson -- a $10.3 million average over the first three years.
It protects the Titans from running back demise, as Johnson will turn 30 during the 2015 season. They could simply not pay the roster bonus, cutting Johnson loose at that point. Or maybe Johnson looks to have another two good years and the economy for running backs makes an additional $13 million, and those big bases in 2014 and 2015, palatable.
I'm not saying this is the ideal deal. I'm saying I believe it's a functional sketch of something that could work for both sides.
Hopefully the Titans are drawing up their own version of an initial offer to get things started.
Here are a few other opinions from people who understand contract and cap math way better than I.
Andrew Brandt's got a nice analysis and prediction of the situation now,
here
.
And I asked Football Outsiders cap expert J. I. Halsell for his thoughts on the top running back versus elite playmaker debate.
His thoughts:
"In terms of what being paid like a top playmaker translates into, on the offensive side of the ball, the highest paid non-QB veteran contract isn't even a skill position contract. The Eagles' LT Jason Peters' deal averages $12.86M/yr.

"In terms of offensive skill position players, the Texans' WR Andre Johnson got $12.85M/yr on a two year extension.

"When you look at elite offensive players' guarantees, they are roughly in that $6M - $7M guaranteed dollars per year (i.e., Johnson on his two-year extension got $14M guaranteed).

"Given DeAngelo Williams' deal that has an average per year of $8.5M and a guarantee average per year of $4.9M, I suspect the Titans would be willing to pay Johnson a deal that would pay $9M per year and a guarantee of maybe $5.5M-$6M per year. So on a four year extension, Johnson could get from the Titans a deal worth $36M with upwards of $24M guaranteed.

"Johnson on the other hand -- assuming a 4 year extension -- is looking for a deal with $52M in new money with $28M-$30M guaranteed and $40M-plus paid in the first three years.

"Albert Haynesworth is probably the most recent example of a player who got paid significantly beyond their positional market, as Haynesworth received an elite pass rusher type contract in spite of being a DT.

"The difference between Johnson and Haynesworth, though, is that Haynesworth was able to obtain that kind of contract because he had suitors on the free agent market that drove his price up. Johnson, who is under contract for the next two seasons, does not have this same luxury.

"There's creative contract structuring that can be done that can allow for both sides to get what they want out of the deal. Perhaps Johnson may have to relent on his average per year desires in exchange for a creative yet lucrative guarantee structure that would put his guarantee in the 'playmaker' category.

"At the end of the day, both sides will have to give a little to get a deal done."
July, 28, 2011
7/28/11
9:21
AM ET
Since July 2010 it's been no secret that
Chris Johnson
wasn't going to be in training camp in 2011 without a new contract that included significant guaranteed money.

Johnson
Adam Schefter says
that Johnson will indeed stay away from camp in pursuit of a new deal.
"Johnson is heading into his fourth season and due to make just $800,000 in base salary. The final two years of his deal can max out at roughly $2.7 million. He considered holding out last summer for a contract that included $30 million in guarantees, but settled instead for a shuffling of money he had coming later that boosted his 2010 salary by $1.5 million to $2.05 million."
Complicating things for the Titans:
DeAngelo Williams
just got
$21 million guaranteed
from the Panthers. Johnson's not taking less than that. Frankly, he's worth more.
Personnel-wise, Johnson qualifies as priority No. 1 for Tennessee. But timeline-wise, there are other things they simply have to take care of first.
Johnson and his agent Joel Segal surely understand that.
I'm guessing Johnson would like to continue to run behind fullback
Ahmard Hall
, who's a free agent. The clock is ticking on such a deal as Hall can explore other options.
Deals for Hall and for other free agents need to happen before the Titans have time to talk contract with the star running back who still has two years remaining on his contract.
But missed camp time for Johnson will sting a team eager to get to work and in need of all the practice time -- with all of its players -- it can get.
October, 14, 2010
10/14/10
9:00
AM ET
By
Scouts Inc.'s Matt Williamson
| ESPN.com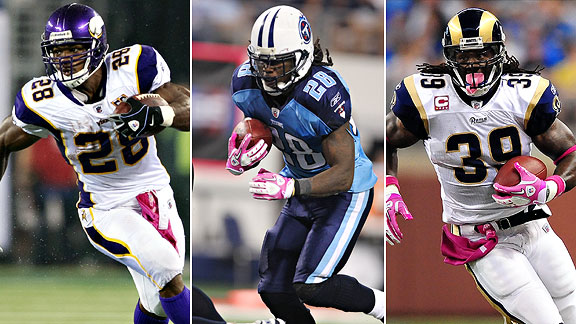 US PresswireAdrian Peterson, Chris Johnson and Steven Jackson lead a pack of talented running backs.
The majority of these decisions were clear-cut for me, including deciding between the top two. But after
Michael Turner
, this list became very difficult to compile.
I was torn between
Rashard Mendenhall
,
Jamaal Charles
and
LeSean McCoy
for the last two spots. For me, a true barometer when judging a running back's greatness is consistency over a long stretch of time -- though I realize that running backs' life spans are very short. And Mendenhall, Charles and McCoy have not demonstrated that consistency. I left Charles off the list because he isn't the clear lead dog on his team -- although he certainly should be.
Two other backs I'm very high on,
Jonathan Stewart
and
Beanie Wells
, obviously have no case for being on this list, but they do have the skill sets to be among the best in the league.
An all-time great who I thought was washed up,
LaDainian Tomlinson
, could very well convince me that he belongs back on this list if he continues to perform as well as he has for an extended stretch. What Tomlinson is doing is pretty remarkable, but I also think we need to keep it in perspective. He is in the ideal offense to succeed, with a hammer lead-blocking fullback, the best center in football, outstanding overall blocking, a quarterback who needs the safety blanket check-down receiver that Tomlinson provides and a playcaller dedicated to the run. Just look at how different
Thomas Jones
has been in Kansas City instead of New York. Still, Tomlinson has completely blown me away.
It's too early to include Houston's
Arian Foster
among the top 10 running backs, but what he has done in 2010 is very impressive. I must see more from him, however, to put Foster with the big boys. Foster, the leading rusher in the NFL with 564 yards, has durability concerns and looks to be nicked up. He isn't special enough to be the type of guy who can be counted on week to week, but his downhill, no-nonsense running style is exactly what Gary Kubiak wants in his zone-blocking scheme. (Check out
Jeffri Chadiha's Hot Read
on Foster.)
Here are my top 10 running backs.
1. Adrian Peterson, Vikings:
He is noticeably better than he was a year ago in all phases of his game. And he was the best back in the league last year. I said it then, and I will say it now. Peterson is an all-time great and clearly the best overall running back in football.
2. Chris Johnson, Titans:
Johnson has been up and down this year, but some of that has to do with his supporting cast. He did look like the 2009 version of himself in Week 5. There isn't a more dangerous player in the game.
[+] Enlarge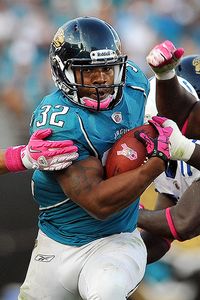 AP Photo/Stephen MortonMaurice Jones-Drew has only rushed for one touchdown this season after rushing for 13, 9, 12 and 15 in his first four seasons, respectively.
3. Steven Jackson, Rams:
Jackson recently eclipsed the 7,000 rushing yards mark. Just think how many he would have on another team. Jackson contributes in every way possible.
4. Maurice Jones-Drew, Jaguars:
I actually worry that MJD might, just might, be showing the very first signs of decline to his lofty game. I hope I am wrong about that, because he is a joy to watch and is remarkably consistent. Jones-Drew is a touchdown machine who can beat you as a runner or receiver.
5. Frank Gore, 49ers:
The only knock I have on Gore is durability, as he seems like a lock every year to miss a game or three with a lower-body injury. But he is a very special talent who can put a football team on his shoulders. It looks like he is going to have to for the 49ers to rebound.
6. Ray Rice, Ravens:
This past week, we finally saw the Rice of 2009. He really does everything well at the running back position. If anything, he should move up this list soon.
7. DeAngelo Williams, Panthers:
Wow, do I wish that we all could see Williams in Green Bay this year. Instead, he is in an absolutely dismal situation on one of the worst offenses in the league. Since Williams should be a free agent after this season, next year I might just get my wish. I bet he wouldn't complain either.
8. Michael Turner, Falcons:
Turner is a perfect fit for Atlanta's power running game and they tend to go as he goes. For a big back, he breaks a lot of long runs, but he offers little in the passing game.
9. LeSean McCoy, Eagles:
McCoy has come into his own. He is now stronger and understands the NFL game much better. Remember, last year he was one of the youngest players in the league. He's a dual threat with rare elusiveness. And he really fits the Eagles' offense. I am a believer.
10. Rashard Mendenhall, Steelers:
Mendenhall has not been spectacular during the first four games this season, but he has gotten a ton of attention from opposing defenses because the Steelers didn't have a quarterback to speak of. Prediction: The next 12 games will justify this ranking. He is quietly coming into his own and dripping with natural gifts.
November, 4, 2009
11/04/09
4:31
PM ET
Posted by ESPN.com's Paul Kuharsky
A running back going against an unfamiliar team can be a surprise.
No matter how much film a defense has watched, a guy can be shiftier, more slippery, faster, stronger or tougher to bring down than he appears.
Division games are, of course, a different deal.
There are few such surprises between teams that face each other twice a year and often gear their personnel moves and roster construction to give themselves the best chance of conquering their most frequent foes.
So what does it say that the AFC South boasts the NFL's three best running backs when we measure only division games?
This chart comes courtesy of the Titans supplemental weekly notes.
Is this a good thing that shows how good these three backs are? Is it a bad thing that shows how these defenses, even as familiar as they are with these backs, still can't stop them?
I'm curious about your interpretations.
September, 30, 2009
9/30/09
2:11
PM ET

Posted by ESPN.com's Paul Kuharsky
NASHVILLE, Tenn. -- Nashville sports radio host
Willy Daunic
is a Football Outsiders kind of guy who likes to play with numbers. Tuesday we talked about what's ailing the Titans and he brought some interesting stats to the table.
Chris Johnson
, who trails
Adrian Peterson
by 6 yards for the NFL lead through three weeks, has been hitting home runs but also making a lot of outs.
Including his pass receiving, Johnson has 63 touches for the Titans. Of those, 31 have gone for 1 yard, no yards or a loss. Daunic's thinking: Johnson is like a baseball player with a strong slugging percentage but a batting average that doesn't match.
I took some of this to ESPN Stats & Information for further review.
According to Alok Pattani of ESPN Stats & Information, Johnson has the second-highest percentage of plays for a loss or no gain in the league among players with at least 20 touches. Johnson has failed to gain yardage 39.6 percent of the time, second only to San Francisco rookie running back
Glen Coffee
.
Here are the worst 10 in the NFL:
The Titans are the league's worst team when it comes to plays for no gain or a loss (not including incompletions and sacks). Click
here
for a spreadsheet that covers this with tabs for teams and players. Offensive coordinator Mike Heimerdinger said once in a while Johnson will think home run instead of taking what he can get, but that the problem so far this season has more often been blocking errors.
According to Pattani, Tennessee doesn't make any progress 21.7 percent of the time, ahead of San Francisco (21.2) and the Jets (18.3). The rest of AFC South for context: Houston fifth at 17.3, Indy 10th at 15.8, Jacksonville 15th at 15.2.
I think unproductive runs or receptions by Johnson lead directly to another big issue for Tennessee: Second down.
According to Elias, the Titans average second down is second-and-8.69 yards, tied for the fourth-highest in the NFL. The rest of AFC South: Colts seventh at 8.55, Jacksonville ninth at 8.45, Houston 16th at 8.17. Click
here
for spreadsheet that spells out the league on second down.
Second-and-long leads to third-and-long which means tough conversions and difficulty extending drives.
"If you can be second-and-5, you can do everything, you can run," Heimerdinger said. "Second-and-8, I think the first couple weeks I pushed it too much and threw too much. I tried to reverse that last week and it didn't work bad to keep us in manageable situations. If we're second-and-8, when we throw the ball, we've got to catch it, we can't have a drop."
The Titans had a 12-play field goal drive against the Jets, a 99-yard touchdown drive against Houston and a 5-minute, 23-second touchdown drive against the Jets.
They will take all the home runs they can get. But the sort of lengthy, clock-eating drives that are a Jeff Fisher hallmark haven't been showing up, and that means a team built to hold the ball is averaging 26:33 of possession a game. Only Buffalo and Oakland are worse.
I did
this post
earlier this month on how runs for a loss don't necessarily line up as you might expect for good running teams and bad ones.
April, 13, 2009
4/13/09
2:45
PM ET
Posted by ESPN.com's Paul Kuharsky
Continuing our periodic look at the history of the AFC South-relevant first round draft slots ...
We've already hit on No. 30, where the Tennessee Titans will pick on April 25. Next up is No. 27, where the Indianapolis Colts sit.
Recent History at Pick No. 30
Year
Pos.
School
Player
Team
Comment
'08
DB
Arizona
Antoine Cason
San Diego
16 games, 3 starts, 2 picks as a rookie
'07
WR
Tennessee
Robert Meachem
New Orleans
Just 14 games, 12 catches in first two years
'06
RB
Memphis
DeAngelo Williams
Carolina
A 5.1-yard average and 2,733 rush yards so far
'05
WR
UAB
Roddy White
Atlanta
Great in past 2 seasons: 171 catches, 2,584 yards, 13 TDs
'04
DE-LB
Western Michigan
Jason Babin
Houston
Busted in three seasons, played in K.C. in '08
'03
RB
Penn State
Larry Johnson
Kansas City
61 touchdowns in six years with Chiefs
'02
DB
Miami
Mike Rumph
San Francisco
Washed out in four years, played one more for Skins
'01
RB
Wisconsin
Michael Bennett
Minnesota
Decent in five seasons with Vikes, bounced around since
'00
TE
West Virginia
Anthony Becht
N.Y. Jets
Has not missed a game in past eight seasons
'99
OT
Wisconsin
Aaron Gibson
Detroit
Played in Detroit, D
allas, Chicago in six seasons
December, 10, 2008
12/10/08
3:31
PM ET
Posted by ESPN.com's Paul Kuharsky
NASHVILLE, Tenn. -- LenDale White had reporters rolling Wednesday afternoon when asked for his assessment of all the talk Monday night suggesting Carolina's Jonathan Stewart and DeAngelo Williams qualified as "Smash and Dash."
| | |
| --- | --- |
| | |
| | Paul Kuharsky/ESPN.com |
| | LenDale White and Chris Johnson make up Tennessee's "Smash and Dash." |
"If they want a nickname, I can nickname them: 'Identity and Theft,'" said White, who's successfully paired with the speedy rookie Chris Johnson this season. "I was upset because I made that phrase up myself. I mean I made it up. I don't know about NFL Network and all those other guys. I heard somebody say, 'Batman and Robin,' that's like cute, that's for them. If they want that name they can have it. The 'Smash and Dash' is something I made up."
To be fair, I think "Smash and Dash" was one of a variety of nicknames that floated through chat boards, newscasts, articles and blogs from people desperate for an alternative to the "Thunder and Lightning" tandem tag. The two players appeared together at a podium after they keyed a franchise record 332 rushing yards in Week 7 on Oct. 19. White considers that press conference the official unveiling of the nickname. The T-shirts showed up last week and proceeds have a charity tie-in.
"We've got a copyright and everything for it, I'll make sure I show the documents," White said. "It's well trademarked and it's copy written. I don't know if we're going to take legal action or not."
He gave two T-shirts to one of the team's media relations officials with a note to send to the Carolina backfield. Earlier he joked he would "put 'fraudulent activity' on there."
"I've been swacced. If you guys don't know what that is, it's swagger-jacked and I can't believe that happened to me," he said, spelling out swacced upon request. "Somebody messed up my whole swag and that's not cool."
Johnson was much more low-key about the whole deal.
"I heard about it," he said. "It's just a name. It didn't matter to me. We staked a claim to it, but I know who made it up, some fans or some commentators probably called them that. I'm not sure if they themselves really said they were 'Smash and Dash.' I'm not too much worried about it."
Fullback Ahmard Hall leaned in White's direction, but without the one-liners.
"To see those guys take that name, it really upset me," he said. "Because it's something that we're building, camaraderie and different things come about when you're having a great season. To see them just take that name, it upset me. Think of something else, be a little creative."
December, 9, 2008
12/09/08
1:45
PM ET
Posted by ESPN.com's Paul Kuharsky
An overdue visit to the mailbag:
Tim Hoelscher in Murfreesboro, TN, writes: I'm confused. How is it that the Titans have clinched the AFC South? If we lose our last 3 games and the Colts win their last 3, then we both finish 12-4. First tiebreaker is head-to-head, which would be a split. Second tiebreaker is divisional record, which would be 2 losses for both. Third tiebreaker is conference record, which the Colts would win. What am I missing? Thanks for your time.
Paul Kuharsky: I've gotten this question at least 10 times. It leaves me very encouraged that you're quick to hit the mailbag with a question. It leaves me very discouraged that you're missing the answers to such things right when they come up and I try to address them in blog entries.
Tim, I don't know where you are getting conference record as third tiebreaker. That's not correct. It's common opponents.

Here's the blog entry from last week that spells it out.
While we're on the subject of popular questions we've hit on in the blog:
No, the Titans-Steelers game cannot be moved to the night slot. The game is protected by CBS.
And here's an explanation of why Titans tight end Bo Scaife is not on the Pro Bowl ballot.
---
Tom in Nashville writes: Paul, You have to respect what D. Williams and J. Stewart are doing in Carolina, but Lendale needs to sue for copyright infringement. "Smash n' Dash"... in Carolina? I saw fan signs the entire Monday night game and Steve Smith even called them that in a post-game interview. I direct you to Item A: "They say they don't have a nickname yet, but concede ?Smash & Dash? seems to be most popular with Carolina fans. If that sticks, Stewart will be ?Smash? because he's has a more physical style. But Williams said Stewart has plenty of ?Dash? in his step, too." November 23, 2008 http://www.charlotteobserver.com/sports/story/371430.html. Note the date. Now, on to Item B: "But after Sunday?s 34-10 pasting of the Kansas City Chiefs, the Titans were in letting loose with the laughter. The primary reasons for those laughs were the long fourth-quarter touchdown runs by the duo of LenDale White and Chris Johnson, whom White introduced in the post-game press conference as ?Smash and Dash.? October 20, 2008, http://www.timesfreepress.com/news/2008/oct/20/tennessee-titans-celebrate-smash-and-dash .This is a travesty. LenDale settled on this almost a month before. CJ and the Big Dale Diesel already have t-shirts printed up and along come these two Chris Landrys, straight up thieving on football's biggest stage. What's the deal, Kuharsky? Where's the justice?
Paul Kuharsky: Do you work for the feds? We'll have to see if White and Johnson view it as infringement when we're back in the locker room Wednesday.
---
Jim from Jacksonville writes: OK, I'm pretty sure that I speak for everyone here in Jacksonville, FL when I say that I am beyond the point of frustration and disappointment with the Jaguars. I'm just ready for the 2009 season and to see what movements they are going to make as far as plugging in right people in the right spots who are going to actually give a care and give 100% every game FOR 60 MINUTES and not 15 or 30. That goes for the coaching staff as well. I think that they need to start at the DT position because first of all, if they were going to let go of Stroud, there was no was no reason for them to also let go Grady Jackson, who might I say stepped in pretty nicely while stroud was out so there really wasn't a loss at that spot while he was out. Now that a huge hole has been opened at that position, OLineman and running backs are just abusing the line of scrimmage. I think the two draft choices at DE were a bust, I also think (and you may not agree with me on this) that Reggie Nelson and Resheen Mathis need to be switched, and they need someone better than Florence on the other side. Once these areas get cleaned up then start trying to look for a number 1 receiver to go down the field. If you have a number one receiver but still have trouble keeping the other offense off of the field you're still stuck with problems. So to me, start with the DL then DB's, and then offense. What do you think?
Paul Kuharsky: It starts on both lines for sure. Major rebuilding needed unless the Jaguars are convinced they only have to wait for guys on offense to heal. They certainly overestimated what they had to replace Stroud and have not gotten a good season out of John Henderson. There is a lot of work involved in such an overhaul.

Getting a No. 1 receiver is easier said than done, and the Titans have been quite effective without one. The Jags need explosive plays from somewhere, however. The way they are built now, if you stop the run and put the game on David Garrard, you're in good shape. They aren't equipped to win that way with a defense that is nothing special.

I don't understand why you'd want to flip Mathis (not out for the season hurt) and Nelson when they've played where they are all along. They are hardly the problem -- the Jags need to get better people around them and start to rush the passer consistently. We can't call the two rookie ends busts before they've even finished their rookie years, but they need to continue to add to that group.
---
Brent in Nashville writes: My understanding is that Josh Cribbs was listed as the #3 QB for the Browns. I thought there was a rule that said if a #3 QB took the field before the fourth quarter, the #1 and #2 QB's could not return. Is there such a rule? And if so, why did it not apply in when Cribbs lined up in their "flash package"?
Paul Kuharsky: He wasn't the No. 3 quarterback. He was just an alternative quarterback along with Bruce Gradkowski, who was also active.

They did not designate anyone as a third quarterback, which amounts to making him inactive but for the sort of circumstances you were referring to.

Cribbs is a crucial special-teamer for them, he was going to play his usually role and the "flash package" was in addition to that.
---
Mike in Chicago writes
: During the 06 SB run, the Colts beat the Ravens in Baltimore w/o scoring an offensive touchdown.
Paul Kuharsky: Mike is referring to an element of this post. Postseason doesn't factor into regular season streaks, trends, stats, etc. They stand by themselves. But thanks for pointing that out.
---
Unknown in Memphis writes: It seems like Tony Brown has at least one offsides penalty every game this year. Many of them occur during critical times during the game too. Do you know if he is leading the league in offsides penalties? Do you have any insight into whether Vince Young wants to be the QB for the Titans anymore, or even if he wants to play professional football? Has anyone given you a reasonable explanation for why he doesn't talk to Collins and the coach when he comes off the field?
Paul Kuharsky: The Titans are willing to accept some of those penalties. The great start the line gets rushing the passer is because they are jumping at the snap, and sometimes attempting to time that up means someone is going to be offsides.
All the Vince Young-doesn't-want-to-play anymore talk is unsubstantiated rumor as far as I am concerned. He's said nothing to indicate that's what he's thinking. He's in the background, talking little or not at all right now. The sideline stuff is a concern, but I think it's reached the point of being overblown. Jeff Fisher has repeatedly said they are not unhappy with what he does or where he is during a game. Read into that what you will. He does have a small earpiece, not a big headset, and is listening more than people may think.
---
Ray in Miami writes: How far away are the Texans from winning/competing for this AFC South?
Paul Kuharsky: They are getting there but they only have one division win. Sunday against the Titans will be a good measuring stick. The offense can win game, but still has turnover issues to deal with. Their defense needs upgraded personnel at several spots, particularly safety.