January, 26, 2014
Jan 26
11:50
PM ET
Indianapolis Colts
quarterback
Andrew Luck
was on the same team as his coach, Chuck Pagano, but it was linebacker
Robert Mathis
and long snapper
Matt Overton
who were on the winning Pro Bowl team that earned a $53,000 check compared to the $26,000 for the losing team.

Mathis' team, Team
Jerry Rice
, beat Luck's team, Team
Deion Sanders
,
22-21
in Honolulu.
Luck was the No. 1 overall pick in the Pro Bowl draft and started at quarterback over Carolina's
Cam Newton
, who had more votes than him. But it's understandable that Luck started since he was playing for his head coach.
Luck was 5-of-7 for 80 yards, a touchdown and an interception. His lone touchdown pass came on a flea flicker play where Kansas City's
Jamaal Charles
tossed the ball back to Luck, who launched a pass to Philadelphia's
DeSean Jackson
that looked like it would be intercepted . Jackson went up into double coverage and hauled the pass in.
Luck's interception happened when St. Louis'
Robert Quinn
tipped his pass and Cincinnati's
Vontaze Burfict
picked it off. It's a good thing Luck won't have to see Quinn anytime soon again. Quinn sacked the Colts' quarterback twice during the regular-season meeting that St. Louis won 38-8.
The NFL did away with the traditional AFC-NFC Pro Bowl teams in favor of a draft. That meant there would be opportunities for teammates during the regular season to go against each other on Sunday.
Mathis didn't get an opportunity to sack Luck. Mathis, who led the league in sacks with 19.5, finished with four tackles.
January, 14, 2014
Jan 14
8:00
AM ET
INDIANAPOLIS -- Linebacker
Robert Mathis
-- and possibly quarterback
Andrew Luck
-- will have some company with them for the Pro Bowl in Hawaii.

The consolation prize for not advancing to the AFC Championship Game is that the
Indianapolis Colts
' coaching staff will coach one of the Pro Bowl teams during the game on Jan. 26.
"Fortunately for the coaching staff, and well-deserved, they get to go to Hawaii," coach Chuck Pagano said. "It'll be a well-deserved break for those guys. As you guys know, it's not a real grind as far as meetings and practice and things like that. Those guys are excited about it."
Pagano may not end up coaching Mathis in the game because teams are no longer divided by AFC-NFC players. There will be a draft on Jan. 22 in which Hall of Famers
Jerry Rice
and
Deion Sanders
will pick the teams.
Luck could be chosen to the team if quarterback
Russell Wilson
and the
Seattle Seahawks
beat the
San Francisco 49ers
in the NFC Championship Game and advance to the Super Bowl.
August, 6, 2013
8/06/13
9:28
AM ET
Reading the coverage…

Houston Texans
By Gary Kubiak's count, just seven of his 15 linebackers
are practicing
, says John McClain of the Houston Chronicle.
The Texans have been drawing
record crowds
at training camp. Says John McClain of the Houston Chronicle.
Kubiak believes an element of
early struggle
for a top rookie makes him stronger in the end, says McClain.
Deion Sanders talked to the Texans' defensive backs, and you can watch it here through the team's website. (
Video
.)

Indianapolis Colts
Andrew Luck and Reggie Wayne are passing around the
unofficial team presidency
, says Mike Chappell of the Indianapolis Star.
Robert Mathis says not being with Dwight Freeney is
still weird
, says Michael Marot of the Associated Press.
A collection of
videos
from the Star. Griff Whalen's having a great camp where the depth at receiver is limited. With Darrius Heyward-Bey out with a knee sprain, Whalen figures to play a lot in the preseason opener Sunday against Buffalo.
Speed up the clock and
let's get to meaningful games
, says Phillip B. Wilson of the Star.
Is Antony Castonzo's new look part of being the
longest-running incumbent
on the Colts' offensive line? Heather Bremer of the Anderson Herald Bulletin looks at Castonzo.

Jacksonville Jaguars
Rookie receiver Ace Sanders is having a
sensational
training camp according to Hays Carlyon of the Florida Times-Union.
Practice highlights
included a Blaine Gabbert-to-Tobias Palmer bomb and an Alan Ball interception of Gabbert, says Ryan O'Halloran of the Times-Union.
Cecil Shorts left practice with
a calf injury
, says the AP.
Quarterbacks Gabbert and Chad Henne, who share the top line on the depth chart, are
not keeping score
, says John Oehser of the team's website.

Tennessee Titans
Rookie wide receiver Justin Hunter
bristles at questions about
his toughness
, says Jim Wyatt of The Tennessean.
Jake Locker had
a slow start
to practice, says Wyatt in his Monday practice report.
Multiple Titans are pleased to see Vince Young getting
another chance
, says Wyatt.
Moise Fokou has made the Titans' middle linebacker spot
a competition
with Colin McCarthy, says Teresa Walker of the Associated Press.
To which I say:
McCarthy recently rejoined the starters and lasted a whole day before he developed a right hamstring issue that will keep him out of the preseason opener.
August, 5, 2013
8/05/13
1:24
PM ET
A few minutes after practice ended, a mostly silent huddle of
Houston Texans
defensive backs collected at one end of the practice field.
They made a half circle around two of the best defensive backs to play the game:
Deion Sanders
and
Ed Reed
. Some of the young Texans watched wide-eyed as the Sanders gave them advice.
Undrafted rookie
A.J. Bouye
, a standout player in camp so far, stepped forward.
"Let's say you go for a deep ball," Bouye said. "How do you play it?"
"That ball's meant for me," Sanders replied. "You're trying to break it up, I'm trying to get it, because it was really meant for me."
Sanders stressed communication while they're on the field, and told them to work together. He talked about hand placement on receivers. He said conditioning was key, especially when you're expected to play man coverage.
"I'm always taking information in, whenever I can get information," Texans starting corner
Johnathan Joseph
said. "Obviously coming from a guy like that, he's done it all, Hall of Fame guy, you never can have enough information. It's good for him to come out and take time out today to talk to us."
Sanders also encouraged them to listen to Reed. Unnecessary advice, given that most of the Texans' secondary takes that same reverent tone when speaking about their teammate. Though Reed remains on the physically unable to perform list as he recovers from hip surgery performed in late April, he's made a non-tangible impact for the Texans, helping players and coaches alike see things they might not have otherwise.
When I asked Reed last week what it's like to be idolized by so many of his teammates, he took off his hat to show his gray hairs and made a joke about being old (he turns 35 in September).
Then Reed grew sincere.
"It's definitely humbling because you got to stay on your p's and q's to make sure you are doing what you need to do to show those guys the way and how to be professionals," he said. "You're still human at the end of the day and you still make mistakes. That's something you want to make sure that they know too, that you're not perfect. You're just like any person and you're going to make mistakes as you grow, but just keep living."
March, 17, 2013
3/17/13
9:05
AM ET
Give
Indianapolis Colts
owner Jim Irsay credit. He knows how to get fans of his team speculating, debating and anticipating.
With a couple of tweets on Saturday night, he's set off a frenzy.
ColtFans,we already past the cap cash wise/ we're workin on a deal,1 we've been workin on for 5 days/ we're very,very close 2 making it work

— Jim Irsay (@JimIrsay) March 17, 2013
Colt Fans,hint------ it's a Wide Receiver!!

— Jim Irsay (@JimIrsay) March 17, 2013
Some observers were quick to point out he's got a propensity for overstatement. The last time he really hyped up a pending move, the Colts traded for cornerback
Vontae Davis
. He's a good player, but based on Irsay's Twitter feed, it sounded more like the Colts would be getting
Deion Sanders
in his prime. When the team recently signed 49ers backup defensive lineman
Ricky Jean Francois
, Irsay's tweet about it included more than 20 exclamation marks.
The Colts need a third wide receiver to go with
Reggie Wayne
and
T.Y. Hilton
, and their hope is that they find a player who ultimately can take the aging Wayne's place as
Andrew Luck
's No. 1 target.
The first name that jumps out is
Victor Cruz
, the
New York Giants
' restricted free-agent receiver and salsa dancer. Cruz had 86 catches for 1,092 yards and 10 touchdowns last season. Pittsburgh's
Emmanuel Sanders
, who reportedly had a visit scheduled with New England, is also a restricted free agent.
Teams can sign restricted free agents to an offer sheet and have to give up draft-pick compensation if the original team doesn't match it. Cruz is tendered at a first-round level and Sanders at a third-round level.
If the player is willing, his original team can work out a trade instead of seeing the offer sheet procedure play out.
But "workin on a deal" doesn't mean a trade for certain. General manager Ryan Grigson could be negotiating with a free agent. None of the
unsigned receivers
, however, appear deserving of the excitement level Irsay's suggesting.
The Colts already are without a second-round pick from the Davis trade. If they made a blockbuster trade, a team that's pledged to build through the draft could be left with little to work with early in the draft.
February, 1, 2012
2/01/12
1:00
PM ET
INDIANAPOLIS — Outside of the Super Bowl, the hot topic in town is what the
Indianapolis Colts
will do with quarterback
Peyton Manning
. Former NFL cornerback
Deion Sanders
gives his take of the situation from a player's perspective:
"I'm tired of you guys misconstruing it and start badgering a guy for holding out and trying to make a dollar when he finally gets leverage. But you never say nothing about these teams when they're allowing these guys to go year after year with contracts. No one says anything. The money isn't guaranteed. Now, it just so happens one of our most heralded players and he's getting caught up in business. They say it's about his health and his family situation. No, you're worried about $28 million that he's got coming.

"Any team would be a good fit for Peyton. He can make Slippery Rock go to the BCS. That's who he is."
March, 25, 2010
3/25/10
2:16
PM ET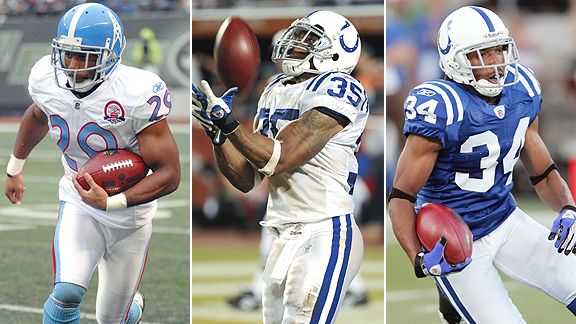 Icon SMIAFC South return men Ryan Mouton of the Titans and Chad Simpson and TJ Rushing of the Colts failed to get their teams the yards they needed.
The Titans' 2009 search for a returner was a failure. In recent years, the Colts haven't shown a lot of interest in finding a dynamic one.
Universal thinking is each team can solve the issue in the upcoming draft, though it would take a change in Indianapolis' approach for the Colts to focus on it.
So what does it take to unearth a quality return man?
I set out this week to address this from several angles, and I'm going to let some smart people with informative takes carry the day.
So without further ado…
Baltimore Ravens coach John Harbaugh
has a big background in special teams.
What's he want to see out of a prospective returner?

"Punt and kickoff return are completely different. In punt return, the bottom line is he's got to be a natural catcher. So catching a punt is a unique thing. If they can't catch, you can forget about it. Kick return is a little easier to catch, but some of these guys struggle to catch kicks. To me, a kick returner has to be a north-south runner. He's got to have a burst of acceleration and/or power, and he's got to have vision. It's usually more of a running back-type guy who can read the hole and cut off blocks. Punt return is a guy that can catch the ball naturally, has great body control and he can do two things at once. He's got to be able to catch the ball and feel the pressure around him. Make the guy miss, whether it's make or miss with the body control to slip through there, or be able to change speed and change angles."

Does he need to see a college player do that or can he project it?

"It's a good question. You'd rather see it because then you know. But if you don't see it, you can project it. But you've got to go work the guy out and see if he can catch. So you can take a guy that maybe wasn't a college punt returner, and maybe turn him into a pro punt returner. Maybe you find out that he has been catching punts every day but they didn't put him back there because he was their primary receiver or whatever. It's pretty rare to see a great pro punt returner who wasn't a pretty good college punt returner."

Matt Williamson of Scouts Inc. says he wants to see courage and toughness in a return man:

"It's funny. When looking/reading prospect reports on draft prospects this time of year, many scouts rightfully put something along the lines of, 'Also can contribute as a return man' as part of a young man's scouting report. That is all well and good, but like kickers and punters, is he one of the best 32 (or so) at this skill in the world? It is not for the faint of heart and while speed, elusiveness and vision are all paramount for either punt or kickoff returns, I think guts/fearlessness/toughness is maybe the most important. If you are going to keep a pure returner, he had better be outstanding-by NFL standards. Otherwise, he has to do something else. Be the fourth cornerback or wide receiver or be a core special teams player on coverage teams."

Keith Hawkins of ESPN Stats & Information took a look at some of the best returners in league history and some of the most productive guys in recent history to see if there were any commonalities:

"The one 'similarity' of the best returner historically (Brian Mitchell) and the best return man in 2009 (Joshua Cribbs) is that they were both college QBs.

"The other common denominator is that of the players below, only three were defensive backs in college: Darrien Gordon, Devin Hester, Deion Sanders.

"Another common denominator (with the exception of the 6-foot-1 Cribbs) is that they are all under six feet tall."
Finally,
Kevin Weidl of Scouts Inc
. was kind enough to run through the best return prospects in the draft:
Return Specialists

These guys will either be drafted or signed as free agents strictly for their return skills. Due to lack of size, they will need a creative offensive coordinator to contribute offensively at the next level.

Brandon Banks, Kansas State (5-7, 159) -- Banks is the top pure returner in this years' class. He possesses a nice combination of vision, quickness, speed and elusiveness to consistently set offenses up with favorable field position.

Brandon James, Florida (5-6, 176) -- James possesses great vision to locate and the short-area burst to quickly get through first line of defense. He also displays a quick stop and start and is very reliable tracking and fielding punts. Questionable overall long speed to outrun defenders when they have favorable angle in pursuit.

Trindon Holliday, LSU (5-5, 172) -- World-class track speed, and has the ability to exploit even the slimmest of creases. He is shifty but lacks elite elusiveness to make defenders miss in confined areas.

Other prospects that bring added value as returners (sorted by position);

Running backs

C.J. Spiller, Clemson -- The most dynamic and versatile offensive weapon in this year's class. Explosive short-area burst and elite top-end and long speed give him ability to rip off a big gain at any point in both phases of the return game.

Dexter McCluster, Ole Miss -- McCluster is pint sized (5-8) but shows great versatility and quickness to contribute as a change-of-pace back and wide receiver at the next level. Elite open-field capabilities make him dangerous as a punt returner.

Other RBs with returning experience: Joe McKnight, USC; Ben Tate, Auburn; Andre Dixon, UConn

Cornerbacks

Javier Arenas, Alabama -- Instinctive and tough football player who should step in and contribute immediately as a sub-package nickel back. Despite lack of elite top-end speed, Arenas is one of the more effective returners in this year's class. I love his vision, balance and quick stop and start as a returner.

Kyle Wilson, Boise State -- Physical press corner who shows great anticipation and ball skills out on an island. Wilson brings added value as a reliable punt returner with good speed and open-field capabilities.

Devin McCourty, Rutgers -- Not many holes in McCourty as a cornerback. Easy change of direction, strong overall ball skills, plays bigger than size indicates and not afraid to get jersey dirty in run support. McCourty is one of the most versatile special teams prospect in this year's class, an effective kick returner and outstanding gunner with punt coverage.

Akwasi Owusu-Ansah, IUP -- Possesses a nice combination of size, speed and ball skills teams covet as either a press corner or free safety at the next level. Owusu-Ansahis a strong open-field runner who has experience as both a kickoff and punt returner.

Other cornerbacks with returning experience: Perrish Cox, Oklahoma State; Syd'Quan Thompson, Cal; Walter Thurmond, Oregon; Dennis Rogan, Tennessee

Wide receivers

Golden Tate, Notre Dame -- Aggressive, savvy and sure-handed and should develop into at least a strong No. 3 WR at the next level. Reliable punt returner with good vision, balance and deceiving top-end speed.

Damian Williams, USC -- Smooth athlete and one of the most polished route runners in this year's receiver class. Despite lack of top-end speed, Williams will consistently field punts cleanly and has enough elusiveness to pick up positive yardage.

Mardy Gilyard, Cincinnati -- Instinctive and passionate playmaker on the field who should develop into a solid No. 3 WR. By no means a burner, but a difference-maker as a returner in both phases as he shows elite body control and never slows down out of cuts.

Jacoby Ford, Clemson -- World class track speed and should be a nice vertical threat at the next level. Elite top-end speed gives him ability to hit the home run at any point as both a kick and punt returner.

Antonio Brown, Central Michigan -- Quicker than fast, and should contribute working out of the slot at the next level. Brown brings added value as both a kick and punt returner with his open field capabilities and overall elusiveness.

Other receivers with returning experience: Jordan Shipley, Texas; Emmanuel Sanders, SMU; Andre Roberts, Citadel; David Reed, Utah

And a bonus
link
to a Pro Football Weekly story on the best special teamers in the draft, including three return specialists.
Final thoughts from me having taken all this in: Things always get twisted up with return guys. If the Colts or Titans draft a guy they intend to be a contributor as a cornerback or running back or receiver, there is a point at which they won't want to overload them with the extra job or expose them to injury on special teams. How long would we see Spiller or Wilson or McCourty or Tate be a special teamer? First-round receiver
Kenny Britt
returned kicks for the Titans late last season, but the team can't want him there much longer.
So I'd like to see both teams commit a pick to a return specialist, dedicating a roster spot to him.
Consistent fielding of punts and kicks was an issue for the Titans last year, and it's time for the team to actually have bigger expectations for its returner than an ability to fair catch.
Ryan Mouton
couldn't even do that reliably when things were at their worst.
The Colts have always seemed to figure they'd simply get the yards the return game doesn't provide from
Peyton Manning
and the offense. Their issues on special teams extend beyond the returners -- primarily
T.J. Rushing
on punts and
Chad Simpson
on kicks in 2009 -- and their blocking, and got magnified in the Super Bowl loss to New Orleans. But with offensive line and depth at corner and linebacker as the major needs in a draft where the Colts have eight picks, it appears a good time to try to add a dynamic piece.
April, 23, 2009
4/23/09
12:00
PM ET
| | |
| --- | --- |
| | |
| | Getty Images |
| | Joe Montana, Danny Abramowicz and Walter Payton were pretty good buys. |
Posted by ESPN.com's Paul Kuharsky
A rookie receiver on a rookie franchise in 1967, Danny Abramowicz was halfway through the preseason when coach Tom Fears sent The Turk for him.
Defiantly, Abramowicz went to the meeting but violated the protocol.
The contract he got as a 17th-round pick out of Xavier was worth $17,000 and when he joined the team he had sought out Fears.
| | |
| --- | --- |
| | |
| | Rogers Photo Archive/Getty Images |
| | Wide receiver Jerry Rice provided pretty good value for being picked 16th in the 1985 draft. |
"When I reported to training camp, I said 'Coach, I know you don't even know who I am, but all I am asking for is a fair chance,'" Abramowicz remembered in a recent phone chat from his home in Steubenville, Ohio. "He said O.K. In those days we played six exhibition games. Three games into the exhibition season I was on special teams and never got to play a down at receiver.
"The Turk knocked on my door and said, 'bring the playbook' and I did not bring the playbook. I went downstairs into coach Fears' office and I said, 'Coach, you didn't give me a chance, I'm not leaving.' He said, 'You're serious, aren't you?' And I said, 'I'm as serious as a heart attack.' So he said, 'OK, go back to your room, I'm going to give you a chance.' I walked out the door and wiped my brow and said, 'Wow, that worked.'"
Abramowicz played receiver in the next game and played well, becoming a staff favorite. In the regular season, an injury to a starter got him his next big chance, and he wound up his first season with 50 catches for 721 yards and six touchdowns. Two years later he was a first-team All-Pro.
"He caught everything he ever touched," said Eddie Khayat, the defensive line coach for those Saints. "He had great hands, he could go deep, he was so tough. And I don't think I've ever been with a coaching staff that pulled so hard for a guy to make the team, because he was all-out all the time and tough on special teams."
We break from the form for this blog entry, which includes no significant AFC South hook.
Ryan McCrystal of ESPN Research and Mark Francescutti of ESPN Stats & Information worked through a formula and came up with our list of the 50 All-Time Best Buys in the draft and we jumped at a chance to write about it.
Receiver Jerry Rice of the 49ers, the 16th player selected overall in the 1985 draft, tops the list. His teammate quarterback Joe Montana, the 82nd player selected overall selected in 1979, ranks second.
Only three players represent the AFC South division: Peyton Manning, one of just five overall No. 1 picks on the list; running back Marshall Faulk, who started out as a Colts' first-rounder; and Billy (White Shoes) Johnson of the Houston Oilers.
The Formula
Here is a complete listing of the point system used in the calculations:

• MVP: 15 pts for each award

• AP All-Pro: 15 pts (a one-time value for appearing on a 1st or 2nd team)

• 1st Team All-Pro: 5 pts for each year

• SB Wins: 5 pts for each win

• SB loss: 2.5 pts for each loss

• Rookie of the Year: 3 points

• Pick Value: Takes the average slot at which the first player at each position is chosen and subtracts it from the pick where each individual player was selected. This value is then divided by 10. For example, the first quarterback comes off the board on average at pick 10.6, therefore Peyton Manning's "pick value" is (1-10.6)/10.

-- Ryan McCrystal, ESPN Research
And the best stories are of guys like No. 33 Cleveland defensive back Ben Davis (439th in 1967), No. 30 Dallas defensive tackle Larry Cole (drafted 428th overall in 1968), and No. 25 Abramowicz.
Told he ranks ahead of Walter Payton, Mike Singletary, Joe Greene, O.J. Simpson, Deion Sanders and Terry Bradshaw, Abramowicz wondered about the criteria, which factors in draft position and is explained fully with the in the box to the right.
"That must be a stacked deck, how did I get in there?" Abramowicz said. "That's awesome. I think the world of all those guys, they were great players."
Five Cowboys are on the list. NFL.com analyst Gil Brandt was Dallas' long-time chief personnel man and easily recalled the stories of four All-Time Best Buys (he left the Cowboys before they drafted Emmitt Smith, No. 9 on this list), including No. 14, guard Herb Scott, drafted 330th out of Virginia Union in 1975.
Brandt said Scott had a bad body coming out of college -- not unlike Alabama's Andre Smith right now -- but film showed he never got beat in games. According to Brandt, scout Dick Mansperger deserved the credit for finding Scott. At that time, Mansperger focused exclusively on traditionally black universities.
The guard ranked 50th on the Cowboys' board, they drafted him 280 spots later and he was a two-time first team All Pro who played in three Super Bowls and won one. How's that for value?
"Coach [Tom] Landry called me in during training camp and he said, 'I want to trade John Niland,'" Brandt said, referring to the guard who'd been to six Pro Bowls. "I started laughing. He said, 'Herb Scott is an unbelievable football player. If we can trade Niland now coming off a Pro Bowl year...' Well, we traded him and that enabled us to get [receiver] Tony Hill, who was a very good player for us.
"
Abramowicz went on to coach for Mike Ditka in Chicago and New Orleans. Now, he's part of "Crossing the Goal", a program that airs on the Catholic Network EWTN, and he's written a book, "Spiritual Workout of a Former Saint." Married for 43 years, he's got three kids and four grandchildren.
During his best year in 1969, the Saints called on him as a fill-in punt returner, even though he'd not done it since he played at St. Peter's grade school. He fair caught the first one as he was instructed, then got brave and decided he could return the next one. He wound up hit "like a truck over a rooster," his front teeth smashed in, the start of dental issues that the 63-year old said has included 14 root canals.
But he was a quick learner when it came to NFL survival. Stitched up and sent out for a third punt in that game, he made the prudent play.
"Before the ball got through the cheeks of the center's rear end," he said, "I had both hands up in the air."
Draft Pick Value Rankings
Player
Pos.
School
Team
Rd.
Overall
Yr.
SB
W-L
Score
1. Jerry Rice
WR
Miss. Valley St.
San Francisco
1
16
1985
3-1
88.07
2. Joe Montana
QB
Notre Dame
San Francisco
3
82
1979
4-0
87.14
3. Brett Favre
QB
Southern Miss.
Atlanta
2
33
1991
1-1
84.74
4. Peyton Manning
QB
Tennessee
Indianapolis
1
1
1998
1-0
84.04
5. Lawrence Taylor
LB
North Carolina
N.Y. Giants
1
2
1981
2-0
82.30
6. Jack Lambert
LB
Kent State
Pittsburgh
2
46
1974
4-0
76.70
7. Terrell Davis
RB
Georgia
Denver
6
196
1995
2-0
73.90
8. Tom Brady
QB
Michigan
New England
6
199
2000
3-1
71.34
9. Emmitt Smith
RB
Florida
Dallas
1
17
1990
3-0
69.00
10. L.C. Greenwood
DE
Arkansas AM&N
Pittsburgh
10
238
1969
4-0
68.19
11. Shannon Sharpe
WR
Savannah State
Denver
7
192
1990
3-0
68.17
12. Mike Webster
C
Wisconsin
Pittsburgh
5
125
1974
4-0
68.13
13. Karl Mecklenburg
LB
Minnesota
Denver
12
310
1983
0-3
67.60
14. Jack Ham
LB
Penn State
Pittsburgh
2
34
1971
4-0
67.50
15. Brian Sipe
QB
San Diego State
Cleveland
13
330
1972
0-0
66.94
16. Alan Page
DT
Notre Dame
Minnesota
1
15
1967
0-4
65.34
17. Mark Moseley
K
Steph. F. Austin
Philadelphia
14
346
1970
1-1
65.20
18. Herb Scott
G
Virginia Union
Dallas
13
330
1975
1-2
65.14
19. Anthony Munoz
OT
Southern Cal
Cincinnati
1
3
1980
0-2
64.57
20. Ronnie Lott
DB
Southern Cal
San Francisco
1
8
1981
4-0
64.54
21. Rayfield Wright
DT
Fort Valley St
Dallas
7
182
1967
2-3
64.54
22. Bruce Smith
DE
Virginia Tech
Buffalo
1
1
1985
0-4
64.49
23. Barry Sanders
RB
Oklahoma State
Detroit
1
3
1989
0-0
62.60
24. Rocky Bleier
RB
Notre Dame
Pittsburgh
16
417
1968
4-0
61.00
25. Dan Abramowicz
WR
Xavier
New Orleans
17
420
1967
0-0
60.97
26. Larry Brown
RB
Kansas State
Washington
8
191
1969
0-1
60.90
27. Rod Martin
LB
Southern Cal
Oakland
12
317
1977
2-0
60.80
28. Mike Wagner
DB
Western Illinois
Pittsburgh
11
268
1971
4-0
60.54
29. Walter Payton
RB
Jackson State
Chicago
1
4
1975
1-0
59.70
30. Larry Cole
DT
Hawaii
Dallas
16
428
1968
2-3
59.57
31. Randy White
DT
Maryland
Dallas
1
2
1975
1-2
59.04
32. Charles Haley
DE
James Madison
San Francisco
4
96
1986
5-0
58.99
33. Ben Davis
RB
Defiance
Cleveland
17
439
1967
0-0
58.20
34. Mike Singletary
LB
Baylor
Chicago
2
38
1981
1-0
57.90
35. Ted Hendricks
LB
Miami, Fla.
Baltimore Colts
2
33
1969
4-0
57.40
36. Joe Greene
DT
North Texas St.
Pittsburgh
1
4
1969
4-0
57.24
37. Larry Brooks
DT
Virginia State
L.A. Rams
14
355
1972
0-1
56.84
38. Robert Holmes
RB
Southern
Kansas City
14
375
1968
1-0
56.80
39. Billy Johnson
WR
Widener
Houston Oilers
15
365
1974
0-0
55.47
40. Marshall Faulk
RB
San Diego State
Indianapolis
1
2
1994
1-1
55.00
41. Rod Woodson
DB
Purdue
Pittsburgh
1
10
1987
1-2
54.74
42. Zach Thomas
LB
Texas Tech
Miami
5
154
1996
0-0
54.50
43. O.J. Simpson
RB
Southern Cal
Buffalo
1
1
1969
0-0
54.40
44. Ron Yary
OT
Southern Cal
Minnesota
1
1
1968
0-4
54.37
45. Deion Sanders
DB
Florida State
Atlanta
1
5
1989
2-0
54.24
46. Terry Bradshaw
QB
Louisiana Tech
Pittsburgh
1
1
1970
4-0
54.04
47. Dwight Clark
WR
Clemson
San Francisco
10
249
1979
2-0
53.87
48. Cliff Branch
WR
Colorado
Oakland
4
98
1972
3-0
53.77
49. Thurman Thomas
RB
Oklahoma State
Buffalo
2
40
1988
0-4
53.30
50. Rodney Harrison
DB
Western Illinois
San Diego
5
145
1994
2-2
53.24
MVPs: Manning and Favre won three. Montana won two. Taylor, T. Davis, Brady, E. Smith, Page, Moseley, B. Sanders, Sipe, Gannon, L. Brown, Faulk, Payton, Simpson, Bradshaw and T. Thomas won one.

All-Pro teams: All except Bleier and Cole were named first- or second-team All-Pro.

Rookie of the Year: Taylor, Lambert, E. Smith, B. Sanders, Faulk and Greene earned ROY honors.