AFC South:

Demaryius Thomas
September, 5, 2014
Sep 5
12:00
PM ET
The last time the
Indianapolis Colts
and
Denver Broncos
faced each other, the Broncos were rolling along with a 6-0 record, having scored at least 41 points in four of those games and 50 in two. But on Oct. 20, they couldn't block Indianapolis'
Robert Mathis
(two sacks and a forced fumble), quarterback
Peyton Manning
aggravated his ankle injuries, and the Broncos limped away from a 39-33 loss.
This time, the Colts will see a newly minted defense -- just five players remain from the Super Bowl XLVIII roster -- and the Broncos will see a Colts team that has battled injuries throughout the preseason and is without Mathis, who is suspended for the first four games for violating the league's policy on performance-enhancing drugs.
ESPN.com Colts reporter Mike Wells and Broncos reporter Jeff Legwold discuss Sunday night's game.
Wells:
Not that Manning needs any motivation to get better year to year, but how much did the embarrassing Super Bowl loss fuel him during the offseason and in training camp, especially because the clock is ticking on his career?
Legwold:
Mike, as folks in Indianapolis saw for quite some time, Manning is a study in focus, and he simply attacked the offseason. He said once he decided he was all-in for the coming season, and his annual exam on his neck came back with a medical thumbs-up, he went about the business of taking last season apart -- league-record 606 points, Super Bowl blowout and all -- pass by pass. He looked at his incompletions, interceptions, touchdowns, plays that should have been touchdowns and plays that should have been interceptions. He essentially took his game back to the foundation. Coach John Fox says Manning looks stronger physically than in his previous two seasons in Denver, and wide receiver
Demaryius Thomas
says Manning has shown more arm strength in workouts. Put it all together and it's pretty clear Manning is locked in on getting another shot at the trophy.
Keeping with the quarterbacks, where do the Colts believe quarterback
Andrew Luck
is on his developmental curve? This is decidedly his team, correct?
Wells:
I'd say it became Luck's team once they selected him No. 1 overall in 2012. That is not a bad thing when you take into account Luck has led the Colts to 22 wins, two playoff appearances and an AFC South title in his first two seasons. Did I mention that he is only 24? Not that Luck needs any pats on the back, but you could tell how he is perceived by others when our ESPN.com colleague Mike Sando talked to executives around the league and they said he is a top-five NFL quarterback. There is nothing wrong with being voted behind Manning,
Aaron Rodgers
,
Drew Brees
and
Tom Brady
. Those are four future Hall of Fame quarterbacks. The Colts have a chance to beat any team, including the Broncos, as long as No. 12 is taking the snaps for them.
The Colts' issue is whether the defense can play on the same level as Luck and the offense. The Broncos went out and added some substantial pieces to their defense. Can the defense be as good as Manning and the offense?
Legwold:
If it isn't, it won't be because the Broncos didn't make the effort. They made an almost unprecedented dive into free agency for a team coming off a Super Bowl appearance, adding defensive end
DeMarcus Ware
, safety
T.J. Ward
and cornerback
Aqib Talib
. They also used their first-round pick in the May draft on cornerback
Bradley Roby
. All four players will get significant snaps against the Colts on Sunday night. Executive vice president of football operations/general manager John Elway wanted more speed on defense and more attitude. The Broncos, who had five defensive starters on injured reserve by the time they got to the Super Bowl, also have a healthy
Von Miller
back at linebacker and
Chris Harris
at cornerback. They have not shown much in the preseason, so the Colts will get the first real look at this unit. But Miller and Ware give Denver the kind of one-two pairing in the pass rush it had with Miller and
Elvis Dumervil
in 2012, when this was a top-five defense.
Defensively, Mathis is suspended for the first four games of the season. The previous time these teams played, Mathis was the most disruptive defensive player on the field. What is the Colts' plan to get to Manning this time around?
Wells:
How about we say: What do the Colts hope to do without Mathis? As you pointed out, Mathis was the difference-maker in the game last year. His strip-sack of Manning was a momentum changer because it led to a safety and started a string of 23 straight points for Indy.
Bjoern Werner
is starting at outside linebacker in place of Mathis. But let's be real, there is no replacing Mathis' 19.5 sacks from last season. The Colts will attempt to do it by committee. The starting defense accounted for only two sacks in the preseason. That is pretty scary to think about. Manning is the master of picking apart defenses.
I was going to ask you about
Wes Welker
and his concussion issues. Now the Colts don't have worry about facing him because he has been suspended for the first four games of the season. How do the Broncos go about replacing Welker in the lineup?
Legwold:
Welker's suspension is the reason the Broncos will have to adjust their rotation at wide receiver Sunday night, but they had put plans in motion long before because of Welker's concussions. He had two last season and suffered a third in an Aug. 23 preseason game. The Broncos made
Emmanuel Sanders
a primary target in free agency and used a second-round draft pick on
Cody Latimer
in May. Sanders, who has shown in the preseason just how big a year he could have in this offense, will get plenty of work in the slot; he played there during most of his tenure with the Steelers. Tight end
Jacob Tamme
, who played in the slot a great deal in Manning's first year in Denver (2012), will also get plenty of snaps. The Broncos will move the pass-catchers all over in search of the matchups they like. They have a versatile group of receivers and tight ends that should allow them to overcome four games without Welker.
A different kind of injury issue to be sure, and you have written about it plenty, but how will the Colts adjust things on the offensive line to line up against a revamped Broncos defense?
Wells:
The offensive line has been an issue for the Colts going back to when Manning was there. Luck has his best group of offensive weapons to work with since entering the league, but none of that matters if the line can't do its job. Luck has been sacked 73 times in his first two seasons. The Colts have a rookie --
Jack Mewhort
-- starting at one guard, a second-year player --
Hugh Thornton
-- at the other guard, and center is up the air.
Khaled Holmes
, the projected starter, missed four weeks with a sprained ankle, and A.Q. Shipley was claimed off waivers from Baltimore last weekend. Ware and the rest of the Denver defense should be excited about the opportunity to get after Luck.
January, 22, 2014
Jan 22
11:00
AM ET
A large portion of the 320 players that participated in an NFL Nation confidential survey about which non-teammate they'd like to see play in a Super Bowl didn't get their wish.

Three Jaguars players did, though.
Minnesota's
Adrian Peterson
topped the survey with 59 votes, narrowly edging out Atlanta's
Tony Gonzalez
(56 votes), who retired last month after 17 years in the NFL.
Obviously neither was able to make to the Super Bowl this year, but three of the players named by the 10 Jaguars players polled did: Denver's
Terrance Knighton
and
Demaryius Thomas
and Seattle's
Marshawn Lynch
. It's not a surprise that someone named Knighton because he was the Jaguars' third-round pick in 2009 and one of the most well-liked players in the locker room during his four seasons in Jacksonville.
The interesting thing about the Jaguars' responses was that no player was named more than once. In addition to Knighton, Thomas and Lynch, seven other players were named:
Jake Long
,
Brandon Carr
,
Julio Jones
,
Matt Ryan
,
Andrew Luck
, Peterson and
Michael Vick
.
December, 6, 2013
12/06/13
10:00
AM ET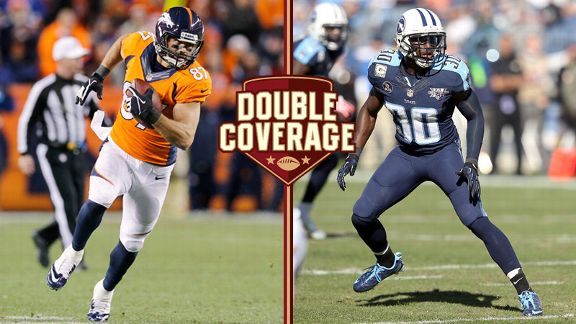 AP Photo Jason McCourty, right, and the Titans' secondary face a formidable challenge in defending Eric Decker and the Broncos' passing attack.
It seemed a little out of place, but as the
Denver Broncos
were about to get to work on the
Tennessee Titans
this week, quarterback
Peyton Manning
said he was going to prepare for an "unfamiliar opponent."
Granted, Manning hasn't faced a Titans team with Mike Munchak as its head coach, but he has faced Tennessee 19 times previously in his career (including a playoff game in the 1999 season), all with the
Indianapolis Colts
. So, while this is the Titans' first look at Manning in a Broncos uniform, the quarterback is a familiar face as Denver tries to keep its grip on home-field advantage in the postseason.
Here, ESPN.com Titans reporter Paul Kuharsky and Broncos reporter Jeff Legwold discuss Sunday's game.
Legwold:
Paul, you've been around the team since it arrived in Tennessee and, before we get to the on-field matchup, how would you say the team has dealt with franchise founder Bud Adams' death earlier this season? Who is making the decisions now and who will make them in the coming offseason, both on and off the field?
Kuharsky:
It was a big loss, of course, for Munchak and general manager Ruston Webster and team employees who worked for Adams for a long time. Most of the players hardly knew him, as he was not around much in his final couple of years, when his health began to fail. So there is a lot of uncertainty now. Three branches of Adams' family share control of the franchise, and Bud's son-in-law, Tommy Smith, is the team president and CEO. He's apparently been paying close attention to things in anticipation of taking over. But we know very little about how he will operate going forward. That means there is some tension, because not every team employee knows if he's secure. That starts with the struggling head coach, Munchak.
Leadership in Denver appeared to remain strong as Jack Del Rio stepped in for John Fox. How much of a boost will Fox's return give the team?
Legwold:
Del Rio, the team's defensive coordinator, earned praise from everyone in the organization, including Fox and the players, for how things were handled in the head coach's absence following open-heart surgery. His return has given the team an emotional boost, because after a month away, Fox came back feeling better than he had in some time and enthusiastic to see where this season can go. It should help the Broncos avoid a late-season stumble as they try to get home-field advantage for the playoffs again. Tactically speaking, not much will change. Coordinator Adam Gase is still calling the plays on offense -- Del Rio has said that, other than being a sounding board from time to time, he left the offense solely in Gase's hands during Fox's absence. Del Rio will continue to call the defense on game day as he has all season. Overall, though, it's likely Fox's return will keep the Broncos from hitting an emotional lull over the final month of the regular season.
On the field, the Titans have seen Manning plenty over the years. How do you think Tennessee will approach things on defense and does it see some differences in the Broncos' offense compared to what it saw from the Manning-led Colts?
Kuharsky:
Well, it's a relief the Titans don't see Edgerrin James, I am sure. And while Denver's pass-catchers are a remarkable bunch, I'm not sure there is a
Marvin Harrison
in it yet. They know blitzing Manning can be fruitless no matter what matchups they like against offensive linemen. They'll try to be unpredictable and force him to throw to a certain spot a few times. But plenty of teams have that idea and fail with it. Under Gregg Williams' influence, the Titans have used an ever-shifting front, and we know that's a popular way to play against Manning in an attempt to minimize his ability to make pre-snap reads. The front is pretty good, especially
Jurrell Casey
, though there is no dominant edge rusher. The secondary has been quite good. It's the linebackers, particularly in pass coverage, who seem vulnerable to me, and I don't know what the Titans will do there to prevent abuse.
Bernard Pollard
's been a leader whose play has matched his talk, but the Titans have kept him out of tough coverage situations and I wonder whether Manning will find ways to try to go at him.
The Titans are rooting for freezing temperatures even though they've been awful themselves in their past two frigid games. I know some all-time great quarterbacks have excelled in the cold even if they haven't loved it. How much of an issue is it for Manning at this stage of his career?
Legwold:
That is the elephant in the room with the Broncos given their playoff loss to the
Baltimore Ravens
last January. Manning threw for 290 yards and three touchdowns in that game, even though the temperature at kickoff was 13 degrees. But folks seem to remember a wobbly incompletion here and there to go with an interception to close out the Broncos' final possession. Until Manning simply cranks it up on a cold day and the Broncos get a key victory, people are going to ask him about it. He had spots in the overtime loss to New England two weeks ago -- in frigid, windy conditions -- in which he threw as well as he ever has, particularly on a sideline pass to
Demaryius Thomas
and a touchdown throw to tight end
Jacob Tamme
. It's not so much his arm that has been an issue post-surgery, it's his grip when he throws. Overall, though, the Broncos push the pace more on offense at home. Manning has terrorized defenses that have played a lot of man coverages against the Broncos' offense, including his five-touchdown game last weekend in Kansas City. The Broncos like that matchup in any weather.
Denver has some injuries on defense that have affected how it plays, especially with the run defense. Where does
Chris Johnson
fit in the Titans' offense these days?
Kuharsky:
He's really had one big game all season. Even when he seems to get going, the Titans can't find a rhythm or a way to stick with him. This was supposed to be a run-reliant, run-dominant team. It isn't. With
Ryan Fitzpatrick
now the quarterback, the Titans like to put him in an empty set and let him do his thing. It's been good at times, but it doesn't do much to enhance the chances of the running game. Johnson doesn't get yards after contact. So if he doesn't find a big hole, he's not going to do a lot of damage. Watch out on a screen or little flip pass -- that's where Johnson has been more threatening.
Denver's defense has dealt with quite a few injuries and
Von Miller
's suspension. How's his health and how is that group playing together?
Legwold:
The Broncos have yet to play the 11 starters on defense in any game this season they expected to have coming out of training camp. They never will now that defensive tackle
Kevin Vickerson
has been moved to injured reserve. Vickerson was a big part of the plan on early downs -- and the Chiefs tested the middle of the defense plenty this past Sunday, so the Broncos are working through some adjustments there.
Champ Bailey
(left foot) has played in just three games this season -- just one from start to finish -- and safety
Rahim Moore
is on injured reserve/designated to return. (The Broncos hope Moore will be back for the postseason.) Toss in
Derek Wolfe
and
Dominique Rodgers-Cromartie
not being in the lineup against the Chiefs and the Broncos are not nearly as consistent as they were last season, when they were a top-five defense. Miller has had moments of top-shelf play since his return, but hasn't been a consistent force like he was last season.
October, 8, 2013
10/08/13
8:00
PM ET
JACKSONVILLE, Fla. -- The Denver Broncos are on a roll so far that tops what the New England Patriots did in 2007.
They are scoring points at a record pace, lead the NFL in total offense and passing yards and are favored over the visiting Jaguars on Sunday by 28 points -- which ties the largest point spread in NFL history.


Kickoff is set for 4:05 p.m. ET (CBS).
Here's a look at the Broncos:
Record
: 5-0.
Last week
: beat Dallas 51-48.
Coach:
John Fox, third season (26-11); 12th season overall (99-82).
Offensive coordinator:
Adam Gase.
Defensive coordinator:
Jack Del Rio.
Series record:
Jaguars lead 5-3 (regular season).
THREE PLAYERS TO KNOW ON OFFENSE
QB Peyton Manning:
He has already thrown for 1,884 yards and 20 touchdowns, with only one interception. He's also completing 75.8 percent of his passes. Those are staggering numbers, even for Manning.
WR Demaryius Thomas:
He is Manning's favorite target and leads the team with 34 catches for 450 yards. He's one of the league's top young receivers and has already established himself as one of the game's better big-play receivers. What makes him so hard for defensive backs to handle is his size (6-foot-3, 229 pounds).
LT Chris Clark:
Why an offensive lineman on this list? Because he's replacing
Ryan Clady
, who is out for the season with a Lisfranc injury. Clady was a rock at left tackle. Clark has filled in capably. The offensive line has allowed Manning to be sacked only five times.
THREE PLAYERS TO KNOW ON DEFENSE
NT Terrance Knighton:
The former Jaguars defensive lineman has started every game and has seven tackles. He's anchoring a defensive front that leads the NFL in rush defense (69.6 yards per game).
LB Wesley Woodyard:
The Broncos' leading tackler (35) left last Sunday's game with a neck injury but said on Monday that he felt fine and would be ready to play against the Jaguars. He is coming off the best season of his career: 117 tackles, 5.5 sacks and three interceptions in 2012.
S Duke Ihenacho:
He leads the Broncos with 28 solo tackles (32 overall). He has started every game this season after playing in only two in 2012 as a rookie.
ETC.
The Broncos have scored 103 points in their last two games. … Denver has lost three in a row to the Jaguars. The last Denver victory came in 2005 in Jacksonville. … The Broncos have won 16 consecutive regular-season games dating back to a 31-21 loss at New England on Oct. 7, 2012. … Denver has scored more than 40 points four times this season, which is already a single-season franchise record. … Receiver
Wes Welker
is the first player since Washington's Charlie Brown in 1982 to catch at least one touchdown pass in each of his first five games with a team.
January, 12, 2013
1/12/13
3:40
PM ET
Did
Reggie Wayne
get a fair shake from the Associated Press panel of 50 voters who pick the
NFL All-Pro Team
?
It's easy to rant and rave and say no.
Detroit's
Calvin Johnson
and Chicago's
Brandon Marshall
are the first-teamers, with Cincinnati's
A.J. Green
and
Andre Johnson
on the second team.
Calvin Johnson got 49 votes, one short of being unanimous. Marshall got 23, Green 16.5 and Andre Johnson 8.5. Having anything less than that and having zero amount to the same thing, really.
Demaryius Thomas
of Denver,
Wes Welker
of New England and
Julio Jones
of Atlanta each got one vote.
Calvin Johnson is an automatic here, with a new single-season receiving yardage record of 1,964. Andre Johnson and Brandon Marshall have strong numbers though I think Johnson's were more meaningful as they came in an offense that was ranked much higher than Chicago's. (I know you can flip that, it's a matter of perspective I suppose.)
Wayne had both a "low" yards per catch and a "low" touchdown total. I'm sure that's what hurt him even as he was third in the league to Marshall and Calvin Johnson on third down with 31 catches and his third-down average (14.5) was well up from his overall average.
He was uncanny in the leadership department for a young team that has no business winning 11 games and going to the playoffs. He was a fantastic target for Andrew Luck in his rookie season. He led the way for a team that lost its head coach to a fight against leukemia for most of the year.
But most of that qualifies as intangible. Looking at the voting, panelists didn't seem to score those sorts of things very highly.
Nothing screams unreasonable in the way things came out, though I can understand the disappointment in Indianapolis as different results would have been fair, too.
While Andre Johnson wound up a second-team choice here, two of his teammates are on the first team:
J.J. Watt
was a unanimous choice at defensive end while
Duane Brown
is one of the tackles.
August, 2, 2012
8/02/12
10:34
AM ET
Justin Blackmon
was the best receiver available in the draft for a Jaguars team with a desperate need at the spot.
Kendall Wright
was the sort of receiver the Titans were still missing as they look to become a more modern offense.
I like the additions for the Jaguars and the Titans, and at this point I'd certainly expect both guys to have good careers.
But I think early expectations for the two are unreasonably high.
Blackmon, still unsigned, is unlikely to pop in, learn the offense and make a bunch of plays for
Blaine Gabbert
on Sept. 9 at Minnesota.
Wright, just signed, is unlikely to take
Kenny Britt
's place if Britt isn't ready or is suspended for the Titans Sept. 9 game against New England and produce like Britt could.
A.J. Green
's 1,000-yard rookie year last season was the first for a receiver since
Michael Clayton
's for Tampa Bay in 2004.
Julio Jones
made a big debut too, falling just 41 yards short of 1,000.
But receiver isn't a spot where even highly-rated rookies generally get plugged in and make monstrous, immediate impacts. Maybe Green and Jones signified some sort of switch. But at this point I'm still inclined to see them as the exceptions rather than rewriters of the rule.
Per Keith Hawkins of ESPN Stats and Info, 16 first-round receivers who played as rookies in the last five years have averaged 44 catches, 615 yards and 3.8 touchdowns. That's nice production from Green, Jones,
Jonathan Baldwin
,
Demaryius Thomas
,
Dez Bryant
,
Darrius Heyward-Bey
,
Michael Crabtree
,
Jeremy Maclin
,
Percy Harvin
,
Hakeem Nicks
, Britt,
Calvin Johnson
,
Ted Ginn
,
Dwayne Bowe
,
Craig Davis
and
Anthony Gonzalez
-- but hardly phenomenal.
That's as many catches as
Mike Thomas
had for the 2011 Jaguars.
It's not far off the stat line of 2010 third-rounder
Damian Williams
for the 2011 Titans -- 45 catches, 592 yards and five TDs.
Can Blackmon and or Wright be impactful players for their teams this year?
It probably depends on your definition of impactful.
Comparably valued players have provided roughly three catches for 38 yards with a score once every four games in their first year in the league.
Certainly it's possible Blackmon and Wright do more. Are they going to be Week 1 fantasy football MVPs because of the monster numbers they put up early?
If I was making a bet, it wouldn't be on yes.
April, 7, 2011
4/07/11
1:10
PM ET
»
NFC Draft Watch
:
East
|
West
|
North
|
South
»
AFC
:
East
|
West
|
North
|
South
Each Thursday leading up to the NFL draft (April 28-30), the ESPN.com NFL blog network will take a division-by-division look at key aspects of the draft. Today's topic: History in the spot.
Houston Texans

2010: OT
Anthony Davis
(49ers)
2009: LB
Aaron Maybin
(Bills)
2008: DB
Leodis McKelvin
(Bills)
2007: LB
Patrick Willis
(49ers)
2006: QB
Jay Cutler
(Broncos)
2005: LB
DeMarcus Ware
(Cowboys)
2004: QB
Ben Roethlisberger
(Steelers)
Last year at No. 11, the 49ers got Rutgers offensive tackle Davis, who started every game on the right side. Maybin, taken in the spot in 2009, is on the hot seat in Buffalo, where he's not come close to expectations. In 2007, the 49ers got the excellent middle linebacker Willis 11th, when the Texans took defensive tackle
Amobi Okoye
the spot before. The verdict on Cutler is still to be determined, while Ware is a superstar and Ben Roethlisberger has won two Super Bowls. Other hits since the NFL-AFL merger include
Michael Irvin
,
Dwight Freeney
and
Leon Searcy
. Other misses:
Ron Dayne
,
Michael Booker
.
Indianapolis Colts

2010: WR
Demaryius Thomas
(Broncos)
2009: WR
Percy Harvin
(Vikings)
2008: RB
Felix Jones
(Cowboys)
2007: QB
Brady Quinn
(Browns)
2006: LB
Manny Lawson
(49ers)
2005: WR
Mark Clayton
(Ravens)
2004: QB
J.P. Losman
(Bills)
Last year's 22nd pick, Denver receiver Thomas, caught 22 passes and scored two touchdowns. Minnesota grabbed receiver Harvin in the spot in 2009 and he's one of the game's most dynamic players already. Quinn didn't cut it in Cleveland and ranks third now in Denver, and Losman didn't solve Buffalo's quarterback issues. The last time the Colts were in this spot, they took receiver
Andre Rison
in 1989. He played only one season for the franchise, but in 12 years he amassed more than 10,000 receiving yards and caught 84 touchdowns.
Jacksonville Jaguars

2010: DE
Derrick Morgan
(Titans)
2009: LB
Larry English
(Chargers)
2008: CB
Dominique Rodgers-Cromartie
(Cardinals)
2007: DT
Justin Harrell
(Packers)
2006: CB
Jason Allen
(Dolphins)
2005: DT
Travis Johnson
(Texans)
2004: OT
Shawn Andrews
(Eagles)
Morgan went 16th to Tennessee last year, but suffered a season-ending knee injury early on. Rodgers-Cromartie had a big rookie season in 2008 as the Cardinals went to the Super Bowl. Pittsburgh safety
Troy Polamalu
was a huge find at the spot in 2003 and
Jevon Kearse
set a rookie record for sacks and led Tennessee to the Super Bowl in 1999. But others in the recent past like Allen, Houston's Johnson and Cleveland running back
William Green
hardly lived up to expectations.
Dan McGwire
, a big quarterback bust for Seattle, also went in the spot in 1991. But anyone thinking the Jaguars can't hit a home run should know that a guy rated by many as the greatest player of all time,
Jerry Rice
, was selected 16th in 1985.
Tennessee Titans

2010: LB
Rolando McClain
(Raiders)
2009: OT
Eugene Monroe
(Jaguars)
2008: DE
Derrick Harvey
(Jaguars)
2007: DE
Jamaal Anderson
(Falcons)
2006: S
Donte Whitner
(Bills)
2005: S
Antrel Rolle
(Cardinals)
2004: CB
DeAngelo Hall
(Falcons)
McClain went to Oakland eighth last season and was second on the Raiders in tackles his rookie year. Jacksonville had the spot the two years before that. The Jaguars think they got a long-term left tackle in Monroe, but Harvey might be done already.
Jordan Gross
is a topflight tackle for Carolina and receiver
Plaxico Burress
was a Super Bowl hero for the Giants. But receiver David Terrell busted for the Bears, receiver
David Boston
didn't fare much better in Arizona and running back
Tim Biakabutuka
was a dud for the Panthers. Sam Adams' long career clogging up the middle as a defensive tackle started in Seattle. The last time the Titans had this pick, they landed Hall of Fame guard
Mike Munchak
, who's now the team's coach.