AFC South:

Demetrius McCray
December, 19, 2013
Dec 19
10:00
AM ET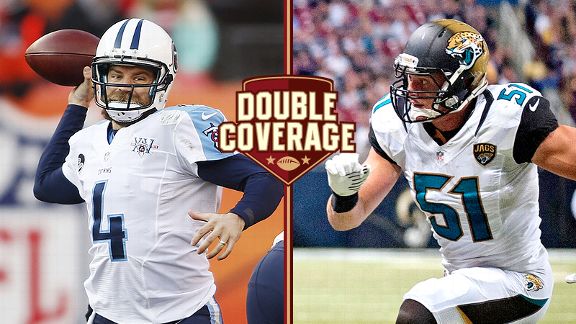 USA Today SportsPaul Posluszny and the Jags are aiming for a season sweep of Ryan Fitzpatrick and Tennessee.
JACKSONVILLE, Fla. -- Maybe
Delanie Walker
shouldn't feel so bad now.
The Titans tight end said he was embarrassed after the Jaguars won 29-27 in Nashville on Nov. 10 to pick up their first victory. Since then, the Jaguars are 3-2 with victories over Houston (twice) and Cleveland. The Titans are 1-4 with a victory over Oakland.
There seems to be much more stability in Jacksonville, too, because of the uncertain status surrounding Tennessee coach Mike Munchak.
Jaguars reporter Michael DiRocco and Titans reporter Paul Kuharsky break down Sunday's matchup at EverBank Field.
DiRocco
: Some Titans players were pretty vocal about being embarrassed due to becoming the first team to lose to the Jaguars. Is that something that still stings, and how have they rebounded from that loss?
Kuharsky
: It definitely left a mark. They are only 1-4 since then. It kind of set a bar for how bad they can be and re-established their propensity to lose to teams that are really struggling. The Jaguars are on an upswing since that game, and the Titans are on a downward spiral. If Tennessee losses to the Jaguars again, the Titans will be in line to finish in third place in an awful division, which is well short of their goals and expectations. The Titans are a better team than they were last year. But losing closer isn't a really big difference in the really big picture.
Let's turn that around. How has life changed for the Jaguars since that Nov. 10 breakthrough?
DiRocco
: I could go into a lot of stats that show how much better the Jaguars are playing, but that's not what's really important. The past six games have been more about the validation of the process, establishing the foundation of the franchise's rebuild, and confidence in the new regime. Coach Gus Bradley never wavered from the plan that he and general manager David Caldwell established. His message stayed the same throughout the eight-game losing streak to start the season: trust in the process, work hard, and focus on improving and not victories, and the victories will eventually come. Because that has happened, the players appear to have completely bought into what Bradley and Caldwell want to do, and there's a confidence in the locker room that the franchise is headed in the right direction.
We talked about
Jake Locker
the last time these teams met, but that was before he suffered a season-ending injury to his foot. How does that change the Titans' outlook on him and are they in the market for a quarterback in the offseason, too?
Kuharsky
: Locker is certain to be on the 2014 Titans. His fourth year isn't that costly and it's guaranteed. But they can't execute a spring option for his fifth year that would line him up for over $13 million. A lot of his fate depends on whether Munchak is back as the head coach. It's possible they go forward with Locker,
Ryan Fitzpatrick
and just-signed
Tyler Wilson
as their quarterbacks. It's also possible they'd draft a new guy, and depending on how high of a pick he could land in competition to start. I think it's less likely they chase a free agent like
Jay Cutler
if he comes free, but they have to assess all the possibilities. How can they completely commit to Locker based on his injury history?
One side effect of the Jaguars' surge is they aren't going to be in position to draft the first quarterback taken. What's your sense of what Bradley and Caldwell want in a quarterback and do you expect one to arrive in the first round?
DiRocco
: Offensive coordinator Jedd Fisch said something interesting last week. He said he wants his QB to scramble around, take off running to get yards and take some chances throwing the football. To me, that sounds like a pretty accurate description of Johnny Manziel. I'm not sure how that reconciles with the ideas of his bosses. Bradley comes from Seattle, which has the mobile
Russell Wilson
. Caldwell comes from Atlanta, which has the considerably less mobile
Matt Ryan
. My sense is that Bradley and Caldwell probably lean more toward the Wilson end of the spectrum. People think that eliminates Teddy Bridgewater, but that's not the case. He's not a runner but he can run if needed. If he's around, I'd expect them to take him. If not, then I would still expect them to go quarterback. It's their most glaring need.
You mentioned Munchak's job status. What's your take on whether he will be back next season -- and should he be?
Kuharsky
: He's shepherded improvement, but his team lacks an ability to finish. He's 0-4 in the worst division in football, 1-9 in the past two years. His teams have lost to the previously winless Jags in 2013 and the previously winless Colts in 2011. He's 4-18 against teams with winning records when the Titans played them and 2-19 against teams that finished the season with a winning record. To me, three years is a sufficient sample size to know what you've got and those numbers are the most telling thing on his resume. Keep him and they deal with all the limitations connected to a lame duck coach. I don't know what Tommy Smith, the head of the new ownership, will do. But the fan base overwhelmingly wants change, if that's worth anything. People still pay for tickets because they've got investments in personal seat licenses they do not want to throw away. But a lot of people are staying home on Sundays now.
Cecil Shorts
is done and
Maurice Jones-Drew
is uncertain. How can the Jaguars threaten on offense without their two best weapons?
DiRocco
: They were able to put up 20 points and post their second-highest yardage total of the season, including a season-high 159 rushing, in last Sunday's loss to Buffalo. Running back
Jordan Todman
stepped up big time and ran for 109 yards (Jones-Drew cracked 100 only once in the first 13 games) and tight end
Marcedes Lewis
was more involved in the passing game than in previous weeks (four catches for 54 yards and a touchdown). But I'm not sure that is sustainable. Teams will certainly concentrate on stopping Lewis and make quarterback
Chad Henne
move the ball with three receivers who have a combined 75 career catches. Todman doesn't scare anyone, either. The Jaguars will have to be creative on offense (they've run gadget plays the past three weeks) and capitalize on every opportunity they get.
September, 13, 2013
Sep 13
4:44
PM ET
JACKSONVILLE, Fla. -- Who will be returning punts for the
Jacksonville Jaguars
on Sunday?

The player they drafted to do it, or the guy they signed in the final days of the preseason?
Coach Gus Bradley isn't saying just yet, mainly because he wants to wait and see how the team's injury situation at cornerback clears over the next two days. It may not be until Sunday afternoon that he chooses between
Ace Sanders
and
Will Blackmon
.
It appears the issue is this: The Jaguars are already down one starting cornerback in
Dwayne Gratz
(high ankle sprain), and could be without the other starter, too, because
Alan Ball
has been battling a groin injury late in the week.
Blackmon will start in place of Gratz. If Ball can't play, the team will start rookie seventh-round pick
Demetrius McCray
on the other side. Bradley would then be reluctant to use Blackmon to return punts because that would put too much on Blackmon's shoulders and expose him to additional risk of injury.
Losing Blackmon would be devastating to the secondary, which would be left with
Mike Harris
as the only other cornerback on the active roster. The team probably would promote rookie
Marcus Burley
from the practice squad.
Sanders would then get the nod on punt returns over Blackmon, who was the Jaguars' returner in the final preseason game and returned one punt for no gain against Kansas City last week.
But if Ball is able to play, Bradley then has a little more leeway in the secondary and likely would tab Blackmon as the returner.
Of course, he could also be overthinking things, too.
"It could be somebody else, but you'd like to get one of those two out there," Bradley said. "I don't want to run scared because what happens if something happens to Will Blackmon? What happens if something happens to Ace Sanders?"
The Jaguars drafted Sanders, who averaged 11.2 yards per punt return and returned three touchdowns in his career at South Carolina, in the fourth round to be the team's punt returner. He worked as the returner throughout camp, but against Kansas City the Jaguars went with Blackmon, a seven-year veteran who has returned 68 punts in his career.
And while Bradley didn't name anyone specifically when he said earlier in the week that he felt some players played against the Chiefs as if the game were too big for them, it's clear that Sanders was one of those guys.
After being electric with the ball in his hands in camp and during the four preseason games -- seven catches for 82 yards and two punt returns for 22 yards -- Sanders caught just three passes for 14 yards against the Chiefs.
He's expected to settle down this week, but Bradley may still opt to go with the steady Blackmon provided the injury situation clears.
September, 13, 2013
Sep 13
2:25
PM ET
JACKSONVILLE, Fla. -- A quick injury update from
Jacksonville Jaguars
coach Gus Bradley before the team leaves for Oakland on Friday afternoon ...
Tight end
Marcedes Lewis
(calf) is doubtful, while receiver
Mike Brown
(back), guard
Will Rackley
(knee), linebacker
J.T. Thomas
(hamstring), and cornerback
Alan Ball
(groin) will be game-time decisions.
Quarterback
Blaine Gabbert
(hand) and cornerback
Dwayne Gratz
(ankle) were ruled out earlier in the week.
The fallout: If Ball is unable to play, the Jaguars would be without both starting cornerbacks.
Will Blackmon
, whom the Jaguars signed on Aug. 28, is already starting in place of Gratz. Seventh-round pick
Demetrius McCray
and second-year player
Mike Harris
are the only other cornerbacks on the active roster. The Jaguars most likely will promote Marcus Burley from the practice squad.
If Brown is unable to play, expect to see more of
Stephen Burton
, whom the Jaguars claimed off waivers on Sept. 1. The team also could promote Jeremy Ebert from the practice squad.
August, 30, 2013
Aug 30
7:00
AM ET
JACKSONVILLE, Fla. -- Three things that stood out in the
Jacksonville Jaguars
'
20-16 victory
over Atlanta on Thursday night:

1. Running back
Jordan Todman
showed again not only why he deserves to make the team but to probably be No. 2 on the depth chart behind
Maurice Jones-Drew
. The former UConn standout ran for 60 yards and a touchdown on nine carries, giving him a team-high 223 yards on 29 carries in the preseason.
Todman, who scored on an 18-yard run against the Falcons in the first quarter, is a patient runner who quickly gets north and south when he makes a decision. He has been the offense's best player throughout the preseason.
The Jaguars signed
Justin Forsett
to be the top option behind Jones-Drew, but he has yet to play this preseason because of a sprained toe on his right foot. He hasn't even practiced since he suffered the injury during the first live period of training camp.
Forsett is hoping for a Week 1 return, but even if he does, Todman has been so impressive that it wouldn't be a surprise to see him get more work.
2. Cornerback
Demetrius McCray
had his best game of the preseason: five tackles, two pass breakups and a sack. One of those tackles came with a group of other defenders on a fourth-down stop inside the 5-yard line to preserve the victory.
The Jaguars drafted McCray with their second pick in the seventh round of this year's draft. He's a bigger corner (6-foot, 185 pounds) and plays the physical style coach Gus Bradley wants out of his corners.
McCray had been having a relatively anonymous preseason (just two tackles), but he solidified his spot on the roster with his performance against the Falcons. He jarred a pass loose from receiver
Kevin Cone
and then made a leaping deflection of another pass to Cone in the first half. He also made a solid open-field tackle on fullback
Jason Snelling
on a screen pass.
3. Quarterback
Matt Scott
did some nice things, but they were wiped out by two terrible plays: a fumble that was returned for a touchdown and an interception on back-to-back series in the second quarter.
Scott's first turnover came when he failed to secure the ball when he turned on a bootleg and was confronted by defensive end
Jonathan Massaquoi
, who poked the ball free and returned it for a 9-yard touchdown. It's not an unusual occurrence for a quarterback to whip around into the bootleg after the fake and see a defender in his face. Sometimes the smartest thing a quarterback can do is realize the play has been blown up and just secure the ball and keep the negative play from becoming even worse.
On the interception, Scott stared down intended receiver
Mike Brown
, and cornerback
Desmond Trufant
, the Falcons' first-round draft pick, stepped in front of the pass. There may have been some miscommunication on the route, but it was an easy interception for Trufant.
Scott was battling
Mike Kafka
for the No. 3 quarterback spot. Scott completed 6 of 12 passes for 67 yards. Kafka completed 6 of 15 passes for 46 yards, but he did hook up with
Jeremy Ebert
on a 13-yard touchdown pass that put the Jaguars ahead for good.
July, 11, 2013
Jul 11
4:33
PM ET
We pick up our series in which ESPN.com's resident scout, Matt Williamson, ranks the AFC South position-by-position.
Today, we examine defensive backs.
Williamson's AFC South defensive backs rankings:
1) Texans (Johnathan Joseph, Danieal Manning, Ed Reed, Kareem Jackson, Brice McCain, D.J. Swearinger, Brandon Harris, Roc Carmichael)
2) Titans (Jason McCourty, Bernard Pollard, Michael Griffin, Alterraun Verner, George Wilson, Tommie Campbell, Coty Sensabaugh)
3) Colts (Vontae Davis, LaRon Landry, Antoine Bethea, Greg Toler, Darius Butler, John Boyett, Cassius Vaughn)
4) Jaguars (Dwayne Gratz, Johnathan Cyprien, Dwight Lowery, Alan Ball, Josh Evans, Mike Harris, Marcus Trufant, Jeremy Harris, Demetrius McCray)
I think this order is virtually impossible to debate, and you should be clicking the top entry in the poll to the right.

My questions for Williamson based off of his list:
Your overall assessment please:
"Overall thoughts are I really like Houston's secondary and really dislike Jacksonville's. The other two? I would say are pretty much the definition of middle of the road."
What's the gap between Texans and Titans?
"The gap between Houston and Tennessee is substantial. That isn't to say that the Titans have a poor secondary -- and I would say they did improve it at both corner and safety."
What's Ed Reed have left and what can he do for the Texans?
"Reed's best days are long behind him, but I love the addition to the Texans for one huge reason: He is a winner from a great organization and what he brings behind the scenes could pay off HUGE. The Texans really are not that far from being an expansion team and most of their best players are all home grown players-that have never won the big one. Reed, a future Hall of Famer coming off a SB win brings instant credibility to the locker room and even if he doesn't play at a real high level, is a great addition-and something Houston should have done long ago."
If you were just ranking CBs what order would you have them in? If you were just ranking safeties?
"Just CBs: I think I would keep it exactly the same. Just safeties? Tough to really gauge Jacksonville, but they still have to be last and again, I think I would keep the order the same. More so than some of the other position groups in the division, this order is pretty clear to me."
What rookies do you expect to have the biggest impact?
"The rookie defensive back that I expect to make the biggest impact is definitely Cyprien. I think he will be a star in this league, was a great value where Jacksonville took him and will been all around impact player, even early in his career."
The Titans view McCourty as a solid No. 1 and the Colts feel the same about Davis. Can you compare and contrast them?
"I think both are good cornerbacks, but neither is truly a No. 1. To me, Davis is more talented and more equipped to play coverage against the opponent's No. 1 receiver, but also is more inconsistent overall."
Can you rate the nickel situations?
"Butler has played well at times for the Colts, but I would say they are a little deficient when they go to sub packages, where Tennessee should be in better shape with their top three corners, as I think Wreh-Wilson should do a fine job (despite some rookie struggles) on the outside in nickel, but this makes the Titans' slot situation very good."
As for me…
Jackson really blossomed last season when Joseph dealt with a bunch of injuries. If a healthy Joseph returns to form, they could be one of the best cornerback duos in the league. I've written about Reed's swagger and like Williamson, I expect he'll have a great effect even if he isn't always playing or isn't playing quite up to his standards.
Pollard has been outspoken and brings an attitude the Titans have been lacking on defense. He's an upgrade for certain on early downs. But George Wilson may be the better overall player. I know the Titans will find snaps for all three of their guys and not just in a three-safety nickel or dime package.
The Colts secondary improvement is likely to hinge on health. Can Toller stay on the field after dealing with elbow, back, foot, hip and hamstring injuries in his first four seasons? Landry has a repaired Achilles but recovered for a complete season last year with the Jets. Without either of them, depth would quickly be tested with guys like Cassius Vaughn or
Joe Lefeged
potentially in nickel and dime packages.
A lot of people are going to have terrible expectations of the Jaguars. But kids can play well quickly in the secondary, and from what I saw at minicamp, Cyprien is my pick for defensive breakout player in the division. Gratz looked good too. Lowery is solid as the other safety. They need cornerbacks to emerge but could surpass expectations.
June, 21, 2013
Jun 21
12:00
PM ET
How does each AFC South team look in the secondary, and what still needs to be done?
Houston Texans

News that No. 1 cornerback
Johnathan Joseph
had sports hernias repaired early in the offseason was actually a good development. He was even more hurt than we knew last year, which serves to explain why he was hardly the player in 2012 he had been in 2011. A healthy Joseph will be much better.
Kareem Jackson
blossomed as the second corner, and
Brice McCain
returns as a fairly steady nickel.
Danieal Manning
is the strong safety with
Ed Reed
roaming and ball hawking as the deeper guy. Rookie
D.J. Swearinger
should work as the third safety and be an upgrade over the two guys who played in that role a year ago. He's also insurance for the aging Reed. Corner depth is a concern, but isn't that the case for almost every team? I expect big things from this group.
Indianapolis Colts

The Colts are counting on free-agent addition
Greg Toler
as a starting corner opposite
Vontae Davis
. If he pans out as they project, they will improve. If he doesn't, the depth is poor with
Cassius Vaughn
still in the mix.
Darius Butler
is a quality nickel cornerback.
Antoine Bethea
should be back to form when given a better partner at safety in free-agent acquisition
LaRon Landry
, provided Landry stays healthy. Safety depth has
Joe Lefeged
at the head of the line. He can be productive in spot duty, but if they need him for a long stretch, it'll be an issue. Toler's production in an expanded role and Landry's health are the two big keys.
Jacksonville Jaguars

The Jaguars have an incredibly young group. Safety
Dwight Lowery
and likely starting cornerback
Alan Ball
are entering their sixth seasons. The other starting safety will be
John Cyprien
, a second-round pick, and the other starting cornerback will be
Dwayne Gratz
, a third-rounder. Depth is a major question. The nickelback could be the wise old man of the group --
Marcus Trufant
-- or second-year man
Mike Harris
or a player to be determined. Primary depth will come from three more rookies: corner
Demetrius McCray
and
Jeremy Harris
and safety
Josh Evans
. Cyprien already looks excellent, and Gratz was very good in minicamp. Still, inexperience will be a big factor in this defensive backfield.
Tennessee Titans

Free safety
Michael Griffin
's game has dropped off significantly in recent years. At least part of it has been the team's inability to allow him to be the center fielder, which is what he should be best at. With veterans
Bernard Pollard
and
George Wilson
added to man the strong safety spot, Griffin has a chance to be a lot better.
Jason McCourty
is a topflight corner. The other job can be wrestled away from
Alterraun Verner
as the Titans look to play more man coverage with
Tommie Campbell
or rookie
Blidi Wreh-Wilson
in contention.
Coty Sensabaugh
is a developing nickel, and Verner has a knack for the job as well. They need a better push up front to help them all out.
June, 12, 2013
Jun 12
7:48
AM ET
JACKSONVILLE, Fla. -- Four notes from my first day with the Jaguars before diving into Day 2 of minicamp.

1) Coach Gus Bradley said that
Maurice Jones-Drew
spoke to the entire team on Monday night, offering
an apology
for his recent distraction.
2) What happens in team periods in these practices is off the record and can't be shared by the media. But when Bradley fields a question about something that unfolds and choses to address it, some details can be revealed. The coach acknowledged that seventh-round rookie cornerback
Demetrius McCray
got some work with the first team and said McCray "did a good job with it."
3) A couple of the regular reporters sought out one of the team's four tryout players after practice. Tight end Lance Kearse, a cousin of one-time Titans star defensive end
Jevon Kearse
, s 6-foot-6, 240 pounds. The Jaguars are quite thin behind
Marcedes Lewis
. Lance Kearse vomited as practice was getting started, but AP's Mark Long spoke to him and Kearse said
it wasn't nerves
, he just ate too much.
4) I am sure in time I'll get used to them, but that doesn't mean they'll get any better. The gold and black helmets are bad. From a lot of angles, they look like someone made the same mistake over and over with a can of spray paint. The franchise tried to hard to be different. But if different is bad, being different isn't the way to go.
June, 10, 2013
Jun 10
10:53
AM ET
An update on cap space and rookie signings around the AFC South:
Jacksonville Jaguars
-- $26.95 million under the cap.
Draft picks signed: CB
Jeremy Harris
(seventh round),
Demetrius McCray
(seventh round).
Draft picks unsigned: Six.
Tennessee Titans
-- $9.69 million under the cap.
Draft picks signed: OLB
Zaviar Gooden
(third round), C
Brian Schwenke
(fourth round), DE
Lavar Edwards
(fifth round), CB
Khalid Wooten
(sixth round), S
Daimion Stafford
(seventh round).
Draft picks unsigned: Three.
Indianapolis Colts
-- $8.5 million under the cap.
Draft picks signed: G
Hugh Thornton
(third round), C
Khaled Holmes
(fourth round), DT
Montori Hughes
(fifth round), S
John Boyett
(sixth round), RB
Kerwynn Williams
(seventh round), TE
Justice Cunningham
(seventh round).
Draft picks unsigned: One.
Houston Texans
-- $2.8 million under the cap.
Draft picks signed: OLB
Sam Montgomery
(third round), OLB
Trevardo Williams
(fourth round), OT
David Quessenberry
(sixth round), WR
Alan Bonner
(sixth round), DT
Chris Jones
(sixth round), TE
Ryan Griffin
(sixth round).
Draft picks unsigned: Three.
May, 23, 2013
May 23
10:15
AM ET
By
ESPN.com staff
| ESPN.com
Houston Texans
Free safety Ed Reed has not been at OTAs while recovering from hip surgery, but the Texans
expect him to be ready for the start of the regular season
, writes Nick Scurfield of the team's website. Reed had minor surgery in late April, about a month after signing with the Texans. The nine-time Pro Bowler is expected to leave Colorado, where he had the surgery, this week.
Other NFL owners say
Houston was an easy choice to host Super Bowl LI
in 2017, writes John McClain of the Houston Chronicle.
Coach Gary Kubiak expects Case Keenum to
push T.J. Yates for the backup quarterback job
behind Matt Schaub, writes Dale Robertson of the Chronicle.
Indianapolis Colts
Because academic requirements at Stanford forced him to miss OTAs before his rookie season, quarterback Andrew Luck
is getting his first taste this offseason
and finds the workouts productive, writes Mike Chappell of the Indianapolis Star.
Jacksonville Jaguars
The Jaguars were busy Wednesday, writes Vito Stellino of the Florida Times-Union. They
signed wide receiver Jeremy Ebert
, a seventh-round pick of the New England Patriots last year; cut defensive tackle Jeris Pendleton, their seventh-round pick last year; and signed one of their seventh-round picks this year, cornerback Demetrius McCray.
The Jags took a flier on Pendleton's raw talent last year even though he was 28 and didn't play football for several years after high school while trying to support his family on the south side of Chicago.
Running back Maurice Jones-Drew, participating sparingly in the team's offseason program as he recovers from offseason foot surgery,
talks about his decision
to rehabilitate his injury in Miami. John Oehser of jaguars.com has the story.
Tennessee Titans
Undrafted tight end Jack Doyle of Western Kentucky
faces stiff competition for a roster spot
, but the 6-foot-6, 253 pounder looks the part, writes Jim Wyatt of the Tennessean. Doyle, who had 162 career catches for 1,769 yards with the Hilltoppers, was first-team All-Sun Belt Conference in 2012.
Titans middle linebacker Colin McCarthy isn't back to full health following his offseason ankle surgery, but
he's encouraged with his progress
. McCarthy has been participating in organized team activities, and says he's "about 80 percent," writes John Glennon of the Tennessean.
May, 16, 2013
May 16
1:41
PM ET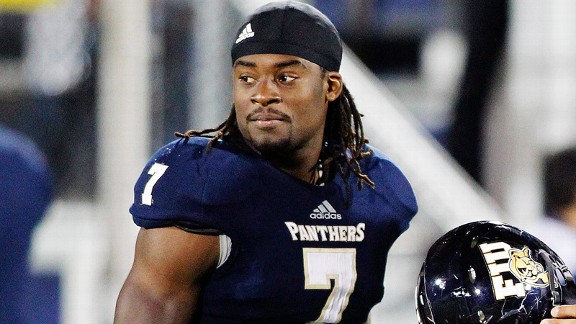 Robert Mayer/USA TODAY SportsSecond-round safety Johnathan Cyprien is one of five draft picks the Jags added to their secondary.
With the second pick in the first round, the
Jacksonville Jaguars
got themselves a rock of an offensive tackle in
Luke Joeckel
.
What did they get with the first pick of the second round?
A team in dire need of cornerstones might have found one for the defense in
Johnathan Cyprien
, the strong safety out of Florida International.
Initial reports
out of Jacksonville are very solid. It's obviously early, but Cyprien could be the linchpin of a young secondary that grows up together, helping slow the run and cover the sort of tight ends who are increasingly posing matchup issues around the league.
"The thing we really enjoyed about evaluating him was his football instincts," said DeWayne Walker, the Jaguars' defensive backs coach. "Some guys, they have that halo effect where they kind of feel the game, and he has a real good feel for the game.
"We're going to have to smooth him out, and we're going to have to polish him up a little bit. At the same time, he definitely brings a lot of good tools to the table."
Not too may years ago, the AFC South had a major dearth of quality safeties. Gradually, the position has gotten better. If Cyprien can be an impact guy, he and free safety
Dwight Lowery
can make the position one of the Jaguars' most solid.
Cyprien comes across as a polite, confident young man eager to learn and to prove himself. He grew up admiring Sean Taylor,
Troy Polamalu
and
Detroit Lions
safety
Louis Delmas
, who went to the same high school and ranks as a friend who has offered a great deal of encouragement.
A late bloomer at North Miami Beach (Fla.) High School, Cyprien dreamed of playing at Texas, but had just two scholarship offers -- from Central Michigan and FIU. He stayed in Florida, and a big senior season in college turned him into a borderline first-round pick.
The Jaguars surely could have gotten good value by trading out of the 33rd position in the draft, but stayed put and jumped on him.
"It's a big position, a big role in this defense," Cyprien said. "You're allowed to do a lot of things. You're allowed to have a lot of fun. I'm planning on having a lot of fun playing that position.
"I guess you could say it could be hard for a rookie to be a leader. I wouldn't define it as that, personally. I'm just taking it head on."
Of eight picks in the draft, the Jaguars spent five on defensive backs: Cyprien in the second round; UConn cornerback
Dwayne Gratz
in the third; Florida free safety
Josh Evans
in the sixth; and New Mexico State cornerback
Jeremy Harris
and Appalachian State cornerback
Demetrius McCray
both in the seventh.
The Jaguars have a handful of guys with experience for the kids to look to.
Marcus Trufant
, a 10-year veteran corner, played on coach Gus Bradley's defense in Seattle, and could be the nickelback. Another free-agent cornerback,
Alan Ball
, has played five seasons, but struggled in Houston last year. Safety
Chris Prosinski
, a fourth-rounder from 2011, should be a backup at best with Cyprien on board.
Mike Harris
could be a nice nickel candidate in his second season.
Given the uncertainty at the position, I rank the Jaguars' cornerback group as the
most competitive unit
in the division.
If Jacksonville is going to be any good on the back end, it's likely to be because of the draft class' contribution.
"I think it's fun for all of us," Walker said. "These guys were needed. We're going to be pretty young. It's fun for all of us to get this group and develop it and prove people wrong …
"Being able to talk with them about the league, these guys are pretty mature. Coach Bradley, [defensive coordinator] Bob Babich, all of our coaches do a good job saying the right things to these guys to get them acclimated. So I think all of our rookies, not only the rookies in the secondary, have come into a situation where we are here to help them, we are here to develop them to be competitive football players."
Walker, who was the head coach at New Mexico State from 2009 to 2012, where he posted a 10-40 record, left in January to join Bradley's staff. Previously, Walker coached defensive backs for the
Washington Redskins
,
New York Giants
,
New England Patriots
and at Cal. He was also defensive coordinator at UCLA.
The assistant coach is a straight shooter who has been telling the rookies about the identity he wants his players to have, Cyprien said. They need to be sound in the techniques they are taught, and they should all look the same on tape.
"I think it's a challenge for him, I think it's good for him," Cyprien said of the influx of youth in the secondary. "I know we have him excited, because we just want to run around, and we're hungry to learn and we're asking a lot of questions."
May, 14, 2013
May 14
2:44
PM ET
Today, I set out to sketch out a list of the 10 most competitive position groups in the AFC South.
Putting them in order was more difficult than coming up with the list, but after some juggling, I feel pretty good about what's below. I'm sure you'll offer me input on what's out of order, shouldn't be included or should be.
The more overall uncertainty and the less sure we are of a starter or starters right now, the higher I ranked a spot.
10. Jaguars quarterbacks
--
Blaine Gabbert
would really have to blow this opportunity and
Chad Henne
would really have to have a good camp for Gabbert not to be the opening-day starter, I believe. Undrafted rookie
Matt Scott
could make the team as a third option, and if things go poorly for the veterans and the rookie shows well, he could get a chance at some point.
9. Titans interior offensive line
--
Michael Roos
is a lock at left tackle,
Andy Levitre
is a lock at left guard and
Chance Warmack
is a lock at right guard.
David Stewart
should be the starter at right tackle, though he's coming off a broken leg and has a bad ankle. Center could be a good battle between fourth-round draft pick
Brian Schwenke
and
Fernando Velasco
. There will be huge battles for the interior backup slot(s), where the Titans loaded up with
Rob Turner
and
Chris Spencer
. (If they signed
Eric Winston
to fight with Stewart, this position would move up some.)
8. Titans defensive tackles
--
Sammie Hill
and
Jurrell Casey
are locks, and
Mike Martin
should rank third. If they keep five, who are the other two out of
Karl Klug
,
Antonio Johnson
,
DaJohn Harris
and
Zach Clayton
?
Ropati Pitoitua
is an end, but comes from a 3-4 in Kansas City and will also get a look inside, so he could factor in here, too.
7. Texans right side of offensive line
-- I think they would have been fine sticking with
Derek Newton
, but he's not healthy. He had major knee surgery and offensive line coach John Benton said during the draft that Newton's status is up in the air. Enter
Brennan Williams
, a third-round pick out of UNC that the Texans feel could be fine as the starter. At right guard,
Brandon Brooks
could displace
Ben Jones
in a potentially nice battle of second-year players.
6. Titans wide receivers
--
Nate Washington
got himself in the doghouse with his work late last year, and he's pricey. But it would be hard for the team to part with him yet as the Titans are an injury away from potential depth issues. If second-round pick
Justin Hunter
takes off early, he could start ahead of Washington at Z opposite
Kenny Britt
at X.
Kendall Wright
is the primary slot guy. Also in the mix for snaps:
Damian Williams
,
Kevin Walter
and maybe even
Michael Preston
.
5. Colts offensive line
--
Anthony Castonzo
is the left tackle,
Gosder Cherilus
is the right tackle. The three spots in between them and the depth will see a lot of competition.
Donald Thomas
should win a guard spot and I'd think third-rounder
Hugh Thornton
could as well. They will battle with incumbent left guard
Joe Reitz
and incumbent right guard
Mike McGlynn
. Fourth-rounder Khalid Holmes could push
Samson Satele
out of the center spot.
4. Colts inside linebackers
-- If
Jerrell Freeman
is as good as he was last season, he's certain to start. A healthy
Pat Angerer
should make a strong bid to retake his old job, but the competition could be really good with
Kavell Conner
trying to stay in the lineup and newcomer
Kelvin Sheppard
in the mix as well.
3. Texans linebackers
-- Rookies
Sam Montgomery
and
Trevardo Williams
have a chance to win the strongside linebacking spot, which would mean
Brooks Reed
moves inside. Or Reed could stay on the strongside setting up
Darryl Sharpton
vs.
Tim Dobbins
to slug it out for the Mike spot inside next to
Brian Cushing
. This will be a good one to monitor for sure. The injury histories of Sharpton and Dobbins could be at play. Can they both stay on the field for their reps to compete?
2. Colts nose tackle
-- What a revamp the Colts have put together here. The guys who can play inside were limited last year. Now there are plenty: His knee healed,
Josh Chapman
is the favorite at nose tackle right now. Also available are
Aubrayo Franklin
, rookie
Montori Hughes
,
Brandon McKinney
(once healthy) and versatile veteran
Ricky Jean Francois
, who can play inside or out.
1. Jaguars cornerbacks
-- This gets the top slot because there is the most uncertainty. I don't have much faith in
Alan Ball
based on what he did with his chances in Houston last year.
Mike Harris
has one year of experience, playing some as the team's nickel.
Dwayne Gratz
should be a starter. There is room for seventh-rounders
Jeremy Harris
and
Demetrius McCray
to carve out roles. [UPDATE: Apologies for initially forgetting Marcus Trufant, the recent veteran addition. If he's competing for much more than nickelback, the team's got even bigger secondary issues than feared.]
May, 7, 2013
May 7
3:42
PM ET
Ideally
Marcus Trufant
is part of the Jacksonville Jaguars' nickel package and helps buy time for some of the kids to develop.
But if their kid corners struggle, they've now got a veteran who gives them an additional option.
Trufant's the first addition to the Jaguars who comes from Seattle's defense, where he was part of the unit Gus Bradley coordinated for the Seahawks.
Bradley, of course, is now the rookie coach of the Jaguars.
New coaches typically like to bring over a veteran player or two who can be a bit of a locker room disciple of a new system.
Trufant played a lot of nickel for the Seahawks last season. They've got two big, young corners in
Richard Sherman
and
Brandon Browner
.
The Jaguars want to find their own pair of big, athletic corners.
They signed
Alan Ball
, who struggled in chances with the Texans last year. He's 6-foot-2, 191 pounds. They drafted
Dwayne Gratz
(5-11, 201) in the third round out of UConn. Two seventh-round corners will also vie for roster spots and roles --
Jeremy Harris
(6-2, 181) and
Demetrius McCray
(6-1, 187).
Trufant is heading into his 11th year. He was a first-round draft pick in 2003 and measures in at 5-11, 197.