AFC South:

Derek Anderson
September, 3, 2014
9/03/14
4:23
PM ET
CHARLOTTE, N.C. --
Carolina Panthers
quarterback
Cam Newton
, who fractured his ribs two weeks ago in an exhibition game at New England, still is expected to start Sunday's opener at Tampa Bay despite being held out of Wednesday's practice.
Coach Ron Rivera said Newton was sore, and because the practice was a mirror of what the team did on Monday, he was held out to work with trainer Ron Vermillion.
Newton
Rivera said Newton did throw some on Tuesday, an off day for players, and got in some work with the team during Wednesday morning installations.
Newton didn't appear overly sore during team warmups, swinging his arms and dancing to music being played over a loudspeaker. He was in full pads and wearing the flak jacket that he is expected to use on Sunday.
Asked if there were any concerns for Newton starting on Sunday, Rivera said, "No. I'm optimistic and I expect him to be out there.''
Newton also did not talk to the media during his normal Wednesday time slot. According to the Carolina public relations department, he was undergoing treatment.
Backup
Derek Anderson
and third-stringer
Joe Webb
took all of the repetitions in practice, but Anderson said he fully expects Newton to be the starter on Sunday.
"When DA was taking his reps, he did good,'' Rivera said. "Like what I saw. Joe looked good, too. This gave us an opportunity to have the other guys get some work, because the last two days, Cam has gotten a lot of it.''
Defensive ends
Charles Johnson
(hamstring) and
Greg Hardy
(shoulder), as well as right guard
Trai Turner
(groin), participated in the full practice and are expected to start on Sunday. Newton was the only player listed on the injury report.
May, 19, 2014
5/19/14
4:53
PM ET
What kind of NFL career will newly signed quarterback
Tom Savage
have?
Will it be comparable to
Steve Stenstrom
or
David Garrard
?
Danny Wuerffel
or
Aaron Brooks
?
Sage Rosenfels
or
Kyle Orton
?
[+] Enlarge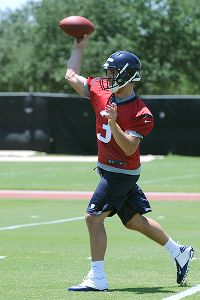 AP Photo/Pat SullivanThe Texans are hoping Tom Savage can beat the odds and become a long-term answer at quarterback.
To make a somewhat educated guess, you have to look back over the last 20 drafts (not including the one conducted earlier this month).
The latter name in the three comparisons above is obviously preferable, but the chances of that happening are low. There were 28 quarterbacks drafted in the fourth round from 1994 to 2013. Only nine were able to start at least 10 games and only six were able to become the starting quarterback or start at least 16 games.
That means only 21 percent of the quarterbacks drafted started what amounts to a full season in the NFL. That is a low number until you remember it's the fourth round, which is traditionally not a place teams find quality starting quarterbacks.
There are obviously exceptions, such as Garrard, Brooks and Orton, all of whom became multiyear starters. Other fourth-round picks over that span that started at least 16 games were
Danny Kanell
,
Seneca Wallace
and
Rob Johnson
.
It's interesting to note that there are also six sixth-round quarterbacks that have gone on to start at least 16 games in their careers. It's a pretty good group, too:
Tom Brady
,
Matt Hasselbeck
,
Marc Bulger
,
Jim Miller
,
Bruce Gradkowski
, and
Derek Anderson
. It's obviously skewed by Brady, but Hasselbeck, Bulger and Miller combined to lead their teams to the playoffs nine times and one Super Bowl.
Seventeen of the 135 quarterbacks drafted in Rounds 4-7 from 1994-2013 went on to start at least 16 games in their careers. In addition to the previously named players, that group includes
Gus Frerotte
,
A.J. Feeley
,
Matt Cassel
, and
Ryan Fitzpatrick
.
None of that will be any help to receiver
Andre Johnson
, who less than a week after the Texans took Savage in the fourth round said he wondered if Houston was still the place for him. It's obvious he's unhappy with the quarterback position, especially after seeing the
Jacksonville Jaguars
take
Blake Bortles
No. 3 overall, the
Cleveland Browns
trade up four spots to take
Johnny Manziel
at No. 22, and the
Minnesota Vikings
trade back into the first round to take
Teddy Bridgewater
with the 32nd pick.
Houston had the 33rd overall selection.
But it's interesting to look back because it shows that while it's unlikely, it is possible to find very good -- and possibly even great -- quarterbacks in the fourth round or later. The Texans are hoping they did.
November, 17, 2011
11/17/11
1:37
PM ET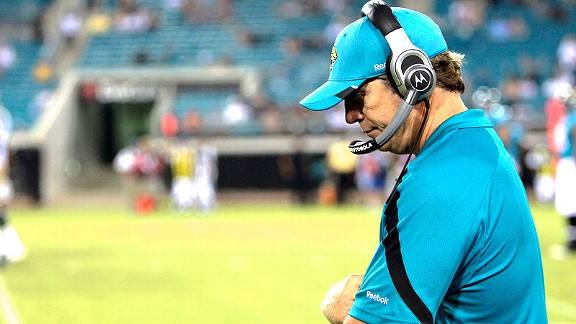 AP Photo/John RaouxIf the Jaguars replace Jack Del Rio, it makes sense to hire an offensive-minded head coach.
Ten weeks into most NFL seasons we have a good sense of head-coaching jobs coming open and the prime candidates for them.
This year feels different.
Jim Caldwell may coach a potential 0-16 team. But to hear Bill Polian talk, the Colts' coach may well survive. In Jacksonville, Jack Del Rio's got one year left on his contract and a lame-duck staff.
It's widely held that Jaguars owner Wayne Weaver will make a change if he judges the team to have shown insufficient improvement this season, and it's hard to envision a giant turnaround now for the 3-6 Jaguars based on how poorly the offense is producing.
As for prime head-coaching candidates, I sense no buzz about the hot, young offensive assistant who's the next big thing. In previous years -- no matter if they panned out or not -- we've seen guys like Josh McDaniels, Jason Garrett, Todd Haley and Ken Whisenhunt tabbed as up-and-comers who were ready.
Who are those guys now?
While Northern Florida might hold out hope that Weaver will want a name and would be able to lure one, I don't see Bill Cowher or even Jeff Fisher heading for EverBank Stadium.
The franchise should re-sign general manager Gene Smith, allow him to decide on Del Rio and make the recommendation on the next coach.
And if Smith's in the market, that next coach should be a young offensive mind who likes
Blaine Gabbert
and has the best shot at developing him. Smith needs to hit a home run finding the next Mike McCarthy, Sean Payton or, this year aside, Andy Reid.
I asked around this week, talking to a couple coaches and an executive about which NFL assistant qualifies as a QB guru who's ready to be a head coach.
Through those conversations, I present this list of possibilities:
Mike Mularkey, Atlanta offensive coordinator
-- Mularkey posted a 14-18 record as Buffalo's head coach in 2004-05. But he's got enough distance from that now that he could be worthy of a second act.
He took over as offensive coordinator in Atlanta in 2008, when quarterback
Matt Ryan
was a rookie. He has a bruiser of a running back in
Michael Turner
to go with Ryan. Ryan became just the second rookie quarterback in NFL history to throw for more than 3,000 yards, and the Falcons won 11 games.
There is a connection to Smith: Mularkey's son, Patrick, is a scouting assistant in Jacksonville's player personnel department.
Jay Gruden, Cincinnati offensive coordinator
-- Gruden's done fantastic work this season with rookie QB
Andy Dalton
. But is one good year enough to vault him to a head coaching job?
He worked on his brother Jon's staff in Tampa Bay from 2002-08, but as an offensive assistant he wasn't a year-round guy. He stacked the work on top of his duties quarterbacking and then coaching the Orlando Predators of the AFL.
Jay Gruden has head coaching experience in the AFL and the UFL, where he led the Florida Tuskers to the 2010 championship game as head coach and GM.
Word is he's different than his brother, calmer with a better presence with his players.
Rob Chudzinski, Carolina offensive coordinator
-- His first tour as an offensive coordinator came in Cleveland from 2007-08. The 2007 Browns won 10 games with
Derek Anderson
shining at quarterback.
Now Chudzinski's been lauded for his work with
Cam Newton
, revising and shaping the offense to feature what the rookie quarterback does best. He's got a strong background with tight ends, too, and is regarded as a rising star by many around the league.
He's also a quieter, unassuming type.
Tom Clements, Green Bay quarterbacks coach
-- Clements worked in the same post for New Orleans (1997-99), Kansas City (2000) and Pittsburgh (2001-03). During those stops he worked with
Tommy Maddox
during his comeback player of the year season in 2002 and with
Kordell Stewart
and
Elvis Grbac
during their best seasons.
He also worked as offensive coordinator in Buffalo in 2004 and 2005.
With Green Bay, Clements guided
Brett Favre
in his final Packers' years while helping prepare
Aaron Rodgers
. He's also had a hand in the progress of highly regarded backup
Matt Flynn
.
But does he have the qualities of a good head coach?
Pete Carmichael, New Orleans offensive coordinator
-- He's in his third year as Payton's top offensive lieutenant after three seasons as the Saints' quarterbacks coach.
Carmichael's been closely involved with an offense that has excelled with
Drew Brees
as quarterback, with a specific role in routes, protection schemes and quarterback responsibilities.
Like Clements in Green Bay, Carmichael works for a strong coach with an offensive background and so he doesn't function as the play-caller. While very smart, he comes across as bland and that could be a big issue for a guy expected to be the face and the personality of a franchise.
November, 11, 2009
11/11/09
5:06
PM ET
Posted by ESPN.com's Paul Kuharsky
I've talked to people who think
David Garrard
is the quarterback the Jaguars can build around and win with. I've talked to people who don't believe he is.
Through the offseason and the preseason, I said I thought he deserved this year -- with upgraded protection and better weapons -- to show if he is or he isn't.
At halfway in…
I still don't know.
Stats don't tell the whole story, but they are a fair means for comparison. With an 81.8 passer rating, he's 22nd of 34 quarterbacks who've seen significant playing time.
And here are the guys he rates above:
Shaun Hill
,
Chad Henne
,
Matt Cassel
,
Trent Edwards
,
Marc Bulger
,
Mark Sanchez
,
Kerry Collins
,
Jake Delhomme
,
Matthew Stafford
,
Josh Johnson
,
JaMarcus Russell
and
Derek Anderson
.
A couple of those guys are on their way up (Henne, Sanchez, Stafford), a couple are on their way down (Bulger, Collins, Delhomme) and a couple are just plain bad (Russell, Anderson). But is there anyone on that list you'd want starting for your team right now if you had a broader choice?
Garrard ranks behind
Jason Campbell
, who's largely regarded as having a horrible year. But Garrard's also barely off the pace of
Matt Ryan
and
Jay Cutler
, two of the league's well-regarded young quarterbacks.
He's 30th in the fourth quarter (66.2 passer rating), 19th on third down (74.5), 14th in passes of 30+ yards (seven) and 12th in pass plays of 20+ yards (23).
That "upgraded" protection is on pace to give up 40 sacks after 42 last year. The upgraded weapons have last year's 15th rated passing offense at 16th.
All very middling.
Like the Jaguars, I think Garrard's been inconsistent. He's on pace for fewer touchdowns than last year, but also fewer picks.
I think he's led pretty well. I think he's helped young receivers. I think he's formed a great connection with
Mike Sims-Walker
. I think he's running what's still going to be a run-driven team. I think the effort is there.
And I think I'm going to need those remaining eight games to make the call as to whether I think he can be the Jaguars' answer going forward or if the next stage of retooling is going to need to include another quarterback.
December, 3, 2008
12/03/08
5:30
PM ET
Posted by ESPN.com's Paul Kuharsky
When he talked Wednesday about the play Dwight Freeney and Robert Mathis combined to make to get the Colts a decisive touchdown in Cleveland, Tony Dungy pointed to how first down defense set things up.
"The better we play on first down and the more opportunities we get to rush the passer on second-and-long and third-and-long, the more plays we make as a team," he told Indianapolis reporters. "Not only those two guys, but our secondary and everyone, that's kind of how we're built. So, the onus comes on us to play well on first down.
"In the games that we do that, we're usually in pretty good shape. This past game (at Cleveland) we were good. We defended the first-down plays fairly well."
The Colts held Jamal Lewis to a 2-yard run on first down in the fourth quarter last Sunday, then got an incomplete pass on second down. That set up the third-and-8 where Freeney popped quarterback Derek Anderson, jarring the ball free for Mathis to scoop and take 37 yards for a touchdown that provided the Colts with the 10-6 margin of victory.
The Elias Sports Bureau helped out with some numbers that illustrate Dungy's point about first-down defense.
In the Colts' eight wins, they've allowed an average of 5.1 yards on first down, and held quarterbacks to a completion percentage of .588.

In the Colts' four losses, they've allowed an average of 6.5 yards on first down, and have let quarterbacks complete passes at a .722 clip.
Keep an eye on first-down defense the rest of the way for Indy. It's a pretty good harbinger of what's going to happen for the Colts.