April, 25, 2011
4/25/11
12:00
PM ET
We know you've been mocked and mocked. We all give you divisional takes on Todd McShay and Mel Kiper. We often link to other mocks. Maybe you're to your breaking point. Maybe you need one more.

We spent three days last week emailing back and forth and compiling a mock put together by eight divisional bloggers. John Clayton stood in for the NFC East.

Perhaps we add some different insight to the speculation. Perhaps we echoed prevailing wisdom. (I can raise my hand on that, as you will see.)

At any rate, we know we're mostly wrong, and we're eager to write names in draft slots in ink instead of pencil when things kick off Thursday evening. Here's hoping this helps tide you over.


April, 20, 2011
4/20/11
5:03
PM ET
While Todd McShay makes an official pick in
his newest mock

, he also provides a three-for-one, with two alternate scenarios for each team.
Here's what he's got the AFC South doing.

Tennessee Titans, No. 8
Nick Fairley, DT, Auburn
Scenario 1:
Fairley makes the most sense at this point and he has tremendous upside. He's worth the pick from a talent standpoint, but there are legitimate questions about his football character and if the Titans pass, that will be the reason.
Scenario 2:
[Prince] Amukamara is worth the pick and would fill one of the Titans' top five needs.
Scenario 3:
If [Julio] Jones were to fall this far, Tennessee would consider taking him given Kenny Britt's recent off-field issues, or if he were available it might provide an opportunity to trade back with a team like the
St. Louis Rams
and perhaps address need at quarterback with someone like Washington's
Jake Locker
.
My thoughts:
I'm on board with Fairley if things unfold as expected with the top seven players. If
Blaine Gabbert
or
Patrick Peterson
somehow slip, I think they'd pounce. Among players likely available, I think Locker is second-most likely to Fairley, with Jones next.

Houston Texans, No. 11
Robert Quinn, DE/OLB, North Carolina
Scenario 1:
Taking Quinn is the best-case scenario outside of [Von] Miller somehow falling this far. Quinn would be a nice complement to fellow OLB Connor Barwin, one of the best ILB tandems in the league in DeMeco Ryans and Brian Cushing, and difference-maker Mario Williams up front.
Scenario 2:
If Quinn is gone, then a 5-technique like [J.J.] Watt or California's
Cameron Jordan
would be the pick.
Scenario 3:
The Texans could be forced to weigh value against philosophy here if the players above are gone. Amukamara would be the value pick, but I tend to think they would lean toward Missouri DE
Aldon Smith
because new defensive coordinator Wade Phillips is determined to upgrade the front seven.
My thoughts:
Quinn would feel like a home run. If he's gone, I feel like one of those more rugged ends who could play in a 3-4 would be the value, though Smith would fill the more the outright need. Amukamara would surprise me.

Jacksonville Jaguars, No. 16
Ryan Kerrigan, DE, Purdue
Scenario 1:
General manager Gene Smith likes safe, high-motor, strong-character picks who can contribute right away, and Kerrigan fits that mold perfectly.
Scenario 2:
If the Jaguars were to take a chance with this pick, it could be on Clemson DE
Da'Quan Bowers
and his knee issues.
Scenario 3:
Their three other top needs are reaches here, so reaching for Locker or moving back for another quarterback might be a possibility.
My thoughts:
Kerrigan is an easy match to make, but he's not the only high-motor, hard-worked Smith is going to have a crack at here. They already have a DE with knee questions in Aaron Kampman, and I suspect they'd fear Bowers. Watt or Smith are possibilities.

Indianapolis, No. 22
Nate Solder, OT, Colorado
Scenario 1:
Solder is a no-brainer. The Colts gave up the fewest sacks in the league last year, but that was mostly due to QB Peyton Manning getting the ball out quickly. But Solder has the athleticism to help in protection when he's ready to step into the lineup. More importantly, he's already a monster at 6-foot-8 and 319 pounds and would help upgrade a running game that finished 29th in the league (92.7 yards per game) last season.
Scenario 2:
Liuget is the higher-ranked prospect and is a strong possibility as the kind of quick, penetrating defensive lineman the Colts like.
Scenario 3:
If the top four offensive tackles are off the board, Indianapolis could reach for Mississippi State OT
Derek Sherrod
.
My thoughts:
As soon as a player or a position is deemed a no brainer for the Colts, I get scared. One of the top four offensive tackles sure looks like a match. I don't see them looking to Sherrod as he seems a bit like Tony Ugoh. I could certainly see Liuget. Is there a receiver value here?
April, 12, 2011
4/12/11
2:39
PM ET
Virtually every prognosticator is giving the
Indianapolis Colts
a first-round offensive tackle, and Boston College's
Anthony Castonzo
, Colorado's
Nate Solder
and Mississippi State's
Derek Sherrod
could all be nice fits.
Much has been made of vice chairman Bill Polian's comment during the 2010 season about how
Rodger Saffold
, a tackle the Colts passed on who went on to play quite well for St. Louis, could have helped for Indianapolis.
But Polian said that comment got misshapen as it was repeated.
[+] Enlarge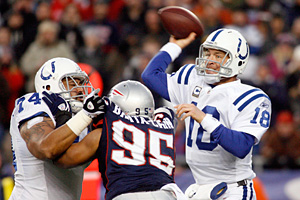 Stew Milne/US PresswireColts tackle Charlie Johnson played hurt for most of the 2010 season.
"What I said was, if I'd know we were going to suffer all the injuries we had on the offensive line, we might have looked at things differently in terms of the draft," he said. "Because when you are drafting as low as we were, there isn't a lot of difference between the players. I said, 'You know, you could make the argument that we should have taken Rodger Saffold instead of the player that we took.'
"That's what I said. It's been construed very differently. What I meant was, if foresight were 20-20, we probably would have taken an offensive tackle. But it isn't and that's the point. This is an inexact business."
(I thought the use of "the player" as opposed to "Jerry Hughes" was both Parcellian and a little odd.)
The Colts certainly had banged up people playing on the line all year, but by my count there look to have been just five starts missed to injury through the regular season and playoff loss. The injuries were far more severe elsewhere in terms of lost games.
Indianapolis has spent 12 picks on offensive linemen since realignment in 2002. Only one, guard
Jake Scott
from 2004's fifth-round, qualified as an outright hit. He moved to Tennessee as a free agent in 2008 and helped pave the road for
Chris Johnson
's 2,000-yard season in 2009 before dropping off last season.
The franchise hasn't used a first-round pick on a lineman since 1997, when
Tarik Glenn
was the choice. That was the year before Polian joined the franchise.
Only two of the Colts' dozen offensive line picks since 2002 have been higher than fourth-round selections. They traded up to take
Tony Ugoh
in the second round in 2007 and he wound up busting. They took
Mike Pollak
in 2008 and he was an OK starter at right guard in 2010 based on the team's concerns at other spots.
The presumption is offensive line is viewed as an issue in-house and that to maximize the chances for the
Peyton Manning
-led Colts to claim another Super Bowl, they need to offer him better protection and be able to block better for a tough yard from a running back.
But going in that direction would mean at least a minor philosophy change for Polian when it comes to draft emphasis at the position.
I don't know if we should jump there considering Polian's assessment of the Colts' line play in 2010. The team started seven different offensive linemen with left tackle
Charlie Johnson
playing banged up all season and
Kyle DeVan
pushing
Jamey Richard
out of the left guard slot.
"Now I thought our offensive line, given all that happened with injuries, did very well," Polian said. "As it turns out, Jeff Linkenbach came in as a collegiate free agent and ended the season as a starter and did quite well. So those things work themselves out."
Linkenbach started one game at left tackle, three games at right guard and the playoff loss to the Jets at right tackle.
Here we can connect Mel Kiper's recent piece ranking the "vulnerability scale" of the NFL's 12 best teams. Kiper ranks the Colts at moderately to extremely vulnerable for a big fall.
"Seemingly every win after September was a close battle and Manning was the difference. Injuries killed the Colts in 2010, but even with Manning upright, they couldn't run the ball, they were barely hanging on defensively and even now there are a number of personnel needs. The offensive line and defensive interior need help, and the team didn't get hurt in a spot I thought could have hurt it most in an injury situation -- the pass rush, if either Dwight Freeney or Robert Mathis was out. Indianapolis could easily prove me wrong, as Manning alone seems like spackle enough for a whole roster. But this team felt like it was on the edge all of 2010."