AFC South:

DeSean Jackson
January, 26, 2014
Jan 26
11:50
PM ET
Indianapolis Colts
quarterback
Andrew Luck
was on the same team as his coach, Chuck Pagano, but it was linebacker
Robert Mathis
and long snapper
Matt Overton
who were on the winning Pro Bowl team that earned a $53,000 check compared to the $26,000 for the losing team.

Mathis' team, Team
Jerry Rice
, beat Luck's team, Team
Deion Sanders
,
22-21
in Honolulu.
Luck was the No. 1 overall pick in the Pro Bowl draft and started at quarterback over Carolina's
Cam Newton
, who had more votes than him. But it's understandable that Luck started since he was playing for his head coach.
Luck was 5-of-7 for 80 yards, a touchdown and an interception. His lone touchdown pass came on a flea flicker play where Kansas City's
Jamaal Charles
tossed the ball back to Luck, who launched a pass to Philadelphia's
DeSean Jackson
that looked like it would be intercepted . Jackson went up into double coverage and hauled the pass in.
Luck's interception happened when St. Louis'
Robert Quinn
tipped his pass and Cincinnati's
Vontaze Burfict
picked it off. It's a good thing Luck won't have to see Quinn anytime soon again. Quinn sacked the Colts' quarterback twice during the regular-season meeting that St. Louis won 38-8.
The NFL did away with the traditional AFC-NFC Pro Bowl teams in favor of a draft. That meant there would be opportunities for teammates during the regular season to go against each other on Sunday.
Mathis didn't get an opportunity to sack Luck. Mathis, who led the league in sacks with 19.5, finished with four tackles.
March, 5, 2012
3/05/12
6:51
PM ET
How the 21 franchise tags from around the NFL affect the teams of the AFC South.
Houston Texans

Salary cap limitations likely mean the Texans are not active in free agency. The market may have shifted on a guy like
Reggie Wayne
, who could have been attractive with
Dwayne Bowe
,
DeSean Jackson
and
Wes Welker
out of the unrestricted free agent picture.
More significantly, the price defensive end/outside linebacker
Mario Williams
will be able to attract if he gets to free agency is likely up. The Colts tagged
Robert Mathis
, the Lions tagged
Cliff Avril
and the Cardinals tagged
Calais Campbell
, and they were the next-best pass-rushers for needy teams to target.
Indianapolis Colts

Those three receivers -- Bowe, Jackson and Welker -- disappearing from the market mean that two Colts unrestricted free agents to-be probably fare a bit better.
Pierre Garcon
has speed and youth to sell and Wayne has veteran wiles and reliability.
The Colts could make another charge at signing Garcon before March 13th, but he may be determined to see what free agency can bring him.
I don't think they will have much money to spend on free agents, but the offensive line and defensive tackles pools -- their biggest positions of need beyond receiver -- are unchanged.
Jacksonville Jaguars

No one needs a big-time, team-leading wide receiver more than the Jaguars do. I don't believe they would have been players for Jackson or Welker. But Bowe could have been a guy they were interested in.
Whether or not they will be players for Williams, plan B should have been Mathis. The hit to the potential defensive end market hurts as a big-time pass-rusher is the big defensive need. Cornerback could still be OK with Tennessee's
Cortland Finnegan
, Kansas City's
Brandon Carr
and San Francisco's
Carlos Rogers
on track to reach free agency.
Tennessee Titans

That San Francisco tagged
Dashon Goldson
and Oakland franchised
Tyvon Branch
severely thinned the safety market, which helped prompt Tennessee to tag
Michael Griffin
. I would have loved to have seen their approach is the two guys from the West Coast were heading for unrestricted free agency.
Jim Wyatt of The Tennessean reported that Mathis would have been a target and general manager Ruston Webster had said a special, pass-rushing defensive end was one position for which the team might have been willing to overpay. He didn't say overpay by a gigantic degree, however. With a bid for Williams unlikely, who's the next best rusher now?
February, 14, 2012
2/14/12
3:49
PM ET
K.C. Joyner breaks down seven free-agents to-be in the coming
wide receiver pool

in this Insider piece.
I wish he also included two Colts,
Reggie Wayne
and
Pierre Garcon
.
The Jaguars had one of the NFL's two worst groups of receivers in the NFL last season and will definitely be considering free agents at the position. If the Colts don't keep one or both of their guys, they'll also have a need.
Here are Joyner's bottom lines on the seven guys he writes about:
Dwayne Bowe, Kansas City:
"Bowe may have stretch vertical limitations, but he should be able to upgrade the short and medium pass game of any team."
Marques Colston, New Orleans:
"Colston has the potential to be the best possession receiver in the NFL, but his productivity could drop off if he joins a team with less creative playcalling than he received with the Saints."
DeSean Jackson, Philadelphia:
"There is a reason the Eagles have shown some hesitation in paying him a big contract and why they may be considering either putting a franchise tag on or trading Jackson. He has more big-dollar bust potential than any other wide receiver in this year's field."
Vincent Jackson, San Diego:
"Jackson might be biggest risk-reward wideout in this year's free-agent class."
Steve Johnson, Buffalo:
"Johnson wants to be paid like a true No. 1 wideout but there are too many facets of his game that say he has a production ceiling that doesn't justify that type of expenditure."
Brandon Lloyd, St. Louis:
"Lloyd has the highest volume of notable negatives in this comparison."
Mario Manningham, NY Giants:
"Manningham's postseason performance, age and 2010 numbers show that he may have the most upside of any wideout in this group. Depending on how his postseason is viewed by teams in the free-agent market, he could end up as the best value acquisition wide receiver."
I asked Matt Williamson of Scouts Inc. about the field-stretching speed of those seven plus Wayne and Garcon and what he'd like to see Jacksonville do.
"The Jags might need two of those guys! In terms of field stretchers, which is clearly a need for Jacksonville, Vincent Jackson and DeSean Jackson are way ahead of the rest. And both are excellent in this capacity. I prefer Vincent Jackson overall-bigger. And Mike Mularkey is going to want his receivers to block, which isn't DeSean Jackson's game. Manningham should be the cheapest on the list and if they were able to get two, he would be an ideal WR2 -- also with field stretching ability. Although not a burner, Dwayne Bowe could be the best fit. Physical and plays tough. But I bet Bowe is franchised."
While we linked to a piece earlier today about how Jaguars' GM Gene Smith isn't completely determined to add only choir boys, I think Jackson's attitude might be a turnoff to Smith.
February, 13, 2012
2/13/12
8:11
AM ET
Rivers McCown of Football Outsiders runs through the primary need of each AFC South team in
this Insider piece

. Here's a peek at what he has to say with my reflections.
Houston Texans: Wide receiver

McCown:
"The Texans enter free agency as a team with a promising amount of depth at many key areas, but
Andre Johnson
's injury last season exposed the fact that Houston's wide receivers simply aren't up to snuff without him ...
"The Texans will look hard at receivers in free agency and the draft. It's unlikely that they'll land a top-tier wideout like
Marques Colston
or
Vincent Jackson
because they still need to budget money carefully for players like
Mario Williams
,
Arian Foster
and
Chris Myers
. But a mid-level receiver like
Steve Johnson
,
Reggie Wayne
or
Robert Meachem
could potentially be brought in.
"More likely, however, the path for improvement will come through the draft."
Paul Kuharsky:
I think the Texans like
Kevin Walter
and
Jacoby Jones
better than most analysts, but the long stretches without Johnson made them overly reliant on Foster as a target showed they don't have enough at wideout.
Indianapolis Colts: Wide receiver

McCown:
"Of the top five receivers on the Colts' depth chart going into last season, only
Austin Collie
and
Blair White
are under contract for 2012. Reggie Wayne, who will turn 34 during the 2012 season, is likely on the outs as this team begins a rebuilding phase. The Colts have expressed interest in re-signing free agent
Pierre Garcon
, who has generally fared very poorly in our receiving numbers. Garcon came out as below-replacement value last year, but he has ideal deep speed, and playing with
Dan Orlovsky
or
Curtis Painter
will make any speed receiver look worse than he really is.
Anthony Gonzalez
is also finally out the door after a disappointing, injury-plagued career in Colts blue.
"Again, given the direction of the team, it's rather unlikely that the Colts will be players for an elite free-agent receiver, but they could probably be in on the mid-tier targets with an eye toward youth. Players like
Laurent Robinson
,
Harry Douglas
or
Andre Caldwell
could make sense here. The Colts could also spend their second- or third-round picks on a receiver who could compete for snaps."
Kuharsky:
McCown writes he skipped past quarterback knowing it will be addressed with the No. 1 pick. Receiver is certainly a concern, but I think cornerback may rate as even bigger for a team that hired a defensive head coach in Chuck Pagano. If the new regime likes
Jerraud Powers
, the team still ranks as thin in coverage guys after him.
Jacksonville Jaguars: Wide receiver

McCown:
"
Atlanta Falcons
cornerback
Dunta Robinson
summed it up best when he said: 'Those guys couldn't get a [expletive] receiver if it hit them in the head. They haven't had anyone since Jimmy Smith. ...'
"There are two ways to (upgrade). The Jaguars could make a play for Marques Colston, Vincent Jackson or
DeSean Jackson
. They certainly have the cap space to accomplish such a goal and could even bowl over someone who is iffy about Jacksonville with extra money. Or they could see if Oklahoma State receiver Justin Blackmon falls into their laps at No. 7 overall, which would certainly be a more cost-conscious, if risky, move."
Kuharsky:
We are certainly talking about more than one guy. The Jaguars could aggressively shop in free agency and get a first-tier and second-tier guy. Or they could grab one veteran and spend a premium pick on another receiver. Upgrading the weapons for
Blaine Gabbert
is definitely priority No. 1.
Tennessee Titans: Defensive end

McCown:
"Assuming that the Titans continue to handcuff themselves to the declining
Chris Johnson
, the biggest need in Nashville is an elite pass-rusher. When
Jason Babin
joined former Titans defensive line coach Jim Washburn in defecting to the Eagles, the Titans' adjusted sack rate fell from 13th in the NFL in 2010 to second-to-last in 2011. Moreover, only two teams generated fewer quarterback hits from their top pass-rushers than the six the Titans had from
Dave Ball
: the
San Diego Chargers
and Buffalo Bills ...
"If they can't address defensive end in free agency, then a pass rusher will likely be a top priority for the Titans with their first-round pick. If they do pick up a premier sack artist, then it would give them an opportunity to spend the pick on a safety or wide receiver, which are also positions that could use reinforcement in Nashville."
Kuharsky:
The Titans need immediate impact at the spot. I don't expect them to overpay Williams if he's free. The free-agent crop behind him could be thin if guys get franchised. Can they find a reclamation type like Babin who will be an upgrade on opening day? Will a guy who can consistently get into the backfield still be on the draft board at No. 20?
September, 15, 2011
9/15/11
12:17
PM ET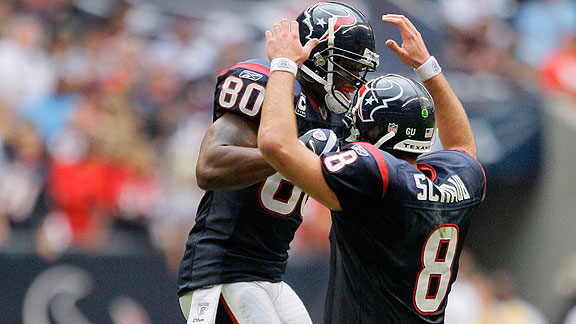 Bob Levey/Icon SMIAndre Johnson and Matt Schaub help lead a Texans team that has a clear path to the division title.
It's a bit easy to say the AFC South should belong to the
Houston Texans
this season.
But I'm joining the chorus and saying it anyway: If this team can't win this division, it'll be time for owner Bob McNair to crumple up the plan and aim it for the closest trash can.
The Texans have a championship-caliber quarterback, receiver, tight end and running back (maybe two or three of those) all working with a smart and skilled offensive line that understands how it needs to work.
Mindset is the only question mark on offense, starting with
Matt Schaub
's ability to rise to big moments. Even if he's only average in that category, with
Peyton Manning
out for at least the bulk of the season, Schaub is the best signal-caller in the division by a wide margin.
The Schaub-
Andre Johnson
-
Arian Foster
combination is among the league's best. Who has a better trio?
Philadelphia perhaps, with
Michael Vick
-
LeSean McCoy
-
DeSean Jackson
. Maybe
Matt Ryan
-
Roddy White
-
Michael Turner
in Atlanta. If we sub tight ends for running backs, San Diego with
Philip Rivers
,
Antonio Gates
and
Vincent Jackson
is in the conversation as is Green Bay with
Aaron Rodgers
,
Greg Jennings
and
Jermichael Finley
.
[+] Enlarge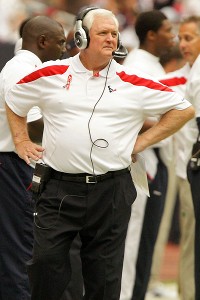 Troy Taormina/US PresswireThe Texans' defense had an outstanding performance in its first game under coordinator Wade Phillips.
The revamped Houston defense was outstanding in the opener. Sure, much of that had to do with the Colts' offense in its first game with
Kerry Collins
playing in place of Manning. But we saw all the elements of a defense that can win games -- stout run defense, consistent pressure on the quarterback, quality coverage, the ability to cope with sudden-change situations.
One can see swagger and confidence in the body language of guys thrilled to be working under defensive coordinator Wade Phillips. I think he's too low key, but it can clearly work for him as a coordinator. He has a way of keeping things simple and keeping the mood light, and players have bought in. I never sensed a similar feeling when Richard Smith or Frank Bush manned the post, though they obviously didn't have the same quality of personnel Phillips will enjoy.
On special teams,
Neil Rackers
has a big leg that will make a lot of touchbacks and long field goals.
Jacoby Jones
and
Danieal Manning
can provide a jolt in the return game. Rookie punter
Brett Hartmann
isn't proven yet but has a big leg.
The schedule is hardly a breeze, but look at the quarterbacks they could face: Collins twice,
Chad Henne
,
Matt Hasselbeck
twice (or maybe rookie
Jake Locker
),
Luke McCown
twice (or maybe rookie
Blaine Gabbert
),
Colt McCoy
,
Andy Dalton
and
Cam Newton
.
Houston's been called a soft team, a finesse franchise. Not too many soft teams produce the NFL rushing champion the way this team produced Foster last season.
If the Texans' offensive blocking scheme amounts to a finesse one, so be it. The Colts have won the division eight times in nine seasons with a lot of finesse. They're fine with you insulting them over it while admiring their success.
The Texans can show their toughness this season in how they stand up to Pittsburgh on Oct. 2 and at Baltimore on Oct. 16 and in how they fare in their games with the Jaguars.
The Colts' issues should be a huge assist for the Texans, as will the fact that the Titans and Jaguars are trying to stay afloat with temporary quarterbacks while developing top-10 draft picks in Locker and Gabbert. Although both teams may be ascending, their talent doesn't match Houston's.
If the Texans can make it through the first three-fourths of the season with a good record and in good health, they should be golden with a home stretch against Cincinnati (away), Carolina, Indianapolis (away) and Tennessee.
It sets up for success.
If this team folds under the expectations, if it cannot go get what's so attainable, it's going to have to be dismantled. It will require no more Mr. Nice Guy from McNair, who will have to part ways with a lot of nice guys he truly admires, starting with GM Rick Smith and coach Gary Kubiak. McNair will have no choice but to look for a different tone after a house cleaning.
I don't think that's how things will play out. I think Manning's injury is a big break that opens the door, a door the Jaguars and Titans are not ready to approach. The Texans are more than talented enough to storm through it if they don't complicate things. Run the ball. Work the play-action and bootleg game off of it. Rush the passer. Build from there as the season goes on and finish strong.
Watch pundits pick you to be a team that can do damage in the playoffs, and respond to it.
It sounds simple.
It just might be.
May, 31, 2011
5/31/11
11:27
AM ET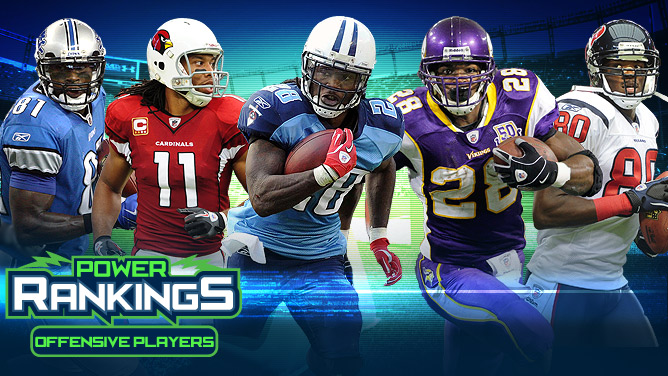 ESPN.com IllustrationChris Johnson (center) and Adrian Peterson (center-right) share the top honors in our Offensive Player Power Rankings.
ESPN.com's NFL writers rank the top 10 offensive players (non-quarterbacks) in the league today.
Next week: Toughest venues to play in.
We've evaluated running backs, assessed receivers, tackled tight ends and critiqued quarterbacks.
Our next assignment for ESPN.com's Power Rankings: Rate the top 10 offensive players in the NFL, taking signal-callers out of the equation.
It's a difficult task, considering we've not addressed the offensive line. (I believe that left tackles are on the long-term agenda, but that is not my department.)
Nobody else took my route. I simply put a giant premium on explosiveness and passed on O-linemen entirely. I didn't do it because I downgraded their importance. Backs, receivers and tight ends couldn't qualify for consideration here, obviously, without quality line-blocking.
I did it for three reasons.
Like virtually every football writer, I am least good at evaluating offensive linemen with my own eyes.

Although conventional wisdom says to build inside-out, if I could select 10 offensive football players with whom to start a team, I'd load up on playmakers and feel good about the potential to build a good line starting with my 11th choice. (I'd have an excellent offensive line coach.)

We're not in the prime of Jonathan Ogden or Walter Jones or Alan Faneca. And although some great linemen got votes here, none is so good he HAD to be here. Right now, we might be more about units than superior individuals.
But my logic is easily disputed by someone who took a completely different tack. NFC North blogger Kevin Seifert voted linemen fifth and sixth with
Joe Thomas
and
Jake Long
, respectively.
"It's definitely harder to measure the impact of a singular offensive lineman versus skill players, but to me you're fooling yourself if you either subordinate their role or don't consider the best linemen to be just as important as the best running backs or receivers," Seifert said in an email laced with compliments of the AFC South blog's content. "Linemen don't touch the ball, so their impact on any given play is more limited than, say, when
Adrian Peterson
gets a handoff.
"But over the course of a game, an elite offensive lineman can contribute to a victory just as much. And, more obviously to most people, a sub-par performance from an offensive lineman can lead to defeat. I made sure to rank my top running backs and receivers ahead of any offensive lineman in this ranking, but I thought the two best guys in the league -- Joe Thomas and Jake Long -- deserved to be ranked over the second tier at the other positions. So that's how I went about it."
And so here's the buried lead:
Tennessee's
Chris Johnson
edged Minnesota's Adrian Peterson in our Running Back Power Rankings, but the two finished dead even here, sharing the No. 1 slot.
They are ahead of Houston receiver
Andre Johnson
by six points, while two more receivers rounded out the top five: Arizona's
Larry Fitzgerald
and Detroit's
Calvin Johnson
.
AFC West blogger Bill Williamson cost Peterson the outright No. 1 spot by voting him seventh, just as he cost Peterson a tie in
the running backs poll
by putting him third.
"I think Chris Johnson is the best running back and I think
Jamaal Charles
is right behind him," Williamson said. "I see Charles often. The guy is the goods. So, that leaves Peterson just a tad below. I stuck to my running back power rankings, which cost Peterson. Seems like it happened again. But I'm comfortable with it."
Atlanta receiver
Roddy White
is sixth, Jacksonville running back
Maurice Jones-Drew
seventh, Long eighth, Thomas ninth and Charles tied for 10th with San Diego tight end
Antonio Gates
.
Jones-Drew caused a bit of a divide. He wasn't named on five of our eight ballots, but NFC East newbie Dan Graziano and NFC South maven Pat Yasinskas had MJD in their top four.
"He's the every-down back, he's the goal-line back, he catches the ball," Graziano said. "I just think his overall contributions to the offense set him apart. He may not be as good or skilled a back as Peterson or Johnson, which is why I ranked those guys higher.
"But for me he has more to do with how his team's offense runs and succeeds than does a receiver like a Fitzgerald or White. And while I think Jamaal Charles has more talent, the fact that he doesn't play as much as Jones-Drew plays moves him further down the list for me."
Said Yasinskas: "I look at Maurice Jones-Drew as more than just a running back. He's an all-around weapon."
As usual, the reasoning of my colleagues makes me secretly second-guess some of my decision-making. Wait, did I say that out loud? Then not so secretly.
It's hard to go wrong, obviously, with an entire pool of offensive players (minus quarterbacks) to choose from.
Guys who got votes and finished 12th through 19th --
Reggie Wayne
,
Jason Witten
,
Michael Turner
,
Arian Foster
,
DeSean Jackson
(thanks to my vote, talk about big plays),
Nick Mangold
,
Greg Jennings
and
Steven Jackson
-- qualify as an All-Star team on their own merits.
Here's hoping the lockout doesn't leave us writing columns off imaginary games between teams featuring our first- and second-strings.
August, 14, 2010
8/14/10
12:14
AM ET
Some bullet-point thoughts on the Jaguars'
28-27
preseason loss at Philadelphia on Friday night.
Impressive:
Luke McCown made some big throws as he completed 11 of 15 for 244 yards and three touchdowns -- a 73-yard touchdown to Troy Williamson, a 55-yaerder to Tiquan Underwood and a 30-yarder to John Matthews. It was good for a near-perfect 154.9 passer rating. But it wasn't against the Eagles starters, and out of one game it shouldn't fuel a quarterback debate.
Scoring defense by the frontliners. While Philly had huge advantages in yardage and time of possession with its starting offense, it managed only six points with them.
Deji Karim had a 68-yard kickoff return. More importantly, on his first couple against better players in coverage, he looked poised and got the Jags reasonably good field position.
Two take-aways.
Unimpressive:
Fourteen total rushing yards.
Six penalties for 121 yards.
Derek Cox flailing on a couple tackle attempts, including one on DeSean Jackson's end-around.
Philly quarterback Kevin Kolb finding enough time to allow Jackson and Jeremy Maclin to break free. The rush was without Aaron Kampman, Tyson Alualu and Austen Lane, who did not play. But still, Joe Cullen surely would have liked to see more from his rush men early.