July, 8, 2013
7/08/13
11:19
AM ET
Steve Palazzolo of Pro Football Focus offers a breakdown of AFC South quarterbacks
under pressure
.
The
Indianapolis Colts
and
Tennessee Titans
added linemen at what was a trouble spot for their QBs.
A team by team look at PFF's findings.
Texans:
Matt Schaub
's numbers over five years show he's capable of posting very strong numbers when his protection keeps him unbothered. Palazzolo notes that Schaub's 101.3 PFF grade on plays where he has not faced pressure puts him eighth in the NFL and ahead of the two quarterbacks who won the two most recent Super Bowls,
Eli Manning
and
Joe Flacco
.
Schaub's biggest pressure trouble comes when defenders come from left tackle. That shows us why
Duane Brown
is such an important piece of the Texans line.
Colts:
Andrew Luck's got just one season of data, but pressure from right tackle hurt his play the most as he scored minus-3.2 in those 49 snaps. General manager Ryan Grigson responded by signing free-agent right tackle
Gosder Cherilus
.
Jaguars:
Left guard was a problem position for the Jaguars last year, where
Will Rackley
was lost to a preseason injury and the team used
Eben Britton
, Mike Brewster,
Austin Pasztor
and even
Herb Taylor
in the spot.
Blaine Gabbert
was a minus-4.8 when pressured from that position.
Chad Henne
had more problems with pressure off the edges -- with a minus-3.2 from left tackle and a minus-3.2 from right tackle, where he faced twice as much of a rush to deal with.
A healthy Rackley and No. 2 overall draft pick
Luke Joeckel
, who will play right tackle, should do a lot to help in both areas. But note that Rackley earned a minus-18.4 in pass protection in 2011.
Titans:
Locker was hurt by pressure over right guard, situations in which PFF scored him minus-3.5 in 23 qualifying plays.
Leroy Harris
was lost there after half a season, then
Deuce Lutui
played the rest of the way. Now Locker and the Titans will enjoy a major upgrade with No. 10 overall pick
Chance Warmack
plugged into the spot.
April, 2, 2013
4/02/13
1:07
PM ET
We need to reserve judgment on just how well the Titans did with their free-agent haul. Several of their key additions -- like tight end
Delanie Walker
and defensive tackle
Sammie Lee Hill
-- are expected to graduate into bigger roles with their new team.
The Titans project they can handle that and excel with it. We'll have to wait and see.
What I like most about what they've done is this: A team with a ton of needs as the 2013 NFL year began has far fewer now.
That creates a certain draft freedom. While there are still things they need, they need them far less desperately. If a guy they really want in the draft goes off the board a couple picks before they are up, it will be less tragic.
[+] Enlarge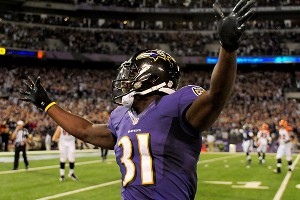 Evan Habeeb/USA TODAY SportsThe Titans signed safety Bernard Pollard, hoping the former Raven can add fire and veteran leadership.
A review of what they needed as free agency opened, and some thoughts on what they need now.
Safety
: Like it or not they are locked into
Michael Griffin
. So what they needed was a serious upgrade with regard to an in-the-box presence at the position who will allow Griffin to play as a center fielding free safety. Enter
George Wilson
and
Bernard Pollard
. They are veterans who are better than the options the Titans had in 2012, plus they bring leadership -- Wilson of a quieter variety, Pollard with a loud swagger. If they draft a kid to develop behind this group, that'd be fine, but it's not a pressing need.
Guard
:
Andy Levitre
was the best option on the market.
Rob Turner
and
Chris Spencer
are far better options than interior guys like
Kevin Matthews
or
Deuce Lutui
, who wound up playing last year. Ideally the Titans find a young stud to play right guard long term. But if the can't get, or decide to pass on, Chance Warmack, Jonathan Cooper or Larry Warford they could still be OK.
Defensive end:
Internally, it's not been rated the need it was externally. They did add super-sized
Ropati Pitoitua
, but he doesn't appear to be a guy who will spur the pass rush. I think they feel good about
Derrick Morgan
and
Kamerion Wimbley
, and will use
Akeem Ayers
more as a rusher. But I'd still rank an end that can boost the pass rush as a need.
Running back:
They needed a short-yardage guy to serve in a complementary role with
Chris Johnson
, and found a guy they liked in
Shonn Greene
.
Darius Reynaud
is back, though he's primarily a returner. A mid- or late-round back would make sense to increase their options if Johnson's money is an issue next year and/or to compete with
Jamie Harper
for a role.
Defensive tackle:
They showed no interest in bringing back
Sen'Derrick Marks
and found the size they wanted in Hill. With
Jurrell Casey
and
Mike Martin
, that's a nice three-pack.
Karl Klug
is a question mark. This is a spot where they can definitely continue to add, even if they have high hopes for Klug and
DaJohn Harris
.
Cornerback:
The one name that surfaced as a guy they courted was
Keenan Lewis
, the Steeler-turned-Saint. Depth at this position is shaky.
Coty Sensabaugh
did OK as a rookie nickel back. But ideally the Titans would get
Alterraun Verner
into the slot, even if he's starting outside in the base defense. They need a better candidate that
Tommie Campbell
to play outside as the second or third guy. This could now rate as one of the top needs.
Tight end
: Following the breakdown in talks with
Jared Cook
, the team decided against using the franchise tag on him. Walker is more equipped to shift around from the backfield to the line to the slot, and the Titans want to get back to using a guy like that. No remaining need with
Craig Stevens
, a solid blocker, and
Taylor Thompson
, a second-year project, in place.
Linebacker:
Depth is the issue here, especially in the middle where
Colin McCarthy
gets hurt.
Moise Fokou
might help, and ideally the main addition would be a veteran upgrade over outgoing free agent
Will Witherspoon
. If Ayers moves forward to rush some as a defensive end, they'll need a quality outside guy who can cover. A need, still, for sure.
Receiver
-- I wasn't thinking it was a spot they needed to address before the draft, but they looked at a lot of guys and signed
Kevin Walter
. He's a reliable route runner who can work underneath and do well against zones for quarterback
Jake Locker
. But Walter isn't explosive. I expect they'd like to add a draft pick who's a smart, quality route runner with a little more ability for yards after the catch.
March, 11, 2013
3/11/13
4:59
PM ET
Titans offensive line coach Bruce Matthews always said he'd recuse himself on roster decisions involving his son, Tennessee interior offensive lineman
Kevin Matthews
.

It would have cost the Titans a tender of at least $1.323 million to retain his rights. With or without the input of Bruce Matthews, the Hall of Fame lineman, the Titans didn't tender Kevin Matthews or interior offensive lineman
Kyle DeVan
.
Kevin Matthews and DeVan will become unrestricted free agents Tuesday at 4 p.m. ET. At that point the Titans could sign them to deals at one-year base minimum salary. The third-year base salary minimum is $630,000.
It's time, though, for the Titans to be finished with Matthews, the project who came out of Texas A&M in 2010.
The interior offensive line is expected to be revamped with two new starting guards. As they are brought in, via free agency and/or the draft, the team is likely to move on from two expensive veterans,
Steve Hutchinson
and
Eugene Amano
.
Leroy Harris
and
Deuce Lutui
become unrestricted free agents Tuesday.
Tyler Horn was on the practice squad at the end of last season and
Chris DeGeare
was on the practice squad injured list.
The Titans now have
Mitch Petrus
and
Kasey Studdard
as their interior depth.
So Tennessee doesn't need only a couple starting guards. It needs a candidate or two to compete with Petrus and Studdard for backup roles as well.
December, 5, 2012
12/05/12
6:11
PM ET
Do the Titans have full reads on
Leroy Harris
and
Eugene Amano
going forward?
They should.
And now with another shuffling of the offensive line, they should complete their research on
Fernando Velasco
,
Deuce Lutui
and
Kevin Matthews
, too.
Tennessee flirted with a bunch of high quality, high-priced centers in the offseason, they stuck with the status quo. Incumbent center Amano suffered a triceps injury in camp and was lost for the year, and Velasco took over.
Now left guard
Steve Hutchinson
is on IR and guard
Mitch Petrus
has joined the team as a waiver claim from New England.
Jim Wyatt tweeted from Mike Munchak's media talk following practice that Velasco is moving from center to left guard and Matthews will take over at center. Matthews played poorly at left guard in relief of Hutchinson in Sunday's loss to Houston.
The offensive line has been better for
Chris Johnson
in recent weeks. Pass protection has allowed 25 sacks in 12 games.
Twenty-eight games into Munchak's tenure as head coach and Bruce Matthews' tenure as his close friend's offensive line coach, the line may not be a weakness, but it's not a clear strength.
If the two Pro Football Hall of Famers -- two Oilers alumni of whom owner Bud Adams is especially proud -- are back next year, they have to field a quality line with quality depth.
As the franchise's longtime offensive line coach, Munchak frequently developed draft picks and the team didn't have to invest high picks at the position. He certainly got the benefit of the doubt with regard to linemen in his first two years as head coach.
It could be past time now to spend a high-value draft pick or two to help restock, whether he comes to such a decision or GM Ruston Webster pushes that development.
Are any of Harris, Amano, Velasco, Lutui and Kevin Matthews in line to start in 2013 under the same coaches? Would some combination of them provide good enough depth along with Mike Otto? Otto is the team's third tackle who's now taking over for injured right tackle
David Stewart
the rest of this season.
Velasco, Lutui and Matthews should play the next four games and have opportunities to upgrade the film that's on record for them as job applications for 2013.
Here's hoping for upgrades that better supplement left tackle
Michael Roos
, right tackle David Stewart (now out for the year with the broken leg) and Hutchinson. And better depth to go with Otto.
November, 16, 2012
11/16/12
10:14
AM ET
Reading the coverage …
Houston Texans

Gary Kubiak knows what his coaches and players can do and
makes room
for them to do it, says John McClain of the Houston Chronicle.
Ben Tate and Darryl Sharpton are
close to returning
to action, says the Chronicle.
See where Bill Barnwell of Grantland ranks Arian Foster and J.J. Watt in his current
MVP list
.
J.J. Watt wore a microphone up for a Play 60
community appearance
. (Video.)
Indianapolis Colts

Pondering Andrew Luck's
neard
-- that's a neck beard, with Bob Kravitz of the Indianapolis Star, who gets a monstrous assist from Pat McAfee.
The Colts
rookies
go well beyond Andrew Luck and have been great, says Phil Richards. "There's an old saying: every rookie you start should cost you a game," Bruce Arians said. "It's amazing because we don't win without them."
Luck's maturity is
apparent everywhere
, says Chuck Culpepper of Sports On Earth.
Kravitz is ready to
shave his head
.
Colts-Patriots is
a preview
of Luck-Tom Brady hype, says Nate Dunlevy of Bleacher Report.
Jacksonville Jaguars

The AFC South represents a stiffer,
week-to-week test
for right tackle Cameron Bradfield than his days in the Great Lakes Intercollegiate Athletic Conference did, says Ryan O'Halloran of the Florida Times-Union.
With the running game stalled, Rashad Jennings is
taking the blame
, says Vito Stellino of the T-U.
Ten things
the Jaguars must do to beat the Texans on Sunday, from John Oehser of the team's website.
Tennessee Titans

Deuce Lutui's brought
a dash of fun
to the Titans' offensive line as he's stepped in for injured right guard Leroy Harris, says John Glennon of The Tennessean.
A look at a Chris Johnson run out of
the diamond formation
the Titans have been using, from Music City Miracles.
Akeem Ayers and Zach Brown are among
the worst tackling linebackers in the NFL
, says Michael Rener of Pro Football Focus.
November, 4, 2012
11/04/12
11:43
AM ET
NASHVILLE, Tenn. -- The beat up
Tennessee Titans
offensive line only has one lineup change, and we knew that was coming on Friday. Right guard
Leroy Harris
(right knee) is out, and veteran backup
Deuce Lutui
will play for the Titans for the first time.
Right tackle
David Stewart
's got a bad right knee, left tackle
Michael Roos
is two weeks removed from an appendectomy and center
Fernando Velasco
was just cleared coming off a concussion.
But they are all in the starting lineup.
It's not a good day to be beat up on the offensive line, as the Bears' defensive front is a tough matchup.
The complete list of inactives follows.
Titans
Bears
October, 11, 2012
10/11/12
7:31
PM ET
NASHVILLE, Tenn. -- Once upon a time, Steelers fans invaded an NFL game in Tennessee to such a large degree, it prompted a major organizational change.
In 1997, when the Tennessee Oilers played in Memphis, so many Steelers fans filled the Liberty Bowl for the team's finale. Bud Adams couldn't get over it.
He negotiated out of a second year in Memphis and got the team to Vanderbilt Stadium for its final year before the franchise's new stadium was ready.
An hour before kickoff, LP Field is still largely empty. Of those in here, most are wearing black and gold.
As it fills up, it'll be no surprise to see much more of the same.
The Titans are passing out pink towels as part of Breast Cancer Awareness Month, a wise choice as they look to offset Terrible Towels of another color.
The full list of inactives for tonight:
Titans
Steelers
September, 30, 2012
9/30/12
11:43
AM ET
HOUSTON --
Kendall Wright
and
Damian Williams
will see increased time as targets for
Jake Locker
today as the Titans visit the Texans.
Kenny Britt
is out with an ankle injury, putting a dent into Tennessee's pass game, which will likely have to play well in order for the Titans to pull an upset.
The Texans remain healthy, and the only inactive of note is receiver
Lestar Jean
. His absence means
DeVier Posey
could get some chances, especially if they are ahead big.
The complete list of inactives:
Titans
Texans
September, 10, 2012
9/10/12
5:35
PM ET
NASHVILLE, Tenn. --
Mike Munchak
kind of, sort of, put himself on the hook for a run-game evaluation -- after a quarter of the season.
[+] Enlarge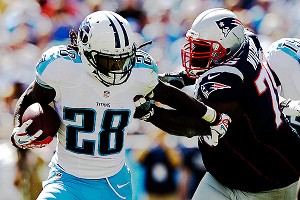 AP Photo/Wade PayneStar Titans RB Chris Johnson had little room to run against New England on Sunday.
Following a career-worst game for
Chris Johnson
, who turned 11 carries into 4 yards in a 34-13 loss to the Patriots, Munchak said he wasn't going to get into breaking down every carry. He said the team would need more time, perhaps a quarter of the season, to assess the run game.
The Titans threw it with success so they got away from the run, and then they were trying to close a big gap so they got away from it even more.
Sunday, the run blocking was poor, but so was Johnson. A back with his skills should be able to gain more than 4 yards on 11 touches no matter how bad the blocking.
It's one game, sure. But the benefit of the doubt clock is ticking on Munchak, coordinator Chris Palmer, offensive line coach
Bruce Matthews
and running back coach Jim Skipper as well as on the guys they are developing.
With no offseason last year and a holdout that took Johnson to the brink of the season, the run game struggles were explained away.
An offseason with Johnson around, with guard
Steve Hutchinson
added to the interior mix, with meetings and installation and more meetings was supposed to fix it.
There were no signs against the Patriots that such repair has occurred.
Darius Reynaud
saw some action on third down and got two carries and three catches against the Patriots, but look for Johnson to get the lion's share of work going forward.
"I think we'll roll with what we have," Munchak said.
As for the possibility of benching Johnson based on lack of production, Munchak said: "Anything's possible but I don't think it's anything that's going to ever happen."
Meanwhile it appears the Titans have addressed their interior line depth. Jim Wyatt of The Tennessean reports they've signed former Cardinals guard
Deuce Lutui
.