AFC South:

DeWayne Walker
July, 12, 2013
7/12/13
2:03
PM ET
We pick up our series in which ESPN.com's resident scout, Matt Williamson, ranks the AFC South position-by-position.
Today, we examine coaches.
Williamson's AFC South coach rankings:
1) Colts (Chuck Pagano)
2) Texans (Gary Kubiak)
3) Titans (Mike Munchak)
4) Jaguars (Gus Bradley)
Kuharsky
: I think Kubiak is too conservative and needs to show he can make an offseason stylistic adjustment. I believe Pagano doesn't get enough credit in some circles for the contributions he made from his sickbed last season. I can see the case either way for No. 1, but I'd go Kubiak based on his ability to manage people -- a quality Pagano seems to have as well.

Kubiak's used it to help win two consecutive division titles, however, and Pagano has more still to prove. I love Bradley's vibe, but I said the same thing about Munchak when he took over two years ago.
My questions for Williamson based off his list:
Your overall assessment please:
"This is far from a stacked division when talking about coaching overall compared to the rest of the league. There really are not any big dogs and overall, I am not enamored with Munchak while obviously the Jacksonville situation is extremely unproven.
Talk me through Pagano/Colts over Kubiak/Texans?
"Pagano over Kubiak was a tough one and I would put similar grades on these guys overall. Pagano obviously missed some of the season, but I can't get over that I actually thought the Colts would pick first overall for two straight years (after Luck the year before) when the 2012 season started. Clearly the Colts WAY exceeded those expectations."
Who's the best defensive coordinator?
"I am a big fan of the defensive coaching staff in Houston and would say that coordinator (Wade Phillips) and staff is clearly the top group of assistants on either side of the ball.
Offensive coordinator?
"The top offensive coordinator is pretty hard to pin down right now, but I suppose that too goes to Houston (Rick Dennison, with Kubiak calling plays) somewhat by default. They do clearly have a pretty strict offensive plan in place and implement it well."
As for me…
This list could change a lot in the next year. Bradley's initial impression will start to tell us how he is as a head coach. Munchak has his most talented team in his third year. Pagano is in remission and lost the fill-in who won coach of the year in Bruce Arians. We need to see if Kubiak is married to things like conservative red zone play or if he will make changes.
Assistant coaches who have a real chance to help change things for their team: Titans senior assistant/defense Gregg Williams and offensive line coach Bruce Matthews, Jaguars offensive line coach George Yarno and secondary coach DeWayne Walker, Colts offensive line coach Joe Gilbert, Texans linebackers coach Reggie Herring.
May, 16, 2013
5/16/13
1:41
PM ET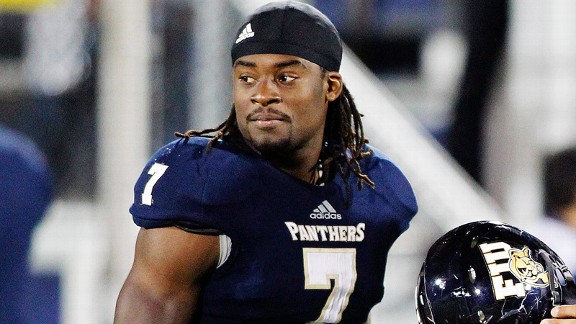 Robert Mayer/USA TODAY SportsSecond-round safety Johnathan Cyprien is one of five draft picks the Jags added to their secondary.
With the second pick in the first round, the
Jacksonville Jaguars
got themselves a rock of an offensive tackle in
Luke Joeckel
.
What did they get with the first pick of the second round?
A team in dire need of cornerstones might have found one for the defense in
Johnathan Cyprien
, the strong safety out of Florida International.
Initial reports
out of Jacksonville are very solid. It's obviously early, but Cyprien could be the linchpin of a young secondary that grows up together, helping slow the run and cover the sort of tight ends who are increasingly posing matchup issues around the league.
"The thing we really enjoyed about evaluating him was his football instincts," said DeWayne Walker, the Jaguars' defensive backs coach. "Some guys, they have that halo effect where they kind of feel the game, and he has a real good feel for the game.
"We're going to have to smooth him out, and we're going to have to polish him up a little bit. At the same time, he definitely brings a lot of good tools to the table."
Not too may years ago, the AFC South had a major dearth of quality safeties. Gradually, the position has gotten better. If Cyprien can be an impact guy, he and free safety
Dwight Lowery
can make the position one of the Jaguars' most solid.
Cyprien comes across as a polite, confident young man eager to learn and to prove himself. He grew up admiring Sean Taylor,
Troy Polamalu
and
Detroit Lions
safety
Louis Delmas
, who went to the same high school and ranks as a friend who has offered a great deal of encouragement.
A late bloomer at North Miami Beach (Fla.) High School, Cyprien dreamed of playing at Texas, but had just two scholarship offers -- from Central Michigan and FIU. He stayed in Florida, and a big senior season in college turned him into a borderline first-round pick.
The Jaguars surely could have gotten good value by trading out of the 33rd position in the draft, but stayed put and jumped on him.
"It's a big position, a big role in this defense," Cyprien said. "You're allowed to do a lot of things. You're allowed to have a lot of fun. I'm planning on having a lot of fun playing that position.
"I guess you could say it could be hard for a rookie to be a leader. I wouldn't define it as that, personally. I'm just taking it head on."
Of eight picks in the draft, the Jaguars spent five on defensive backs: Cyprien in the second round; UConn cornerback
Dwayne Gratz
in the third; Florida free safety
Josh Evans
in the sixth; and New Mexico State cornerback
Jeremy Harris
and Appalachian State cornerback
Demetrius McCray
both in the seventh.
The Jaguars have a handful of guys with experience for the kids to look to.
Marcus Trufant
, a 10-year veteran corner, played on coach Gus Bradley's defense in Seattle, and could be the nickelback. Another free-agent cornerback,
Alan Ball
, has played five seasons, but struggled in Houston last year. Safety
Chris Prosinski
, a fourth-rounder from 2011, should be a backup at best with Cyprien on board.
Mike Harris
could be a nice nickel candidate in his second season.
Given the uncertainty at the position, I rank the Jaguars' cornerback group as the
most competitive unit
in the division.
If Jacksonville is going to be any good on the back end, it's likely to be because of the draft class' contribution.
"I think it's fun for all of us," Walker said. "These guys were needed. We're going to be pretty young. It's fun for all of us to get this group and develop it and prove people wrong …
"Being able to talk with them about the league, these guys are pretty mature. Coach Bradley, [defensive coordinator] Bob Babich, all of our coaches do a good job saying the right things to these guys to get them acclimated. So I think all of our rookies, not only the rookies in the secondary, have come into a situation where we are here to help them, we are here to develop them to be competitive football players."
Walker, who was the head coach at New Mexico State from 2009 to 2012, where he posted a 10-40 record, left in January to join Bradley's staff. Previously, Walker coached defensive backs for the
Washington Redskins
,
New York Giants
,
New England Patriots
and at Cal. He was also defensive coordinator at UCLA.
The assistant coach is a straight shooter who has been telling the rookies about the identity he wants his players to have, Cyprien said. They need to be sound in the techniques they are taught, and they should all look the same on tape.
"I think it's a challenge for him, I think it's good for him," Cyprien said of the influx of youth in the secondary. "I know we have him excited, because we just want to run around, and we're hungry to learn and we're asking a lot of questions."
January, 25, 2013
1/25/13
10:35
AM ET
By
ESPN.com staff
| ESPN.com
Houston Texans
Intentional or not, the kick Lions defensive tackle Ndamukong Suh gave to Texans quarterback Matt Schaub is still being talked about.
Suh, following Thursday's Pro Bowl practice, said
: "People kind of had their minds made up already. I would never want to kick someone in that area."
Houston
added eight free agents to its roster
, including former Dallas Cowboys quarterback Stephen McGee and practice squad quarterback Case Keenum.
Duane Brown, a first-team All-Pro and first-time Pro Bowler, appears to be earning some of the recognition he's worked so hard for. The
Texans' left tackle tells HoustonTexans.com's Nick Scurfield
, "The first night, Peyton Manning came up to me and I talked to him. I didn't feel like he would know exactly who I was, but he just told me how great of a player I was. That meant a lot."
Texans running back Justin Forsett can carry a football, but how well can he carry a
basketball in a game with the Globetrotters
?
Indianapolis Colts
Colts owner Jim Irsay is a man of his word,
as witnessed from the $8,500 he sent
to a lucky fan in his own Twitter contest.
With the addition of offensive coordinator Pep Hamilton, the Colts' offense is unsure of what to expect for next season. But
quarterback Andrew Luck says he has an idea
, "I think it will be a hybrid. There's so many great things that coach Arians taught us, coached us up on. I think Pep has some really great stuff that he knows and he coached. I think we're going to do whatever gives us the best chance to win, whether it is chunk the ball or the short stuff, we'll figure it out."
Colts.com writer Craig Kelley
takes a look back at Chuck Pagano's first year
and the expectations the head coach faces in 2013. "One year smarter, Pagano is leading the charge into Year 2. It is one he relishes. The resiliency he saw organization-wide is what he wishes for this year."
Jacksonville Jaguars
NFL Network analyst Mike Mayock says the Jaguars need a quarterback plan "first and foremost" before filling needs elsewhere.
J.P. Shadrick of Jaguars.com has more on the team
from Senior Bowl practices.
The
Jaguars' coaching staff is starting
to come together. Joining coach Gus Bradley will be quarterbacks coach Frank Scelfo, offensive line coach George Yarno and defensive backs coach DeWayne Walker.
Tennessee Titans
The Music City Miracle, otherwise known as the description of Frank Wycheck's lateral to Kevin Dyson for a 75-yard kickoff return for a touchdown in Tennessee's 22-16 win against Buffalo,
made ESPN's top 10 list of "top calls in sports history."
January, 24, 2013
1/24/13
3:35
PM ET
The
Jacksonville Jaguars
have hired a defensive backs coach,
per ESPN.com's Brett McMurphy
. Now the question is who DeWayne Walker's defensive backs will be.

Two of the team's top cornerbacks from 2012 are heading toward free agency.
Will
Derek Cox
and/or
Rashean Mathis
be re-signed by general manager David Caldwell and coach Gus Bradley or will Walker be looking to find starters from a combination of free agents, draft picks and holdovers?
Walker was 10-40 in four seasons as head coach at New Mexico State. Previously he's coached at UCLA and USC and he's overseen defensive backs for the Patriots, Giants and Redskins in the NFL.
The Bradley-Walker connection is Pete Carroll. Bradley came to the Jaguars from Seattle, where he worked under Carroll. Walker worked under Carroll at USC.
Per Ryan O'Halloran of the Florida Times-Union, Bradley still needs
five position coaches
.