September, 5, 2013
9/05/13
1:00
PM ET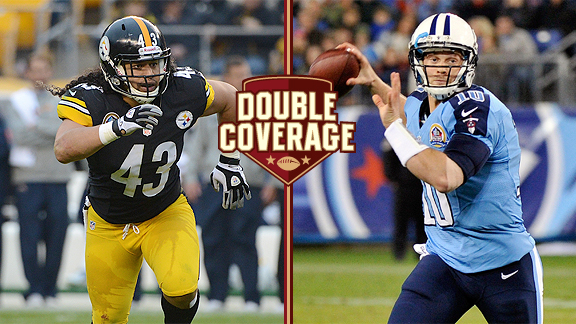 Getty ImagesJake Locker will have to face a fresh Troy Polamalu and one of the league's top defenses.
Pittsburgh is a tough place to play. The
Pittsburgh Steelers
don't often stay down long. The
Tennessee Titans
will bring a lot of unknowns to Heinz Field.
It's an intriguing opening day matchup for two teams looking to bounce back from seasons that didn't meet standards and fell short of expectations.
ESPN.com Steelers' blogger Scott Brown joins me for his first edition of Double Coverage, and I know he'll understand if we skip the pleasantries and dive right in.
The Titans' rebuild is centered around their offensive line. They'll be way more physical with a new interior of
Andy Levitre
,
Rob Turner
and
Chance Warmack
.
Scott, I know the offensive line has been an issue in Pittsburgh, too. What's the status of things there, and how much better can we expect the Steelers to be up front?
Scott Brown:
Paul, that is one of the biggest questions facing the Steelers. The offensive line is one of the youngest and most inexperienced the Steelers have assembled in decades. But the group is athletic and has plenty of what coach Mike Tomlin likes to call "pedigree."
Two of the starters are first-round draft picks. Two others are second-round selections. The Steelers have clearly made a big investment in the offensive line, and they need a major return on that investment for this team to return to the playoffs.
I think the interior of the line with Pro Bowl center
Maurkice Pouncey
and guards
David DeCastro
and
Ramon Foster
has a chance to be really good. I'm not as sold on tackles
Marcus Gilbert
and
Mike Adams
, who will protect
Ben Roethlisberger
's blind side.
The Titans, I'm sure, will test that line with plenty of blitzes, as the first-team offensive line struggled with pass-blocking in the preseason.
Speaking of blitzes, Titans quarterback
Jake Locker
will see his share with the ageless wonder Dick LeBeau still calling defenses in Pittsburgh.
How is Locker progressing, and is he the long-term answer at quarterback in Tennessee?
Paul Kuharsky:
The verdict on whether Locker is the guy for the long haul won't come until after we see this season.
He steadily improved in camp and the preseason and has reason to feel good about the state of things. I don't think he's going to have many games in his career in which he throws for 300 yards, but the Titans aren't built to ask that of him. They'll get him on the move to make simple throws and decisions, especially early, when he often needs to settle down and find a rhythm.
That line will give him time and be far better at creating space for
Chris Johnson
and newcomer
Shonn Greene
. If the Titans run effectively -- and the preseason suggested that's one thing they are definitely good at -- they can build play-action off that and Locker will be in a perfect setting to succeed.
The two big questions are about his accuracy and how he will react to new, unforeseen circumstances. You know, the kind of stuff Lebeau has designed for this game especially for him.
Does LeBeau have the pieces to do the sort of things to confuse a young quarterback?
Brown:
He has one of the most valuable pieces of all in
Troy Polamalu
. The dynamic strong safety allows LeBeau to do so much because he plays all over the field and opposing quarterbacks don't know where he is going to be from snap to snap.
Polamalu missed nine games last season because of a recurring calf injury, but he looked like his old self in training camp and the preseason. In that sense, the timing isn't good for the Titans to play the Steelers because Polamalu is at full strength. Outside linebacker
LaMarr Woodley
also seems poised to bounce back from an injury-plagued season in which he registered just four sacks.
With those two and other players such as inside linebacker
Lawrence Timmons
and rookie outside linebacker
Jarvis Jones
, LeBeau won't hold back -- particularly against a relatively inexperienced quarterback who is still finding his way in the NFL.
Paul, the Steelers have never lost at Heinz Field in September under Tomlin. My question for you is what will it take for the Titans to pull off the upset on Sunday?
Kuharsky:
I think it's possible. They'd have to show poise, withstand the bad moments, minimize mistakes. You know the drill.
This is a team that has been run on by lesser running backs in the recent past, so it can't take
Isaac Redman
lightly, and we'll find out fast if
Sammie Hill
and
Ropati Pitoitua
are going to help answer the run-defense deficiencies.
The Titans must get Roethlisberger to the ground when they have the chance. After an offseason talking of press coverage, they haven't changed at all at cornerback, and I imagine Roethlisberger will find things to attack. He knows Titans strong safety
Bernard Pollard
from his time in Baltimore. I won't be surprised if the Steelers plot to get Pollard in coverage situations they feel they can exploit.
The other big question here, the elephant in the room: Your first game for ESPN.com? You ready?
Brown:
To help myself to some Tomlinisms: This is where the rubber meets the road, but this is not my first rodeo. I believe I have sharpened my pen (does that still apply in the dot.com world?) for battle, but I will have to pay attention to detail. Ultimately, it comes down to making plays (or deadline in this case) inside stadiums with the lights on (yes, I know it is a 1 p.m. start, but gray days in Pittsburgh are as noteworthy as grass on a golf course). Such is life in the National Football League (and ESPN.com), and I embrace the challenge.
August, 20, 2012
8/20/12
12:21
AM ET
Some thoughts out of the Indianapolis Colts'
26-24 preseason loss
at the Pittsburgh Steelers on Sunday night:
NBC's broadcast and in-game interview with Andrew Luck ably summed up his night. The rookie quarterback didn't start well but kind of fought through it and settled down, and the Colts did well to get to halftime with a 17-14 lead. Luck saw some exotic stuff called by Steelers defensive coordinator Dick LeBeau -- like just one down lineman pre-snap in the amoeba defense – and didn't panic. A Luck pass aimed for Reggie Wayne wound up an easy pick-six for cornerback Ike Taylor (which gave Pittsburgh a 14-0 lead) and he absorbed a LaMarr Woodley sack on his very next play. Indy rallied with a drive that produced a short Donald Brown touchdown run and Luck got in himself on a fourth-and-goal to make it 14-all.
Austin Collie may have suffered a concussion in the second quarter when Taylor started to tackle him, bending him down into position to catch an arm from Larry Foote in the helmet. The veteran receiver has had concussion issues in the recent past, and a lot of outsiders felt it was their job to tell him to retire to avoid risking any further head trauma. We hope, of course, that it's not a concussion or that it's mild as can be -- and that it's nothing that will affect him for very long. But even a mild concussion would be bad news. From the football perspective, if he's going to miss time, rookies T.Y. Hilton and LaVon Brazill will continue to get more action, and Donnie Avery becomes more important.
We got more of a sense of just what Wayne will be asked to do in Bruce Arians' offense, and it's far more complex than what he's done before. He's motioning all over the place, and on this night he was just the sure weapon the Colts were envisioning when they re-signed him to be a key guy for Luck -- six catches for 74 yards in a half.
Rookie running back Vick Ballard got work with the first team and showed some indications of why he could earn a bulk of the team's carries. One 12-yard run to the right sideline featured a nice spin move as he pushed wide and showed both power and speed.
Luck's second interception was completely on Hilton, who bobbled a catchable ball, knocking it up into the air and to cornerback Cortez Allen.
First-team run defense was an issue. Young running backs Jonathan Dwyer and Chris Rainey averaged 5.9 yards on their eight carries against the unit.
A sack against the second team isn't cause for major celebration, but outside linebacker Jerry Hughes had one. He's now got two in two games and sure seems like he's got a more suitable role coming in this defense than he had in the team's old 4-3 as an end. He finished with seven tackles, tied for the game high.
Two other injuries we will be monitoring: Defensive lineman Cory Redding left with a right knee strain and outside linebacker Robert Mathis with a shoulder strain.
October, 12, 2011
10/12/11
2:03
PM ET
Scouts Inc. is forecasting another winless weekend for the AFC South.
Here are excerpts from their scouting reports on our three games -- the Titans have a bye.
Indianapolis at Cincinnati
Hit the rookie
: Bengals quarterback
Andy Dalton
has handled pressure extremely well for a rookie. Though the Colts' pass defense has been highly suspect when sending extra pressure, Indianapolis' edge pass rush from their defensive ends has been about as good as it can get in the NFL.
Dwight Freeney
and
Robert Mathis
are having excellent seasons despite the Colts' offensive woes and rarely playing with a lead -- the premise on which the Colts' defense is predicated.
Matt Williamson likes the Bengals
Jacksonville at Pittsburgh
Bring the heat
: Few defensive coordinators can come up with as many blitz packages as Pittsburgh's Dick Lebeau. He will bring safety
Troy Polamalu
off the edge or up the middle as well as use his linebackers to bring pressure from all angles. Pittsburgh wants [Blaine] Gabbert to develop nervous feet in the pocket and to get the ball out sooner than he should.
Doug Kretz likes the Steelers.
Houston at Baltimore
Matchup to watch
: Ravens WR
Anquan Boldin
vs. Texans CB
Johnathan Joseph
: Joseph has been an exceptional free-agent pickup for the Texans. He really does everything well. Boldin remains a force, but isn't particularly dynamic. If Joseph can contain Boldin without a lot of assistance, it will go a long way to shutting down Baltimore's passing game.
Williamson likes the Ravens.
September, 22, 2011
9/22/11
10:44
AM ET
Reading the coverage…
Houston Texans
Arian Foster
sat out
Wednesday, says John McClain.
Jacoby Jones hurt
his knee celebrating
Andre Johnson's touchdown catch in Miami, says Jeffrey Martin. When will guys learn on this?
Matt Schaub is preparing for the Saints'
blitz packages
, say McClain and Martin.
Indianapolis Colts
Bill Polian
is candid
about his recent draft history.
The Colts' run game will face a
stiff challenge
against the Steelers, says Mike Chappell.
Five reasons why Colts fans
shouldn't dwell
on Curtis Painter, from Phillip B. Wilson. I like No. 1.
Dick LeBeau's schemes
cause problems
, says Phil Richards.
What went wrong
on third downs against Cleveland? Nate Dunlevy investigates.
Jacksonville Jaguars
The Jaguars have decided
it's time
to go with Blaine Gabbert, says Vito Stellino.
It's
not just
about Gabbert, says Gene Frenette.
Dwight Lowery worked
in front of
Courtney Greene at safety, says Tania Ganguli.
While accepting his demotion, Luke McCown hopes for
another chance
, says Ganguli.
Tennessee Titans
The Titans are recalling the
Broncos' barbs
, says Jim Wyatt.
Chris Johnson
missed Wednesday's practice
with sore ribs and Kenny Britt was limited, say Wyatt and John Glennon.
December, 17, 2008
12/17/08
12:30
PM ET
Posted by ESPN.com's Paul Kuharsky and James Walker
The Steelers' visit to Nashville Sunday for a game against the Titans is just the kind of late-season game the league, and the networks, love. On the line, the No. 1 seed and home-field advantage throughout the AFC playoffs.


Our AFC South blogger, Paul Kuharsky and AFC North blogger, James Walker, will both be at the game. As part of the build-up, they went back and forth on a variety of game-related topics for a joint venture shared by their two pages.
Paul Kuharsky: Sunday's giant AFC showdown features two starting quarterbacks I'd call tough, but Ben Roethlisberger and Kerry Collins are different kinds of tough. Every time I've seen pieces of Steelers games this year, I've seen Big Ben throwing passes with defenders hanging off his limbs or dusting himself off as he gathered himself after a hit. Kerry Collins isn't so sturdy tough; he's more life-experience and game-smart tough. Where Roethlisberger will stand in as long as it takes, sometimes too long, Collins' internal clock tells him to get rid of the ball or give up on a play and live for the next. Watching them and how they react to what two very good defenses throw at them will be one of the best story lines of this game.
James Walker: The physical ailments that Roethlisberger (shoulder, thumb) has dealt with this season are well-documented. But his mental toughness should be noted as well. Roethlisberger never gets down. I've seen several games this year where he cannot make a significant play for three-and-a-half quarters but keeps his head in the game for the key moments in the fourth quarter. That was the case in the two wins against the Dallas Cowboys and Baltimore Ravens. Roethlisberger has a certain mental toughness and clutch factor that permeates Pittsburgh's entire team. The Steelers play very well from behind and they never feel they are out of it.
PK: I've been thinking in the weeks leading up to this matchup that while the Titans would have problems moving the ball against the Steelers, Tennessee's biggest strength -- its ability to rush the passer with only its front four -- would line up well with the one thing Pittsburgh isn't very good at -- protecting Roethlisberger. I really expected Albert Haynesworth, while he'd also see one of the guards -- Chris Kemoeatu or Darnell Stapleton -- to make life extremely difficult on center Justin Hartwig. At a much different stage of his career when the two were both Titans, Haynesworth kicked Hartwig in a training-camp fight. Alas, we don't get to see the matchup as Haynesworth is out for the remainder of the regular season. And with end Kyle Vanden Bosch also out, the Titans' pass rush can't be as good as it would have been at full strength. It's a big break for the Steelers.
JW: I agree, Paul. A week ago this would have been a much tougher matchup, but this is no longer a big mismatch. As you mentioned, Tennessee's defense hinges on getting pressure with its front four, and without Haynesworth and Vanden Bosch, it could force the Titans to alter their scheme and compensate by bringing extra defenders more often than they would like. That could compromise the back end and leave more room for Roethlisberger to make plays in the passing game against man-to-man coverage. The absence of Haynesworth and Vanden Bosch also helps Pittsburgh's running game, which hasn't been consistent all season.