AFC South:

Dominique Rodgers-Cromartie
February, 27, 2014
Feb 27
10:00
AM ET
INDIANAPOLIS -- It's no secret that the
Indianapolis Colts
want to re-sign cornerback
Vontae Davis
. Davis talked about it at the end of the season and general manager Ryan Grigson referenced him during his season-ending news conference. Using the franchise tag on Davis is unlikely since the tag number is expected to be around $11 million.
The salary cap has yet to be set, but the Colts will have the fourth-most money in the NFL to spend once free agency starts March 11. As it's been noted before, though, do not expect the Colts to spend just because they have the money to do so. They know that's not a wise decision.
Davis won't be the only cornerback hitting the free-agent market.
Here's a look at how Davis' stats stack up against some of the other free-agent cornerbacks:
Some of these names could be removed from this list if their teams decide to use the franchise tag on them by next week.
Although he was inconsistent at times last season, Davis and the Colts appear to be on the same page as far as re-signing goes. Davis referred to the organization as a family at the end of the season. Davis, a former first-round pick, has the talent to become one of the top cornerbacks in the league.
December, 6, 2013
12/06/13
10:00
AM ET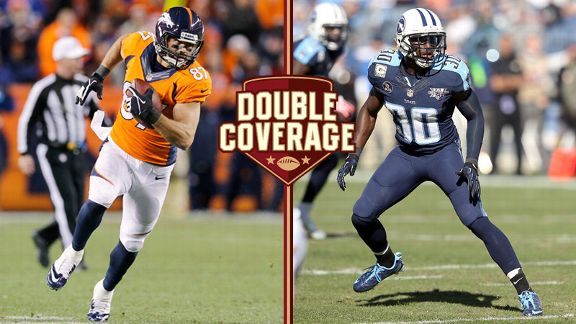 AP Photo Jason McCourty, right, and the Titans' secondary face a formidable challenge in defending Eric Decker and the Broncos' passing attack.
It seemed a little out of place, but as the
Denver Broncos
were about to get to work on the
Tennessee Titans
this week, quarterback
Peyton Manning
said he was going to prepare for an "unfamiliar opponent."
Granted, Manning hasn't faced a Titans team with Mike Munchak as its head coach, but he has faced Tennessee 19 times previously in his career (including a playoff game in the 1999 season), all with the
Indianapolis Colts
. So, while this is the Titans' first look at Manning in a Broncos uniform, the quarterback is a familiar face as Denver tries to keep its grip on home-field advantage in the postseason.
Here, ESPN.com Titans reporter Paul Kuharsky and Broncos reporter Jeff Legwold discuss Sunday's game.
Legwold:
Paul, you've been around the team since it arrived in Tennessee and, before we get to the on-field matchup, how would you say the team has dealt with franchise founder Bud Adams' death earlier this season? Who is making the decisions now and who will make them in the coming offseason, both on and off the field?
Kuharsky:
It was a big loss, of course, for Munchak and general manager Ruston Webster and team employees who worked for Adams for a long time. Most of the players hardly knew him, as he was not around much in his final couple of years, when his health began to fail. So there is a lot of uncertainty now. Three branches of Adams' family share control of the franchise, and Bud's son-in-law, Tommy Smith, is the team president and CEO. He's apparently been paying close attention to things in anticipation of taking over. But we know very little about how he will operate going forward. That means there is some tension, because not every team employee knows if he's secure. That starts with the struggling head coach, Munchak.
Leadership in Denver appeared to remain strong as Jack Del Rio stepped in for John Fox. How much of a boost will Fox's return give the team?
Legwold:
Del Rio, the team's defensive coordinator, earned praise from everyone in the organization, including Fox and the players, for how things were handled in the head coach's absence following open-heart surgery. His return has given the team an emotional boost, because after a month away, Fox came back feeling better than he had in some time and enthusiastic to see where this season can go. It should help the Broncos avoid a late-season stumble as they try to get home-field advantage for the playoffs again. Tactically speaking, not much will change. Coordinator Adam Gase is still calling the plays on offense -- Del Rio has said that, other than being a sounding board from time to time, he left the offense solely in Gase's hands during Fox's absence. Del Rio will continue to call the defense on game day as he has all season. Overall, though, it's likely Fox's return will keep the Broncos from hitting an emotional lull over the final month of the regular season.
On the field, the Titans have seen Manning plenty over the years. How do you think Tennessee will approach things on defense and does it see some differences in the Broncos' offense compared to what it saw from the Manning-led Colts?
Kuharsky:
Well, it's a relief the Titans don't see Edgerrin James, I am sure. And while Denver's pass-catchers are a remarkable bunch, I'm not sure there is a
Marvin Harrison
in it yet. They know blitzing Manning can be fruitless no matter what matchups they like against offensive linemen. They'll try to be unpredictable and force him to throw to a certain spot a few times. But plenty of teams have that idea and fail with it. Under Gregg Williams' influence, the Titans have used an ever-shifting front, and we know that's a popular way to play against Manning in an attempt to minimize his ability to make pre-snap reads. The front is pretty good, especially
Jurrell Casey
, though there is no dominant edge rusher. The secondary has been quite good. It's the linebackers, particularly in pass coverage, who seem vulnerable to me, and I don't know what the Titans will do there to prevent abuse.
Bernard Pollard
's been a leader whose play has matched his talk, but the Titans have kept him out of tough coverage situations and I wonder whether Manning will find ways to try to go at him.
The Titans are rooting for freezing temperatures even though they've been awful themselves in their past two frigid games. I know some all-time great quarterbacks have excelled in the cold even if they haven't loved it. How much of an issue is it for Manning at this stage of his career?
Legwold:
That is the elephant in the room with the Broncos given their playoff loss to the
Baltimore Ravens
last January. Manning threw for 290 yards and three touchdowns in that game, even though the temperature at kickoff was 13 degrees. But folks seem to remember a wobbly incompletion here and there to go with an interception to close out the Broncos' final possession. Until Manning simply cranks it up on a cold day and the Broncos get a key victory, people are going to ask him about it. He had spots in the overtime loss to New England two weeks ago -- in frigid, windy conditions -- in which he threw as well as he ever has, particularly on a sideline pass to
Demaryius Thomas
and a touchdown throw to tight end
Jacob Tamme
. It's not so much his arm that has been an issue post-surgery, it's his grip when he throws. Overall, though, the Broncos push the pace more on offense at home. Manning has terrorized defenses that have played a lot of man coverages against the Broncos' offense, including his five-touchdown game last weekend in Kansas City. The Broncos like that matchup in any weather.
Denver has some injuries on defense that have affected how it plays, especially with the run defense. Where does
Chris Johnson
fit in the Titans' offense these days?
Kuharsky:
He's really had one big game all season. Even when he seems to get going, the Titans can't find a rhythm or a way to stick with him. This was supposed to be a run-reliant, run-dominant team. It isn't. With
Ryan Fitzpatrick
now the quarterback, the Titans like to put him in an empty set and let him do his thing. It's been good at times, but it doesn't do much to enhance the chances of the running game. Johnson doesn't get yards after contact. So if he doesn't find a big hole, he's not going to do a lot of damage. Watch out on a screen or little flip pass -- that's where Johnson has been more threatening.
Denver's defense has dealt with quite a few injuries and
Von Miller
's suspension. How's his health and how is that group playing together?
Legwold:
The Broncos have yet to play the 11 starters on defense in any game this season they expected to have coming out of training camp. They never will now that defensive tackle
Kevin Vickerson
has been moved to injured reserve. Vickerson was a big part of the plan on early downs -- and the Chiefs tested the middle of the defense plenty this past Sunday, so the Broncos are working through some adjustments there.
Champ Bailey
(left foot) has played in just three games this season -- just one from start to finish -- and safety
Rahim Moore
is on injured reserve/designated to return. (The Broncos hope Moore will be back for the postseason.) Toss in
Derek Wolfe
and
Dominique Rodgers-Cromartie
not being in the lineup against the Chiefs and the Broncos are not nearly as consistent as they were last season, when they were a top-five defense. Miller has had moments of top-shelf play since his return, but hasn't been a consistent force like he was last season.
April, 12, 2012
4/12/12
6:06
PM ET
As the
Houston Texans
let go of right tackle
Eric Winston
and traded inside linebacker
DeMeco Ryans
, fans of the team peppered me.
Why, they lamented, is receiver and returner
Jacoby Jones
still on the team?
[+] Enlarge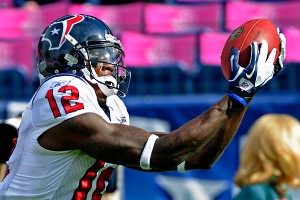 AP Photo/Bill BaptistJacoby Jones said he's staying positive despite a potentially uncertain future in Houston.
The answer is that Texans coaches and brass like Jones a lot better than fans do.
Jones can make some spectacular plays. He can offset them with spectacular flubs.
His foolish handling of a punt in Baltimore helped kill the Texans in their playoff loss to the Ravens in January.
I saw Jones today in Nashville where he appeared on 104.5 The Zone helping to promote
Dominique Rodgers-Cromartie
's charity basketball game this weekend at Tennessee State University.
I asked him, first, about the projection that Houston will take a wide receiver with the 26th pick in the draft on April 26.
"It's a business," he said. "I love Houston. I would love to stay there. And I've been working hard in the offseason. If it happens, it happens,. If they bring somebody in I will take him under my wing and show him the ropes. Whatever happens, happens, but I'm still ready to play."
Jones is due a $3 million base, which is too much. He could rank as high as second or as low as fourth in the receiver pecking order when games, and paydays, arrive. He signed a three-year deal in 2011 worth $10.5 million with $3.5 million guaranteed. Barring a sterling camp and a claim of the No. 2 job, I think that base salary will need to come down.
He said he forgot the muffed punt -- the only one of the season, he said. -- in relative short order, because he's a football player and football players have to forget bad stuff and move on.
As for fan venom …
"Fans are fans, they always look for somebody to point the finger at," he said, without any contempt in his voice. "If they want to point the finger at me, fine. That year's gone, in my past. I'm not dwelling on it anymore. I'll still play for my teammates, my family, those coaches and everybody in that front office."
He's trained in New Orleans since the season ended, but will return to Houston Saturday. A nagging spotlight will follow. It's his job to make it fade.
April, 7, 2011
4/07/11
1:10
PM ET
»
NFC Draft Watch
:
East
|
West
|
North
|
South
»
AFC
:
East
|
West
|
North
|
South
Each Thursday leading up to the NFL draft (April 28-30), the ESPN.com NFL blog network will take a division-by-division look at key aspects of the draft. Today's topic: History in the spot.
Houston Texans

2010: OT
Anthony Davis
(49ers)
2009: LB
Aaron Maybin
(Bills)
2008: DB
Leodis McKelvin
(Bills)
2007: LB
Patrick Willis
(49ers)
2006: QB
Jay Cutler
(Broncos)
2005: LB
DeMarcus Ware
(Cowboys)
2004: QB
Ben Roethlisberger
(Steelers)
Last year at No. 11, the 49ers got Rutgers offensive tackle Davis, who started every game on the right side. Maybin, taken in the spot in 2009, is on the hot seat in Buffalo, where he's not come close to expectations. In 2007, the 49ers got the excellent middle linebacker Willis 11th, when the Texans took defensive tackle
Amobi Okoye
the spot before. The verdict on Cutler is still to be determined, while Ware is a superstar and Ben Roethlisberger has won two Super Bowls. Other hits since the NFL-AFL merger include
Michael Irvin
,
Dwight Freeney
and
Leon Searcy
. Other misses:
Ron Dayne
,
Michael Booker
.
Indianapolis Colts

2010: WR
Demaryius Thomas
(Broncos)
2009: WR
Percy Harvin
(Vikings)
2008: RB
Felix Jones
(Cowboys)
2007: QB
Brady Quinn
(Browns)
2006: LB
Manny Lawson
(49ers)
2005: WR
Mark Clayton
(Ravens)
2004: QB
J.P. Losman
(Bills)
Last year's 22nd pick, Denver receiver Thomas, caught 22 passes and scored two touchdowns. Minnesota grabbed receiver Harvin in the spot in 2009 and he's one of the game's most dynamic players already. Quinn didn't cut it in Cleveland and ranks third now in Denver, and Losman didn't solve Buffalo's quarterback issues. The last time the Colts were in this spot, they took receiver
Andre Rison
in 1989. He played only one season for the franchise, but in 12 years he amassed more than 10,000 receiving yards and caught 84 touchdowns.
Jacksonville Jaguars

2010: DE
Derrick Morgan
(Titans)
2009: LB
Larry English
(Chargers)
2008: CB
Dominique Rodgers-Cromartie
(Cardinals)
2007: DT
Justin Harrell
(Packers)
2006: CB
Jason Allen
(Dolphins)
2005: DT
Travis Johnson
(Texans)
2004: OT
Shawn Andrews
(Eagles)
Morgan went 16th to Tennessee last year, but suffered a season-ending knee injury early on. Rodgers-Cromartie had a big rookie season in 2008 as the Cardinals went to the Super Bowl. Pittsburgh safety
Troy Polamalu
was a huge find at the spot in 2003 and
Jevon Kearse
set a rookie record for sacks and led Tennessee to the Super Bowl in 1999. But others in the recent past like Allen, Houston's Johnson and Cleveland running back
William Green
hardly lived up to expectations.
Dan McGwire
, a big quarterback bust for Seattle, also went in the spot in 1991. But anyone thinking the Jaguars can't hit a home run should know that a guy rated by many as the greatest player of all time,
Jerry Rice
, was selected 16th in 1985.
Tennessee Titans

2010: LB
Rolando McClain
(Raiders)
2009: OT
Eugene Monroe
(Jaguars)
2008: DE
Derrick Harvey
(Jaguars)
2007: DE
Jamaal Anderson
(Falcons)
2006: S
Donte Whitner
(Bills)
2005: S
Antrel Rolle
(Cardinals)
2004: CB
DeAngelo Hall
(Falcons)
McClain went to Oakland eighth last season and was second on the Raiders in tackles his rookie year. Jacksonville had the spot the two years before that. The Jaguars think they got a long-term left tackle in Monroe, but Harvey might be done already.
Jordan Gross
is a topflight tackle for Carolina and receiver
Plaxico Burress
was a Super Bowl hero for the Giants. But receiver David Terrell busted for the Bears, receiver
David Boston
didn't fare much better in Arizona and running back
Tim Biakabutuka
was a dud for the Panthers. Sam Adams' long career clogging up the middle as a defensive tackle started in Seattle. The last time the Titans had this pick, they landed Hall of Fame guard
Mike Munchak
, who's now the team's coach.
March, 31, 2010
3/31/10
1:00
PM ET
»
NFC History
:
East
|
West
|
North
|
South
»
AFC
:
East
|
West
|
North
|
South
»
Draft Watch
:
Biggest needs
(2/17) |
Busts/gems
(2/24) |
Schemes, themes
(3/3) |
Recent history
(3/10) |
Needs revisited
(3/17) |
Under-the-radar needs
(3/26) |
History in that spot
(3/31) |
Draft approach
(4/7) |
Decision-makers
(4/14) |
Dream scenario/Plan B
(4/21)
Each week leading up to the NFL draft (April 22-24), the ESPN.com blog network will take a division-by-division look at key aspects of the draft. Today's topic: History at the spot.
No. 20: Houston Texans

No. 20 has produced productive players in the last five years. Detroit tight end
Brandon Pettigrew
did reasonably well as a rookie. Tampa Bay corner
Aqib Talib
has nine picks in his first two years.
Aaron Ross
missed the bulk of his third season with a hamstring injury.
Tamba Hali
has a very respectable 27 sacks in four seasons. Dallas end
Marcus Spears
had only 27 tackles and 2.5 sacks in 2009. Quality defensive backs have been there two of the last three years and that may bode well for the Texans' chances to address corner or free safety. Two of those No. 20 picks were acquired in trades.
No. 31: Indianapolis Colts

No. 31 has produced a running back (Chris Wells to Arizona in 2009), two defensive backs (
Kenny Phillips
to the Giants in 2008 and
Kelly Jennings
to Seattle in 2006), a tight end (
Greg Olsen
to Chicago in 2007) and a defensive tackle (
Mike Patterson
to Philadelphia in 2005). Phillips was on IR most of last year, while Jennings and Patterson, a high-motor interior guy, have played in every game of their careers. Olsen's fit with new coordinator Mike Martz is a question. I don't think history will tell us a lot about what the Colts, firm believers in best player available, will find or do.
No. 10: Jacksonville Jaguars

There should be and will be quality options at No. 10 for the Jaguars. Recent years saw the 49ers snatch receiver
Michael Crabtree
, the Patriots select linebacker
Jerod Mayo
, the Texans pluck defensive tackle
Amobi Okoye
, the Cardinals grab quarterback
Matt Leinart
and Detroit pick receiver
Mike Williams
. Williams busted hard. Leinart is about to take over the job as Arizona's starter. Okoye is still young with upside. Mayo was defensive rookie of the year. Crabtree had an ugly holdout, but San Francisco has high expectations for him in his second year. How are trade possibilities? Houston and New England got their picks in deals.
Tennessee Titans

It's a coincidence for sure, but No. 16 has been spent on a defensive player for the last five years. The scorecard: linebacker
Larry English
to San Diego in 2009, corner
Dominique Rodgers-Cromartie
to Arizona in 2008, tackle
Justin Harrell
to Green Bay in 2007, defensive back
Jason Allen
to Miami in 2006 and tackle
Travis Johnson
to Houston in 2005. The Titans will probably be fine extending the trend, as their biggest concerns are with rebuilding a defense that needs an end, a corner and could benefit from additions at safety and linebacker too.
October, 12, 2009
10/12/09
3:56
PM ET

Posted by ESPN.com's Paul Kuharsky
Heading into their fifth game, Houston had shown a significant drop off from 2008 in a very important offensive category -- third down.
Tenth in the league last season at 42.1 percent they are now 25th at 29.2.
And it killed them Sunday in Arizona.
Marty Callinan of ESPN Stats & information broke down the game and said
Matt Schaub
threw eight incomplete passes in 41 first- and second-down chances and seven incompletions in nine third- and fourth-down attempts.
Matt Schaub passing by down, Week 5 vs. Cardinals
1st/2nd
---
3rd/4th

33-41

Comp.-Att.

2-9

80.5

Comp. Pct.

22.2

344

Pass yards

27

8.4

Yards per attempt

3.0

2-0

TD-INT

0-1

117.9

Passer rating

0.0
That interception, of course, decided the game. Arizona's
Dominique Rodgers-Cromartie
jumped a third-and-8 pass from Schaub intended for
Kevin Walter
and took it 49 yards to a touchdown with 2:20 left in the game.
From there, the Texans hit on another issue: rushing TDs from close range.
Entering Week 5, the Texans were one of four teams without a rushing touchdown in the red zone.
Chris Brown
finally scored the Texans' first red zone rushing touchdown late in the third quarter Sunday with a 1-yard rush. But he failed to score on two attempts with under a minute to play that would have tied the game.
The Rams, Chiefs and Bills still don't have a red zone rush TD. They are a combined 1-14.
September, 27, 2009
9/27/09
11:31
PM ET

Posted by ESPN.com's Paul Kuharsky
Through two weeks, things sure looked hard for the Colts.


Opening day against the Jaguars came down to Jacksonville's last possession. Monday night against the Dolphins required winning work by their vaunted quarterback in less than 15 minutes of time of possession.
Sunday night in Arizona,
Peyton Manning
and his Colts looked were comfortable, precise and efficient. And there was no unseemly time crunch, either.
Opportunistic on both sides of the ball, the
Colts cruised in Arizona
, 31-10, and put themselves in the familiar spot they vacated with their slow start in 2008. At 3-0, they're back ahead of the pack in the AFC South, where the Jaguars and Texans are 1-2 and the Titans are 0-3.
The message upcoming opponents should take?
If you're going to turn it over when you get into the red zone, if you're going to guess against Manning like
Dominique Rodgers-Cromartie
did, if you're going to drop balls that bounce right to you, don't expect to give the Colts much of a game. It's probably not a good idea to spot them the sort of lead that allows them to concentrate on rushing the passer and defending the pass, either.