AFC South:

Don MacLachlan
August, 28, 2013
8/28/13
11:28
AM ET
NASHVILLE, Tenn. -- The
Tennessee Titans
have sold every ticket to every game at LP Field, which dates back to 1999.
It's a streak of 146 games that includes preseason, the regular season and playoff games.

But they haven't been to the postseason since 2008. Coming off a 6-10 season, they added a big free-agent class that makes them more interesting. Still, at a time when many are more inclined to stay home and watch their team in HD while flipping to the Red Zone channel, it's become more challenging to sellout.
The team sells roughly 2,500 single-game tickets per game, and those used to be snatched up in minutes.
The secondary market and ease with which people can show up at the stadium and find tickets make people less inclined to spend now instead of deciding later.
This year, they've yet to sell out any of their regular-season games. Today an email landed in my inbox advertising their latest pitch: "Game pack" tickets to the home games against the Chargers and Jets for $72.
Per the team, here is an estimate of how many tickets remained for each game on the schedule at the end of business on Tuesday:
San Diego, 1,100
NY Jets, 900
Kansas City, 1,300
San Francisco, 250
Jacksonville, 1,200
Indianapolis, 950
Arizona, 1,700
Houston, 1,500
Said Don MacLachlan, executive vice president of administration and facilities: "We are most thankful to our season ticketholders that continue to renew at a very high rate each and every year. Our aggressive approach with our single-game sale efforts this year should allow us to keep our sellout streak alive through the season."
I expect the streak to continue, though if the Titans start poorly with road games at Pittsburgh and Houston, it could become even more difficult.
December, 31, 2012
12/31/12
2:10
PM ET
There is not enough work for a team president with the Tennessee Titans.
Jeff Diamond once served as a nice go-between when former coach Jeff Fisher and former general manager Floyd Reese sparred and the team settled into a new place in a new city. But in time, owner Bud Adams lost interest in Diamond and the job he was doing.
[+] Enlarge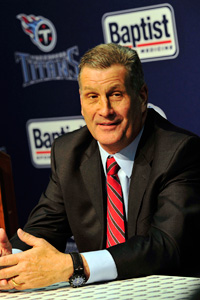 Grant Halverson/US PresswireThe Titans fired Mike Reinfeldt, who was GM from 2007 to 2011 and was most recently senior VP and COO.
Now Mike Reinfeldt has suffered the same fate. (Technically, he was senior executive vice president and chief operating officer. In practice, he functioned as team president.)
Per Jim Wyatt of The Tennessean,
Reinfeldt is out
while coach
Mike Munchak
and general manager Ruston Webster remain in.
It's a bit of an awkward deal for Webster, I am sure, as Reinfeldt brought him in and eventually got them both promoted.
But when the Titans have a coach, a GM and a top administrator of non-football operations in Don MacLachlan, what's a president really to do? A lot of people inside team headquarters thought there was not enough.
Reinfeldt's frequent bike rides became like Diamond's frequent golf outings to many within the organization -- a symbol of days that weren't full enough and a cushy job.
Adams was harsh in what he told Wyatt about Reinfeldt, who was the team's GM from 2007-11 and whose first-round picks included safety
Michael Griffin
,
Chris Johnson
,
Kenny Britt
,
Derrick Morgan
and
Jake Locker
.
"He has two more years to go on his contract, but I think we'd be better off without him," Adams said. "I don't think he was getting the job done. Mike Reinfeldt is out."
What the job was wasn't especially clear, but Reinfeldt got the treatment guys who fall out of favor with Adams typically get.
Munchak has two years left on his deal, and it's unclear how much his staff will be revamped. Adams said such changes will be up to Munchak, who wasn't picking from a great field when he first got the job because Jeff Fisher's departure came late and many jobs around the league had been filled.
"I think he is the right guy to get the job done," Adams told Wyatt. "He just needs the right people around him."
Munchak fired Chris Palmer as offensive coordinator late in the season, replacing him with quarterbacks coach Dowell Loggains.
Tom Moore joined the team as an assistant when that move was made. Munchak wanted him as coordinator when he was elevated to replace Jeff Fisher in 2011 and he could try to persuade Moore to take the job now and craft an offense for Locker. With all the coaching turnover around the league, he will have good options if he chooses to move Loggains back to his old spot.
And defensive coordinator Jerry Gray has to be in trouble. The franchise just set a new record for points allowed, regularly getting shredded by the best opponents it faced.
Meanwhile Webster will gain some power. He deserves a chance to stock the roster.
Last year was his first draft running things for Tennessee, and his first four picks were all quality contributors: receiver
Kendall Wright
, linebacker
Zach Brown
, defensive tackle
Mike Martin
and cornerback Coty Sensabaugh.
August, 9, 2011
8/09/11
4:10
PM ET
It's not a cause for panic, but it's sure an interesting development. The Titans set aside 2,500 or more tickets per game for single-game sales.

Every year since they took on the new name and moved into the new stadium those tickets have been snatched up in hours.
Monday, they were not.
The team came into Tuesday with 1,200 tickets remaining for the Indianapolis game and between 1,200 and 2,000 tickets remaining for the others.
"We were cautiously optimistic that we might have the chance of selling out games the first day," Don MacLachlan, the team's top non-football executive
told John Glennon
. "But with the unique offseason, for lack of a better word, that we had -- the economy, the price of gas, etc., and from talking to a number of fans myself personally … we knew it would take a little more than just a normal year to sell out (right away)."
Being able to presume you'll sell out and having some work left to do are two different things. The Titans have a new coaching staff, new quarterbacks and new, lower, expectations outside team headquarters.
Sponsorships mean the preseason games are guaranteed to be televised and odds are the remaining regular-season tickets sell now that people who never expected they'd be available know they are available.
The sellout streak is unlikely to end. The selling out on the first-day streak is dead.
Preseason blackouts following the lockout are highly unlikely. Vito Stellino spells out
the specifics for Jacksonville
.
A look at the ticket status for the other three teams of the AFC South:
Colts -- Single game tickets available for both preseason games. Regular-season games are down to scattered single seats.

Jaguars -- Single-game tickets go on sale Sept. 2. They have just under 15,000 total tickets per game to sell and hope to move many in-season ticket packages and group sales.

Texans -- Single-game tickets went on sale on Friday and have moved slowly. The season ticket total is expected to be south of 64,000. Capacity is 71,054, but there are other things that whittle away the difference beside single-game sales -- suite sales, comp tickets, player tickets, sponsors, partners, etc.
May, 5, 2010
5/05/10
10:34
AM ET
Quality reads
If Tim Tebow succeeds, it'll be
a win for coaches
over scouts, says Rick Gosselin. And of Gosselin's top 19 undrafted players, four signed in the AFC South.
Houston Texans
Texans VP Tony Wyllie has
accepted a job
with the Redskins. A surprise from a top PR guy, who's also worked for the Titans, as he's a true blue Houstonian. Best of luck to a good guy who's helped this blog quite a bit.
A look at Ben Tate and what
speed scores
are, from Stephanie Stradley.
Indianapolis Colts
Mike Chappell
takes questions
on Antoine Bethea and Pat Angerer, and
a second round
on Brody Eldridge and Anthony Gonzalez.
John Oehser's pre-OTA looks at
the defense
and
quarterback
.
Considering
the Colts' return game
with Nate Dunlevy.
Jacksonville Jaguars
The Jaguars have renewed their search for
a return-game threat
, writes Mike DiRocco.
A simple and excellent
explanation
of the numbers used to identify where defensive linemen line up from Vic Ketchman.
A new year brings
a new energy
, says Ryan Robinson of the team's website.
Tennessee Titans
There is still no power for the Titans at their facility or at LP Field, team official Don MacLachlan told 104.5 The Zone this morning. (No link.)
There is
no easy answer
to the Chris Johnson contract issues, says Vic Carucci.
Could Marc Mariani be
a seventh-round steal
? Drexel Perry considers.
July, 7, 2009
7/07/09
4:39
PM ET
Posted by ESPN.com's Paul Kuharsky
Titans fans will be able to pay tribute to Steve McNair by visiting LP Field on Wednesday and Thursday.
They will be able to leave personal messages in a book the team will present to his family. The stadium video boards will show highlights of McNair, a photo mural of his career will be on display and donations to the Steve McNair Foundation will be accepted.
"Mr. [Bud] Adams thought this would be a fitting place for fans to show their respects to Steve and celebrate his career," Titans vice president Don MacLachlan said. "LP Field is one of the places where he made so many great memories for so many of our fans."
The stadium will be open from 9 a.m. to 7 p.m. CT Wednesday and Thursday. Fans can park for free in Lot C and enter Gate 1.
A visitation and a memorial service for McNair are scheduled for Thursday in Nashville.