April, 1, 2013
4/01/13
9:30
AM ET
Thoughts on the primary developments around the AFC South over the past 10 days while I took some time away…
Houston Texans

The Texans signed
Greg Jones
to replace
James Casey
as their fullback, plucking a player who'd been a staple for division rival Jacksonville. Jones is much more of a traditional fullback than Casey was. While he's not the sort of pass-catching threat Casey was, he will be a better lead blocker for
Arian Foster
. With a one-year contract, he's unlikely to be a long-term solution, as he will turn 32 in May.
Shane Lechler
is the new punter, a free-agent addition replacing
Donnie Jones
. Lechler is obviously an excellent punter. The one concern is the Texans are not an excellent coverage team. While a linebacking corps that will be restocked in the draft and presumably healthier will help, I'll be watching to see if Lechler outpunts his coverage, actually creating additional issues rather than helping to resolve them. Houston did hire Bob Ligashesky as an assistant for longtime special teams coach Joe Marciano.
J.J. Watt
's star continues to shine. After visiting troops in the Middle East, he belted home runs at an Astros batting practice and had a baby penguin in Galveston, Texas named after him.
Indianapolis Colts

The Colts took a look at former Oakland receiver
Darrius Heyward-Bey
, but no deal came together. Considering how general manager Ryan Grigson has worked in free agency, it seems unlikely a deal will come together now. Indianapolis has moved quickly to bring in the guys it wants, so it would seem the Colts decided to pass, or DHB didn't jump to agree to what they may have offered. I think the team, which has made plenty of moves in free agency, can address wide receiver early in the draft.
The addition of veteran backup quarterback
Matt Hasselbeck
shows the Grigson-Chuck Pagano regime regard the position behind
Andrew Luck
differently than Bill Polian did when he was dealing with insurance for
Peyton Manning
late during his tenure in Indianapolis.
Jacksonville Jaguars

The Jaguars didn't become players in the trade market for quarterback
Matt Flynn
. Smart move. The next signal caller that lands in Jacksonville needs to be more of a sure thing, and come at a more reasonable price than Flynn. Coach Gus Bradley obviously saw Flynn up close while working for the Seahawks. If he loved him, the Jaguars would have more likely shown some interest. Maybe they love
Geno Smith
or another quarterback in the draft. But I'll be fine if they work hard on building the framework around the QB, play this season with
Blaine Gabbert
and
Chad Henne
. If neither emerges as a guy they can count on going forward, then it's priority No. 1 a year from now.
Gabbert's talking excitedly about the competition ahead at quarterback. He didn't like comments from a nameless coach from the previous staff that called him "Blame Gabbert" and suggested the way he carries himself puts blame for his problems on everyone else. It's exactly how you'd expect him to react. But I believe there was some truth to it, and it's something the new staff could have to address.
Tennessee Titans

The Titans took a look at former Jets wide receiver
Chaz Schilens
as well as former Bronco
Brandon Stokley
and former Texan
Kevin Walter
. The team has been eager to add a slot guy to its group, and while Stokley is going to be 37 when this season starts, he is the one guy of these three who could give the Titans something they lack, I believe.
Ropati Pitoitua
is the newest member of the Titans defensive line, an area they've wanted to beef up. Now Pitoitua, at 6-foot-8 and 315 pounds, joins tackle Sammie Hill (6-4, 329) to provide that size upgrade. Pitoitua was the 10th free-agent addition for Tennessee this offseason. He figures to help shore up the run defense.
I was a bit surprised the Titans signed safety
Bernard Pollard
, who's a solid player against the run but also a coverage liability. He's an outspoken guy with a big attitude and I'd categorize him as more of a Gregg Williams guy than a Mike Munchak guy.
March, 20, 2013
3/20/13
7:03
PM ET
Special teams hurt the
Houston Texans
last season.

"We were a big penalty team in special teams," coach Gary Kubiak said recently. "That's a big concern of ours. If I'm looking for a reason why we fell off a little bit, our inside linebacker situation got very thin when we lost [
Brian Cushing
]. When you're having problems at linebacker in the NFL, you're probably going to suffer on special teams. We're not going to use that as an excuse. But it's something we have to do better."
One guy who wasn't really part of the problem was punter
Donnie Jones
.
He was 14th in the NFL with a 40.4-yard net average and put 28 of his 88 punts inside the 20-yard line. He's got a career net average of 39.2 yards in nine seasons with four teams.
But while the team expects to add linebackers who can help special teams in the draft, it could replace Jones, a free agent, with free agent
Shane Lechler
, who has played 13 years for Oakland.
John McClain of the Houston Chronicle reports Lechler will
visit the Texans
on Thursday.
Lechler had a 39.0 net average last season for the Raiders with 45 of 81 punts inside the 20-yard line. His career net is 39.0.
He's a seven-time Pro Bowler and a six-time first-team All-Pro.
The difference between Jones and Lechler at this point isn't significant. No matter who's punting, the team has to cover and block better.
March, 18, 2013
3/18/13
10:02
PM ET
The AFC South has six additional picks in April thanks to the NFL's formula for compensatory draft picks.
Compensatory free agents are determined by a formula based on salary, playing time and postseason honors. The formula was developed by the NFL Management Council. Not every free agent lost or signed by a club is covered by this formula.
The Texans
get a third-rounder, No. 95 overall, and a sixth-rounder, 201st overall as a result of losing
Jason Allen
,
Mike Brisiel
,
Joel Dreessen
and
Mario Williams
while signing
Bradie James
and
Donnie Jones
.
The Titans
get a third rounder, 97th overall, a sixth-rounder, 202nd overall and a seventh-rounder, 248th overall as a result of losing
Cortland Finnegan
,
William Hayes
and
Jason Jones
. Their two prominent signings,
Kamerion Wimbley
and
Steve Hutchinson
, were cut by their previous teams. The formula factors in only players who had expiring contracts and became free agents. The Titans signed none who qualified for consideration in the league's equation.
The Colts
get a seventh-rounder, 254th overall even though they did not suffer a net loss of compensatory free agents last year. Under the formula, the compensatory free agents lost by the Colts ranked higher than the ones they signed. The formula needs annually adds 32 picks, the equivalent of a full round of picks, to the draft and the Giants and Colts got the two extra picks to fill out that number.
The Jaguars
didn't qualify for an extra pick
Complete team-by-team draft orders will appear here shortly.
December, 20, 2012
12/20/12
9:09
AM ET
Football Focus places eight members of the AFC South on its AFC Pro Bowl team.
Five of them are no surprise: Houston Receiver
Andre Johnson
, Indianapolis receiver
Reggie Wayne
, Houston left tackle
Duane Brown
, Houston center
Chris Myers
, Houston defensive end
J.J. Watt
.
If I asked you to guess the other three, I seriously doubt you'd come up with Colts rookie tight end
Dwayne Allen
, Titans defensive tackle
Jurrell Casey
or Houston punter
Donnie Jones
.
On Allen PFF writes: "It was harder picking the second choice with it ultimately coming down to Allen and
Heath Miller
. In the end, while the staff was split, the superior blocking of Allen won out."
On Casey: "While we appreciate how excellent
Vince Wilfork
has been in recent weeks, we plumped for the more consistent Casey. There's a player who produces week in and week out."
Special teamers get names but no write ups. Apologies to Jones.
December, 13, 2012
12/13/12
1:29
PM ET
Reading the coverage…
Houston Texans

The week after a loss tends to drag, so the Texans are happy theirs is
a short one
, says Tania Ganguli of the Houston Chronicle.
Among the Texans' new injuries; A banged up
plant leg
for punter Donnie Jones, says Ganguli.
A plan for
new digital scoreboards
at Reliant Stadium is heading for a vote, says John McClain.
Indianapolis Colts

The NFL admitted it
missed the call
on Andrew Luck's interception against Tennessee and that his knee was down. The replay official failed to get the definitive picture to the referee, says Mike Chappell of the Indianapolis Star.
To which I say:
Why does stuff like this still happen? We all said in the press box that there was no way the ref could have seen the shot we were seeing, and he didn't. Ridiculous. At least they admit their mistake.
Andrew Luck regards his trip home to Houston Sunday as
a business trip
, says Chappell.
Vick Ballard is in line for
the bulk
of the running back work, says Phil Richards of the Star.

Jacksonville Jaguars
Chad Henne's returning to Miami with
the same determination
to win as a starter, says Vito Stellino of the Florida Times-Union.
Mike Mularkey
returned
from a sick day at full speed, says Ryan O'Halloran of the Times-Union.
As Cecil Shorts returns from
a concussion
, he's talked to Laurent Robinson, a Jaguars receiver whose season ended with multiple concussions, says John Oehser of Jaguars.com.

Tennessee Titans
Mel Kiper thinks the strength of the upcoming draft
at defensive end
lines up with a Titans' need, says John Glennon of The Tennessean.
Jason McCourty was wired for sound in the Titans recent loss to Houston. (
Video
.)
December, 2, 2012
12/02/12
9:22
AM ET
Reading the coverage ...

Houston Texans
Stars have shined to get the Texans to 10-1, but there has also been a roster of
unsung heroes
like Donnie Jones, Justin Forsett and James Casey, says Tania Ganguli of the Houston Chronicle.
John McClain of the Chronicle runs through
five keys
for the Texans against the Titans, with an emphasis on defensive depth and defensive performance.
Brian Cushing is unsure about the idea of eliminating
blocks below the waist
, says Ganguli. He suffered a season-ending knee injury on such a block, but he knows the Texans' offense is keyed on cut blocking.

Indianapolis Colts
Mike Chappell of the Indianapolis Star sees Calvin Johnson against Reggie Wayne as
Megatron versus Metronome
.
The next test of depth comes at defensive tackle and safety where
Fili Moala and Tom Zbikowski are out
, says Chappell.

Jacksonville Jaguars
Mike Harris is an improving rookie cornerback who's getting a lot of opportunity, says Ryan O'Halloran of the Florida Times-Union. "He's been confident the whole time and
knows the system inside and out
," safety Dawan Landry said.
Gene Frenette of the Times-Union marvels at how Mike Mularkey has kept the Jaguars
positive
during a bad season.
The Jaguars
promoted
running back Richard Murphy from the practice squad and waived fullback Will Ta'ufo'ou, says O'Halloran.

Tennessee Titans
Like a number of Titans, Chris Johnson
is optimistic
about what Dowel Loggains will be able to do as offensive coordinator, says Jim Wyatt. Also, Tim Shaw will fill in for the injured Colin McCarthy at middle linebacker.
Fullback Collin Mooney was
promoted
from the practice squad, says Wyatt.
November, 11, 2012
11/11/12
11:33
PM ET
CHICAGO -- Thoughts on the
Houston Texans
' 13-6
win
over the
Chicago Bears
at Soldier Field:
What it means:
The Texans won on the road against a top NFC team in bad weather to boost their record to 8-1 and should get even more attention as a potential Super Bowl team after this effort in Chicago.


What I liked:
After all the talk about the Bears' propensity for creating turnovers, it was the Texans who proved to have more of the playmaking defense with four takeaways -- two fumbles and two picks of Chicago's
Jay Cutler
. Running back
Arian Foster
did yeoman's work, with 29 carries for 102 yards. He also scored the game's lone touchdown with a pretty diving catch of a 2-yard pass from
Matt Schaub
with linebacker
Lance Briggs
covering him well. While
Brandon Marshall
made a big 45-yard catch, there were hardly any instances when you felt like a run or short pass by Chicago had a chance to turn into something significant and damaging.
Other good things:
While a potential big return by
Keshawn Martin
was washed away by a holding penalty, and
Donnie Jones
wasn't crushing his punts, the Texans' special teams had a reasonably good night. Coverage teams contained
Devin Hester
, making several one-on-one tackles. And while Chicago's
Robbie Gould
missed a 48-yard field goal in the third quarter that would have made it 10-9 Texans, Houston's
Shayne Graham
hit his attempts from 20 and 42 yards.
What I didn't like:
On a rainy, windy night, Schaub and the Texans couldn't find much through the air. A deep, bootleg pass for
Andre Johnson
on their first series went off his fingertips.
Kevin Walter
's 23-yard reception in the third quarter was the long pass of the day for Houston.
What I want to know:
How much linebacker
Tim Dobbins
is going to get fined for the hit above the shoulders to Cutler that left the Bears quarterback with a concussion that kept him out of the second half.
What's next:
The Texans host Jacksonville at Reliant Stadium in an AFC South matchup. Houston won the first matchup at EverBank Field on Sept. 16, 27-7.
November, 11, 2012
11/11/12
7:24
PM ET
CHICAGO -- Weather's going to be a big issue tonight at Soldier Field.
The rain outside the press box window is moving sideways and the flags on top of the stadium and a top the goal posts are screaming "It's swirling." Every time I look at them they are going different directions, and one end of the stadium is different than the other.
The Texans will be working without one of their top weapons, tight end
Owen Daniels
, who's sidelined with a back injury.
Garrett Graham
is a capable replacement, but hardly as dynamic. Fullback
James Casey
, who's really an H-back, has the best hands on the team and will likely be a factor in the passing game too.
Quarterback
Matt Schaub
, kicker
Shayne Graham
and punter
Donnie Jones
will all have issues with the wind, as will their Bear's counterparts
The full list of inactives:
Texans
Bears
October, 25, 2012
10/25/12
8:32
AM ET
Reading the coverage…

Houston Texans
Shayne Graham and Donnie Jones have kicked and punted well, "[b]ut kickoff returns and coverage need
a major overhau
l by the time the Texans return from their open date and play the Buffalo Bills in Mario Williams' homecoming at Reliant Stadium," writes John McClain of the Houston Chronicle.
To which I say:
Bryan Braman is an excellent special-teamer, but beyond him the team is lacking in top guys. It's hard to overhaul the units when you don't have new people.

Indianapolis Colts
As passing games get better and better, cornerbacks need to
be bulletproof
with amnesia more than ever, says Mike Chappell of The Indianapolis Star. Jerraud Powers and Vontae Davis talk about their mindsets.
To which I say:
In a scheme with more man coverage, these guys are being asked to do even more. Powers has been up and down, but he's being asked to do much more than in the past.

Jacksonville Jaguars
Backup running back Rashad Jennings and backup quarterback Chad Henne vow to be
ready to contribute
for the Jaguars in Green Bay, says Ryan O'Halloran. Jennings will start for Maurice Jones-Drew, but Henne will back up the banged up Blaine Gabbert.
To which I say:
Jennings went through camp as the starter during Jones-Drew's holdout. The time has come for him to show why the team has such faith in him.

Tennessee Titans
Recent Pac-12 alumni including defensive tackles Jurrell Casey and DaJohn Harris (USC), linebacker Akeem Ayers (UCLA) and cornerback Alterraun Verner (UCLA) all have recent hands-on
experience against
Andrew Luck, says John Glennon of The Tennessean.
To which I say:
Any familiarity helps, but Luck has graduated into a different guy playing with different people in a different system at a different level, so those college experiences only mean so much.
October, 18, 2012
10/18/12
12:00
PM ET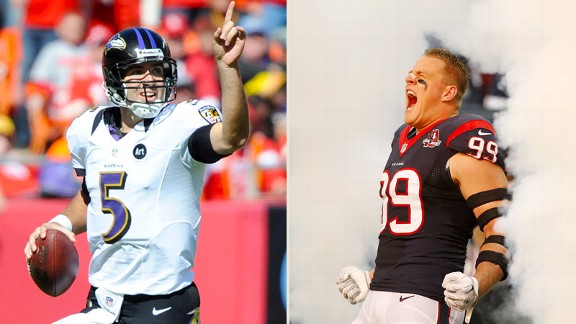 US Presswire, AP ImagesHow Baltimore's Joe Flacco, left, fares against Houston's explosive J.J. Watt could be key Sunday.
The last time we saw the Texans and Ravens square off, we were watching a divisional-round playoff game at M&T Bank Stadium in Baltimore.
Terrell Suggs
had six tackles and a pass defended as the Ravens' rush linebacker. Houston featured third-string rookie
T.J. Yates
at quarterback, and his three interceptions -- paired with multiple special-teams gaffes by Texans returner
Jacoby Jones
-- were big factors in a 20-13 Baltimore victory.
The Texans returned home to rave reviews for their first playoff season but also couldn't help wonder what might have been if they'd had injured starting quarterback
Matt Schaub
and played a cleaner game. Baltimore advanced to the AFC Championship Game in New England, where it lost to the Patriots, but a near-catch for a touchdown by
Lee Evans
could have won it with 27 seconds left and a missed 32-yard field goal by
Billy Cundiff
could have forced overtime.
This rematch doesn't carry the same stakes but could have big implications. The winner will have the AFC's best record at 6-1.
AFC North blogger Jamison Hensley and AFC South blogger Paul Kuharsky will be watching closely.
HENSLEY
: I think it's easy to say this is a battle of the two best teams in the AFC. Not really going out on a limb here because the Ravens and Texans are the only teams with winning records in this mediocre conference. I know there are going to be nine games after this one, but this is shaping up to be the Ravens' most important game of the regular season.
The result of this game could become a tiebreaker for home-field advantage or a first-round bye at the end of the season. The Ravens, who have won a league-best 14 consecutive games at home, don't want to go on the road in the playoffs. The Ravens' mindset is that they won't have to come back to Houston this year if they win there Sunday. What's the mindset of the Texans after what happened in Houston last Sunday night?
KUHARSKY
: Because the Texans are so young, they've played a lot of "biggest games in franchise history." This is certainly the newest one to top the list. Their critics look at the 5-1 record and see wins over mostly softies and a pasting by the Packers on Sunday night. A victory over the Ravens validates everything they've done and regains a firm hold on Best in the AFC. A loss would create some serious concerns. They do have the cushion of playing in a terrible division they simply can't lose. But Baltimore has been an obstacle and ended the Texans' last season in the playoffs. If they meet again with such high stakes, they don't want to be traveling.
It might be a good time to draw the Ravens, too, right? I know
Ray Lewis
wasn't what he has been, but their first game without a leader like that and without an underrated, great corner like
Lardarius Webb
may make them a bit more susceptible, no?
HENSLEY
: This is the most vulnerable I've seen the Ravens' defense in 13 seasons. Lewis wasn't playing like the Lewis from 10 years ago, but he was still an above-average linebacker in this league. The Ravens have given up more than 200 yards rushing in each of the past two games, and losing Lewis only makes that run defense shakier.
Dannell Ellerbe
, who has made seven starts since entering the league as an undrafted free agent in 2009, will take Lewis' spot.
Though the Ravens will miss Lewis' leadership, the bigger loss is Webb. He was emerging as one of the top cornerbacks in the league. His nine interceptions since the start of the 2011 season was tied for the league lead. So, the Ravens have taken shots to both their run and pass defenses this week. How do you see the Texans attacking the Ravens' defense Sunday?
KUHARSKY
: Although they might not run first chronologically Sunday, the Texans are a run-first team. Everything they do offensively is keyed on the one-cut-and-go running of
Arian Foster
, who did great work running for 132 yards in that playoff game on Jan. 15. They send him left most often now, because
Duane Brown
and
Wade Smith
are steadier blockers than the guys on the right side, where they have two new starters who aren't even full time.
Spinning off that run game, we'll see play-action heavy with bootlegs and rollouts. It's always remarkable to see
Owen Daniels
out in space awaiting a Matt Schaub pass.
Andre Johnson
is certainly dangerous too, though they've not been able to feed him the ball as much as usual. He hates the talk that he's getting older and slowing down, but he hasn't looked like the same player so far this season. Two weeks ago, Jets cornerback
Antonio Cromartie
really smothered Johnson. I figured Webb would be a guy who could do similar work. If AJ sees someone like
Cary Williams
instead, it could be a different story.
Speaking of Schaub, let's turn to quarterbacks. He has been quite efficient this year, doing what Houston needs and not getting caught up at all in his numbers. I came into the season not sold on
Joe Flacco
and thinking the Ravens didn't have the right guy under center to become an offensive team. But he has done some very good work in the games I've seen and started to change my opinion. Even minus
Brian Cushing
, the Texans' front throws a lot at a quarterback. Green Bay might have exposed some coverage deficiencies. How's Flacco at assessing such things on the fly and taking advantage?
HENSLEY
: Flacco's biggest improvement this season has been his ability to audible at the line. The Ravens are using the no-huddle more than any other time in Flacco's five seasons. It's not to the point of being
Peyton Manning
, but Flacco is constantly changing the play at the line. Flacco, who ran the no-huddle during his college days, is comfortable with this. He has wanted to have more control of the offense and he's now getting it.
A lot of credit goes to quarterbacks coach Jim Caldwell, who is familiar with this style from his days with the Colts. Flacco makes his mistakes when he gets pressured. His pocket awareness has improved and he can scramble for yards. But Flacco will rush and make poor throws when a defender is in his face. Left tackle
Michael Oher
(four sacks) and rookie right tackle
Kelechi Osemele
(three sacks) have struggled at times keeping rushers away from Flacco. Is there any chance the Ravens slow down
J.J. Watt
and Houston's pass rush?
KUHARSKY
: It sure seems like the key to the game for me. Watt is going to get his at some point, and it's not just sacks. Watch how he'll stop rushing when he knows he's not getting there and time his jump to bat down, or even pick off, a pass.
And although the numbers of the other guys aren't in his stratosphere,
Brooks Reed
,
Antonio Smith
and
Connor Barwin
are very effective rushers who will have a bearing on Flacco's pocket comfort. Force some mistakes with that rush, and I like Houston's chances. Get stonewalled and fall victim to the ball coming out super-fast, and I feel differently.
One note about the quicker Ravens offense: With Cushing out,
Brice McCain
, the nickelback, will have a bigger role in covering players such as
Ray Rice
and
Dennis Pitta
on routes. If the Ravens run hurry-up or no-huddle, they can potentially trap the Texans in base if they want McCain off the field. I am eager to see whether they try that. The Texans are obviously are familiar with Jim Caldwell's no-huddling.
How about special teams? Tell me how Jacoby Jones is now reliably explosive? The Texans have some serious special-teams issues.
HENSLEY
: Jacoby Jones has been one of the bigger surprises this season for Baltimore. The Ravens were looking to upgrade the return game this offseason and failed to sign
Eddie Royal
or
Ted Ginn
in free agency. That's why they jumped on Jones when he was cut by the Texans. He has been average as a punt returner (9 yards per return), but he really keyed the win over the Cowboys on Sunday. His 108-yard kickoff return for a touchdown, which tied an NFL record, was the big play in that game.
The only reason the Ravens turned to Jones on kickoffs was because rookie
Deonte Thompson
fumbled a kickoff the week before. If you think about it, it's kind of funny that Jones got his chance to be explosive because another player couldn't hold onto the ball, especially after Jones' problems fielding kicks in the past. But that really hasn't surfaced so far with the Ravens.
Baltimore's coverage teams are both ranked in the top half of the league, which is a big improvement from last year. In 2012, the Ravens allowed three touchdowns on returns. Another improvement is at kicker. Rookie
Justin Tucker
has made 12 of 13 field goals this season and has hit both attempts beyond 50 yards. If this game is close, the Ravens have a lot of confidence in Tucker to make a pressure kick. So, what are the issues with the Texans' special teams?
KUHARSKY
: Well,
Trindon Holliday
was absolutely electric as their returner in the preseason. But it didn't carry over and they gave up on him. You saw Holliday playing for the Broncos on Monday night.
Keshawn Martin
is the man now. The team averages only 9.8 yards a punt return and 18.5 yards a kick return.
Their average start after a kickoff is the league's worst -- the 17.7-yard line. Their coverage isn't that bad -- it's 31st in the league instead of 32nd. Opponents start at the 26.9-yard line.
Donnie Jones
is a middle-of-the-pack punter in net average.
Shayne Graham
has been good on field goals, hitting 11 of 12, but is tied for 24th in touchbacks playing at home in what amounts to a domed stadium.
It's gambler's logic that the Texans are due to break through against the Ravens. Maybe they will, maybe they won't. If they don't and Jacoby Jones has something to do with it, it'll hurt a little bit extra.
It's certainly no stretch to predict we'll see these teams facing off again in the playoffs. In what round and where is the question, and Sunday's winner will lead the race to be in position to host.
August, 27, 2012
8/27/12
3:33
PM ET
August, 25, 2012
8/25/12
11:18
PM ET
There isn't a coach in the league who's OK with fumbling. There may not be a coach in the league who's less OK with it than Gary Kubiak.


So while
Keshawn Martin
is assuredly part of the Texans, the rookie receiver might have hurt his chances to be on the field early in the season with two lost fumbles over the course of the Houston's
34-27 loss
in New Orleans on Saturday night.
Return man
Trindon Holliday
was having a great preseason. But he comes out of Week 3 of the preseason as no sure thing after losing one fumble that was scooped for a touchdown return and dropping another return chance which he managed to recover as he went out of bounds. Those will be measured against an electric 64-yard kickoff return later in the game.
A few other notes out of the game:
August, 8, 2012
8/08/12
11:17
AM ET
Reading the coverage…
Houston Texans
Rookie Randy Bullock and veteran Shayne Graham
understand the competition
they are having to become the Texans kicker, says Randy Harvey of the Houston Chronicle.
The Texans may have found
a gem
in punter Donnie Jones, says John McClain of the Chron.
Corner Brandon Harris
has been better
since a light bulb moment, says McClain. He's still going to be stuck behind nickel Brice McCain.
Indianapolis Colts
Andrew Luck seems to hit at least
one long ball
per practice, says Phillip B. Wilson of the Indianapolis Star.
Sunday against the Rams will qualify as
a bit more
than just the Colts' first preseason game, says Wilson.
The Colts
haven't been running a lot
, which may or may not mean much, says Nate Dunlevy of Bleacher Report.
Jacksonville Jaguars
Justin Blackmon's
crash course
is underway, says Vito Stellino of the Florida Times-Union.
Blackmon
won on the contract
, now he's got to produce, says Gene Frenette of the T-U.
Aaron Ross got
a hero's welcome
when he returned to the Jaguars after watching his wife win a gold medal at the Olympics, says Stellino.
Tennessee Titans
Jake Locker's mobility amounts to
a double-edged sword
, says John Glennon of The Tennessean. Stay tuned for a bit on Matt Hasselbeck's mobility in a post I'll have up this afternoon.
With replacement offseason, get ready for a preseason – and maybe a season – of
discontent
, says David Climer of The Tennessean.
Receiver Marc Mariani and center Fernando Velasco
were good
against the Falcons, says Jim Wyatt of The Tennessean.
Rookie long snapper Beau Brinkley is looking to keep
a low profile
, says Glennon.