AFC South:

Dontrelle Inman
December, 19, 2013
Dec 19
10:00
AM ET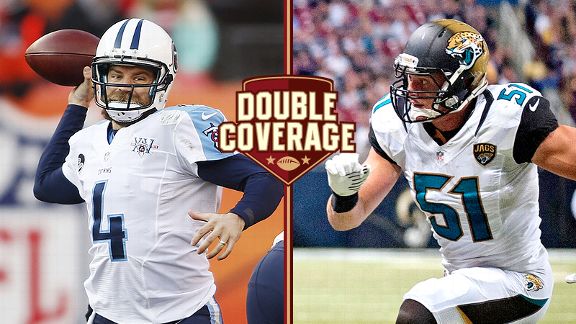 USA Today SportsPaul Posluszny and the Jags are aiming for a season sweep of Ryan Fitzpatrick and Tennessee.
JACKSONVILLE, Fla. -- Maybe
Delanie Walker
shouldn't feel so bad now.
The Titans tight end said he was embarrassed after the Jaguars won 29-27 in Nashville on Nov. 10 to pick up their first victory. Since then, the Jaguars are 3-2 with victories over Houston (twice) and Cleveland. The Titans are 1-4 with a victory over Oakland.
There seems to be much more stability in Jacksonville, too, because of the uncertain status surrounding Tennessee coach Mike Munchak.
Jaguars reporter Michael DiRocco and Titans reporter Paul Kuharsky break down Sunday's matchup at EverBank Field.
DiRocco
: Some Titans players were pretty vocal about being embarrassed due to becoming the first team to lose to the Jaguars. Is that something that still stings, and how have they rebounded from that loss?
Kuharsky
: It definitely left a mark. They are only 1-4 since then. It kind of set a bar for how bad they can be and re-established their propensity to lose to teams that are really struggling. The Jaguars are on an upswing since that game, and the Titans are on a downward spiral. If Tennessee losses to the Jaguars again, the Titans will be in line to finish in third place in an awful division, which is well short of their goals and expectations. The Titans are a better team than they were last year. But losing closer isn't a really big difference in the really big picture.
Let's turn that around. How has life changed for the Jaguars since that Nov. 10 breakthrough?
DiRocco
: I could go into a lot of stats that show how much better the Jaguars are playing, but that's not what's really important. The past six games have been more about the validation of the process, establishing the foundation of the franchise's rebuild, and confidence in the new regime. Coach Gus Bradley never wavered from the plan that he and general manager David Caldwell established. His message stayed the same throughout the eight-game losing streak to start the season: trust in the process, work hard, and focus on improving and not victories, and the victories will eventually come. Because that has happened, the players appear to have completely bought into what Bradley and Caldwell want to do, and there's a confidence in the locker room that the franchise is headed in the right direction.
We talked about
Jake Locker
the last time these teams met, but that was before he suffered a season-ending injury to his foot. How does that change the Titans' outlook on him and are they in the market for a quarterback in the offseason, too?
Kuharsky
: Locker is certain to be on the 2014 Titans. His fourth year isn't that costly and it's guaranteed. But they can't execute a spring option for his fifth year that would line him up for over $13 million. A lot of his fate depends on whether Munchak is back as the head coach. It's possible they go forward with Locker,
Ryan Fitzpatrick
and just-signed
Tyler Wilson
as their quarterbacks. It's also possible they'd draft a new guy, and depending on how high of a pick he could land in competition to start. I think it's less likely they chase a free agent like
Jay Cutler
if he comes free, but they have to assess all the possibilities. How can they completely commit to Locker based on his injury history?
One side effect of the Jaguars' surge is they aren't going to be in position to draft the first quarterback taken. What's your sense of what Bradley and Caldwell want in a quarterback and do you expect one to arrive in the first round?
DiRocco
: Offensive coordinator Jedd Fisch said something interesting last week. He said he wants his QB to scramble around, take off running to get yards and take some chances throwing the football. To me, that sounds like a pretty accurate description of Johnny Manziel. I'm not sure how that reconciles with the ideas of his bosses. Bradley comes from Seattle, which has the mobile
Russell Wilson
. Caldwell comes from Atlanta, which has the considerably less mobile
Matt Ryan
. My sense is that Bradley and Caldwell probably lean more toward the Wilson end of the spectrum. People think that eliminates Teddy Bridgewater, but that's not the case. He's not a runner but he can run if needed. If he's around, I'd expect them to take him. If not, then I would still expect them to go quarterback. It's their most glaring need.
You mentioned Munchak's job status. What's your take on whether he will be back next season -- and should he be?
Kuharsky
: He's shepherded improvement, but his team lacks an ability to finish. He's 0-4 in the worst division in football, 1-9 in the past two years. His teams have lost to the previously winless Jags in 2013 and the previously winless Colts in 2011. He's 4-18 against teams with winning records when the Titans played them and 2-19 against teams that finished the season with a winning record. To me, three years is a sufficient sample size to know what you've got and those numbers are the most telling thing on his resume. Keep him and they deal with all the limitations connected to a lame duck coach. I don't know what Tommy Smith, the head of the new ownership, will do. But the fan base overwhelmingly wants change, if that's worth anything. People still pay for tickets because they've got investments in personal seat licenses they do not want to throw away. But a lot of people are staying home on Sundays now.
Cecil Shorts
is done and
Maurice Jones-Drew
is uncertain. How can the Jaguars threaten on offense without their two best weapons?
DiRocco
: They were able to put up 20 points and post their second-highest yardage total of the season, including a season-high 159 rushing, in last Sunday's loss to Buffalo. Running back
Jordan Todman
stepped up big time and ran for 109 yards (Jones-Drew cracked 100 only once in the first 13 games) and tight end
Marcedes Lewis
was more involved in the passing game than in previous weeks (four catches for 54 yards and a touchdown). But I'm not sure that is sustainable. Teams will certainly concentrate on stopping Lewis and make quarterback
Chad Henne
move the ball with three receivers who have a combined 75 career catches. Todman doesn't scare anyone, either. The Jaguars will have to be creative on offense (they've run gadget plays the past three weeks) and capitalize on every opportunity they get.
August, 28, 2011
8/28/11
1:11
AM ET
Quick thoughts on the Jacksonville Jaguars' 35-32 overtime loss to the Buffalo Bills in Ralph Wilson Stadium …
On a night when he could have done much to ease concerns heading into the season, David Garrard managed a 66.8 passer rating. He did his best work of the night against the Bills second teamers and on a nice 4-yard touchdown run. But 11-for-21 with a sack seemed shaky. Blaine Gabbert wasn't better, with a touchdown and a pick in relief.
Meanwhile, while Ryan Fitzpatrick is better than a lot of people think, should he be completing 11 of 12 passes for 165 yards, two touchdowns and a 158.3 passer rating against your first-team defense even if you're missing a couple key pieces? Aaron Kampman didn't play again and Jeremy Mincey and Tyson Alualu were also out, but the Jaguars went without a sack again and game statisticians credited the Jags with just three quarterback hits.
I expected the team would look to sort through three rookie receivers, Jamar Newsome, Armon Binns, and Dontrelle Inman. The three were targeted four times and had one catch between them -- a 22-yarder by Inman. Not too much to help sort through them there.
Backup quarterback Tyler Thigpen gave Jacob Cutrera a gift with a pick-6. He threw it straight to the linebacker who had an easy 13-yard return.
I am completely anti-preseason overtime. If the league refuses to insert a rule allowing for ties, then a coach has to do what he can with 2-point conversions during the game to ensure no overtime scenarios can arise. Chan Gailey didn't do so early, so he has to take the grief that comes with kicking a late extra point to lose rather than going for 2 to force extra time.
August, 27, 2011
8/27/11
11:09
AM ET
Three things to look for in tonight's Jaguars-Bills preseason game at Ralph Wilson Stadium, where kickoff is set for 7:00 p.m. ET.


Jack Del Rio has said
David Garrard's his starter
at quarterback. But if he's bad in this game and rookie
Blaine Gabbert
is good, there is still room for mind-changing and it will give added volume to Garrard's critics. Garrard has said he and the Jaguars need to drive to touchdowns and show some rhythm and tempo on offense. He won't have
Maurice Jones-Drew
in the backfield,
Zach Miller
available to catch passes or
Eben Britton
to block for him at right tackle. It's a situation where a reliable veteran should ease any concerns. Can he?
The pass rush
did OK last week but has only one sack in the preseason. Now one of the most effective rushers,
Jeremy Mincey
, is out with a concussion and
Aaron Kampman
also stayed home. If the front can get Buffalo quarterbacks off their spot, great. It would be good to see them get a QB to the ground as well, helping kill drives and possessions.
Young receivers
will get chances. The team cut
Tiquan Underwood
to ensure guys like
Jarett Dillard
,
Armon Binns
,
Jamar Newsome
and
Dontrelle Inman
will get a solid look. Even if the team is set in going with
Mike Thomas
,
Jason Hill
and
Cecil Shorts
as the top three, it needs to see what it has beyond that.
August, 3, 2011
8/03/11
1:02
PM ET
JACKSONVILLE, Fla. -- The Jaguars aren't looking for parades or pinwheels as congratulations. But in the two years since Gene Smith took over as general manager, they've basically gutted the roster. And while setting about a major rebuilding project, they remained competitive with a 7-9 season and an 8-8 campaign.

After another draft and an active free-agency period, they now feel the rebuild is complete.
"There is an expectation level in this league to win, and I think having some horses makes us all smile in this building," Jaguars coach Jack Del Rio said. "I think we went out and acquired some guys for the second and third level of our defense where we talked about needing some help. ... It's going to help us be a whole lot better.
"The pressure, the demands, that's part of what we do, and I love that part of it. It becomes a little more enjoyable when you know you're getting closer to being on equal footing."
Del Rio's not buying that the Colts are slipping, and he's not waiting for them to. The in-house expectation is that this team is capable of competing for the AFC South crown no matter what any other team in the division has going for it.
Bolstered by four upgrades among the top 12 players on defense, Jacksonville is a team that should be much improved. The Jaguars won't be a popular pick, but they could be a surprise, emergent team.
THREE HOT ISSUES
[+] Enlarge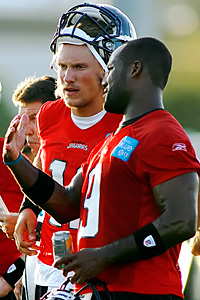 Phil Sears/US PresswireThe Jaguars say they will develop Blaine Gabbert (left) slowly and have David Garrard take the snaps as the team's starter.
1. Will there be a quarterback controversy?
The team stands firmly with
David Garrard
and intends to bring first-round pick
Blaine Gabbert
along slowly. But Gabbert has looked great early, while Garrard tends to be inconsistent. There are bound to be times during the season when there is some pressure to make a change from inside team headquarters, not just from media and fans.
"If we ever get to the point where we think Blaine is better than Dave, that's good for the Jaguars," offensive coordinator Dirk Koetter said. "Because I think Dave is good enough to win with; I think we can win our division with Dave Garrard at quarterback. If Blaine is better than Dave, shoot, that's good for us."
Del Rio and Koetter could have a complicated job managing how and when to play Gabbert if they feel he's forcing his way into the lineup.
"I've got a healthy appreciation for the desire out there to make it a story," Del Rio said. "For us, we're about maximizing our opportunities as a football team, playing the guys who give us the best chance to win games and working on the preparation. ...
"Through the course of competition and exposure and based on health, those factors kind of take care of themselves. I don't think we have to get ahead of the story. I think we can just let it play out, and at least we are doing so from a position of strength. There is no reason to make it dysfunctional, make it unhealthy. What purpose does that serve? It's not going to help us win more games."
It sounds good, but it can get complicated. Garrard's the guy right now, and the team and the quarterback need to do a better job of making sure he gets hit far less so he can make consistently good decisions with the ball.
Factor tight ends
Marcedes Lewis
and
Zach Miller
and running backs
Maurice Jones-Drew
and
Rashad Jennings
into the mix with the receivers, and the Jaguars have sufficient weapons to complement a run-based offense.
Mike Thomas
,
Jason Hill
and
Cecil Shorts
could be a better three-pack of receivers than many people think.
2. How much better can the revamped defense be?
If this defense doesn't improve from 32nd against the pass, 28th overall and 27th in points allowed, Del Rio will lose his job.
The team shelled out $37 million guaranteed to three prime free agents: linebackers
Paul Posluszny
and
Clint Session
and safety
Dawan Landry
. The Jags also added nickelback
Drew Coleman
.
That group, plus rookie defensive backs
Chris Prosinski
and
Rod Issac
, should vastly improve the defensive production and depth.
Smith wanted to build foundations early and spent his first two drafts working on the lines. Defensive tackles
Tyson Alualu
and
Terrance Knighton
should take up all kinds of blockers and create space for the two new linebackers and the underrated
Daryl Smith
to make a lot of impact plays.
"Jacksonville's interior D-line really stood out," Posluszny said about his research as a free agent. "They've got two studs in the middle that are very active, get to the ball a lot and certainly are going to take up a lot of blockers."
Safety play last season was horrific, and Landry will be a significant upgrade even though he didn't bring
Ed Reed
with him from Baltimore.
"I'm not looking for any grace period to assemble this defense," Del Rio said. "Guys we're assembling and counting on for the most part are veterans. ... We're going to expect to play coming out of the gate as a winning football team, and defensively we've got a lot of work to do."
3. Can they play well late in the season?
December is a debacle for this team.
In the past three seasons in games played in December and beyond, the Jaguars are 4-11. They need to learn to finish games and seasons better. What can change it?
"I think in Week 13 or something, we had a better record than the Packers did last year," Daryl Smith said. "They got hot, and who would have thought they would go on to win? That could be us. Why not? We have to try to stay off of that roller coaster, try to be consistent, just get better each week. Steady, steady, steady, then come late November or December, get hot."
"I've been in the playoffs twice since I've been here and that's been the formula. … We can't feel like we arrived when we have a good game or played well and won a couple games."
Del Rio says that with a more talented roster, he has to guide it to better work in the last quarter of the season.
BIGGEST SURPRISE
[+] Enlarge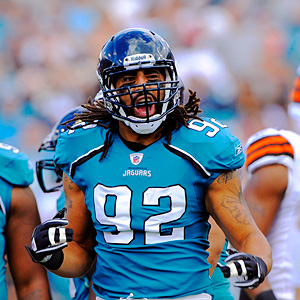 Scott A. Miller/US PresswireJacksonville could look to Austen Lane to help solidify their defensive line.
Beat writers and fans call
Austen Lane
"The Bringer of Pain." It's funny. But he looks like a guy who will make it hard for the team to look anywhere else for its second starting defensive end. He can be a ball of fury, and that will fit right in with the tone and tempo of the rest of the defensive front.
BIGGEST DISAPPOINTMENT
Right tackle
Eben Britton
came in with a reputation as a nasty player, and the team missed him last season when he was lost with a shoulder injury. I've picked him as a breakout-caliber guy this season. But word is he has not been great so far. Perhaps he's still being cautious and easing his way back, but he needs to take things up a big notch soon.
OBSERVATION DECK
Two years ago, people were writing off center Brad Meester. But defenses were taking advantage of weak guard play to get to him. He rebounded well last season and is a guy whom coaches love as a reliable offensive line leader.

Knighton's weight always will be an issue. The defensive tackle is a great player and superlikable guy. The team cannot hold his fork for him. The more he can control it, the more impact and money he will make.

Prosinski could well be in the opening day lineup as the free safety. He worked with the first team early in camp and might be up to a pairing with Landry in the middle of the secondary. Rashean Mathis and Derek Cox need to play better at corner, but the Jaguars will improve from the safety upgrades and from the presence of veteran nickelback Drew Coleman.

Looking for an underdog to root for? How about undrafted free agent Marc Schiechl? He set a Football Championship Subdivision record for sacks at the Colorado School of Mines.

Scotty McGee isn't working with defensive backs regularly anymore. Can he stick as strictly a punt-return specialist? He caught 185 punts on one day of camp. And the team should move away from using Thomas in the role, although McGee is hardly the only alternative.

I like Miller, and the team raves about his potential. But he's been inconsistent early in camp with too many drops. He's got great hands, so it seems to be a focus issue.

Larry Hart may be in the doghouse for coming back from the lockout overweight. At defensive end, he currently ranks behind Aaron Kampman, Lane, Jeremy Mincey and Aaron Morgan.

Fourth-round receiver Cecil Shorts was great in camp early, and I bet the undrafted crop of wideouts has at least one NFL-caliber guy. Keep your eyes on Armon Binns, Jamar Newsome and Dontrelle Inman.

Third-year receiver Jarett Dillard is running well after a couple of injuries cost him the bulk of his first two seasons.

Watch how much better punter Matt Turk gets now that he will be a beneficiary of the Jaguars' topflight cover guys, Montell Owens and Kassim Osgood.

The Jaguars may be content to use Jones-Drew, coming off a knee operation, very minimally in camp and preseason games.

Veteran Jason Spitz has not been on the field yet, but I think the team would like for third-round pick Will Rackley to win the open left guard spot.